Don't you just hate it when it rains on the day that you've a hike planned? Rainy days shouldn't keep you from going out on one of your exciting outdoor adventures. But as you're going to need both of your hands while hiking, an umbrella isn't a good enough option to help you stay dry. A good solution is to consider getting the best women's rain jacket.
While in the olden days rain jackets were often associated with stiff and noisy sheets of plastic that stay bulky even when packed down, despite the fact that they never seem to provide enough protection due to how thin they are, these days there are rain jackets specially made with outdoor enthusiasts in mind that are leak-proof, warm, comfortable, and pack down really small. These jackets will surely turn any drab rainy season into a fun fest. Finding the best women's rain jacket is easy if you know how, and we are here to help with that.
In this article, we'll guide how to decide what features you need, understand how the different brands compare, and then give you a run-down on some of the best jackets out there right now. You can find a jacket that fits, flatters, keeps you dry, and doesn't break the bank. The following tips will give you the know-how to make an informed decision.
Our Top Picks
Things to Consider Before Buying
There is no such thing as the best rain jacket for women. Each of us has a unique set of needs when it comes to finding our own perfect fit. That's why you should take some important aspects of the jacket into consideration before you purchase it so you can find the best fit for you.
Intended Use
You need to consider the way you will use a rain jacket. If you live in a cooler climate, you will probably be wearing layers most of the time under your waterproofs, so you will need a generous cut. In a warmer area, you may be able to get away with a slimmer fit, or a more lightweight fabric.
Do you need a jacket for extreme conditions and major exertion, or to keep you dry while watching a child's sports? Will you wear the jacket for one activity only or are you likely to swap between hiking, cycling and traveling?
If you will be exercising heavily while wearing the jacket, the breathability of the jacket and features like pit-zips will matter more to you. For more sedentary use or everyday wear, you will be able to use a slightly heavier more durable fabric, and less technical features.
Features
Rain jackets these days come with different features. The available pockets, for one, is something you need to take into consideration. Any holes in a waterproof jacket are places where rain might get in. For this reason, many jackets keep pockets to a minimum. Most will only have hand pockets, but some come with slanted chest pockets that are accessible without removing your backpack.
Secondly, you should also consider the jacket's closure. Most jackets will have a center front zipper. Double zippers, which can be opened from the bottom, can also increase flexibility when sitting or cycling for example.
Zippers covered by a storm flap have an extra layer of protection, but the downside is that they can be more difficult to get into. The very slight inconvenience is often worth it to keep the inside of your jacket dry.
Some zippers are 'DWR' treated. DWR stands for Durable Water Repellent and is a coating that will force water to bead on the surface and run off before having a chance to soak into the fabric.
The third feature of a rain jacket that you should take into consideration is the hood. A hood is no good if it won't stay on your head. Adjustment is essential to make sure the hood fits comfortably and that you can see where you are going while remaining dry. Adjustment on the collar will help pull the hood down around your face and keep it put in the wind.
If you tend to wear your hair tied back, check that the hood can accommodate your hair this way. Adjustment on the hood's packability can be great for this. When you don't need the hood (or if you are already wearing a hat), it should stow away in the collar for convenience and comfort. If loose, it can catch in packs and get in the way.
The fourth aspect is the jacket's collar. A high collar will keep out the elements but can cause chafing. Check that the collar is lined with a comfortable fabric to stop this. When closed, the area where the zip sits at the top of the collar can become bulky. Have a look at what the designer has done to increase comfort in this area. Soft fabric and a cover for the zip pull are important features.
While considering the features, you also need to consider whether they fit into your budget or not. Obviously, budget plays a big part when choosing a new jacket. Keeping in mind your priority features will help you find a garment that suits your needs and fits your budget. Make a list of what you need and narrow down the options from there.
If your budget is tight, consider different colorways. Often some colors are cheaper than others, while the fabric and features remain the same.
Fit
As most rain jackets are not insulated, you will likely need to wear layers underneath during colder months. When trying on a jacket, make sure that it is cut generously enough for you to fit layers underneath and that the shape of the jacket (particularly around the hem and cuffs) covers your clothing fully.
Some jackets are cut long, but most are on the shorter side to allow for freedom of movement from the hips. If the hemline dips at the back, you should stay covered even when bending forward or crouching to take things out of a pack, but it is important to check this when you are trying the jacket on.
Look for where the seams are if you intend to wear a backpack with your rain jacket. If they are under the shoulder straps of a pack, they may rub and cause discomfort. Also, if you do intend to wear a backpack, will the jacket ride up underneath it? How about the sleeves? Are they shaped to allow the pack straps to sit comfortably? Sleeves shouldn't bunch around the straps. Try on a pack too, and move around to make sure.
From ample busts to long sleeves and back lengths, there will be a jacket out there that not only keeps you dry but is comfortable and flattering too. Although, different manufacturers have slightly different sizing, so read plenty of reviews to give you an idea of how they fit our differing shapes.
Waterproof Rating
A decent waterproof fabric will be the main requirement of your new jacket, and the best way to compare different levels of waterproofing is to look at the label for the 'Hydrostatic Head' or HH. This refers to the amount of water pressure the fabric has been able to withstand in tests, before letting moisture through.
Fabrics are tightly wrapped around the bottom of a long tube and water is poured into the tube. If the fabric can keep out 5000 mm of water over a 24 hour period, its HH will be 5000. The following table is a guide to what the HH value means in a real-life situation.
| 'HH' in mm | Level of waterproofing | Suitable for |
| --- | --- | --- |
| 0 – 1,500 mm | Water-Resistant | Dry conditions |
| 1,500 – 5,000 mm | Showerproof | Very light rain showers |
| 5,000 – 15,000 mm | Waterproof | Light to Moderate rain |
| 15,000 – 20,000 mm | Highly waterproof | Heavy rain |
When trying to measure the water-resistance of a rain jacket, also consider whether it is seam-taped or not. 'Taped seams' means that the jacket has had a special waterproof tape glued over the seams, preventing water entry.
Some jackets have taped seams at 'critical points' which is how the manufacturer ensures that the most likely leak points are dealt with, leaving other seams as they are. To be truly waterproof, the seams of a garment will need to be treated in some way.
Every time the sewing needle pierces waterproof fabric, a tiny hole is introduced which could let in water if not sealed. Jackets with 'heat sealed' or 'sealed' seams will have been treated with a sealing fluid to fill these points.
While waterproof fabric and seams are the most important points to look out for, other factors will also influence how well a garment keeps you dry. For example, some pockets will be more waterproof than others. Exposed fabric zippers may let in water in very heavy rain, and more expensive jackets will have features to minimize this possibility.
Lining
Most rain jackets are intended to be worn as a waterproof layer on top of other clothing. Because of this, they are also made to be lightweight so they can be packed away and carried in dry spells. Most won't be insulated, and usually, rain jackets have a mesh lining, to keep the waterproof fabric away from your skin.
If worn over a t-shirt in warm weather, waterproof fabric can become damp and uncomfortable on the inside. The mesh linings are designed to combat this. If a jacket is intended to be very lightweight and highly compressible, there may be no lining at all. If you choose this type, it might be more comfortable to wear a long sleeved t-shirt underneath.
Packability
Many lightweight rain jackets are described as 'packable.' This doesn't just mean that you can stuff them in a bag. Packable jackets usually pack inside the lining of one of their hip pockets, forming a compact bundle, which can be clipped to a belt or put in a pack neatly and easily.
If you plan to wear your jacket on hiking or backpacking trips, this is a very important feature as it will minimize the space the jacket takes up in your backpack. If you're only purchasing the jacket for urban use, however, you may be able to do without this feature.
Best Products on Today's Market
Now that you are equipped with relevant information to figure out the kind of rain jacket that you need, let's move on to the top options you can choose from:
The North Face Resolve Jacket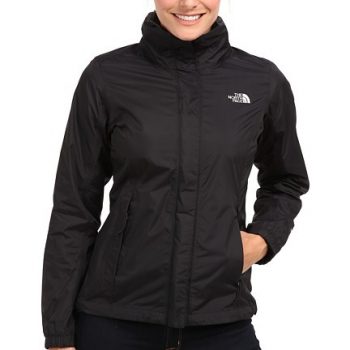 Weight: 2 pounds
Dimensions: 13 x 9 x 3 inches
Specific features: Lightweight, machine washable, waterproof, breathable, zipper closure, made of nylon and polyester, adjustable cuff, two side pockets, HyVent fabric, windproof
Best use: Casual rain jacket, over jacket, hiking, backpacking
The North Face Resolve Jacket features a flattering cut and a huge range of colors, meaning there is bound to be a jacket that you love. The zipper closure comes with a high-quality non-snag zipper that guarantees ease of use.
This jacket is a lightweight option and is mesh-lined, so perfect for warm, wet weather. The high collar and Velcro storm flap will keep the rain and the wind out. You can also stuff your hands into the side pockets if the wind gets too strong and cold.
This jacket is quite versatile. It comes with many adjustable features. Other than the adjustable cuffs, the hood stows away when not needed. The collar and hood have a brushed fabric lining for comfort.
This is a practical, low-cost jacket that is ideal for packing into a bag on changeable days. Some women have warned that the jacket runs small, so it may be worth ordering a size up from your usual size, especially if you will need to wear additional layers.
PROS:
Available in many color options
Lightweight and durable
Comes with an adjustable hood
Windproof and waterproof
Breathable and comfortable
Related: A fancy rain jacket should be matched with a pair of fancy rain boots. This Hunter Tall Wellington Rain Boots is a perfect choice. Not only are these boots waterproof, but the fact that they are made of some really high-quality rubber also guarantees their durability.
Columbia Arcadia II Jacket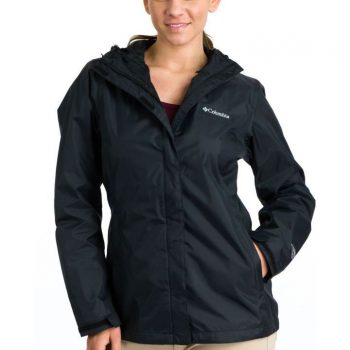 Weight: 3 pounds
Dimensions: 25 x 15 x 2 inches
Specific features: Packable, machine washable, waterproof, breathable, lightweight, zipper closure, two zippered side pockets, adjustable hood, 100% nylon
Best use: Hiking, backpacking, casual rain jacket
The Columbia Arcadia II Jacket is roomy, great for wearing additional layers underneath. However, some women have found that the sleeves and bust area can be tight, so if you need more room in these areas, you may need to order a size up. There is a wide range of colors to suit every taste.
This jacket has plenty of features – an adjustable pancake storm hood, drawcord hem, zippered pockets on seams and storm flap over the front zipper. The jacket utilizes an 'Omnitech' membrane for waterproofing, but some users have reported that the feel of the fabric could be better. Being a mesh-lined jacket, you will need to wear warm layers underneath in cold weather.
When you don't need this practical jacket, it packs away into its own pocket, making a compact package that can be easily stowed in a backpack. It's also quite lightweight, so it's the perfect choice for backpacking enthusiasts.
PROS:
Comes with adjustable hood
Waterproof and windproof
Lightweight and durable
Available in many color options
Packs into its own pocket
CONS
:
Not very warm
Doesn't feel very comfortable against the skin
Runs a bit small around the sleeves and the bust
Related: As this jacket doesn't provide a lot of warmth, you'll need some extra apparel that will make up for it. These YuEdge Hiking Socks will not only keep you warm and toasty around the extremities, but they will also wick away your sweat so your feet will stay perfectly comfortable.
Marmot Minimalist Jacket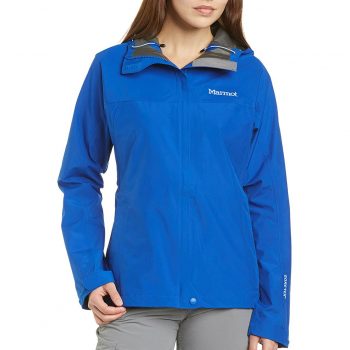 Weight: 0.9 pounds
Dimensions: 20 x 16 x 3 inches
Specific features: Gore-Tex fabric, taped seams, pit-zips, two zippered side pockets, adjustable hood
Best use: Casual rain jacket, backpacking, hiking
The Marmot Minimalist Jacket is another rain jacket that comes in a wide range of colors. The fit is generous, which is useful when adding warm layers. Note that this jacket is unlined (no mesh, or insulation) so layers will be needed. Most women have found that the Minimalist runs true to size.
With taped seams, zippered hand pockets, and Gore-Tex 'PACLITE' laminate fabric, this jacket can be relied on in wet weather. There is a drawcord at the hem and Velcro tabs for cuff adjustment. The hood packs away into the comfortably-lined collar when not in use, and the ventilation 'pit-zips' will keep you cool and dry on the inside.
The one criticism of this well-built jacket is that the fabric is a little on the stiff and noisy side, but this is unlikely to spoil your enjoyment of this jacket. Also, it's quite expensive considering it doesn't come equipped with any insulation.
PROS:
Very lightweight
Available in many color options
Comes with an adjustable hood
Very well-ventilated thanks to the pit-zips
CONS
:
On the expensive side
No insulation
The fabric is a bit stiff and noisy
Related: Looking for the perfect match for the featured jacket above? This pair of Marmot Minimalist Pants should be an easy recommendation. Made from the same high-quality breathable Gore-Tex 'PACLITE' fabric, this one will keep you warm and dry without suffocating you.
Patagonia Torrentshell Jacket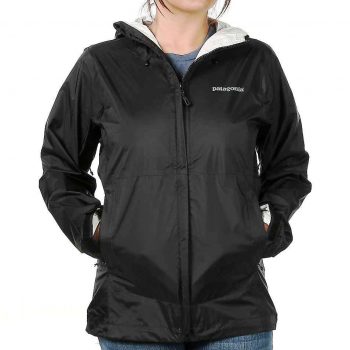 Weight: 0.8 pounds
Dimensions: 12 x 10 x 1 inches
Specific features: H2No performance standard shell, pit-zips, 2.5 layer rip-stop nylon, unisex, two zippered side pockets, adjustable hood, microfleece liner, zipper closure, windproof storm flaps, waterproof
Best use: Hiking, backpacking, everyday rain jacket
The Patagonia Torrentshell Jacket is packed with features. It is a jacket that can be relied on to keep you dry and comfortable. The durable rip-stop nylon fabric is both waterproof and breathable and tough enough to last, although some wearers describe it as noisy when worn. The cut is suitable for layering and fits well.
The high collar is fleece lined for comfort and features two storm flaps on the interior as well as exterior. The pit-zips too have storm flaps, and all zippers (including the hand pockets) are DWR-treated.
The hood of the Torrentshell is adjustable two ways and stows into the collar after use. The jacket features the usual drawcord hem and adjustable Velcro cuffs, plus a carabiner clip inside one pocket to secure valuables.
If you are a backpacker or will be using this jacket in changeable weather, you can stash the jacket into its own pocket. This jacket is a well built, practical and versatile solution with plenty of features, and fabric that should stand up to some fairly rough treatment.
PROS:
Very lightweight
Durable and breathable thanks to the ripstop nylon
Windproof and waterproof
Comes with an adjustable hood
One of the pockets has a carabiner clip
Packs away into its own pocket
CONS
:
The fabric is a bit stiff and noisy
Related: Considering how durable and versatile this jacket is, you need a backpack that's equally as reliable to accompany you on your many adventures. This AmazonBasics Carry-On Travel Backpack is definitely up for the task. It's lightweight and surprisingly roomy—perfect for all kinds of day trips.
Columbia Splash a Little Jacket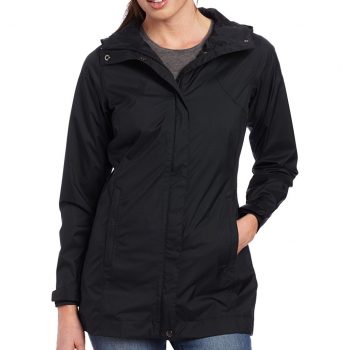 Weight: 1 pound
Dimensions: 18 x 12 x 3 inches
Specific features: Longer length, waterproof, breathable, lightweight, two zippered side pockets, one inside pocket, adjustable storm hood
Best use: Hiking, casual rain jacket, backpacking
This is the longest cut of our featured jackets. Wearers have said that the long length is a great benefit, adding to the weather-proofing and meaning that on long hikes with rest stops you can sit on the jacket, keeping your pants dry. The sleek cut is also flattering and slimming while still having space for layers in colder weather.
Made from lightweight 'Omnitech' polyester fabric, Columbia Splash a Little Jacket has sealed seams and zippered pockets to ensure the rain stays on the outside. It also comes with an internal security pocket for you to store your important little items in.
Adjustable cuffs and a drawcord hem complete the shell, and the hood is also adjustable. The front zipper has a storm flap, but its double zip can be difficult to do up. Overall, this is a very versatile rain jacket that's both durable and comfortable—great for all kinds of outdoor adventures during the rainy season.
PROS:
Long so it can keep your pants dry even if you sit in a wet spot
Great fit, sleek cut but surprisingly roomy
Comes with an adjustable hood
CONS
:
The zippers are not high-quality non-snag zippers
Related: If you'd like to add a fashionable twist to your rainy day attire, this LERDU Cashmere Shawl will do the job nicely. It's warm and folds down nicely so you can store it in your backpack or your purse if you only plan to wear it on a short urban outing.
Marmot Precip Jacket
Weight: 0.7 pounds
Dimensions: 19 x 16 x 3 inches
Specific features: 2.5 layer rip-stop PreCip fabric, 'Angel Wing' movement, pack zips, pit-zips, available sizes range from XS to XXL, adjustable cuffs, adjustable hood, waterproof
Best use: Urban traveling, casual rain jacket, hiking
The Marmot Precip Jacket comes in a huge color range, so choosing your favorite should be easy. Marmot describes the jacket as 'stylish, value-oriented, full-function rainwear.' There are certainly plenty of features to keep the average wearer happy.
The fabric is a durable rip-stop type and is breathable as well as waterproof. There is a double storm flap with Velcro and press stud fastening over the front zipper, and taped seams for reliable waterproofing. The hem has an elastic drawcord and is shaped lower at the back to allow for movement. The hood is shaped for full visibility and can roll away into the collar.
Thought had gone into keeping you moving when this jacket was designed—the 'Angel Wing' sleeves are designed for a full range of movement, while the slanted chest pockets allow easy access when wearing a backpack.
For practicality, this jacket packs away into its own pocket, and Marmot offers a lifetime warranty. Our only complaint is that the fabric is a bit stiff and noisy, but that shouldn't be a deal-breaker.
PROS:
Very lightweight
Available in many different color options
Durable and breathable
Packs away into its own pocket
Comes with an adjustable hood
Lifetime warranty
CONS
:
The fabric is a bit stiff and noisy
Related: If you're wondering what kind of pants will look good paired up with this attractive jacket, consider this Nonwe Hiking Pants. Not only are these comfortable and durable, but they also dry out quickly and are machine washable.
The North Face Venture Jacket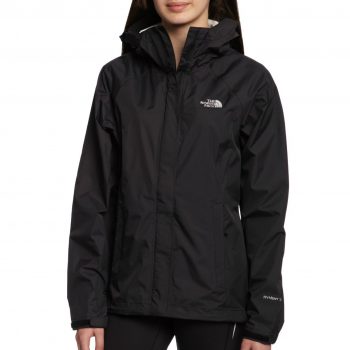 Weight: 4 pounds
Dimensions: 12 x 12 x 0.7 inches
Specific features: Machine washable, HyVent fabric, available sizes range from XS to XXXL, hook and loop closure, adjustable hood, Velcro storm flap, pit-zips, two zippered side pockets, windproof, waterproof
Best use: Day hikes, traveling, casual rainwear
The North Face Venture Jacket is unlined, so will need layering with a warm fleece or similar in cold weather. It is machine washable, and packable, making it a practical everyday option for use when traveling or on occasional hikes.
The Venture is made from a 2.5 layer rip-stop 'HyVent' fabric, which should prove durable, but some wearers have reported that the inner layers of the jacket may degrade after prolonged use. Storm flaps over the front zipper and hip pockets and sealed seams should keep the rain out, while pit-zips will keep you cool in warm conditions.
The pack-away hood on the Venture is nicely shaped for protection and visibility and can be adjusted two ways to ensure it stays up in windy weather. The hem features an elastic drawcord, and the cuffs have Velcro tabs to keep your sleeves dry inside.
The hip length cut and shaped hem allow for movement, and a brushed fabric chin guard will keep you comfortable.
PROS:
Well-ventilated thanks to the pit-zips
Comes with an adjustable hood
Windproof and waterproof
Flexible
CONS
:
No insulation
The inner layers are not very durable
Runs small
Related: Rainy days are synonymous with wearing boots. If you tend to get cold feet, you should wear another layer of clothing inside those boots. This Hunter Boot Sock will keep you warm and dry. It's also easy to keep clean since it is machine-washable.
Wrap Up
To find a suitable women's rain jacket, you need to first decide on your budget, then consider the activities you'll need it for. Choose the features that you can't live without and the ones that would be good to have, if you can afford them.
Next, it's the fun part – checking our list of the best available jackets and deciding which one fits your needs, budget, and shape. We believe that there should be one among our diverse options that suits your needs perfectly. Don't let the rainy day get you down. Keep yourself well-protected by wearing a reliable rain jacket, and you will be able to take on anything.
Featured Image Source: https://unsplash.com/photos/lvLSr8-5AmM