Getting sick of staying inside during the winter? Want a fun way to burn those calories? It's easy enough to say but it can be difficult to pick yourself up from under those warm blankets and get some real exercise in. And we don't mean going to the gym. With a pair of the best snowshoes for beginners on your feet, you'll wonder why you never took the sport on sooner.
One of the main reasons that families are drawn to snowshoeing is actually the safety of the activity, as it is much safer than the majority of winter sports. It can be enjoyed by solo backpackers, older couples, and families with young children. But you can't do any of that with the wrong pair of snowshoes. Instead of going it alone, we're going to help you find the right pair the first time.
In this article, we'll show you the important features you should keep at the forefront of your mind when you're shopping for snowshoes. Then we'll provide you with a list of some of the best products on the market for you to consider. After all, you can't know what to look for if you don't know what's already out there. With that said, it's time to get started down the road to finding you a perfect pair of snowshoes.
Our Top Picks
Things to Consider Before Buying
Most people find it difficult to pick their first pair of snowshoes, and that is completely understandable. There are a lot of factors that you simply have to take into consideration, otherwise you could end up with snowshoes that your boots just will not fit in, or being ankle deep in powder-like snow.
But with us on your side, you won't have to struggle with this problem ever again. Here are the important features you should be looking at when you're shopping for snowshoes.
Size
Choosing the right sizing for your first pair of snowshoes can be incredibly difficult, and messing up the right size could ruin your day in the snow entirely. Snowshoes offer their wearer an excellent form of flotation – it means to stay above the snow – and they do this by spreading your body weight over a large, flat surface area so that you do not start to sink. The heavier your own body weight or the lighter the snow, the more snowshoe surface area is required.
Most of the time you can base the size of the snowshoe that you will need on the sizing of the boot that will be going inside of it, but snowshoes are also a little bit more gender specific than that. Men's snowshoes are specially designed to accommodate larger boots and heavier loads, whereas women's snowshoes tend to be much narrower, and more contoured. Snowshoes for children are usually intended for casual snow play, while some models also offer sought after technical features.
Weight
When choosing your first pair of snowshoes, you have to consider the factor of weight for two different reasons. Firstly, you have to consider the weight of the actual snowshoe. You will not want anything too heavy attached to your boot while you are trekking through the snow, otherwise it will slow you down and waste your energy.
Secondly, you have to consider your own body weight. The heavier you are, the larger surface area your snowshoes require. This is because your own body weight needs to be spread out over a larger surface area to prevent you from sinking.
Body and Crampons
The design and structure of your desired snowshoes is incredibly important, as there are a number of different technical features and design quirks that you need to be on the lookout for. The first would be the main material of the snowshoes. Generally, snowshoes are either aluminum frame or composite snowshoes. The latter is already becoming a popular choice, as composite snowshoes allow you to stay afloat more easily on incredibly soft snow.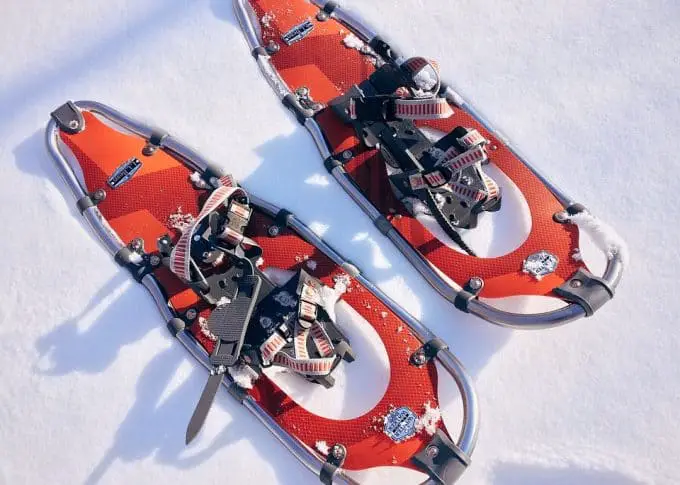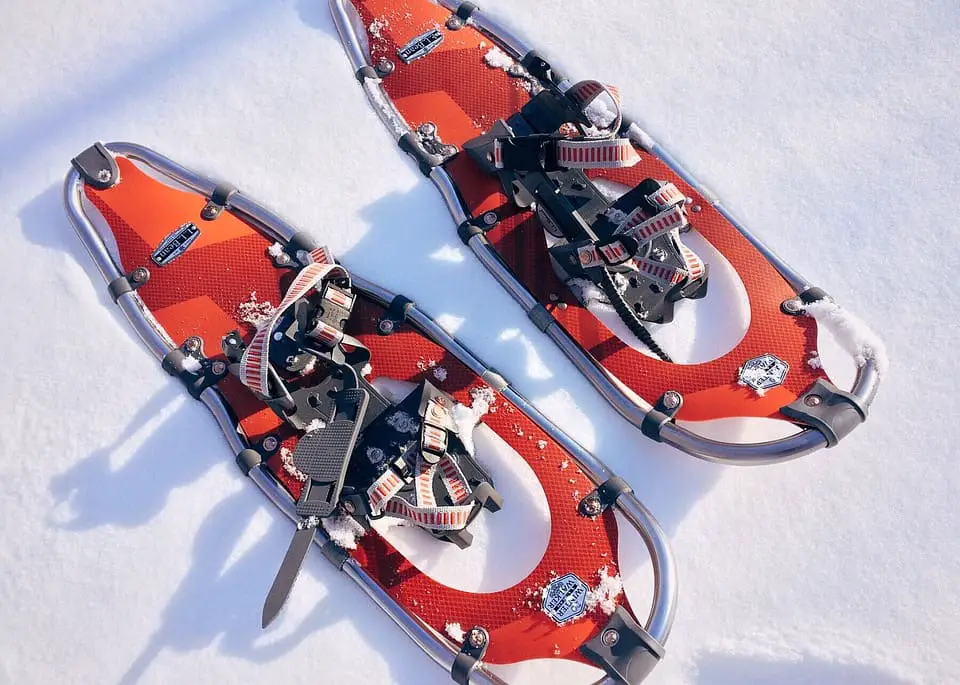 Another important design feature to keep in mind are your crampons and what they're made of. These are the spikes on the bottoms of the snowshoes that provide you with grip and traction. They are usually made out of either steel, a steel composite, or aluminium. Steel offers a fantastic level of grip, but can be a bit heavier than you want. Aluminium is a great choice if you're looking to lighten the weight of your snowshoes.
Terrain Suitability
It's very important that you consider the terrain that you'll be using your snowshoes on. Will it be a flat terrain, or a rolling terrain? Will you be hiking up mountainous terrains or slopes? Each environment calls for different features to come into play to ensure that your snowshoes can handle whatever you're walking on without you slipping or falling down.
Snowshoes that are made for flat terrains tend to be the best for beginners, as well as for families. They feature incredibly easy-to-adjust bindings, and offer a nice level of affordability. This makes them a great first choice so wean you into the sport without having to spend a lot of money out of pocket.
Whereas snowshoes that are made for mountainous terrains have to feature climbing-style crampons, as well as stronger bindings. These snowshoes are not the best choice for beginners, but are better to graduate to once you've become more accustomed to the conditions and have increased your skill level.
Comfort and Security of the Bindings
The bindings are what keep the snowshoes on your feet, and it's important that they're comfortable. Uncomfortable bindings mean that you won't want to wear them at all, and that means you've wasted your money. If the bindings are too stiff, then they can cut off circulation in your feet, leaving them numb and sore.
On the other hand, you always want the bindings to be secure so that your snowshoes aren't slipping off your feet with every step. It's finding this fine balance between comfort and security that requires trying out multiple snowshoes to see which ones are best suited for you.
It would be a great idea to try them on with the shoes you plan to wear them with to ensure you're getting ones that are both comfortable and secure.
Best Products on Today's Market
With the features we've presented to you, we hope that you're already on the right road to finding the right pairs for you. But the help doesn't stop there: we're presenting you with a list of the best products in the market that customer are raving about. Now it's time to start checking out these snowshoes and seeing whether they're right for you.
MSR Evo 22 Snowshoes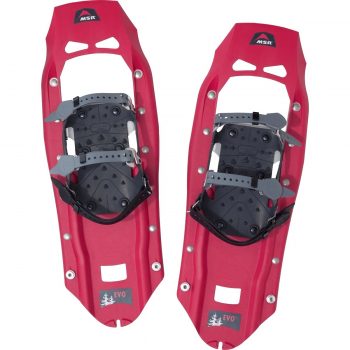 Price: $100 – $120
Weight: 3.6 pounds
Dimensions: 16 x 10 x 32 inches
Weight capacity: 180 pounds
Terrain capability: Easy
Specific features: Steel traction, DuoFit bindings, weather-resistant, classic crampons, lightweight
Best use: Easy snowshoeing trails
The MSR EVO 22 Snowshoes are a great example of a product that would be suitable for use on both easy to hike routes, and on incredibly compacted snow. They are not the type of snowshoes that you would hike up a mountain in, and yet with their steel traction rails they are incredibly durable.
It is pretty impossible to ignore the lightweight nature of these snowshoes, as any additional weight would simply be weighing you down. That means more energy you can spend on walking rather than lugging these snowshoes around. With just 3.6 pounds of weight, this is a great lightweight pair that you can't go wrong with.
What makes this product so versatile and light is the unibody construction. A single plastic piece forms the deck and the frame, which also helps in keeping these snowshoes affordable for any beginner. Overall, it's a great affordable pair that delivers.
PROS:
Easy to adjust DuoFit bindings
Lightweight
The ability to add modular flotation tails
A great level of weather-resistance
Affordable
CONS
:
You have to buy the flotation tails separately
These can feel quite tight against certain brands of boot
Can be loud on crusty snow
Related: Looking for help in getting up those slopes? Don't waste your time trying to go up them sideways; instead, you can put the Atlas 2 PC Lockjaw Poles to make your trek a lot easier. These walking poles are made from aluminum and steel for both strength and lightweight, and they have gender-specific grips so that they can be used by just about anyone.
Tubbs Mountaineer Snowshoes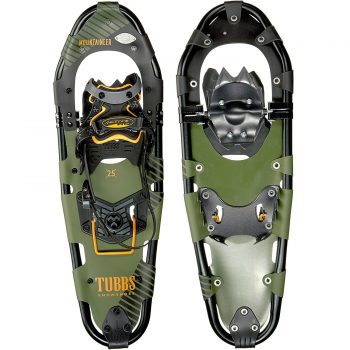 Price: $200 – $260
Weight: 5.15 pounds
Dimensions: 9 x 9 x 32 inches
Weight capacity: 220 pounds
Terrain capability: Difficult
Specific features: ActiveFit+ bindings, carbon steel crampons, gender-specific design
Best use: Difficult snowshoeing trails
If you are looking for a pair of snowshoes that would be suitable for mountaineering, then the Tubbs Mountaineer Snowshoes could be the right product for you. It is slightly more expensive than a number of other snowshoes that are already available on the market, but it offers consumers the technical features that they deserve to be receiving at that price range.
One of our favorite features of these snowshoes is that they come in gender-specific shapes, that accommodate the unique requirements of both male and female feet. This ensures that you end up with a pair that's right for you.
These snowshoes feature an intuitive razor-sharp, carbon steel Anaconda™ toe crampon, which makes these shoes extremely suitable for icy mountaineering. It has eight sharp teeth that all penetrate the ice and the snow directly, ensuring that you will not slip. These snowshoes are also really nice to walk in, as they feature a shock absorbing system that helps you to maintain a natural position for your feet.
PROS:
Gender-specific structure
Gender-specific ActiveFit™ binding
Durable
CONS
:
Slightly heavier than other snowshoes
Related: Like walking through snow but tired of your jeans getting wet? The Outdoor Research Crocodile Gaiters will keep your pants dry so you can get back inside without trailing snow behind you across the floor. They strap easily under the soles of your shoes to keep them in place, and the 70D nylon will keep out any moisture from the snow and ice.
Flashtek Terrain Snowshoes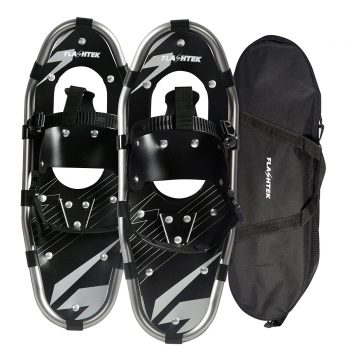 Price: $50 – $60
Weight: 2.49 – 4.52 pounds
Dimensions: 18 – 30 inches
Weight capacity: 55 – 260 pounds
Terrain capability: Difficult
Specific features: Unisex, quick use binding system, aluminum frame,  HDPE decking, tempered aluminum crampons, nylon-reinforced urethane axle
Best use: Difficult snowshoeing trails
The Flashtek Terrain Snowshoes have been designed to work in for icy and tough-to-handle conditions, and this is reflected in the technical features that have been added to these snowshoes
Firstly, they feature an incredibly durable 6000 series aluminum frame, the same type of aluminum that is frequently found on different types of aircraft. On the underside of the frame, there are a set of tempered aluminum crampons, which hook quickly and efficiently into the snow to offer a level of stability to the wearer, they are attached directly to a nylon-reinforced urethane axle.
One of our favorite features of this particular product is actually the way that the frame curves at the rear end, as it minimizes the dragging effect that you often feel while walking forwards in snowshoes. That means you won't lose speed in slush, and won't waste any energy trudging along.
PROS:
Durable build
Wide range of sizes
Made out of materials that are completely weather resistant
CONS
:
The two lever ratchet buckles system binding can take a little while to get used to
Related: If you're looking for a cheap pair of snowshoes for any member of your family, then the New MTN Snowshoes could be just what you're looking for. They're extremely light, weighing in at only 4.6 pounds, and come with their own tote bag that you can store and carry them in.
ThunderBay All Terrain Aluminum Snowshoes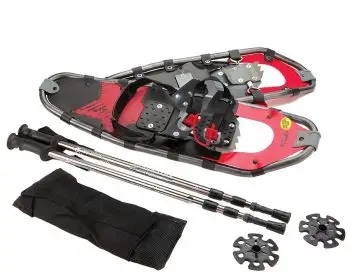 Price: $45 – $50
Weight: 2 pounds
Dimensions: 6 x 9 x 21 inches
Weight capacity: 150 pounds
Terrain capability: Easy
Specific features: Lightweight aluminum construction, easy to use bindings
Best use: Easy snowshoeing trails
If you're looking for snowshoes that can support a lot of weight, then you should definitely take a look at the ThunderBay All Terrain Aluminum Snowshoes, which have the ability to accommodate up to 150 lbs.
Due to the nature of this product, and the fact that it has been made to be used by children, a vast amount of the metal structure is made out of aluminum. This means that the product is as lightweight as it possibly can be, making it more comfortable for those with smaller feet. The bindings on these snowshoes come in the form of an adjustable ratchet system, which features a one-pull technique so that it can be used quickly, and on the go.
As far as quality goes, this pair gets the job done considering the price tag. With that said, this is a very affordable all terrain snowshoe pair that is perfect for both beginners and veterans alike.
PROS:
Lightweight construction
Easy to adjust binding system
Forged steel crampons for additional stability
CONS
:
Can only be used on easy trails
Related: Keeping your pants dry is especially important, as it reduces the chances of you catching hypothermia, outside of just being plain uncomfortable. The InnoLife Unisex Leg Wraps are guaranteed to keep your pants dry, come in a handful of attractive colors, and strap easily to your legs. The tread straps and shoelace hooks will keep them in place too, so no slipping or needing to readjust every few minutes.
ALPS Mountaineering Lightweight Snowshoes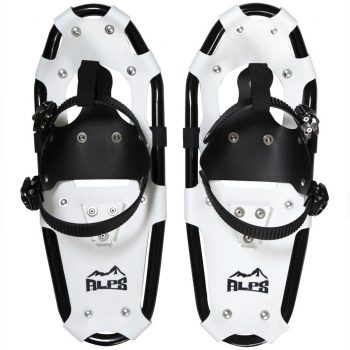 Price: Approximately $40
Weight: 5.1 pounds
Dimensions: 14 – 19 inches
Weight capacity: 40 – 120 pounds
Terrain capability: Easy
Specific features: Alloyed aluminum frame, TPU-85 deck, lightweight, semi-aggressive crampons
Best use: Easy snowshoeing trails
Another fantastic option for younger snowshoers would be the ALPS Mountaineering Lightweight Snowshoes with their design and structure. They are not as light as other snowshoes aimed at children, but their solid and sturdy construction makes up for that entirely. The different sizes have a weight range capacity that runs between 40 to 120 pounds, so realistically, these shoes could also be used by adults who have small builds.
These shoes are definitely a good choice for people who are new to snowshoeing, as the semi-aggressive crampons can handle both well-groomed trails and certain off-trail treks, as long as the snow is incredibly compact. The sturdy frame is made out of a 6061 alloy, so it is much stronger than a number of other snowshoes that are currently available.
The deck of the snowshoes is made out of TPU-85 plastic, which is known for how long it lasts in extreme weather conditions, like the conditions that it would be exposed to in a snowshoeing environment.
PROS:
Lightweight aluminum frame
Weather resistant
Semi-aggressive crampons that offer extra stability
CONS
:
Heavier than other children's snowshoes
Related: Winter isn't the only time to use poles to help you hike; the Cascade Mountain Tech Trekking Poles can be used all year round, even in the middle of summer. These are made with quality, aircraft-grade aluminum, so they're designed to withstand whatever you throw at them. The foam grips also make using these poles quite comfortable, so no more palm blisters.
Chinook Trekker Snowshoes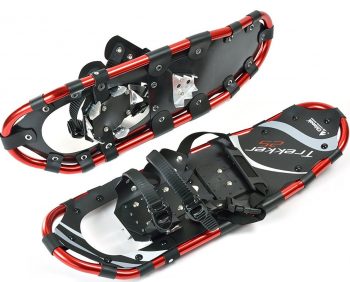 Price: $40 – $100
Weight: 3.1 pounds
Dimensions: 18.9 x 7.5 inches
Weight capacity: 59 – 90 pounds
Terrain capability: Moderate
Specific features: Aluminum frame, lightweight, dual ratchet bindings
Best use: Moderate snowshoeing trails
The next pair of snowshoes on this list aimed at children are the Chinook Trekker Snowshoes. This particular pair of snowshoes is known for its structure and its ability to handle moderate terrains. That makes these snowshoes quite versatile if you're not looking for terrain in one extreme or the other.
They offer the wearer a lightweight design in the form of an aluminum frame, and an ergonomic shape that will ensure that your child does not suffer with uncomfortable feet. Because who wants to end up carrying their kids on their back all the way back to the lodge?
These shoes come with a recommended load of between 59 to 90 pounds, and they offer a great level of traction in the form of a set of heavy duty aluminum crampons. These crampons are free to rotate and grip the snow, offering your child the stability that he or she needs not to slip on uneven terrains.
PROS:
Lightweight aluminum frame
Heavy duty aluminum crampons
A high level of durability
Additional accessories
CONS
:
The multiple bindings could be hard for children to use on their own
Related: Need to shovel your driveway, but you're afraid you'll slip and injure yourself? The Yaktrax Pro Traction Cleats attach easily to the bottoms of your shoes and provide you with the traction you need to stay upright. The stainless steel coils dig in and grip the ice, securing you to the surface so that you won't take a spill.
RedFeather Hike Snowshoes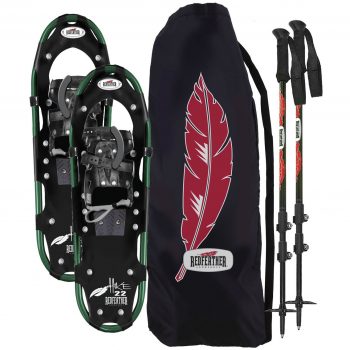 Price: $165 – $220
Weight: 3.3 – 4.7 pounds
Dimensions: 22 – 36 inches
Weight capacity: 22 – 220 pounds
Terrain capability: Moderate
Specific features: Aluminum frame, rip stop material, foam grips, quick-adjust webbing, live action hinge
Best use: Moderate snowshoeing trails
The RedFeather Hike Snowshoes are a fantastic option for women, due to their gender-specific design. From a medical viewpoint the feet of a woman are usually narrower and more contoured than men's feet. These snowshoes provide women with the support they need in certain places more than others, and the really take that into consideration with their wonderful design.
These snowshoes also feature a set of SV2 control bindings, which offer an exceptional level of security, whilst still being easy to adjust on the move. It also features a heel frame for superior lateral support, so that your feet don't end up acting like shock absorbers. Speaking of shock, these shoes also come with a set of 3-section ski poles, each of which has an anti-shock vibration system that reduces stress on your joints, muscles, and ligaments.
For the discerning women snowshoers, the Hike is an easy recommendation with its high quality construction, comfort and reasonable price.
PROS:
Lateral support
Quick-adjust webbing
Lightweight aluminum design
Additional 3-section poles
CONS
:
It can take a while to get used to the binding system, especially if you are familiar with other snowshoes
Related: A great way to get some exercise this summer is with the SUP onthefly Streamer Paddleboard. This stand-up paddleboard allows you to catch those waves without the falls and spills that you may have during surfing. It comes with its own storage bag, and is capable of carrying up to 500 pounds, which is no laughing batter.
ALPS Adult All Terrain Snowshoes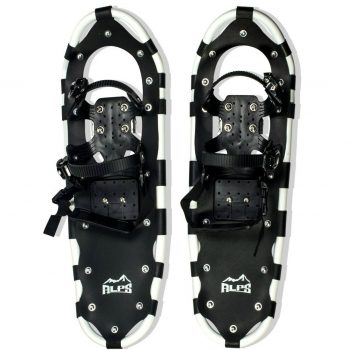 Price: $45 – $80
Weight: 6.5 pounds
Dimensions: 22 – 30 inches
Weight capacity: 80 – 250 pounds
Terrain capability: Easy
Specific features: Comfortable, lightweight, aluminum construction, lacing system, durable Nytex decks
Best use: Easy snowshoeing hikes
If you are planning on gentle strolls through even snow, or on clean trails, then the ALPS Adult All Terrain Snowshoes could be the right option for you. They offer everything that you would need to handle easy trails effectively, while also being highly affordable and friendly towards your wallet.
The lacing system is incredibly easy to use, and it features a set of buckles that can be used to quickly remove and apply the snowshoes.
One of our favorite features is the amount of comfort that they provide to the wearer, as all of the bindings are molded. They cradle and efficiently pad the arches and balls of the feet, so that there are no pressure points caused by your body weight. Instead, you'll feel like you're floating on a cloud with how these bindings wrap your feet. No more feet pain means you can hike through the snow for that much longer.
This pair boasts a great deal of performance and comfort features. It's also quite lightweight which is the way most people prefer their pairs.
PROS:
Easy to apply and remove
Comfortable
Supportive
CONS
:
Heavier than a number of other snowshoes
Not as many technical features
Related: Hiking in the woods can be dangerous if the residents of the forest don't know that you're coming. That's where the Coghlan's Bear Bell w/ Silencer comes in. The bell doesn't sound like any natural object in the woods, so animals will be aware of your presence and go out of their way to avoid you. Surprising an animal in its own territory is a one-way trip to getting injured.
Wrap Up
With all of that said and done, we hope that you have enjoyed our snowshoes reviews of some of the best products that are currently available on the market. These shoes would especially be recommended for beginners, but if you are an experienced snowshoer then we are certain that you will benefit from them too!
Featured Image Source: https://pixabay.com/photos/snowshoe-sport-winter-adventure-1983133/