Part of being in the wild means letting go of the most common amenities. However even when outdoors, many of us just can't part whith gadgets like smartphones and tablet. Don't you agree that a portable source of power will come in handy for such situations? And, wouldn't it be better if they're powered with renewable resources like the sun? Well, it sounds like you'll need to invest in the best portable solar panels.
More and more people have been looking into decreasing their carbon footprint these days, looking to natural sources of energy to provide them with the power that they need. Even though solar technology isn't new, not a lot of people know what to look for when shopping for solar panels. It's a good thing we're here to help!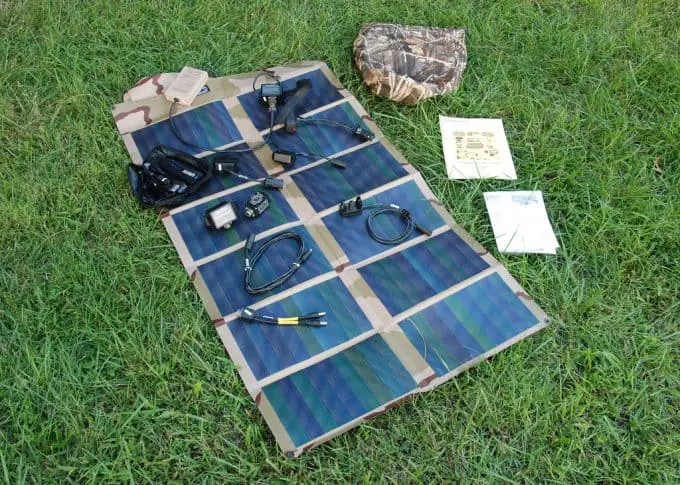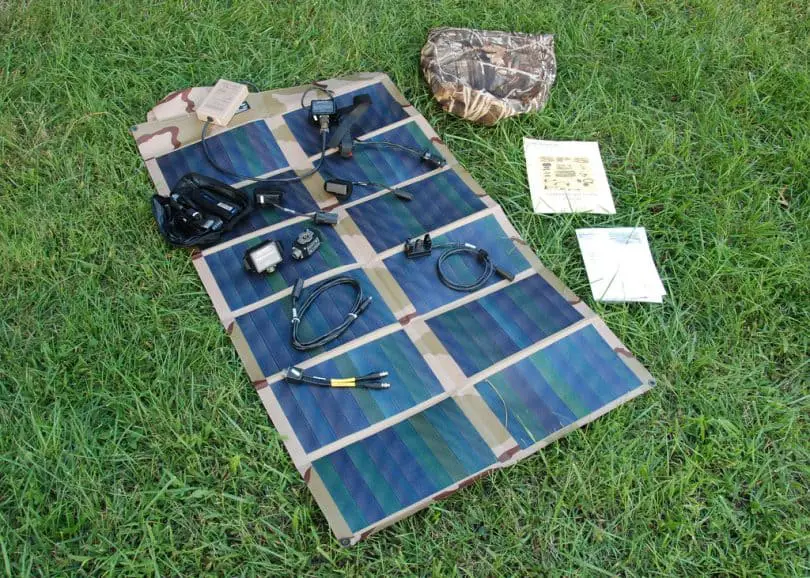 In this article, we've compiled a list of the best features and products for you to look into so that you can find the one that's right for you. We'll show you the important considerations and details you should be focusing on while you're shopping, and then go in-depth with some of the best products in the market.
Without further ado, let's take a look at some solar panels!
Our Top Picks
Things to Consider Before Buying
If you consider improving your next outdoor expedition with one or more portable panels, it's important to know what you want. Below we'll discuss some of the most important features that you should definitely include in your shopping experience when comparing products.
Ease of Use
Just think about this situation: your phone is dying and you need to call for an emergency situation or you need to check your GPS coordinates. In such a situation, you need access to quick energy and you don't have the time or the will to decipher complicated instructions.
A portable solar panel must be easy to install and operate since you don't have a specialist with you. Everything must be as simple as opening the panel, placing it in the sunlight, and charging your devices. No fuss, no complicated instructions, no brain teasers.
That also means that there shouldn't be a large bundle of cords to get tangled in; look for panels that have the most important charging ports to fit your devices (USB is the most popular one).
Weight
You don't need a panel that will weigh you down as you go up the path; after all you might be climbing a very steep mountain! If you are biking, hiking, or even rock climbing, your panel shouldn't weigh over one pound. It must also be quite easy to fold and stuff inside the backpack in the event that your hands and arms get tired.
However, if you are boating or driving, weight doesn't really matter so you can go wild with your choices. Still, some of the models we'll discuss today can be used on a backpacking trip, while others are more suitable for boating trips or strapping to the roof of your car.
Portability
This means that your panel must be easy to move around and transport. Many of the products described in the review section are easy to fold up so that they can fit into a pocket of your backpack. These folded sections also make it very easy for you to strap the panels to the outside of your backpack so that the charging process can take place while you're on the move.
After all, if you're already outside, there's no need to waste all of that solar energy while you're rock climbing or just hiking up a nice trail. For most backpackers, the more lightweight the panel, the better.
Versatility
Most models today can charge more than a certain type of phone or tablet. Due to the smart charging technology available today, most models can understand the devices you're trying to charge and can offer the right amount of electrical power. This makes portable solar panels extremely versatile and quite easy to have around.
Look for panels that have both USB ports and DC outlets so that you have the option of charging larger devices as well. Even if you don't plan on bringing mini-appliances with you, having the option is better than being without, especially if you're in an emergency situation.
Accessories
The most sought after accessory is an external battery. However, there are other things to consider like standing supports that allow you to position the panel easier, hooks so you can hang it over your backpack, pockets that protect your devices, cables, adapters, as well as other options.
However, which accessories you choose is dependent on how you'll be using your solar panels. There's no reason to throw money at options that you know you'll never use.
Best Products on Today's Market
After learning what are portable solar panels and what features should be considered before buying, we give you a list of our favorite products on the market and their characteristics, along with a buying guide.
Goal Zero Venture 30 Solar Recharging Kit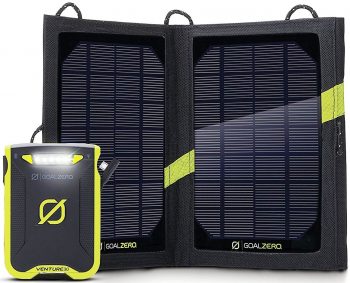 Price: Approx. $170
Weight: 8.8 ounces
Dimensions: 4.5 x 3.2 x 1 inches
Specific features: Built-in Micro USB tip, built-in charging tip, high-speed USB 4.8A in dual ports to charge two devices at once
Best use: Ideal for phones, tablets, and cameras
The Goal Zero Venture 30 Solar Recharging Kit is quite an interesting solar panel and charger to have around. First of all, it comes equipped with a textile case for easy transportation and has a built-in tangle-free tip so you won't have to keep the cables separately. This way, you simply connect the devices and wait for them to charge; no more struggling to find the right cord that you need.
The panel is waterproof, so if you forget it outside overnight and it rains, it will withstand the test. This means you can also use it near rivers or even on a boat.
However, it is not highly portable as it only folds in two while still remaining pretty big, so you may have to tuck this away in the main body of your backpack. Still, if you do need something with a lot of charging power, then this product is definitely for you.
PROS:
Lightweight
Durable
Integrated HDMI cable
Water-resistant
CONS
:
Case on smart phones has to be removed to charge
Related: The Therm-a-Rest Compressible Pillow is perfect for taking with you on any trip, comes in a wide range of wonderful colors, and will feel like an absolute cloud under your head. And because it's compressible, it can be made a lot smaller so that it fits completely in any storage bag. It even comes in an XL size for those who want to share their pillow with someone else, or just want more space to roll back and forth in their sleeping bag.
Instapark Mercury 10M Solar Panel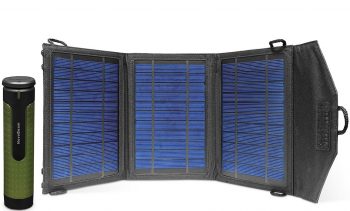 Price: Approx. $47
Weight: 16 ounces
Dimensions: 9 x 6 x 2 inches
Specific features: Two USB charging ports, USB charging cable
Best use: Ideal for phones and tablets, emergency preparedness, outdoor activities
The Instapark Mercury 10M Solar Panel is versatile and very easy to transport wherever you go. You can use it on the roof of your car or on the top of the highest mountain and you won't feel the burden during your journey. The panel is extremely lightweight and folds up into a small and thin package that can be easily placed inside a backpack. It also has high-efficiency and you can simply lay it down on the grass for collecting sun power.
The great side is that the dual USB port allows you to charge any type of devices from Apple ones to Android. This makes it a 100% green energy provider since it doesn't need any external batteries for specific devices (usually Apple).
To make things even more interesting, the panel comes equipped with a USB battery pack, capable of producing 3000 mAh. This is great for cloudy days or nighttime when there's no sunlight.
PROS:
Lightweight
Compact
Quick charge under direct sunlight
CONS
:
Charging restricted to USB devices
Related: The Black Diamond ReVolt Headlamp is super bright and very lightweight, so you can tuck it into a pocket of your backpack and whip it out when you need some light. It comes complete with red night-vision, dimming, and strobe modes to accommodate your every need. There's also a power meter that shows you how much battery life is left, so you can take extra batteries and change them when the juice runs out.
Suaoki Solar Panel Charger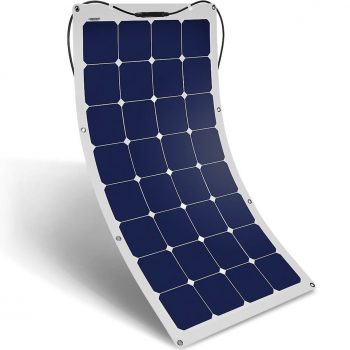 Price: Approx. $190
Weight: 77.6 ounces
Dimensions: 43.3 x 22.4 x 0.1 inches
Specific features: Innovative technology, water resistant, semi-flexible design
Best use: To charge devices that don't ask for more than 5 V
The Suaoki Solar Panel Charger has maximum contact with the sunlight due to its great design that exposes the panel completely which makes it great to mount on the roof of a tent or an RV. It's semi-flexible, so it can be flexed to an angle of about 30 degrees and still continue to work, allowing you to add this to just about anywhere.
This type of solar panel is designed with monocrystalline chips to ensure a high conversion efficiency of solar energy to electrical energy by up to 25%. Also, the innovative solar cell technology keeps the energy even during the night, which is a very nice addition.
The panel can be used during traveling, on camping, or anywhere you can find a bit of sunlight, and is so light that it can be carried anywhere with you.
Unfortunately, this solar panel cannot be folded, so you won't really have space in your backpack, but if you are driving to your camping site, it can be connected to any charging device, which you can use to charge your small electronics.
PROS:
Well-constructed
Can be attached to the roof of your car while you're traveling
Flexible
Water-resistant
Light
CONS
:
Wires should have been mounted from behind
Related: If you're looking for a more robust way to have power, then the Suaoki 400W Portable Solar Generator may be more up your alley. It runs quietly, is extremely affordable, and harnesses the power of the sun to power your devices as well certain appliances within your home. Great for any emergency situation or a camping trip, it only weighs about 12 pounds, so you can easily move it around to where you need it to be.
KINGSOLAR 120W Solar Panel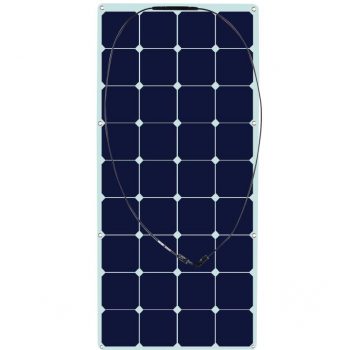 Price: Approx. $260
Weight: 97.2 ounces
Dimensions: 61 x 20 x 87 inches
Specific features: MC4 connector, rounded corners to prevent scratching against surfaces, pre-drilled holes for installation, can be curved at a 30-degree arc
Best use: Charge tablets and phones; can be installed on any RV, boat, or vehicle
A first time user of the KINGSOLAR 120W Solar Panel can easily install the equipment because of its simple design. The presence of flexible stands enables curving of the panel to a maximum angle of 30 degrees, which is perfect for when you're dealing with a tough surface area. The corners of the panel have even been rounded to prevent you from scratching those surfaces, so that you don't have to later pay to make these minor repairs.
This solar panel does provide a lot of power, more than what most people would need on an average camping trip. But having too much is better than not having enough. And instead of using the pre-made holes and drilling the panel onto your surface, you can using a sealing caulk instead and remove it later when you'd like to transfer the panel to something else.
PROS:
Easy to install
Flexible
Reliable
CONS
:
Voltage is too high for charging 12 Volt batteries
Related: On the hottest days, you want a great way to keep cool, and the Fan-Tastic Endless Breeze Fan can do that for you. It's a 12-Volt fan that runs extremely quiet, so you won't have to yell above the noise, and provides instant air flow as soon as you plug it in. Even though it's very quiet, it can provide wind of up to 10 mph, so that's nothing to laugh at. It can even be used in your RV when you don't want to crank up the AC, guaranteeing that all of your passengers will remain cool, no matter how hot it is outside.
SNAN Portable Solar Charger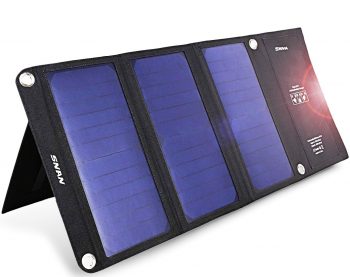 Price: Approx. $70
Weight: 30.4 ounces
Dimensions: 11.4 x 6.4 x 1.8 inches
Specific features: Four hooks for easy hanging, stands to erect the panel on its side, two USB charging ports
Best use: Camping and hiking
The SNAN Portable Solar Charger comes with a conversion efficiency of 23.5%. This means that your devices will charge quite fast during a sunny day and the panel will manage to squeeze some juice even on a cloudy day.
Even more, the panel can be easily folded, which is fantastic news for the day-to-day traveler who needs lots and lots of space in his/her backpack. You can hang it on the outside of your backpack so you will charge your devices as you go, or you can use the two available stands to collect more sunlight in a fixed location.
The SNAN panel is water-resistant and can withstand some pretty powerful winds too. It is also equipped with smart charging technology – this means the panel communicates with your devices and learns the type of amperage they need so it can feed the optimal energy level. It comes with a 18-month warranty.
CONS
:
Too large for backpacking
Related: Whether it's to stay on top of the news or to keep in touch with the weather forecast, the RunningSnail Solar Crank Weather Radio can provide you with the latest. It comes with a power bank to store the power generated from the hand crank, a flashlight for when it gets dark, and a reading lamp, when you've had enough of the radio and want to get into a good book. Using the hand crank to charge the battery to full can provide you with 12 hours of light or 4 to 6 hours of radio time.
KINGSOLAR 50W Solar Panel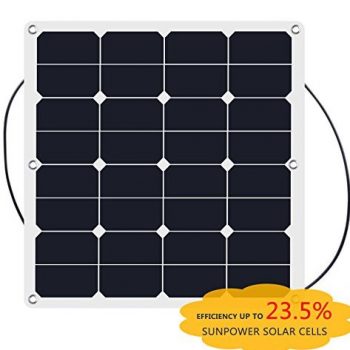 Price: Approx. $132
Weight: 35.2 ounces
Dimensions: 21.6 x 20.9 x 0.1 inches
Specific features: Internal blocking diode prevents reverse current drain at night, water-resistant, MC4 connector, 1-metre cable
Best use: Charging devices while driving or boating
The KINGSOLAR 50W Semi-flexible Solar Panel is equipped with the same properties as the KingSolar 120W we discussed earlier. The only difference is in the power it produces (50 W instead of 120 W).
Just like the product above, the panel a high efficiency of 23.5%. Also, due to the presence of a diode that prevents reverse draining of current during the night you will be able to charge your devices during night time as well.
The panel is lightweight and perfect for traveling. It is also designed to have round corners to prevent it from being scratched as you move it and carry it around. Unfortunately, this solar panel has no folding feature, so it's not the best choice to carry with you if you plan on hiking. However, if you do have a power storage unit, it can easily be connected to the panel so that you can charge your devices at your camping site.
PROS:
Flexible
Lightweight
Reliable
Durable
CONS
:
Clear topcoat starts to chip and peel eventually
Related: Always wanted some way to control and regulate how much solar power is being stored and used by your battery. The XCSOURCE Intelligent Solar Panel Battery Regulator helps you to do just that. You can see the data as it happens in real time, and you can make the necessary adjustments to ensure that your battery is being drained too much. This device also helps you to prevent any overloads that may occur so that you can minimize the risk of your battery blowing out or becoming damaged in the charging process.
BigBlue 28W Solar Powered Charger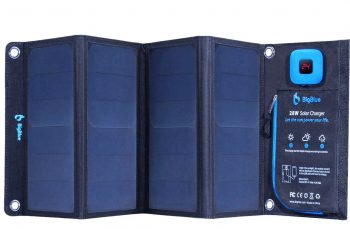 Price: Approx. $60
Weight: 22.4 ounces
Dimensions: 11.2 x 6.3 x 0.7 inches
Specific features: IPX-4 technology, displays Amps being used, micro-USB cable, two 2.4-Amp Ports, one 1-Amp port
Best use: Camping, hiking, charging devices on the go
The BigBlue 28W Solar Powered Charger has a solar efficiency of 21.5-23.5%, a fast charge technology due to its built-in intelligent chip and also a polymeric fabric to increase its strength and protect the panel on rainy or foggy seasons.
The panel is foldable into an easy-to-carry pouch and can be easily snuck into any type of backpack. The loops around the edges also make it easy to hang on the outside of your backpack so that you can charge your devices while you're on the move. It is also equipped with a protective pocket so you can charge your devices right under the sunlight.
In terms of devices it supports, the panel is designed with a micro USB cable which goes with almost all Android devices and even some DSLRs. The fast charging technology offers steady current to a wide range of devices so you don't have to have more than one solar panel.
Related: Want to have the brightest light with you without having to bring a whole bunch of battery chargers with you? The SunJack CampLight is an 8-LED bulb that is fully powered through USB, so you can use it in conjunction with your cellphone or laptop. The long cord allows you to hang it from an overhead hook, and provides you with 340 Lumens that make it easy for you to see just about anything. It's great for emergencies, especially during blackouts in your home and you need to see where you're going.
Peppermint Energy Forty2 Pro Solar Power Generator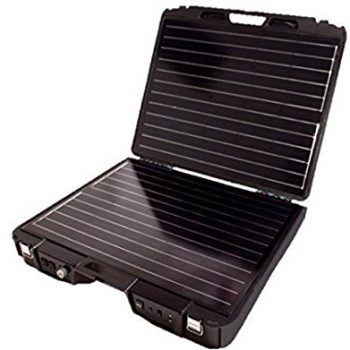 Price: Approx. $2000
Weight: 928 ounces
Dimensions: 34.25 x 30 x 6 inches
Specific features: Two USB ports, two wall outlets, one 40A DC outlet.
Best use: Car camping, RVs, boats, emergency power supply for storms, tailgating, prepping
The Peppermint Energy Forty2 Pro Solar Power Generator is slightly bigger and chunkier than all the products above, and is roughly the size of a suitcase. The solar panels are actually on the inside, so all you have to do is open it up and leave it out in the sun to start the charging process.
It comes with plenty of ports that can be used to charge small electronic devices, as well as much larger appliances in your home if that's what you need. Because of its power, it's also a lot more expensive than the other solar panels you'll find on this list.
Even though you can't easily stuff this product into a backpack, the features are quite interesting. But first, you should know that this unit can quickly charge high-energy devices like laptops, tablets, freezers, and even TVs. This is definitely the unit to have around in case of an emergency!
PROS:
Can power your most important devices
Portable
Compact
Charges quickly
CONS
:
Very expensive
Very heavy
Related: For another suitcase-style solar generator, you may want to check out the Aspect Solar Sunsocket Sun-Tracking Solar Generator. Everything you need fits into a briefcase, charges in only five hours of sunlight, and has four USB ports and a 12-Volt DC outlet. The 60W panels and 250W battery provide you with a lot of power in one small package, and the fact that it tracks the sun across the sky means that you don't have to keep moving the panels around to get the maximum charging capabilities.
Wrap Up
That concludes our reviews. Nothing's easier than harnessing the power of the sun to keep your small devices charged, and can definitely make your camping experience a lot more enjoyable, especially when you just want to sit back and relax by yourself.
We hope that the information we've provided to you has made it easier for you to find a portable solar panel that's perfect for your needs while still fits into your spending budget. There's no reason that your shopping experience would require a science degree in order to find the perfect solar panel you can carry with you on your trip.
Featured Image Source: "2019-01-30_05-18-22" by steevithak is licensed under CC BY-SA 2.0