Cooking has always been a significant factor when it comes to outdoor activities like camping. When you're out in the wild, don't you want to enjoy a hot meal in camp after a long day of trekking? Well it's a good thing that there are no shortage of camp stoves that you can use to make a nice meal.
In this case, the best kerosene stove is something that you'll want to consider. These stoves are generally used in outdoor cooking due to the nature of the fumes given off by the burning of kerosene. In fact, one of the most popular uses, besides an emergency backup stove, is for outdoor canning.
But how exactly do you shop for a kerosene stove? Looking at the options on the market, it's easy to get overwhelmed, especially if you're a first time buyer. Well, you don't have to worry because we're here to help!
In this article, we will start off with a brief overview regarding the factors you should take into consideration while choosing a kerosene stove. Then we'll go in-depth on some of the top products available on the current market. Let's get to it!
Our Top Picks
Things to Consider Before Buying
No two kerosene stoves are built exactly the same. Some are simply designed to do its main intended job and no more. Others come with an array of extra features. So you won't get blindsided by the sheer number of products lined up on the shelves, here are the things you need to focus on when purchasing a kerosene stove:
Fuel Type
Some kerosene stoves will only run on kerosene, but the majority of them run on other kinds of liquid too. If you prioritize versatility, then a stove that runs on other kinds of fuel too will be the best choice. Just make sure that the stove's main fuel is kerosene.
Most pressurized fuel stoves require heavy, bulky storage tanks. Of course, there are compact canisters that are much smaller than their large patio counterparts are, but most stoves go through this type of fuel very quickly. In order to prepare ahead of time, it is necessary for these canisters to consume a great deal of shelf space.
Over time these containers can begin to rust, depending upon the climate, and this could cause safety issues when using them. Kerosene is a liquid fuel that does not require bulky, pressurized containers. Instead, a much greater amount of kerosene can be stored in considerably less space.
Types of Stoves
Once you have weighed these differences and have chosen to move forward with purchasing a kerosene stove, there are essentially two types to consider.
Pressurized kerosene stove is one type. Although kerosene does not need to be stored in pressurized containers, some stoves are designed to burn pressurized kerosene. The good news is that the pressurization takes place in the stove's own liquid storage tank. These stoves typically have a small hand pump built into the side of the tank that is used to build up the pressure.
The only potential drawback to this kind of stove is that many of them require you to also have a small amount of liquid alcohol on hand. This is because there is an area to pour and then ignite the alcohol, which pre-heats the piping for the vaporized kerosene to ignite.
Wick stoves make up the other type. These usually employ some sort of fabric wick. One end sits inside the tank and the other end is exposed at the cooking surface. The fuel soaks up the wick and can be ignited.
If properly designed, these wicks can last a long time, but with poor design or improper use, the lifespan of a wick can be greatly reduced. In addition, some stoves use very specialized wicks that can sometimes be expensive or difficult to replace.
In either case, one additional factor to consider, which may or may not be important to your particular application, is whether or not the heat generated by the stove is adjustable. Some people don't mind having a single temperature to cook on, but others prefer the ability to control the temperature depending upon what it is they are cooking.
BTU Output
The BTU output determines how much heat the stove is able to put out, so it's definitely an important factor. If you usually need to cook in a hurry or boil water for a big group of campers, then a stove that can produce high heat is probably what you need. On the other hand, if you prefer to steam your food nice and slow, a lower BTU output should suffice.
It is recommended that you go for a kerosene stove that has an adjustable heat function. This feature alone increases the versatility of the stove tremendously because it can be used for all kinds of cooking needs and you can reduce the fuel consumption as needed.
Fuel Capacity
If you plan to take the kerosene stove with you on a backpacking or camping trip, you'll need to consider the stove's fuel capacity carefully. You don't want to run out of fuel in the middle of a trip after all. How are you supposed to keep on climbing when you don't have hot food in your belly?
A bigger fuel capacity would generally mean a longer burning time, but don't forget to consider the stove's fuel-consumption rate too. Also, the trade-off is that the bigger the fuel tank is, the heavier the stove will be, so you would need to consider your priority in this case.
Also, as mentioned before, one of the many benefits of using a kerosene stove is the fact that it's less risky to store in large amounts than any other types of fuel. So you may be able to carry some extra with you on your trip too.
Durability
The stove's durability is another important factor. While some stoves may boast many burning holes and the capacity to cook food for a group of maybe 6 to 10 people at once, it will amount to nothing in the end if the stove's construction is not durable enough to hold the big and heavy pot without folding in on itself.
You should also consider the fact that your stove will probably be jostled around in your backpack while you're climbing. The stove should at least be durable enough to not bend and break under such impacts.
Best Products on Today's Market
Choosing a kerosene stove is not exactly the easiest, considering the number of features and options in the market. In order to help sort out some of the various options and designs, here is a list of the top kerosene cook stoves. It's safe to say that you can't go wrong with these models for outdoor use.
Butterfly Kerosene Pressure Stove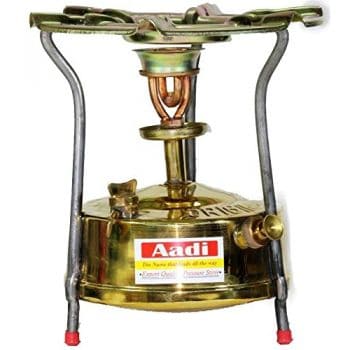 Price: Approx. $70
Weight: 2.7 pounds
Dimensions: 8.25 x 7.9 inches
Specific features: Maximum 9000 BTU output, 0.9 liters (30.4 ounces) fuel capacity, 3 removable stove supports, 3 cleaning pick tools, wrench, a brass cap for the tank
Best use: Outdoor cooking
The Butterfly Kerosene Pressure Stove is generally considered the most portable "old-style" kerosene stove. At nearly 3 pounds, it isn't as packable as some stoves designed specifically for backpacking, but this little unit can travel well. In fact, many military units in the not too distant past utilized this model stove because of its small, but versatile design.
Its tank is just short of 1 liter, but it can burn for up to 3 hours on a single filling. This stove uses a very energy efficient burning system despite being one of the older models.
Once you have the fire burning with several starting pumps to vaporize the kerosene, the fuel tank does the rest. It keeps the fuel inside warm enough so the kerosene will evaporate gradually on its own.
This is a very durable product made of brass and iron. Those main materials make the stove quite heavy, but you can't really beat them when it comes to safety—especially when dealing with fire. This stove has a very attractive, retro design that if handled properly can be handed down from generation to generation.
PROS:
Energy-efficient system
Compact and versatile design
Durable and safe to use
Retro style
Related: This stove is used for cooking in the wild. But if you're in the mood not just for a retro-style cooking stove but also for a retro-style oil lamp, then you wouldn't want to miss out on this Garrett Wade Mesh Miner's Oil Lamp. It burns on kerosene too.
Chinatera 8 Wicks Kerosene Burner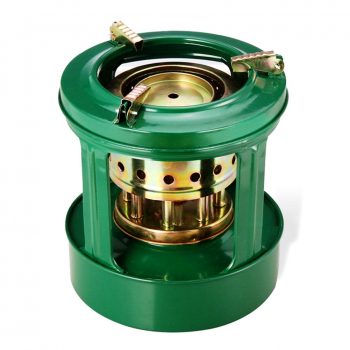 Price: Approx. $22
Weight: 1.5 pounds
Dimensions: 7 x 6.5 inches
Specific features: 1 liter fuel capacity, fuel consumption is 0.15 liters per hour, 8 burning holes, runs on kerosene and other oils including diesel oil
Best use: Kitchen back up, outdoor use
The Chinatera 8 Wicks Kerosene Burner is exceptionally light, and it's mostly used as an emergency backup stove, because it works well under controlled conditions. As with any wick style stove, be sure to line the wicks up close together to avoid hot spots. For heavier pots, it would be a good idea to utilize a separate, stronger support over the stove to prevent damage.
This stove can be used altogether by a group of 5 to 8 people, so bigger groups will be able to save time if they cook with this one. It also runs on many different kinds of liquid, not just kerosene, so it's quite versatile.
However, it isn't considered to be a suitable solution for hikers or backpackers. The main reason is that the lighter weight is achieved using very thin metal in its construction. This makes the stove rather susceptible to damage if tossed around.
A second reason for not packing this stove on the trail is that the fuel tank is not very well sealed and has the tendency to spill if it is tipped. Many users of this stove also claim that it can be very vulnerable to wind and drafts.
PROS:
Lightweight and compact
Runs on all kinds of liquid
Good for accommodating a large group
Affordable price
CONS
:
Not very durable
Not very well sealed
Related: Campers should also always carry this Mr. Heater AC Power Adapter since electrical sockets are usually available around camping sites.
Alpaca Kerosene Cook Stove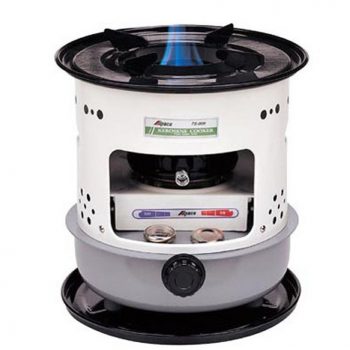 Price: Approx. $120
Weight: 15 pounds
Dimensions: 14 x 13 inches
Specific features: 8500 BTU Output, 3.5 liter fuel tank, fuel gauge, 0.22 liter/hour fuel consumption
Best use: Camping, hiking
The Alpaca Kerosene Cook Stove is incredibly well built and very durable for bigger, heavier tasks. It burns exceptionally clean and with an 8500 BTU output it cranks out enough heat for just about any cooking job.
The Alpaca does utilize multiple wicks, but the design of this stove makes lighting it much easier than other multi-wick stoves. In addition, because of the heat shield installed between the burner and the tank, the fuel stays cooler. This is a safety feature most noticeable when it is used for long periods of time.
The special fiberglass wick does take some time to get used to and improper use can result in heat failure due to the build-up of tar balls on the end of the wick. Because of this, it would be important to become familiar with operating it well before it is needed in an emergency scenario.
PROS:
Very durable and well-built
Burns very clean and hot
Easy to start a fire on it
The fuel is able to stay cooler thanks to the heat shield
CONS
:
Heavy
Expensive
The fiberglass wick is rather difficult to get used to and maintain
Related: The Alpaca Kerosene stove is great for outdoor excursions, but kerosene stoves are not suitable for providing heat indoors. For that particular purpose, you should use the Alpaca TS-77 Oil Heater instead. It can heat up nearly 200 square feet.
Coleman Exponent Multi-Fuel Stove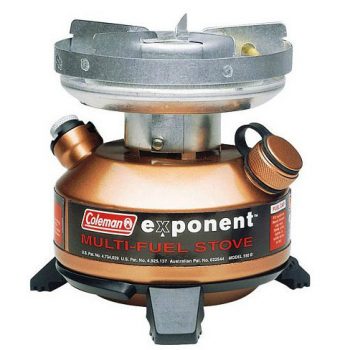 Price: Approx. $160
Weight: 1.35 pounds
Dimensions: 5.2 x 5.2 x 7.5 inches
Specific features: Sturdy fold out legs, compact design, reliable performance, multi-fuel versatility, precision flame control, 30000 BTU
Best use: Camping, hiking
Coleman brand stoves have been one of the most popular go-to stoves for hikers and backpackers for decades. The Coleman Exponent Multi-Fuel Stove is one of the reasons Coleman is so trusted in the outdoor product market.
Most people who have spent any amount of time cooking on the trail have been exposed to the quality Peak stoves that Coleman manufactures, but this stove is somewhat unique in this particular category.
Users of this stove are not limited to a single fuel source because Coleman has designed in the ability to easily change out the generator portion of the stove. This allows for the accommodation of burning Coleman fuel (naphtha), unleaded gasoline or kerosene.
Burn time on a single tank is not specified, but Coleman claims a tank of fuel can last an entire weekend.
The only problem you might encounter with this stove is due to the fact that it is not rustproof. But that shouldn't matter all that much as long as you keep it clean and tightly sealed in an air and waterproof container while you're not using it.
PROS:
Very lightweight
Energy efficient
Runs on many types of fuel
Very durable
Very high BTU output
CONS
:
Expensive
May show signs of rust after a while
Related: One of the many types of fuels that you can use on this Coleman stove is the company's very own Coleman Premium Blend Fuel. This fuel is said to be capable of producing a cleaner fire than kerosene and can also last longer.
Butterfly A822 Kerosene Stove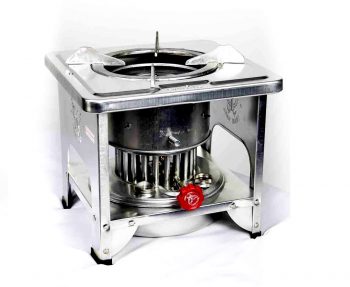 Price: Approx. $90
Weight: 11 pounds
Dimensions: 12.25 x 14 inches
Specific features: 14000 BTU Output, 3.1 liter fuel capacity, adjustable heat, aluminum
Best use: Outdoor cooking
If high heat is what you are after on a kerosene stove, the Butterfly A822 Kerosene Stove is rated at 14000 BTUs, an output not matched by most similar units. The high output is due to the use of 22 wicks in the burning area.
Thankfully the design of this stove takes the higher fuel consumption into consideration and the tank capacity is larger than all the other stoves on this list. The resulting 3.1-liter tank provides for up to 6.2 hours of cooking time.
It is a very large and sturdy stove capable of holding the weight of larger pots safely. Although, the trade-off for that durability is the fact that it is quite heavy. With reduced portability, this might not be a suitable option to take with you on backpacking or hiking trips. It's perfect for outdoor kitchens, though.
This stove also runs on all kinds of fuel—including jet fuel. Be wary of a stronger odor when using stronger fuel than kerosene, though.
PROS:
Very high heat output
Comes with a large fuel tank
Supports many different kinds of fuel
Related: As mentioned, this particular stove isn't ideal for backpacking and hiking trips, but it's a great choice if you're looking for something to cook on during a garden party or any other outdoor events. During such events, hanging this Best Choice Products Hammock will definitely enhance the fun atmosphere.
Butterfly #2698 Kerosene Stove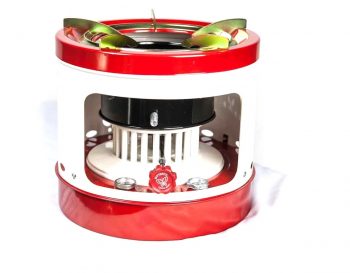 Price: Approx. $90
Weight: 14 pounds
Dimensions: 12.5 x 14 inches
Specific features: 5 quarts fuel capacity, integrated fuel gauge, adjustable heat, 14000 BTU
Best use: Outdoor kitchen
Where the A822 lacks in aesthetics, the Butterfly #2698 Kerosene Stove fills that role without sacrificing any heat. With the same number of wicks, this stove has a similar output rating of 14000 BTUs. The heat is adjustable through a large control knob on the front of the unit.
The 5-quart capacity puts this unit at the top of the list for burn time and heat output combined. It is said to be capable of burning at full capacity for as long as 11 hours. If you make use of the adjustable heat output function and lower the flame, one tank of fuel should be able to hold on for much longer.
Interestingly, even though this stove has such a large fuel capacity, the tank incorporates a visible fuel gauge to let you know when it is time to refill.
This is a stove that does its intended job well. Unfortunately, as with all products, it comes with its fair share of caveats. This stove is not very durable, so you might want to avoid putting heavy pots on it. Also, it is quite heavy and may not be a preferred choice for backpackers and hikers.
PROS:
Amazing heat output
Great fuel capacity
There is a visible fuel gauge that lets you know when you need to refill
Adjustable heat
Related: Due to its adjustable heat output, this stove is great for all kinds of cooking. You can grill, stir-fry, and even steam food on it. Or, you can try your hands at Moroccan-style cooking using this Cooking Tagine Small Clay Tajine Pot at home if you're feeling creative.
Wrap Up
And that ends our review. If you've never considered kerosene stoves before, you might do well to think about adding one to your emergency equipment list. The advantages of storing and safely using affordable and readily available kerosene make it a very sensible choice in disaster readiness planning.
It makes a lot of sense to incorporate these products for any level of outdoor cooking. The added benefit of using these units in the outdoors for potentially hazardous chores such as pressure canning also add to the attractiveness of kerosene stoves.
Featured Image Source: https://unsplash.com/photos/N561DZ3NfVM