Do you love working out because you think that being healthy comes first? Or do you enjoy the adrenaline rush and that accomplished feeling you get after finishing your workout? Regardless of your reasons for exercising and of your physical shape, the best sport watches help improve your fitness level.
These are very rugged timepieces and look their part. These watches show the time and date, but they have additional functions and features that help you exercise better, even if it's just a countdown timer or a stopwatch. Therefore, these watches will help with your goals of getting fit and improving your self-esteem. Don't know where to get one? You're on the right page.
We'll start with some advice you need to consider before getting your watch, discussing the specific features you want depending on your purpose. After that, we'll discuss some amazing watches on the market, in the hopes that you'll find something you like.
Our Top Picks
Things to Consider Before Buying
There are a ton of possible factors you can consider before buying a sports watch, but the most important one of all is your purpose. If you know exactly what you need this watch for, you'll know how much money you want to invest in it and what important features you can't live without. So let's discuss these below.
Materials
A sports watch needs to be resistant and enduring, which is why you need rugged, durable materials. For instance, stainless steel or polycarbonate for the case, and acrylic for the mirror are such materials, and they can render a shock-proof, impact-resistant watch.
The material used for manufacturing the wristband is important too. Of course, you want a durable, puncture resistant band that doesn't need changing every week, but you need something very comfortable too. So while polyurethane, for instance, is known for its resistance, silicone is better because it's softer on your skin.
Display and Backlight
The display should first be easy to read, and that means large enough so you can actually see the numbers. But if you get one that's too big, it might look weird on your hand, or end up being actually uncomfortable. Not to mention that a bigger display adds to the total weight of the watch.
Some of the best devices have a backlight so you can read the display easily even when it's dark out. Just make sure you don't have to keep this light on constantly, and that the readings are clear even during the day, or in direct sunlight if you're working out outside.
Waterproof Level
If you're interested in swimming or snorkeling, you want to look for a higher waterproof rating. If you're just interested in washing your hands or taking a quick shower with your watch on, maybe not get all jittery that you're wearing it when it's raining, a life waterproof watch is fine.
However, make sure you read the water resistance specifics carefully. So some watches might be waterproof to hundreds of feet, and you still can't dive with them. That sounds confusing, but they can withstand such a huge water pressure for a limited time, less than you could dive in and back again.
Ease of Use
You need a watch that's easy to use, and that entails different things. For one, you don't want it inconveniencing you on your wrist, chaffing against your skin, but you don't want it falling off either.
You need easy to use buttons and an intuitive menu. The instructions should be clear, and the included functions should work as advertised, without requiring you to do all sorts of scramblings, repairs or acrobatic movements.
Functionality and Look
Of course, you want a watch that works, but perhaps it's also important to you that it looks good. The relevance of these two characteristics can be decided if you take into account the purpose for getting such a watch.
For instance, if you need a sports watch for an hourly alarm so you know when it's time to get up from your desk and move around a bit, you need a gadget that can be worn to the office too. If you're interested in a watch that provides a sturdy protection against impacts for rock climbing, along with multiple features like calories burnt, then functionality is your top priority.
With that in mind, let's move on to some of the most innovative, quality products on the market.
Best Products on Today's Market
The products below are great sports watches that don't break the bank. We've discussed all their features in terms of your purpose, but we've also listed their pros and cons to help you decide.
PALADA Sports Digital Wrist Watch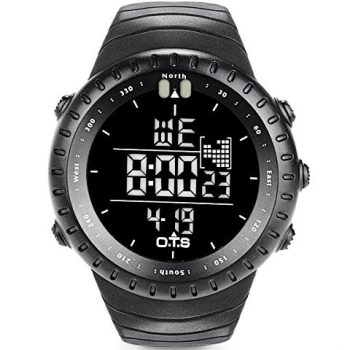 Price: Approx. $23
Weight: 2 ounces
Dimensions: 11 x 2.4 x 0.7 inches
Specific features: Quartz, TPU wristband, ABS case, senior acrylic mirror, 164 feet waterproof, LED backlight, second chronograph, hourly alarm
Best use: Low-impact activities, indoor sports
The PALADA Sports Digital Wrist Watch is a nice looking, black watch, which, although it looks casual, can be worn with business outfits too. We love the electronic quartz movement of it because it's very precise, as most digital watches are.
In terms of design, the TPU wristband feels comfortable on your wrist because it's quite soft. The mirror is made from a resistant material too, senior acrylic, which makes it very transparent, as well as resistant to abrasions.
This watch can be worn even when you swim, it's waterproof up to 164 feet, but you can't use it for prolonged diving. Otherwise, you can shower with it or swim for as long as you like, even in cold water.
There are other feats to this watch apart from its resistance and comfortable wear. For instance, the LED backlight makes it easy to read the date and time even in low light. That's a great use because normally, the display looks pretty dim and difficult to read.
We love that the second chronograph is very precise, though this watch has just the basic functions. You'll also get an hourly alarm to go with the usual alarm clock and all that in an attractive piece of jewelry.
PROS:
Inexpensive
Elegant
Comfortable wristband
Resistant
Waterproof up to 164 feet
Easy to read in the dark
CONS
:
Basic
Somewhat difficult to read the display
Related: If you're frequently getting off gym during the night, you might consider the Noopel Personal Alarm. This is very easy to use, it's light and comes with a portable keychain so you can always have it at hand. Besides, we love that it's very loud, up to 130 decibels, so you're sure to be heard in case of an emergency.
Aposon Digital Waterproof Sport Watch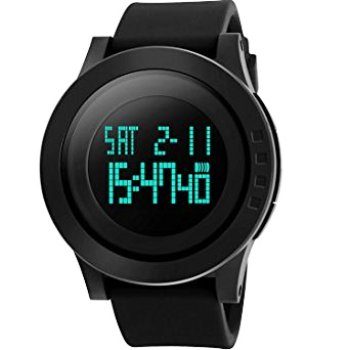 Price: Approx. $13
Weight: 3 ounces
Dimensions: 10.6 x 2 x 0.5 inches
Specific features: Chronograph, LED backlight, 164 feet waterproof, shock-resistant, stopwatch, countdown timer, silicone wristband, stainless steel case, mineral window
Best use: Outdoor sports
The Aposon Digital Waterproof Sport Watch is another black watch, and can be worn outdoors, regardless of the weather. Just like the PALADA Sports Watch, this one has a LED night light that makes it very easy to read when it's dark out.
It's also water-resistant up to 164 feet, so you can use it for swimming too, and we love how resistant to shocks it is. Just like the PALADA, this one is a minimalistic-looking watch that has a very precise second chronograph.
The differences lie in more modes and functions, apart from the general alarm and hourly time signal. The fact that you have a stopwatch and a countdown timer means that you can use this watch for different sort of sports that require timing your performance.
Besides, this watch has a silicone wristband that's also very comfortable to wear. Not to mention the fact that it's very resistant to shocks, so you can actually use it for more rugged sports too. The stainless steel case and mineral glass window scream quality, though this is another very inexpensive watch.
The main downside is that in normal light, the display is quite dim, so it's difficult to read without stopping. The other downside is that it's huge, so you can't wear it when you go out with your friends because it doesn't look particularly stylish.
PROS:
Led backlight
Waterproof to 164 feet
Shock-resistant
Precise
Countdown timer and stopwatch
Comfortable wristband
Inexpensive
Related: If you're into running, the Mxson Ultra Lightweight Sneakers are perfect for that. They're inexpensive, they have a breathable mesh, a rubber outsole to tackle powerful impacts on your feet and very good arch support.
Timex Marathon Full-Size Watch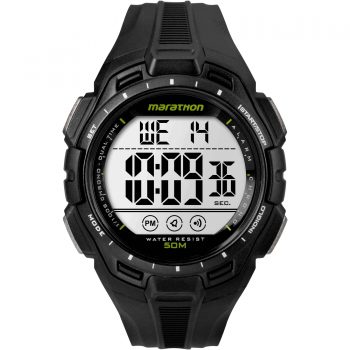 Price: Approx. $16
Weight: 3.2 ounces
Dimensions: 4 x 3 x 3 inches
Specific features: Quartz movement, second chronograph, daily alarm, two time zones, waterproof to 165 feet, Indiglo light, resin band, stainless steel case, buckle closure, time and date readings
Best use: Outdoor sports
The Timex Marathon Full-Size Watch is another digital watch with a very precise quartz movement. The 24-hour stopwatch is really great for all sorts of outdoor sports, and the second chronograph is also a nice addition here.
The daily alarm featured is something you can rely on, and we love the fact that it has two time zones available. This watch can be used for swimming too since it's waterproof up to 165 feet, but you shouldn't use it for diving. The Indiglo light is another advantage for dim light when you need a backlight to help you read the display with more ease.
In terms of design, the band is made from resin, which is a resistant and light material. The 9 inches long strap is very comfortable too, and the buckle closure is quite secure. The stainless steel case has a round shape which looks well on most wrists, and you'll get precise readings of both the time and date.
The huge advantage when comparing it to its previous two competitors is that you can easily read the display even in direct sunlight. The disadvantage is that it scratches faster than the other two and that it doesn't have a countdown timer.
PROS:
Looks well
Waterproof to 165 feet
Easy to read in all lights
Comfortable band
Secure buckle
CONS
:
Scratches easily
No countdown timer
Related: If you want to take full advantage of the great outdoors, the Wantdo Mountain Jacket is great for that purpose. With a fleece interior and a windproof, rainproof exterior, this light, yet breathable jacket is just the thing to protect you from inclement weather.
Garmin Forerunner 10 GPS Watch
Price: Approx. $180
Weight: 1.6 ounces
Dimensions: 2 x 1.4 x 0.2 inches
Specific features: Small screen, tracks distance, pace, calories, and personal records, one-button start, Garmin Connect, GPS, waterproof to 165 feet, 10 days battery life
Best use: Running
The Garmin Forerunner 10 GPS Watch comes in an appealing black and silver model, but there are plenty of other patterns to choose from. Even the size of the display can be selected according to your wrist size or other preferences, so you can either get the 0.82 or the 0.98-inch screen.
This watch is much more expensive than the previous products we reviewed, but it comes with awesome features for running, as well as for other outdoor sports. For instance, it tracks your distance, pace and how much calories you've burnt on two different screens, but it also keeps track of your personal records, which is a great motivator.
This watch is easy to start, you just have to push one button. If you use the Virtual Pacer, you can compare your actual pace with that you have planned, and all these plans, along with reviews and shares can be done with Garmin Connect™.
Besides, this is a very light watch, it's battery can resist to about 10 days tops, and it's also waterproof to 165 feet. The biggest downside is that the GPS is not that sensitive, so if you run in an area with low signal, you might have difficulties. There's also an alarm after each mile you run for motivation, but the sound is very faint and you can miss it if you're listening to music while running.
PROS:
Elegant
Versatile
Running mode
Great motivator
Long battery life
Waterproof up to 165 feet
CONS
:
The GPS is not that sensitive
Faint 1-mile alarm sound
Related: You do need to charge this watch, so why not get the Garmin Forerunner 10/15 Charging Data Clip? It was specially designed for this watch so you'll know it works, not to mention it's easy to use for data transfer too.
CakCity Digital Sports Watch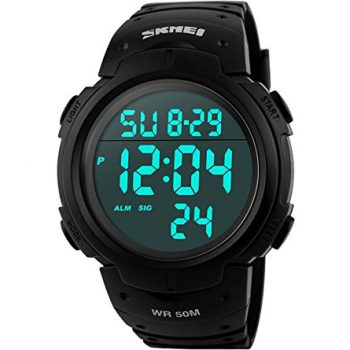 Price: Approx. $13
Weight: 3 ounces
Dimensions: 3.3 x 3.2 x 3.2 inches
Specific features: Military-style display, LED backlight, shockproof, Auto Date, stopwatch, alarm, waterproof to 164 feet, resin mirror, polycarbonate case, polyurethane band
Best use: Rock climbing, running
The CakCity Digital Sports Watch is another digital watch that features a round case and black color. The dial design looks amazing though, and so does the military-style display. The dial is pretty large though, which is great for easy reading, but bad if you have small wrists.
The LED backlight is a true asset when it comes to reading the numbers even when it's dark, and selecting the lamp is quite easily done. Unlike the Garmin Forerunner, this is a men's watch because it's bigger and looks rugged.
The truth is that it doesn't just look rugged, it is very resistant too. Since it can withstand shocks so well, it's perfect for most rough outdoor sports, like rock climbing and running. However, it doesn't have a specific running mode, though it does have a stopwatch.
Among other basic functions, we have the Auto Date, the stopwatch, and the alarm, and we love that this watch can be used for swimming and showering too. So even if it's waterproof up to 164 feet, you can't use it in very hot water or steam, and it's better not to dive with it.
The resin mirror is very transparent, but the polycarbonate used for the case makes it look quite cheap, though it's sturdy. The same can be said about the polyurethane band, which isn't as soft as silicone, so it might prove a little uncomfortable if your wrists sweat.
PROS:
Inexpensive
Easy to read
Resistant to shocks
Waterproof to 164 feet
CONS
:
Large
Looks cheap
The wristband isn't that comfortable
Related: If you're frequently out and about, then you probably need something like the UGREEN Micro USB Cable On The Go Adapter. Easy to use and featuring a wide compatibility, this is a very practical USB cable for charging your phone as well as data transfer.
BINZI Big Face Sports Watch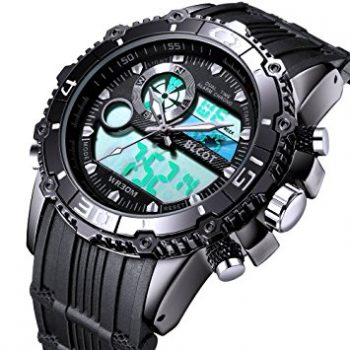 Price: Approx. $24
Weight: 4.5 ounces
Dimensions: 3.3 x 3.3 x 3.1 inches
Specific features: 12/24 hour format, analog and digital display, silicone wristband, zinc alloy case, Hardlex face, daily waterproof, calculator, chronograph, stopwatch, dual time display, EL/ LED backlight
Best use: Hiking, cycling
The BINZI Big Face Sports Watch is a good watch for hiking or cycling, but it looks good on your wrist even if you wear semi-formal attires. The basic functions of this watch are displaying the day and date and the time, in a 12 hour or 24-hour format.
This watch looks really good, its design is a combination of analog and digital, though the display might seem a little busy for some tastes. The silicone wristband is very comfortable and it's resistant to scratches, which is great for outdoor sports. The zinc alloy case and Hardlex face are pretty resistant, though the overall weight of this watch is pretty big.
However, this is a daily waterproof watch, as opposed to the other items we reviewed above. So you can't even wear it while bathing, and swimming is definitely out of the question.
You'll still find that this is a multi-functional, versatile watch even if it's not fully waterproof. So it has a calculator and a chronograph, the dual time-display is easy to read, and the EL/ LED backlight is useful when it's dark out. You also get a stopwatch that's perfect for timing your performance.
PROS:
Stylish
Solid
Multiple functions
CONS
:
Busy display
Heavy and large
Not fully waterproof
Related: If you're out hiking, you might need the Smith & Wesson H.R.T. Full Tang Knife. This is a light, yet durable fixed-blade knife, with a spear-point tip that's great for cutting through brush and doing small repairs around the camp. It even has a lanyard hole so you can wear it around your belt, but be careful to put it in its sheath first.
ETEVON 'Captain' Outdoor Sport Watch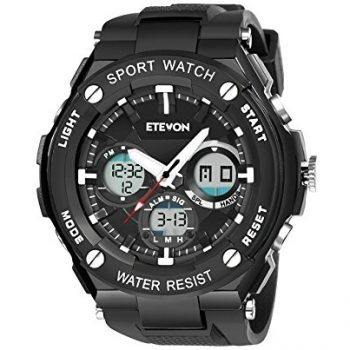 Price: Approx. $23
Weight: 2.56 ounces
Dimensions: 4 x 3 x 3 inches
Specific features: Bulwark bezel, ancho-shape hands, triple display, 12/24-hour time format, dual time display, calendar, EL backlight, stopwatch, alarms, shockproof, anti-frost, 98-feet waterproof, acrylic crystal glass, stainless steel buckle, resin wristband
Best use: Rock climbing
The ETEVON 'Captain' Outdoor Sport Watch is possibly the most stylish watch in our reviews so far, and the people at ETEVON must surely know how well it looks, which is why they named it "Captain" to begin with. So this watch definitely looks like something a captain would wear, with a dark bulwark bezel and watch hands that have an anchor shape. The triple display reminds us of navy colors since it features a white and blue background.
But this product is very versatile and multi-functional too. Apart from displaying the time in a 12-hour or 24-hour format, you'll get a dual time display and a calendar. The EL backlight makes it easy to read all these things, as well as use your stopwatch with split time and the alarms.
This watch can be used for outdoor sports since it's shockproof and prevents frost formation. The 98-feet waterproof performance means you can shower and swim with it, so you can also use it when it's raining.
This is a precise watch, with just a +/- 1-second variation per day. The acrylic crystal glass is resistant to scratches, the stainless steel buckle is secure, and the resin wristband is thick enough to resist all punctures.
So what could possibly be the disadvantages for such a cool-looking device? Well, it features just the basic functions, but the instructions aren't that good. Besides, some might consider it a bit thick, so it's definitely not for delicate wrists.
PROS:
Stylish
Versatile
Multi-functional
Rugged
Waterproof to 98 feet
CONS
:
Basic
Thick
Poorly written instructions
Related: If you enjoy the great outdoors, you need sun protection, right? So the Retro Rewind Classic Polarized Sunglasses are amazing because they offer total UV protection, they're light, anti-glare and look awesome.
Casio W800H-1AV Classic Sport Watch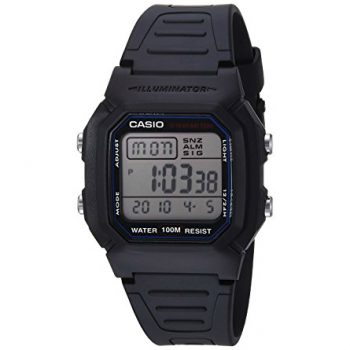 Price: Approx. $12
Weight: 1.12 ounces
Dimensions: 2 x 3 x 4.5 inches
Specific features: 1/100 digital display, CR2025 battery, 330 feet waterproof, dual time, alarms, hourly signals, 12/24-hour format, auto-calendar, LED backlight, resin case, bezel, and band, mineral window
Best use: Swimming, snorkeling
The Casio W800H-1AV Classic Sport Watch may just be the most rugged, manly watch in this review. It's also one of the most precise, with a 1/ 100-second digital display, and a CR2025 battery that can last for 10 years.
However, that's not the only thing that's durable with this watch since it can resist being submerged in the water up to 330 feet. So this watch is definitely the perfect one to have for swimming and snorkeling. There are other functions we love for this watch too, like the dual time, the alarms and the hourly time signals.
You'll get an easy to read time and date display, with 12 or 24-hour formats and an auto-calendar that goes up to 2099. The LED light has an afterglow, which makes the display easy to read even in very dark ambient, so that's a definite positive.
The Casio reputation is another strength, but what about its weaknesses? The resin case, bezel and band and the mineral window might be solid and light, but they're used for manufacturing a large watch. Besides, the seconds appear as quite small when you're using the stopwatch feature, and the menu isn't as intuitive as we'd like.
PROS:
Inexpensive
Rugged
Exact
Waterproof up to 330 feet
Multiple functions
Lightweight
CONS
:
Large
Small seconds in the stopwatch feature
Confusing menu
Related: The Panasonic ES8103S Arc3 Electric Shaver is just the thing you need if you want to keep a clean appearance. It's also a wonderful gift since it's a performing, cordless shaver, with very sharp Nanotech blades and a flexible head that makes for a thorough, comfortable shave.
Wrap Up
In this article, we talked about the features you need to take into account before getting a sport watch, so we hope you kept them in mind when you read our reviews. So we hope that helped make a choice, but we're curious what that is.
Are you after a functional watch like the Garmin Forerunner, with multiple sports-specific features and modes, or will you get a more general sports watch like the Timex Marathon? Is swimming with it on important for you or not? What will you use it for? Leave us a comment below.