Have you ever had a friend, a good friend, who was so different from you that it seemed impossible to shop for? Camper friends are fabulous and all, but if you are not an outdoor enthusiast yourself, it's normal for you to have no clue what would even constitute a good gift.
Don't worry, you aren't alone. You're going to get the help you need in this article as we regale you with tales of the best gift ideas for campers for every outdoor enthusiast in your life.
There are all kinds of camping gear available on the market today, and to those who are not used to telling the difference between them, they may all seem equally useful or of equal quality, but that's not true. There are many low-quality camping gear out there in the sense that they are heavy, difficult to pack, difficult to use or clean, and not durable enough. We will help you eliminate the options that your camper friend will find as burdens so you're left only with ones that they will happily receive and use often for many years to come.
Read on for a miniature buyer's guide, taking you through some possible considerations when trying to buy the perfect pi-day gift for your snow-camping fraternity brother. Then we'll get you started on your search for a few choice gift ideas, telling you everything you need to know to nab the perfect gift and "wow" your friend.
Our Top Picks
| Product Name | Capacity | Material | Best Use | Price |
| --- | --- | --- | --- | --- |
| Savvy Coffee French Press Set | 4 – 6 campers | Borosilicate glass pitcher, 3 layers of stainless steel filter | For car-camping, weekend trips | Check price on Amazon |
| Sea to Summit X-Seal Camping Bowl | 1 camper | Food-grade silicone | For thru-hiking, backpacking | Check price on Amazon |
| Hydro Flask Sports Water Bottle | 1 camper | Stainless steel and BPA-free plastic | For car-camping, weekend trips | Check price on Amazon |
| Rumpl High Performance Down Blanket | 1 – 2 campers | 20D ripstop nylon with synthetic insulation | For car camping, weekend trips | Check price on Amazon |
| YETI Hopper Flip 12 Cooler | 4 – 8 campers | Waterproof shell, fabric, zipper, and linings | For day-tripping, car camping | Check price on Amazon |
| YETI Rambler Tumbler with Lid | 1 – 3 campers | BPA-free, condensation-proof stainless steel | For day-trips, car camping | Check price on Amazon |
| ENO Eagles SingleNest Hammock | 1 – 2 campers | 70D nylon taffeta with interlocking stitches | For backpacking, thru-hiking, ultralight camping | Check price on Amazon |
| REI Quarter Dome 2-Tent | 1 – 2 campers | 20D ripstop nylon body with 15D ripstop nylon fly | For backpacking, thru-hiking |    Check price on REI     |
Things to Consider Before Buying
There are several things that determine how valuable a camping gear would be to savvy campers:
Climate
Outdoor enthusiasts are—as the name would suggest—really enthusiastic about the outdoors, so whenever your camper friend gets back from a trip, chances are you listen to dozens of stories about their adventures. So many, that eventually they all seem to bleed together at the edges, forming one big blurry pictures of his escapades.
Take a moment to examine that picture, notice what sort of surrounding your camper finds themselves in. Is it particularly wet or dry? Damp forest floors and broad desert basins don't require the same gear, after all. Paying attention to the temperature, altitude, seasons, and type of environment your camper frequents can give you a peek into where to start with your gift hunt.
A gift bag of hand-warming packs to throw in the bottom of a sleeping bag at night isn't to be much use if they only ever camp on the beach in the middle of summer.
Intended Use
Next, you'll want to consider the intended use of a potential gift. Many sites and product descriptions for outdoor gear now include some indication as to the conditions for which the item would be best suited. However, this also means to think about what your camper would likely use it for.
We are all creatures of habit. If you learn in your shopping that an item is fabulous when used for X but not so great with Y, but you know your friend and know they will inevitably end up using it for Y, then that particular item is not a good fit for your camper.
You want to find an item with an obvious usefulness for the particular type of things your friend likes to do. That what makes any bit of gear or novel travel item so necessary to the camper who loves it.
Design
Just like ensuring an item fits the intended use, the high-quality design will apply to any gearhead or even the camper who simply wants to pack as lightly as possible. Any item that serves multiple purposes or can be used for an emergency in a pinch is a fabulous idea because it means you have fewer items to pack overall which simplifies your load.
Items that are surprisingly light for their size or can be packed down very small are great for thru-hikers or longer backpacking trips, as it enables all of the essentials to be packed into a smaller, lighter load that won't be as much of a burden to carry for days at a time. Similarly, if your camper likes car camping and easy weekend trips, a fun item that makes life a little easier or cozier can be a great addition to a relaxed campsite setup.
Portability
Related to, but not quite the same as design is portability. Portability refers to how easily something can be toted around, set up for camp, or broken down for transport. While this aspect of your gift shopping may be less important than other depending on what sort of camper your friend is, all camper tend to appreciate items that are especially easy to use, require a minimum or assembly at the campsite, and are easy to pack and stow.
Think about it: if you had to carry your apartment on your back or haul your living room out to the woods every weekend, wouldn't it reprioritize your shopping list too?
Quality
Last but not least, you want to consider the quality of construction. To the uninitiated, it may seem ludicrous to spend more than a hundred bucks or so on a sleeping bag. However, making something reasonably comfortable, able to keep you warm enough, and too durable to get ripped every trip can raise the price point pretty quickly.
Now I'm not saying you need to start shelling out the big bucks for summer pool toys, but if you're counting on an item like your tent to keep you from freezing to death in the mountains every December, it may be worth your while to spend a little extra dime to ensure that tent is built to withstand the conditions. To that end, it's important to know some basic terms that can help you identify quality.
When talking about fabrics, denier is an indicator of strength. Higher is tougher but also heavier. Ripstop means that the fabric is woven in such a way as to prevent a tear from spreading. You want your plastics to be BPA-free, your insulation to be long-lasting or easily replaceable/cleanable.
Best Products on Today's Market
We want to make your choice easier and that's why we will present you a list of gifts you can give to your friend and be sure he/she will be truly surprised.
Savvy Coffee French Press Set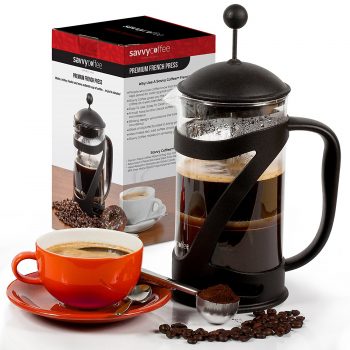 Price: Approximately $15
Weight: 22.4 oz.
Dimensions: 5.9 x 5.5 x 10.1 inches
Specific features: 100% BPA-free, borosilicate glass pitcher, 3 layers of stainless steel filter, 34 oz. brewing capacity, comes with coffee scoop/bag clip combo accessory
Best use: For car-camping, weekend trips
Description: The Savvy Coffee French Press Set is to die for! The capacity is much larger than most traditional French press offerings, making it ideal for toting along on group trips for the weekend. You might think that with such a huge capacity, it'll take quite a while for all that coffee to brew, but even if you fill this French press set to the brim, it'll only take 4 minutes for that heavenly smell of coffee to seep into your senses.
Too bulky to pack on a long trek but an awesome tool to get everyone at your campsite up early with a hot cuppa, if you're in a group of 4-6 people, it would only take one brew to satisfy everyone's morning coffee needs.
To brew your cup of coffee, all you really have to do is wait for up to 4 minutes then push the pitcher handle to the bottom and voila! The simplicity of the French press means no worrying about filters or grounds in your coffee, and the glass pitcher and steel filter make it easy to clean with no worries about plastic part holding the "old" coffee taste until you can get it home and give it a good rubdown.
PROS:
Very convenient and easy to clean
Huge capacity
Easy to operate
The filter works great
CONS:
Quite bulky so may not be suitable for long-distance hikes
The coffee is best served immediately because this pot doesn't keep the coffee hot for very long
Related: If you prefer to extract your coffee straight from the beans, it might pose quite a bit more hassle when you need to drink your fill outdoors, but it's not impossible. This KRUPS Electric Spice and Coffee Grinder are lightweight and compact so you can carry it to the campsite—although you'll want to make sure that there's an electrical socket for you to plug it in first.
Sea to Summit X-Seal Camping Bowl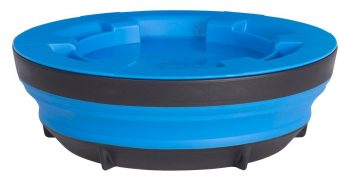 Price: Approximately $30
Weight: 9.9 oz.
Dimensions: 0.5 x 6.2 x 7 inches (small), 0.8 x 7.4 x 8 inches (large)
Specific features: Food-grade silicone, collapsible, lid provides airtight seal, measuring guide on side of bowl
Best use: For thru-hiking, backpacking
Description: The Sea to Summit X-Seal Camping Bowl is more about portability and economy of space in your pack than it is anything else. Even so, the bowl does manage to bring a bit of homey comfort to the trail by giving you a sturdy bowl without taking up tons of weight or space.
The silicone side walls of the bowl are heat-resistant so you won't burn your fingers and are even marked with a helpful measuring guide to aid in food preparation. Not only is it easy to prepare food with this bowl in tow, it's also really easy to clean up after yourself. After you've eaten, just give it a quick rinse and you're ready to go.
If you've got leftovers, the X-Seal allows you to store them in the bowl without leakage or accidental opening. If not, just collapse it down, attach the lid so nothing goes missing, and slip in back into your pack. This is an all-purpose camping gear that is great to have at hand and won't take up a lot of space in your backpack.
PROS:
Lightweight and compact
Can be collapsed if not in use
Can be used as food storage
Heat-resistant material
Easy to clean
CONS:
Quite expensive for a food bowl
Related: Now that you've got the food part covered, you'll want to have something that will help you stay hydrated in your backpack. LifeStraw Personal Water Filter is the perfect option if you're headed someplace quite remote where there isn't any filtered water to be found.
Hydro Flask Sports Water Bottle
Price: Approximately $30 (18 oz.), $40 (32 oz.), $43 (40 oz.), $60 (64 oz.)
Weight: 12.2 oz. (18 oz.), 15.7 oz. (32 oz.), 17.6 oz. (40 oz.), 28 oz. (64 oz.)
Dimensions: 8.1 x 2.91 x 2.91 inches (18 oz.), 9.1 x 3.56 x 3.56 inches (32 oz.), 10.4 x 3.56 x 3.56 inches (40 oz.), 10.4 x 4.7 x 4.7 inches (64 oz.)
Specific features: 12 colors, stainless steel, and BPA-free plastic, wide mouth, keeps hot for 6 hours, keeps cold for 24 hours
Best use: For car-camping, weekend trips
Description: The Hydro Flask Sports Water Bottle makes some great water bottle, which can be an invaluable asset to car-campers or even a day hike on a weekend trip. While the smaller capacity doesn't work as well as a hydration pack on longer trips, it's ideal for transporting drinks while you aren't at the campsite if you don't plan to be gone more than a few hours.
The powder-coating on the outside of the bottle means the metal won't be getting scratched or dinged up, and condensation won't build up on the outside you get an easy-grip surface. The plastics are BPA-free and the stainless steel used in this bottle is top quality: no metallic or plastic tasting water if you leave it in the bottle overnight.
That lack of flavor transfer also means that you can put coffee in your cup in the morning, and water in the afternoon without having to designate that a "coffee-only" up that will forever taste at least a little bit like your buddy's campfire-espresso.
This water bottle also comes with a flexible handle for easy carrying. You can hook it to your backpack and it would stay there securely because the handle is made of a high-quality material that can certainly withstand some amount of beating.
PROS:
Very durable
High-quality and food grade materials
No flavor transfer
Flexible and durable handle
CONS:
Not good for long-distance hiking because it has a small capacity
Related: This water bottle comes with a standard issue cap. It should be enough for camping trips but if you plan to use this as a sports water bottle also, you'll want to purchase this Hydro Flask Standard Mouth Sport Cap separately so you'll be able to make your choice between the two cap options as needed.
Rumpl High Performance Down Blanket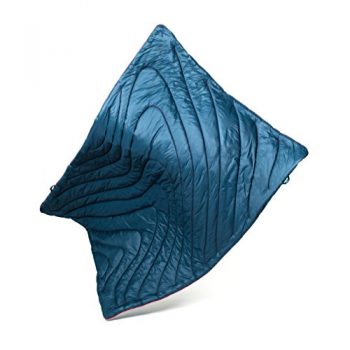 Price: Approximately $230
Weight: 104 oz.
Dimensions: 102 x 84 x 1.5 inches
Specific features: Available in king, queen, twin, and throw, made with 20D ripstop nylon, synthetic insulation, machine washable, water resistant
Best use: For car camping, weekend trips
Description: Another great option to bring the comforts of home outdoors, Rumpl High Performance Down Blanket is sure to please any outdoor enthusiast. Its sleek design and forward-thinking color scheme make it look equally at home at both your mountain lodge and tucked into your hammock. The material is ultra tough – not likely to rip, and won't get wet easy either.
This blanket still folds down small and packs into its own stuff sack, making it an easy last minute addition to any car-camping trip. Unfortunately, it's probably still too bulky for backpackers, but it's a nice layer of warmth that can be washed when you get home without too much fuss.
There are even multiple sizes, so you can set little campers up each with their own blanket too, or just drape the throw size over your legs as the fire dies out. The only difficulty some have with this product is its tendency to slip and slide around because both sides are slick.
PROS:
Very durable
Water-resistant
Great design and color scheme
Warm
Easy to clean
CONS:
Doesn't fold down small enough for backpackers
Feels too slippery around your shoulders
Related: Now that you've got the blanket covered, you might also want to throw a pillow into the package so that your camper friend will appreciate your complete camping sleeping gear gift set all the more. This Coop Memory Foam Pillow will do the trick nicely by lending a level of comfort no one expects they'd be able to feel in the outdoors.
YETI Hopper Flip 12 Cooler
Price: Approximately $240
Weight: 64 oz.
Dimensions: 14 x 11.5 x 14 inches
Specific features: Fabric is waterproof and tear/mildew resistant, waterproof zipper, easy to attach accessories, food-grade lining
Best use: For day-tripping, car camping
Description: The YETI company has made a name for itself as the producer of the best insulation money can buy, claiming to keep their products on the cutting edge of available science for high-quality insulation. The YETI Hopper Flip 12 Cooler is a smaller size, so it may not be fit for campers who like to travel in large groups. It can, however, fit about a dozen cans/bottle of your choice beverage which may be enough for thirsty day trips or shorter car camping excursions.
The size also makes it ideal for smaller hand-launch watercraft, which is complimented nicely by the D-rings on the side that provides easily accessible tie-down points. The outer shell is waterproof and the zippers are marine-grade. If you decide to take this cooler on a rafting trip, you don't have to worry about wet sandwiches or a moldy bag.
No water gets inside once closed, and the fabric is designed to withstand damage from tears and mildew alike. The lining is food-grade silicone, and the stitching on the front provide easy attachment for Yeti accessories as well as decoration.
PROS:
Lightweight and compact
Completely waterproof with marine-grade zippers
Durable thanks to the high-quality fabric
Food-grade materials
Wonderful YETI-guaranteed insulation
Related: Yeti also makes their own YETI ICE Cooler Ice Pack for use inside their coolers. This ice pack is very durable and can certainly withstand a good number of refreezing and rethawing. The shape is specially designed to allow it to refreeze faster. If you can't wait to end the day winding down with a cold beverage while enjoying nature, this is the perfect option for you.
YETI Rambler Tumbler with Lid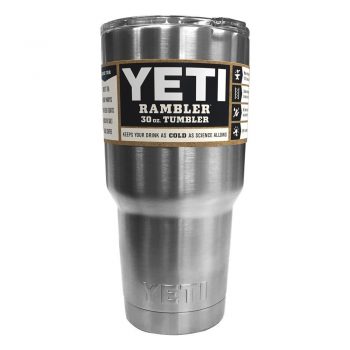 Price: Approximately $33
Weight: 12.8 oz.
Dimensions: 4 x 4.2 x 7.6 inches
Specific features: 30 oz. tumbler, BPA-free, condensation-proof stainless steel
Best use: For day-trips, car camping
Description: YETI continues a tradition as formidable as its name with this ever-popular Rambler series. The 30 oz. tumbler is the most commonly used size, and will even fit in most standard cup holders. YETI Rambler Tumbler with Lid promises to keep your hot drink hot for up to 6 hours, and your cold drinks cold for up to 24.
That means you can pour iced tea into your tumbler at 7 am, drive up to the mountains, set up camp, cook dinner, and still have iced tea when it's time to eat. That's an awesome addition to any summer car-camping trips.
It's a fabulous idea for the weekend warrior who doesn't want to drink lukewarm water the whole time they're gone. When you can't pack a ton of ice, it's a good idea to make sure that what you do have will keep as long as possible. YETI's Rambler line does that for you, with available accessories to really customize your experience.
One caveat is that the clear, shatterproof lids don't attach to any sort of clip so you would stand the chance of losing track of it during longer trips. But this shouldn't be a deal-breaker and as long as you are careful with them, you won't lose them.
PROS:
Great insulation. Keeps drinks cool or warm for a long time
Compatible with most cup holders
Very durable
CONS:
The shatterproof lid is relatively easy to lose
Related: If despite all precautionary measures you still end up losing the shatterproof lid, no worries because you can just replace it with this YETI Rambler Replacement Lid. It even comes with its own straw and is dishwasher-safe.
ENO Eagles SingleNest Hammock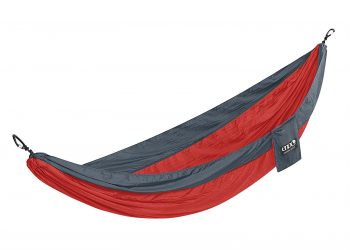 Price: Approximately $60
Weight: 16 oz.
Dimensions: 4 x 5 inches, in stuff sack, 112 x 55 inches, unrolled
Specific features: 26 colors options, 400 lbs capacity, made from 70D nylon taffeta with interlocking stitches, includes carabiners
Best use: For backpacking, thru-hiking, ultralight camping
Description: If the camper you're looking to buy a present for loves long trips or is always trying to figure out how to travel as lightly as possible, this idea is a home run. The ENO Eagles SingleNest Hammock from Eagles Nest Outfitters (ENO) will fold down incredibly tiny and can be a novel replacement for a tent.
Easier, faster setup that keeps you off the ground can even be preferable – particularly on terrain that is very wet or rocky. While this side is rated for one person, the 400-pound load capacity meant two could share a seat without worry. The nylon is an ultra-tough 70D with interlocking stitches which greatly reduces the chance of breakage.
Even with all the rugged dependability, the hammock is still only .1 inches thick and will air-dry very quickly when it does need washing. The hammock comes in 26 color combinations for customizability, and the package does include carabiners but leaves out any type of suspension system. This is because ENO offers multiple suspension options based on your needs so you can have exactly what you want, where you want it.
One downside that cannot be changed as easily as the suspension can is the hammock's narrow frame. It's kind of difficult to find a proper sleeping position in it and even though it's much lighter and so much more convenient than lugging around a heavy sleeping bag or a tent, this hammock will never be as comfortable to sleep in.
PROS:
Thin and lightweight, doesn't take up much space in the backpack
Easy to set up
Dries out fast
Very durable
Can hold up to 2 persons
CONS:
Quite narrow so finding a nice sleeping position in it can be quite difficult
Related: This hammock won't work as well without these ENO Atlas Straps. In fact, we believe that these straps should just be included in the package already because they're really necessary. But ENO decides that they have to be purchased separately, so we'd like to give you a heads-up here.
REI Quarter Dome 2-Tent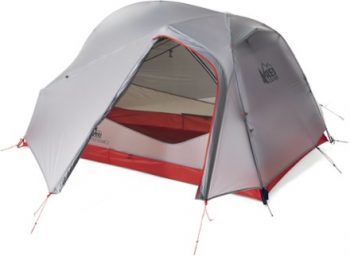 Price: Approximately $350
Weight: 60 oz.
Dimensions: 7 x 18.5 inches, packed, 88 x 52 x 42 inches, unpacked
Specific features: 2-person, 3-season design, 2 doors, 20D ripstop nylon body with 15D ripstop nylon fly, ultra-simple color-coded assembly
Best use: For backpacking, thru-hiking
Description: If ditching the tent completely and going for a hammock is too minimalist, consider a multi-season tent. The REI Quarter Dome 2-Tent from REI is a little more pared down than some of their more elaborate tents but is certainly spacious enough for two.
The quarter-dome design strikes a good balance between comfortable interior space and small packed size and lightweight. This makes it a good option for backpackers or thru-hikers who want a little more cover. The body is made of 20D ripstop nylon and is rated for 3-season use making it a very versatile choice. There is even a door on each side, to make maneuvering two people in a tighter space just a bit easier.
The flyover each door can be staked out and tensioned into a convenient vestibule that provides you moderate protection from the elements as remove boots, change socks etc., and can even keep your gear safe and dry overnight if you stow it under the vestibule's sidewall.
PROS:
Great for spring, summer, and fall
Entry and exit are easy thanks to the 2 doors
Vestibules to keep your gear dry
Durable, made from high-quality materials
CONS:
Quite small. Can house 2 campers but it would be crowded
Related: The REI Co-op Quarter Dome 2 Footprint for this tent is sold separately and can be used with the tent poles to create a fast-pitch shelter. This tent won't work as well without a footprint—especially if you're planning to use it during the more volatile seasons such as the fall. You'll need the footprint to protect yourself from the elements.
Check the price on REI
Wrap Up
And that's ends our reviews of some of the best gift ideas for camping enthusiasts. One of the reasons that shopping for others can be difficult is that many people think of items they would like to have themselves, and then assume that the other person wants the same thing. It is quite difficult to do this when, say, you spend 75 hours a week inside and your favorite outdoor activity is napping poolside but your best buddy is a nature photographer who can't stand the smell of chlorine.
Just keeping this habit in mind and trying to focus on your friend's specific interests can help a lot. Then, tuning in just a little bit more to the finer details of their wants versus needs will usually do the trick. All of the products mentioned above are great gift ideas so all you really have to do is pick one out of the eight options that you believe your friend will find useful the most and click that purchase button.
Featured Image Source: https://www.piqsels.com/en/public-domain-photo-zkerd