When in the wilderness, safety is paramount, and all the camping gear that we usually buy for outdoor activities are normally geared towards making sure that we stay safe. Most of the times we try as much as possible to protect most parts of the body from harm in the wilderness but we normally forget about our feet.
Come to think of it, how will you walk, swim, snowboard or even drive while when your feet are hurt? This is why we have decided to review some of the best hiking boots for wide feet so as to make it easier for hikers when shopping for appropriate pair.
Hiking boots play a very significant role in making sure that your feet are always protected while hiking. While it might be quite easy to acquire some hiking shoes, it is not always very easy to get the perfect hiking shoes for people having wide feet.
I believe this applies even to normal shoes, people having wide feet normally find it hard to find shoes that perfectly fit them. If you have been facing some problems trying to get the perfect hiking boots for your wide feet, this is the right time to forget about that predicament.
Our top picks
What To Consider Before Buying
Trust us; you wouldn't just want to walk into some random shop or log in to an online store like Amazon and just buy any hiking shoe that you'll come along. It is very necessary for one to plan and make a decision on the particular hiking boots that you will be going to buy.
The question then is, how do you know which hiking boots to buy and which ones not to buy? This is where the features of the hiking shoes come into play. The following are some of the features that you must consider before settling on buying a particular brand of hiking boots.
Ankle Support
Hiking boots come in various ankles like the low, medium and the high top. It is worth noting that the higher the ankle of a hiking boot is, the more support your ankle will get in it. A low top is considered to be an ideal choice for a simple flat terrain. However, if you plan on hiking on a more rugged terrain, then you should go for a medium or top ankle hiking boots.
Comfort
The first thing you would want to consider when purchasing a hiking shoe is the comfort that it will offer you. Comfort is an important factor as it will determine how successful your hiking venture will be. You should, therefore, be prepared to spend a lot of your time trying to get the perfect hiking boots that will feel comfortable on your feet as you hike.
If the hiking boots are not comfortable, then there is a high chance that you will not enjoy hiking while having them on your feet. If possible, physically try out the hiking boots while wearing the socks you plan hiking in to make sure that you are very comfortable.
Water Resistance
You never know when it might rain while you are hiking; this is why your hiking boots need to be water resistant. The water resistant boots are ideal for shorter hikes, but this does not disqualify them from being used for longer hikes. They will do a decent job of making sure that your feet are always dry in light rain or mild weather.
Waterproof boots are the best and are available at various price levels. They do tend to cost more than simple water resistant boots, but you should never worry about the cost as long as you are safe using them.
Material
The material used to construct the hiking shoes is very important as a feature to be considered before buying these boots. The material will determine the quality, performance and durability of the hiking boots. Most hiking shoes are constructed from canvas or nylon blends, but there are those constructed using leather.
The leather hiking boots are durable and will last longer than the hiking boots made using canvas or nylon blends.
Weight
As is common with most hikers, too much weight is usually an undesirable feature because it will slow hikers down and exhaust them faster. For this reason, every hiker will always prefer less weight, and this applies even when it comes to purchasing hiking boots.
When going for a longer hike where you expect to walk very long distances, it is preferable to go for light weight hiking boots. This will ensure that you hike faster and at the same time reduce the rate at which you get exhausted.
Sole
This is also a very important feature that most hikers normally ignore though it is equally as important as all the other features. When going for a very long hike, it is advisable to go for a comfortable sole. The sole should also be strong enough to last longer and deal with harsh hiking conditions like rocks, wet and slippery surfaces among other terrain features.
Top Products on Today's Market
The following products are among the best products that we carefully selected and reviewed for you. We looked at their great features that set them apart from the rest together with their pros and cons. We then carefully did our analysis and realized that these are some of the products available on the market at the moment.
Propet Ridge Walker Boot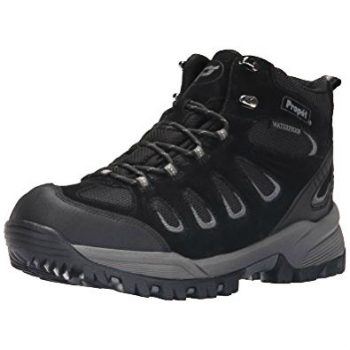 Weight: 4 pounds
Specific features: Rubber sole, X wide widths available, Medicare a5500 approved
Material: Suede/mesh
Best use: 7 days hike
The Propet Ridge Walker Boot is one of the best hiking boots available on the market. These extra wide hiking boots are manufactured by Propet which is a rapidly growing shoe company that has dedicated itself to making some of the world's best hiking shoes.
This product is an all time favorite for many hikers because of its versatility which has enabled it to be used when going to work or even when enjoying a casual weekend adventure.
These boots are ideal walking boots because they have been designed and manufactured to provide the most comfortable walking adventure. These extra wide hiking boots will offer your feet support where needed. What's more, they are very light and are therefore ideal for longer hiking.
These boots are manufactured using leather hence are very durable and will last long after you purchase them.
These extra wide hiking boots also come at a relatively affordable price and are waterproof. The quality of the boots is also great, and most hikers will most likely buy them for these reasons. When using these hiking boots, you are guaranteed that you will always feel comfortable.
PROS:
Waterproof
Durable
Comfortable
Available in two colors
CONS
:
Not as wide and long as expected
Zamberlan Vioz GT Boot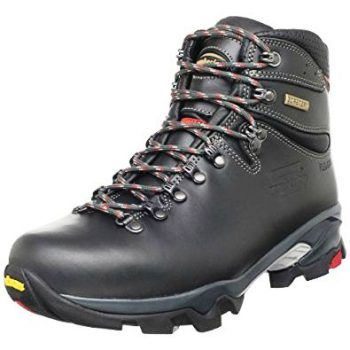 Weight: 4.3 pounds
Specific features: Rubber sole, hydro block full grain waxed leather upper, 2.6 mm thick leather, high resistant treatment hardware, Z Comfort fit footbed, zamberlan AirSystem padding
Material: Leather
Best use: Hiking, backpacking, trekking
The Zamberlan Vioz GT Boot is a very high quality extra wide hiking boots that have been designed and manufactured for those hikers who just want to hike all their life. These hiking boots are very durable and are meant to be used by long distance hikers.
These hiking boots are handcrafted in Italy and offer comfort and quality for those who want to hike for longer distances. This hiking boot boasts of several quality features that make them suitable to be used for even a whole week.
The Gore Tex lining availability in these extra wide hiking boots provides the utmost protection and breathability, while the issue of excess moisture availability is controlled by the Microtex moisture wicking nylon collar lining. The Zamberlan Flex System at the ankle allows your ankle to comfortably bend without interfering with support laterally.
These hiking boots are made using leather meaning that their durability is unquestionable. At 2.6mm thick, these boots are thicker than your average hiking boots. The Gore Tex is 100% waterproof and features a breathable construction for sure dry and no sweat comfort for your feet. The excellent grip provided by the Vibram 3D sole is just so great, and this is coupled with the superb downhill braking capability.
We highly recommend these hiking boots because of their very many great features.
PROS:
Superb downhill braking
Vibram 3D sole offering excellent grip
Waterproof, breathable and no sweat comfort
Thicker than other average leather boots
Ideal for long distance hiking
Scarpa SL Active Boot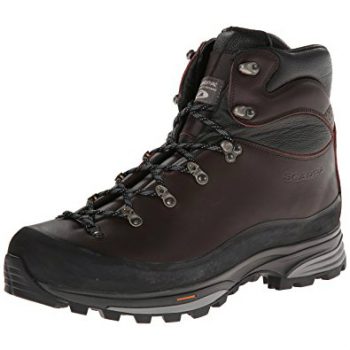 Weight: 9.4 pounds
Specific features: Vibram sole, full rubber rand, moisture wicking Cocona fabric lining, cushioned Activfit insole, Dual density polyurethane midsole, ankle high hiking boot with leather upper featuring micro pulley lacing and comfortable padded collar
Material: Leather
Best use: Climbing, hiking, skiing, mountaineering, trail running
This highly rated hiking boot is a must have for a serious hiker. SCARPIA is a well known Italian shoe manufacturing company that has been in existence since the year 1938.
This company has manufactured the Scarpa SL Active Boot which is one of the best extra wide hiking boots one can buy. This boot is an evolution of the SL M3 and is a very supportive and yet very light boot that has incorporated the SCARPA's brand new activfit technology.
Actifit entails the lightweight, highly cushioned; dual density Biometric PU midsole package which improves both precisions on the trail and cushioning by putting various densities of polyurethane into specific locations.
This boot features a new and more ergonomic upper design that is made from Sherpa HS12 leather and then lined with memory foam which avails the moisture wicking capability as well as odor control which will come in handy when making long trips.
The presence of a full perimeter rubber rand ensures that there is enough protection, long term durability as well as support while in a rough terrain.
The Vibram sole is ideal to be used in all terrain and this is why as a hiker, you wouldn't resist falling in love with this hiking boot. What's more, this boot is highly versatile, and you can use it for various activities as long as you wish so.
PROS:
Available in various colors
Longer durability
Very comfortable to use
Heavy duty protection around your foot
Superb quality shoes
Versatile hiking boots
New Balance MW1400 Boot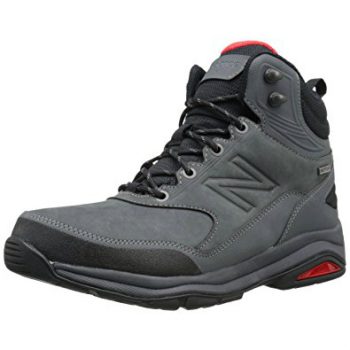 Weight: 4.6 pounds
Specific features: Rubber sole, shaft measures approximately 4.5 inches from arch, compression molded EVA midsole for cushioning, waterproof upper for dryness and comfort, Thinsulate lining for warmth
Material: Leather/textile
Best use: Hiking, backpacking
This pair is available in three different colors and is made for top notch performance. One has the choice of choosing from these three various colors. New Balance specially made this hiking boot as a way of helping athletes achieve their dreams of having a hiking boot that offers durability, quality, high performance and affordability all in one item.
The New Balance MW1400 Boot is a good example of an above average extra wide hiking boots meant for hikers. This boot is highly comfortable and fits well.
Among some of the great features that you will most likely love in this boot include the fact that it is waterproof. This means that your foot will always stay dry while using this boot. The rubber sole will last longer and offer enough grip and braking power while walking downhill.
These extra wide hiking boots are not ideal for a serial hiker who will be hiking for 7 days in a week. They are only ideal for occasional hikers who will use them once in a week. Most reviewers also warn that they should not get wet or be worn in rough conditions as there are higher chances that they won't last.
It is also worth noting that they are quite slippery on snow or ice and should not be used in such conditions as they may lead to an accident.
PROS:
Very flexible and blends well
The boots fit good and are comfortable
Lightweight
Available in various colors
Are waterproof
CONS
:
Not ideal for snow or icy conditions
Not ideal to be used in rough conditions
Not suitable for heavy duty usage
Thorogood Oblique Hiker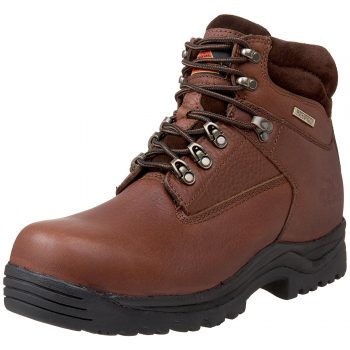 Weight: 5 pounds
Specific features: Rubber sole, waterproof, slip resistant
Material: Leather
Best use: Hiking, mountaineering, backpacking
If you need to go hiking, you need footwear that you can fully trust and rely on. The Thorogood Oblique Hiker qualifies as one of such boots. This boot has been built with supreme craftsmanship and expertise. These extra wide hiking boots are durable and provide one of the most comfortable boots you can find anywhere.
Among some of the great features that make these extra wide hiking boots to be preferred by most hikers include being waterproof, tumbled, a composite oblique safety toe for protection full grain leather upper. It also has a full length removable dual density Shock Zone footbed that has air flow vents to provide additional circulation.
What's more, it also has a fibreglass shank that provides support as well as a slip resistant rubber outsole that will keep you stepping confidently as you hike.
Did we mention that it is slip resistant yet? These extra wide hiking boots are slip resistant, and therefore you can comfortably walk without worrying about sliding and hurting yourself in the wilderness.
Have you ever experienced an electric shock? If you have, then I know you will support us when we say that it is a very unpleasant experience that no one should ever wish for.
With that having been said, did you know that these extra wide hiking boots have been thoroughly tested and found to meet CAN/CSA-Z195 18,000 volt electrical shock resistance standard? That means that when using these hiking boots then you are protected from any electrical shock of 18,000 volt and below.
PROS:
Slip resistant
Waterproof and very comfortable
Durable because they are made from leather.
Lightweight and high quality boots
Meets CAN/CSA-Z195 18,000 volt electrical shock resistance standard
CONS
:
Thin leather
Does not fit well
Available only in one color
Merrell Moab Mid Hiking Boot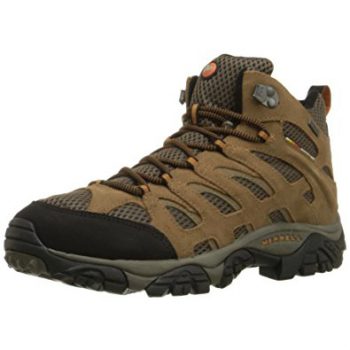 Weight: 4 pounds
Specific features: Synthetic sole, sturdy hiking boot featuring breathable mesh and ghillie lacing with speed lace hardware at top, bellows tongue to keep debris out, M Select DRY seals out water, M Select FRESH prevents odor, ortholite anatomical footbed, air cushion heel absorbs shock and adds stability
Material: Leather and textile
Best use: 3 days hiking
The Merrell Moab Mid Hiking Boot is considered one of the best extra wide hiking boots that can be probably found on the market right now. Several great features are associated with these hiking shoes that lure most hikers to love them. Now let us take a look at some of these great features.
The availability of a Vibram multi sport sole ensures that the braking power at the heel of these boots while hiking in more demanding terrains is exceptional. Who wouldn't want to be in control of their braking while walking down hill?
The hiking shoe is manufactured using dura leather and is a mid height hiking shoe with an upper mesh that provides ankle support. When using these hiking shoes, there are mechanisms put in place to keep away stones and sticks, so you won't have to worry about them.
What's more, with the synthetic leather toe cap as well as the heel counter, your heel will be kept in the back of the boot. The air cushion heel is also very efficient in absorbing shock and improving on your stability as you walk.
The waterproof membrane is also treated with Aegis antimicrobial solution to make sure that you do not suffer from any bacterial infections. We highly recommend this hiking boot.
PROS:
Somehow cheaper as compared with other high quality boots
The boots are comfortable
They are water and mud proof
Are durable as well
CONS
:
Too small
The quality of the shoe is poor
The waterproof features do not work perfectly in some cases
Ariat Terrain H2O Hiking Boot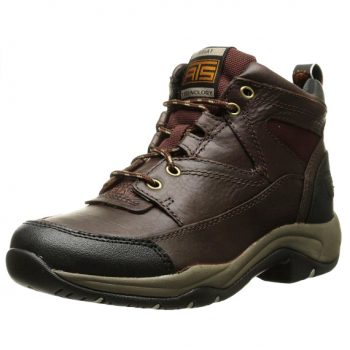 Weight: 4 pounds
Specific features: Duratread™ sole, shaft measures approximately 5 inches from arc, waterproof oiled full grain leather upper, ATS® Advanced Torque Stability technology with composite forked shank, round toe profile, synthetic lining, shock absorbing EVA midsole
Material: Leather
Best use: Hiking, backpacking, mountain climbing.
There is one simple objective that led to the founding of the Ariat Terrain H2O Hiking Boot: to provide the best hiking boots that are technologically advanced for the top passionate hikers in the world. Ariat is the leading performance footwear and apparel brand providing products to hikers globally.
Ariat boots are extra wide hiking boots that will perform in almost all sectors from backpacking even to rock climbing. These hiking shoes provide the foundation upon which top class hikers ride, work and compete.
These hiking shoes allow hikers to cover a lot of ground in various terrains and in shifting weather. These hiking shoes are built to deal with all types of terrain and various weather patterns.
With the ATS technology, your feet will be stabilized and secured, and therefore your chances of getting fatigued will be low. The Waterproof Pro feature keeps your feet dry and comfortable. With the Duratread soles, these hiking shoes are very durable and will last longer.
PROS:
Waterproof
Shock absorbing EVA midsole is efficient in absorbing shock
Durable
Has ATS® Advanced Torque Stability technology making these shoes to be very stable.
Comfortable to wear
CONS
:
Available in only one color
The ankle is so stiff it can bruise your legs and ankle area
Dunham Cloud Mid Cut Boot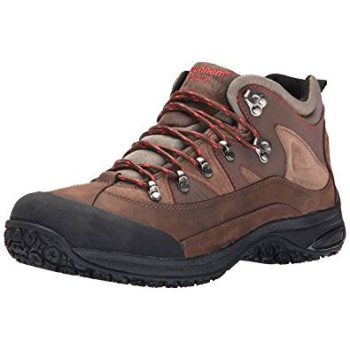 Weight: 4.3 pounds
Specific features: Rubber sole, shaft measures approximately 4.5 inches from arch, waterproof boot featuring multicolor upper and adjustable circumference, lace up vamp
Material: Leather
Best use: Hiking
The level of comfort offered by this Dunham Cloud Mid Cut Boot can simply be described as cloud 9 comfort. These extra wide hiking boots provide the comfort you'd expect from a normal walking shoe, the durability expected from a work boot, an aggressive traction and proper braking capability in rugged terrain.
This hiking shoe is a jack of all trades for comfort both at home and in the Rocky Mountains and well as lake shores.
It is constructed using waterproof leather that is very efficient in repelling moisture. These hiking shoes will make you feel comfortable in all terrain due to the presence of the ROLLBAR with lateral and medial PTU posts. Its signature aggressive traction is availed using the TRU TRAK lug outsole.
If you decide to hit the trails in these boots, you will get value for your money because indeed these hiking shoes are built to perform. They also come at a relatively lower price as compared to other extra wide hiking boots available on the market.
PROS:
Durable
Water resistant
Soft and warm
Very comfortable
CONS
:
Lose support/cushioning after only several hours
Not comfortable
Wrapping Up
We've finally reached the end of our list of the best extra wide hiking boots, and we hope that you are now able to understand some of the basic features that matter when looking for these hiking footwear. These outdoor shoes are especially recommended for people who plan hiking trips for various durations of time from three to seven days in various camping centers across the world.
Featured Image Source: https://www.pexels.com/photo/crop-person-in-on-ground-with-foliage-and-snow-3775870/