Most campers or hikers will agree they love outdoor activities because of the sensation of becoming one with nature. Despite that, going so far as to sleep on uneven ground riddled with rocks and pebbles are taking it one step too far, don't you think?
Even if you are able to get a wink of sleep in that condition, it's not good for your health, especially your lower back. That's why having the best backpacking sleeping pad with you on those trips is non-negotiable.
Contrary to common beliefs, a sleeping pad is not a luxury for sleeping in nature, but a necessity. With the best sleeping pad, you would be able to sleep like a baby no matter how rough the ground is thanks to the protective layer that keeps the pesky rocks and pebbles from digging into your back. After a good night's sleep, you'll feel refreshed and better prepared to challenge the trail.
Sleeping pads can be found in many types and here we are going to research and explain every one of them, and by the end of this buying guide, you will have the skills necessary to choose the best backpacking sleeping pad available. Plus, we have reviewed some top-rated pads that you should check out. Let's have a look!
Our top picks
Things to Consider Before Buying
The choice of a sleeping pad is just as important as choosing a sleeping bag, if not even more important. Without a good sleeping pad, chances are you'll have to deal with a night of tossing and turning if you can even sleep at all. To avoid such situations, choose the most suitable sleeping pad for your needs.
Type
Before starting your sleeping pad research you should know that they are divided into two main types.
Non-inflatable pads are constructed with foamy and spongy materials. The bottom side of the pad is usually covered with thin aluminum material for increased isolation from the ground. The thickness of this material is usually 1 or 1.5 cm, although they lose their quality over time. For this reason, many backpackers use two of these pads put one over another.
Inflatable sleeping pads have more loft, thus you are sleeping further from the ground. When inflated, they are usually two to ten centimeters high. They are usually in a mummy form and get wider at the shoulder part. This construction is applied because it takes much less space when packed than the usual shape.
Material
The most important thing is the material pads are made from, since their thermal properties depend on it.
In cheap pads with lower quality, the inflatable material is usually nylon, which is not suitable for extreme weather conditions. When sleeping on such pad you will feel as though you are sleeping on an icy surface.
The higher quality pads are usually more expensive and often made from material which is not so smooth on the top side, while on the bottom is more sticky and enables the pad to stay stable no matter the terrain.
According to our experts, the best sleeping pads are those marked with the sign 'Thermal pads,' and are built from a specific layer of thin nylon material as an outside layer, and with light polyurethane foam material on the inside.
Thermal pads have the best thermal properties and the spongy material allows you to feel more comfortable on uneven terrain. They also prevent the pad from sliding on the ground.
Insulation
The insulation of a sleeping pad is closely related to the material it is made from, but that's not the only thing you should pay attention to. There's a trick to picking a sleeping pad that offers the best level of insulation for the kind of trip that you have in mind.
First, it's important to match the sleeping pad with the right sleeping bag. If you have a sleeping bag that endures temperatures below zero, and it is combined with a sleeping pad with lower quality, with lower thermal isolation properties, you will slowly lose your body heat during the night.
There are even sleeping pads made only for your body, excluding the legs support aspect. The heat from your body will go towards the ground instead of staying with it and keeping you warm. As a result, you would probably freeze, so be careful with that.
You should also pay close attention to the R value of the sleeping pad, especially if it's an air mattress. R value symbolizes how well the mattress retains warm air. The higher the R value is, the better the insulation would be.
Versatility
Versatility signifies quite many aspects when it comes to sleeping pads. First, a versatile sleeping pad is one that's lightweight and packs small. That way, it should fit inside your backpack nicely while leaving space for your other gear.
Second, you should pay attention to how easy it is to inflate and deflate the sleeping pad. We've touched upon this topic a bit when we discussed the types of sleeping pads available, but we believe it deserves another mention because it plays a big part in determining a sleeping pad's ease of use.
Inflatable sleeping pads are usually inflated manually. They usually take around 10-15 breaths to inflate. Still, the most popular pad is the self-inflatable pad, which means that part of it is inflated by itself, while the other part should be done manually. It is done by leaving the pad for up to ten minutes. This way, the pad inflates up to some point by itself. After that, it should be inflated with your own air.
In general, inflatable pads should not be put directly on the ground. They are a bit more comfortable, but their thermal properties are also lower.
Comfort
While people generally assume that good insulation equals good comfort level when it comes to sleeping pads, this isn't always true. There are other features that you should take into consideration when you're trying to figure out how comfortable it would be to sleep on a particular sleeping pad.
The softness of the material and the I-beam ridges are a given. Another point of consideration is whether the body slides from the pad when it is set up on an uneven surface. It would not do for you to fall asleep in one place then wake up someplace else. A comfortable sleeping pad should also not make too much noise when you move around on it.
You should also take into consideration your favored sleeping position. Depending on the design of the sleeping pad, there are those that feel best when you sleep on them sideways just as well as there are those that feel best when you sleep on your back or your chest.
Best Products on Today's Market
We've gone through the features you should take into consideration when picking the best sleeping pad for you. Now, let's move on to the top 7 products on today's market:
Nemo Astro Air Insulated Sleeping Pad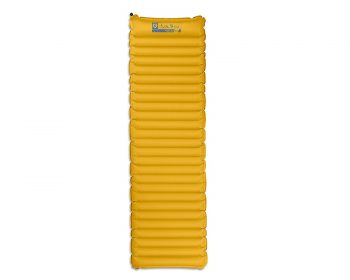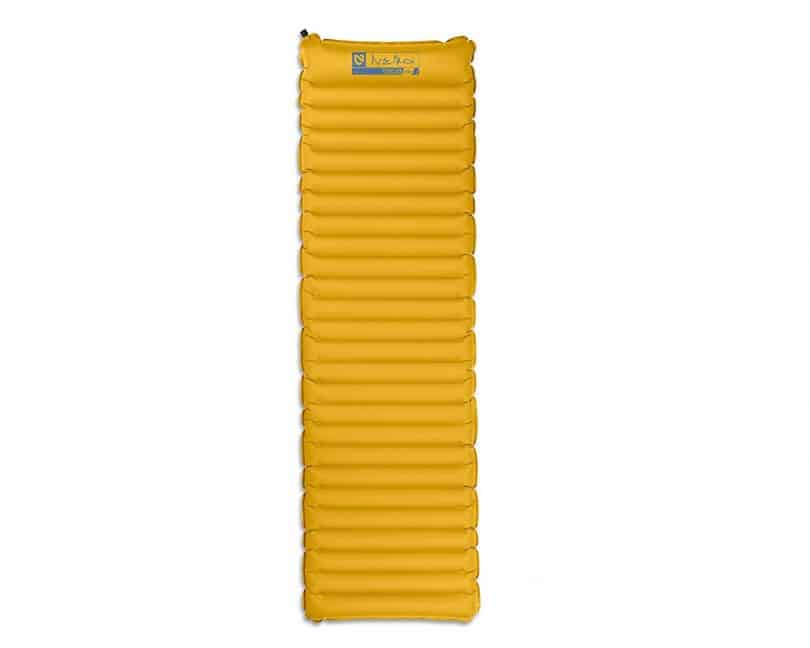 Price: Approx. $91
Weight: 24 ounces
Dimensions: 20 x 72 x 2.5 inches
Specific features: Pillow baffle at one corner, lateral I-beam baffles, inflatable, synthetic material, 8.5 x 4.5 inches pack size, 10 – 15 breaths inflation
Best use: Light backpacking or car camping
The one feature that you should always ask for in a sleeping pad is comfort. This Nemo Astro Air Insulated Sleeping Pad has that and so much more. To start with, it doesn't make much noise when you move, which is very important for some people who are light sleepers.
When inside, you don't feel trapped. You feel hugged with warmth. It is definitely lofty inside. This Nemo Astro product provides the best features for the specific price range. The good thing is that it is very easy to control the amount of air in it, so it won't be hard to find your soft spot.
It is an extremely durable and lightweight product, which is recommended for outdoor sleeping. There is also a built-in pillow, so you don't have to carry one with you. Although, if you are used to a higher pillow, you should still take another one with you.
The only downside is that it is not auto inflating which would probably put it in another price range.
PROS:
Has a pillow baffle to increase the comfort level
Isn't noisy
Very comfortable because you can easily control how much air you put in it
The lateral baffles work well to increase the comfort level
CONS:
Not auto inflatable
On the heavy side
Related: As mentioned, despite the pillow baffle, you should probably still carry a separate pillow with you if you wish to truly have a good night's sleep. With this Nemo FILLO Luxury Pillow cushioning your head and the Nemo Astro Air cushioning your body, you will feel like you're in your own bed at home instead of sleeping on the hard ground in the outdoors.
Kymit Static V2 Inflatable Sleeping Pad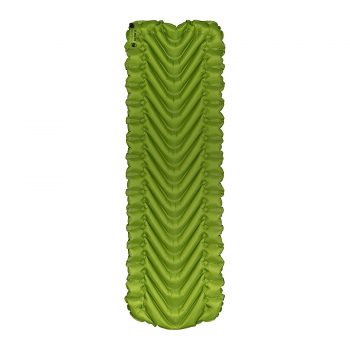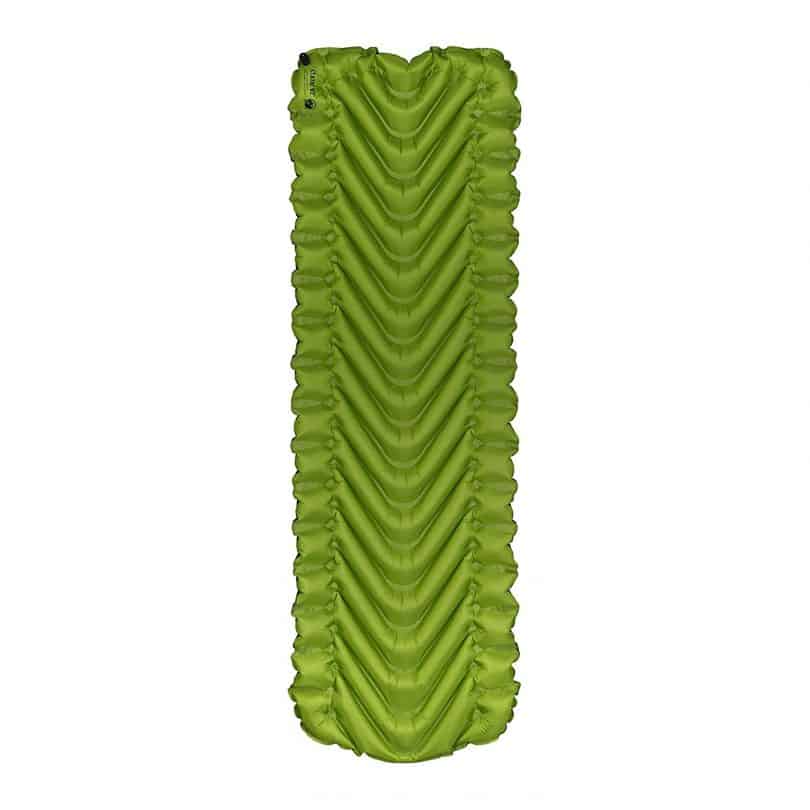 Price: Approx. $65
Weight: 16.33 ounces
Dimensions: 72 x 23 x 2.5 inches
Specific features: Stuff sack included, patch kit included, lifetime warranty, v-chamber design with side rails, pack size 3 x 8 inches, R value 1.3, 10-15 breaths inflation, 30D and 75D ripstop polyester, anti-microbial, deep weld patterns
Best use: 3-season hiking, backpacking, camping
Kymit Static V2 Inflatable Sleeping Pad is suitable for long hikes and backpacking trips. This sleeping pad is specifically designed to limit air movement, which means that the heat loss will happen more slowly than with any other pad.
This could be useful in cold weather conditions, although this doesn't mean that it is suitable for the winter. Even though it has less air inside, which means less cold air in the winter months, it is not recommended to be used as a winter pad.
Its main downside is that the system of inflation is a bit complicated, but once you learn how to gauge the air properly, you would fill it up in a minute. The important thing is that this sleeping pad holds onto the air very nice, so there are no air leaks.
PROS:
Incredibly lightweight
Versatile and has great packability
Warmer than air mattresses in general
Durable
Related: This sleeping pad is comfortable enough to promise a good night's sleep to most campers on its own, but if you can couple it with these Trekology Ultralight Inflating Pillows, then you'll have an even easier time falling asleep even if you pitched your tent on relatively rocky grounds.
Big Agnes Q-Core SL Insulated Sleeping Pad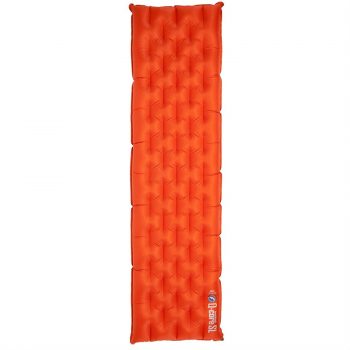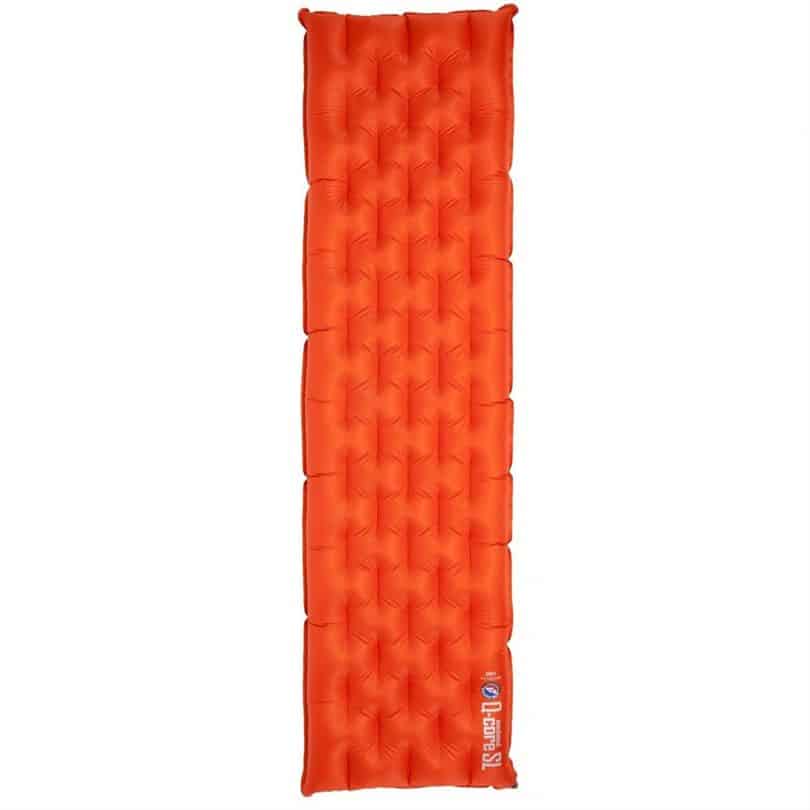 Price: Approx. $220
Weight: 16 ounces (Regular mummy), 25.6 ounces (Wide long)
Dimensions: 3 x 4 x 11 inches (Regular mummy), 13 x 10 x 3 inches (Wide long)
Specific features: Estimated R value of 4.5, rated at 15F, internal polyurethane coating, inflation valve, alternating I-Beam construction, nylon rip-stop top and bottom, includes stuff sack and repair kit
Best use: Side sleepers, colder areas
The Big Agnes Q-Core SL Insulated Sleeping Pad is a very comfortable sleeping pad with deep loft. The material provides sleep in silence; it doesn't make noise when moving around. If you are a side-sleeper this is the right choice for you. It is perfect for side-sleepers since the hips and shoulder sink down enough while still maintaining the softness of the pad and the loft in between.
The inflating however is its downside. It takes some time and effort to inflate this pad, and if you want to achieve a firm state, you would have to give your best. It is good though that after inflating it, no matter its firmness, it remains in that state over the night, and it doesn't leak at all. So it will provide you some quality sleep once you set it up.
This is a product made for cold weather. Even though the ground is cold, it has a nice insulation and you won't feel a thing. It is important to mention that it doesn't soak moisture which is understandable given the range it is in. It is also very durable and can support weight for up to 240 lb., of course, distributed evenly upon it.
The packed size is very small, which makes it suitable for backpacking. It would be nice if a built-in pillow was included, but considering the other features, this is a small slipping of the company.
The repair kit is in a small pocket on the inside end of the stuff sack. It's sort of hidden, so look twice.
PROS:
Larger outsider air chambers keep you cradled in the middle of the pad
Great packability
Great insulation
Durable
CONS:
Expensive
Takes many breaths to fill
No extra padding, so make sure no sharp objects are placed near this pad in the backpack or risk having it leak
Related: Although the design of this sleeping pad is geared towards providing you with maximum comfort, it still isn't the same without a pillow to rest your head on. That's why you might want to purchase this Sea to Summit Aeros Pillow also.
Therm-a-Rest Z Lite Sol Mattress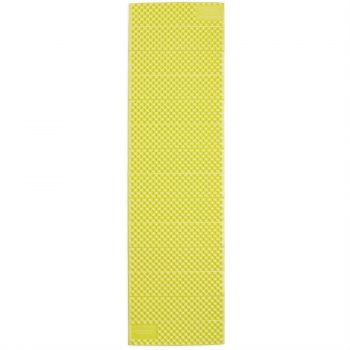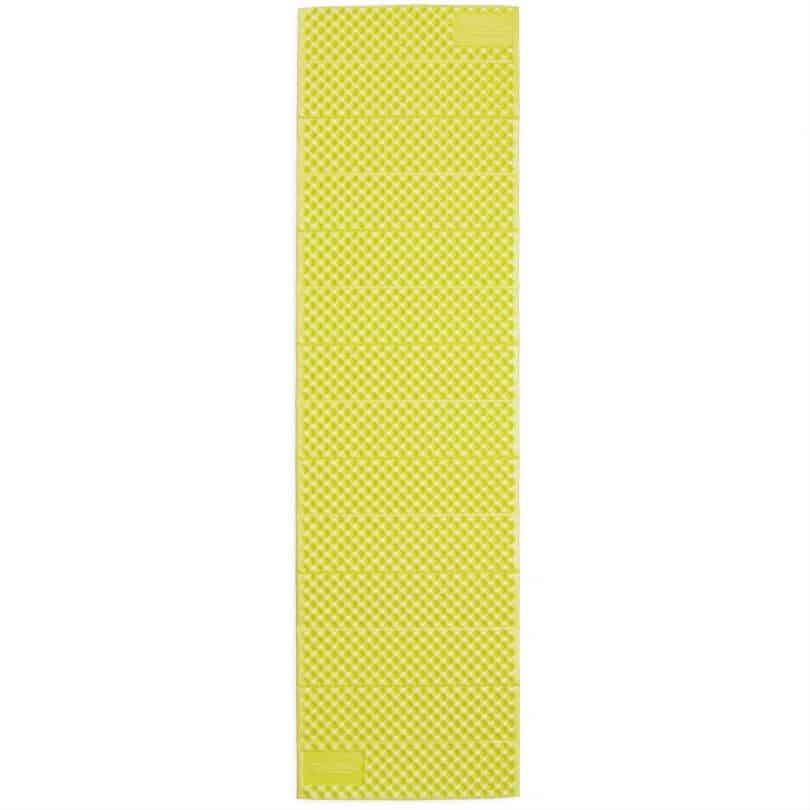 Price: Approx. $35 (Small), $45 (Regular)
Weight: 11.2 ounces (Small), 16 ounces (Regular)
Dimensions: 0.75 x 20 x 51 inches (Small), 0.75 x 20 x 72 inches (Regular)
Specific features: R value 2.6, closed-cell foam, ThermaCapture technology on the surface, heat-trapping dimples, accordion-shaped
Best use: Back sleepers, chest sleepers, all-purpose
This Therm-a-Rest Z Lite Sol Mattress and its unique design will exceed your expectations. It is specifically made for cold weather conditions although it is perfectly good for warm weather as well.
Even though it looks a bit bulky, it packs very well. It is perfect for back and chest sleepers. If you are a side sleeper, check out our other suggestions because this one is not suitable for you. However, if you are a back sleeper, this is the most comfortable sleeping pad, compared to many other models on the market.
Because of its Therma Capture technology, it is also noticeably warmer than many other models. It creates air pockets that create isolation between you and the ground and it provides you the heat produced by your body instead of balancing it with the ground temperature.
If it is too hot for you, flip the silver side down. It will help. Because of its double thickness, it is very comfortable for seating too.
Its biggest advantage is that it is very easy to set up and stow away, so you wouldn't waste any time and energy on that. All in all, if it is in your budget, try it out and you won't regret it.
PROS:
Affordable price
Amazing packability
Warm and comfy
Very versatile. Can be used in many ways
Durable cell foam
CONS:
Not as comfortable as air mattresses
Related: With air mattresses, you can still go without a pillow because the air pockets should provide sufficient cushioning, but if you decide that the Z Lite Sol sleeping pad is a better fit for you, a pillow is definitely something you can't skimp on. Z Lite Sol is comfortable, but it doesn't provide much cushioning. Consider purchasing this Therm-a-Rest Compressible Pillow so you'll be able to sleep better at night.
Sea to Summit Ultralight Mat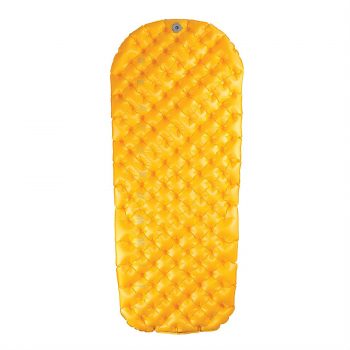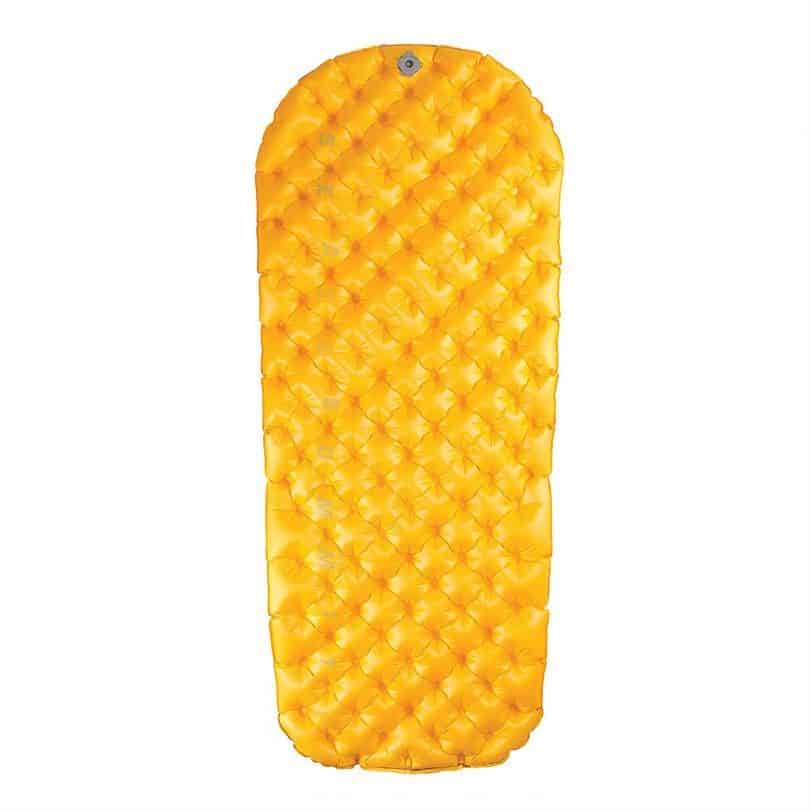 Price: Approx. $100
Weight: 10.4 ounces (X-Small), 11.5 ounces (Small), 12.5 ounces (Regular), 16 ounces (Large)
Dimensions: 50 x 21.5 x 2 inches (X-Small), 2 x 21.5 x 66 inches (Small), 2 x 21.5 x 72 inches (Regular), 2 x 25 x 78 inches (Large)
Specific features: R value 0.7, air sprung cells, repair kit included, stuff sack included, antimicrobial lamination, 8 – 12 breaths inflation
Best use: For backpacking and hiking in areas with a milder climate, for back sleeper and chest sleeper
This Sea to Summit Ultralight Mat is most suitable for backpackers since it is very lightweight compared to some competitive products. It is comfortable, but it is relatively thin and if you are slightly overweight, there is a great possibility that you would touch the ground while sleeping.
However, if you are not a side sleeper, you would probably be very comfortable. Nevertheless, it is wider than usual, 21 inches when inflated. As a bonus, it comes with a sack, although you can attach it to your backpack, and a repair kit, just in case.
Although it is not suitable for cold weather conditions, it is easy to inflate without a pump and can be done in less than a minute. Its main downside is that it is a bit noisy, so if you are a light sleeper, look for another alternative through our other suggestions.
If you are planning on ordering make sure you get the right choice because the company has a questioning customer service system. They are fast to reply, but the return policy is not so fast.
PROS:
Very easy to inflate and deflate
Very lightweight
Comfortable
Durable air sprung cells
CONS:
A bit noisy
Not very warm
Not very suitable for side sleepers
Related: Since this sleeping mat is so lightweight and packs small, it would probably pair well with this Osprey Packs Exos 58 Backpack. This is a trusty and durable backpack but it doesn't have a lot of space inside. If you choose to pair it with the Sea to Summit Ultralight Mat, you should have enough space left for the other gear.
Exped Syn Mat Hyperlite Sleeping Pad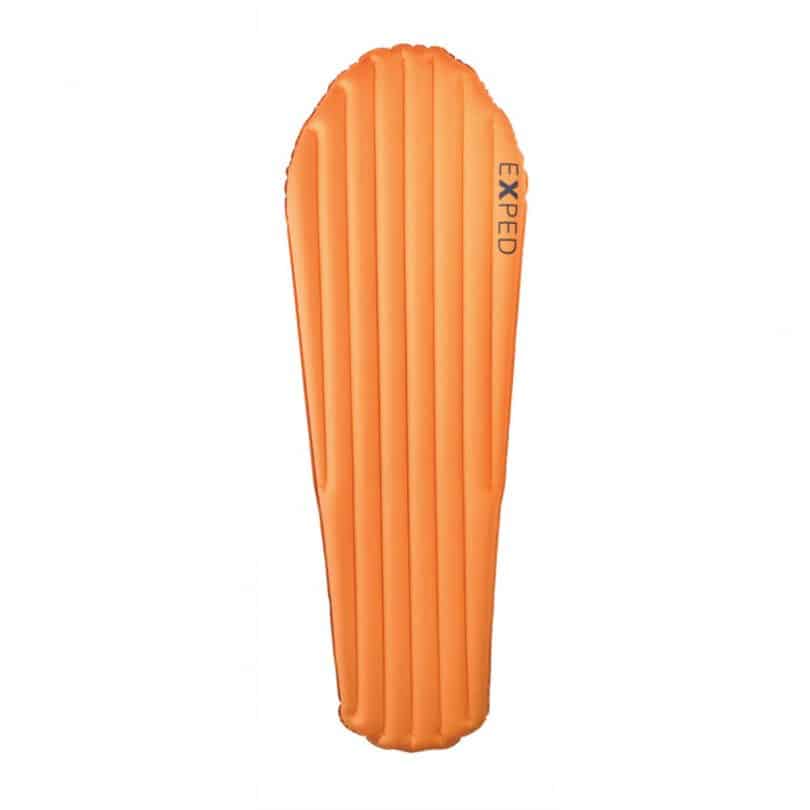 Price: Approx. $170
Weight: 12.3 ounces (Medium), 15.2 ounces (MW), 19.2 ounces (LW)
Dimensions: 4 x 4 x 8 inches (Medium), 3.8 x 4 x 8.3 inches (MW), 2.7 x 3.9 x 8.4 inches (LW)
Specific features: Tapered profile, 20D polyester, R value 3.3, 21.2 degrees F temperature rating, texpedloft microfiber, TPU polyether laminate, 3 season bed
Best use: Solo backpacking, for hiking, especially near a lake
The surprising fact about this Exped Syn Mat Hyperlite Sleeping Pad is that it is extremely lightweight, but with very good insulation. The pad is wide enough so that your arm doesn't end up hanging on the ground.
When inflated, it is high enough so that your hips and shoulder don't touch the ground and it is soft enough so you don't get sore after the night's sleep. Its main downside is that it is a bit noisy, but considering its other features, it is worth it.
When inflated, it stays the same height during the night, it doesn't leak at all. It is a bit pricey, but you might notice that this bag comes in the luxurious category.
The air chambers are filled with microfibers in order to eliminate cold spots and create a warm and supportive air cushion. And the best feature is that it is able to float. So if you happen to go on a hiking trip with a lake as an end destination, you would get two in one product.
PROS:
Comfortable due to the excellent height and width
Great insulation
Lightweight
It floats
CONS:
On the expensive side
Noisy
Related: While it doesn't take all that many breaths to inflate this sleeping pad, the task would be made much easier with the help of this Exped Schnozzel Pump Bag. This pump bag also functions as a stuff sack and since it's waterproof, it can protect your gear from water damage.
Therm-a-Rest NeoAir XLite Sleeping Pad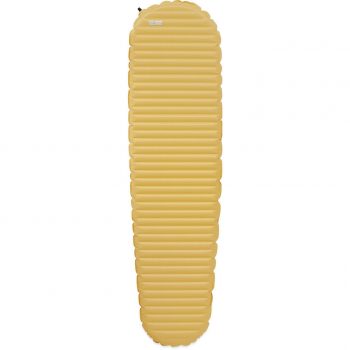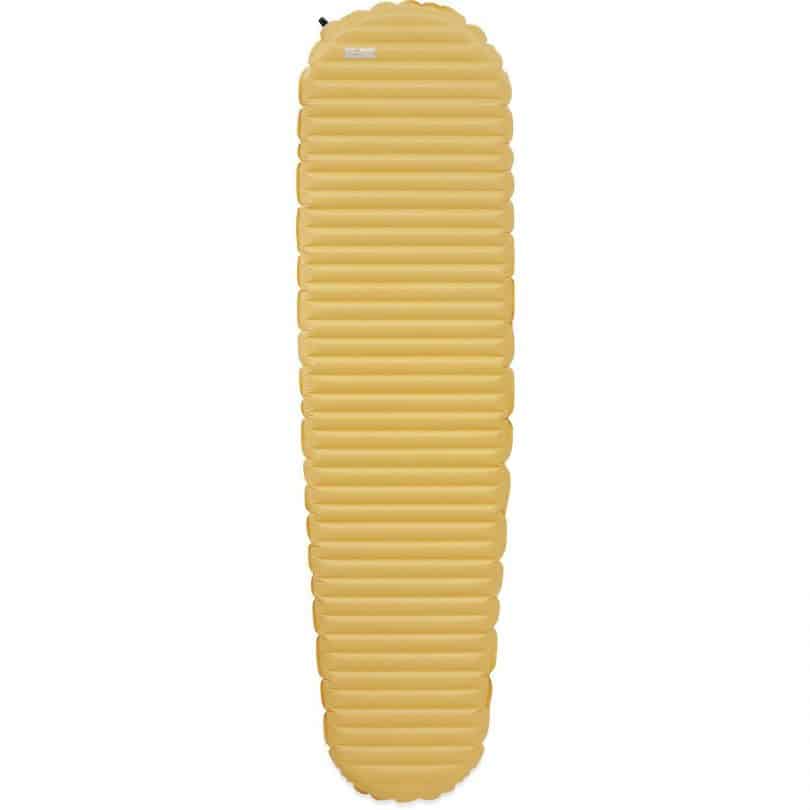 Price: Approx. $160
Weight: 8.16 ounces (Small), 12.3 ounces (Regular), 16 ounces (Large)
Dimensions: 5.1 x 5.1 x 10.6 inches (Small), 6 x 8 x 8 inches (Regular), 6 x 9 x 12 inches (Large)
Specific features: Repair kit included, stuff sack included, triangular core matrix design, reflective ThermaCapture, 3 season sleeping pad, R value 3.2, 25 breaths inflation
Best use: Backpacking, hiking in an area with a colder climate
The Therm-a-Rest NeoAir XLite Sleeping Pad is the most lightweight sleeping pad available and at the same time, on our suggestion list. This is a self-inflatable mattress which is comfortable enough. It is easily inflatable and it is as hard in the morning as when you first inflated it; so there is no air leakage.
If you mind a mattress that is slippery, look for another alternative in our other suggestions, because it is a bit of a struggle to keep it under you if it is placed on an uneven surface. On the other hand, if a sleeping pad that can trap warmth effectively is your priority, then you'll be hard pressed to find a better option.
With an R value of 3.2, this sleeping pad is very good for cold weather temperatures and will keep you isolated from the cold ground temperature. All in all, it is recommended as a quality sleeping pad that is light and suitable for backpacking.
It is recommended that you go for a bigger size when purchasing this sleeping bag than what you originally expected because it runs rather small.
PROS:
Ultra lightweight and compact
Great insulation
Very comfortable
No risk of air leakage
CONS:
Expensive
Slippery bottom
Related: This sleeping pad is not the most difficult to inflate on the market, but it takes more than the average 15 breaths. You'll have to blow around 25 breaths to inflate this one. If you don't want to deal with that, it's best to purchase this Therm-a-Rest NeoAir Mini Pump for assistance.
Wrap Up
Usually, the price indicates the quality of the sleeping pad, at least in these chosen suggestions. The durability, however, depends only on the material and technology used. It can vary from product to product, even though it is from the same company.
Make sure you check all our suggestions and thoroughly read all its features. After that, hopefully, you will make the right choice that will keep you warm, comfortable and satisfied with your product.
Featured Image Source: "Board bag makes excellent sleeping mat" by goosmurf is licensed under CC BY 2.0