If you are fond of hiking, you should understand that your feet are the most important part of your outdoor arsenal, therefore it is important to protect and take care of them. You can do it by choosing good and solid hiking boots, but in order to enjoy the highest level of comfort you will need insoles for your footwear. Do you really need insoles for your boots?
If you often experience knee, ankle or even back pain after a long hike or suffer from blisters on your feet, then the answer is definitely "yes". There are many hikers, who experience these problems and do not know that they are caused by poor foot function. Best insoles for hiking help to restore the natural feet function and realign ankle and foot bones to a neutral position. As a result many problems of other body parts are alleviated by allowing you to enjoy your hiking trip as long as possible.
Our Top Picks
| Name | Weight | Material | Best use | Price |
| --- | --- | --- | --- | --- |
| Cadence Orthotic | 7.2 Ounces | Semi-rigid nylon | Hiking, walking | Check price on Amazon |
| CurrexSole EdgePro | 2 Ounces | Nylon 6 composite | Skiing, snowboarding, hiking, golf, polo | Check price on Amazon |
| Superfeet Blue Premium | 5.6 Ounces | Synthetic | Hiking, mountaneering | Check price on Amazon |
| Sof Sole Airr | 3.2 Ounces | Fabric | Running, cross training, walking | Check price on Amazon |
| Envelop Full Length Ortodonic | 0.3 Ounces | Fabric | Hiking, walking | Check price on Amazon |
| Orthotics for Flat Feet by Samurai | 10.1 Ounces | Synthetic | Hiking, walking, running | Check price on Amazon |
Some things to consider while choosing an insole
The choice of an appropriate insole depends on your own needs and preferences. Since there are many insoles available in the outdoor market today, it might be challenging for you to select the right ones. Therefore, in order to take the right decision, we highly recommend you to consider some of the following features:
Type of insoles
In general all insoles can be divided into two types – comfort and support or sport insoles. Comfort insoles are designed for those who often experience pain and feel tired after standing or walking for extended periods of time. In such cases comfort insoles are able to provide relief and eliminate unpleasant feelings.
These insoles can be either flat or shaped and have a special gel or foam in their construction. With regards to support insoles, they also provide a hiker with a necessary level of comfort, however they also give a good balance of adding extra support for arches.
They are usually chosen by those people, who experience pain and discomfort not only in their feet, but also in other body parts including knees, hips, back, neck and even head. In contrast to comfort insoles, the main task of sport insoles is to provide a wearer with stability rather than with cushioning.
Profile
All insoles can be divided into low profile, medium profile and high profile insoles. Low profile insoles are chosen by those hikers, who need only low arch support. It will be the right choice for you if you have strong feet and arches. Medium profile insoles that are also known as slightly flat footed are considered to be the most common because they are suitable for most foot types.
Regarding high profile insoles, they are perfect for those, who have flat feet and need the highest level of arch support.
Volume
The volume of insoles can be also low, medium and high. Low volume insoles, for example, are appropriate for low volume footwear, including cycling shoes, in-line skate shoes and ski skate boots. Medium volume insoles usually fit regular hiking boots and also footwear with fixed insoles.
Regarding high volume insoles, they are considered to be the most common and are usually chosen by experienced hikers. They are designed for such footwear as regular hiking boots, running shoes or ski boots.
Material
There is a variety of materials that all insoles are made of including gel, foam, leather or cork. The choice of particular materials fully depends on your preference, and each of them has its own advantages and disadvantages. However, it is worth knowing that foam provides the highest level of cushioning, pressure relief and support.
If you need good shock absorption instead, then choose insoles made of gel. Cork insoles are good for slight cushion or support, and finally leather is the choice of those, for whom cushion and "feel" are important, especially if boots or shoes are worn with very thin socks.
Footbed Type
There are four main footbed constructions: rigid orthotic arch support, semi-rigid orthotic arch support, flat cushion or no arch support, and cushioned arch support. The choice of footbed construction depends on your own preferences and foot problems that you might have. Thus, rigid orthotic arch support is perfect for those who prefer aggressive art support, but it is not recommended for those, who have never used orthotics before.
As opposite, semi-rigid orthotic arch support is for wearers, who prefer softer insoles with good support. The third type, that is flat cushion insoles, does not provide any support and are called replacement insoles because they are used for replacing factory standard insoles. Finally, cushioned arch support insoles provide some support, but their main purpose is provision of maximum cushioning.
Arch type
Every insole that is available on the market today is designed in order to work with a particular arch type. There are 3 typical arch types: neutral or medium; low arches, fallen arches or flat feet; and finally high arches. Thus, in order to choose appropriate insoles it is important to identify, what type of you have.
You can always do it by yourself, but it is better to consult a specialist – a podiatrist, who will help you with a choice.
Top reviews of the best insoles
Below are several reviews of the best hiking insoles that are available on the market today. The reviews contain not only general description of each product, but also their advantages and disadvantages in order to help you make the right decision.
Cadence Orthotic Shoe Insoles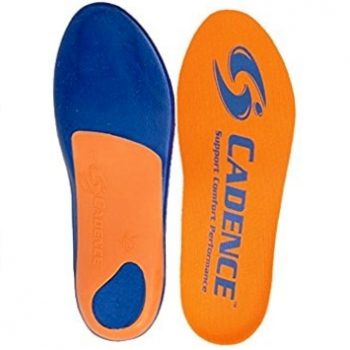 Weight: 7.2 ounces
Specific features: Good support and stability, superior shock absorbing, unique heel "comfort zone", low friction top cover
Best use: Hiking and walking
The Cadence Orthotic Shoe Insoles is the best choice for those hikers and walkers who need the highest level of support, stability and comfort. These insoles help to control pronation, as well as perfectly improve shock absorption. In addition, they assist in preventing and treating such injuries as shin splints, heel pain, runners knee and other health conditions and issues of such body parts as feet, knee, hips and back.
The insoles have a special heel cup that is able to improve pressure and weight distribution, as well as to stabilize foot and heel with every step, which is especially important for those who suffer from foot or knee pain. You also do not have to worry about unpleasant odor or bacteria because the top cover of Cadence insoles has special anti-microbial barrier.
Though these insoles are bit more expensive than similar products of other manufacturers, most testers admit and emphasize that they are worth every penny due to their great durability and capacity to relieve pain and solve many health problems. Thus, many wearers note improvement of their feet conditions and even elimination of pain symptoms in such body parts as legs, hips and the lower back.
Related: If you need something as good as Cadence insoles but less expensive, you can opt for the Powerstep Full Length Insoles.
CurrexSole EdgePro Support Insoles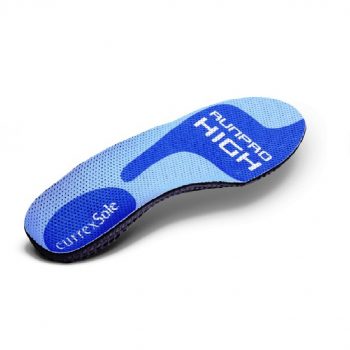 Weight: 2 ounces
Specific features: Triple layers, 3D DAT, special mid-layer system, ergonomic heel cup, firm support
Best use: Skiing, snowboarding, hiking, golf, polo
The CurrexSole EdgePro Support Insoles are designed specifically in order to provide your feet with all necessary support while hiking, skiing, snowboarding or playing golf. If you have these insoles inside your boots or shoes, you feel comfortable and flexible at the same time. Due to its triple layers and a special mid-layer system that provide perfect insulation, your feet are always warm and dry. In addition, they can boast of 3D DAT that gives more natural foot guidance. They are designed in order to increase comfort, provide new levels of power and reduce hot sports.
Many testers and owners of these insoles admit that by using them they notice that knee or foot pain, that they had suffered before, is reduced and they feel more comfortable and confident while doing such outdoor activities as hiking or jogging. The insoles are also appreciated due to their stability especially when cranking turns. They firmly keep a foot by not allowing to shift around.
PROS:
Supportive
Comfortable
Firm
Durable
Related: For those who are searching for perfect insoles for jogging, CurrexSole also retails Europe's leading insoles for running – CurrexSole RunFree Insoles.
Superfeet Blue Premium Insoles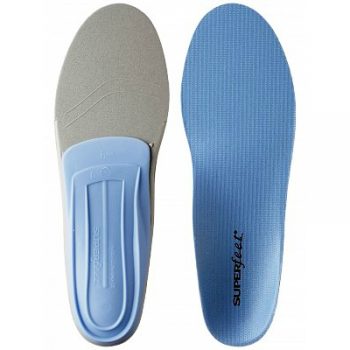 Weight: 5.6 ounces
Specific features: Medium-arched insole, natural NXT anti-bacteria coating, durable construction, perfect support
Best use: Hiking, mountaineering
Very thin but high-performance insole that can boast of long-lasting support to feet. It is designed and created specifically in order to improve performance and the overall fit of different types of footwear. It easily fits different styles of shoes and boots – even those that have factory irremovable insoles.
The Superfeet Blue Premium Insoles assist in adapting of the flat midsole of footwear to foot. Due to its distinct shape your foot is tightly stabilized. At the same time you are still provided with the highest level of comfort thanks to such unique characteristics as full-length foam and the structured heel cup.
Podiatrists usually prescribe these insoles for those patients, who have constant or regular arch, foot or heel pain, and suffer from such health problem as plantar fasciitis. Most of wearers with such problem admit that after some time pain is reduced or completely eliminated.
PROS:
Comfortable
For almost all types and styles of footwear
Biomechanical shape
Durable
CONS
:
Very firm
Bendy material
Expensive
Related: If you would like to have something most innovative then Superfeet prepared for you high-performance Superfeet Carbon Full Length Insoles made of carbon fiber and ultralight foam.
Sof Sole Airr Insoles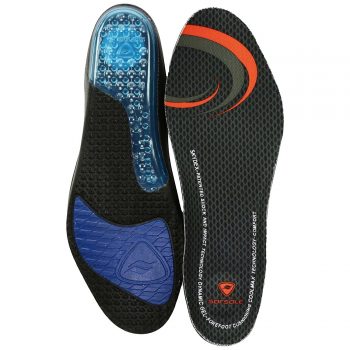 Weight: 3.2 ounces
Specific features: Skydex air bubbles in the heel, gel in forefoot, COOLMAX fabric top cover
Best use: Running, cross training, walking
SofSole, that began in 1991 as a small company and nowadays is widely known as a worldwide leader in making footwear accessories, designed this insole specially for active outdoor lovers and sportsmen, who do running, cross training and other sport activities.
Sof Sole Airr Insole can be fairly called as one of the most innovative insoles that are available today in the market thanks to its unique characteristics: skydex air capsules in the heel, arch convert impact and gel forefoot for perfect shock absorption; durable and flexibe polyurethane for longer durability; and COOLMAX technology for wicking all the moisture away. In addition, the top cover of the insole has anti-bacteria qualities by preventing the growth of odor-causing bacteria. As a result, you feel absolutely comfortable even after wearing your shoes or boots with these insoles inside for the whole day.
Wearers also emphasize that due to their lightweight, these insole do not add much extra weight compared to many other similar insoles. They are usually chosen by athletes and those, who prefer moving a lot because these insoles provide the highest level of support and protection to their feet.
PROS:
Not expensive
Comfortable
Good fit
Durable
CONS
:
Small heel cushion
Not very soft
Little arch support
Related: For better protection of your footwear and foot against moisture you can acquire this Sof Sole Water Proofer.
Envelop Full Length Ortodonic Insoles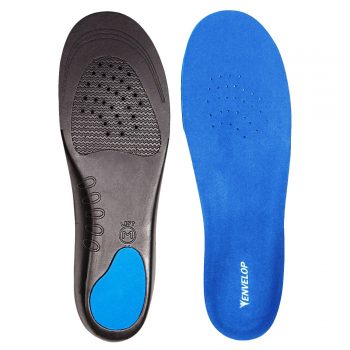 Weight: 0.3 ounces
Specific features: Proven podiatrist design, breathable, antimicrobial fibers, combat foot pain, designed for all-day wear
Best use: Hiking, walking
Thousands of satisfied customers have already bought and use Envelop Full Length Ortodonic Insoles that has earned their trust thanks to their unique features and significant advantages. In contrast to many other insoles they can boast of proved podiatrist design, which means that they are created not only for your comfort, but also for elimination of pains and aches in feet, knees, arches and even back.
It is a perfect choice for those, who suffer from plantar fasciitis, over pronation, metatardalgia and other health issues. You can easily wear them all day long because they are breathable and antimicrobial: after many hours of using them you will still feel comfortable and will not have to worry about unpleasant odor.
Due to its universal design the insoles can be used with a wide variety of footwear – both male and female. It is also possible to trim them for precision fit if necessary.
PROS:
Budget friendly
Good fit
Effective pain relief
CONS
:
Not very durable
No cushion
Related: For those who suffer from plantar fasciitis we recommend to acquire additionally Plantar Fasciitis Therapy Wrap that is widely used for pain symptoms and discomfort relief caused by this health issue.
Orthotics for Flat Feet by Samurai Insoles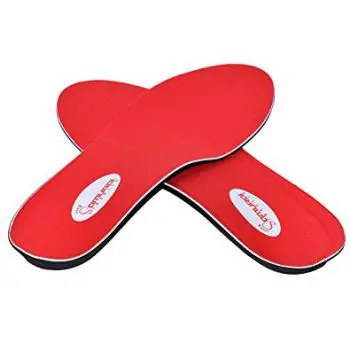 Weight: 10.1 ounces
Specific features: Podiatrist designed, good arch support, pronation control, pain relief
Best use: Hiking, walking, running
If you need real dynamic support to your feet, then Orthotics for Flat Feet by Samurai Insoles is a perfect and the most appropriate choice for you. Due to their biomechanic design, these insoles are appreciated for their ability to control pronation, as well as to reduce inefficient foot motion. Their unique design also allows to reduce strain and pressure in vital areas of the foot and distribute this pressure across the foot effectively.
Being podiatrist designed, these insoles are highly recommended to patients with plantar fasciitis, who also experience regular heel pain.
In addition the insoles have premium quality knit fabric covering that provides friction reduction, optimal heat displacement, and wicking of moisture. Also, due to the insoles' double layer padded case, Samurai insoles can boast of perfect shock absorption without sacrificing support.
PROS:
Great support
Comfortable
Good value
CONS
:
Lacking in durability
Not enough padding
Related: Plantar Fasciitis Socks with Arch Support for those who suffer from plantar fasciitis and pain symptoms associate with it. It provides with excellent flexibility and firm compression.
In Conclusion
We hope that after reading this article and products reviews you already understand what features are necessary and important when choosing insoles for hiking. Even though you do not have foot problems and never experience pain symptoms after walking or hiking for the whole day, you should understand that insoles is a nice addition to your footwear, and it is beneficial to have them.
Featured Image Source: https://pixabay.com/photos/running-shoes-sport-shoes-sole-49580/