Hikers, campers, and not only are choosing their gear for another season of epic adventure. This is the time for new adventures! This is also the season to make sure you have one of the best 4-season camping tents you can get. We can only assume how difficult it is for beginner campers and hikers to choose a tent, and sometimes even experienced folks have such difficulties, but we hope this will no longer be the case.
In this article, we'll run through some of the important features to look for in a winter camping tent, and will also be taking you on a warm up tour of some of the best camping tents that are currently on the market.
Our aim is to help you make the best possible choice once you learned about the tents' characteristics as well as discovering some of the issues most campers and hikers face when they're out there.
Our top picks
| Product | Max Occupants | Vestibule | Protects Against | Price |
| --- | --- | --- | --- | --- |
| Hilleberg Jannu | 2 | Yes | Wind, snow | Check price on Amazon |
| Mountain Hardwear Ev 2 | 2 | Yes, incorporated | Cold, snow | Check price on Amazon |
| The North Face Mountain | 2 | Yes | Water, wind, cold | Check price on Amazon |
| Black Diamond Fitzroy | 2 | No | Water, wind, cold | Check price on Amazon |
| Black Diamond Eldorado | 2 | Yes, separate | Water, wind, cold | Check price on Amazon |
| Sierra Designs Convert | 3 | Yes, separate | Wind, water | Check price on Amazon |
| Big Agnes Battle Mountain | 3 | Yes, separate | Snow, wind | Check price on Amazon |
| Nemo Tenshi | 2 | Yes, removable | Snow, wind | Check price on Amazon |
Features that matter most in an all-season tent
Learning more about the most important features campers and hikers alike look at when buying a new tent is crucial. It can make the difference between getting a tent that will last decades and one falling apart at first breeze.
Weight
The weight of a tent is one of the first aspects many hikers base their tent preferences on. They don't want to carry a lot, and nobody should do that. You should know that lighter tents are meant for mountaineering while the heavier ones are designed for base camping.
Ventilation
Being able to breathe while in the tent is very important, and since the space is limited, oxygen can run out rather fast. A tent with a good ventilation is super important, especially in the lower altitudes regions. Tents made for use high on the mountain will have a poorer ventilation system.
Price
The price of a product like a tent is super important and at times off putting. Many people will think that a four season tent is expensive, and it actually is more expensive than a summer tent or a 3 season tent.
However, considering you could use it at any time throughout the year, as well as the possibility of it serving your needs for at least 10 years, the price doesn't seem so high anymore. The price is generally influenced by a series of factors, including the materials used in the making of the tent, its size, and included accessories.
Warranty
Everyone should pay attention to the offered warranty, what are the situations voiding it, the period of the warranty and so on. This aspect can greatly influence the price of your tent: no warranty meant you will pay for any repairs the product might need.
You should be warned that a "lifetime warranty" usually refers to the lifespan of the tent and not to that of the user. Most manufacturers have a general idea of how long their products will last before being deemed as 'unusable' and this is something you should inquire about as well.
Durability
Sadly the price of a tent will not always indicate just how durable it is. In any case, should others say the tent was destroyed by the wind, accumulated snow, or they got drenched while inside the tent, then you should probably not get it as it will not last long.
Waterproof
Dealing with rain and water during an expedition is something common and to be expected. Getting a waterproofed tent is a must if you want to stay dry. The downside is that some models will just repel water, while others will simply not be waterproof despite the manufacturer's claims.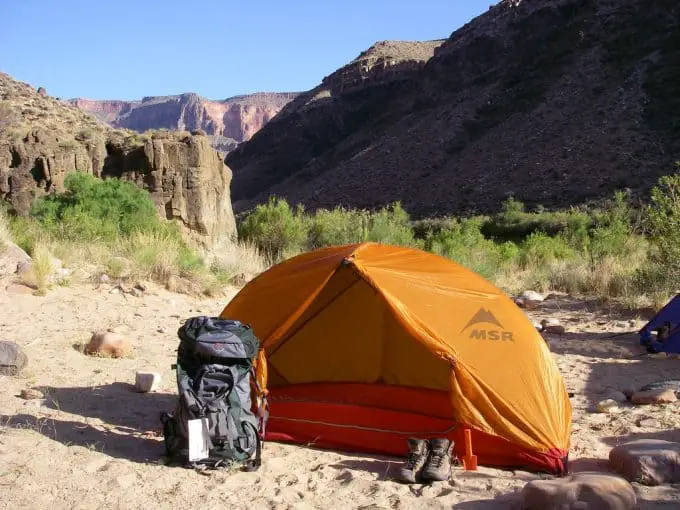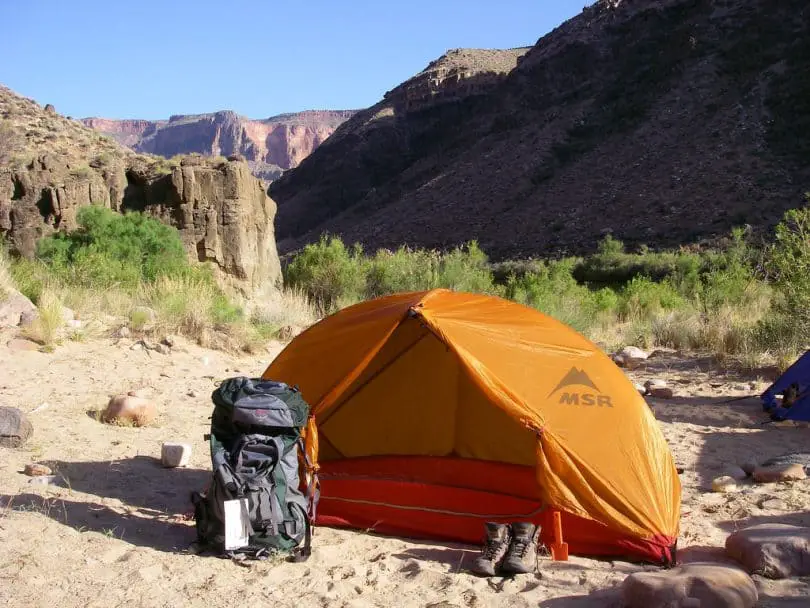 In most cases, you'll have to rely on what others have to say about the tent you want to get. A waterproof tent can virtually still let water in if the sewed areas are not properly protected. At the same time, glued areas could grow mold if the tent is not well dried.
We should not forget to point out that some tents are so well made they could float should a flood take place. We even included such a model in our top picks, so keep an eye open for it. This just goes to show you how powerful the item's waterproofing treatment is.
Number of walls
Perhaps walls is not the technically correct term here, as we refer to the number of layers a tent has. You'll see that many tent designed for year round use are single walled, though models with a double wall are also popular. This feature will influence how much your tent will weigh, and depending on the time you'll be using it, just one shell might be enough.
A double walled tent is in this case, 2 tent shells used one on top of the other. This way the insulation is increased and the risk of condensation forming is reduced.
Condensation
If you sleep outside, you'll notice the night is much colder than the day, and this will be more obvious in the morning, inside the tent. Models with a single wall usually have the disadvantage of allowing condensation to form on the ceiling of the tent. This in turn can turn into frost.
Some tent models have a different, peach like texture on the inner side while it is smooth on the outer side. This 'trick' will prevent condensation and can also increase the insulation of the tent. These models are definitely not suited for summer camping, but can be lighter than a double walled model.
If you're new to camping, we hope you did learn something useful. If you're a seasoned camper, we hope you found out something new. Now, let's looks at some tents.
Top 4-Season Tents You Can Buy
The next selected tents are some of the most reliable to consider when choosing something useful year-round. We looked at their best features, but also checked out the critics as well, to help you get the best picture for an informed choice.
Hilleberg Jannu Tent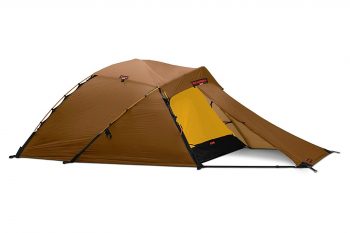 Weight: 7.7 pounds
Floor area: 34.4 square feet
Specific features: Self supporting, stable
Best use: Mountaineering
The Hilleberg Jannu Tent is an excellent choice in extreme weather conditions as it fares well in high winds and can withstand a heavy snowfall. This is all thanks to the multiple pole crossing points. The single entrance and single vestibule might be something some people dislike.
Pitching is done easily from the outside and can be packed up quickly and efficiently too; this is very helpful if you want to go hiking alone. You should know that 2 people will feel rather cozy in there as well, since this model has a larger floor area than many other tents.
You can set this tent anywhere, even on ledges or sharp edges because it is a very stable one and has a compact footprint. Nothing in its design will stop you from taking it with you while hiking or camping since it is light enough for any situation.
PROS:
Easy pitching
Good packability
Related: Some folks like double tents, and the Hilleberg Tarra 2 Person Tent could be the one for them, though it is also pricier.
Mountain Hardwear Ev 2 Tent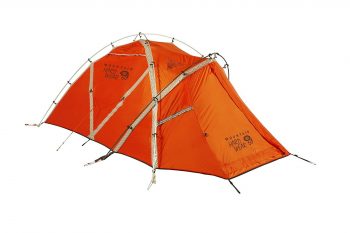 Weight: 9.5 pounds
Floor area: 33 square feet
Specific features: 3 DAC Featherlight NSL poles, five adjustable zippered vents, and SVX windows
Best use: Snow camping, high altitude mountaineering
The Mountain Hardwear Ev 2 Tent is a single walled expedition tent, and its design balances space with strength. This model is designed with high altitude expeditions in mind, and is a notably very light one at that too. The vent can let the snow in if not carefully pitched by taking into consideration the direction of the wind.
Speaking of pitching, this is done easily and from the outside. Taller people will also feel rather comfortable in it. This tent is not the one to use in above freezing conditions as it fares excellently in the snow and its ventilation is poor for warmer temperatures.
The vestibule of the tent is incorporated, providing a safer area for food preparation while also keeping the weight at a minimum. This model is designed with SVX windows to allow more light in, as well as to improve the visibility, should you feel it's needed.
PROS:
Perfect for snowy conditions
Easy pitching
Incorporated vestibule
CONS
:
Poor ventilation in calm conditions
Related: The ALPS Mountaineering Tasmanian Tent is meant for 2 people, 4 seasons, backpacking and has a more affordable price tag.
The North Face Mountain Tent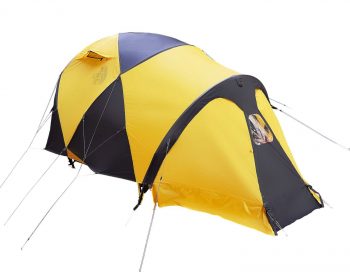 Weight: 9.81 pounds
Floor area: 32.3 square feet
Specific features: Two doors, poled front vestibule
Best use: Base camping
This North Face Mountain Tent has two doors and a poled front vestibule that also has two entries. It features high low venting, the guidelines have a useful reflective surface, and there are also glow in the dark zip pulls. What's more is that the guylines have equalizers at several attachment points, a characteristic many users like.
Those who feel claustrophobic without a window should feel relieved to know this tent's window lasts in -60 degrees Fahrenheit, despite it being made of Polyurethane (PU). Almost everyone has complained this tent is rather heavy especially for hiking and backpacking, but this is not what it was designed for. It boasts plenty of room for two adults and their gear.
Base camping is where this tent is most comfortable, and you can be sure you'll be staying warm and dry in the heaviest of rains. Should the area get flooded, don't be surprised if your tent will start floating – it's better than all soaked.
PROS:
Waterproof
Glow in the dark zip pulls
Good for base camping
Related: If you want a 3-season tent that can be used by 2 people and has plenty of storage space, check out The North Face Stormbreak 2.
Black Diamond Fitzroy Tent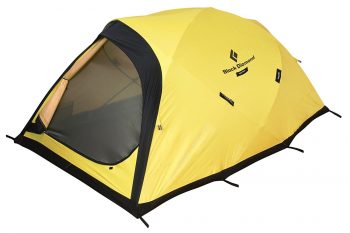 Weight: 6.95 pounds
Floor area: 36 square feet
Specific features: ToddTex single wall fabric, comes with 4 poles
Best use: Camping & Hiking
Named for the infamous Fitzroy line of Patagonia, the Black Diamond Fitzroy Tent is certainly an alpinists friend. It is built with altitude and sub zero temperatures in mind, and excels in these conditions. However, its relative lack of ventilation makes it unsuitable for low altitude excursions.
The tent is a single wall fabric, but the inner part is a bit fuzzy therefore you'll have a hard time seeing condensation forming in it. This tent is yellow, and this is a really good color for dreary days as it will keep your spirits high.
The tent's areas of tension are glued and this is a problem when it rains and you can't dry your tent. Mold can form and ruin the glue, and therefore the tent. Users need to set it up a few times before heading out hiking, but once it is pitched it is exceptionally stable and will endure high weather.
PROS:
Fuzzy wall prevents condensation
Perfect for the worst weather
CONS
:
The price
Glue on the tension areas
Related: It is always a good idea to have a lantern available, especially for emergency situations. The Supernova Halo 150 LED could be it for its 150 lumens and 5 hour battery life.
Black Diamond Eldorado Tent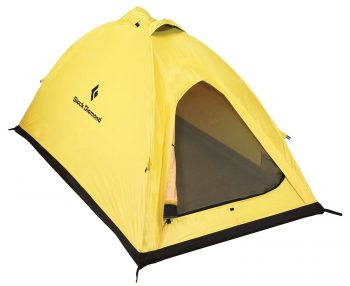 Weight: 9.53 pounds
Floor area: 30.8 square feet
Specific features: ToddTex single wall fabric
Best use: Mountaineering
This Black Diamond Eldorado Tent is a single walled tent. There is one door, an optional ground cloth and an optional vestibule. It features two zippered vents at the apex, another hooded vent above the door and a vent at the bottom of the tent.
This tent is easy to set up – from the inside, sturdy and waterproof. It is notably one of the lightest in our selection, and while the manufacturer promises that it can hold 'two taller climbers,' according to its users this is not quite the case. Apparently even 2 people of an average height will feel crowded in it.
Despite this it has been described as very comfortable, and it vents well. It feels right at home in heavy snow, and will serve you well in cold conditions despite its flimsy appearance. This tent is yellow on top and black on the bottom so that it will dry really fast as soon as the sun is up.
PROS:
Waterproof
Well ventilated
CONS
:
Not really as spacious as advertised
Related: If you want to get a vestibule for the extra space, then make sure to get the Black Diamond Eldorado Vestibule to match the design of the tent. It's a great, lightweight and waterproof vestibule.
Sierra Designs Convert 3 Tent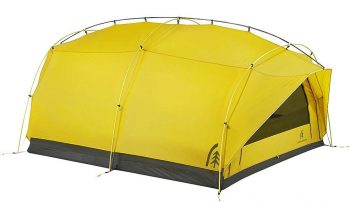 Weight: 6.5 pounds
Floor area: 35 square feet
Specific features: Comes with 4 poles, excellent ventilation, freestanding
Best use: Camping, hiking
The Sierra Designs Convert 3 Tent has excellent ventilation and is pitched from the outside. It has large double drop doors – boasted as being big enough for two people to sit comfortably side by side. It features 15 inch awning poles, meaning you won't need an extra support pole.
This tent also features a hybrid double/single wall and a removable vestibule that you must get separately.
This is one of the roomiest tents in our presentation and it can easily and comfortably accommodate three individuals unlike other similar models in which they would feel squashed. Perhaps instead of 3 adults, 2 adults and a child or 1 adult and 2 children will feel even more comfortable in this tent.
Most users found the pole clips a bit difficult to work with during set up and packing and this was the major let down of this tent. Furthermore, it does well in strong winds, and the attached fly design allows the inner tent to stay dry when set up in the rain.
PROS:
Comfortable for 3 people at once
Hybrid double/single wall
Big Agnes Battle Mountain Tent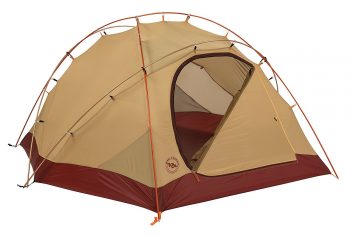 Weight: 9.52 pounds
Floor area: 31.5 square feet
Specific features: Two dual layer doors and two vestibules
Best use: Mountaineering
The Big Agnes Battle Mountain Tent's elements are color coded to ease set up and packing up. The setup is a little unconventional and complex and the DAC clips can be difficult to engage. As is the classic problem with many 'four season' tents, the Big Agnes can get quite warm during summer camping expeditions.
What the users of this tent liked quite a lot, is the Fast Fly pitch compatibility, where a shelter can be pitched and the body left behind. This set up requires the footprint, fly, poles and stakes. Note that the footprint is not included and can be purchased separately.
This is a dual layer tent but remains relatively light weight. It has ample inside space for three occupants, and plenty of mesh pockets on the interior for tidy storage. Some of the tent's best features are the rip stop fabric used in its making, and that the seams are taped with waterproof, solvent free polyurethane tape.
PROS:
Inner mesh pockets
Fits 3 people
Durable
Related: If you want even more space added to your tent, try the Big House Deluxe Vestibule designed by Big Agnes.
Nemo Tenshi Tent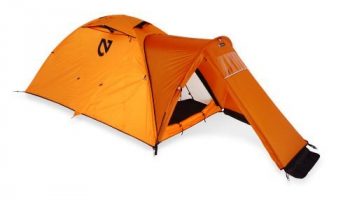 Weight: 6.2 pounds
Floor area: 30 square feet
Specific features: Rear window, condensation curtain, detachable vestibule
Best use: Alpine style ascents, camping
There are 3 types of fabric used to make this tent: 40D OSMO™ W/B for the shell, 70D PU Nylon Ripstop for the floor, and 30D PU Nylon Ripstop for the vestibule. The Nemo Tenshi Tent is not recommended for rainy weather as it will not keep water away, and the floor gets soaked. The conditions change when it snows, and you'll be quite impressed then.
The item comes with a condensation curtain, repair kit, a stuff sack and stakes, but not only. For instance, when camping on a mountain against an exposed wall, you'll want to anchor yourself despite compromising the tent's weather proofness. This model comes with a direct anchor so that you won't have to face the weather.
The vestibule has a three way opening however, it is not sold with a footprint. Its advantage is that it can open 3 ways, adds storage space and can serve as cooking area.
PROS:
Removable vestibule
Direct anchor system
CONS
:
The price
Not for rainy weather
Related: This tent might get a bit too hot in summer, so an alternative could be the ALPS Mountaineering Zephyr Tent that offers great ventilation.
Conclusion
So there you have them: eight of the best four season tents that are currently on the market. There is no clear winner within this group as all are excellent tents. By now you should know which are the most important features to look at when getting a new one.
The mountains are harsh environments and a good tent can be lifesaving. Good tents are also important when it comes to camping in less harsh conditions as you don't want it to be blown away by the faintest wind, nor to get soaked should it starts raining unexpectedly.
Featured Image Source: https://unsplash.com/photos/IejSZKGu1mY