Isn't it annoying when you have an outdoor trip and you find yourself needing a tool that's nowhere to be found? Then you are left hanging with an unfinished task. In cases like this, instead of carrying several useful tools, you can take one suitable multi-tool. There are many different styles and different versions, but the most suitable option for camping is a survival hatchet multi-tool.
There are always numerous applications for a multi-tool in the wild. However, the most useful tool for camping is a small hatchet or an ax. There are always branches to be cut in order to start a fire and many other unexpected uses of the non-traditional multi-tool. A small hammer for easy setting of the tent and other camping gear will certainly facilitate the whole camping experience. However, how do you exactly shop for this type of all purpose tool? Don't worry because we are here to help!
In this article, we will go into more details on how to shop for a survival hatchet multi-tool that will fit your needs. On top of that, we will be reviewing a number of models that should be a good starting point for your shopping task. So, let's get right to it!
Our Top Picks
| Product | Weight | Size | Specific Features | Price |
| --- | --- | --- | --- | --- |
| Rose Kuli Portable Multi-Tool | 12.8 ounces | 7 inches | Hatchet, pliers, cross screwdriver, saw, knife, rasp, slot point screwdriver, wrench, cork puller, bottle opener | Check price on Amazon |
| Ontario SP16 SPAX Tool | 26 ounces | 13 inches | Long hatchet blade, pickax, knife | Check price on Amazon |
| ARS Outdoor Camping Axe Hatchet | 12.8 ounces | 12 inches | Hatchet, three hex holes, cord cutter | Check price on Amazon |
| Off Grid-Tools OGT-SA100 Survival Axe | 24 ounces | 11 inches | Hatchet blade, hammerhead, hex sockets, 6-inch saw blade, steel glass breaker, seat belt cutter | Check price on Amazon |
| SE 881MA 3-in-1 Multi-Function Hatchet | 15.4 ounces | 13 inches | Hatchet head, hammer, and a pry bar | Check price on Amazon |
| Sheffield 12301 Camper 12-in-1 Multi-Tool | 11 ounces | 6 inches | 12 functions, heavy duty use, polished wood handle, stainless steel body, belt pouch | Check price on Amazon |
Things to Consider Before Buying
When looking for a new multi-tool, you must have basic knowledge on the important features before making a final decision. We have done the research for you and compiled the most important features you need to be familiar with. Read ahead and learn all about the famous multi-tool.
Materials
The materials the multi-tool is built from determine its quality, longevity and of course, the price. Most multi tools have an outside shell housing that houses the different functions and serves as a handle. This is usually made from some kind of mid steel or aluminum for durability and light weight. In many cases, the handle is also adorned with wooden panels that add to the beauty of the tool.
The higher-quality multi-tools have the different function pieces made from high-quality steel. The pocket knife blade, for example, needs to be made from a nice quality steel to be able to hold its sharpness. The other functions also need to be properly machined so they retain their usefulness with prolonged use.
Functions
The multi-tool is bought for its multi – purpose use. Different manufacturers make different models, all with some specialty. There is the famous Swiss Army Knife, Leatherman, Gerber, etc., that have a base model with basic functions and many other more specialized models.
The basic functions are usually the same in many of these like a pocket point blade knife, flathead and Phillips screwdriver, a small file, a bottle opener, small scissors and many other. However, there are more specialized multi-tools for special implementations. For example, a bicycle multi-tool contains tools required to fix a bike like Allen keys, wrenches, spoke key and chain breaker.
Survival Purpose
The standard multi-tool has some basic functions. But if you are going for a more rugged use, then you can consider an even more specialized multi tools that are way bigger than the basic pocket size multi-tool. Many of these contain a hammerhead, an ax head and some even more rugged tools like a pry bar.
These functions come in handy in situations like camping trips when you need to collect some materials. The hammer and ax head usually get a lot of use in these situations, for example when cutting and collecting branches for a camp fire or salvaging some materials from an unusual location.
Size and Weight
When selecting a multi-tool, the size and weight have a major significance in the final decision. The purpose of the multi-tool is to be easy enough to be carried around and to be able to help deal with some odd jobs.
The main advantage of compact multi-tool is the compactness and transportability. The multi-tool should be small enough to fit in a pocket, in a belt pouch, in a backpack, or in the glove compartment of the car. The size and weight are also important when carrying a multi-tool on a backpacking or a camping trip and you have a limited amount of space for all the necessities.
Intended Use
Another important factor when selecting a multi-tool is its usefulness. Before the final selection, you should consider the intended use of the multi-tool. If you want to finish some simple job around the house, then you should seek a multi-tool with the appropriate tools for the application like pliers, screwdrivers and the like.
When going camping or hiking, then you should consider a multi-tool with more specialized functions for this application. Although nothing can beat a fully stocked toolbox, some multi-tools actually come really close to fulfilling the main important functions. Moreover, not to mention the coolness factor when you alone have the correct tool for the job.
Best Products on Today's Market
Above we have mentioned a short introduction into the multi-tool, so keep reading ahead for our picks for the top-rated survival hatchet multi-tools, their main features, pros and cons and even what other products you can pair with them.
Rose Kuli Portable Multipurpose Multi-Tool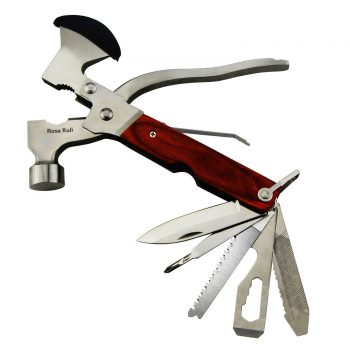 Weight: 12.8 ounces
Size: 7 x 0.9 x 3.5 inches
Specific features: Hatchet, pliers, cross screwdriver, saw, knife, rasp, slot point screwdriver, wrench, cork puller, bottle opener
Best use: Camping, hiking, simple DIY work, emergency hammer
Description: The Rose Kuli Portable Multipurpose Multi-Tool is a nice little multi-tool. This comes in a very manageable size and offers several useful functions. It is made from a durable 2CR13 stainless steel that is rust proof and can be used in harsher weather without the risk of rusting and damage to the blades and functions. There is the nice wooden handle for easy handling, giving this multi-tool a nice look and feel.
The main function of this multi-tool is the ax. It has a very sharp blade and needs to be protected with the provided nylon glove so you avoid injury when not in use.
Other functions: hammer, pliers, knife, rasp, saw blade, wire cutter, nail file, bottle opener, fork hook, Philips screwdriver, flat screwdriver, clamp handle lock – all functions are spring loaded and do not come out easy and cause inconveniences.
You can use the different tools for different application. The hammer is strong enough to break through stone, or to be used to hammer down the tent straps when going camping in the wild. The spring loaded action keeps the various "blades" tightly, and you can pack this multi-tool in the provided belt case and fit it into a backpack or hang it on your belt for quick access.
PROS:
Stainless steel blades impervious to rust
14 different functions
Compact size and weight
Carry case included
CONS
:
Small for big jobs
The knife blade may need sharpening
Related: When getting a multi-tool for camping, you should also be prepared for emergencies and get yourself a first aid kit like the First Aid All-Purpose Essentials Kit with 299 pieces. It contains medicine, antiseptics, bandages and injury treatments ideal for handling scrapes and small injuries when in the wilderness. It comes in a nice vinyl bag with a compact size that easily fits in any backpack.
Ontario SP16 SPAX Tool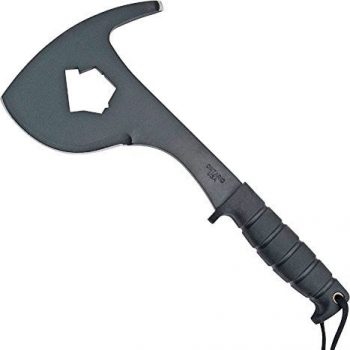 Weight: 26 ounces
Size: 13 inches
Specific features: Long hatchet blade, pickaxe, knife
Best use: Extreme sports, rescue, deconstruction, fire fighting
Description: The Ontario SP16 SPAX Tool is a very interesting tool to have and use. Made from a very hard and durable 1095 Carbon Steel and hardened to 57-59 HRC hardness, this tool finds its use in many extreme situations.
The overall length of the tool is 13 inches. The knife blade is 8-inch long, plain edge blade and the finish is a black powder coating for protection against the elements. The handle is made from Kraton, a type of hard plastic mass with integrated finger grooves for a secure, no-slip grip.
There is a hole in the handle with a suitable lanyard for hanging the tool on a hook on a backpack. It also comes with a leather Cordura sheath and is made in the USA. This is not a multi-tool that one will use everyday but considering its construction and durability, it's a handy tool for taking things apart and demolition jobs.
PROS:
Unique blend of useful blades – knife, hatchet and a pickaxe
Tough carbon steel material for the blade
Ergonomic handle with integrated lanyard
Made in the USA
CONS
:
A little heavy for carrying on a backpack all day
Few multi-tool options make for a more limited use
Related: For survival purposes, another smart purchase is a water filter. A good choice is the LifeStraw Personal Water Filter for hiking, travel, camping, and emergency preparedness. This product is designed to filter 1000 liters (264 gallons) of water, does not use any chemicals and is ultra light for easy carrying. It is designed to be used directly, you can drink from the source.
ARS Outdoor Camping Axe Hatchet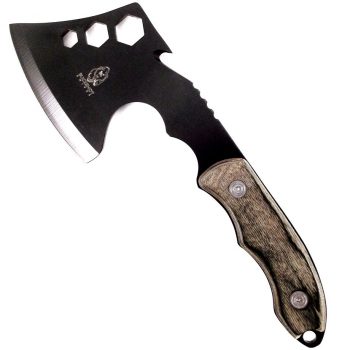 Weight: 12.8 ounces
Size: 12 x 6 x 2 inches
Specific features: Hatchet, three hex holes, cord cutter, stainless steel
Best use: Backpacking, camping, hunting
Description: The ARS Outdoor Camping Axe Hatchet tool is a very viable option for a hunting or camping multi-tool. The blade is made from stainless steel and is resistant to the elements. There is a nice wooden handle that adds to the comfortable handling of the tool.
Besides the ax, in the head of the tool, there are three sizes of hex holes that enable the whole tool to be used as a wrench in a case of emergency. On the back side of the ax, there is a cord cutter blade, adding to the versatility of the tool and allowing it to be used in different camping situations.
The handle also has a hole for threading a lanyard or hanging it from a hook on a backpack. It also comes with a nylon sheath for the ax head to protect the blade and the user from accidental injuries.
PROS:
Sharp hatchet
Ergonomic wooden handle
Affordable price
Long handle fits most hands
Related: If you are planning to make a nice survivalist multi-tool collection, then a definitive addition should be a nice knife like the Survivor Fixed Blade Knife. This fixed blade knife is excellent for use in camping. Made from stainless steel with a cord wrapped handle and a nylon sheath, it is easy to carry with you and has the included magnesium alloy fire starter kit for easy starting a fire.
Off Grid-Tools OGT-SA100 Survival Axe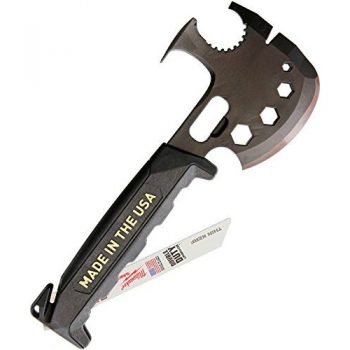 Weight: 24 ounces
Size: 11 x 5 x 1.8 inches
Specific features: Hatchet blade, hammerhead, hex sockets, 6-inch saw blade, steel glass breaker, seat belt cutter
Best use: Survival situations, hunting, camping
Description: The Off Grid-Tools OGT-SA100 Survival Axe is a very versatile survivalist tool that should find its place in your car or backpacking gear. Made from 1055 carbon steel head and a glass-reinforced nylon handle, this tool offers good alance and ergonomics.
The hatchet head can be re-sharpened and it can be used to chop wood, demolish or clear unwanted debris. The integrated hammerhead and claw always find their application in different situations. In the handle, there is an integrated fold-out saw blade.
The saw blade is 6 inches long and sharp enough to cut through any hard materials. The saw blade can be changed and another blade for the different application can be installed in its place.
To save on weight and add to the versatility of this multi-tool, in the hatched head there is a set of hex sockets in different sizes that enable the hatchet to be used as a wrench. There is also a hex socket in the back of the hatchet head that fits a ¼ inch head.
Additional features on this multi-tool are the gas valve shut off wrench, bottle opener, a pry bar, a nail puller, demo grip teeth and a spanner wrench. The handle also contains a seat belt cutter and a steel glass breaker.
This versatile tool fits nicely in many hands and is surprisingly lightweight and compact enough to fit in the glove compartment of your car or in a survivalist or a hiker's backpack.
PROS:
A unique set of features
Small, compact and easy to carry
Steel, sharp hatchet blade
Lifetime Warranty
Related: The Off Grid Survival Axe Multi-Tool does not come with a sheath or a carry bag so the Off Grid-Tools Elite Leather Sheath should be a good purchase. It is designed to fit snugly over the axe and is made of leather and features a belt loop on the back side for easy portability.
SE 881MA 3-in-1 Multi-Function Hatchet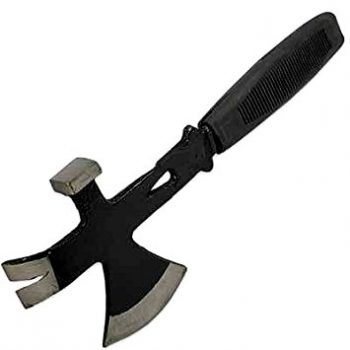 Weight: 15.4 ounces
Size: 13 inches
Specific features: Hatchet head, hammer, and a pry bar
Best use: Deconstruction, chopping, camping, simple DIY jobs
Description: The SE 881MA 3-in-1 Multi-Function Hatchet is a very sturdy made tool. Made from a single piece of solid steel it finds different applications in many situations.
This tool has a sharp hatchet head, a nice sturdy hammer and a pry bar that can be used for demolition, chopping wood, pulling nails, doing simple construction, setting up camp or salvaging wood. The long rubberized handle provides excellent grip and handling which is great for tougher jobs.
As you can see, this multi-function hatchet is about as basic as it gets which is the way many people would prefer it. Probably the best aspect of this hatchet is the price which is less than $10 (current sale price). Despite the affordable price, the quality is good and solid so it won't be breaking anytime soon.
Definitely one of the cheapest multi-tool hatchets that you can get without sacrificing quality and function.
PROS:
3-in-1 multifunction tool
Excellent for salvaging construction wood or equipment
Great price
Rubber handle for easy grip
CONS
:
Does not come sharpened enough
Does not come with a sheath
Related: Another interesting purchase along with the above hatchet is the SE PS185 10.5-inch Pruning Saw. This nice little saw has an affordable price and a variety of applications. The sharp blade can easily cut wood and other materials and can be folded back in the durable knurled rubberized plastic handle for easy storing and carrying.
Great Neck Saw Sheffield 12301 Multi-Tool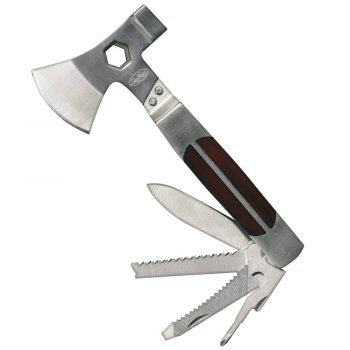 Weight: 11 ounces
Size: 6 inches
Specific features: 12 functions, heavy-duty use, polished wood handle, stainless steel body, belt pouch
Best use: Camping, survivalist tools
Description: The Great Neck Saw Sheffield 12301 Multi-Tool is a very compact and versatile tool. It is made from machined stainless steel with a nice ergonomic polished wood handle.
This nice multi-tool has a dual-sided ax head. One side is a hatchet that can be used for chopping branches and other uses, while the other side is a spike hammer for easy setup of camping equipment. In the middle of the ax head, there is a built-in hex key wrench to add functions and save weight.
Besides the ax, hammer and hex head wrench, this multi-tool features a slotted screwdriver, Phillips screwdriver, drop point blade, saw, bottle opener, fish scale remover, hook remover, ruler and a file.
This nice multi-tool also comes with a nice pouch for easy carrying around your belt or store it in a backpack. Overall, it's a reliable multi-functional tool that should make for a nice addition to your camping repertoire.
PROS:
Multi-purpose use with 12 different functions
Compact size and lightweight
Affordable price
Carry pouch
CONS
:
Small size for a more heavy-duty use
Doesn't come very sharp
Related: When looking for a nice survivalist gear, another similar item you may find interesting is the Great Neck Saw Sheffield 12913 Hammer Tool. This is a nice little versatile multi-tool that has 14 functions built into a single unit. It is very suitable for small chores around the house and a nice addition to the tools in your car or camping or hiking backpack.
Wrap Up
This is where our reviews of the top-rated survivalist hatchet multi-tools ends. The list covered a wide price range so there is something for everyone's needs on this list. Before buying, you will need to know the intended use for the tool, and of course, you available budget. Based on the information that we have provided, we hope that you can choose a multi-tool hatchet that best fits your needs.
Featured Image Source: https://www.survival-kings.com/products/survival-axe-multi-tool