A polar fleece jacket can come in handy in many different situations, but it seems to be a staple for hiking, camping, and cold weather in general. Do you need or would like one as well, and want to buy the best fleece jacket you can afford?
First of all, everyone has their own needs and preferences, and as such it is impossible to find the absolute best product out there. What's good for you is not good for someone else, so you better stop searching, read this article first, and then resume your search.
Hopefully by the time you finish reading you'll have a better understanding of this type of jacket, including the fabric it is made of. We want our readers to be able to make the best choice based on knowledge and a good balance between their needs and features of a product.
Our top picks
What you should know before buying
The next piece of information is supposed to help you make the best possible choice.
More than one type of fleece
Some of you might be confused as of why did I use the term "polar fleece" instead of simply fleece. This is because there are two types of material called "fleece:" one of them is the one everyone knows, made of sheared sheep wool before it being turned into thread. The second type of fleece is a 30 years old invention made of polyester.
There are several differences between these two types of fleece, such as:
Weight: Wool fleece is much more heavy than the polyester (or polar) fleece, even when wet.
Insulation: Polar fleece is known to insulate better and keeps the wearer warm even if it is wet.
Washing: Polar fleece (or Vega wool) can safely be washed in the laundry machine without the fabric losing shape or other properties. Wool, on the other hand requires careful cleaning, and should probably be dry cleaned for best results.
Water retention: Unlike real wool, polar fleece retains little water after being fully submerged mostly because the fabric is essentially plastic and water just leaks. You'll easily notice that all fleece items feel almost dry when taken out of the washing machine.
Fire sensitivity: Both types of fabric are sensitive to fire, but wool will simply burn like most hair while Vega wool will just melt. The scent will also be different.
Appearance: Good quality polar fleece will maintain its look and feel for a very long period of time, but wool products might lose shape if not cared for. High quality polar fleece is less prone to piling for instance.
Uses
Both of these fabrics can be used for a wide range of clothing items. While vega wool is also used for blankets, real wool is seen in many other products used around the house and not only.
Irritation
Polar fleece is generally softer to the touch and can be worn directly on the skin without the person feeling uncomfortable or irritated. Technology made it possible for wool to be just as soft, and as a result it can be used in making diapers. Most wools would otherwise irritate the sensitive baby skin.
Smell
Both fabrics can have a specific unpleasant scent. Low quality polyester fleece is known to have the most unwanted scent that rarely goes away. Depending on how wool is processed, a similar situation can be encountered.
Recycling
Both materials can be recycled, although the processes to achieve this might be different. What is sure though, is that recycled wool is of inferior quality compared to the original product. However, the same cannot be said about the recycled polar fleece.
Those were probably the most important features you should have in mind before spending your money. However, you can't simply go shopping without having a look at some of the best polar fleece cardigans for men.
The Top Fleece Jackets
There's no point in making this longer than it already is: below you can find the highest quality products you can get today.
Arcteryx Covert Cardigan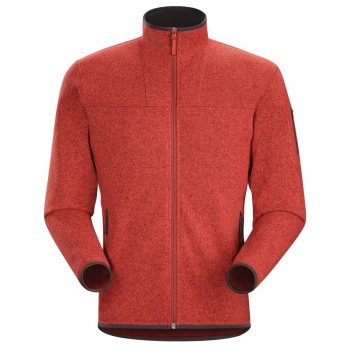 Weight: 1.9 pounds
Size: XS, S, M, L, XL, XXL
Specific features: Enhanced mobility, breathable, dries quickly
Best use: Hiking, camping, backpacking
Some guys prefer a tailored look even when wearing sports gear, and for them this jacket is a great choice. This Arcteryx Covert Cardigan has longer sleeves than one might expect, but this can only mean better coverage for your wrists.
The jacket features a zipper on the front, all the way from the top of the collar to the bottom hem. Furthermore, there are two zippered pockets on the sides and an extra one on the left sleeve. There are several colors to choose from, just in case you want to look a bit different from other guys, or if you simply want a slight change.
Like most items made of polyester, this one also dries fast after washing. Using a gentle wash cycle will ensure your cardigan will maintain its shape no matter how many times it goes in the laundry machine. Cold weather won't be an issue is you layer a top underneath, a vest or even a thicker jacket on top. If you want more underlayers, you might want to go up a size when buying yours.
PROS:
Longer sleeves
Full front zipper
Perfect for layering
CONS
:
The price
A bit small for under layers
Related: The Arcteryx Delta AR with half a zip can be one of the underlayers for the Covert Cardigan or an alternative to it.
Patagonia Performance Sweater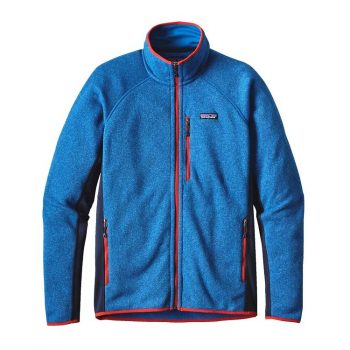 Weight: 1 pound
Size: S, M, XXL
Specific features: Sweater knit, lightweight
Best use: Camping, various outdoor activities
There is no jacket that fits all, however the Patagonia Performance Better Sweater comes close to it. The jacket comes with a zippered closure which can be left unzipped in warmer weather, as well as a chest pocket on the left side. Furthermore, the zipper comes all the way up for enhanced protection against the cold wind and rain.
The 2 side pockets are also zippered, and will keep you warm as well as help you store your cell phone. This item features an all fleece exterior and interior, and this feature will help with keeping your warm and cozy while climbing or biking, or during any other casual outings.
This jacket falls down to your hips but it can get short for those guys with a longer torso. Despite it's length, the garment generally stays true to size. Not only this item is a fashionable choice, but it also offers mobility and sheds moisture for added comfort. When it comes to colors, the fleece is available in quite a few shades that fit everyone's tastes.
PROS:
True to size
Full front zipper
Flat seam construction
CONS
:
Hip length (can be short for some guys)
Made in China
Related: The Patagonia Adze Jacket is an alternative for those who prefer a classic look and having all the comfort fleece offers, on the inside.
Arc'teryx Fortrez Hoody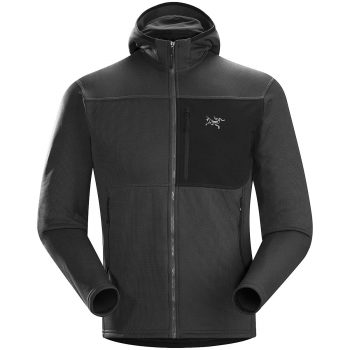 Weight: 1.3 pounds
Size: S, M, L, XL, XXL
Specific features: Hooded, breathable, athletic fit
Best use: Hiking, camping
In case you need a new fleece jacket, have a look at the Arc'teryx Fortrez Hoody. The jacket's high quality fleece makes it extremely durable and comfortable to wear. If you are worried about moisture then you'll be happy to learn this product keeps your body dry and warm at the same time.
Because of the insulating properties of the polar fleece regardless of the weather conditions, this item is a good choice for alpine expeditions. The hoody features a zippered front and it also has 2 zippered side pockets. If you need more space for your small items, the jacket also comes with a chest pocket.
This product stays true to size, however it has a slim fit that follows your body shape. Made of a stretchy fabric, this garment is super soft and comfortable to wear. The jacket's athletic build is perfect for hikers who are looking for a lightweight clothing item with no bulk.
You can easily layer it under a vest, while the hoodie will keep your face safe in case of wind. As a plus, the jacket's good quality fleece will keep its shape for years to come.
PROS:
Has a hoody
Breathable
Chest pocket
Patagonia R2 Fleece Jacket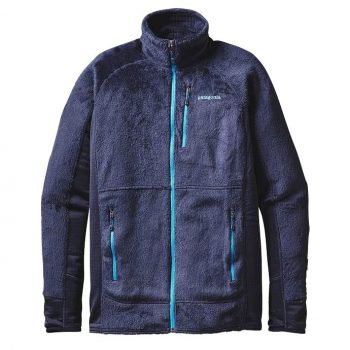 Weight: 1.1 pounds
Size: XL
Specific features: Enhanced flexibility, breathable
Best use: Climbing, backcountry hiking, mountain weather
This fleece jacket could be a suitable option whether you go for a morning run or on a mountain trip. The jacket is made of recycled fleece material, which protects you from the cold and ensures your body doesn't get overheated. The Patagonia R2 Fleece Jacket has a slim fit, so you may want to go a size up if you need a more relaxed fit.
Your hands will be kept warm thanks to the 2 side pockets, and the zippered chest pocket can be used for carrying your wallet. The fleece provides flexibility and mobility to your underarms, so you can move freely no matter what you do. One of the best features of this jacket is to keep odor away thanks to the antimicrobial fabric finish used on it.
You can use your jacket during your mountain expedition without having to wash it daily. This item sports a frontal zipper and comes in a rich blue shade that meets many demands.
PROS:
Antimicrobial
Recycled material
Slim fit
Related: If you want an alternative with half a zipper, the Micro D Fleece Pullover is one you could keep in mind when you go shopping.
ExOfficio Alpental Pullover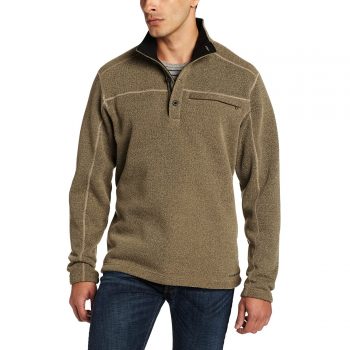 Weight: 1 pound
Size: S, M, L, XL
Specific features: Soft, lightweight, quick dry
Best use: Mountain hikes, outdoor camping
If you are a hiker in need of a mountain jacket, the ExOfficio Alpental Pullover could be just what you need. The product is a sweater but can also be worn as a jacket, which makes it perfect for warmer days and colder nights on the mountain. You don't have to worry about washing it, as it can be easily thrown in the laundry machine along with other clothes.
The jacket will then dry quickly enough to be able to wear it in a few hours. Hiking can be tiresome especially when wearing lots of clothes, but this jacket is both lightweight and warm enough for not to need too many layers. The V-shape neck and button closure makes this sweater easy and comfortable to wear regardless of the weather.
You can carry your cell phone or cash in the zippered chest pocket. Trend followers may be glad to learn that this item is available in other rich colors, including navy blue and black. Some people might see the lack of side pockets as an inconvenience, just like the buttons.
PROS:
Easy care
Flattering V-shaped neck
CONS
:
Closes with buttons
No side pockets
Related: An alternative to this product is the Exofficio Men's Kahve Thermal, with thumb holes, zippered chest pocket, and partially zippered at the neck.
The North Face Denali 2 Jacket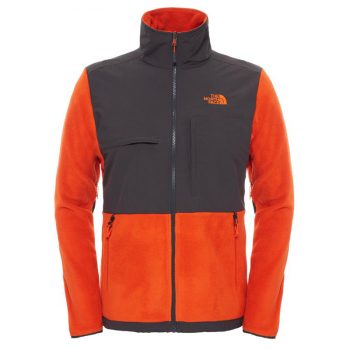 Weight: 2 pounds
Size: XS, S, M, L, XL, XXL, XXXL
Specific features: Stretchy, breathable, 2 chest pockets
Best use: Hiking, camping, fishing
Not all jackets are the same, and the one here offers some specific features that could be harder to find. Made of recycled fleece material, this jacket is sure to keep you warm from the cold but also cool you off when practicing your favorite sports. The jacket comes in various colors, including black, red and grey which suits everyone's tastes.
If you are looking for an item to layer with, the fleece might be a good option as it has a relaxed fit. You will get not only one, but 2 chest pockets with this item which can be helpful if you need storage space. These pockets should make up for the lack of interior pockets that many guys are used to.
Some activities are known to ruin your clothing, and if this worries you, you can forget all about that, as this item has reinforced shoulders and arms. When it comes to sizing, you may want to get a size larger than what you usually wear as the sleeves can fall short. The North Face Denali 2 Jacket is the perfect choice for activities such as running, mountain climbing, or camping.
PROS:
Two chest pockets
Reinforced shoulders and arms
Recycled materials
CONS
:
Nylon
The price
No inner pockets
Short sleeves
Mountain Hardwear Monkey Man 200 Jacket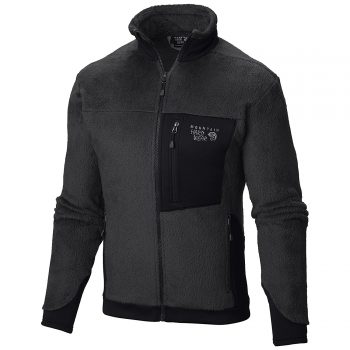 Weight: 1.1 pounds
Size: S, M, L, XL, XXL
Specific features: Lightweight, stretchy, breathable
Best use: Hiking, camping, climbing
The Mountain Hardwear is a professional sports jacket suitable for any type of outdoor activities. Made with the potent MicroClimate Zoning technology, this jacket offers not only comfort, but also allows your body to breathe. The front is fully zipped and the tall collar protects your neck from the wind.
The item stretches as to fit your body shape perfectly, and its lightweight qualities make it ideal for a mountain trip. If you are interested in style, you should know that the jacket is available in several colors like black, red and blue. The side pockets provide warmth to your hands, and are secured with zippers. In addition, the cardigan also comes equipped with a chest pocket where you can carry small necessities.
Weighing in at only 1.1 pounds, the jacket can be easily layered over another shirt for extra protection against cold. The soft fleece material provides additional comfort and durability, so you can very well consider this jacket as an investment. The Mountain Hardwear Monkey Man 200 design fits true to size, but you may want to order a size up just in case.
PROS:
A chest pocket
Breathable
Great for layering
CONS
:
Stretchy material
Not very warm
Related: An alternative to this jacket is the Mountain Hardwear Men's Microchill Zip Tee, which has a zippers only half way on the front, acting more like a sweater.
Marmot Reactor Fleece Jacket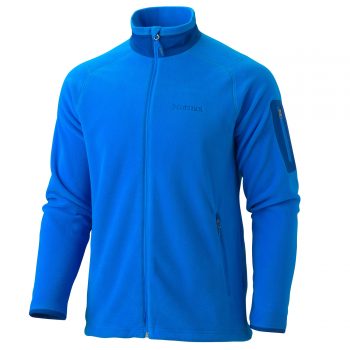 Weight: 1 pound
Size: S, M, L, XL, XXL
Specific features: Flat locked construction, lightweight, comfortable
Best use: Camping, hiking, various outdoor activities
The Marmot Reactor Fleece Jacket could very well be any hiker's dream. The jacket is made of high quality fleece, which has reliable insulating properties. Have no worries: this item will keep you warm in cold and windy weather, but also cool while hiking or exercising.
Its lightweight design adds no weight if you choose to layer it over a shirt, which is a helpful feature for active individuals. Due to its properties, this item is the perfect choice for hikers and campers alike. The jacket comes with 3 pockets, from which 2 are placed on the sides and zippered.
The additional zippered chest pocket can be readily used for storing small accessories or change. If you are looking for a fashionable but high quality sports jacket, consider this one as an option. The item is available in numerous stylish colors that you will not get bored of any time soon.
Additionally, the durable fleece material it is made of, feels soft to the touch and keeps you comfortable no matter what you do.
PROS:
Good for layering
Lightweight
Related: If the armpocket is not among your favorite features, then you can consider the Marmot Drop Line Jacket for it has a zippered chest pocket instead.
Columbia Steens Mountain  Jacket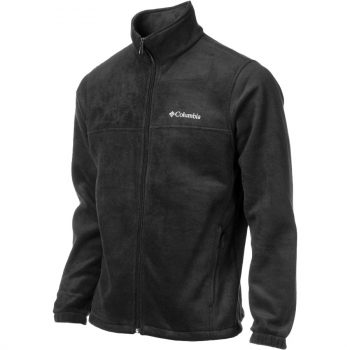 Weight: 1.1 pounds
Size: S, M, L, XL, XXL, XXL
Specific features: Side pockets, lightweight, front zipper
Best use: Hiking, camping
If you don't know what jacket to get just yet, this classic made by Columbia might do the trick. The item fits according to size, while its softness is sure to keep you comfortable. Furthermore, you will also feel warm during the cold weather thanks to the jacket's material.
This product is available in many different colors that meet anyone's demands, and includes 2 secured pockets on the side. Columbia Steens Mountain Jacket also features a front zipper which can be pulled all the way up, and a high collar that protects your neck and face from the wind. The product does not require much maintenance and can be easily washed in the laundry machine.
If you want to layer the jacket, make sure to go a size or 2 up. This fleece jacket features Columbia's logo on the upper left side. This fleece jacket is ideal for mountain hikes and camping trips alike, thanks to its lightweight but protective fabric.
PROS:
Lightweight
True to size
The price
CONS
:
A bit small for underlayers
Related: Some people don't like color combinations, and if you're one of them, then you can have a look at the Columbia Horizon Divide Sweater, which is still a zippered polar fleece jacket.
Final Thoughts
Now, this concludes our list and you're sure to have a starting point for your next shopping trip. It is best advised to visit a brick and stone store first and try on the jackets you liked the most, just to make sure the style and colors fit you.
What are some of your favorite fleece jackets out there and why? If you have your own personal favorites that you want to share, make sure to let everyone know about them in the comments section.