Backpacking takes us to some breathtaking places, and what better way to capture the moment than with a photo? Nature photography can be everything from a casual venture to a professional gig, and no matter what level you are, you need a good way to protect your gear.
In this article, we'll go over the best backpacking camera bag you can find to keep your stuff safe on the trail, as well as the things to consider before you hit the market.
Our top picks
Things to Consider Before Buying
Before we get into the reviews, let's take a look at some of the things you want to consider before you buy.
Style
The first thing to consider before buying a camera bag is what style you want to buy. Camera bags come in all shapes and sizes, and the type you choose can make or break your trip. The products we'll review come in three styles: insert, traditional backpack, and sling pack.
Inserts are designed to fit into the pack or bag you already have and provide an additional layer of protection for your fragile gear. Standard backpacks are, well, backpacks that allow for maximum storage and comfort, and sling bags use a one-shoulder design to allow easy access to your camera. The style you need to choose depends on what you want to do.
For casual hiking and overnighters, sling bags and less-sturdy inserts are cost effective and provide exactly what you need – protection without a lot of comfort. For longer trips and more strenuous trails, however, sling bags can wear on your back and shoulders and a flimsy insert will leave your stuff crushed.
Waterproof Rating
The next thing to consider when buying your camera bag is its waterproof rating. A lot of items boast that they are waterproof, but what does that really mean? Unless you get a dry bag, like those used for canyoneering or rafting, very few bags are truly waterproof. Instead, they can be water resistant, weather resistant, or externally waterproof.
Regardless of how far you're going or how long you'll be on the trail, keeping your camera dry is important. However, the more waterproof a bag gets, the heavier and, often, the more expensive it gets. For day trips in drier weather, a weather proof rating should suit you fine.
If you suspect rain or snow, water resistance is the next step up. Finally, for long trips where you won't have a chance to dry out, you might want to invest in a heavily water proof or water resistant bag to avoid saturation of the material.
Size and Amount of Pockets
This next consideration is an important one – but also a pretty easy one. Camera bags range from the very small (for things like digital point-and-shoot cameras) to very large (for things like telephoto lenses). Depending on how hardcore your photography practice is, you have some options to choose from.
All the products below are designed to carry at least one SLR or DSLR camera and a lens. For many backpackers, that's all you need. However, if you plan on bringing accessories like additional lenses, flashes, a tablet or laptop for editing, or a tripod, you need to consider some more hefty products.
If you have multiple cameras to choose from on your trips, make sure you invest in a bag with adjustable dividers to keep your gear snug in place.
Weight
This consideration is always important in backpacking. If you're bringing along a DSLR camera, lens, tripod, flash attachment, and a tablet, then you're already tacking a lot of weight onto your back. The weight of your bag should be carefully considered before you make your purchase.
If you plan on taking your camera on short hikes and casual overnights where photography is the priority, a heaver and more padded bag is appropriate. However, if your camera is secondary to your destination or if you're going on strenuous treks, lightweight is usually a good way to go to save your muscles and joints from undue strain.
Comfort
The final consideration in buying a camera bag is comfort. While this might sound like just a luxury, comfort and fit is actually very important to keeping your performance high and your risk of injury low. Once again, for shorter and more casual trips, this is less of a concern and an insert or sling pack may be all you need.
However, for long trips, make sure you buy a bag that distributes the weight across both shoulders.
If you opt for a two-shoulder design, consider a few other comfort keys as well. Do you need heavily padded straps on your shoulders, or will the minimum do? Higher-end camera bags even utilize waist straps and internal frames like traditional backpacking packs, and this can be a life saver on difficult adventures with a lot of weight.
Now that we've gone over some of the things to consider before buying your camera bag, let's get into the reviews!
Best Products on Today's Market
Here are eight of the best camera bags you can buy for your next backpacking trip:
OneTigris Partition Camera Bag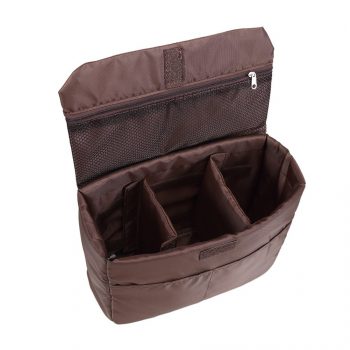 Weight: 0.66 pounds
Dimensions: 11.8 x 8.8 x 4.3 inches
Specific features: Foldable, padded liner with adjustable dividers, holds SLR camera, lens and tablet, waterproof nylon
Best use: Casual hiking
If you're looking for an affordable way to keep your camera safe during day hikes and sightseeing, the OneTigris Partition Camera Bag has you covered.
This insert is a lightweight and flexible addition to your daypack or travel bag, featuring a padded lining with several velcro dividers for customized space use. Although it's low in price, it's not low in quality and features a waterproof nylon exterior for added protection in your pack.
While the waterproof nylon and adjustable dividers make this a great option for the more casual photographer and hiker, the flimsy design makes this product best suited to day hikes and easy trips.
Additionally, it has a relatively small capacity, only one camera and lens, which may prevent the more hardcore nature photographer from bringing all the accessories.
PROS:
Lightweight
Flexible
Adjustable
Affordable
CONS
:
Flimsy
Low capacity
No additional pockets
Ciesta Flexible Camera Bag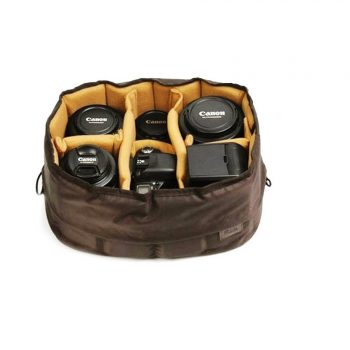 Weight: 0.65 pounds
Dimensions: 13.3 x 9.2 x 7.2 inches
Specific features: Drawstring closure, lightweight, waterproof nylon, adjustable dividers, holds SLR camera, lens
Best use: Casual hiking and backpacking
If you're looking for an insert like the OneTigris above with a little more heft, consider the Ciesta Flexible Camera Bag. This is another backpack insert that adds a little extra protection to your camera gear without adding up too much bulk.
This product is made from waterproof nylon and features five velcro dividers to keep your cameras and accessories in place. Like most inserts, it's a little small in capacity, making it a great option for those with less ambitious gear needs.
This bag utilizes a "bag in bag" design with a drawstring top. While stylish, the drawstring has its drawbacks, providing less protection from water than a traditional zipper. Nonetheless, this bag has enough padding to last in a pack overnight, and makes a great addition to any casual backpacking or hiking trip.
PROS:
Adjustable dividers
Heavy padding
Lightweight
CONS
:
Drawstring closure is not waterproof
Only one color/variety
Tenba BYOB 9 Camera Insert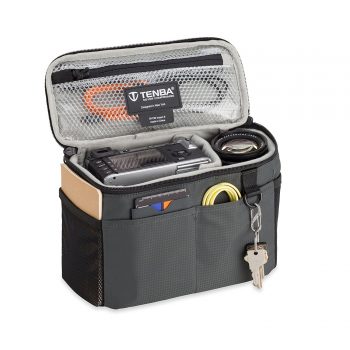 Weight: 0.4 pounds
Dimensions: 9 x 6.5 x 4 inches
Specific features: Adjustable dividers, soft brushed tricot lining, water repellent nylon, holds compact SLR camera, lens, accessories
Best use: Casual to moderate backpacking
Topping off our insert list is the Tenba BYOB 9 Camera Insert. Bringing your own bag, as the name suggests, works well with this soft shell insert. This product is highly rated in durability with rip-stop, water repellent nylon and high quality YKK zippers.
It fits neatly into any backpack but still has enough room for a camera, lens, and extra accessories like straps and flashes. The top can be stowed in the back pocket, creating easy access for those hard-to catch moments.
While a great option for longer and more strenuous trips than many other inserts, this camera insert is still best suited to weekends and occasional use – trekkers may want to opt for a tougher option.
On the flip side, this high-quality price is a little more high budget, and those who only need a case for day hiking may opt for a cheaper option.
PROS:
Lightweight
High capacity
Water repellent
CONS
:
More expensive
Soft shell for less protection
Related: If the BYOB 9 is too small for your gear, take a look at the Tenba BYOB 13 Camera Insert. Similar in design, this insert features much more space and additional external pockets for water bottles, phones, or accessories.
G-raphy Camera Backpack/Sling Bag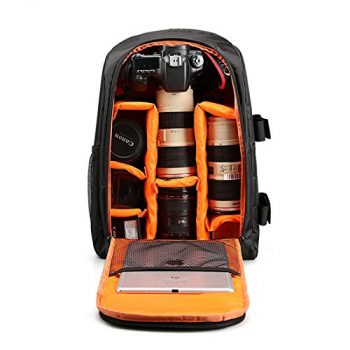 Weight: 1.8 pounds
Dimensions: 18 x 10 x 8 inches
Specific features: Variety of colors, sling design, 100% satisfaction guarantee, waterproof nylon, holds SLR camera, lens, tablet or laptop, accessories
Best use: Day hiking
First up in our full backpack selection is the G-Raphy Camera Backpack/Sling Bag. This bag features multiple compartments, including a laptop slot, and several customizable dividers to fit any camera.
The pack utilizes a sling design that fits over one shoulder, allowing for quick on the go access to your camera and accessories when beautiful moments catch you off guard.
This is an affordable option for those photographers who need a relatively compact way to store their camera safely. For longer treks, the sling style can put undue strain on the shoulders and back, and there is little room for extra belongings. The sling bag is a great go-to for decked-out photographers on casual trips.
PROS:
Easy access with sling strap
Variety of colors
Waterproof
CONS
:
Puts strain on one shoulder
Small capacity
Related: G-raphy also makes a more heavy-duty Camera Backpack Bag. This bag is much bigger than the sling pack, with an ergonomic design better suited to long-distance hiking.
Tenba Discovery Mini Photo Daypack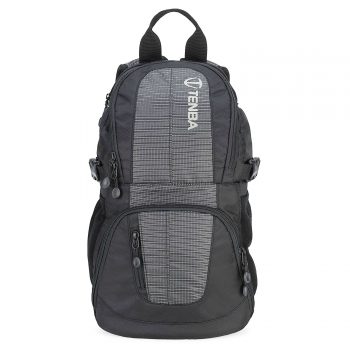 Weight: 1.95 pounds
Dimensions: 16.7 x 10 x 8 inches
Specific features: Water-repellent nylon, waterproof bottom panel, self healing zippers, holds SLR camera, lens, tablet or laptop, accessories
Best use: Day hiking
The Temba Discovery Mini Photo Daypack is another great day hiking camera backpack that won't disappoint. This bag is made from durable water resistant nylon and features a waterproof bottom panel that will keep your camera dry when you set it down.
The backpack utilizes two main compartments with adjustable dividers, as well as outer mesh pockets for water bottles and an accessory pocket on the front.
As with many bags in this price range, this backpack is best suited to casual overnighters and day trips. Its small capacity is enough to hold all the camera equipment of a well-accessorized photographer, but not large enough for other backpacking gear. Nonetheless, this mid-sized pack is a great buy for those with less strenuous needs.
PROS:
Waterproof bottom panel
Front accessory pocket
Lightweight
CONS
:
Small capacity
Not entirely water resistant
Related: For a long distance option, check out the Tenba Discovery Top Load. This is a compact, but well protected bag that can be utilized with a backpacking pack or other gear for the more adventurous.
USA Gear Digital SLR Camera Backpack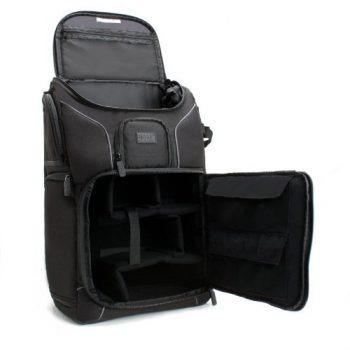 Weight: 2.5 pounds
Dimensions: 18 x 12 x 8 inches
Specific features: 8 accessory pockets, tripod holder, adjustable dividers, included rain cover, holds SLR camera, lens, laptop or tablet, accessories, tripod, water bottle
Best use: Casual backpacking, day hiking
Have a lot of accessories? Then the USA Gear Digital SLR Camera Backpack might be your camera bag. This backpack features eight accessory pockets and a tripod holder, making it top of the line for those who like to accessorize.
The straps are adjustable and removable, allowing you to adjust between a traditional backpack style and a sling pack. Made from high quality water repellent nylon, this bag comes with an included rain cover for extra dryness.
This high-quality product is slightly more expensive than some of the other bags offered, but it's well worth the price if you want a bag with plenty of places to store your items.
PROS:
Lots of pockets
Backpack/sling pack convertible
Included rain cover
CONS
:
More expensive
No waist strap for longer trips
Related: For even more accessory coverage, USA Gear offers a Padded Tripod Case. This case is made of the same durable material as their backpacks and offers even more protection to your toys.
Altura Photo Backpack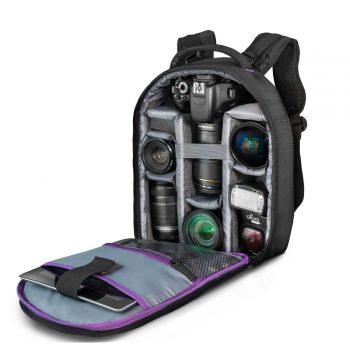 Weight: 4 pounds
Dimensions: 14.5 x 9.8 x 5.5 inches
Specific features: Weather resistant 840D nylon, 100% satisfaction guarantee, holds SLR camera, 3-4 lenses, accessories, compact tripod, adjustable dividers, TSA carry on compatible
Best use: Day hiking
For a quality camera backpack on a budget, look no further than the Altura Photo Backpack. This bag, while affordable, features an 840D nylon exterior that resists water, adjustable dividers, and an exterior tripod holder.
While a little on the small side for hardcore backpackers, photographers can fit all their accessories in this bag with ease. This backpack is TSA carry on compatible for easy air travel to and from your destination, and if it doesn't live up to its reputation, this backpack offers a 90 day satisfaction guarantee.
PROS:
Affordable
100% satisfaction guarantee
TSA compatible
CONS
:
Smaller capacity
No waist strap for longer trips
Related: You can never protect your camera lens too much, and Altura Photo has you covered with the Altura Photo Neoprene Pouch Bag. These protective bags come in three sizes for all types of lenses and offer additional security out on the trail.
Lowepro Pro Trekker Backpack
Weight: 9 pounds
Dimensions: 22.5 x 19.4 x 14.1 inches
Specific features: ActivLift harness, 630D nylon body and 1000D Corura base, hydration reservoir pouch, included weather cover, holds 1-2 SLR cameras, lens, accessories, tripod, water reservoir, personal items and gear
Best use: Trekking and backpacking
Sometimes you need a budget-priced item to get you through the day, and sometimes you need a high quality, heavy duty, high-performance product. If you fall into the latter category, then the Lowepro Pro Trekker Backpack is what you're looking for.
This backpack is the mother of all camera bags, featuring water-resistant nylon, high storage capacity, and a body friendly design. This backpack can hold not one, but two SLR cameras with lenses and accessories and has a built-in pocket for water reservoirs.
The straps are highly adjustable and include a padded waist strap to help redistribute weight onto your hips during longer hikes. While the price is a bit higher, this pack is well worth it for hardcore backpackers and photographers alike.
PROS:
High storage capacity
Harness design for better weight distribution
Durable material
Related: If the Pro Trekker just isn't big enough, check out the Lowepro Lens Trekker 600. This pack is specially designed for telephoto lenses and features the same high quality materials and harness design as the Trekker packs.
Summing Everything Up
And there you have it! Eight of the best camera bags for backpacking you can buy, as well as what to think about before buying them. Whether you're an amateur backpacking photographer or a veteran, you will surely find bag that fits your needs.
Featured Image Source: https://unsplash.com/photos/Ol6X3_qScf4