Everyone will agree that keeping a close eye on your activity throughout the day can be quite difficult, especially when you want to count the distance you run, the steps you walk, or even the calories you burn. Many people these days rely on smart bands that do this for them, and that generally have more than one function. However it can be quite difficult to find the best fitness tracker watch, don't you think?
The problem is made more complicated all thanks to the many brands and models available. Many people also know that choosing a product based on the price is not the answer, for at times cheaper goods are actually better for their needs. A good fitness tracker watch doesn't have to be very expensive, and you can rely on it for real activity tracking of your everyday life. But, how to find this product?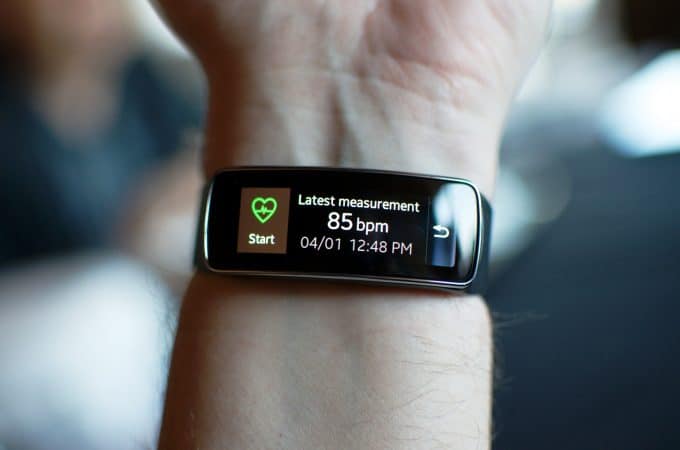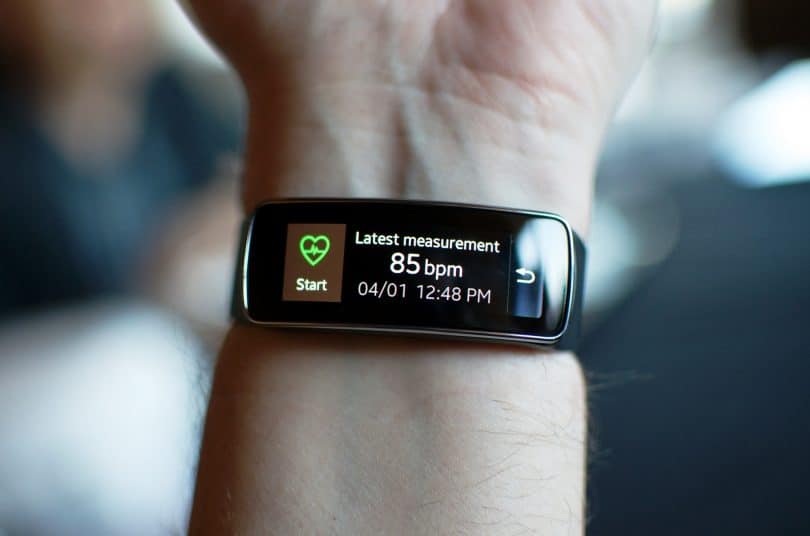 Your worries and quest is about to come to an end! We researched the market and selected some of the most popular brands and models of smart bracelets currently available and we made a list for you! But this is not all we did: we also help you select one based on the characteristics long time users are looking for, and everything is neatly presented below! Let's get to it!
Our Top Picks
Things to Consider Before Buying
To be able to select the product best matching your needs, you must know which their most common features are. Depending on the amount of workout you do throughout the day, you might need a different amount of functions than other people.
Water Resistance
Swimming is one way some people like to stay in shape, while others made a career out of it. Regardless of your situation, if you want to take your smartband in the water, you must make sure it is designed for this activity. Most manufacturers will indicate whether this is safe to do or not, and it is best to follow the indications.
While swimming might be out of the question with some models, most of them are designed to stand sweat forming during workout, as well as water from the shower or rain. Some manufacturers will recommend cleaning the bracelet as well after water exposure – another advice you should follow.
Heart Monitoring
Some devices have a heart monitor and others don't, even if the models are designed for fitness purposes. This is an important feature to pay attention to for those who must keep a close eye on their heart rate. Most of the models that have it, are specifically designed for cardio workouts.
Some people have a lower heart rate, and once they start exercising, they notice they get tired easily. A band with this feature installed will help them select better routines that will not get them as tired from the beginning.
Counting and Measuring
Today's society seems to be obsessed with counting calories, sleeping hours, the number of steps they make in a day, and the list could continue. Luckily, this is the primary purpose of these smart bands, but you should know not all the models will count the same things.
For instance, if you want to accurately measure the distance you ran or walked in a day, you'll need a GPS function installed and not all the models have it. Others will not count the numbers of stairs you climbed, if you want to include this in your fitness session.
Battery Life
There's nothing worse than having a battery drained in the middle of your training session. Finding a gadget with a battery lasting about a week in standby mode seems to be the norm. Of course, when actively using it, do expect for the battery to drain faster.
In case you didn't know, some functions will exhaust the battery faster than others. One of these functions is the GPS function, but do expect the Bluetooth to have a similar effect.
Charging Method
It is common among these fitness bracelets to come with a charging wire, though you'll see some models that don't have it. The charging cable is USB compatible at one end. The devices without this power cord do look like an USB stick and must be removed from their bands during charge time.
To recharge the battery of your tracker, you generally have to wait between 3 and 5 hours, depending on the model. If the battery charges too fast, it may mean it doesn't charge well, and it can lose power faster too – pay attention to these details if you can.
App Integration
If you want to take a nice photo and to appear in it, the easiest way it to control your camera from a distance. Some smart bands have this function installed, but if there's no mention of it, assume your device doesn't have it.
Another app that can be controlled from afar, is the music player. This is extremely useful when running or working out while listening to some music – all you have to do is press a few buttons on your wrist and the song is changed.
GPS
Having GPS on your smartband is useful if you want to keep track of the distance you run or walk. Some devices can be paired to the GPS of the phone if they are not equipped with one.
You should know that using the GPS at all times will drain your battery faster, than without it. You could safely assume the item doesn't have GPS if there is no mention of it.
Alerts and Notifications
When pairing your smart wristband with your smartphone, you also have the possibility of being alerted of new incoming texts, calls, emails, and reminders. Some models can receive alerts from more applications, including from your social media accounts.
Don't be surprised to see that only a limited amount of applications are compatible with most wrist smart gadgets, though. There are models that can receive alerts from most of the applications installed on your phone, but this feature consumes the battery faster.
Best Products on Today's Market
Let's have a look at some of the most acclaimed trackers on today's market, since you now know the features most of them have. Presenting you both their attributes and missing features will make it easy for you to make an informed decision.
Trendy Pro Fitness Tracker Watch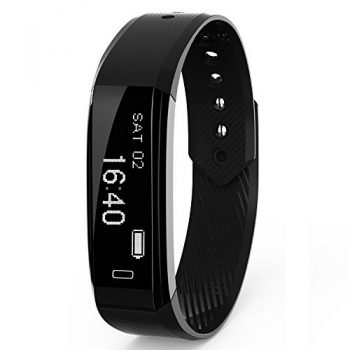 Price: Approx. $30
Weight: 0.6 ounces
Screen: 0.86 inch OLED HD
Specific features: 10 alarms, remote camera control, calorie counter, sedentary reminder
Best use: Steps counting, daily activities
If you need a new fitness device, check out the Trendy Pro Fitness Tracker Watch. This tracker suits people of any gender as well as children, and makes a wonderful gift. The device features a stylish design that fits any occasion.
The armband is adjustable to any size. This fitness tracker watch offers a variety of functions and can be easily synced via Bluetooth. You can measure the calories burned, sleep, distance, and sedentary reminders – how can you forget to do some workout?
If you don't want to miss any upcoming text or call you should know the tracker includes alerts and text message notifications. The device is convenient to use no matter where you are as it comes equipped with a built-in USB charging plug, instead of a cable. Depending on your preferences, this can be an advantage or a disadvantage.
The trackers features an Anti-Lost and Find Phone alert which allows you to find it whenever you misplace it. This watch is compatible with Apple phones and tablets but also Android devices.
Quite a few of its users complained about the application sync. While the device works fine, they had issues with syncing it to the app. This in turn caused them to lose the progress they already recorded.
PROS:
Ultra lightweight
Sleep quality tracking
Fit for the whole family
CONS
:
Not recommended for swimming
Syncing to the app is faulty
Related: If you want something more colorful for your child, the Garmin vivofit JR. Tracker Watch might be just what you're looking for. Its battery lasts for 1 year without charging, it has bright and vibrant colors, and comes with chore and behavior management for parents.
ToHayie Fitness Tracker Watch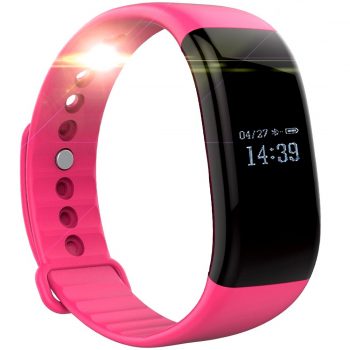 Price: Approx. $26
Weight: 3.4 ounces
Screen: 0.66 inch OLED
Specific features: Heart rate monitor, shark photograph, healthy body record
Best use: Multisport
Are you looking for a smartwatch? Check out the ToHayie Fitness Tracker Watch. This fitness tracker offers a sleek appearance that does not add any bulk to your wrist. You'll feel a bit disappointed in the screen as it's not as bright as expected.
Some of its features include heart rate and sleep monitoring. The device can be synced with your iPhone via Bluetooth which helps you keep track of the data. The smartwatch is compatible with both IOS and Android, and requires Bluetooth 4.0 or above.
The smartwatch will help you lead a healthier lifestyle by calculating calories, distance, and sleep habits. History is easy to check and will provide you with a clear idea of what your fitness level is. Users who want to stay connected at all times can do so by enabling the text and call notification alerts.
If you enjoy photography, you should know the tracker features a convenient function that allows you to take shots by shaking the bracelet. Make sure not to go further than 10 feet for this feature to work.
PROS:
Suitable for swimming
Long lasting battery on standby
Can be used 10 feet away from your phone
CONS
:
Heavier than other models
The screen is not bright enough
Related: The Ronten R2 Fitness Tracker is a good alternative for those who don't want to hassle with charging cables, and want to make sure they're not losing their smartphone.
Runme Fitness Tracker Watch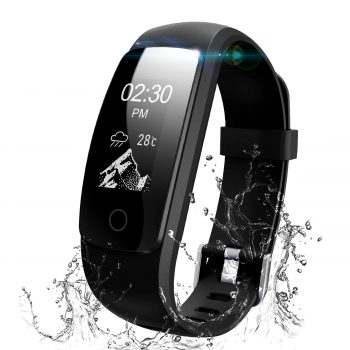 Price: Approx. $30
Weight: 0.8 ounces
Screen: 0.96 inch Touch OLED
Specific features: Sleep monitor, GPS, HR monitor, sports mode, GPS
Best use: Running, swimming
The Runme Fitness Tracker Watch is yet another device that will aid in your quest for fitness. This smartwatch features a stylish black appearance and can be worn on any occasion. This fitness tracker measures calories, distance and sleep quality automatically.
You can also keep track of your heart rate over days or months and view the history by syncing the data. This device includes a variety of other functions such as sedentary reminders, remote camera shoot and music control. Unlike other models, you can check the weather on this tracker.
You can view your incoming texts, calls or social media messages in real time by enabling the alert function. This device takes about 1.5 hours to fully charge, and remains charged for 5 to 10 days on standby.
Keep in mind that the fitness tracker is not waterproof and will only stand minimum exposure to water. This means you should remove it even while you shower. The Runme Fitness Tracker works with Android and Apple phone and tablets and requires Bluetooth 4.0 or above.
PROS:
Heart rate monitor
Shows the weather
Lightweight
Lintelek Fitness Tracker Watch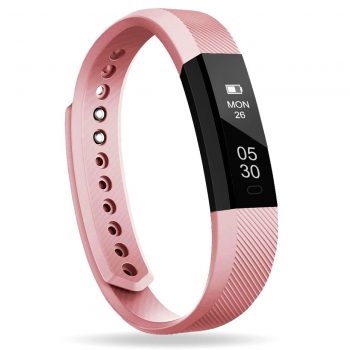 Price: Approx. $25
Weight: 0.6 ounces
Screen: 0.86 inch OLED HD
Specific features: Advanced anti lost mechanism, several colors available
Best use: Pedometer, running
For some people it is important to know just how far they can travel by foot. The Lintelek Fitness Tracker Watch will show not only how many steps the made during the day, but also how many miles those translate to.
If you worry about missing important phone calls or text messages, you can stop worrying now. This smart bracelet will alert you when you receive something, even if it's from your social media accounts.
Losing your phone is also out of the question: getting further than 5 meters from it will trigger alarms on both the phone and the bracelet. This way, you will also know where to find it fast. You can only pair this product with compatible Apple and Android devices.
The battery lasts up to 10 days if the device is not in use. It is recommended to swim with this bracelet on. If the vertical display disturbs you, you can easily set it to show the information horizontally.
PROS:
Built in USB port for charging
Available on 5 stylish colors
Lightweight
CONS
:
No heart rate monitor
Not suitable for swimming
Fitbit Alta HR Fitness Tracker Watch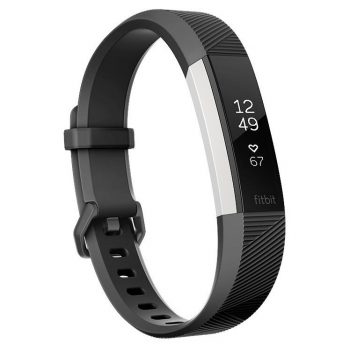 Price: Approx. $150
Weight: 0.8 ounces
Screen: 1.4 inch OLED
Specific features: Measures the distance, steps, and calories, interchangeable bracelets
Best use: Heart monitoring, sleep tracking
One of the first things you'll notice about the Fitbit Alta HR Fitness Tracker Watch is just how discreet it appears, sizewise. There are many people who like this device more because of its size and weight.
You should be warned that you can't swim with this band on, but you can shower with it just fine. Sweat also won't damage it, but you might want to clean it after the session.
This product's strong points are monitoring your heart and sleep patterns. You'll easily be able to tell why you still feel tired in the morning, which routines burn more calories, and will help you reach your fitness goals.
The battery stays charged for up to 7 days. Depending on your lifestyle, you might forget to workout at times. Not anymore! This fitness watch will discreetly alert you if you've been spending too much time in the same spot.
Its best feature yet, is that you can get it even if you use a Windows phone! This Fitbit is designed to work when paired with these handsets as well.
PROS:
Super lightweight
Comes in sizes
Can be used with Windows phones
CONS
:
Some sporadic performances
Related: If you want your bracelet to be more stylish, you can select one of the 10 different colors available for the Fitbit Alta HR Bands. You can purchase all 10 for a reasonable price, so that you'll never be out of style.
TomTom Spark 3 Fitness Tracker Watch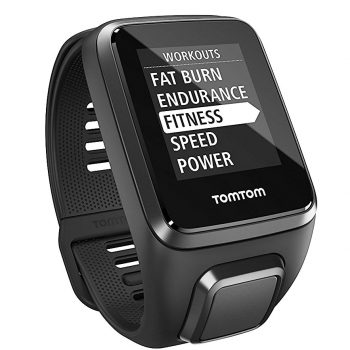 Price: Approx. $120
Weight: 2.7 ounces
Screen: 0.87 inch OLED
Specific features: Multisport mode, waterproof, route exploration, GPS
Best use: Walking, running
The TomTom Spark 3 Fitness Watch doesn't have a touch sensitive screen: you control it by pressing the button. This feature can be either a good or a bad thing, depending on your preferences.
If you decide to purchase this device, pay attention to the model, as there are 4 of them: simple, with music player, for cardio workout but no music player, and the one with music player for cardio routines. Clearly, the simple one doesn't have music player nor a fitness age function.
Only the models designed for cardio workouts have a heart rate monitor installed, so this is another reason to pay attention while buying if you need this function. You should also know that the heart rate monitor will not work while you swim, so this is another aspect to consider.
You don't need to worry about sweating during your workout session while wearing this tracker: it is sweat proof. Additionally, you can even swim or shower with it on to better monitor your activity.
PROS:
Several models available
Accurate
Can swim with it on
CONS
:
Heavier than other models
No touchscreen
Garmin Vivosmart 3 Fitness Tracker Watch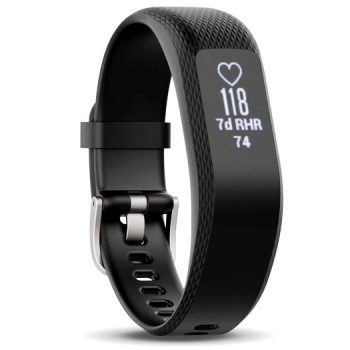 Price: Approx. $140
Weight: 0.8 ounces
Screen: 1 inch OLED
Specific features: Stress monitoring, VO2 Max measuring, wellness monitoring
Best use: Walking, running
Some people might find the Garmin Vivosmart 3 Fitness Tracker Watch a bit annoying thanks to the power saving option feature. This function turns off the screen when you don't need it, while making the device less distracting. If you just want to know the hour, all you have to do is to raise your hand and tap the screen twice.
This tracker doesn't have a GPS, and this could be a major letdown for those who choose to run or hike and all of a sudden realize they can't find their way back. The device has a sensor that monitors the stress level of the wearer, and this is really helpful for those with a heart condition and should not get angry or upset.
This watch can monitor how many steps you walked, stairs you climbed, hours you slept, and calories you burned. You can easily send the data to your smartphone to have a better understanding and an easier view over your fitness progress.
PROS:
Tracker for many fitness routines
Safe for swimming
Discreet looking
Related: The iSTYLE S2 Fitness Tracker has an eye catching appearance and is a good alternative if you want to track your fitness evolution even while riding your bike. It syncs with both Android and iOS devices, and has a 7 day memory.
Coffea C2 Fitness Tracker Watch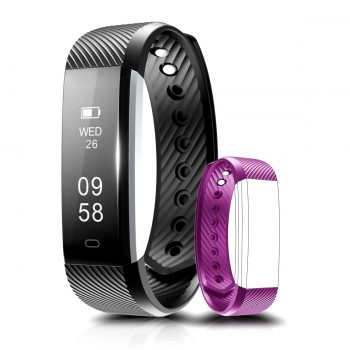 Price: Approx. $26
Weight: 2.1 ounces
Screen: 0.86 inch OLED
Specific features: Slim design, calorie counter, USB charging
Best use: Habit tracking, running
The first thing you should know about the Coffea C2 Fitness Tracker Watch, though it's not the most important one, is that it comes with 2 wrist bands. This is really helpful if you want to change the appearance of your device from time to time.
This product will count the number of steps you take, the distance you traveled, as well as the calories you burned, to help you have more control over your physical activity. You can also track your sleeping time, including its quality – you'll easily learn why you still feel tired when you wake up.
The charging method could seem a bit inconvenient, as you have to uninstall the tracker from its band and connect it to any compatible USB post. You can pair it with any device that have Bluetooth 4.0 installed, but not Windows devices.
You can receive all sorts of alerts from your smartphone, depending which ones matter more. You'll also be reminded to move a bit if you sat for too long, as well as when the phone is farther than 5 meters from you.
With a rating of IP67, you can be sure that sweat and rain won't affect it. You can also swim with it, but not for more than half an hour. The device resets itself if you constantly walk less than 30 steps.
PROS:
Connects directly to the USB port
Comes with extra wrist band
Phone anti-lost feature
Comfortable
CONS
:
No charging cable
Resets often during less active periods
Related: Some people need to track their heart rate while working out. The Coffea H7 Activity Tracker does more than that: it shows the weather, temperature, hour, controls your camera and music.
Wrap Up
Surely now you know what a fitness tracker is, what are its most desirable features, and which are the most sought for products. It is easy to see just how useful these products are, especially for those who want to improve or monitor their health.
A fitness watch is also good to motivate those who have a harder time when it comes to working out, simply because they receive gentle reminders about it. Before making a purchase it is always a good idea to read more opinions, to identify whether it meets your needs or not.
Featured Image Source: https://unsplash.com/photos/hAZxL4qPYfc