The best ski socks on the market are the secret of successful skiers or talented snowboarders. However, most people who like to hit the slopes in winter also search for these specific socks. There are a few reasons why: comfort, warmth, and protection. It's not only important to know which products can be described as such, but also the reasons why. Having a list on hand makes things easier, especially when you decide to go shopping: you'll already know what to search for and what is available on the market.
Our Top Picks
Important features of the ideal skiing socks
It may not be winter where you live, but smart people plan for it ahead of time. If you were to talk to a professional skier, he or she would tell you they own several pairs specifically made for their needs. These needs can relate to the type of fabric used, whether the socks have a certain color or not, and so on.
High quality fibers
For instance, some people can't wear wool, while others try to stay as away as possible from man-made fibers. In any case, you can't wear the cheapest polyester you can find and pray for the best, because it won't happen. Your garment should contain some Merino wool because it is softer than other types of wool and it insulates really well.
If the quality of the yarn used for your socks is high, then you can also be certain they will last for longer – just like with any other item. The garment will keep its shape for longer too, no matter how often we wear and wash it. Furthermore, there will be less piling and less lint as well.
Elasticity
Socks should be elastic as to ease the process of putting them on and taking them off. This property is also helpful when buying things that are slightly on the smaller size than what we usually wear. Additionally, elasticity will also help with keeping the garment on your legs – nobody feels comfortable when they have to constantly pull their socks up all the time.
This feature is also closely related to durability. The more an item stretches, the less likely it is to break. In addition, a stretchy fabric is more likely to retain its shapes throughout its use. Luckily, most socks these days have this property.
Color and pattern
The color and pattern of the socks is generally a personal preference, but it can be helpful in certain situations. There are people out there that wear specific colors only, while completely avoiding others, and there is nothing wrong with that. When it comes to socks, these two properties can tell the wearer which sock goes on which foot – wearing them on the opposite limb will be uncomfortable.
You and your partner can buy socks from the same brand and only be able to tell them apart by their color, pattern, or both. It is a really cute way of wearing matching clothes without anyone ever noticing. Socks with a flower design over a pink color can be deemed too feminine or girly by some, while others might find them irresistible.
Weight and thickness
These two points are super important because you really need to pay attention to these. Socks are generally light, right? But you should know that in specific situations every extra ounce matters a lot. It is best to buy light and ultralight socks for skiing: you will feel a bit lighter. If you find it hard to believe, you should definitely wear socks of different weight while skiing – even while walking.
The thickness is closely related to how much the socks weigh: thicker socks are heavier. All professional skiers will tell you to get thin socks: the boots are pretty tight and you'll increase your comfort this way. What's more, your feet will be warmer because the blood circulation will not be obstructed either.
Another important factor is that thick socks seem to become loose and to pile at your ankles faster than thinner ones. Clearly this adds to the overall comfort and can help you spend less on socks, over a longer period of time.
How much to pay?
The price is very important for some as it can indicate a high quality item, or not. Some ski socks are rather pricey, but you should consider you could wear them for a few winters before needing to replace them, if the quality is good. Poor quality goods need a more often replacement, and can cost much more money for the same amount of time.
There are ways to save money too, if you would rather do that instead. Search for special offers that include two or more pairs in a pack – we actually have one such deal in our list. Waiting for the sales season is another way to cut down on how much money you shed.
Height of the socks
The ideal socks for skiing are knee high. The best way to ensure the garments will fit you, is to measure your leg and to compare to the product's description – and hope its height is mentioned somewhere. Generally, this number is about 14 inches in a straight line – they'll be shorter on a person with really large calves.
Since socks also come in measures, like any other garments, you could buy a bigger size if your calves are that big. The downside is that the sock might be too large on the foot.
Comfort
Comfort is important when performing dangerous activities: it helps with being able to concentrate on what you're doing rather than what is on your body. There are several ways to improve your comfort while doing winter sports.
Get socks that have no seams – this tip talks for itself. Considering all the previous posts we talked about, is another method. Some socks have mesh areas to help with the ventilation of the leg. This is extremely useful for those who sweat a lot or get hot really fast. Padding and cushioning are two ways to add more protection to areas such as your shins, toes, and heel. Some sock offer protection to your arch as well.
Now that you learned a little more about skiing socks, it is time you saw some products that are really meant or good for this activity.
Best Socks on Today's Market
Darn Tough Vermont Socks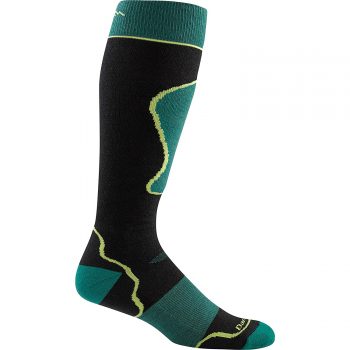 Dimensions: 17 x 5 x 2 inches
Specific features: Lifetime guarantee, wool mix
Best use: Race day, speed, skiing or riding, as well as whenever you need your feet to feel warm but not heavy
There are a few things everyone agrees on when it comes to socks: it is super annoying to have them sliding down your legs throughout the day, or to have them lose shape after just one wear. Luckily, there is a simple solution to these issues: using a blend of yarns. The Darn Tough team knows this and as a result their Darn Tough Vermont Socks came to be.
These socks are labeled as knee high, however they barely cover the calves completely especially for really tall people. These socks are made in the Unites States of America, so if you're a citizen of this country you'll show your support for its economy by making a purchase. To prove the quality of their products, the manufacturer offers unconditional lifetime guarantee for them.
Surely when you go skiing the temperature is pretty low and you want to keep warm. These socks are made with 60% Merino wool – the best type of yarn for winter sports and conditions. The other fibers used for this product – 36% nylon and 4% spandex – ensure your legs will stay covered at all times. These socks are really thin as not to make you feel cramped in your boots,  but cushioned on the front to offer some much needed protection while skiing.
Related: The Darn Tough Junior Socks ensure the feet of your kids will also stay warm during a family winter getaway.
SmartWool PhD Ski Socks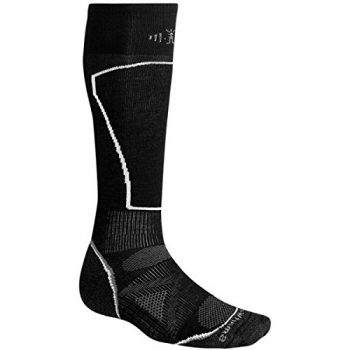 Dimensions: 1 x 3 x 14 inches
Specific features: Wool blend, genderless, ageless
Best use: If you need a pair of socks that fits well, keep you warm, and lets you better control your skis through the boots, then you found the ideal item
If you're one of the people thinking that American products are superior in quality, you'll be happy to learn these socks are made on the American soil, even  if the wool is imported. Many people complain their socks just don't stay put, so using a double elastic to achieve this goal is crucial – and this is a feature you'll see on this product. You can't achieve that by using only Merino wool: you'll need to combine this yarn with others, such as Nylon and elastane.
Some items that use the same blend of fibers as these, and in the same proportions, will give the impression of overheating. This is not the case when wearing these SmartWool PhD Ski Socks they are designed with special mesh areas for improved breathability. Certain activities and their required gear put a greater pressure on specific regions of the body.
To absorb some of the impact, the soles and the shin areas of this product are slightly cushioned. This item needs to be washed in a gentle cycle, or preferably by hand and it should be left to air dry. It is hard to find any complaints regarding these socks, so you can be sure of their high quality. Some folks mentioned their pairs were not long enough to cover their calves completely, even though the name and the model points to it.
PROS:
Perfect fit
Highly resistant
Soft
CONS
:
The price
May not be long enough
Related: If the ladies want to wear something more colorful or cheerful, the Smartwool PhD Ski Medium Pattern Socks just for them.
Icebreaker Ski+ Light OTC Socks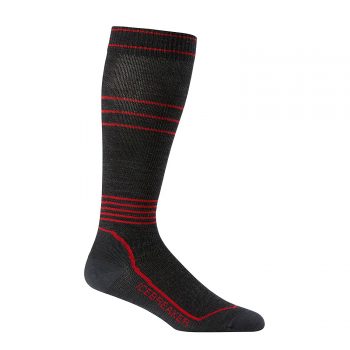 Dimensions: 16.5 x 4 inches
Specific features: Cushioned, reinforced toe and heel
Best use: Hiking, backpacking, and especially skiing
Having warm and comfortable feet is important no matter what you do. It is not uncommon for people to find their feet really cold when skiing, or even swollen at the end of the day after being on the slopes for a very long time. These Icebreaker Ski+ Light OTC Socks have an anatomical built that improves your skiing performance.
What's more is that  the compression is added gradually and this is an added bonus for your circulation. Foot swelling can be observed more when standing for too long, or even when travelling. Getting this product instead of medical gear designed for the issue can save you some money while you notice the same results.
You know these socks won't have holes for quite some time since the areas around the toes and heel are reinforced. When making an online purchase, you can easily get the wrong one and you might not be able to return the item. Make sure to measure your feet before buying as the XL sock is too big for a size 13 foot, for instance.
PROS:
Comfortable
Compression
Breathable
Burton Weekend Socks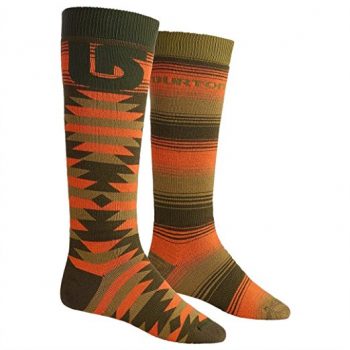 Dimensions: –
Specific features: Reinforced toe and heel areas, ankle support
Best use: Riding or skiing
You might not be able to tell this first hand, but when getting this product, you will actually receive two pairs instead of one. This is great for those who want to save a bit of money or can't really afford other socks. Additionally, getting these Burton Weekend Socks to wear at the same time with your partner is a ingenious idea for those who would like to use matching items in public but be too embarrassed to do so.
Most items would be easily noticed, but not the socks. One of the biggest letdowns of this item is that there is no natural fiber used in their making: acrylic, nylon, and spandex, in various ratios are the components of this footwear. The upper hand of this feature is that they will dry quickly and will not easily shrink if the care instructions are followed.
Some people prefer wearing these socks indoors as they feel too hot in them while performing high level activities. Some also noticed that this item stretched a bit too much, over their knees when they tried to pull the socks up a bit.
PROS:
Cushioned
Good price
Quick drying
CONS
:
No natural fiber
Can become quite long
Darn Tough RFL Thermolite Socks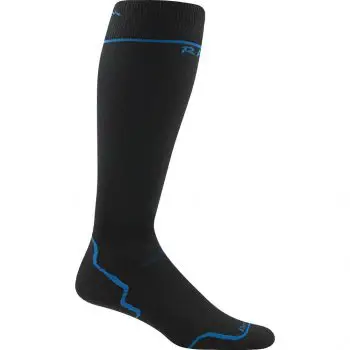 Dimensions: –
Specific features: Antimicrobial, unconditional lifetime guarantee
Best use: Searching for an item that could help improving your performance as a rider and a skier? You might have just found it
This foot garment is labeled as being for men, however women can wear it as well because of its minimalist design. One of the best features of these socks is that they can be worn throughout the year without the temperature bothering you. This is all thanks to the special Thermolite fabric used in their construction in proportion of 45%.
This fabric is made of polyester and its main features are being lightweight and insulating. Other fibers used are nylon 51% and spandex 4%. It is easy to see that no natural fiber was used, and this can be a big letdown for some people who are sensitive to specific materials.
The comfort of this product is ensured two ways: first by the lack of any seams and secondly through the use of the Thermolite fabric. The Darn Tough RFL Thermolite Socks are naturally antimicrobial and they quickly wick moisture. This can only mean one thing: no smelly feet when you remove your shoes or boots. One big warning should go to those with larger calves as these socks could feel slightly tight for them.
CONS
:
No natural fibers
Tight for those with large calves
Related: Usually socks made of wool stretch a bit more, and the Darn Tough Westerner Socks can be a great alternative to the presented item as they still have a minimalist design.
Fox River Wilmot Socks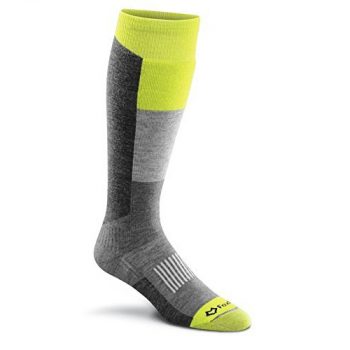 Dimensions: 13 x 8 x 1 inches
Specific features: Wicking, arch support
Best use: Get these socks when the cold weather sounds frightening, or when you want to go skiing or riding
You'll probably find these socks to be a good deal since they're made in USA and also contain 33% Merino wool. Other used fibers are acrylic (33%), nylon (32%) and 2% spandex. One of the greatest advantages of this fiber mix is that your feet will stay dry for a longer time because the socks transport the moisture away from your skin.
Your shins and heels receive more protection than the rest of the foot, because those areas are cushioned. Unlike other similar products, this one is made with a special memory knit to help it maintain its shape after countless washing cycles. Speaking of this aspect, remember these Fox River Wilmot Ski Socks contain real wool fibers, and as such you don't need to wash them often.
At the same time, they will dry rather fast too because they are thin and the other fibers don't retain water for a long time. You'll easily notice how comfortable these socks since there are no seams like many other pairs have. Other signs of a good quality product are that they don't pile and also don't leave any lint during washing.
If you think this garment sounds a bit too good, you should learn it tends to run a bit large if you buy a pair according to the sizing chart.
PROS:
Wicking
No lint
No piling
CONS
:
Runs big
May shrink a bit during washing
SmartWool PhD Graduated Socks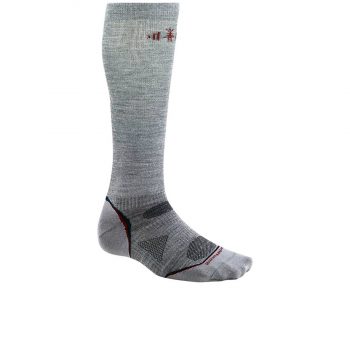 Dimensions: 14 x 3 x 1 inches
Specific features: Compression socks
Best use: Going skiing is a good excuse to wear these socks, though many other cold season activities are equally good opportunities to bring them out
This pair of socks is good for when you suspect you'll be standing for a longer time and your feet might get swollen. They're made using a special technique for gradual compression which is generally specific for socks. This type of compression speeds up recovery after effort and long standing hours. The areas around your toes and heels are cushioned while the rest of the item is not – this helps with a better boot fit.
Given that these SmartWool PhD Graduated Socks are so tight, you might worry they're also too hot, however the meshed zones ensure perfect ventilation and moisture management. Depending on where you go skiing, you might not have access to  washing machine, and this can be really problematic for really smelly feet. However, this pair doesn't become smelly at all, and if you want extra freshness you can just hand them in a well ventilated space.
Some taller people might find the height of these socks is not quite over the calves, but this might also be noticed by those with bigger calves. Given the product is ultralight, it is also quite thin and this means the cushioning is not quite as thick as some would like.
PROS:
Compression
Not smelly after several wears
CONS
:
The price
May not be long enough
Not enough cushioning
Related products:  Should you need some more support for your ankle, perhaps the Plantar Fasciitis Socks could be just what you need.
Some Final Words
This concludes our list of the best socks for skiing. Remember that these products can also be used for other purposes as well, not just winter sports. You can save some money this way, especially when your budget is very limited.
You should leave a comment telling us if you owned and worn any of these products, and what your impression was. If you didn't have the chance to try them, you could tell us more about your experiences with other socks, or if you will buy any other similar to what we presented here.
Featured Image Source: https://unsplash.com/photos/weFx9RflIfU