Do you want to listen to great music even when you're outdoors, while you're enjoying a summer rain or while you're boating? Or do you want to keep the party going even if someone accidentally spills their drink on the speakers? The solution is simple: you need the best portable waterproof speakers.
These devices are easy to carry, you can pack them fast and take them anywhere. They can withstand shocks and impacts, they're pretty sturdy and they have a high waterproof rating. But how can you pick the perfect one for you? We'll try and help you out.
We'll start with a short, yet comprehensive buying guide with the best advice so you can make an informed choice. After that, we'll review some of the best products available today, so maybe the right speaker for you is just below.
Our Top Picks
Things to Consider Before Buying
There are many things you can take into account before making a purchase, like your budget, your preferences or the colors you love, while user reviews are important too. But in terms of functionality, the features you need to take into account are listed below.
Waterproof Rating
This should tell you how resistant to water your speakers actually are. Of course, a higher waterproof rating is better, particularly if you want to use them outside, in the rain, for prolonged periods of time.
So if you want waterproof speakers, you should have a rating of at least IPX3, that's ok for mild splashes. The more you increase the IPX, the more splashes it can withstand and from different directions. But you should also read the manufacturer's observations regarding the actual waterproof capabilities to make sure your device can be used in specific situations.
Portability
In terms of portability, the size of your device is an important factor since a bulky product can't fit as well in your backpack or in your luggage. But weight is essential too, you'll need to make sure you can carry these speakers as well as other gear.
If there are mounting systems or carrying cases included in the package, it's even better. But make sure these systems allow you to transport your speakers safely, so they should prevent scratches, punctures and be water-resistant too.
Sound
Your speakers should render a quality sound, but that means different things to different people. Some prefer a stereo sound, others are just interested in volume. So the first option is great if you're interested in relaxing sounds for meditation, while the second is amazing for parties.
The bass quality is another important decision factor for most people, especially those who prefer deep, guttural sounds. But if that's important to you, make sure the bass can still be heard outside and at different volumes.
Battery
Having a quality battery should be among your top priorities, especially if you plan on listening to a lot of music. That's because you'll have a longer battery life, so your speakers don't die down in the middle of the party.
Another reason is that a quality battery can recharge faster, which is great if you always want your speakers on. Besides, it decreases the chances of the battery getting ruined forever, which is really awful for speakers that don't have replaceable batteries.
Shape
The shape of the speakers will tell you how stable they are for different conditions and terrains. The pyramid shape is great because it's really stable, without adding to the total bulk and weight. The rectangular shape is the most stable, but obviously, it has an increased weight and bigger volume.
The most interesting of all is the cylindrical shape. Of course, these have a smaller surface to stand on, but if you accidentally knock them over, they can simply roll over, which means a lower impact. So these speakers are amazing for rough parties.
Bluetooth Connection
You want a good Bluetooth connection, so you can pair these speakers with your electronic devices, like your phone, tablet or laptop. Having wireless speakers has the added advantage of being able to listen to your favorite music with the speakers outside, and the phone inside.
The first thing you need to check here is the compatibility so that you're sure the speakers can be connected to your device. The second thing would be how easy it actually is to establish such a connection and to get speakers that don't pose connection problems. Third, make sure the connection range is long enough for your purposes.
With that in mind, let's move on to the next section. Here, we'll discuss some of the top speakers on sale, what we like about them and what we don't.
Best Products on Today's Market
The speakers below are great in terms of quality, but each suit a different purpose. That's why we've analyzed their specific features in terms of your needs and listed all their pros and cons so you can decide smartly.
Cambridge Soundworks OontZ Angle 3 Portable Speaker
Price: Approx. $25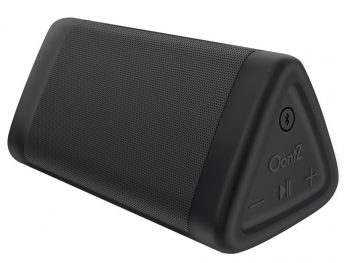 Weight: 0.56 pounds
Dimensions: 2.76 x 5.24 x 2.52 inches
Specific features: Two acoustic drivers, IPX 5, 2200 mAh battery, 12 hours battery life, wireless, Bluetooth connection, built-in mic, pyramid shape
Best use: Relaxation music
The Cambridge Soundworks OontZ Angle 3 Portable Speaker is a great speaker for home use, considering it renders a very high-quality sound. There are two acoustic drivers built-in this speaker and these are really accurate so you can tell apart the mids from the highs. That's why you'll get a fairly nice stereo sound, while the bass radiator design is perfect for, you guessed it, the bass sound.
Even when you pump up the volume, the bass will be perfectly heard, and there's no perceivable distortion either for indoor use. Besides, we love the high IPX5 waterproof rating, which means these speakers are resistant to splashes, rain, dust, and sand. So you can even take them to the beach.
We also like that they look well, they have a pyramid shape and they're really portable and easy to carry. The 2200 mAh battery can last for up to 12 hours, which is amazing. And when it depletes, you can easily recharge it, but that takes some time.
The battery isn't replaceable either, so that might be an inconvenience if it gets damaged. But for the inexpensive retail price and the overall qualities of these speakers, that's definitely a risk worth taking.
Besides, this is among the best wireless waterproof speakers on the market, it can connect to your phone, tablet or laptop very fast via Bluetooth. There's also a built-in mic and that's great for picking up any incoming phone calls.
PROS:
Clear sound
No distortion at a high volume
High waterproof rating
Long battery life
Can pick up incoming calls
CONS
:
Takes pretty long to recharge
The battery isn't replaceable
Sound can be a little distorted at high volume outdoors
Related: If you're looking for a reliable carry case for this device, look no further than the Cambridge SoundWorks Official OontZ Angle 3 Carry Case. This case was particularly designed to fit these speakers, it's light, made from a sturdy, puncture-resistant nylon and it has easy-to-use zippers.
Cambridge SoundWorks OontZ Angle 3 PLUS Edition Speaker
Price: Approx. $30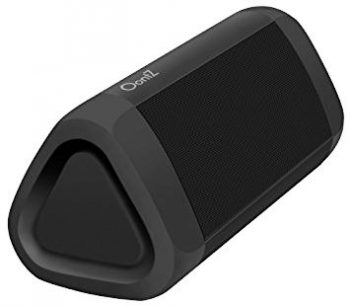 Weight: 0.81 pounds
Dimensions: 2.9 x 6.42 x 2.78 inches
Specific features: 4400 mAh, 30 hours battery life, IPX5, pyramid shape, Passive Bass Radiator design, dual 1.7 inches precision drivers, Bluetooth connection
Best use: Indoor parties
The Cambridge SoundWorks OontZ Angle 3 PLUS Edition Speaker has a similar retail price to the Angle 3 Next Generation, but it has some improvements. One of those is the bigger battery capacity of 4400 mAh, which means you'll get away with 30 hours maximum playing.
However, you'll get a gadget that's a bit heavier and bigger, though it has the same stable pyramid shape. These speakers have a high IPX5 waterproof rating too, so you can take them outdoors too, use them in the rain or on the beach since no splashes or dust can get to them.
The loud volume still delivers a rich bass sound and minimal distortion, though that can happen outdoors. Inside, the proprietary Passive Bass Radiator design is great for rendering clear bass sounds because it faces the ground. However, these bass sounds aren't very deep, and that might mean something to you if you're an audiophile.
The button design is another downside. The on and volume button are located on the side, which makes it less convenient to push than if they were in front. Besides, the volume buttons are also used for forward and back, which means you need to pick up the speakers so you can hold down these buttons for a couple of seconds.
We love the dual 1.7 inches precision drivers that are amazing for stereo. That's because they're made of neodymium, a material which helps render very distinct mids and highs. Besides, thanks to the Bluetooth wireless connection, these speakers can be connected to your phone, tablet, etc., and you can even pick up incoming calls.
PROS:
Amazing stereo sound
Long battery life
Inexpensive
High IPX rating
CONS
:
Not a user-friendly button placement
The bass sound isn't deep
Related: The Co2Crea Hard Travel Case is manufactured from EVA, which makes it very sturdy against all impacts and punctures, as well as water resistant, so it's perfect for carrying these speakers during all your travels, particularly if you're hiking.
Hussar MBOX Bluetooth 4.2 Speakers
Price: Approx. $32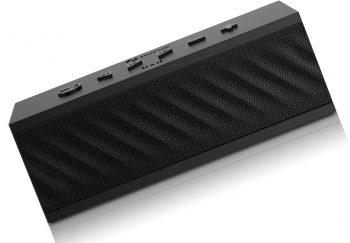 Weight: 0.78 pounds
Dimensions: 1.8 x 6.4 x 2.4 inches
Specific features: Acoustic drivers, subwoofers, two sound effects, wireless connection, 16 W, anti-vibration design
Best use: Low to middle-intensity sounds
The Hussar MBOX Bluetooth 4.2 Speakers are great when it comes to stereo sound too, but their best feature is that they have acoustic drivers. These, along with the subwoofers are amazing for the bass sounds. Besides, there are two sound effects you can use by the simple push of the "Super" button, which also helps you connect to your phone.
These speakers are great for listening to music, audio books as well as relaxation sounds, so they're not that amazing for parties. Even if they have a 16 W power, which makes for a great high volume sound with no distortion, we still can't help but notice that the outdoor sounds aren't perfect since they're not very loud. On the other hand, each time you change the volume, you can hear a static sound that's pretty annoying.
However, these speakers are portable and very light, plus they have an anti-vibration design, so they're a good choice for outdoor use too. The Bluetooth 4.2 that's built-in makes for a good wireless performance, and don't forget about the NFC for quick pairing.
Just like the previous two speakers, these ones have a high IPX5 rating, which protects them from splashes and rain. We also appreciate the 12 hours battery life, which is enough for a party, and the rectangular shape means it's a really stable device, though it's heavier and bigger than the other two items we've reviewed before it.
PROS:
Stable
Great sound clarity
Good bass
Anti-vibration design
CONS
:
Not very loud
Annoying static when you change the volume
Related: If you love listening to music so much that you can't help but miss your favorite playlist even when you're on the move, the Hussar Magicbuds 2 Next Generation Headphones are amazing. They're light, they provide a great sound, plus they have an IPX7 rating.
Photive M90 Portable Waterproof Bluetooth Speaker
Price: Approx. $60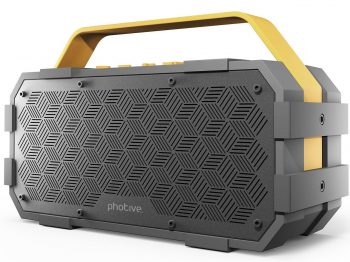 Weight: 2 pounds
Dimensions: 3.5 x 11 x 6 inches
Specific features: IPX5, shockproof, rectangular shape, aluminum build, rubberized finish, 20 W power, passive subwoofer, 10 hours max battery life
Best use: Outdoor parties
The Photive M90 Portable Waterproof Bluetooth Speaker is another amazing waterproof wireless speaker with an amazing design. Firstly, it has an IPX5 rating, just like all the speakers above it, but this one is furthermore shockproof. That's what makes it perfect for all parties, even the ones you do outdoors.
We love the rugged look of it too, it has a rectangular shape for extra stability, it's made from aluminum and comes with a rubberized finish. So even if you knock it over by accident, it can still withstand the impact. The disadvantage here is that it's obviously a heavier and bigger device, so it's not that portable.
We also love the bass sound because even the lower frequencies are amplified well. That's thanks to the high 20 W power and the passive subwoofer. However, unlike the other products above, the battery life is somewhat smaller at just about 10 hours max.
PROS:
Rugged
Shockproof
High waterproof rating
Good bass sounds
CONS
:
Heavy
Big
Battery life could be longer
Related: The Photive USB Desktop Rapid Charger is a great way to recharge multiple electronic devices at once. That's because it has six ports and a 60-watt power, it charges safely and it's suited for traveling abroad.
Arespark AS200 Speaker
Price: Approx. $30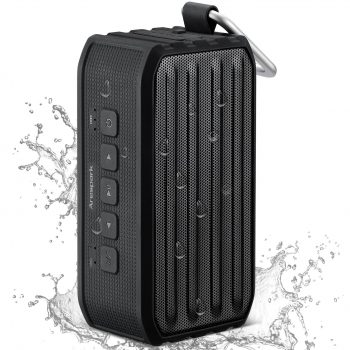 Weight: 0.61 pounds
Dimensions: 1.8 x 4.8 x 2.5 inches
Specific features: Bluetooth 4.0, 33 feet connection range, 7 W, IPX4, built-in lithium-ion 1700 mAh battery, 12 hours battery life max, NFC technology, built-in mp3 player, micro SD/ TF card, built-in mic, rectangular shape
Best use: Outdoor activities
The Arespark AS200 Speaker has an important advantage when you compare it to its previously reviewed peers. That advantage is that it has a micro SD/ TF card built-in so you can copy the songs you like and then play them even if your phone battery is low. The disadvantage is that the buttons are hard to see.
So you can use the Bluetooth for wireless connection with your phone too, but you don't always have to do that. But we love the 33 feet connection range though, and the sound quality that's awesome even for the loud levels, though the bass could be better. The 7 W power is lower than some of the other speakers here, but it's still great in terms of intensity.
The IPX4 rating is also lower, but we love that it provides splash-proofing. However, you shouldn't leave it out in the rain too much if it's pouring. The built-in lithium-ion battery is powerful enough at 1700 mAh since it provides 12 hours of use, and you can recharge it too.
The NFC technology, just like for the Hussar speakers, makes pairing a breeze, and the built-in microphone allows hands-free use for picking up phone calls. On the other hand, you can't control the Bluetooth volume from the speaker, so if your phone is inside and you're outside, you need to go in to change the volume.
PROS:
Loud
Built-in SD card for mp3
Quality battery
Fast pairing
CONS
:
The buttons are hard to see
Could have more bass
Can't control the Bluetooth volume from the speaker
Related: If you're having an outdoor party, the Arespark LED String Light is just what you need to create a cool atmosphere. These lights shine at different intensities, they're waterproof and easy to use, so we really love them.
AYL Portable Outdoor Speaker
Price: Approx. $25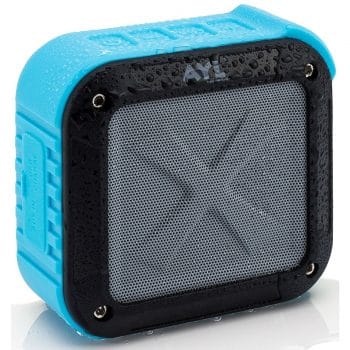 Weight: 0.59 pounds
Dimensions: 2 x 3.6 x 3.9 inches
Specific features: IPX5, 5 W power, Bluetooth 4.1, 33 feet connection range, universal compatibility, 12 hours max battery life, 3 hours recharge time, micro USB included
Best use: Showers
The AYL Portable Outdoor Speaker was designed for a unique purpose: to be used in the showers, although it has an IPX5 rating just like most of the other speakers above. You can even use it outdoors when it's raining, but it doesn't have as much power as the other speakers in this review, with only 5 W total.
However, since it uses the Bluetooth 4.1 technology, these speakers are easy to pair with your phone, tablet or other devices. Besides, the connection range is 33 feet, so you don't have to bring your phone in the shower with you. And the universal compatibility is definitely a feat.
We like the 12 hours maximum battery life because you can have this much battery even when the sound volume is at 80%, but the recharge time is 3 hours. However, you get an included micro USB for the job, which is great.
PROS:
Long battery life
Long connection range
Universal compatibility
Can be used in the shower
CONS
:
Long recharge time
Low power
Related: The Mpow Universal Waterproof Case is just what you need so you can take your iPhone in the shower with you. With a high IPX8 rating, you could even use it for a swim, and your phone can still survive.
FUGOO Bluetooth Wireless Speaker
Price: Approx. $80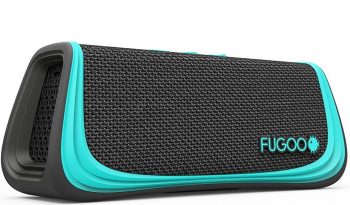 Weight: 1 pound
Dimensions: 4 x 7 x 9 inches
Specific features: Pyramid shape, 40 hours max battery life, 95 dB volume, snowproof, sandproof, waterproof
Best use: Beach party
The FUGOO Bluetooth Wireless Speaker is the most expensive device in our reviews, but it has some important features you can't neglect. The first its huge battery life of up to 40 hours, even if that's only when you use the speakers at 50% their volume, which reaches a max of 95 dB.
Apart from that, we love the sturdy construction that can resist snow, sand, and water. It's not just water resistant like the other models either, you can actually submerge it into 3 feet of water for up to 30 minutes. So these are some speakers you can actually dive with.
There's a built-in microphone here too, and that means you can use it to speak with Siri or for Google Now, as well as for full-duplex speakerphone. The six drivers located on its sides are very innovative in terms of sound, which will be heard from all sides.
So what could possibly be the downsides? Well, apart from the price tag, there's also this weirdly annoying voice that announces when you turn on or off this device. The Bluetooth signal is not always good either, but that doesn't happen all the time.
PROS:
Huge battery life
Loud
Sturdy
Can be submerged in water
360ᵒ sound
Multiple mounting systems
CONS
:
Expensive
Annoying voice when turning on/ off
Bluetooth signal could be better
Related: The FUGOO Mount Pack is great for taking these speakers along regardless of your activity. The pack includes the Bike Mount, Strap Mount, and Multi-Mount, which are all safe and sturdy, allowing you to listen to your favorite music without the danger posed by using headphones.
Sony XB10 Portable Wireless Speaker
Price: Approx. $40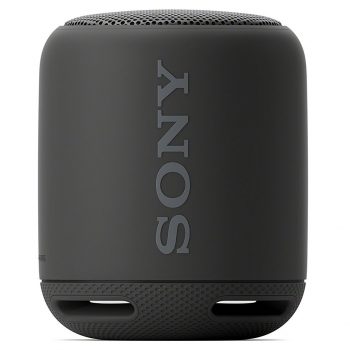 Weight: 0.71 pounds
Dimensions: 3.38 x 3.38 x 4.25 inches
Specific features: Extra bass, built-in Bluetooth, NFC technology, allows additional speaker, IPX5, 16 hours battery life, cylindrical shape
Best use: Studying, relaxation techniques
The Sony XB10 Portable Wireless Speaker comes with the Sony guarantee of quality, so you can rely on the clear sound you'll hear every time you turn these speakers on. The extra bass is great for all you audiophiles out there, and it can certainly turn a party great.
You can quickly connect this device to your phone thanks to the built-in Bluetooth, and, thanks to the NFC technology, the pairing will take place in seconds. You can also add an additional speaker if you want to have a stereo sound, which is quite amazing, though other speakers offer a stereo sound by themselves.
The water-resistant design is great since its IPX5 waterproof factor allows you to use it even when it's raining, or when you're fishing. That's because this device is resistant to water splashes as well as rain. The 16 hours battery life sounds pretty awesome too, but its cylindrical shape is a bit lacking in terms of stability.
PROS:
Clear sound
Extra bass
Quick pairing
Long battery life
High waterproof rating
CONS
:
Not that stable
Doesn't offer stereo sound
Related: If you want to study and listen to music without being bothered by annoying neighbors or loud noises, then the Sony Premium Noise Cancelling Headphone is a great choice.
Wrap Up
We've taken you through a series of amazing speakers, so we really hope you're going to find something that's right for you. But even if you don't, we hope that our buying guide can help you choose the best speakers for your needs with updated and complete info.
So now it's your turn. Tell us what you'll choose, what you love and what you hate. The comment section is right below.