Camping is one such outdoor activity that everyone loves. And many of you will agree that a huge part of camping and hiking is enjoying delicious meals while in the middle of nowhere. This goes without saying that you will need the right tools for cooking the best meals that you can come up with.
There is a number of cookware available in the market, which makes it tough for the buyers to find a camping friendly cookware. To help you make the right purchase, we have created a quick guide that points out the best features to look for in a camp cooking system. On top of that, we have also reviewed some of the most noteworthy systems that you can find in the market. Let's take a closer look!
Our top picks
Things to Consider Before Buying
What sort of cookware you need while camping completely depends on what you are planning to cook. If you just want to prepare simple meals, you can make do with a few lightweight pots, some plates and mugs and a kettle. However, if you are planning on an elaborate meal, you need more tools than that. Besides these terms, these are some factors that you need to look for:
Type of Camping
This is the first thing you should consider. Are you going backpacking or reaching your destination by car? If you are traveling by car, you can pack heavy stuff with you. You can even take a portable grill and a camping stove which uses propane. As space is usually less of an issue, you can also carry several pots.
However, if you are going backpacking, you need lighter stuff. You need to pack your pots and pans carefully so they don't take up too much space. It is best to go for compact cooking sets which are multi purpose.
Number of Utensils
You have to strike a balance here. Neither take too less, nor too many pots. Consider the number of people there are, and pack accordingly. As a rule, you should have enough utensils to hold one pint of food for everyone.
Unfortunately, there are many cookware sets that are catered not just for one's purposes but to the number of people being served as well.
Material
Your cooking material should be lightweight. Aluminum alloy utensils are a great idea as they are light and heat up evenly. However, the disadvantage here is that they are not quite as durable as stainless steel. Yet, if you are planning on going backpacking and need lightweight cookware for basic cooking and water boiling, this is a great option.
Again, this will all depend on your intended use. If you're going car camping with a group, a cookware system that has all the bells and whistles should be a good option. However if you're into lightweight backpacking, a set with the bare essentials is a must as you don't want to be weighed down.
Choosing the Pieces
To make sure everything is covered in terms of camp cooking, make sure you have a good assortment of pots, skillets, utensils, cups, bowls and more. The number of pieces and the variety will again depend on the type of camping that you will be doing and the size of your camping party.
The key here is not to overbuy and overpack. Just because a system includes many pieces on the set, it doesn't mean that it's the smartest choice because you might end up with more items you don't need which only takes valuable space.
Care and Cleanup
Cleaning up after a camp meal is not most people's favorite task. However, this is highly important as your uncleaned utensils can attract unwanted animal visitors. Of course, you want pieces that can be easily cleaned like non stick cookware. Fortunately, there are biodegradable soaps that are backcountry and camp friendly.
If you're planning to throw your cookware into the dishwasher once you get home, make sure that the kit is dishwasher safe.
Best Products on Today's Market
Resulting to our hours of research, here is a complete list of top selling camping cookware in the market.
Optimus Terra Cookset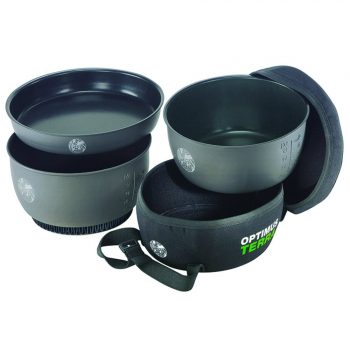 Price: Approx. $60
Weight: 1.43 pounds
Set contains: 1.74 qt. coated pot, 1.74 qt. frying pan, 1.8 qt. non coated pot
Specific features: Made of anodized aluminum coated with Teflon, neoprene storage sack, pan doubles as lid
Best use: Backpacking and camping
The Optimus Terra Cookset is very lightweight, which means it can easily be carried anywhere. The set is durable and will not be damaged when used outdoors.
HE stands for Heat Exchanger which means that boil time is reduced by 20 percent. This system is also fuel efficient. Heat is transferred perfectly, so there will be no burnt food. You will receive the package with 3 sets of cookware in it, including 1.8 qt. non coated pot, 1.74 qt. Teflon coated pot, and 1.74 qt. Teflon coated fry pan.
Because of its Heat Exchanger technology, the pot can be used to boil, saute, stir, simmer or even fry all kinds of foodstuffs. This means you can even fry eggs in this set. The Teflon coating of the frying pan ensures that nothing will stick to it.
This is a great set if you're looking to cook your food evenly.
PROS:
Reasonably compact
Wide pan
Non stick and simplified cooking
Related: The Preup Outdoor Camping Pan is another cooking set made of anodized aluminum, which has greater capacity and can be used to pack cooking utensils. There will be a total of 10 pieces including pot, cauldron, small and large frying pan, 3 plastic bowls, 2 spoons, and 1 loofah sponge. The quick heat transfer technology saves a lot of heat and fuel. We recommend it for hiking, backpacking, and camping purposed for 2 – 3 persons.
G4 Free Outdoor Hiking Cookware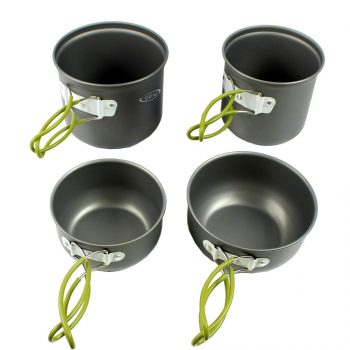 Price: Approx. $20
Weight: 1.5 pounds
Set contains: 2 x pot, 2 x frying pan
Specific features: 4 utensils, mesh bag included, foldable handles, lightweight and compact when packed
Best use: Camping and backpacking
The G4 Free Outdoor Hiking Cookware includes two non stick pots, two non stick frying pans, and a mesh bag. There are folding handles with each of the four utensils, which makes it easy to pack and carry them.
The big pot is large enough that it can carry matches, salt and pepper pots and other utensils, when the lid is secured. Hence this cooking set is perfect for traveling.
The material is anodized aluminum, which makes it lightweight, with good heat transfer. The lids double as bowls so you do not have to pack them, to, while going backpacking.
The disadvantage of this cookware set is that the green handles can become discolored easily on high heat. Also, it works best for boiling water and is not perfect for complicated cooking as there may be hot spots when the utensils are heated on high temperature.
PROS:
Extremely portable
Non stick coated pan
Good heat transfer
CONS
:
The green color on handle can fade soon
Related: The Blue Lion Camping Cookware is one of the products that you can consider along with this cookware. The lightweight and space saving design makes it easier for you to indulge in outdoor cooking. As the plastic handles come with heat insulation feature, it is more comfortable and safe for you to cook. The cookware kit is super light and portable so that you can carry it easily on your outdoor trails.
Sea to Summit X Set 31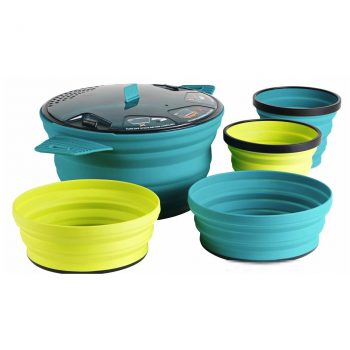 Price: Approx. $90
Weight: 1.34 pounds
Set contains: X-Pot 2.95 qt. & 2 x X-Bowls & 2 x X-Mugs
Specific features: Compact, silicone walls are heat resistant, translucent lid with build in strainer
Best use: Camping and backpacking
The Sea to Summit X Set 31 is the perfect cooking set if you want to go hiking or backpacking. The set becomes very compact and hence carrying it while traveling is very easy. This collapsible set has a hard anodized aluminum base, so it is lightweight while also ensuring even cooking. This means that there are no hot spots while cooking food.
The disadvantage is that the utensils are not always very stable, which means that you need to be careful where you put them. Also, it is best not to hand them to children as they might not be able to hold the utensils properly without making them fall.
After prolonged use, the lid might start to bend or crack, if not handled properly. The lid can also crack if the heat is too high.
PROS:
Lightweight
Compact
Good material
CONS
:
After sometimes the lid might crack
Not so stable
Related: The Finess City Titanium Cookware set is a good alternative. The set is lightweight and the space saving design is absolutely suitable for outdoor cooking. Plus, it's durable, dishwasher safe, and eco friendly. The total weight of the entire gear is merely 0.65 pounds, which makes for easy carrying.
GSI Outdoors Pinnacle Cookset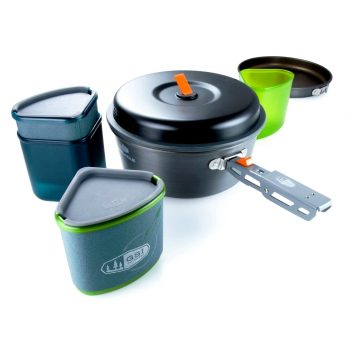 Price: Approx. $95
Weight: 1.8 pounds
Set contains: 2.11 qt. pot, fry pan, strainer lid, 2 x 0.43 qt. insulated mugs, 2 x 0.43. bowls, 2 sip it tops, folding pot gripper, welded sink
Specific features: Pot made of hard anodized aluminum, 2 mugs and two bowls, pot lid has a built in strainer, suitable for two backpackers, Teflon coated, so has non stick properties
Best use: Gourmet backpacking
The GSI Outdoors Pinnacle Cookset is ideal for two backpackers who want to travel light. The utensils are lightweight and easy to carry and the size of the set is compact. The pot is very good as a cooking utensil and therefore can be used to cook proper meals, rather than just for boiling water. It can even be used to fry an egg or fish.
The material of this cooking set is durable, and the non stick coating will not wear off or get damaged easily. The lid also does not crack. The built in strainer in the lid is perfect if you want to drain pasta or anything else. The handles are foldable and can even be removed if you want to balance the pot on a small stove.
This set is not big enough to store a stove, so you have to carry one separately. Although the utensils can fit in the pot, the size of the pot is large so it will take up some space. However if you want to cook proper three time meals, this set is a good idea.
PROS:
Foldable handles
Non stick pan
Durable materials
CONS
:
Heavy for backpacking
Pots can be quite large
Related: GSI Outdoors produces other integrated cooking sets as well which can be packed into a small space. GSI Outdoors Halulite is one of the products that work the best while camping, tracking, and other outdoor activities. Made out of hard anodized aluminum, this cooking set is compact and ultra weight.
Winterial Camping Cookware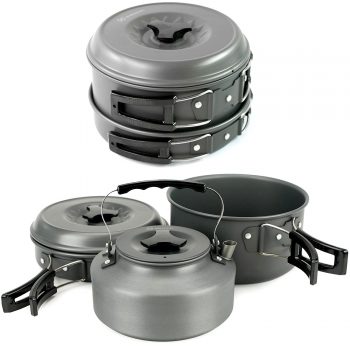 Price: Approx. $45
Weight: 1.5 pounds
Set contains: 2 qt. large pot and lid, 1 qt. frying pan, 1 qt. tea kettle, serving ladle, 1 personal bowl, serving spoon / spatula, cleaning sponge, carry bag
Specific features: 11 piece set, easy to carry, non stick Teflon coating
Best use: Backpacking, camping and hiking.
The Winterial Camping Cookware ideal for backpacking, hiking or trekking, as it is extremely light weight. The utensils all fit in the pot so you can easily carry it around in the carrying bag which comes with the set.
The frying pan can be used to fry eggs or even fish. A tea pot is included in the set so you can prepare tea on cold mornings and nights while out camping. The items in this pack are very durable and will not get damaged easily. The handles are also durable and will not melt or get damaged even at high heat.
The lid handles can get very hot when cooking and might even burn your hands if you are not careful. The pan is a little thin so you need to keep an eye on it while frying anything. Also, if you plan on cooking large meals, this is not the set for you as the pots and pans are small and compact in size. A good option for a two person or solo camper.
PROS:
Small
Portable
Good durability
CONS
:
Good for small meals only
Related: A good alternative for more comprehensive outdoor cooking is the Bisgear Camping Cookware. The package comes with 12/16 pieces, all made out of high quality materials. All the utensils can be stored in the mesh bag so as to keep things manageable.
MalloMe Camping Cookware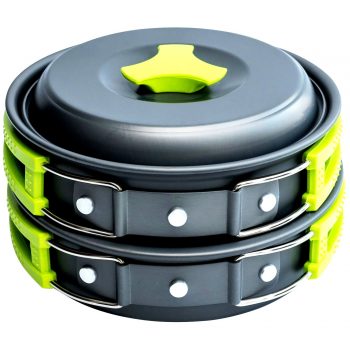 Price: Approx. $22
Weight: 0.7 pounds
Set contains: Aluminum nonstick pot (1.05 qt. capacity), pot cover, non stick pan, 2 BPA free bowls, folding stainless steel spork, BPA free soup spoon, wooden spoon spatula
Specific features: Teflon coated, easy to carry, 10 piece mess kit, made of anodized aluminum
Best use: Backpacking, hiking, trekking
The MalloMe Camping Cookware is made of FDA approved non anodized aluminum. All the components of the set are durable and very lightweight. The pack is easy to carry and small in size. An e-book with 10 recipes is also included in the pack.
If you want to buy a cooking set which is small yet durable and of high quality, this is definitely one you should consider. It is best if you pack the handle of the pot separately as it might end up scratching the Teflon coating. The material is non reactive and hence will not damage your food.
This camp cookware has got to be one of the most popular choices for backpackers and campers. And it's easy to see why. It's got everything you'll need to make a decent meal outdoors. Plus, the overall durability and quality are both to an impressive degree. Definitely one of the sets that is worth checking out.
PROS:
Lightweight
Compact design
Great price
CONS
:
The spatula is too large for the set
Related: One of the other things that you can add to your list is the Coleman Alu Mess Kit. It's a very subtle set of cookware with five pieces inside, including a frying pan, pot with lids, and deep dish plates. The nests are easy to store and you can also clean it in the simplest way. Being super light and quick heat transmission, it's an easy backpacking cookware choice.
Snow Peak Titanium Cookset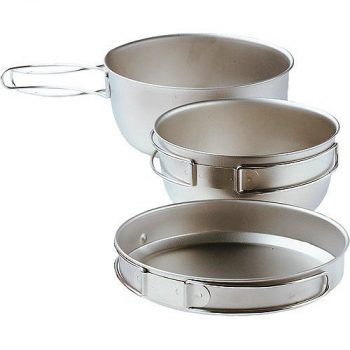 Price: Approx. $50
Weight: 0.44 pounds
Set contains: 2 pots and a fry pan
Specific features: Made of titanium, heat resistant
Best use: Camping and backpacking for a single person
The Snow Peak Titanium Cookset is an ideal outdoors cooking set for the adventurous camper or backpacker. The set is very durable as it is made of titanium, which is even more corrosion resistant than stainless steel.
It is also heat resistant, which means that the pots or pan will not get damaged even at high heat. The material is non reactive and thus will not cause any allergies. The handles do not heat up easily so you can hold the utensils easily while cooking. The largest pot is large enough that you can fit a small cylinder inside.
As you can see, this is about as basic as you can get as far as camping cook systems go. This might not be ideal for large group camping but it should easily get the job done if you're simply camping solo.
PROS:
Portable
Lightweight
Good material
CONS
:
Good only for short or solo trips
Related: The Camping Cookware Titanium Set is one of the options to look for while you are looking for some camping cookware. Made out of titanium, these vessels are stronger than those which come with steel body. Even in terms of compactness and weight, these are better than steel cookwares. With the good heat transferring features, it's hard to go wrong with this one.
MSR Alpine 2 Pot Set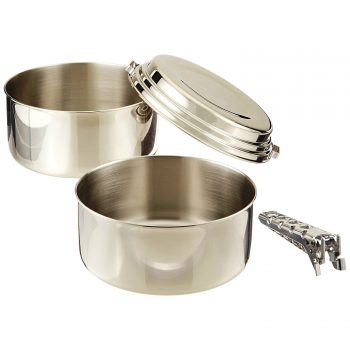 Price: Approx. $50
Weight: 1.7 pounds
Set contains: 2 pots
Specific features: Made of stainless steel, lids acts like plate, compact shape
Best use: Camping and backpacking
The MSR Alpine 2 Pot Set is tough and durable and thus is a perfect option for rigorous campers and backpackers. The pots can withstand all kinds of conditions.
The set includes two pots, one of 2.11 qt. and other of 1.58 qt capacity. A stuff sack is included in the set for easy carriage. The handle is very strong and will not break easily. Lid fits both the pots and can even be used as a frying pan. Another advantage is that a small stove can fit inside the pot, and so you do not have to carry a stove separately.
If you are going for a solo trip, then we certainly recommend this for you. At first, you can cook the meal in the pot and then you can use the lids as the plate. The only downside is that it comes in a higher price tag considering the items that you will be getting.
PROS:
Good for solo trips
Extremely lightweight
Efficient nesting design
CONS
:
Contains just two pots
A little expensive
Related: The Snow Peak Titanium Compact Cookset is another set that you can consider if you are traveling with a group. This is going to cost you a bit but it's a solid cookware for 2 to 4 persons. It's lightweight and portable, which makes it easy for you to cook even in the bumpy trails.
MSR Quick 2 System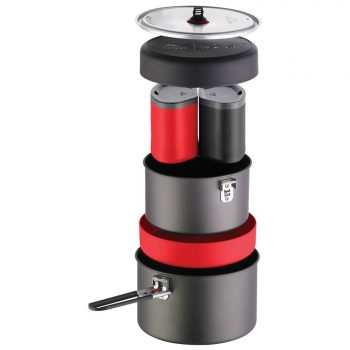 Price: Approx. $100
Weight: 2 pounds
Set contains: 1.58 qt. nonstick pot, 2.64 qt. hard anodized pot, strainer lid, 2 x deep dish plates, 2 x double wall insulated mugs, talon pot handle
Specific features: Made of hard anodized aluminum, lid doubles as a strainer, 7 piece set
Best use: Camping
The MSR Quick 2 System consists of proper utensils which are perfect for two campers or hikers. The cups are insulated which means that your drinks will remain warm. The lid can also be used as a strainer, so you can even cook pasta in these pots.
The handle can fold over the lid. The pot is large enough to cook a large meal, which can serve more than just one person. It is also easy to clean this cook set.
The cons are that the pot size is large so it might be difficult to pack in a small bag. Also, metal has hot spots in the center so you have to beware of that while cooking, otherwise you may end up burning something.
PROS:
Large
Good for group meals
Non stick covering
CONS
:
Big pots make it difficult to pack
Related: You will need a place to place those pots and food. In that case the Sportneer Portable Folding Chair and Table should come in handy. Made out of the high strength aluminum alloy frame, this camp chair and table is lightweight and portable. The rust free poles offer enough overall longevity and stability to the table.
In Conclusion
For those who want to go camping and are looking for lightweight, durable cooking sets, the above mentioned products are all great options. Just keep in mind what your specific requirements are.
How many people do you need to cook for, how much space you have for carrying cooking utensils and how much weight you can carry are all points which you should consider before buying a camping cooking set. Cooking is an essential part of camping but it does not have to be a cumbersome process.
Featured Image Source: https://unsplash.com/photos/F0HUEpuXsoU