Searching for the best women's hiking shorts? Well, when shopping for that ideal pair of shorts, you have to pay attention to several things: the cut, the quality of the fabric and its characteristics (whether it's waterproof or not, for example), durability, number of pockets and so on.
To help you find that perfect pair that suits all your needs, we put together a short guide of the most important features you need to check out before buying.
Picking the perfect hiking shorts
The most important criteria that comes into one's mind when thinking about purchasing hiking clothes are durability, comfort and versatility. To make sure that the hiking equipment you are buying meets those requirements, you must pay attention to all the details, from the cut of the shorts to the fabric, the seams, the zipppers, buttons and so on.
Cut
The right cut, when it comes to hiking shorts, is one that provides maximum of comfort and allows you to move freely. This means you should go for shorts that are neither too long nor too short: if the shorts cover the knees entirely or partially, it will affect your capacity of moving and bending your legs. However, if they are too short, you might feel uncomfortable when you try to sit down on the ground.
The ideal length is above the knee, but definitely not as short as a pair of Daisy Dukes. Also, make sure that the shorts come with a slim-fit cut: you don't want a lot of extra-fabric floating around you and clinging to every branch and rock in the way. The waist is very important, too: you should aim for a higher waist, rather than a low one, but make sure you get the right size for a not too tight fit.
Since most people now buy their clothes online, evaluating for fit is not easy, since every body is different. Fortunately, most online sellers allow you to return clothes, so don't settle for a pair of hiking pants that don't fit perfectly. You'll be walking and climbing maybe ten hours per day wearing those shorts, it's essential that you get ones that are really comfortable.
Fabric
The fabric is as important as the cut of the shorts. It needs to be extra durable (there will be a lot of wear and tear while hiking), and preferably water-resistant (usually there is a lot of sitting on the ground when hiking, and you don't want to get all wet and uncomfortable).
Also, the fabric should ensure proper ventilation of the body: you tend to sweat a lot when hiking, and, unless your skin is able to breathe, you could start experience chafing. Make sure that the fabric is made of some sort of a natural fiber, such as cotton, or a combination of synthetic and natural fibers. Lightweight nylon is another option: this type of mother fabric provides.
Quality of the seams
The quality of the seams, of the zippers or the buttons needs to be checked carefully. Pull the fabric around the seams and the zippers from both sides, to make sure the seams are durable. Pull the zippers up and down several times.
If the seams appear weak and stretch easily or if the zippers don't work perfectly, it's better to simply send the hiking shorts back and look for a higher quality product. The last thing you need during a hiking trip is poor quality clothing that rips apart, zippers that broke after a couple of uses or buttons that don't stay closed.
Practical
Another important thing, when it comes to hiking shorts, is how practical they are. You should look for shorts with deep pockets, preferably pockets you can close with zippers – this way, you'll be able to carry small items (phone, keys, matches, even snacks) without worrying about losing them. Quite practical are the hiking pants with zip-off legs, that are ideal when it's chill and wet in the morning and hot during the rest of the day.
Beside the pants with zip-off legs, there is another option, the roll-up leg feature, turning full length pants into capris and securing them with a button or a snap. Although both types of pants are versatile (you don't need to carry with you two different pairs), for some people the large zippers on the legs or the thickness of the rolled-up area can be uncomfortable.
If you have sensitive skin or if you are prone to skin allergies, a metallic zipper touching sweaty skin is not the best combination. If you're getting ready for a long hiking trip, wear the pants you're planning to pack for a couple of days and make sure they really fit.
Color
The color is pretty important, too. Very light colors (white, beige), although they might look great, are hard to maintain and show every little grass or dirt stain. Black shorts have the advantage of not showing dirt and stains, but, if you're hiking in very hot weather, in areas where you are exposed to direct sunlight, black shorts might make you uncomfortable, as back packs up a lot of heat from the sun.
However, if you're hiking mostly in shaded areas, such as forests, black is a good color. Otherwise, go for greys, earth colors (shades of green, browns and tan).
Clothes to pack for a summer hiking trip
Packing for a summer hiking trip can be quite tricky. You might be tempted to pack only very light clothes, for hot weather, but the reality is that, even in the summer, mornings and evenings can be quite chilly, if you're in the mountains, or near forests and large bodies of water. You basically need some hiking shorts and T-shirts for mid-day weather, plus some warmer clothes for early mornings and evenings. Here are some of the items that you should not omit when packing:
Good-quality, durable and comfortable hiking shorts. As we already said above, it's important to pick items that allow you to move freely – climbing, jumping, sitting on the ground are only a few things you'll do while hiking. Imagine you are trying to climb some rocks, but you knee gets stuck inside your shorts. You could end up falling and injuring yourself. So, it's not only about comfort, it's actually your safety in stake. Depending on the length of your trip, you might need more than a pair of shorts. Usually, for a two-day trip, one pair could be enough, but, if you are planning to camp for several days, pack some extra pairs.
T-shirts: pack a fresh T-shirt for each day of your trip. Get 100% cotton T-shirts that provide proper ventilation of the body. Pick a neutral color (grey, tan, light green). White T-shirts are too hard to maintain and not suitable for camping trips, while black, though you might think are convenient because they don't show dirt, are uncomfortable because they pack the heat from the sun a lot more than paler shades.
Full-length pants – pack a least one pair. Pick pants that are made of water and wind resistant fabric, that are comfortable and have enough pockets to carry all your small belongings.
Long sleeve T-shirts: pack a couple of warm, long-sleeve, cotton T-shirts for those humid, chilli mornings and evenings.
A zip-up, hooded sweatshirt will prove to be very useful, helping you to protect your head and upper body if the weather gets chillier or if it starts raining.
A summer hiking jacket is a must – pick a waterproof, windproof one to protect you if the weather gets bad.
Top women's hiking shorts
To help you pick a great pair of hiking shorts, we made a list of high-quality products and their most important characteristics. Check our list before deciding on a product.
Columbia Women's Saturday Trail Shorts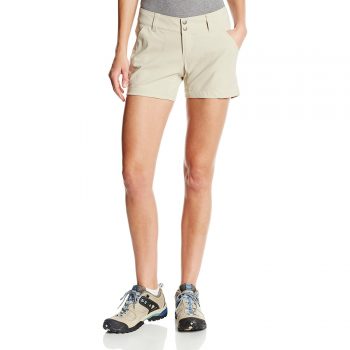 Weight: 2.9 oz
Dimensions: –
Colors: This product is available in a variety of colors: beige, dark blue, coral, green olive, light blue, bluebell and bright pink.
Sizes: The product is available in all sizes, from US size 2 (extra small) to US size 18 (extra large); Make sure you check the chart that provides waist and inch dimensions for each size to order the one that fits you the best.
Features: The fabric is 96% nylon and 4% elastane, improved with UPF 50 sun protection and advanced repellency.
Best use: Shorts are ideal for summertime hiking trips, but the clean, simple cut makes them suitable for a weekend getaway at the beach or at a picnic in the park.
Columbia Women's Saturday Trail Shorts are mid rise waist shorts are made of stretchy fabric that provides plenty of comfort and was treated to withstand sunlight. The fabric also repels light moisture and stains, making the shorts easier to clean. The mesh pockets are very useful and deep enough to allow you to carry items such as keys, phones, cash, lighter or even a small flashlight.
Related: Get the Columbia Sportswear Women's Saturday Trail Shirt that combines perfectly with the shorts.
Columbia Women's East Ridge Shorts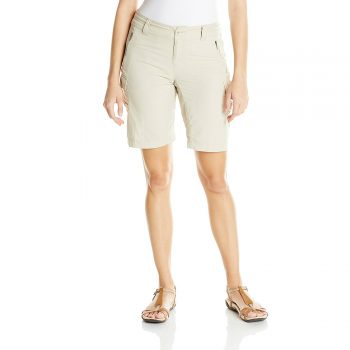 Weight: 1 lb
Dimensions: –
Color: The shorts are available in three different colors (fossil, grill and bluebell);
Size: The product is available in several sizes (US size 2 through US size 14) and in two different lengths (10 and 13 inch lengths);
Features: 100% nylon fabric improved with moisture repellant and 30 UPF sun protection;
Best use: Ideal for hiking, the shorts are also suitable for any other outdoors activities;
The regular rise waist and the slim, relatively long legs (about an inch above the knee) make Columbia Women's East Ridge Shorts not only comfortable, but also quite neat, suitable for a huge variety of activities, not only hiking but also for casual outings, going shopping and so on.
The three shades of color are neutral and basically go with anything, so it's not going to be hard to find a T-shirt that looks good with your new shorts. The pockets are roomy and come with zippers, an excellent feature for hiking shorts: you no longer have to worry about dropping your phone or losing your keys.
Related: If you want to be comfortable yet a little bit more dressed-up, you can consider buying this mid-length, cute and sporty Columbia Women's Anytime Casual Skort.
PrAna Hazel Short – Women's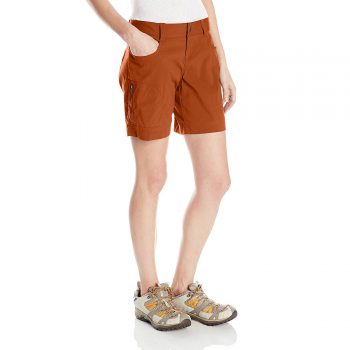 Weight: 1 lb
Dimensions: –
Color: The item is available in several colors (henna, coal, dark khaki, cargo green and indigo).
Sizes: The product is available in sizes from US 0 to US 14. Check the chart attached to the product to learn more about the sizes and to order the best fit for your body type;
Features: Front and back jean-style pockets, plus extra side zip stash pocket; stretch performance variegated ripstop with durable water repellent (DWR) finish;
Best use: Ideal for outdoor activities, trips and so on:
The stretchy shorts feature a mid-rise waist and medium-length legs (about an inch above the knee). PrAna Hazel Short comes with several pockets, including a zippered one, which makes them perfect not only for hiking but also for casual outings or for shopping trips.
Related: Make sure you keep warm at night with this comfortable prAna Women's Drea Jacket.
PrAna Bliss Knicker – Women's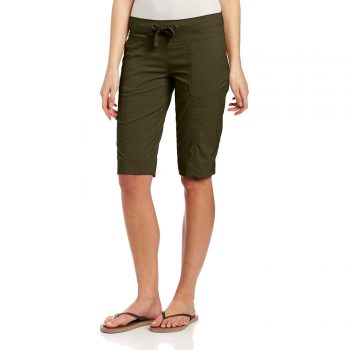 Weight: 5.4 oz
Dimensions: 11 x 3 x 1 inches
Color: The shorts are available in three neutral colors (cargo green, black and moon rock);
Sizes: The product comes in four sizes (extra small, small, medium and large).
Features: Slim fit, medium length legs, regular rise waist with a cord;
Best use: Ideal for hiking, due to the stretchy fabric and the comfortable, slim fit cut, but can be worn during other types of casual outings;
The stretch woven fabric, front pockets and the waist cord make PrAna Bliss Knicker Shorts practical and comfortable. The clean cut makes this cute shorts suitable for a variety or activities, from hiking trips or a walk around the park to a farmer's market shopping spree or a casual outing around the city.
Related: Complete the look with a sporty and relaxed prAna Cleo Tee.
Outdoor Research Ferrosi Short – Women's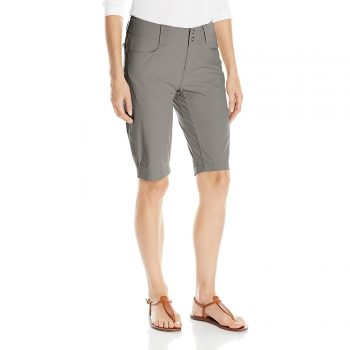 Weight: 13 oz
Dimensions: 18 x 12 x 2 inches
Color: The shorts are available in four colors (cairn, pewter, mushroom and cornflower blue)
Dimensions: The product comes in several sizes, from US size 2 to US size 14;
Features: Fabric is 86% Nylon and 14% Spandex; Water, wind and abrasion resistant;
Best use: Hiking, climbing, cycling, other outdoor activities, casual outing in the city;
The low profile waist makes the shorts comfortable to wear with a climbing harness, while the Spandex fiber makes them stretchy enough for all types of movements. Outdoor Research Ferrosi Shorts come with jean-style front pockets and zip back pocket, allowing you to safely carry small items like your phone, cash, keys or, why not, maybe even some candy (you definitely need your energy while hiking).
The shorts are quite versatile – due to the clean, simple design with slim fit legs that go down to your knees and the two front snaps, you can wear them for a Saturday lazy brunch or even for the casual Friday at the office. The neutral, muted colors makes the short easy to combine with a colorful top for a sporty, yet interesting look.
Related: Pack a pair of Outdoor Research Women's Ferrosi Pants with you to keep you warm during those chilli nights.
REI Northway Shorts – Women's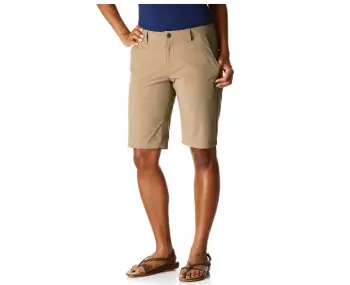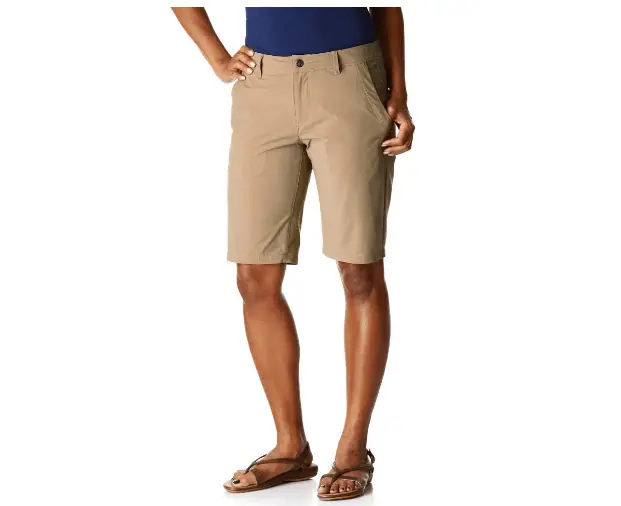 Weight: –
Dimensions: –
Color: This product is available in asphalt and burlap colors;
Sizes: Shorts can be ordered online in a variety of sizes, from extra extra small to 2 extra large, which correspond to US size 0 to US size 14 Wide. You can find a detailed chart on this product's page that provides waist, hip and inseam dimensions for each size, helping you to order the most suitable size for your body type;
Features: Sun-protective fabric, 86% Nylon, 14% Spandex;
Best use: An excellent choice for hiking, other outdoor activities, city outings, shopping trips, travel.
The Nylon/Spandex fabric is stretchy and comfortable. You'll be able to climb, hike or run unrestricted. The fabric is sun-protective and offers excellent UV protection. Also, they dry off quite easily, making them an invaluable item during long travels: simply wash them at night and you'll be able to put them back on in the morning.
No need to pack a lot of clothes when you can wear these comfortable and cute shorts basically every day. The classic rise waist and the drawcord at waist fine-tunes the fit, while the multiple pockets with zippers or rip-and-stick flaps allow you to safely carry your phone, wallet, keys, and other small items, such a lighter, gum, or change.
The elegant, clean cut of REI Northway Shorts avoids creating a gaping effect or a boxy look around the waist and hip, which makes them suitable for all sorts of activities, from hiking or traveling to casual strolls through the city or even for a casual lunch with friends or family.
Related: For the same level of comfort, but a slightly smarter and cuter look, you can try this Columbia Just Right Skort.
In conclusion
When shopping for hiking shorts, you need to focus on comfort, versatility and practicality. You need items that are made of high-quality fabric, resistant to moisture, wind and sunlight. It's preferable to pick stretchy fabric that allows you to move unrestricted but it also needs to allow your body to ventilate properly.
Don't forget about pockets for all the stuff you carry with you when hiking and make sure that the pockets are secured with zippers, snaps or rip-and-stick flaps. Pick the size carefully and choose a cut that fits comfortably on your body.
Featured Image Source: https://pixabay.com/photos/hiking-hiker-fitness-outdoors-2624865/