Many of us cannot even think about going camping or spending a holiday without grilling something meaty and delicious. You will have to agree with us that grilling makes the nature experience whole! To avoid frustrations you need to choose the perfect grill for your needs, and that's what we have here for you!
For those just getting interested into grilling, choosing the right grill can be a challenge because there are so many types and sizes of units to choose from. So, how can you be 100% sure that you are buying exactly what you need?
To help you out, we have determined some of the most important aspects to consider when choosing the best portable gas grill, and also have created a list with the top rated models on today's market. Let's take a closer look.
Our Top Picks
| Product Name | Heat Output (BTU) | Cooking Surface | Material | Price |
| --- | --- | --- | --- | --- |
| Cuisinart CGG-200 | 12 000 | 240 sq in | Stainless steel construction and porcelain enamel cast iron grate | Check price on Amazon |
| Char-Broil Tru-Infrared | 9 500 | 200 sq in | Cast aluminum construction and stainless steel grate | Check price on Amazon |
| Cuisinart CGG-180T | 5 500 | 145 sq in | Steel cooking chamber, aluminum legs and porcelain enamel cast-iron grate | Check price on Amazon |
| Solaire Anywhere | 14 000 | 155 sq in | Stainless steel construction and grilling grid | Check price on Amazon |
| Char-Griller 3001 | 62 800 | 630 sq in | Steel construction and porcelain coated cast iron grate | Check price on Amazon |
| Smoke Hollow 205 | 12 000 | 305 sq in | Stainless steel construction and chrome plated cooking grate | Check price on Amazon |
Factors to Consider Before Buying
Even though the field of choices here is reduced to some of the most popular small gas grills, there remain a number of options that need to be discussed in order to ensure the best small propane grill selection. As a result, we have listed the most relevant characteristics that will ease your choice.
BTU
The BTU or British Thermal Unit, is a standard unit of measure of heat and can be a very important factor in choosing the right model for individual grill owners. The BTU can be described as "the amount of heat required to raise the temperature of one pound of water by one degree Fahrenheit."
Basically, the more BTUs a grill has, the faster it will burn up fuel. Thus, it's only natural that you choose a grill that has the amount of BTUs you require for the intended job.
Construction
Not all grills are created equal. Different construction methods and materials are chosen by grill manufacturers. Some of these choices are made with weight, durability, and cost in mind, but it is important to know the unique challenges and advantages of these options.
The truth is that you should select a unit with a strong body to withstand being in the sun for long periods, and a sturdy base to hold the weight you pretend to put on. Most grills have stainless steel construction and aluminum legs, which might be the best choice. However, you can also find units made entirely of aluminum which reduces its weight but also reduces its durability.
Cooking Surface and Burner Type
This category may be the novice griller's most confusing to understand, but can very well mean the difference between success and failure in the grilling experience. Burner and surface types indicate how the heat is generated and how well it spreads inside the grill.
Most grillers prefer consistent, even heating across the grill. However, some people have a preference for units that focus the heat only in one area. This is a major aspect to be aware of because, for most of us, uneven hot spots can make grilling not only a challenge, but could even become very discouraging.
Easy Ignition
Because of the convenience of gas grilling, one important factor is whether or not a particular model has what is called "easy ignition." What this usually means is that there is some method, usually a type of push button, which creates a tiny spark in order to ignite the gas.
There are some folks that do not like to have the spark we mentioned before because they find it dangerous. For that reason, you can find models that require an external source such as a match or lighter to ignite the gas.
Thermometer
Because grilling is mostly about heat, a central concern is the temperature of a grill. If it is too hot, the food will likely burn. If it is too cool, the cooking process can take far too long.
In order to monitor this heat, many manufactures add a convenient thermometer to their grills, but not all do. For those who use grills only a few times throughout the year, a thermometer might be an unnecessary feature. For master grillers, it is a must.
Weight and Size
This factor is probably most important to those who plan to use their grill while camping or other such activity. Weight and size of a grill really can make the difference between an enjoyable experience and a disappointment with a portable gas grill. But beware; just because a particular grill is small and/or light does not necessarily mean it is also durable.
It is an unfortunate fact that some manufacturers use inferior material or methods in order to achieve portability. In this case, you would want to determine your hiking or camping needs. If you're going for car or RV camping, it might be a good idea to get a bigger grill. On the other hand, a lighter grill would be more appropriate for multi day hikes.
Best Products on Today's Market
Armed with this information, the chances of picking right portable gas grill are much higher. In order to help narrow down the field of choices further, the following is a list of some of the more versatile and popular models. If you're open to recommendations, we suggest you to check out these top rated outdoor gas grills.
Cuisinart CGG-200 Gas Grill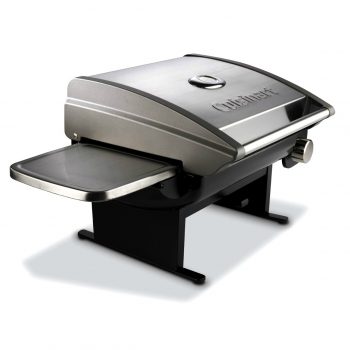 Price: Approx. $152
Weight: 40 pounds
Dimensions: 42 x 18.5 x 15 inches
Specific features: 12,000 BTU, stainless steel loop burner, stainless steel construction, porcelain enamel cast iron grate, easy ignition, built in thermometer, 240 square inches of cooking area
Best use: Backyard or light duty recreational grilling
Cuisinart has long been known for their quality kitchen appliances, but many may be surprised to discover their line of outdoor grills. The Cuisinart CGG-200 Gas Grill is a high quality, convenient, easy to use grill for those who will cook on a backyard patio or take on the occasional outing because all it takes to start cooking with it is turning a knob and wait about 10 minutes.
The temperature can be easily adjusted and the porcelain enamel cast iron grate evenly distributes the heat of the open flame burner. Additionally, it has a built in thermometer that is more accurate than many others in the market, and the grilling surface is large enough to cook more than one meal at the same time. Since many people choose to use this unit around their home, Cuisinart offers an attractive base that the grill can sit upon.
The 12,000 BTU rating is ideal for the beginning griller, and the well constructed single loop burner disperses heat well. It is best to store this grill indoors or with a suitable weatherproof cover, but don't worry if you forget to take it back in after using it since it is made with stainless steel that can withstand being exposed to the sun for a long period of time.
PROS:
Temperature easy to adjust
Accurate built in thermometer
Strong stainless steel construction
CONS
:
Very thick flame guard
Not so easy to setup and take down
Related: The Cuisinart GR-4N Griddler is a more portable option from the same company. It works as a contact grill, a panini press, a full grill, a full griddle and as a half grill/half griddle, it is made with a stainless steel housing and has a study handle, it comes with removable and reversible cooking plates and it has a temperature control that can be easily adjusted.
Char-Broil Tru-Infrared Gas Grill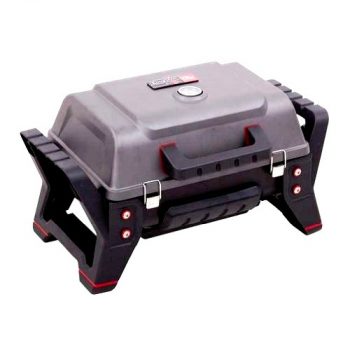 Price: Approx. $115
Weight: 20 pounds
Dimensions: 23.7 x 15.7 x 13.6 inches
Specific features: 9,500 BTU, cast aluminum construction, stainless steel cooking grate, easy ignition, built in thermometer, 200 square inches cooking surface
Best use: Camping, apartment patio, tailgating
This Char-Broil TRU-Infrared Gas Grill has one of the lowest heat output on this list and, on first glance, that may seem to be a disadvantage. However for the novice griller, the lower temperature may just be the right answer. Because 65 percent of the heat is generated by infrared, the cooking process benefits from a more natural and even burner temperature.
For someone not quite familiar with cooking on a grill, the infrared heat makes it less likely to overcook or dry out the food. In addition, the lower heat presents a safety advantage when grilling in crowded conditions such as large picnics and tailgating. It would be highly recommended that the first time griller experiment with this grill at home before trying to impress friends or provide meals in a camping situation.
Also, this grill is one of the most portable from the list since they build it in a way that the valve, the bottle and the tray fit nicely inside the grill. Additionally, one of the aspects that users have highlighted is that the igniter is behind one leg, so it does not get snapped off, which is a problem that many other units have.
PROS:
Very compact
More natural cooking
Infrared heat to prevent drying and overcooking
CONS
:
Difficult to clean
Difficult to adjust the heat
Deficient regulator
Related: The Char Broil Performance 475 Gas Grill is for the more experienced chefs due to its 36,000 BTU main burner and 10,000 BTU side burner. The main one is about 475 square inches and the secondary one is about 175 sq. in. Also, it has stainless steel lid, handle and control panel to add style and durability, and a removable grease pan that eases the cleaning process.
Cuisinart CGG-180T Gas Grill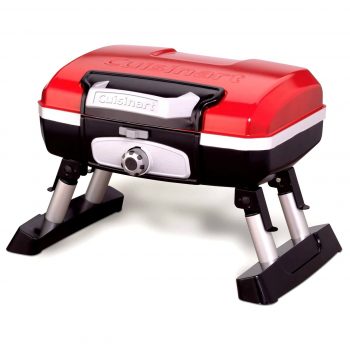 Price: Approx. $87
Weight: 13.5 pounds
Dimensions: 13 x 16.5 x 16 inches
Specific features: 5,500 BTU stainless steel burner, steel cooking chamber, aluminum legs, porcelain enamel cast iron cooking grate, easy ignition, out of the box ready, removable drip tray, 145 square inches cooking area
Best use: Camping, apartment, and individual backyard grilling
At only 5,500 BTUs, this miniature Cuisinart CGG-180T Gas Grill is intended for grillers that enjoy preparing intimate meals for two every now and then. The portability of this little gem is where it excels on this list. It's compact size, very light weight and simplicity to use and clean makes it perhaps the best choice for tailgaters or tent campers.
The sturdy aluminum legs present a safe and stable base when placed on a solid surface, such as a picnic table. The convenient drip tray is strategically design to ease the cleanup process when the meal is over; in fact, the grates are removable, so you can put them in the dishwasher without worrying about them due to the materials they are made of.
Even though the grill heats up very fast, it uses a very little amount of fuel, what ensures you would not have to stop and run to the store to get another bottle of gas. Also, people say that setting up this unit is easy and takes only a few minutes, so you would not need a whole bunch of tools to start using it.
PROS:
Compact and lightweight
Stable, easy to clean and use
Uses little fuel
CONS
:
Small dripping catcher
Temperature difficult to control
Lid latch made of plastic
Related: Cuisinart also has to offer the Cuisinart CGG-306 Tabletop Grill. It can be set up in less than 10 minutes without using tools, it has a twist start ignition system and an integrated thermometer, it comes with 2 stainless burners that offers a total of 20,000 BTUs, its legs can be folded down to make the transportation easier, and it weighs around 22 pounds, which is not as heavy as other units.
Solaire Anywhere Portable Grill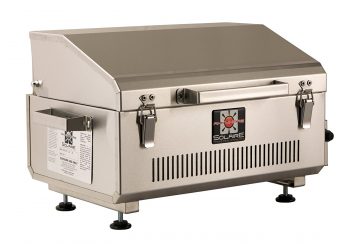 Price: Approx. $395
Weight: 26.8 pounds
Dimensions: 12 x 21 x 13 inches
Specific features: 14,000 BTU infrared burner, stainless steel construction, V shaped stainless steel grilling grid, easy ignition, 155 square inches cooking area
Best use: Backyard party grilling
Although this grill provides its heat through an infrared burner, take note of the relatively high BTU output. This attractive little Solaire Anywhere Portable Grill produces a lot of heat, so it is best to have at least the basic understanding of grilling technique before tackling this unit. However, if you want something that sears your meat, this is what you are looking for.
This model looks like it would be right at home or even in a modern restaurant kitchen, but at only 26 pounds, it can go just about anywhere. It also comes with a beautiful carrying case that will hold three one pound propane canisters. The manufacturers knew very well of the grill's portability, so they made sure to give you a unit with a very sturdy and welded construction.
The aspect that has surprised a lot of users is that it heats up to full temperature in less than 4 minutes, so your waiting time is considerably reduced. Also, it is very easy to set up and take apart, and it comes with detailed directions to help you use it and also to prevent you from burning your meals.
PROS:
Great for searing meat
Strong and durable construction
Reaches full temperature in no time
CONS
:
Small burner
Difficult to clean
Related: Weighing only 15 pounds, the Solaire SOL-EV17A Portable Grill is a more portable option from the same company. It has infrared ceramic and stainless steel burner for the 140 square inches grilling area, a V shape grate that significantly reduces flare ups, and a wide variety of accessories such as tank adapter, tripod, portable stand, mount adapter plate and so on.
Char-Griller 3001 Gas Grill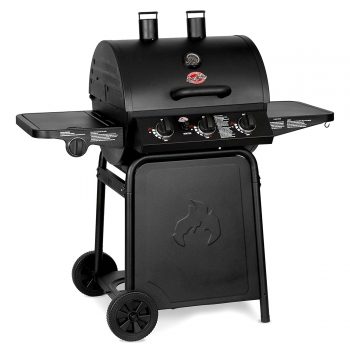 Price: Approx. $196
Weight: 88 pounds
Dimensions: 25 x 42 x 50 inches
Specific features: 40,800 BTU (main burner); 12,000 BTU (side burner), steel construction, porcelain coated cast iron cooking grate, easy ignition, built in thermometer
Best use: Backyard grilling
Although this list primarily focuses on small, portable grills, the Char-Griller 3001 Gas Grill is at the higher edge of qualifying. Due to its larger size and the fact that it is nearly 100 pounds, this grill is not one to be considered for regular use away from home, nor is it suitable for apartment balconies, but it is great for family reunions and big parties in the backyard.
The high output (40,800 BTU) main burner is designed to provide efficient heat for its much larger cooking area, while the smaller side burner (12,000 BTU) is more in line with the other grills on this list. It has two wheels on its base in order to provide better mobility if the need arises, the grates get hot very fast, and it performs well in windy conditions.
The most important feature this unit offers is the 630 square inches of total cooking area divided in two different spots. The main grill is about 438 square inches and the warming rack (or secondary grill) is about 192 square inches. Also, users claimed that this unit is very easy to clean, and that it distributes the heat evenly.
PROS:
Very big cooking area
Good portability
Great performance in windy days
CONS
:
Difficult to assemble
Difficult to keep desired temperature
Related: The Char-Griller 2828 Charcoal Grill is very good option to think about if you often cook big family meals due to its 830 square inches of total cooking space. It also comes with large round legs that provide sturdy support and an adjustable fire grate that will let you choose from hot, med and warm temperature. Finally, you would be able to add coals without removing the entire grate.
Smoke Hollow 205 Gas Grill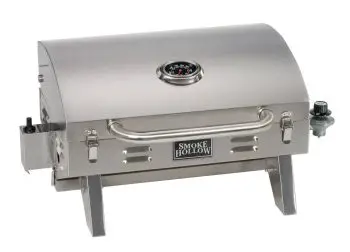 Price: Approx. $75
Weight: 21 pounds
Dimensions: 26.5 x 12.2 x 16.5 inches
Specific features: 12,000 BTU stainless steel U shaped burner, stainless steel construction, chrome plated cooking grate, easy ignition, built in thermometer, second level warming grate
Best use: Indoor grilling, camping
The Smoke Hollow 205 Gas Grill may very well be the best all around grill for anyone looking to either get started grilling in their backyard, or is ready to take their favorite recipes on the road. This model features everything someone would need for just about any experience level or location due to its small size, high power and 305 square inches cooking surface.
The built in thermometer makes cooking at the right temperature a breeze. Included in the attractive features of the 205 is a second level warming rack to help keep additional food warm while the 10,000 BTU of the main burner do its job. Users say that this unit provides a fast warm up that shortens both the cooking and the waiting time.
Also, its relatively lightweight and simplicity to assemble and disassemble (only five minutes) makes it very portable and easy to transport. Additionally, it provides a sturdy and stable base due to its design. Finally, people who have bought this grill before claimed that the best part comes when you start cleaning it up since it is very easy and will only take a few minutes, as well.
PROS:
Large cooking surface
Temperature control easy to use
Cooks evenly all meals
CONS
:
Prone to rust if not stored carefully
Related: If you are looking for a grill with an even bigger cooking surface, then we are sure that the Smoke Hollow LS2418-4 Propane Gas Grill will fulfill your needs. With this unit, you will be able to cook more than one meal at the time thanks to its four 7500 BTU stainless steel burners distributed across 539 square inches of cooking area.
Wrap up
If you've found this list in hopes of trying to make the right decision for your first or next grill, chances are that you can almost smell the aroma of your favorite recipe simmering just a few feet away. Whichever grill you choose, start slow and work up to more complex grilling methods.
It is also highly recommended that before cooking any food with these units that you run start the flame, let the grill get up to temperature, and let it stay there for at least 10 minutes. This will help remove any lubricants or chemicals on the cooking surfaces that are meant to protect them while in shipment and storage.
Featured Image Source: https://pixabay.com/photos/grill-temperature-weber-barbecue-1374954/