Outdoor activities such as camping and hiking are undoubtedly fun, but it can't be denied that they can be dangerous too. You need to watch out for the threat of wild animals. Bears are especially dangerous. When you are hiking or camping, do you really want to have an unexpected encounter with the furry kind? Don't you agree that the best way to deal with bears is to completely avoid them? If so, you should consider getting the best bear canister that fits your needs the most.
A bear canister is a cylindrical container that is designed specifically for keeping food and personal items with strong scents. Their shape, toughness and special mechanism make these canisters almost impossible to open, which means that bears are not able to get access to your personal items and food. Nowadays in most national parks in North America, it is required by law to have a canister with you.
Bear containers have started to become a trend, so new varieties are flooding the market, and it can be difficult to make the right choice. For that reason, we have prepared this article for you.
Down the line, you will find a guide about bear canisters in general but also reviews of the most popular and high-quality storage options, which will help you to choose the best bear canister that will serve you well in the wilderness and avoid possible creature encounters. Let's get to it!
Our Top Picks
| Product | Volume | Food-Holding Capacity | Materials | Price |
| --- | --- | --- | --- | --- |
| BearVault Bear Resistant Food Canister | 700 cubic inches | 7 days worth | Transparent polycarbonate | Check price on Amazon |
| Backpacker's Cache Bear-Resistant Container | 615 cubic inches | 6 days worth | ABS polymer | Check price on Amazon |
| Lighter1 Big Daddy Bear Canister | 650 cubic inches | 7 days worth | Transparent polycarbonate | Check price on Amazon |
| Counter Assault P-14 Carrying Case | 716 cubic inches | 7 days worth | 600D nylon | Check price on Amazon |
Things to Consider Before Buying
Though at first sight, a bear canister seems to be an easy tool to purchase, in order to be sure that your bear container works as it should, you should pay attention to the aspects below while considering which bear canister to buy:
Type
Nowadays, there are primarily two bear canisters available on the market. The classic type is usually black in color. They are often made of ABS plastic, and their gear capacity is approximately 600 to 700 cubic inches.
In contrast to the classic canister, the newer type is a bit lighter and has a translucent design, so you would be able to locate where the food is without having to actually open the canister.
In addition, it has a wider mouth than the classic type, therefore you can easily open the modern can without using any additional tool. Thus, in general, the modern canisters are more convenient and are believed to be more innovative, though their prices tend to be higher.
Capacity
The capacity of the canister is an important point of consideration since you have to make sure you can place all your strong-smelling items and food inside of it. According to the rules of hiking in a bear-country, all things that either are put on your skin or taken orally must be stored in the container.
Thus, it means that you should pack not only food but also such personal hygiene items such as deodorant, mosquito repellent, lip balsam, medications, soap, sun cream, etc. As you get rid of empty packs and garbage during your trip, your canister will have more space inside of it, but when you pack it for the first time, it should have the capacity to hold at least 5 to 6 days worth of food.
Even if you only plan to be away for, let's say three days, it's better to pack too much food than too little. In order to save some space in your keg, you can leave the first two meals, including the first lunch and dinner, outside of the canister.
When you pack the canister, choose proper food, including energy bars, chocolate, tortillas, dried fruits, nuts, etc. Do not put food in its commercial packs inside, since it takes to0 much space.
Portability
A good canister is easy to carry despite its large size. You should not need to carry the canister by hand because you will need your hands for balancing, and you will probably get tired after one mile.
Canister with good portability will come with straps so you can attach them to the outside of your backpack. When hiking, make sure that you attach your canister in the correct position. It should be placed close enough to your back and near the shoulder. Such a position will allow you to ensure the balance and feel comfortable while hiking even if the bear container is stuffed full.
In order to prevent a bear from carrying your canister off, do not attach anything to it including ropes, shoelaces, or carabiners. It is recommended that you place a reflective tape on the canister, so you will be able to find it easier at night.
Versatility
A versatile canister is easy to use, which means that it does not require much time to handle them. At the end of a long hiking day, when you are tired, this time-saving advantage might be especially important.
There are also some canisters that can be used as chairs or small tables. All you have to do is flip it upside down. Even if the canister cannot double as a stool, when you leave the container for the night, it is better and more practical to flip it upside-down for two reasons. First, it is a kind of guarantee that your belongings will not get wet in case of rain. And second, it reduces the likelihood that a bear will break it with its teeth.
A versatile canister can also serve as water buckets for transporting and storing water. Although, when it comes to placement, try to avoid water sources, cliffs, or ledges because a bear can easily roll it down the hill or kick it into the water.
The best places to put your canister are behind rocks or bushes because this makes it more difficult for bears to find it. The first and the most important thing that you must remember is that you must keep the container far enough from your camping site. The minimum distance from your tent should be 50 ft.
Dependability
Before bear canisters were invented, hikers had used other methods to protect themselves and their personal items against bears. One of the most popular techniques was hanging a bag with food on a tree. However, the time has shown that this method has many shortcomings.
A bear's physical capacities should not be underestimated. When they are hungry they can easily climb up a tree. Even if you close your bag properly, bears still can find it because of their ability to detect scent over long distances. It has been discovered by scientists that they have over 230 million receptors, due to which their sense of smell can be compared to that of a bloodhound's.
Therefore, instead of hanging your food in bushes of trees, it is more effective and much smarter to give priority to a better way of keeping your personal belongings and food safe – bear-proof canisters.
However, not all bear canisters are created the same. You should choose one that has not only been proven to be effective in containing the smell but also one that's made from materials that can protect your food and items from getting wet.
Still, no matter how dependable your bear canister is, never leave it open. Even if you are cooking or having a meal, close it properly. You never know when an unexpected hungry creature will come to visit.
If you noticed a bear clawing, kicking, or trying to open your bear canister, do not intervene. Usually, after several failed attempts to get food, the beast will eventually lose its interest and leave.
Best Products on Today's Market
Although the two main types of bear-proof canisters have already been briefly described above, we would like to share with you the more detailed reviews of the best canisters that we highly recommend. We are sure that among them, you would find one that easily fits your needs.
BearVault Bear Resistant Food Canister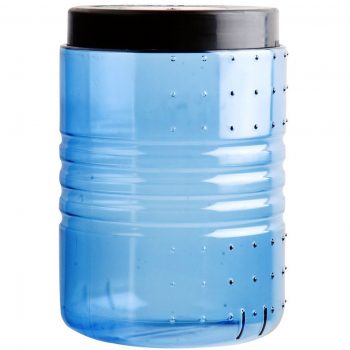 Price: Approx. $76
Weight: 41 ounces
Dimensions: 8.3 x 12.6 inches
Specific features: Transparent polycarbonate material, 700 cubic inches volume, 7 days worth of food capacity
Best use: Hiking, backpacking, camping
The BearVault Bear Resistant Food Canister is one of the largest canisters available in the market with its volume of 700 cubic inches (around 11.5 liters). It is also available with the volume of 440 cubic inches. There are two significant benefits that should be mentioned.
First, it is quite light, which makes it easy to carry. Second, it is its see-through plastic design, so you can easily see the full content of the canister and to find exactly what you at a particular moment.
Moreover, this container has a wide opening, which makes the canister easy to pack and a dimpled exterior, which makes it convenient to grab and strapping it to your backpack.
Due to its extended height, you can also use this as a convenient stool while camping, which is definitely an asset. Though it might be expensive, it is worth buying it because it can last for quite a long time.
The only one disadvantage – its inconvenient locking system: in order to open it you have to press in on the rim of the lid and then slide them past a locking snap. If you have numb fingers or bulky gloves it might become a serious challenge.
PROS:
Huge capacity
The see-through plastic design makes it convenient to use
Doubles as a stool
Relatively lightweight
Easy to carry
Related: If you plan to spend as long as 7 days out in the wild, you'll need to dig up a really good cathole to do your business in. This TheTentlab Deuce of Spades Potty Trowel is the perfect tool to do that with because of its impressive digging power.
Backpacker's Cache Bear-Resistant Container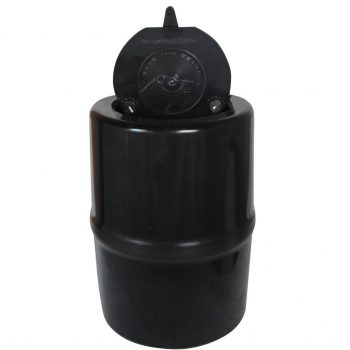 Price: Approx. $65
Weight: 44 ounces
Dimensions: 8.8 x 12 inches
Specific features: Lightweight, handy size, 615 cubic inches volume, 6 days worth of food capacity, ABS polymer material
Best use: Hiking, backpacking, camping
The Backpacker's Cache Bear-Resistant Container has a classic cylindrical shape, smooth sides, and rounded edges. Thanks to such characteristics, the container is almost impossible for bears to break, so you can be sure that your food and items are fully protected. It is made of ABS polymer, which is a very protective material.
The locking system of the canister is quite convenient which makes it easy to open: you just need a coin to operate the screws. The mouth of the Garcia is wide enough, but a bit limited by the lip surrounding the lid and the edge.
Since the Garcia containers are the most common container for rent in most national parks, it is safe to say that it is very durable. However, it is a bit bulky, which is a disadvantage when you have a heavy backpack. Also, its plastic is opaque so you cannot see what is inside, so it might be tricky from time to time to find an exact item in it.
PROS:
Good design. Impressively bear-proof
Convenient locking system. Easy to open
Very durable
CONS
:
On the bulky side
The plastic is not see-through
Related: Since this bear canister might be too bulky to be placed in your backpack, it is a good idea to purchase this Backpacker's Cache Carrying Case so you can carry it separately. You can even free up your hands by strapping this case to the outside of your backpack.
Lighter1 Big Daddy Bear Canister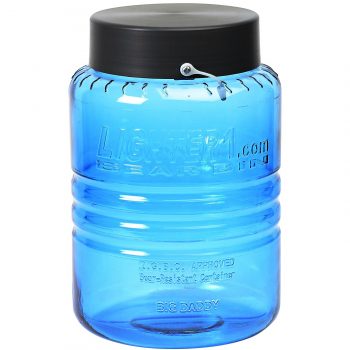 Price: Approx. $99
Weight: 45 ounces
Dimensions: 13 x 7.9 inches
Specific features: Includes canister, pot, pot lid, and handle, 650 cubic inches, 7 days worth of food capacity, polycarbonate material
Best use: Hiking, backpacking, camping
The Lighter1 Big Daddy Bear Canister is durable, transparent and lightweight canister and earned its distinction as a unique container. This is because it includes two products: one is a polycarbonate ultralight canister itself and the canister's lid that doubles as a cooking pot.  The volume of the container is approximately 10.5 liters, which means that it is able easily to fit food for a 7-day trip.
Since the canister is absolutely transparent, you will not waste time by searching for a particular item inside. It is also worth noting that Lighter1 containers are approved by the Interagency Grizzly Bear Committee (IGBC) for its use in national parks.
Moreover, the canister has been also individually approved by national parks like Yosemite, Kings Canyon, Denali, Rocky Mountains and Glacier Parks. The only one disadvantage is its big size but if you are planning a long hiking trip for several days, this spacious canister is a perfect choice.Top of Form
PROS:
Convenient see-through plastic
The lid doubles as a cooking pot
Huge capacity
Widely acknowledged
Related: After retrieving food from this canister or after cooking using the lid, you'll need something to wipe your hands clean with. These Coleman Biowipes will not only do the job nicely—they are also environmentally friendly.
Counter Assault P-14 Carrying Case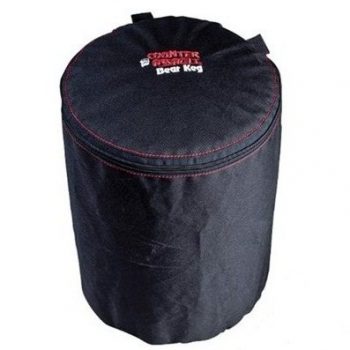 Price: Approx. $14
Weight: 16 ounces
Dimensions: 9.9 x 2 x 5.3 inches
Specific features: Zippered lid, webbing loops, 600D nylon
Best use: Hiking, backpacking, camping
The Counter Assault P-14 Carrying Case is designed specifically for the storage of bear-proof containers, which makes it easier to pack and carry. It is well made and feels quite strong.
Though it is not an item of basic necessity, the case can become a perfect addition to your bear container: attached outside of your backpack it can free up space inside for other sings, such as clothes or sleeping bag for example.
Since it is made of 600 denier nylon, the case can boast of a long durability for many years. One more significant advantage is its lightweight profile, which means that it does not add any noticeable weight to your backpack.
The case also has a sewn webbing handle, so you can easily carry your bear keg by hand. One disadvantage is that it does not have straps to attach the case to a pack, so you will have to purchase them separately.
PROS:
Can be attached to the outside of your backpack
Durable
Lightweight
CONS
:
The straps needed for attaching the case to a backpack have to be purchased separately
Related: Don't forget to bring one of these CampSource Odor-Barrier Bags on your next trip. This bag goes hand in hand with a bear canister. After you're done eating the food, you'll need something to throw the remaining trash into. This bag will keep the smell from spreading out so your trash won't attract bears.
Wrap Up
You have arrived at the end of the reviews. For those who enjoy hiking in bear-prone areas, a bear canister is one of the most important and indispensable outdoor equipment.
With a bear canister, you have the freedom to camp in any landscape and environment because there is no need to worry about where to store your food and strong-scented items at night. A bear canister will not only protect your food by keeping it safely inside but also can even save your life by preventing the event of meeting a bear face-to-face.
Although, before going on your hiking trip, always check the rules of the particular area that you are heading to. Each National Park has its own rules and regulations regarding the usage of bear-proof containers. Make sure that the bear canister that you are taking with you is approved by the particular National Park.
Featured Image Source: https://www.flickr.com/photos/44124370018@N01/14971014101