If you're one of the women who loves to explore the land on foot, you should consider checking out some of the best hiking boots for women so that you can really enjoy your long walks, especially in tough and hilly terrains.
Depending on your footwear when hiking your time spent outdoors can be a good or bad one. You're here probably because you never really paid attention to your hiking shoes, or because you need a new pair. So, don't worry if you think you can't tell anything different between two similar pairs, as we're here to help out!
We compiled this article to help you make an informed decision the next time you go shopping. We present you with both positive and negative aspects about the shoes we selected. This article is meant for everyone who wants to go hiking while wearing appropriate boots.
Our top picks
Features To Consider Before Choosing A Suitable Hiking Boot
We can't really present you with products to buy before talk about the reasons why they make a good choice for the upcoming adventure. These are the most common characteristics hikers are looking for in a good footwear for the trail.
Durability
Why waste money on boots that have short lifespan when you can buy one that carries on for a long time? Choose a full leather boot that you can depend on to wear for years instead of one that is made of synthetic leather or mesh and will not last long.
Material
Like mentioned above, the materials used to make your footwear can drastically improve the lifespan of the product. What's more, is that some people prefer certain materials over others. For instance, you'll avoid buying leather shoes if you're vegan oran animal rights activist.
The type of material used will also influence how hot will you feel in the boot, its overall thickness, weight, and appearance. Leather shoes may seem more appropriate for cold weather, while mesh for summer. Mesh also looks more relaxed, sport than leather.
Water resistant
Sometimes when hiking you may have to cross streams and this is why you need a boot that is water resistant or proofed. For the most part, a boot that absorbs water will make your feet get blisters and hot spots.
Comfort
Comfort is a must when you are out taking long walks, especially on a hiking trail. Therefore, you must choose the right size and fit for your feet. A pair of comfortable boots usually carry extra padding around the ankle and tongue.
If you are one who loves hiking during the hot season or in a dry climate, you should consider getting boots that do not have mesh or waterproof lining. These elements can make your feet feel too hot, therefore uncomfortable.
Weight
As a woman, your hiking boots should be weighing in the range of 1.7 to 2.2 pounds. Although some lighter footwear will make your feet feel comfortable when hiking, the added weight of some models may make them last longer. However, you should try not to wear a boot that seems too heavy for you, as this will only tire you quickly, when you should be enjoying your nature walk.
Support
The support your boots give your feet on the trail is of high esteem. Most people seek ankle support in a hiking shoe, to prevent injuries on an uneven terrain. If you had a sprained ankle before, you will definitely need a high top shoe, as that joint is now weaker than before.
Breathability
A shoe that allow your feet to breathe are a must in summer, as they add to the overall comfort of the foot. Most boots that are breathable feature small holes on the top or the sides. These holes may allow water to pass through, therefore the waterproof is compromised.
We're pretty sure that now you're better able to understand why hiking shoes are a better choice if you will go hiking, as well as the features to check out before you make a purchase.
Best Products on Today's Market
Next, it is where we present you some of the best products you can find on the market, and that also meet the above mentioned requirements.
Danner Cascade Hiking Boots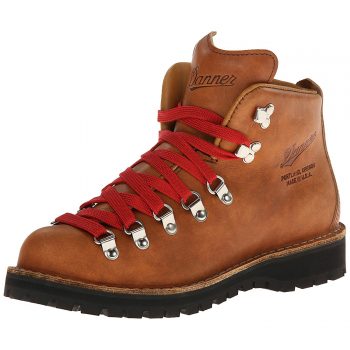 Weight: 3 pounds
Specific features: Ankle high, Vibram Kletterlift outsole
Best use: Hiking, casual wear
If you are looking for a pair of reliable hiking boots, the Danner Cascade Hiking Boots are a good choice. These boots are made of leather, which gives them durability. The boots are ankle length and have a rubber sole as well as a 5" inch shaft. These boots come in a variety of neutral colors, including brown.
They are breathable and can be worn for a long period of time during your mountain expeditions. These hiking boots feature a Vibram Kletterlift outsole, which makes them comfortable to wear on dry surfaces as well as wet ones.
The hand crafted stitch down provides ease of wear as well as stability. These Danner boots are ideal to wear not only on the mountain but also on casual walks. This boot style has been introduced by Danner in the 70's and still remains popular today. If you want the boot to fit you perfectly, you should go a size down.
CONS
:
No included insole
The price
Runs a bit large
Related: Having spend so much money on these boots, you'll want them to last as much as possible. The Danner Boot Dressing will protect, revive and prolong their lifespan.
Keen Targhee Hiking Boots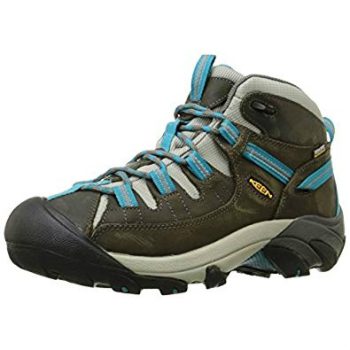 Weight: 2.3 pounds
Specific features: Removable foam footbed, leather, EVA foam footbed
Best use: Hiking
These KEEN Targhee Hiking Boots is a product you should look into. The boots have been redesigned with the KEEN.DRY membrane which keeps them waterproof. This will help your feet stay dry regardless of the conditions.
The boots feature a leather design, and a rubber outsole which offers improved stability. You should know this item has a 4.5 inches shaft, a 1.5 inches heel and a 1 inch platform. The boots feature a protective toe cap and a contoured heel lock.
If you need better ankle support, these shoes provide it due to their mid calf design. These boots are roomy and provide comfort regardless of the size of your foot.
These hiking boots are light enough to be worn on the mountain, but can also be easily worn on casual walks. These hiking shoes are made to last, so you will not encounter issues during long hiking trips.
PROS:
Breathable
Waterproof
The price
Related: If you need some extra help while hiking, the BAFX Products Trail Poles might be able to help. These are extremely useful on difficult and very difficult trails.
Merrell Moab Hiking Boots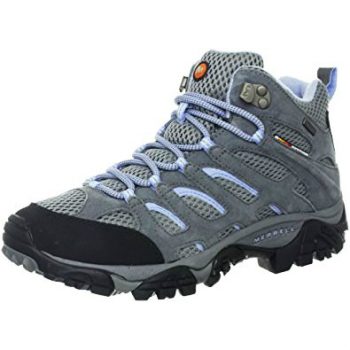 Weight: 2 pounds
Specific features: Breathable, Vibram sole, waterproof
Best use: Hiking, relaxed walking
The Merrell Moab Hiking Boots are available in a few different neutral shades that pass the test of time. The boots feature a Vibram sole for increased comfort. If you are looking for a pair of water resistant boots, this pair is a good idea as they do not let water go in.
These shoes are perfect for hiking on rugged and difficult terrain, but are also a good choice for a walk. Lightweight and breathable, the boots can be worn for many hour at once without your feet feeling weighed down. These hiking boot feature mesh panels, and allow your foot to flex naturally for better stability.
The M Select DRY technique allows these boots to shed moisture so that your feet do not become sweaty while hiking. The boots also provide good arch support, and are true to size. You can easily wear these shoes in winter or on ice.
PROS:
Breathable
Arch support
Affordable
CONS
:
Partial leather
Mostly mesh surface
Related: Want a good pair of socks that go nicely with the Merrell Moab? The Darn Tough Vermont Cushion Socks is a great choice for its seamless construction and wool material.
Lowa Renegade Hiking Boots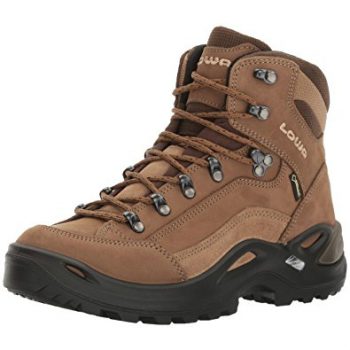 Weight: 2.9 pounds
Specific features: Padded tongue and collar
Best use: Hiking on rugged terrain
It can be difficult to find a boot that can be worn on very difficult terrain, but the Lowa Renegade Hiking Boots deliver. These shoes are lightweight enough to be worn for an extended period of time of hiking. The boots are available in many catching colors such as black, red and brown.
The shaft of this item measures 4.75 inches, and they also include a 1.5 inches heel. The shoes are made of leather and their design features a logo on the right side. The Monowrap frame construction provides enhanced stability and ease of wear for hours at a time.
These boots do not need any break in time, as they are ready to be worn straight out of the box. The shock absorbent sole makes these boots easy to wear on rugged terrain and rainy weather. These shoes are a good suggestion for light backpacking as they pack up to 25 pounds, and can be worn on day trips.
PROS:
Enhanced stability
Lightweight
CONS
:
Quite expensive
No special reinforcement on toe
Injection molding process on sole
Related: Regardless of the hiking footwear you own, you might want or need some inner soles. The Superfeet Trailblazer might be just what you need to make your feet more comfortable.
Timberland White Ledge Hiking Boots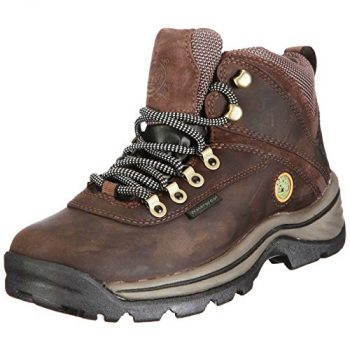 Weight: 4.2 pounds
Specific features: Breathable
Best use: Hiking
If you are searching for a pair of hiking shoes to wear on any occasion, check out the Timberland White Ledge Hiking Boots. The shoes are available on a neutral color palette and are ideal to wear on day hikes or weekend expeditions. These boots feature a rubber sole for improved stability and comfort, as well as moisture transfer lining.
This stops your feet from getting sweaty during long hikes. You can wear these boots all day long without your feet getting tired, and they are also a good choice for every season. This Timberland item does not need much breaking in time, which can be helpful if you go on a long trip.
Just like most Timberland products, these shoes provide great ankle support and a natural flex to your foot. If you want to stay on the safe side, it is suggested you go a size up from what you usually wear. The boots are also waterproof and feature a 4.5 inches shaft, measured from arch.
CONS
:
Run small
Poor arch support
Related: Stayng hydrated is important during a hike, so appropriate apparel is useful, just like the TETON Sports Oasis Backpack that has a 2 liter water container from which you can drink with a straw.
Hi Tec Ohio Hiking Boots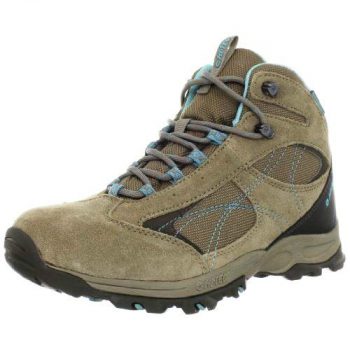 Weight: 3 pounds
Specific features: Moisture wicking lining, leather, versatile lacing system
Best use: Hiking, camping
The Hi Tec Ohio Hiking Boots are another good option if you go on a hike. This boot is made of a combo of fabric and leather, with a 4.75 inches shaft and 1 inch heel. Designed with a versatile lace up system that keep the foot stable, the shoe is great for outdoor use.
Your foot will be kept dry thanks to the moisture wicking lining, and the boot is also waterproof so it can be worn on rainy days. These boots features removable insoles which add cushioning to the foot. These shoes can be worn straight out of the box, and are a good choice for difficult terrain as well. This being said, a few customers have noticed pressure points, and got blistered.
You should also know that this product is lightweight and will not weigh you down even if worn for hours at a time. The boots fit is true to size, and offer improved stability when hiking thanks to their higher shaft.
PROS:
Affordable price
Lightweight
CONS
:
Not enough ankle support
Might have pressure points
Related: If you think you will be walking at night, you should be prepared with a flashlight. The Lighting Ever Headlamp LED is a good choice because you wear it on your head, thus freeing one hand. It is also perfect for nighttime restroom emergencies as well.
Under Armour Valsetz Rts Boots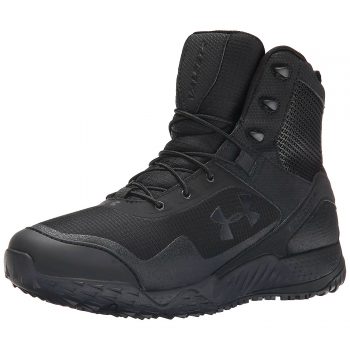 Weight: 4 pounds
Specific features: Shaft that fully covers your ankles, extra toe protection, UA ClutchFit technology
Best use: Hiking
Are you looking for that pair of hiking footwear that provides perfect support? The Under Armour Valsetz RTS Boots could be just what you need. The boots have a powerful design and feel like second skin, which makes them perfect for longer hikes.
These shoes feature a system that allows for great ankle support during tracking or hiking. This is a pair of boots that you can wear regardless of the weather conditions or terrain. The Under Armour hiking boots allow your foot to flex naturally and are also water resistant.
The mesh fabric offers good ventilation and shedding moisture abilities. The cushioned insoles provide great support and stability as well as a powerful take off. The shoes are also good for light backpacking as they provide reliable mid support.
This item is also lightweight and fits true to size for enhanced comfort. The boots have a 5.5″ shaft, measured from arch.
CONS
:
Not waterproof
Glued sole
Man made leather
Related: Some people feel more comfortable when wearing a compression shirt during a hike. If you're one of these people, the Under Armour HeatGear Compression could be just what you need with its 84% Polyester, 16% Elastane material.
Columbia Newton Ridge Boots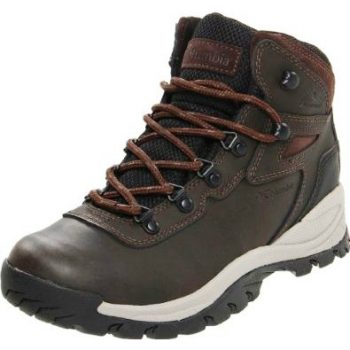 Weight: 2 pounds
Specific features: Good ankle support, faux leather, clamshell lacing
Best use: Light to moderate hiking
These boots made by Columbia live up to the brand's name. This footwear is made of synthetic leather, that could appeal to animal rights activists. The shoes have a 5.25 inches shaft, measures from arch. If you are worried about water getting into your boots, you should know this product is waterproofed.
This feature makes it ideal to wear on early morning hiking trips or on rainy days. The boots can be easily worn all day long die to their flexibility, lightweight design and improved comfort. No break in time is needed, and the shoes features a system that allows moisture to be shed.
The Columbia Newton Ridge Boots use a mesh tongue which allows for better ventilation. The shoes are true to size, and a stylish item to wear on your hiking trips but also casual walks around town. These boots are not recommended for icy terrain or extremely cold temperatures.
CONS
:
Man made leather
Not for walking on ice
Not for extreme cold
Related: if you need a new pair of hiking pants, perhaps the stylish looking King Shield Soft Shell Pant will suit your taste. Their best features are the elastic waistband and the several zippered pockets.
Ahnu Montara Boot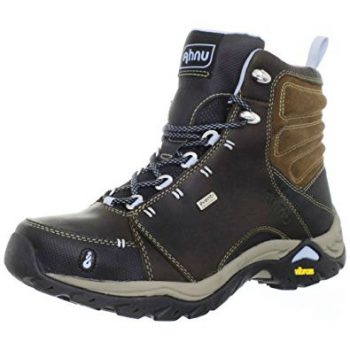 Weight: 2.9 pounds
Specific features: Speed lacing system, padded collar, breathable and waterproof upper
Best use: Light hiking
As a lightweight hiking boot designed for women, the Anhu Montara Boots will ease your walks and keep your feet comfortable. The shaft of the shoe is really high, covering well your ankles, thus offering them the much needed support on rugged terrain. It is difficult to find anyone complaining about how these fit.
It is best suited for day and light hiking. If you have to have a go at ascending steep inclines or unstable rocks, these boots will not let you down. This is because this model is made with Vibram soles. They're both waterproof and breathable, to improve the comfort of your feet.
If you need a different insole, you can easily replace the default one. Wider feet will feel a bit snugged in these, but for some this only means a better control when they walk. While most of the surface is made of faux leather, real leather is also used.
PROS:
Lightweight
Speed lacing system
High shaft
CONS
:
A bit pricey
Real leather is also used
Related: If you really like these boots and would like to wear them in city as well, better check out the more stylish Ahnu Chenery Lace Up Boots. You'll really like their side zipper as well, to facilitate putting them on and taking them off.
Salomon X GTX Boots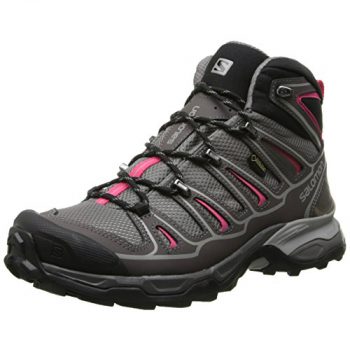 Weight: 2 pounds
Specific features: GoreTex, OrthoLite, Contagrip technologies
Best use: Hiking
These boots use Gore Tex, designed to keep your feet dry, OrthoLite that cushions your feet, and Contagrip technology to improve grip on slippery rocks and muddy trails. When it comes to weight, you have nothing to worry about: these technical elements are designed to keep it to a minimum, unlike other materials.
You'll also like hearing you don't need to break these in. Perhaps you worry about the debris that occasionally enters the boots: you can forget all about it when wearing the Salomon X Gtx Boots. This model of shoes have a tapered tongue that prevents this from happening.
Many customers may worry about just how waterproof this model is. GoreTex is specially used for this purpose, and there are not many complaints about it. However, most of those who didn't complain also didn't fully submerge their pair in water or slushy snow. To stay on the safe side, you better use a waterproofing product on top first.
PROS:
No need for breaking into
Great grip
CONS
:
Needs waterproofing
The price
Related: If you dislike the mesh surface of the X Ultra Mid 2 Gtx, check out the Salomon Quest 4D 2 GTX. These boots are also taller, thus offering more support.
Hoka Tor Ultras Boots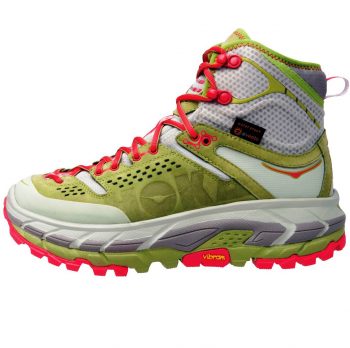 Weight: 2.9 pounds
Specific features: Cushioned like for running
Best use: Hiking, running
The Hoka Tor Ultras Boot is popular worldwide. These boots provide the much needed cushioning while hiking. You can also use them as convenient running shoes. For good traction purposes, the boots come with a Vibram outsole.
People who bought this model say the ordered size was a bit too big, others said it was too small, and a few said it was just perfect. Keep in mind that everyone has differently shaped feet, and therefore they would need a different size based on the type of footwear they get. This is a high top type of footwear, thus your ankles will also receive proper support and protection as well.
The nylon mesh and leather provides waterproofing protection you need. You will also not encounter issues with debris entering them, despite the many breathing holes on the top. These shoes might be a bit too thick for summer, but they perform well even in below zero conditions.
PROS:
Absorbs shocks
Very stable
Very good grip
CONS
:
The price
May not be true to size
Related: Hiking will be more pleasant and perhaps easier while wearing a pair of appropriate socks, like the Darn Tough Vermont socks. We recommend them for they're cushioned, and made with Merino wool.
Hoka Tor Summit Boots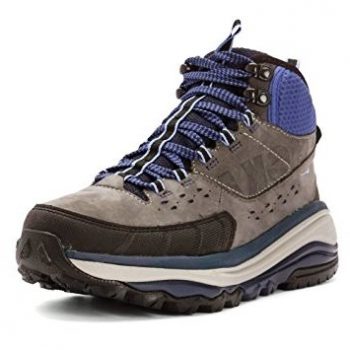 Weight: 2 pounds
Specific features: High top
Best use: Dry weather hiking, high arches and rigid feet
The Hoka Tor Summit Boots is described as a waterproof hiking boot that makes sure your feet stay dry at all times. This being said, you're better off not wearing these in raining conditions, unless you use some waterproofing product on them first. Additionally, as long as the water doesn't go above the boot, your feet will stay dry.
The boot lets your feet breathe so they will never feel too hot, and this is thanks to the little breathing holes on the sides. The shoes provide ankle protection and can hold up well under stress. The boots offer good stability, are cushioned and have all the traction power you need when hiking. This is all thanks to the Vibram outsole they feature.
What's more is that the cushioning used on this model is the same one used in running shoes. People with high arches and rigid feet, will feel great in this pair of shoes.
PROS:
Very comfortable
Ankle protection
CONS
:
Not really waterproof
The price
In Conclusion
This is where our list stops and we hope we managed in helping you better understand what makes hiking shoes special from other types of footwear, as well as how each model differs one from the other. A hiking boot will go a long way when you're out in the wilderness and can really make a difference between a broken foot or just a sprain.
Also, depending on the difficulty of the trail, your adventure will be more or less tiresome just because of a good pair of shoes chosen specifically for the type of terrain you explore. What type of hiking boots do you look for when you need your next pair? What are your favorite boots to take on your next trip? Sound off in the comments!