Are you in need of new winter gear and decided to start by searching for the best snowmobile goggles? We're a step ahead and compiled a list for you to make your quest easier. This is not all: we also took this opportunity to present you with some extra information that may be useful to both old and new winter sport lovers.
Our top picks
Product
Best use
Features
Price
Spy Optic Targa 3
Snowsports, sun, windy, rainy weather
No fogging, UV protection, flexible frame
Check price on Amazon
Typhoon
Helmets Snocross Helmet & Goggle
Various winter sports
Lightweight, vented, breath box, extra lens
Check price on Amazon
Oakley Airbrake
Winter sports, sunny and cloudy conditions
Extra lens, dual ventilation
Check price on Amazon
Zionor XA Ski
Sunny or partially cloudy days
Double layer lens, no fogging, spherical lens
Check price on Amazon
Smith Transit
Various winter sports, smaller faces
Airflow ventilation, not a polarized lens
Check price on Amazon
Smith Scope
Most heads, sunny days
Airflow ventilation, adjustable strap
Check price on Amazon
Smith Optics I/OS
Smaller faces, all day use and various light conditions
No fogging, extra photographic lens included
Check price on Amazon
Features that matter when buying goggles
Below we'll discuss some of the most important features that matter when choosing the perfect goggles for snow activities.
Protection
Riding a snowmobile can be really fun in winter. However, you might get colder than when skiing or snowboarding and your face is one area that could suffer more. A good pair of goggles will ensure the upper part of your face stays warm.
What's more is that the sun or the bright snow can be quite blinding, and you can damage your vision without proper protection. The goggles will most likely stay on your face even when you fall or suddenly stop or turn around, which is very important.
Durability
There are two more reasons why goggles are a better choice: their lens is not made of glass like on most sun shades. This means they won't break as fast on impact. Depending on how bright the day is, you will want to use a different colored lens. Some winter eye gear allows you to easily change their lens.
No fogging
Everyone likes a crisp and clear image on their TV sets as well as handheld gadgets. Why would anyone want anything less from their eye wear? You definitely know how unpleasant it is to have your sight correction glasses fogging up in winter when walking in an enclosed space. Imagine just how dangerous it is to ride a snowmobile with fogged up goggles!
The best such product will not allow fog to form. This is possible by using some techniques to allow proper air ventilation. Various brands achieved this in various ways such as double lens or foam of different density. Each person can choose their preferred solution.
Price
Usually the price of a good pair represents its quality. All the items we selected are good, but some are better, hence they cost more. This could simply mean some of these products are meant to last one or two seasons, while others up to 10. Keep in mind that not everyone has the same income, however this shouldn't stop them from enjoying the winter.
The lower prices are also aimed at those who just start their winter adventures or don't plan on using their gear very often. Riding a snowmobile is generally safer than skiing, therefore you won't need the same level of protection. The more expensive items are aimed generally at those who go skiing or snowboarding, and do so quite often.
Having learned why goggles are important in winter, it is time we check out some good products as well. The items in the list below will perhaps give you a better idea of how you can wear the product to make the most out of your day in the snow.
Best Goggles You Can Buy Today
Spy Optic Targa 3 Googles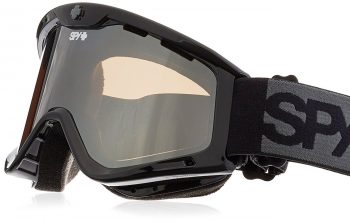 Weight: 0.4 pounds
Specific features: Flexible frame, no fogging
Best use: Snowsports, sun, windy, rainy weather
If you prefer winter eye wear that has a flat lens, maybe the Spy Optic Targa 3 Googles will interest you. The first thing to notice is that there are a few lens colors to choose from. There are no complains about the lens fogging because it has been specially treated against this phenomenon.
As far as sizing goes, these goggles should fit most faces and heads. The protection against the cold is also pretty good. If you want to change your lens, you will need to purchase one separately, as there is no extra lens included in the pack.
There is one thing to remember is that the lens is not made of glass, meaning the item is not meant for use when riding a dirt bike. These goggles are also not meant to be worn on top of larger helmets: the product will barely fit. Speaking of fitting, you may have to use eye contacts or prescription goggles if you need to improve your eyesight.
PROS:
Fits many face shapes
UV protection
No fogging
CONS
:
Lens not made of glass
Doesn't fit over a very large helmet
No extra lens
Related: If it is a helmet you're looking for then you should know some of these can be used for various activities throughout the year. One example is the Traverse Vigilis Helmet, and its convertibility allows this use.
Typhoon Helmets Snocross Helmet & Goggle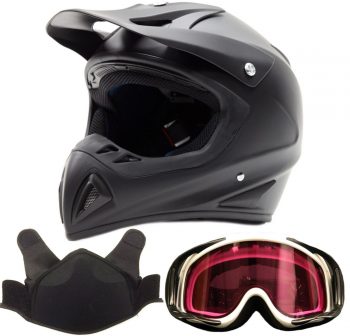 Weight: 6 pounds
Specific features: Lightweight helmet, no fogging goggle lens
Best use: Various winter sports
Many people prefer buying items that have a really low price, and as such consider a Typhoon Helmets Snocross Helmet & Goggle to be a good investment, regardless of the quality. These really cheap products may be used for just one season, sometimes two, but this doesn't always have to be the case.
Before buying, you should measure your head according to the instructions to make sure you get a helmet that fits you. The helmet has a breath box that can be adjusted and removed when cleaning is required. Using the breath box can be confusing so practicing a bit before while reading the included instructions will prove helpful.
There are several vents on the helmet to prevent overheating. It has a triple layer foam for improved comfort. The goggles fit nicely with the helmet and you'll notice they won't fog up either during use. The item comes with a pink lens installed, and an extra clear one.
Furthermore, you'll also receive a protective case for the eye gear, for the times you won't be using it. Speaking of protection, even the helmet comes with a special storage bag.
PROS:
2 in 1 package deal
Adjustable breath box
CONS
:
Fitting depends on head shape
May not last as much as expected
Related: Some people might want extra protection for their heads while wearing a helmet, or they might sweat more than others. A Gear Top Skull Cap can wick the moisture, keep you warm, and add an extra layer of protection.
Oakley Airbrake Snow Goggles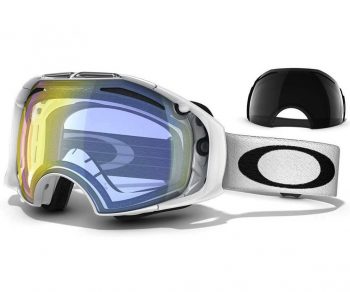 Weight: 1 pound
Specific features: Extra lens, great fit under or over the helmet
Best use: Winter sports, sunny and cloudy conditions
Some goggles seems more convenient to buy than others. The ones that are more advantageous to get usually are sold with an extra lens even if the price is rather high, like the Oakley Airbrake Snow Goggles. You should practice changing the lens a bit before going out – you don't want to spend 5 minutes trying this for the first time out in the cold.
The lens of this product is not polarized, so you better search more if this feature is a must have for you. The lenses don't fog because of the dual ventilation system, which is a great help in many weather conditions. If you need to wear glasses to correct your vision, then you'll have to use contacts while enjoying the snow because your normal glasses are not compatible with the goggles.
Some people like to wear their goggles over their helmets, while others underneath. You can choose to wear them either way because the fit will be perfect.
PROS:
Dual ventilation
Extra lens included
CONS
:
Not compatible with eyeglasses
No polarized lens
Zionor XA Ski Goggles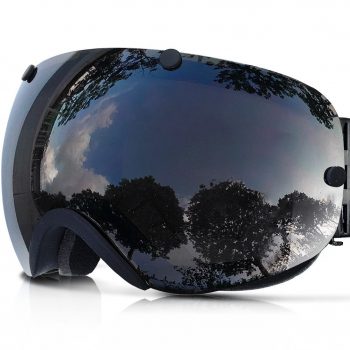 Weight: 0.35 pounds
Specific features: Double layer lens, no fogging, spherical lens
Best use: Sunny or partially cloudy days
Some people like a flat lens while others would rather buy a spherical one when it comes to goggles. The Zionor XA Ski Googles model has spherical lenses. The lens is quite reflective, and requires special care or it can get scratched quite fast. The frame is made of highly resistant TPU that bends without breaking.
Some users of this product had a poor first impression of the product, as it looked cheaply made. The changed their minds after they tested their purchase, and most were satisfied with the price and quality ratio. Some users complained the fit of the frame wasn't as expected, and this in turn lowered the field of vision as well as the level of protection offered by this eye gear.
The UV protection is 400 and done through a special coating on the lens. Should the frame perfectly fit the surface of your face, you'll notice no fogging and a warmer face than with other goggles. This product is intended for adults, however some older teens can also wear it as the strap is adjustable.
CONS
:
Special care
Not compatible with vision correction glasses
Smith Transit Goggles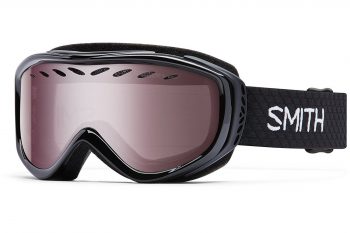 Weight: 0.73 pounds
Specific features: Flat lens
Best use: Various winter sports, smaller faces
When it comes to choosing a lens color, perhaps the Smith Transit Goggles doesn't offer as many options as other products made by this brand. Even so, there are enough lens colors and color combinations to choose from, to satisfy both genders.
This product is designed for those with a smaller face, who otherwise might have a difficult time to use regular goggles. Perhaps some goggle models are not large enough to wear over helmets, but this one is, especially if your helmet is not very big. Depending on the helmet's model, you could wear these goggles under it as well.
This product has a double lens and a ventilation system to prevent fogging. However, improper use of the item can cause fog to form. This improper use means that the rim doesn't completely touch your face – either because the shape doesn't match your face or your hat came in between.
PROS:
Ventilation
Adjustable strap
Affordable
CONS
:
No polarized lens
Not compatible with eye glasses
Water accumulation risk
Related: Depending on the weather conditions, you might need extra protection against the cold and wind, and a Self Pro Balaclava could be just what you could wear.
Smith Scope Goggles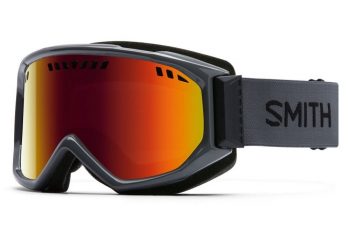 Weight: 0.73 pounds
Specific features: Adjustable strap
Best use: Most heads, sunny days
When it comes to colors to choose from, the Smith Scope Goggles surely don't disappoint. Unlike many other models of goggles, these ones can be worn over small glasses that correct your vision. You'll also like their soft inner mold that make them them comfortable to wear all day.
Many people have experienced foggy glasses or goggle lenses in the past, but not anymore. This product is designed with a ventilation system at the top edge, so your vision will be as clear as possible even on the worst days. Improper use or fit might cause the lens to fog.
People that are sensitive to strong lights will have no problem while enjoying the snow if they're wearing these goggles, especially on the darkest colors. Some snow lovers might worry about the UV rays, however this product protects well against these dangerous rays too.
While you should be careful with this lens, you should know it is impact resistant. Should anything happen to it, you can always replace it with any other that matches the model. The adjustable strap will ensure perfect fit for most people, but not children.
If you want a true mirror lens you should search for another item, because this one only has a mirror-like finish and effect.
Smith Optics I/OS Goggle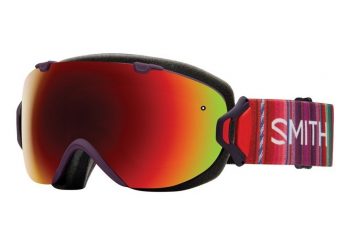 Weight: 0.55 pounds
Specific features: Many available colors, helmet compatible
Best use: Smaller faces, all day use and various light conditions
While the price of the Smith Optics I/OS Goggle might put some folks off from making a purchase, you should know that there are pretty good reasons for this item to be so expensive. This product is comfortable to wear thanks to its very wide silicone strap that is compatible with helmets as well.
However, the helmet should be measured correctly for your head and face size. The material itself ensures the goggles will stay put. Unlike many products, this one is a rather sensitive one and scratches easily if you're not paying attention when storing, or putting it on or taking it off.
The lens is attached on the outside of the frame, just like the picture shows and you should practice changing it before heading out. This way you'll know exactly how's done, and you'll be sure it works, without unpleasant surprises. One of the best features yet is that the lens doesn't fog, allowing perfect vision at all times.
PROS:
Anti fog inner lens
Extra lens for cloudy day
CONS
:
The price
Not compatible with vision correction glasses
Lens can scratch easily
Final Thoughts
This list should be more than enough to give you some solid ideas for when you decide to buy a new pair of goggles. You should do so before the new winter season starts, just to be prepared – who knows you might even be lucky enough to get a discount.
Featured Image Source: https://unsplash.com/photos/8buSHH2o6nE