Anytime you're planning a trip, even just want to go hiking for a few hours, it's important to count on the unexpected. Experienced outdoorsman know this and the best ones are master at striking the perfect balance between over packing and not having enough supplies when disaster strikes.
Food and water are crucial to have with you any time you make your way into the backcountry. Even if you're going on a quick walk and expect to be back in an hour or so, grab a bottle of water and a snack at the very least. Like you mother said, better safe than sorry, right?
From the food side of this, one of the best things you can take with you is some trail mix. It really doesn't require any thinking, there's a good amount of flavors available (that are all pretty great!)and it has the caloric oomph to keep you going when you're being active.
Our top picks
| Product Name | Packaging | Size | Ingredients | Price |
| --- | --- | --- | --- | --- |
| Kirkland Signature | Resealable Bag | 64 oz | Peanuts, raisins, almonds,cashews, chocolate | Check price on Amazon |
| Better Foods Raw Superfoods | Resealable Bag | 24 oz | Cashews, brazil nuts, walnuts,goji berries, golden berries, white mulberries, raisins | Check price on Amazon |
| Planter's Nut And Chocolate | Resealable Bag | 19 oz bags | Peanuts, almonds, raisins, chocolate | Check price on Amazon |
| Kar's Sweet 'n Salty | Single Serving | 2 oz bags | Peanuts, chocolate, raisins, sunflower kernels | Check price on Amazon |
| Happy Belly Cranberry & Nuts | Resealable Bag | 40 oz | Cranberries, cashews, almonds | Check price on Amazon |
| Klien's Naturals Mix & Go Tropic | Single Serving | 2 oz bags | Pineapple, mango, cherry, cashews, almonds | Check price on Amazon |
| Wild Roots Coastal Berry Blend Trail Mix | Resealable Bag | 26 oz | Almonds, cashews, cranberries, yogurt chips, blueberries | Check price on Amazon |
| Six Trail Daily Nuts & Fruits | Single Serving | 1 oz packets | Almonds, walnuts, macadamia nuts, cashews, raisins, cranberries | Check price on Amazon |
Things to Consider Before Buying
Size/Shape
This may be less important to daytrippers than to thru hikers, but the size and shape of your trail mix package can seriously impact how convenient it is to bring with you. How much trail mix are you getting in a bag? Is it too much, or not enough?
A party sized bulk bag of trail mix, for instance, would be ideal for family day trips. In this case you don't need to worry about how compact your supplies are, and a resealable pouch means that every can snack as they get hungry rather than having to wait for the entire group to stop at designated meal times.
If you're on a longer thru hiking trip this just won't work. If you had already purchased a massive bag you'd have to portion it out into smaller servings for each day, or find a smaller container to pack the proper amount of trail mix in.
Overall this isn't a make or break because there are ways to get around it, but if you are shopping for trail mix specifically to add to your backpacking pantry, it makes sense to go with something that provides you the most convenience. Not too big, not too small. Anything with a package shape that fits easily into your pack without having to make alterations or causing concerns that it will open and spill in your pack
Preferences
There is an absolutely massive selection of trail mix options available for purchase today. This hiker's staple used to just be the same basic mix of next and either chocolate bits or raisins. Now you can get just about anything to suit your tastes, and you should.
The number one complaint about trail food is that it can get horrible boring to eat the same thing day after day, trip after trip. Broaden your horizons and try something new with each bag of trail mix. Some companies offer "variety packs" of single serve pouches, allowing you to try all of their flavors (or maybe a handful of the best ones) with just a single purchase.
If you aren't sure what you like this can be a good start. If you want spicy, or sweet, or crunchy, or even creamy you can find an option to cater to you. There are trail mixes with chili flakes, wasabi peas, yogurt chips…just about anything you can dream up, you can find. So, yes,bring some trail mix for a much needed caloric boost while hiking. No, don't let it be boring by grabbing the first option you see.
Allergies
Along the same vein, that massive variety of trail mix means that folks with food allergies who previously couldn't even consider something like this unless they made it themselves, at home, now how some pretty great tasting ready to go options to choose from. Of course with trail mix the biggest red flag is anybody with peanut allergies.
Surprisingly, individuals who suffer from a soy allergy also need to be careful as some brands of trail mix roast their nust in soybean oil. Most products have a label stating that they contain common allergens if that's the case. However, depending on your level of sensitivity it may open up new possibilities to look at the ingredients list and determine why these products are labeled this way.
I am in no way suggesting, of course, that you purchase and eat something you are allergic to or that you disregard your physician's advice when it comes to your allergies, rather, something people know that there allergy is less severe and may be able to tolerate certain products.
For example: my niece was diagnosed last year with a soy allergy. If she tried to eat these trail mixes that have soybean oil she would definitely get sick. However, she can tolerate soy lecithin(a common food additive found in some trail mixes) without incident.
So for her, ignoring a product just because it says it contains soy might prevent her from trying a new type of trail mix she's really like just because it had soy lecithin in it. If you experience something similar, keep an eye on the product reviews below: I'll be covering the exact nature of any major allergens (here, that means peanuts, soy, and milk) used in these trail mixes to give you a better idea of whether you ought to consider them.
Packaging Type
The type of packaging your trail mix comes in is related somewhat to the size and shape, and so it an additional concern when you think about packing. After all, you probably won't just be haphazardly throwing it in a tote bag like you would for a day at the beach. Even then, though, you'd still want to make sure it didn't pop open mingle with the sand that live in the bottom of every beach tote ever.
If you have single serve packets, those usually come in one of two shapes: roughly square or the long rectangular ones you see filled with sunflower seeds at gas stations. The square ones are great if you're planning a longer trip, most folks like to pack their food in daily bundles for these trips, and the square packets slip into these bundles with ease.
The longer pouches can be a bit more ungainly, but they also usually hold more food. These might be a good choice for day trips or a weekend jaunt, where you want a few snacks in your packs but don't need to use every millimeter of free space in your pack.
If you've got the bigger, multi serving bags, the major concern is that reclosable zipper. In the fantasy land of advertising, a resealable bag means that you can zip it closed after retrieving your handful of salt deliciousness and it will stay that. We know better though.
Not all zipper are created equal. Some of those little buggers seem to laugh at you as you try to close them. If you're packing a resealable bag, either be very sure the zipper on the bag is high enough quality that it won't open and cashew ify everything you've got with you, or put that bag in a more reliable one to ensure integrity of the contents.
Intended Use
Last but not least: consider your own hiking habits. Are you the day tripper who refuses to hike more than six hours at a stretch and needs to be home for supper? Do you long for the end of the work week so you can exchange your suit for your favorite UPF rated t-shirt and spend those precious few days at one with nature?
Or are the most adventurous of us all, abandoning the structure of a 9 – 5 life for weeks on end, with nothing but trail markers and your intuition to guide you? If you notice, all the previous considerations have multiple "answers", depending upon your hiking style. Your goals.
When you consider how specialized most hiking kit can get, it really isn't surprising that even your choice of trail mix can change based on the sort of routes you frequent. Family trip call or family sized bags of popular flavors that everyone will like. Thru hiking, to some, means ultra light packing and choosing trail mixes with less chocolate and high protein nuts.
Best Products on Today's Market
Kirkland Signature Trail Mix 
Price: Approx. $23
Weight: 64 ounces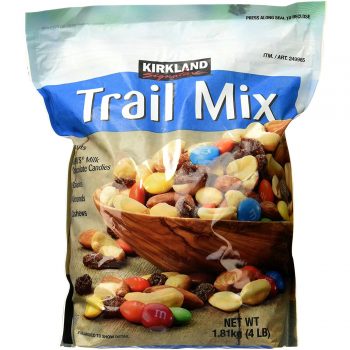 Specific features: Resealable bag; 3 Tbsp serving contains 9 g fat, 14 g carbs, 5 g protein; made with: peanuts, raisins, almonds, cashew, and chocolate pieces
Best use: Family hikes; day trips
The Kirkland Signature Trail Mix is a pretty traditional take on this snack happy trail food. The serving size is a small handful (3 tbsp) but this gigantic bag actually holds 60 servings. This is the bag that you throw in the car for road trips or weekend camping, or the bag your stuff into the top of your pack when you know you'll be hiking with the whole family for most of the day.
You could, of course, always portion it out into smaller packets if you needed, but this big bag is definitely intended for sharing. Lots of sharing.
It does contains peanuts (ahem, traditional) so if you've got a peanut allergy this is unfortunately a no-go, along with the related item mentioned below. The chocolate in this mix has milk as you'd expect and it also contains soy lecithin. That seems to be the only soy ingredient in the mix so if you can tolerate lecithin than this product may work with your soy allergy.
The mixture of crunchy nuts, chewy raisin, and sweet chocolate can always be counted on to perk you up after you gotten in few good miles, and the flavors are mild enough that adults and kids alike can chow down together.
PROS:
Big bag is easy to share
Resealable
Great value
CONS
:
Won't work for longer trips unless you repackage
Not allergy friendly (soy, milk, and peanuts)
Related: Looking for something extra special to throw in your pack along with the trail mix? This box of Kirkland Signature Pretzel Nuggets should do nicely. These are delicious, crunchy pretzels with a creamy peanut butter center, what's not to love?
Better Foods Raw Superfoods Trail Mix 
Price: Approx. $16
Weight: 24 ounces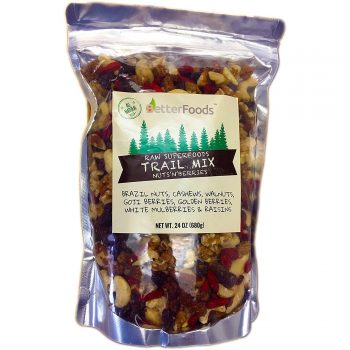 Specific features: Contains no added salt or oil; made with: cashew, brazil nut, walnut, golden berries, goji berries, white mulberries, raisins; 1 oz serving contains 8 g fat, 13 g carbs, 4 g protein; resealable bag
Best use: Day trips, weekend warriors
The Better Foods Raw Superfoods Trail Mix is, undoubtedly, trail food for the more discerning palate. Goji berries and White mulberries are delicious, but not what everybody pictures when they think trail mix. This mix is a yummy way to broaden your horizons while still getting high quality nutrition.
These are completely natural, unprocessed ingredients. Nothing has been roasted, oiled, or salted. There are no added preservatives. This is nature, delivered to your door in a bag. Best of all, there are no peanuts, the product isn't even processed on equipment that comes in contact peanuts, so anyone with a severe peanut allergy should be able to thoroughly enjoy this delicious trail mix.
No soy or milk in this one either, since it doesn't contain chocolate. This product should definitely be high on the list for allergy sufferers and anyone who is very health conscious when it comes to food choices.
In terms of nutrition the carb content is moderate considering there are three kinds of fruit in the mix, and really that's just extra fuel when you're spending your day on the go!
PROS:
Allergy friendly (no peanuts, soy, or milk)
100% natural
No oil or salt, or preservatives added
CONS
:
More expensive for the size
Flavor may not work for everyone
Planter's Nut and Chocolate Trail Mix 
Price: Approx. $20
Weight: 19 ounces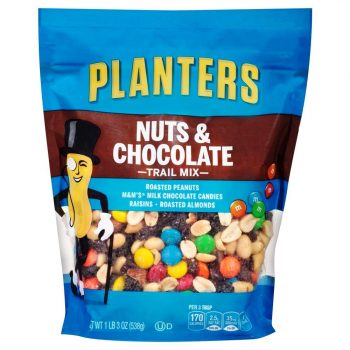 Specific features: Resealable bag, kosher, contains soy, made with: peanuts, raisins, almonds, chocolate pieces; 3 tbsp serving contains 9 g fat, 13 g carbs, 4 g protein
Best use: Family hikes, day trips, weekend warrior
The Planter's Nut and Chocolate Trail Mix comes in a conveniently sized 19 ounces bag; the bonus is that you get three of them with your order!
The classic mix of peanuts,almonds, chocolate and raisins will definitely get you through a hard hike with a nice little energy boost. This particular mix is quite heavy on the peanuts, though. Given that this is a Planters product many folks won't find that surprising once you take a look at the company mascot.
The chocolate keeps this from being an all natural product as it contains dyes and two different types of waxes. The bag is resealable and look to be tough enough to stow and go without needing to be separately packaged just to avoid breakage.
On the allergen front, this mix does contain soy, milk, and peanuts so if you're sensitive to these foods you may want to steer clear.
PROS:
Resealable bag
Classic flavor mix
CONS
:
Not allergy friendly (milk, soy, peanuts)
Not all natural
Related: Planters Turtle Sundae Mix is a great way to satisfy that sweet tooth. You can keep these little gems aside for desserts, or give them to the little ones when they start insisting that simply can't eat another peanut. The extra sweetness gives this nut mix a craveable edge.
Kar's Sweet 'n Salty Trail Mix 
Price: Approx. $18
Weight: 2 ounces bags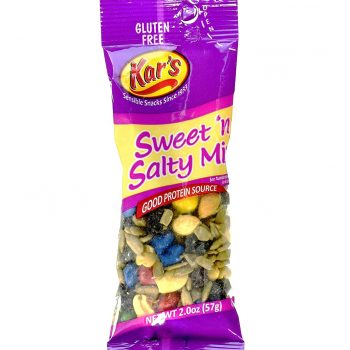 Specific features: Single serve pouches; made with: peanuts, raisins, sunflower kernels and chocolate pieces; one pouch contains 17 g fat, 27 g carbs, 8 g protein.
Best use: Day trips, family hikes
Kar's Sweet 'n Salty Trail Mix comes in the most convenient single serve pouches. Rather that square packets that'd have to be packed inside of your backpack proper, these elongated pouches can fit in those little mesh pockets of the sides of daytrip packs that are usually reserved for water bottles.
This mix does have a lot of added oils,preservatives and other ingredients so it might not be the best choice to have everyday on a two week long journey, but if you're only going to be gone for a day or two they are a tasty and portable way to keep hunger at bay.
If you are a fan of sunflower seeds this is also a great mix to try, as it's got sunflower kernels added in. All the deliciousness, with no seed spitting required.
PROS:
Single serve pouch
Portable shape
CONS
:
Lots of added oils and preservatives
Not allergy friendly (peanuts, milk, and soy)
Related: If you can't decide on a flavor, or are looking for something with a little more flair, try the Kar's Trail Mix Variety Pack. You get to sample three different flavor profiles that span both sweet and spicy. These are interesting flavor mixes that are a little bit out of the ordinary and a good change if you want something new.
Happy Belly Cranberry and Nuts Trail Mix 
Price: Approx. $18
Weight: 40 ounces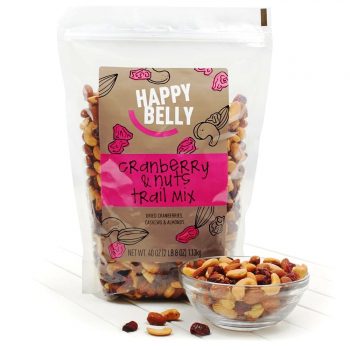 Specific features: Resealable bag; may contain soy; made with: cranberries, cashews and almonds; 1/4 c serving contains 9 g fat, 14 g carbs, 3 g protein
Best use: Family hikes, weekend warriors
Happy Belly Cranberry and Nuts Trail Mix is a deliciously simple answer to trail snacking on the go. You don't always need a crazy list of ingredients to make something taste good. Sometimes, you just need the right ingredients, ingredients that work well with each other.
This trail mix contains just cashews, cranberries, and almonds. The shorter ingredients list means you get to appreciate each flavor individually without overwhelming your palate. It also means you don't have to worry about peanuts or soy in the mix.
However, the labeling does state that the nuts may have been roasted using peanut or soybean oil, so that's probably a red flag or folks who are allergic. If you just plain don't like the "heavier" taste of peanuts compared to other nuts, though, then you'll probably love this mix.
Cashews and almonds both have a more subtle flavor than peanuts so you won't want to take a swig of water with every handful of mix.
PROS:
Simple ingredients
Great flavor
CONS
:
May contain soy and peanuts
Larger bag not great for long trips
Related: If you likes the nuttier trail mix flavors but aren't crazy about the higher carbohydrate content. Consider trying something like the Happy Belly Deluxe Mixed Nuts instead. No dried fruits or chocolate in here, so the balance of protein to carbs is much more favorable. Keep in mind though, going all nuts does mean a lot more fat than typical trail mix options, so snack sparingly on these delicious morsels.
Klein's Naturals Mix & Go Tropic Trail Mix 
Price: Approx. $22
Weight: 2 ounces bags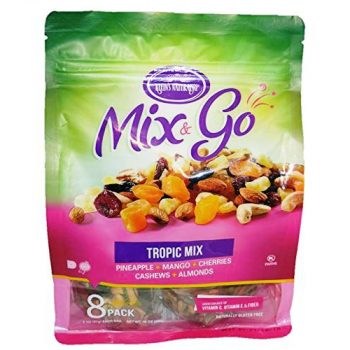 Specific features: Single serve packets; made with: pineapple, mango,cherry, cashew, almonds; 1 packets contains 8 g fat, 37 g carbs, 3 g protein
Best use: Day trips, thru hiking
Klein's Naturals Mix & Go Tropic Trail Mix is packaged in convenient 2 ounces single serving packets. These are super convenient, but the bag only has 8 packets in it! Not only does this mean you'd have to order quite a few bags if you were looking to stock up, but it also makes you question the value for the money at least a bit.
Undoubtedly, part of the explanation for the higher prices is the plentiful amount of dried fruits in the mix. This tropical mix uses pineapple, cherry, and mango to really bring home the taste of tropical paradise. It definitely works, but are the ump in price and dip in nutritional value worth it?
This mix has very little protein and a lot of carbohydrates this is a trail you want to keep for when you are stuck in the slog on a long haul and your energy is flagging something fierce. This mix is not the "steady energy" protein,carbs, and fats married together; it's more like jump starting your energy levels with sugar.
That's certainly not a bad thing, hiking can leave you more tired than you knew you could be, particularly on a difficult day. Just keep in mind that you wanna use this snack for quick energy, not to keep you going for hours on end.
PROS:
Delicious fruity flavor
Single serve packets
CONS
:
High in carbs
Bag only contains 8 packets
Wild Roots Coastal Berry Blend Trail Mix 
Price: Approx. $16
Weight: 26 ounces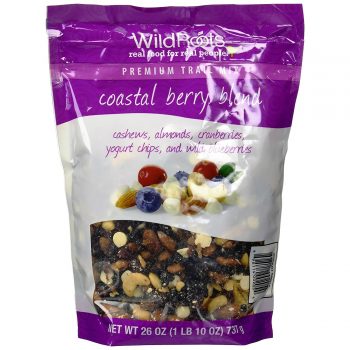 Specific features: Resealable bag; made with: almond, cashews, cranberries, yogurt chips, blueberries; ¼ c serving contains 9 g fat, 16 g carbs, 3 g protein; contains milk and soy
Best use: Family hikes; weekend warriors
Wild Roots Coastal Berry Blend Trail Mix is a great choice if you're looking for something a little bit different that isn't totally outrageous in terms of sugar content and doesn't have a ton of dried fruit. This mix does include blueberries and cranberries, but in a very sensible proportion.
The unique thing about this trail mix is that it includes yogurt chips. They add surprising new level to our trail mix that you didn't even know you were missing out on.
You've got the crunch of the almonds and cashews, the sweet chewiness of the dried cranberries and blueberries, and then a wonderful like burst of creamy flavor as the yogurt chip dissolves in your mouth.
It's easy for trail mixes to feel too sweet or overwhelmingly nutty because of the strong flavors involved; the yogurt chips help to bring a balance to the flavor profile. Even better, it comes in a nice, hefty resealable bag so you can keep on going back for more.
PROS:
Creamy yogurt chips
More balanced nutritional profile
Resealable bag
CONS
:
Resealable bag may be too big for long trips
Not allergy friendly(milk)
Six Trail Daily Nuts & Fruits 
Price: Approx. $21
Weight: 1 ounce packets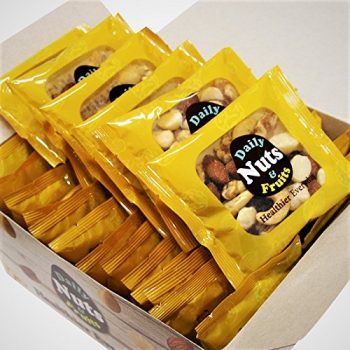 Specific features: Single serve packets; made with: almonds, walnuts, macadamia nuts, cashews, raisins, cranberries; 1 packets contains 13 g fat, 9 g carbs, 4 g protein
Best use: Day trips, thru hiking
Six Trail Daily Nuts & Fruits is a healthy trail mix option you can feel good about. The nuts are unsalted and raw, meaning no unnecessary sodium or added oils from roasting. They've also put a lot of thought into the proper proportion of fruits to nuts so that you get enough sweetness to satisfy your craving, but not so much that you end up with a toothache.
The macadamia nuts here are a surprising addition; they're delicious but you don't see them very often in trail mix offerings. They're mixed in with walnuts, cashews and almonds to provide an ideal serving of nuts that complements the dried cranberry and raisin.
These packets are a lot more squared off than other single serve pouches, too. This makes them ideal for folks who plan to be in the backcountry for a while, as they're pretty easy to pack in just about any tiny space available without displacing other items.
PROS:
Single serve packets
Square, easy to pack
Ideal serving size
CONS
:
Tiny packets create lots of trash
Can't buy less than 32 packets at a time
Wrap Up
That just about concludes our shopping guide and list of the top trail mix products out there today. I hope you found a new favorite!
If you did, leave a comment below to let us know which one you'll be stocking up on before you next trip. If you have a favorite trail mix you always keep in the pantry and don't see it listed here, be sure to let us know that as well!