Access to clean water is the number one survival essential in most situations. Here, we have compiled a list of some of the best gravity water filters on the market to help ensure that you are not stuck without clean water at any point during your adventures, whether backpacking or traveling to a foreign country.
There are many kinds of water filters; some use chemicals to kill harmful microorganisms and others use pumps and other moving parts to force water through a filter to mechanically remove potential pathogens.
Pump filters and purifiers are smaller and generally do not include a reservoir bag, which saves space. However, all of the moving parts inside a filter can result in an increased likelihood that it will break in the field, which is never a good thing when you are miles out into the backcountry.
For all filters, a prudent idea is to bring along iodine tablets or other water purification tablets to clean water in the case of dysfunctional filtration systems. Iodine tablets are notorious for making water taste terrible, but it is certainly better than getting sick.
Gravity water filters, like the kind we have included in this review, work by using the force of gravity to move dirty water through a membrane or filter in order to remove microorganisms. Gravity filters are the best option for large groups because they don't take much work to use.
Unlike a pump filter, which requires your muscles, a gravity filter simply uses…. Gravity! A tip for gravity filters is to make sure you avoid accidentally swapping the "dirty" and "clean" reservoir bags. Contaminating your clean water bag with unfiltered water residue can have dire consequences.
A hollow fiber membrane contains a semi-permeable barrier in the form of a hollow fiber. The pore diameter of the hollow fiber membrane helps to determine which types of microorganisms it will filter. The smaller the membrane, the fewer pathogens will be able to move through the filter.
Standard pore size in a filter membrane used in gravity filtration systems is 0.1 to 0.2 microns. This is small enough to filter out the majority of bacteria and protozoa, organisms like E. coli, Salmonella and Giardia. However, this pore size should not be trusted as small enough to filter out viruses and certainly not chemicals.
Some filters can remove the majority of viruses, but most are effective for bacteria and protozoa. The protozoa group includes Giardia and Cryptosporidium. Cryptosporidium has a protective outer shell, making it difficult to filter in water treatment. Both of these pathogens can cause gastrointestinal issues and can live in cold water for long periods of time.
Viruses in water are not common in North America, but in international travel to certain countries it should be a much greater concern. Hepatitis A and Rotavirus can be water borne hazards.
Weight of the filtration system is important for backcountry travel. The lighter a filtration system is, the better. Some filtration systems are heavier because they include useful components like reservoir bags and hoses. Reservoir bags are great for backpacking because you can hang them from a tree and use them as a shower. None of the gravity systems reviewed here utilizes a pump.
If you really want to go lightweight, you can purchase a filter that does not include accessories like reservoir bags and hoses. Such smaller filters are lightweight and can be used as a straw or attached directly to a receptacle containing dirty water. The main perk of this is that they are small and can fit easily into backpacks or suitcases for traveling to areas where water quality may be questionable.
Filtration rate is important, especially for group use of filtered water. Certain filters have a much faster filtration rate than others. If you plan on using a filter for large volumes of water quite frequently, something to keep in mind is the lifespan of the filter. This is generally measured in liters; for instance, some filters can safely clean 1,500 liters of water before you need to replace the filter or the system.
You can lengthen the lifespan of a filter by cleaning it. In most designs, this can be done by back flushing the filter to reduce clogging with debris. Some filters are designed to eliminate or reduce this issue by employing a filter protection system that catches large particles like silt and dirt before it enters the filter itself. Cleaning and back flushing are essential to maintaining a long life for your filter.
For backpacking, timing is important and a filtration system that gets the job done quickly can greatly enhance your trip. However, if you plan to filter water at camp then timing is not as important.
There are many ways to filter water, ranging from UV light purifiers to chemical treatments to filters and purifiers. (Note: the difference between a filter and a purifier is that filters do not eliminate viruses, but purifiers utilize UV light or chemicals to kill viruses as well as the bacteria and protozoa that are eliminated by a filter).
If you intend to filter a large amount of water for a group with minimal effort, a gravity filtration system is the way to go. Simply fill the reservoir bag with water from a stream or other water source, attach the hose, and hang it from a tree or pole (or hold it, depending on how much of an arm workout you want to get).
This type of system can filter plenty of water for a group in a short amount of time. Here, we have compiled a list of several different designs of gravity water filtration systems to help you choose the one that will work the best for you!
Products to Consider First
When you are in the outdoors it is not recommended to drink water directly from the rivers, lakes and springs because there is always the possibility that that water is not safe for drinking. The water must be cleaned first and you can do that with water filters, pumps, purifiers or chemical tablets.
In this article we are going to see what are the best gravity water filters out there and how to choose the best one for your needs.
MSR AUTOFLOW GRAVITY FILTER
Weight: 11.1 ounces
Dimensions: 1.9 x 5.7 inches (cartridge); 22 x 10 inches (reservoir)
Special features: Filters water at 1.75 liters per minute; Can be cleaned without disassembly
Best use: Backpacking
The MSR AutoFlow Gravity Filter is a great piece of gear for backpacking and camping. It can maintain a relatively high flow rate of 1.75 liters per minute all without pumping required. The reservoir has a volume of 4 liters, which makes this product useful for groups and group camping.
You can also filter water into any receptacle with a universal bottle adapter microfilter also produced by MSR. The microfilter uses hollow fiber technology to clean water, and the cartridge life cycle will last through 1,500 liters of water filtered. The filter is designed to eliminate protozoa and bacteria from the water, which cause many common waterborne illnesses, notably Giardia.
However, the filter will not eliminate viruses from the water. Additionally, the MSR filter is easy to maintain in the field as disassembly is not required for cleaning. Because the AutoFlow gravity filter does not have any electronic components or moving parts, it is less likely to break in the field, making it a reliable piece of gear.
Related: MSR Hyperflow Gravity kit
KATADYN GRAVITY CAMP 6L
Weight: 1.8 pounds
Dimensions: 9 x 9 x 3 inches
Special features: Pleated glassfiber/ carbon core filter; nylon water bag
Best use: Family camping and backpacking trips
Like the MSR AutoFlow gravity filter, the Katadyn Gravity Camp 6L has a fast flow rate of 2 liters per minute filtration. The filter is made of pleated glassfiber and includes a cleanable filter protector. The filter removes silt, cysts, bacteria and protozoa.
One useful feature of the filter is that it includes a sediment trap, which traps dirt before it ever enters the filter to reduce issues with backflushing when you try to clean the filter. It includes a hydration bladder that connects to the filter with a volume of six liters. The water bag has a roll top and side-release buckle closures as well as a window on the bag so that you can monitor water level.
For an extra accessory, you can purchase a Camp Series Shower Adaptor to turn the water bladder into a shower. In addition to the hydration bladder that comes with the filter, it can also attach to personal hydration bladders and fill them for individual use while hiking.
Related: Katadyn 10 L Base Camp Pro Water Filter
PLATYPUS GRAVITYWORKS 4 LITER FILTER SYSTEM
Weight: 10.75 ounces
Dimensions: 5.8 x 2.8 x 13.2 inches
Special features: Filter rate of 1.75 liters per minute; 8 liter capacity
Best use: Camping, backpacking, outdoor activities
The Platypus GravityWorks Filter System utilizes hollow fiber technology to filter water at the rate of 1.75 liters per minute, no pumping required.  The filter system includes two four liter reservoirs, which are labeled. One is for unfiltered water and the other is for clean water to help avoid cross contamination.
The filter meets the EPA and NSF guidelines for removal of particles, protozoa and bacteria down to 0.2 microns. The "dirty water" reservoir has a quick-disconnect valve which will automatically shut off the flow of water when the hose is disconnected. On the clean water hose, there is a shutoff hose clamp for filling water bottles so you can better control the flow of the water.
Another unique feature of the Platypus GravityWorks is that its reservoirs feature SlimeGuard antimicrobial treatment to improve the taste of the filtered water. This water filter system is compatible with Platypus water bottles, water tanks and Big Zip SL reservoirs, but the hose can be used to fill water bottles in general.
Related: Platypus GravityWorks Water Filter System Reservoir Kit- 2 Liter
LIFESTRAW MISSION GRAVITY WATER PURIFIER
Weight: 13 ounces
Dimensions: 5 liter- 17 x 10 inches (bag); 44 inches (hose and purification cartridge); 12 liter- 33 x 13 inches (bag); 48 inches (hose and purification cartridge)
Special features: Flow rate of 10 ounces per 90 seconds; BPA free; included shoulder strap
Best use: Backpacking, camping
The LifeStraw Mission Gravity Water Purifier has a long life span compared with some of the other gravity filters reviewed here, being able to handle 18,000 liters of water over its life. In addition to removing 99.9999 percent of bacteria and 99.99 percent of protozoa, the LifeStraw Mission can also remove 99.999 percent of viruses.
Because the filter has no moving parts, batteries or electronic components it is more durable and less likely to break. It includes a roll top dry bag with a window on the side to monitor water level. The filter type is an ultrafiltration membrane and includes pre-filter screens. It also features an integrated back-flush bulb for easy cleaning when in the field.
It also includes a drawstring stuff sack for storage and transportation. One unique feature of the LifeStraw Mission is that it includes a shoulder strap for easy carrying as well as a tool for hanging this filter from a tree. Finally, with the purchase of this filter LifeStraw donates a filter to African communities with limited access to clean drinking water.
SIMILAR: Survival Hax Portable Water Filter with 0.1 micron Filter Straw
VERSA FLOW LIGHT WEIGHT WATER FILTER SYSTEM
Weight: 2 ounces
Dimensions: 2 x 4 x 7.5 inches
Special features: 0.1 micron hollow fiber membrane; attaches to standard plastic bottle; 20,000 liter filter capacity
Best use: Hiking, traveling, camping
The Versa Flow Lightweight Water Filter is different from the other gravity filters included in this review. While the previous four products reviewed are designed for water to flow through the filter and into a collection reservoir, the Versa Flow is designed to be attached to water bottles or other water receptacles and filters water as you drink it through the filter itself.
That being said, it is much smaller than any of the other products reviewed here and is only $20. Its small size and light weight make it very convenient for travel. It uses hollow fiber technology, with holes of 0.1 microns that eliminate 99.9999 percent of bacteria and protozoa.
However, it is not certified to be able to remove viruses or chemicals from the water. It features internal 28 mm threading to be able to attach to standard plastic water bottles and can be used on hydration packs, gravity systems or allows you to drink directly from a potentially contaminated source by using it as a straw.
The filter capacity has a long life span of 20,000 liters and can be cleaned by backflushing to lengthen the life span further. Because of its small size and long life span, the Versa water filter system is an excellent choice for traveling and backpacking.
Related: Sawyer Products Mini Water Filtration System
SURVIVOR FILTER COLLAPSIBLE CANTEENS
Weight: 0.5 ounces
Dimensions: 1.3 x 6.5 x 12.5 inches
Special features: BPA free; stands upright when full; screws into Survivor Filter
Best for: Camping, travel, hiking
The Survivor Filter Collapsible Canteens are unique from all of the other filtration products included in this review in that they do not have an integrated filter. Instead, they can be used with a Survivor Filter, which is sold separately.
The canteens are BPA free and because they are collapsible, they can be squeezed and used to push water through a Survivor Filter, which is sold separately. The volume is one liter per canteen and they can stand upright when full just like any other water bottle.
When not in use, they can be rolled up and stored in packs or bags, and the canteens also come with carabiners and handles. Additionally, the canteen features a push-pull cap to help protect the mouth piece from dirt and damage. The water filter that is manufactured to be compatible with the canteens is similar to the Versa filter.
Related: Katadyn BeFree Water Filtration System
Conclusion
Gravity water filters are an excellent (and often necessary) addition to backcountry travel as well as international travel where water is not always reliably safe to drink. As you can see from this review, price ranges for gravity water filters can vary widely.
To choose the one that is right for you, consider the number of people in your party as well as the type of activity you will likely be using the filter for. For backpacking and travel, size and weight of a water filter matter. You might find reservoir bags to be unnecessary or too heavy, so opting for a smaller, straw-style water filter could be a better option.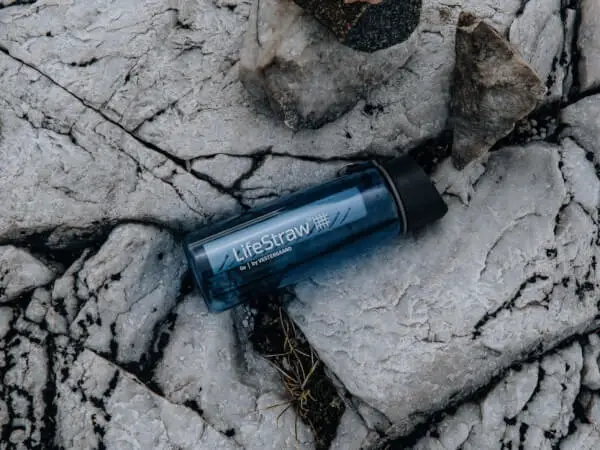 While designs and prices vary widely, the most important aspect of choosing a filter is choosing one that eliminates the organisms that could make you sick. Even the prettiest scenery in the most epic location can be ruined if you are experiencing gastrointestinal issues that could have been avoided by a filtering water through a quality filter for cooking, cleaning or drinking.
Featured Image Source: https://unsplash.com/photos/IQcaef9-M6I