One of the best ways to enjoy the outdoors is to go on a hike. This type of activity is not only great exercise; it is also a good way to enjoy nature and wildlife. However, hiking can be a literal pain if your feet are uncomfortable. We all know that aside from wearing the right kind of hiking shoes, the right pair of socks can have an impact on how comfortable your feet are. If you're new to hiking and looking to find ways to stay comfortable, you're in luck because we're going to give you tips on how to choose hiking socks.
Wearing socks designed for a specific activity can help to increase your enjoyment. The wrong pair of socks can cause blisters or dry too long, which can make the trip painful and uncomfortable. Hiking socks are different from other types of socks like mountaineering or running because they are designed to be lightweight, moisture-wicking, and quick-drying so that you're comfortable while walking in the bush or setting up camp.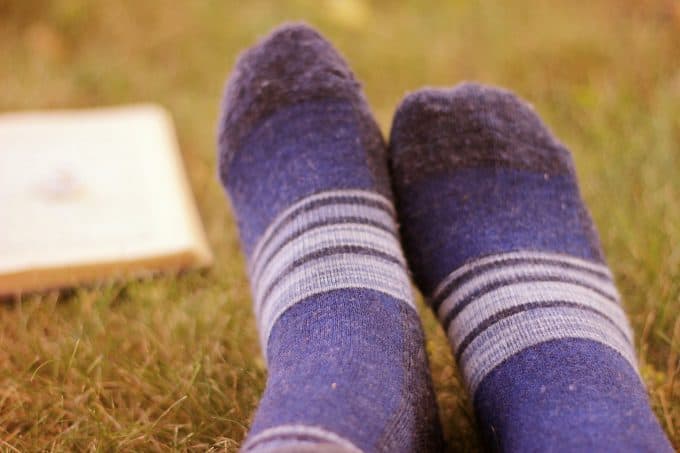 There are many different kinds of socks, but hiking socks prioritize comfort, warmth, and breathability. Most hiking socks are usually high-ankle to mid-calf and are worn with a pair of hiking boots. Hiking socks are usually padded to withstand multi-day trips and comfort. They also come in various material weights so that you can wear the correct type of socks when you're trekking in the desert or hiking up Mount Everest.
It's not hard to choose a good hiking sock. You have to be familiar with the features and prioritize the most important features you think will make your feet more comfortable. Here are some tips to make sure that you choose the best hiking socks.
Best Features of a Hiking Sock
Are you looking for a good pair of hiking socks that can handle the demands of your adventurous spirit? During this quest, there are some key features you need to consider, such as material, construction, weight, and style. Even though it seems like all the socks in the market are the same, they actually have very specific differences. However, knowing what features are important can make choosing the best hiking sock easier.
Here are some features you should know about.
Material
The material or fabric of your sock has a big impact on breathability, warmth and can keep you dry even when it's wet outside. The best sock is made of wool or synthetic polymer. These materials can keep your feet warm in the winter but prevent them from overheating during the summer.
It's best to avoid cotton socks for hiking. Cotton keeps moisture close to the skin and does not insulate very well. Even though it dries faster than wool, it does not wick away moisture from your skin or stay insulated when wet. Wearing wet cotton socks in cold weather can lead to potentially life-threatening conditions. That said, it is best to choose hiking socks made from these fabrics:
Merino wool is perhaps the most comfortable, breathable, and durable fabric for hiking socks. This material is a good choice because of its comfort and weight. It is lighter than traditional wool, is breathable, and not itchy. It is very durable and can be used for cold or hot weather hiking. Socks with a high percentage of Merino wool are good performers and will not disappoint.
Recommended Reading: We've written a whole article on why hiking socks are wool that you might be interested in.
Polyester hiking socks are a good alternative to Merino wool, especially if you're looking for something more affordable. Polyester materials are also more durable and dry faster than wool. Hiking socks made with polyester are tough, have good shape-retention, and are quick to dry. They may not be as warm as Merino wool and can lose insulation and moisture-wicking abilities in low temperatures.
Polypropylene material is similar to polyester but contains hydrophobic fibers that absorb less moisture. This fabric also dries faster than the materials above. To maintain the sock's shape, hang it out to dry after you're done washing it. Polypropylene blend socks are good choices, but they won't absorb as much water as wool socks but have good breathability and moisture-wicking abilities.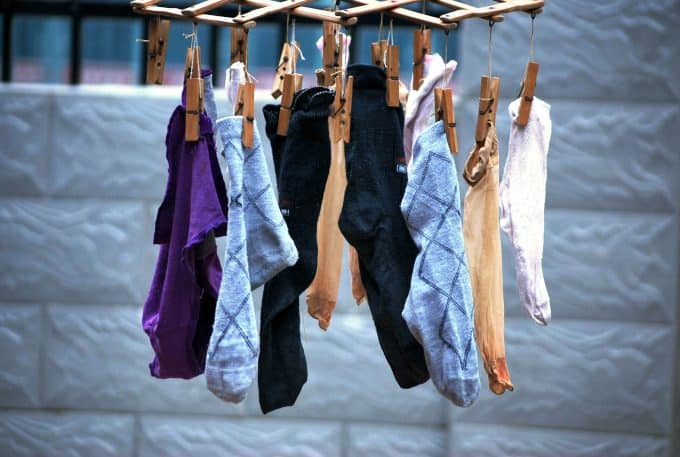 Nylon is a good synthetic option. It is durable and has good drying time. However, it is not very breathable.
Thickness
Hiking socks have different thicknesses. The thickness of your socks usually depends on the temperature and conditions you will be experiencing on your trip. Once you know the weather or temperature during your hike, making the buying decision will be easier.
Ultra-lightweight socks are best used for hot or warm weather hiking. This type of sock prioritizes breathability and has minimal padding, so it is thinner and lighter compared to other types of hiking socks.
Lightweight socks are for warm weather hiking. Like ultra-lightweight socks, it prioritizes breathability and moisture-wicking and is constructed with a less padded sole and forefoot. Aside from hiking, it is also a good choice for biking, running, backpacking, and other outdoor activities.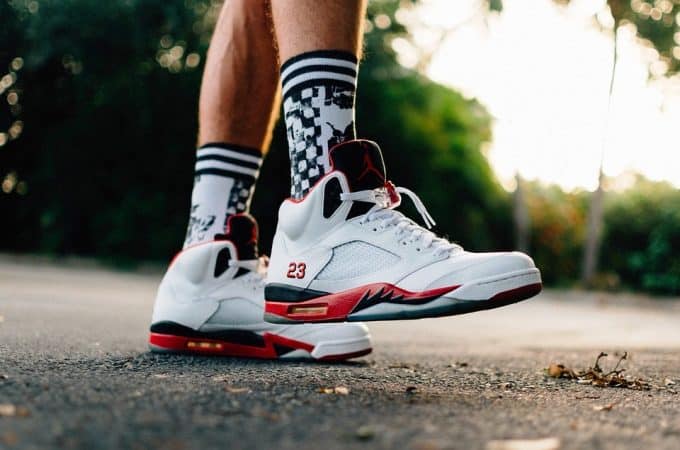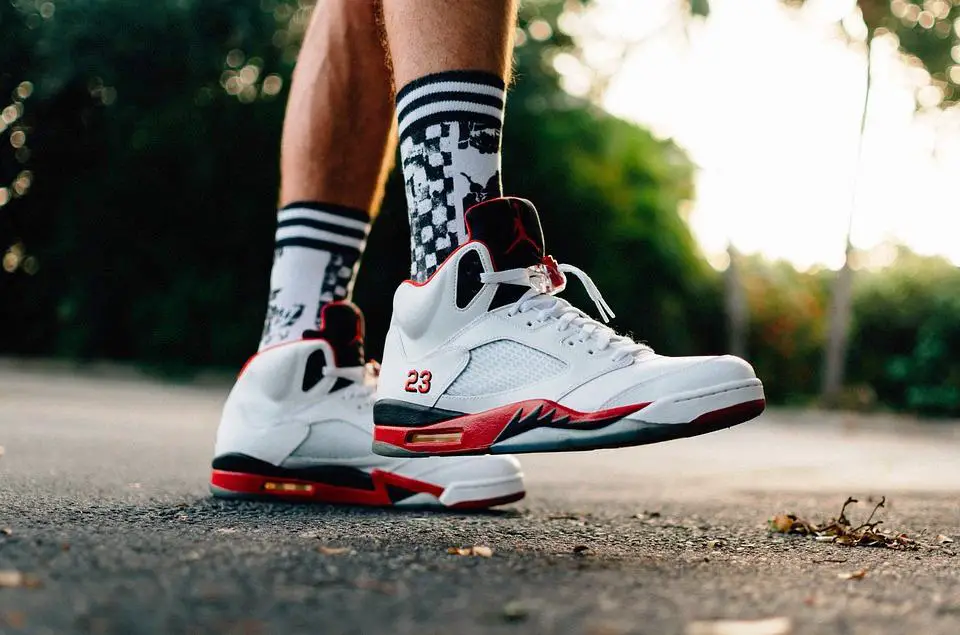 Mid-weight socks are more versatile and can be used in most weather conditions. They are usually thicker than lightweight socks and prioritize comfort, warmth, and breathability. These socks are good choices for longer trips and spring or fall hiking.
Heavyweight socks are best used for winter or cold weather hiking and sports. It has heavy padding on the heels and forefoot for added comfort and warmth. This type of sock is not very breathable and does not wick well. However, it is warm, which is very important when you're hiking in low temperatures.
Length
Hiking sock lengths usually range between high ankle and mid-calf to protect your skin from the elements and debris and to prevent chaffing from the tongue of your boots. If you don't like to wear hiking boots, a calf-length hiking sock will provide enough protection from tall grasses, debris, brush, and the weather. Socks are also more breathable and comfortable compared to heavy hiking boots.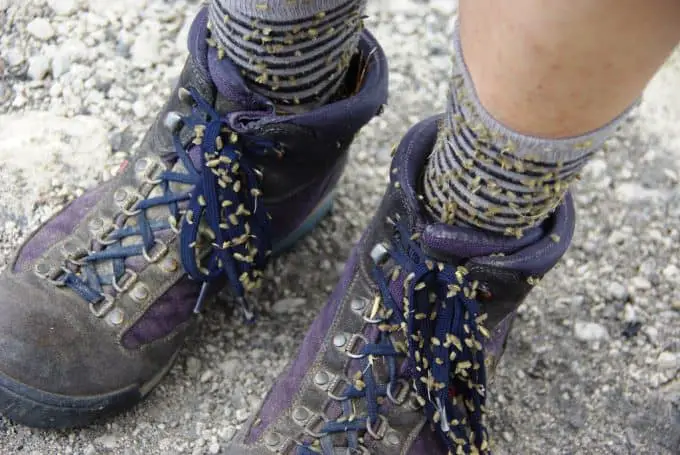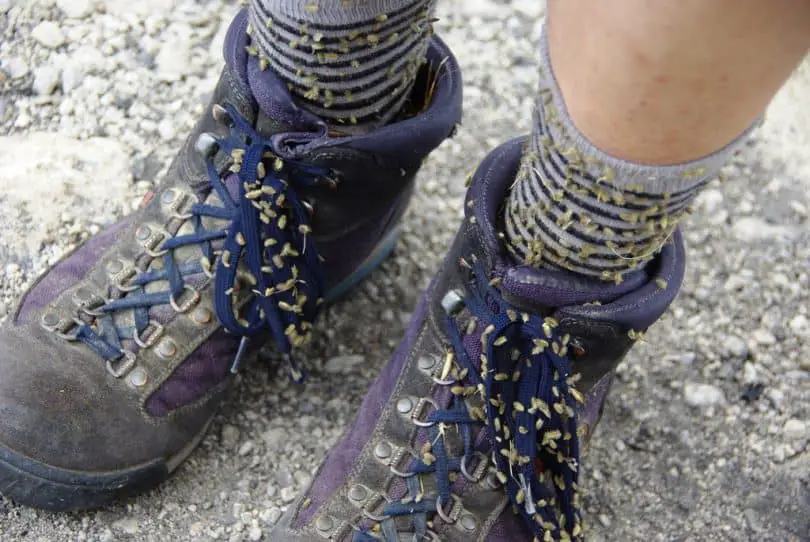 However, taller socks are great to pair with high length hiking boots. It prevents chaffing with the skin while providing protection but without the added bulk of gaiters. Tall socks are also a good option for other activities like mountaineering or skiing. Shorter length socks are great alternatives for summer or warm weather hiking since they show more skin, increasing your comfort.
In some cases, you will also find knee-high hiking socks, but they are usually in the mountaineering category. Knee-high socks prevent abrasions in the shin and calves caused by big burly boots. This type of sock is also great for keeping your legs warm when you're climbing mountains or crossing glaciers.
Fit
A good fitting sock can prevent blisters and increase your enjoyment of the trip. There's nothing worse than having a blister right in the middle of your hiking trip since it will make the rest of the hike uncomfortable. A good-fitting hiking sock is not too large or too small. Men and women should look into gender-specific socks because of sizing differences.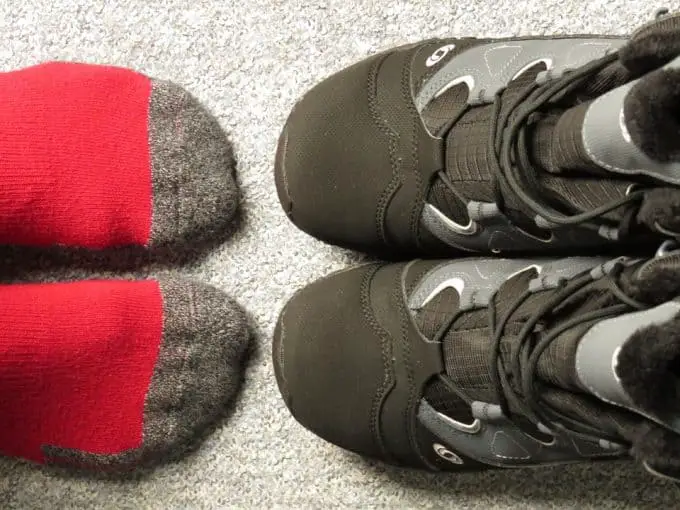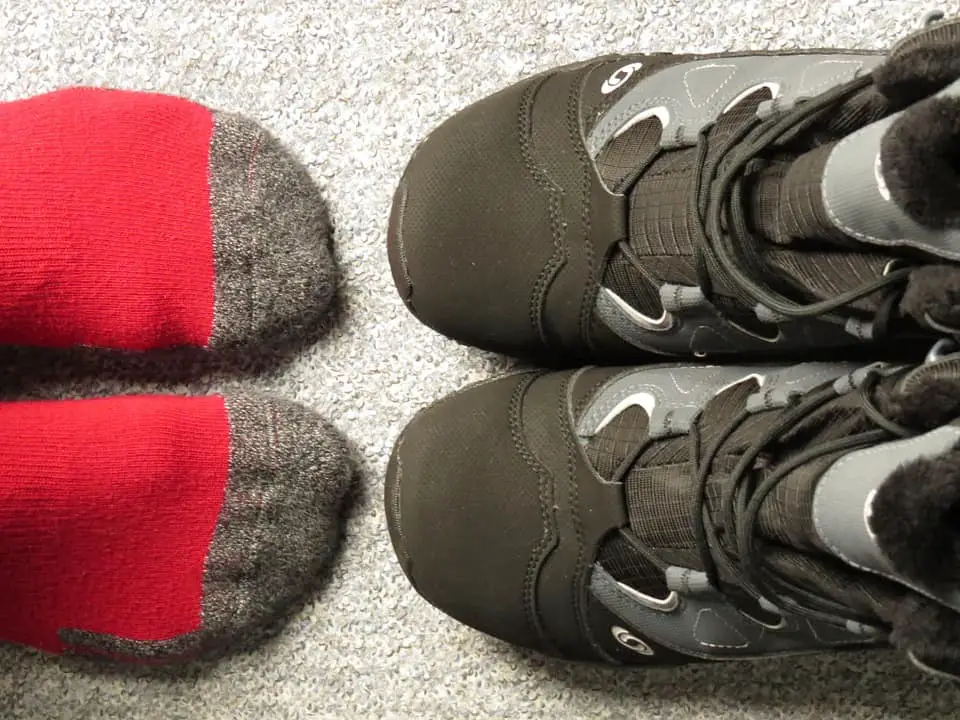 Fit matters because a loose sock causes bunching and blisters, while small or tight socks will feel uncomfortable and even cause numbness to your feet due to poor blood flow. An ill-fitting sock will result in an unfavorable experience, so make sure that you buy the right size and it fits you well.
Comfort
When you're hiking, your primary mode of transportation is your feet, so they should be comfortable during your trip. In this connection, the socks you choose should have padding in the right places and compression panels in the arches. The padding will provide comfort when your feet get too sore and act as an extra cushion with every step. Compression panels can help increase blood flow to the area, so your feet don't feel numb after miles of walking.
People who go on long hiking trips should also consider using a dual sock system. This is basically wearing a liner with your socks to help prevent blisters while helping your feet stay warm and dry.
Insulation
The best sock that will keep you warm in wet conditions is wool. It takes longer to dry than synthetic fiber hiking socks but has superior heat retention capabilities, especially during wet and frigid conditions. Socks with good insulation are good choices for low-temperature settings.
If you're hiking in warm or hot weather conditions, find a thinner sock and offer less insulation. For warm weather hiking, it is better to prioritize breathability and moisture-wicking abilities so that you are more comfortable. Make sure to match your sock's insulation to the temperature of your hiking adventure.
Recommended Reading: We've written a whole article on what temperature is too cold for hiking that you might be interested in.
Drying Speed
Backpackers and hikers have limited space in their backpacks for extra clothing, including socks. Most of them bring an extra pair or two for extended trips and wash the pair they are wearing before bed. Once the group is ready to go, clothing is repacked, and it's on to the next campsite. Having a quick-drying sock is important because it lets you bring a limited number of pairs on an extended trip.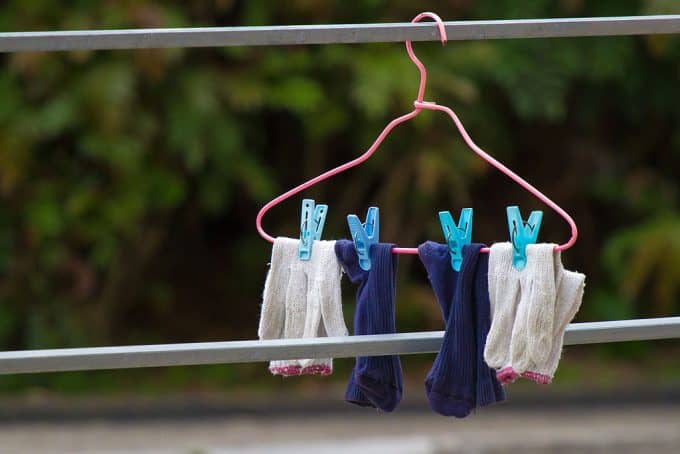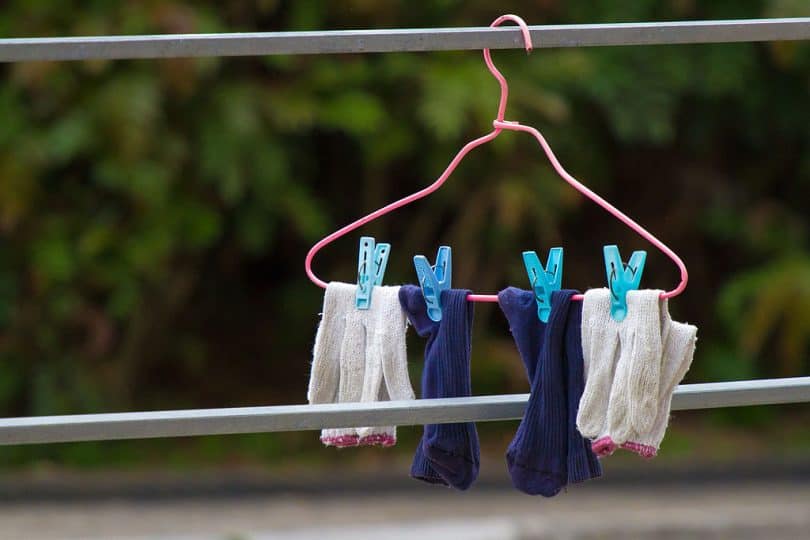 However, quick-drying socks are usually lightweight or have poor insulation and comfort. This is not an issue when you're hiking in warm or hot weather but can be problematic in cold conditions. For winter or cold weather hiking, your best bet for a quick-drying sock is a synthetic blend.
Wicking Ability
Walking around in a sweaty sock is one of the most uncomfortable sensations you will experience when hiking. Socks with good wicking abilities are good options for hiking in warm weather and on trails where you have to cross streams or brooks or during rainy days. In most of these cases where your feet don't get totally wet, you will feel the moisture in the area, but if you're wearing socks with good moisture-wicking abilities, you will still feel dry.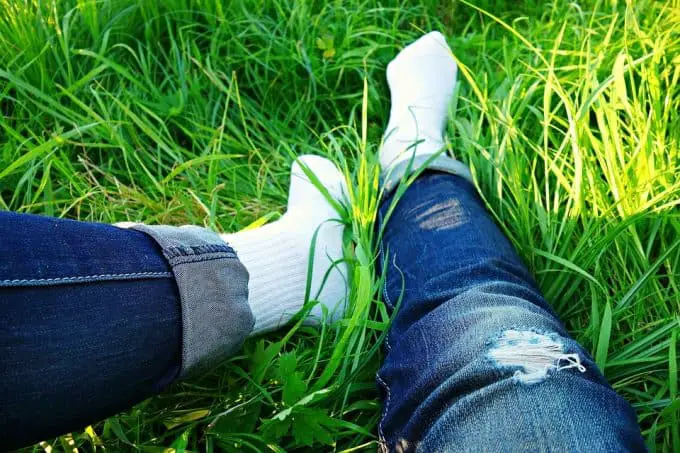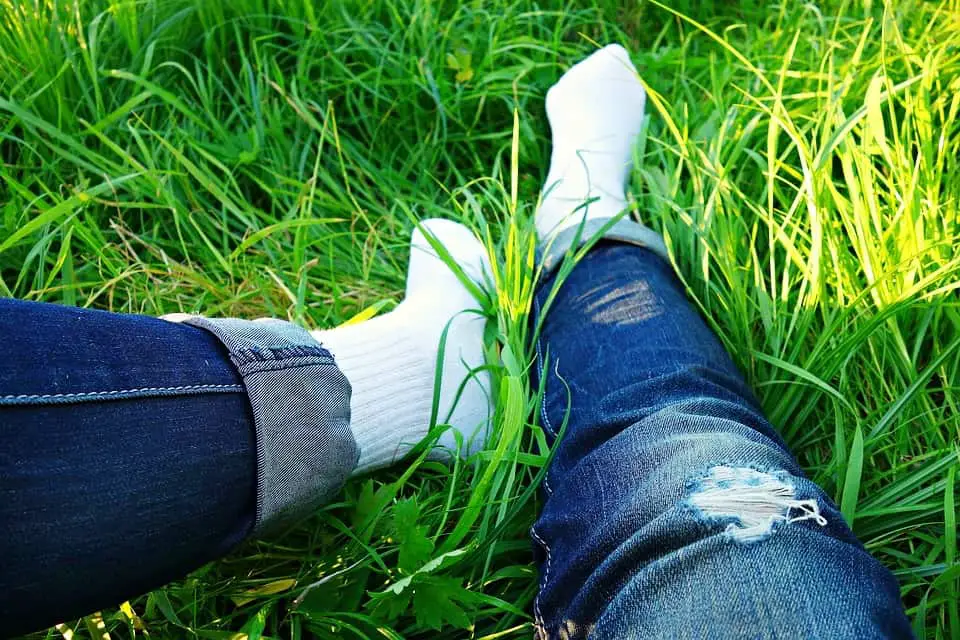 Try socks with a bit of nylon since this blend is better at moisture-wicking than 100% wool socks. However, nylon blend socks don't have as much insulation as all-wool socks.
Durability
The most durable socks are those that are made with a high percentage of Merino wool with a nylon or Spandex/Lycra blend. Before buying a hiking sock, check out their guarantees. Brands like Darn Tough come with a lifetime warranty. This means that if you should wear a hole through one of their models at any point in the lifetime of the sock, you can send it back and get a brand new pair.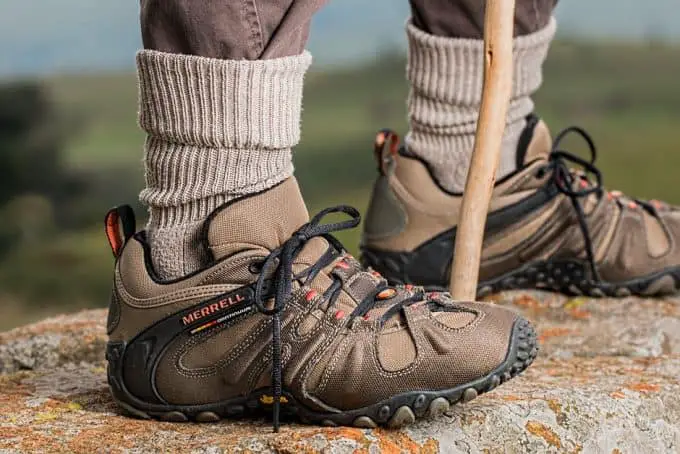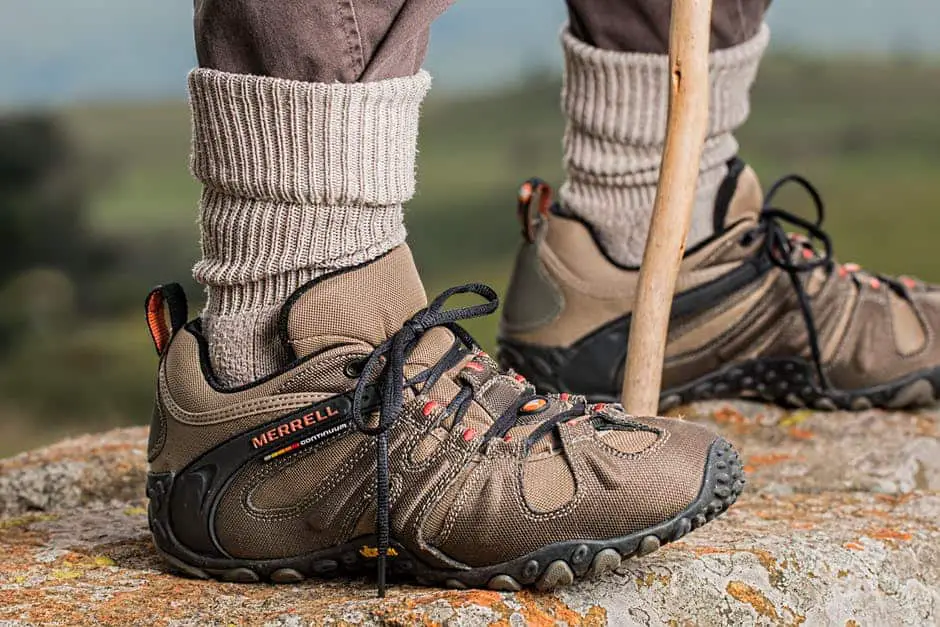 Generally speaking, durable hiking socks are expensive. Having to darn a sock while in the middle of a trip can also be off-putting. It is better to invest in a durable sock than to waste money with affordable but low-quality socks because you need a durable and reliable sock when you're outdoors. A sock that comes with a guarantee is also an attractive option, especially if it's an expensive one.
Wrap Up
According to research, the average hiker walks 2,000 steps to travel a mile. Aside from this, you also need to factor in the ups and downs of the hiking trail, roots, debris, and rocks that you encounter along the way. Hikers also need to carry backpacks containing their supplies.
This means that with every step, the right pair of socks plays an important role in keeping your feet comfortable and blister-free all throughout your trip. This is why you need to choose the right pair of hiking socks.
The most important thing to remember is that there is no one best sock for all types of hiking. You have to make sure that you are buying the right sock that you will be using it for. You should also remember that the sock you wear impacts the amount of space you have in your footwear, so it is better to buy both simultaneously or try different socks to see which ones offer the best comfort and fit with regards to your footwear.
Featured Image Source: https://unsplash.com/photos/Tx7_T5TZNrY