Everyone knows that staying hydrated is essential to your health. But with a busy life, it can be tough to drink the amount of water that you need. The best water bottle for you is the one that will fit your lifestyle to keep you hydrated to the level you need.
When you're on the go, making the effort to drink water can get expensive once you add up the cost of purchasing bottled water. Investing in a refillable water bottle can save you a lot of money over time and help ensure that you always have water on hand.
Since a full water bottle holds a given volume, you can set hydration goals for how many bottles you should be drinking each day. Additionally, many water bottles are made of BPA-free material so you aren't consuming the harmful chemicals leached by traditional plastic bottles.
A water bottle is an essential piece of gear needed for any outdoor activity; at the very least you'll have a much more enjoyable time if you're hydrated.
While they all serve the same purpose—hold liquids—every water bottle is a little different. Here, we've put together a list of great choices and some information about each of them to help you choose the bottle that will work best for you.
Our top picks
Thirsty? Here's What to Look for in A Water Bottle
There are a few things to consider when deciding which water bottle to purchase. Many people own multiple water bottles in different brands and styles to use for one activity or another. Probably the most important feature of a water bottle is the volume of water it can hold.
This is especially important on backpacking trips. To avoid making frequent stops, or in areas where water is scarce, a bottle with a larger volume is ideal. However, if you're in an area where water is plentiful for the entire trip, a smaller bottle could help save pack weight and space; you'll just have to stop more often to fill it up.
BPA-free material
Always remember to keep plenty of water on hand in outdoor situations because it's very easy to get caught up the trail with no access to water. Secondly, decide what material you want your bottle to be made of. One consideration is buying a water bottle that is made of BPA-free material. BPA stands for bisphenol A and is found in plastics and epoxy resins.
While there's a lot of ongoing research on what levels of BPA are safe to have in your food and drink containers, some studies have found links to fetal abnormalities as well as higher blood pressure. You can find BPA-free plastic water bottles, but stainless steel and glass water bottles are other great alternatives.
Besides size and material, there are many other features to look for in a water bottle. Some materials and liners are more likely to retain flavors than others, which isn't desirable when you want water that tastes like plain old water.
Weight
Weight is an important consideration because water bottles are portable. You don't have to be counting ounce-for-ounce backpacking for weight to matter; no one wants to lug around a heavy bottle all day no matter what they are doing. But where some water bottles lose portability points, they make up for it in insulation quality. A lightweight, thin-walled bottle likely won't do as good of a job at keeping your beverage cold or hot.
Leak-proof design
Also, you should consider whether it matters to you if the bottle "sweats" condensation. That could be bad in a purse or backpack with electronics and papers you want to stay dry; just because the bottle doesn't leak doesn't mean it won't get things wet.
Storage compatibility
Another size consideration is whether the bottle can fit in the water bottle holder on a bicycle or into a cup holder. Some of the larger bottles are best transported in a side pocket of a backpack.
Size of the mouth
The size of the mouth of the water bottle is another feature worth checking out. A wide mouth allows for the convenience of being able to easily add ice cubes to the bottle, but it's a lot more likely to splash you in the face if you try drinking out of it while driving or moving.
Some bottles, like the CamelBak, have a wide mouth that fits ice and a screw-on lid with a straw so you don't get splashed. Lid types also vary between water bottles. Some include a spout that can be flipped up for ease of drinking while others are simply a screw-on lid.
Ease of cleaning
Cleaning is essential to avoid bacterial or mold outbreaks on your bottle, and many bottles are dishwasher safe when placed on the top rack. Another trick for cleaning bottles is to fill it halfway with hot water and a squirt of dish soap, close it, and shake.
Continue shaking and rinsing with hot water until there are no more soap bubbles. A bottle brush also works for stubborn dirty spots in the bottle.
Durability
Finally, durability in water bottles is important. Chances are you're going to be taking it with you wherever you go which leaves a lot of room for dropping and squishing. Changes in airplane pressure can alter the shape of your bottle as well. Some bottles are foldable/collapsible so they won't dent, while others are much more susceptible.
Top products on the market
The following water bottles are all good choices with a wide variety of features. No matter what your activity is, you'll be able to find one that fits your needs.
Klean Kanteen Wide Mouth Water Bottle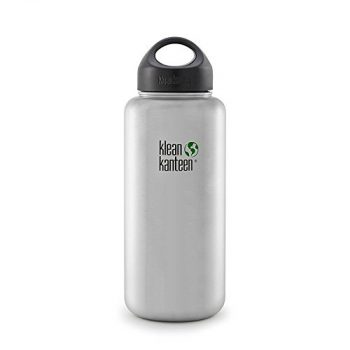 Weight: 8.1 ounces
Dimensions: 11 x 2.75 inches
Special features: BPA and lead-free, 18/8 food grade stainless steel, sport cap, stainless interior, dishwasher safe
Best use: Biking and camping
The Klean Kanteen Wide Mouth Water Bottle can hold a volume of 27 fluid ounces of liquid and has an opening diameter of 2.13 inches, which is big enough to fit ice through. Its diameter is on the smaller side, so it can fit in car cup holders and water bottle cages on bicycles.
However, it isn't lined so condensation will build up on the outside if the bottle is holding a cold liquid and it's warm outside. You can purchase a synthetic sleeve for the bottle to help insulate it and block some of the condensation.
While the bottle is made of BPA-free, food grade stainless steel, the cap is not lined with stainless steel. A stainless steel-lined cap can be purchased separately. This water bottle is nice for camping trips because its liner-less stainless steel material makes it perfect for boiling water.
It is also compatible with many backcountry water filters. It is susceptible to dents, but it is dishwasher safe and a great choice for outdoor recreation because of its versatility.
PROS:
Dish washer safe
Stainless steel
Durable
Holds lots of water (64 oz)
Has a large opening
You can boil water in it
CONS
:
A little heavier than plastic ones
Should not be carried by the lid
The rounded bottoms are unstable
Related: Customers who bought the Klean Kanteen water bottle also frequently buy the GSI Outdoor Bottle Cup. The silver cup will ensure you safely quench your thirst apart from using the mouth of your water bottle. The cup comes with folding bail handles and thus giving you great convenience as you use it.
Avex Brazos Water Bottle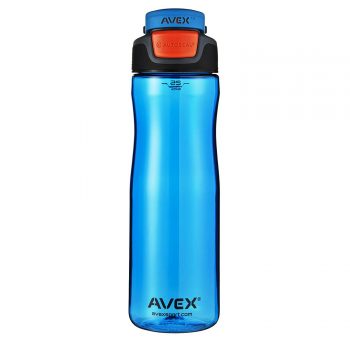 Weight: 6.4 ounces
Dimensions: 10.25 x 3 inches
Special features: BPA-free, dishwasher safe, Autoseal lid, clip-on handle
Best use: Going to the gym
The Avex Brazos Water Bottle is a really affordable water bottle choice with a unique design. It can hold a volume of 25 fluid ounces and is lightweight at less than half a pound. The most unique thing about this bottle is its design for the lid.
The lid has a button that you press to take a sip, then release the button to seal the opening. This feature includes a spout shield to protect against dirt getting into the mouthpart, as well as an Autoseal lid design that helps to prevent leaks and spills.
This particular lid design comes in handy because it only requires one hand to operate, which is especially nice while driving or biking. It also has a clip-on handle so it can be easily clipped to gym bags or backpacks. This water bottle comes with a lifetime guarantee and is a very reliable choice for an everyday-use bottle.
PROS:
Great design
Convenient spout shield
Shatter proof
CONS
:
Short handle
Handle is not sturdy enough
Only shows the 25 oz marking
Related: When it comes to water, you can never have enough. Because you will always need more, customers who buy his item also buy the AVEX Free Flow Autoseal Water Bottle as a backup plan to quench their thirsty throats. It has a drop down kind of a feature to make it easy when cleaning. It also has a bolted carrying handle which makes it easy to walk around with.
Nalgene Tritan Water Bottle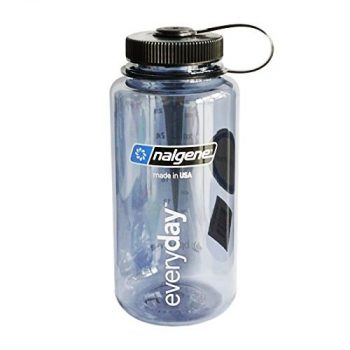 Weight: 6.25 ounces
Dimensions: 8.25 x 3.5 inches
Special features: BPA-free, Eastman Tritan co-polyester, dishwasher safe
Best use: Hiking, traveling
The Nalgene Tritan Water Bottle is Nalgene's best-selling bottle. Nalgene is a well-respected brand in the outdoor industry, and this is a particularly popular bottle among outdoor adventurers of all kinds.
The BPA free co-polyester makes it a durable water bottle with a high impact resistance, and it is also dishwasher safe. The wide mouth makes it great for filling with ice, but it will not fit in a car cup holder. The wide mouth can also make it inconvenient for drinking water while driving.
The plastic strap that attaches the lid to the ring around the bottle's neck forms a loop, which is very useful for threading a backpack strap through to better secure the bottle to the side of your pack.
Another reason why it's such a great outdoor brand is that it has the volume markings along the side of the bottle. Staying hydrated is especially important on the trail, as is keeping track of how much water you have left.
This makes it easy to calculate your intake and figure out when you will next need to stop for water. The Nalgene's durability doesn't stop at bumps and drops… it can withstand temperatures down to -40 degrees Fahrenheit and up to 212 degrees Fahrenheit.
PROS:
Durable
Wide mouth opening
Has marked measurements
Has attached lid
CONS
:
Initially comes with a strong plastic odor
It is opaque, not clear
Related: I am certain you at one point been caught up in a scenario where as you were taking your water, some of it spilled out to the rest of your body. To avoid all this shame, customers who buy this water bottle also buy the Guyot Splash Guard. It enables you to have splash free drinking in the event your water bottle has a wide mouth. This amazing product can be used by both children and adults.
Vapur Element Water Bottle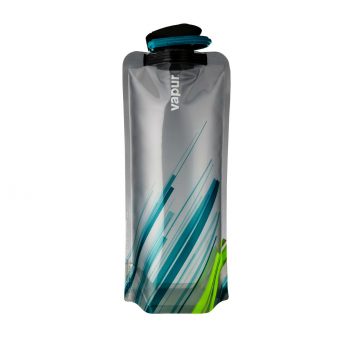 Weight: 2.3 ounces
Dimensions: 12 x 2.5 inches
Special features: Collapsible, BPA-free polyethylene and nylon, flip-top super cap, includes carabiner
Best use: Running, traveling
The Vapur Element Water Bottle is a unique water bottle because it is collapsible. When it is expanded to its full potential, it can hold about 21 ounces of water, but when the bottle is emptied it can be folded, flattened, or rolled up to be easily tucked away.
It also stands up when it is full. This bottle comes with a flip-top super cap, can go in the freezer or withstand boiling water. It's great for running because it is very lightweight and can be stowed in a running fanny pack, then collapsed and folded when empty so it doesn't remain a bulky shell.
You do need to be aware that holes can be punctured in this bottle more easily than some of the other models, but Vapur is known for their excellent customer service and will be willing to help you if you need it.
PROS:
Durable water bottle
Does not spill when shut
Stands up even with small amount of water
CONS
:
Folding it makes it wrinkly and thus spoils easily
You have to blow air inside the bottle for it to expand
Water will splash out if you hold the body of the bottle when opening the cap
Related: Like we all know having one water bottle is never enough. To quench that thirst you need to back up with the best water bottles and remain hydrated all day long. It is for this important reason that customers who buy this water bottle also buy the Vapur Eclipse Collapsible Water Bottle. You will absolutely love the sleek design of this very important product. Coming from a brand that has also set a name for itself in the market, you do have to worry about durability and performance. It will certainly work as per your expectations.
Swig Savvy Insulated Water Bottle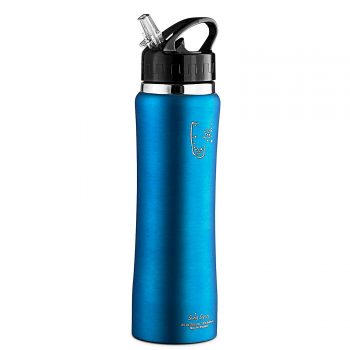 Weight: 14.4 ounces
Dimensions: 8.75 x 3.5 inches
Special features: BPA free, comes with a pouch and a coffee lid
Best use: Keeping liquids either very cold or very hot
The major benefit of the Swig Savvy Insulated Water Bottle is in its name: insulation. It is similar to the Hydro Flask brand of water bottles.
This stainless steel water bottle holds 32 ounces of liquid that it can keep cold for 24 hours and hot for 12 hours. Because of its double wall insulation, you can keep it in a purse or a bag without worrying about the condensation buildup ruining your papers and electronics. It is also very durable and comes with a lifetime warranty.
It comes with a coffee lid for when you want to use it as a thermos-style container for hot beverages. This water bottle is also BPA free.
To keep your beverages even colder, add ice—this is possible because it has a wide mouth. It won't fit in cup holders but will keep a large volume of liquid well insulated. For the money, this is one of the best stainless steel water bottles.
PROS:
It keeps ice for up to 12 hours long
Sleek design
Comes with its own neoprene water pouch
Has a wide mouth
CONS
:
The rubber stopper easily falls out
Putting it in dishwasher takes the coating off of it
Related: Customers who buy this water bottle also buy the OXO Water Bottle Cleaning Set. This set will ensure your bottle remains squeaky clean. The entire set consist s of a long bottle brush, a straw brush and a detail cleaner. The short but firm bristles on the brush thoroughly clean the bottom of your bottle.
Lifefactory Glass Water Bottle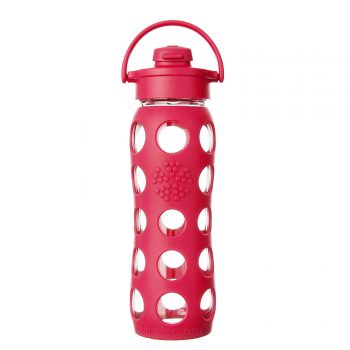 Weight: 18 ounces
Dimensions: 10.5 x 3.1 inches
Special features: Glass, BPA free, leak-proof cap, silicone sleeve
Best use: Juices and smoothies, fresh-tasting water
One of the major benefits about using a glass water bottle is that flavors from past drinks don't linger in the glass like they might in plastic bottles. One disadvantage of a glass bottle is that it could slip and break.
That's where Lifefactory's silicone sleeve for its glass bottle comes in handy. Lifefactory Glass Water Bottle has holes throughout the silicone to provide a good grip and keep the look of glass to an extent.
This is one of the best glass water bottles because its silicone sleeve helps prevent slipping and the cap comes with a small handle for carrying.
Because the glass does not retain flavors, the bottle is ideal for juice and smoothies and has a wide mouth to be able to handle ice and smoothies being poured in. This bottle is dishwasher safe, including the silicone sleeve, as long as it's left on the top rack of the dishwasher.
PROS:
Sleek design
Great handle
Wide mouth opening
Has no odor at first as it is made of glass
Nice grip because of the designer rubber cover
CONS
:
The flip top is not leak proof
The rubber cap tears out gradually
A little heavy for long distance carrying
The cap is made of plastic
Hydro Flask Double Wall Water Bottle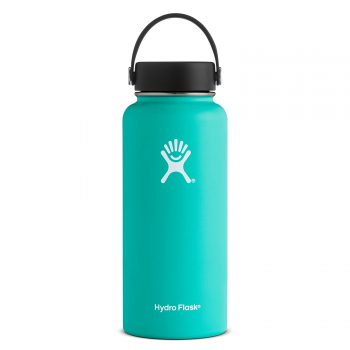 Weight: 15.6 ounces
Dimensions: 8.7 x 3.56 inches
Special features: TempShield protected, lifetime warranty, powder-coated matte finish, 18/8 food grade stainless steel
Best use: Insulating drinks in hot or cold weather
Like the Swig Savvy insulated water bottle, the Hydro Flask Double Wall Water Bottle does an excellent job of keeping liquids insulated from external temperature changes. It holds 32 ounces of hot or cold liquid, keeping hot liquids hot for 6 hours and cold for 24 hours.
You can leave an ice-filled bottle in a hot car for several hours and return to it still being hot, thanks to its TempShield insulation technology.
Because it has such a wide diameter, it won't fit in cupholders, but its external powder-coated matte finish means that it reduces condensation and sweating from the outside of the bottle. This bottle is made of 18/8 food grade stainless steel and does not have a liner.
PROS:
Wide range of colors to select
Keeps hot drinks hot for long and cold drinks cold for long
Durable
No condensation thanks to the double walls
Does not hold odors
CONS
:
Hand wash only
It is opaque
Heavier than plastic bottles
More costly as compared to others
Related: Some bottles make it really difficult for one to take water because of the wide mouth. To bring an end to this scenario, customers buy the Hydro Flask Water Bottle Straw Lid. The straw lid is BPA and toxin free and will fit a good number of bottles. This lid is an easy to use flip straw that has been specially designed with a high flow rate and a durable rubber coating to withstand marks from bites.
Camelbak Eddy Water Bottle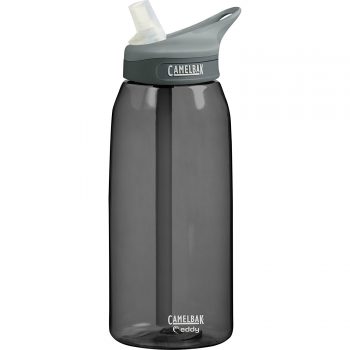 Weight: 6 ounces
Dimensions: 10 x 3.5 inches
Special features: Eastman Tritan copolyester, bite valve, filter compatible
Best use: Hands free or one handed sipping
CamelBak has their innovative bite valve technology from their hydration packs in water bottle form! The Camelbak Eddy Water Bottle holds 33 ounces of water and utilizes a unique lid for hands free drinking and limited spilling.
The plastic straw in the water bottle is attached to a bite valve that you must bite in order to operate. So you can have the valve extended from the bottle and tip it upside down without any leaks. Speaking of tipping, you can drink with the bottle completely vertical—no tipping required to drink.
The main problem with the bite valve is that the hinge can wear out and the valves get cracks in them from repeated biting and use. However, CamelBak sells replacement bite valves to help curb this issue. There's also a lifetime guarantee on this bottle.
It's made of plastic—Eastman Tritan copolyester which is BPA and BPS free. It also has an integrated handle, can fit in your cupholder, and is dishwasher safe when loaded on the top rack. Another great attribute of the Eddy is that it is compatible with a number of water filters which makes it good for backcountry sipping.
Cleaning can be a challenge, particularly around the lid and inside the straw. CamelBak sells a special straw-cleaning tool separately.
PROS:
Larger than most cup holders
Easy to grasp with one hand or carry with a finger
Indestructible construction
CONS
:
At first opening and closing the bite valve may feel stiff and thus require more energy
Leaks from the bottom of the mouth piece
Should be hand washed to last longer
Related: Straws really go along to ensure that one efficiently and properly have their drink. That is why customers love buying their water bottles together with the Camelbak Eddy Bite Valves and Straws. Do not worry about cleaning them as they are dish washer safe as well hand wash safe.
Final Words
Water bottles are an affordable way to stay hydrated and be eco-friendly! They help reduce waste from plastic water bottles and can help you monitor your liquid intake for the day. We've provided a list of some of the best-performing water bottles on the market, so choose the one that fits your activities and needs in a water bottle.
Featured Image Source: https://unsplash.com/photos/tF9iUErZXWA