Any outdoor enthusiast understands the important role that a hat plays in each of their adventures. The problem is, not just any hat will do for an outdoor adventure. Do you think your standard baseball cap will provide enough protection against the outdoor elements? For the optimum protection from the rain and sun's glare, you'll want to wear the best boonie hat.
The boonie hat is actually a sturdy, wide-brimmed hat that can't tear easily, and provides breathable protection from harsh outdoor conditions. The boonie hat has become a staple among outdoor enthusiasts for the easy, comfortable protection from the elements that it offers. Choosing the right boonie hat can be an overwhelming task, and that's why we are here to help.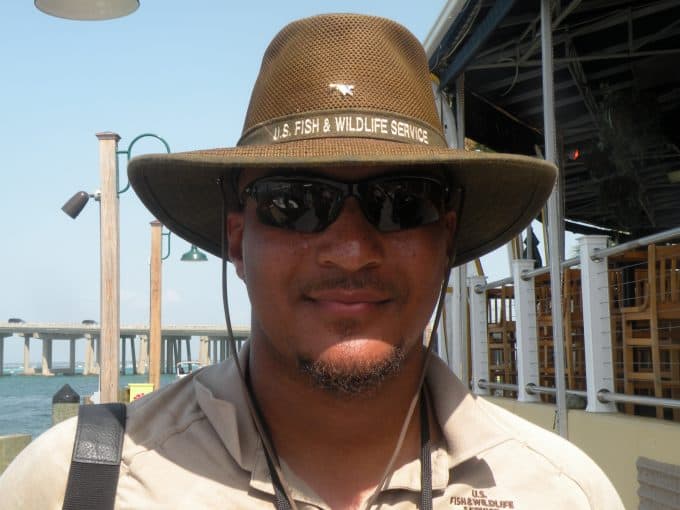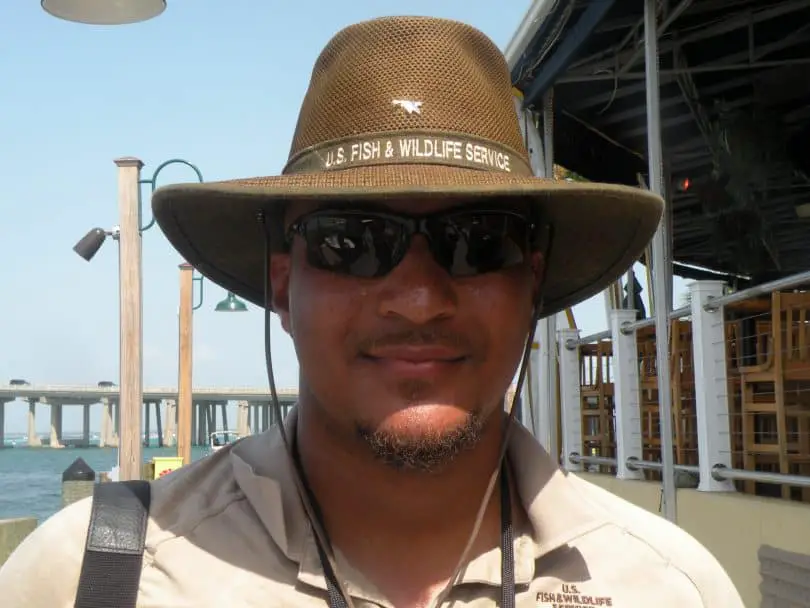 In this article, we'll go over some of the most important features you should consider when you're deciding on a boonie hat that suits your needs the most. Then, we'll move on to our curated pick – six of top boonie hats to get you started on your search. Let's get to it!
Our Top Picks
Things to Consider Before Buying
The term boonie hat itself actually includes a huge variety of hats, some with wide brims while others are bucket-shaped. Therefore, it can be difficult to narrow down the options.
We understand that not everybody is going to want the same things out of a boonie hat because not all outdoor activities are created equal, so here is a list of factors to consider that may affect your decision regarding which boonie hat will be a fitting purchase for you.
UPF Rate
Realistically, you're not going to be wearing this sort of hat indoors. It's meant for rugged outdoor use. If you're going to be doing any activity that exposes you to direct sunlight, you'll want a boonie hat made of UPF-rated fabric. If you're unfamiliar with the term, UPF stands for Ultraviolet Protection Factor.
It's used in the same way SPF is, to indicate the amount of protection from the sun's harmful radiation that a product offers. The difference is that UPF is generally used to refer to the protection factor offered by clothing. A traditional cotton t-shirt is about a UPF 2, while specially-rated UPF performance fabrics are usually UPF 50 or more.
UPF 50 blocks 98% of ultraviolet rays, offering serious protection for extended outdoor activities–and it doesn't have to be reapplied like sunscreen.
If you plan on soaking up the sun, it is, of course, vital to ensure you have a good sunscreen that will protect against skin cancer, but the areas of skin covered by clothing still need protection too. This is where UPF fabrics come in. Manufacturers use this type of fabric to make high-performance shirts, pants, and you guessed it – hats.
Material
Rain, wind, rocks, branches, fishing hooks…regardless of how you spend your time outside, there is a multitude of hazards that can ruin your shiny new hat before it's even had a chance to shine. That's why the material that the boonie hat is made of is very important since it decides the hat's durability.
Speaking about durability, people usually associate ripstop fabric with the highest level of outdoor ruggedness. This neat fabric uses a four-way weave so that any tears that do happen will stay in spot.
If you're going to be doing anything that's much more hazardous than paddle boarding, then ensuring your purchase is constructed out of ripstop material can go a long way towards helping you to protect your investment and get a good, long life out of your new boonie hat.
Boonie hats also come in polyester and cotton, or a blend of the two. They're less durable than ripstop nylon, but polyester is lightweight and water resistant whereas cotton holds its shape well and is machine washable. Each of these materials has its pros and cons so consider your individual needs carefully.
Waterproofing
Have you ever had the displeasure of wearing heavy shoes with socks, and then having the socks get wet? It is decidedly unpleasant, with that sloshy-slimy feeling on your feet until you can remove the now offensive sock. That's sort of what your scalp will feel like if your hat gets drenched. If you're going to be in an area where you expect rain or spending a lot of time near the water, it might be beneficial to get a hat with some waterproofing.
Most hats aren't going to be completely waterproof; if they were, they wouldn't be breathable enough to wear comfortably. What you want is something that is labeled "quick-drying" or has a high percentage of synthetic material listed as part of the fabric.
Organic fibers like cotton basically work like sponges and will readily absorb any moisture. Anything synthetic will withstand minor drizzle or splashing and won't become saturated until there is a significant amount of water. This effect keeps you dry and cool, definitely a plus if you expect to get wet!
Fabric Stiffness
Some boonie hat fabrics are reinforced to increase their stiffness. This doesn't mean, however, that you should always go for a stiffer fabric. It all depends on your individual needs.
A stiff fabric is good for when you expect to encounter a lot of rain where you're going since the hat won't get waterlogged easily and will stay horizontal to offer you the utmost protection. On the other hand, if you're more worried about the sun getting in your eyes, you'll want a looser fabric. All you have to do is bring your head forward or down a bit to get the brim to flop down over your eyes.
Fabric stiffness also affects how packable the boonie hat is. A stiff hat won't be able to bounce back to its original shape easily after being crushed with other things in your backpack, so if you tend to stuff your hat into a crammed bag in a hurry, you may want to go for a more flexible option.
Brim Width
This last feature may seem a bit nit-picky, but it does make a difference! Consider the type of activity you'll be primarily using the hat for.
If you're going on a backpacking trip, then a wide brim in the back is going to be annoying; it will end up butting up against the framework of your pack and either falling off your head or getting crushed to death. If you're going to be in a fishing boat all day, a nice wide brim will protect both your face and neck as the sun moves throughout the sky.
Boonie hats can be either narrow or wide-brimmed. Most tend to be a bit wider, though will frequently have hasps on the side to secure the sides in more of a cowboy hat shape. If you want a narrow brim all the way around (again, my backpackers out there) go for 3 inches or less.
That should be enough to give you coverage without getting in the way. If staying compact isn't an issue, you can typically find boonie hats up to four inches wide at the brim, which will certainly shade you all day long.
Best Products on Today's Market
By now, you should have a general idea of the kind of boonie hat that you're looking for. So without dilly dally, let's move on to the top 6 boonie hat choices available on the current market:
Columbia Bora Bora Booney II Hat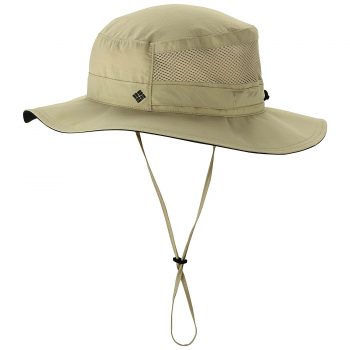 Price: Approx. $30
Dimensions: Adjustable, 3-inch brim
Specific features: UPF-50, quick-dry nylon fabric, Omni-wick sweatband, mesh breathability panel, chin strap
Best use: Fishing, paddle boarding, hiking
This Columbia Bora Bora Booney II Hat doesn't need to be wined and dined to show you a good time. It's extremely light and collapses easily for packing (or shoving) into small pockets for travel or storage. The fabric is UPF 50 rated, with the exception of the mesh breathability panel.
The mesh panel is located right above the forehead-level sweat-wicking band inside the hat. This is a great feature if you know that you will be sweating a lot, as it will help the hat stay breathable and cool you down.
However, if you're bald it might just be a deal breaker; the non-UPF mesh panel would light sunlight into the hat directly on the crown of your delicate and unprotected scalp. The 3-inch brim makes this a great choice for buyers that want a lot of protection for sports like fishing, paddle boarding, and hiking.
Word of caution, though: 3 inches may be too long for comfort for some hikers, so you may want to relegate this option to your day trips when you'll have a smaller pack.
PROS:
Lightweight
Collapses well
UPF 50 sun protection
Comfortable and breathable
Sweat-wicking
Wide brim
CONS
:
Maybe a bit too long for comfort
Not all of the fabric has UPF protection
Related: Don't forget to complete your attire with this pair of Columbia Silver Ridge Convertible Pants. These pants also come with UPF 50 sun protection, so you'll be able to stay nice and cool even if you plan to undertake your next outdoor adventure at the height of the summer.
Solifornia Canvas Sun Hat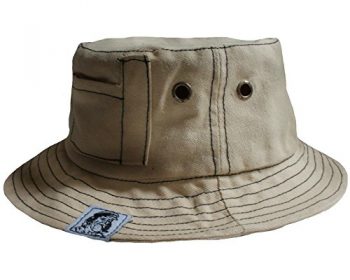 Price: Approx. $30
Dimensions: 3.5-inch brim
Specific features: 100% cotton, canvas material, stash pocket on side, available in 2 sizes (S and L)
Best use: Backpacking, thru-hiking, fishing trips
This Solifornia Canvas Sun Hat didn't have dimensions or weight available. It is, however, more of a bucket style hat than a traditional boonie hat, which means you'll get a narrow brim.
This narrow brim makes it a great option for backpacking or thru-hiking, as it won't brush up against backpacks with external frames.
The side of the hat features a Velcro-closed pocket to stash items for convenient access. The prints are hand-drawn and look more artsy or animated than tactical; if you need your prints to feel more serious and utilitarian than this may not be for you.
According to user feedback, this hat also fits quite snugly–so much so that unless you typically buy youth hats or have a smaller hat size, it may not fit you comfortably. The hat is also made of just cotton, which means it can be washed and dried without special attention which is a nice bit of convenience.
PROS:
Great packability
The Velcro pocket is useful for stashing small items
Great design. Beautiful hand-drawn print
Easy maintenance. Machine washable
CONS
:
Runs small
No sun protection
Related: This hat is a popular choice among fishing enthusiasts, and if you're one of them, we would also like to recommend this Okeechobee Fats Tackle Bag to you. Durable and lightweight, this bag may seem to be on the small side, but it has lots of storage space for you to place your fishing gear in.
LETHMIK Camouflage Hat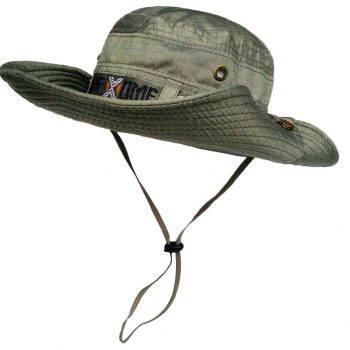 Price: Approx. $11
Dimensions: 15 x 14 x 3.9 inches, 3.75-inch brim
Specific features: Poly/cotton blend, quick-dry material with UPF 50+ rating, easily foldable for packing, hasp brim, adjustable chinstrap
Best use: Trekking, fishing
The LETHMIK Camouflage Hat brings to mind the original idea of what a boonie hat is supposed to be. You've got a nice wide brim that offers protection from the sun, a drawstring chin strap to keep the hat situated in the face of prevailing winds, and it's constructed from a sturdy poly/cotton ripstop fabric that's got a UPF rating of 50+.
While not waterproof, the fabric has a high enough concentration of synthetic fibers that it should dry fairly quickly after being exposed to water, and can hold its shape after being shoved in your back pocket.
The wide brim may get in the way if you're going to be toting a lot of gear, but if you're trekking or simply our fishing for the day this hat is perfect for you. You'll get protection from the sun, it'll dry easily if it gets wet or rained on, and it can be easily stored in a pocket or pouch without worrying about it losing its shape.
The DMF print around the hat stands for Dance, Music, Fishing, according to the manufacturer. They say that these are some of the most diverse experiences in life and that their goal is to sell gear that compliments that joy.
The only thing you might not be joyful about when it comes to this hat is the fact that it is not machine washable.
PROS:
Wide brim
Durable
Comes with UPF 50+ sun protection
Quick drying
Holds its shape well after being crushed
Related: Outdoor enthusiasts can never have enough of quick-drying attires. The hat might protect your head should any sudden drizzle start pouring, but not your body. You'll want to leave that task to this Marsway Quick-Dry Fishing Vest. This vest also comes with many pockets, so you now have a handy place to store anything you don't want getting wet.
KBETHOS Bucket Hat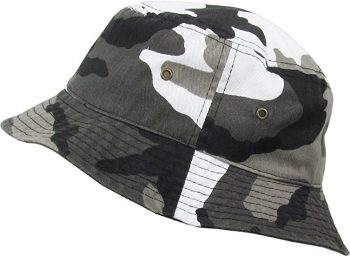 Price: Approx. $8
Dimensions: 2.5-inch brim
Specific features: 55% cotton, 45% polyester flexible fabric, metal pop-buttons on brim to secure sides if desired, fits small but can stretch with use
Best use: Backpacking, hunting
The KBETHOS Bucket Hat is a great basic go-to boonie. The brim is a little narrow, about 2.5 inches, and the fabric is a bit stiffer without actually being reinforced. That makes it look a bit like a bucket hat because the brim tends to stick straight out from the head rather than flopping down and possibly getting your eyes.
The only real con to this option is that the fabric is not UPF rated, so while it'd be great size-wise for backpacking, maybe only take it on trips where you expect to be at least partially shielded from the sun by the terrain.
There are camo options as well as a bright orange, all good options for hunters who want the sun out of their eyes without an overbearingly large hat.
The fit can be little bit tight if you have a larger hat size, but as the fabric is made primarily of cotton, it will stretch with use. To speed up the process, you can also wet that hat before you wear it for the first time, which will allow it to conform to the required shape more easily.
PROS:
Stiff and durable fabric
Available in many different colors
Quick drying
Breathable thanks to the brass eyelets
CONS
:
Needs breaking in
No UPF sun protection
Related: This hat is not only a great companion for your outdoor adventures, but it's good for casual wear too. In the same manner, this Everest Signature Waist Pack can do both. Made from 600D polyester, this waist pack is durable enough to be taken to the great outdoors and is also stylish enough to be worn on a casual night out.
Samtree Boonie Hat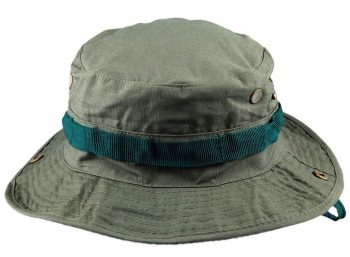 Price: Approx. $10
Dimensions: Circumference is approx. 2.3 inches, the brim is approx. 2.4 inches
Specific features: 65% polyester, 35% cotton ripstop material, adjustable chinstrap
Best use: Hunting, fishing
The Samtree Boonie Hat is rugged enough to get you through just about anything, though possibly better suited to fishing or hunting than anything else.
This brim isn't very wide, but the fit of the hat itself is rather slouchy and loose, which may be too cumbersome with a big pack, but will provide lots of shade and camouflage for hunters or fisherman.
The fabric is not UPF rated, but it does have a high polyester content which means it will dry fairly quickly after being exposed to water.
There are metal snaps on the side of the hat, enabling the wearer to pin them up and create more of a cowboy-style look (this also removes any obstruction from your ears allowing you to hear more clearly–a great option for all my hunters out there).
You may want to go a size or two bigger than usual though when purchasing this hat because it runs quite small.
PROS:
Quick drying
Adjustable, both the chinstrap and the brim style (by using the integrated metal snaps)
Durable
CONS
:
Runs small
No UPF sun protection
Related: Fishing and hunting trips can be rather rough insect bite-wise. To complement the protection that the hat offers, you should wind this Sduck Mesh Camo Scarf around your face and neck. You don't want to be eaten alive by the mosquitoes while you're out there waiting for your prey to take the bait.
Simplicity Safari Sun Hat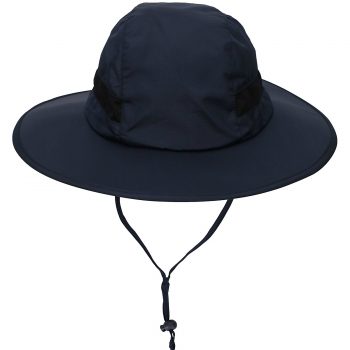 Price: Approx. $14
Dimensions: 2.3-inch inner circumference, the brim is approx. 4 inches
Specific features: UPF 50+ rated, water resistant, 100% polyester fabric, tighter fit
Best use: fishing, water sports, trekking
This Simplicity Safari Sun Hat is unique to our list due to the stiffness of the brim. It sticks straight out from the hat and is reinforced.
This means that it provides excellent rain protection because the brim won't get weighed down nearly as easily, but it does also mean that the hat cannot be stored easily.
If you were to force it into a small compartment, the inner reinforcements would fail, and you would have a very difficult time getting it back to its original shape afterward.
That being said, this hat is excellent for water sport and trekking precisely because of the staunch water protection from that brim–the fabric is also UPF 50+ rated, so you can spend a day under the blazing worry less about burning or skin damage.
The fit on this hat is a little bit snug, and with it being made entirely out of polyester it won't stretch very much. If that concerns you because you wear a larger hat size, you may have to pass on this one.
Also, no worries about breathability even with pure polyester construct: this hat features a 360-degree mesh inlay just above the brim that provides breathability without totally sacrificing sun protection.
PROS:
Stiff, reinforced brim
Water-resistant
UPF 50+ sun protection
Breathable and comfortable
Durable
CONS
:
Runs small
Does not bounce back well after being crushed
Related: For those of you who plan to wear this hat to a fun day of engaging in water sports, be sure to wear these Caribbean Cartel Casual Sandals too. Just like the hat, this one is water-resistant and durable, so you'll be able to enjoy a day of fun and games without worrying about the straps snapping or anything of the sort.
Wrap Up
This guide intended to introduce you the possibility that a boonie hat may be the perfect next addition to your outdoor gear stash.
We wanted to take you through some basic considerations that might make or break your purchasing decision when choosing a boonie hat for yourself and to give you a head start on the shopping list by going over a handful of great products and looking at how they differ.
We hope that after reading this, you feel more informed and confident that you can make a great purchase decision when choosing the best boonie hat for you.#
Featured Image Source: https://unsplash.com/photos/1HSW2zYIdfQ