Summer is on the way, and it's time to head outdoors and make the most of the fantastic weather. Don't forget your sun hat though. Even in changeable weather, you can be exposed to more harmful UV radiation than you realize, so wearing the best sun hat you can find is a must.
If you're used to throwing on any old baseball cap, you could be risking sun-burn, more than your fair share of wrinkles, and, at worst, skin cancer. We've rounded up some of the best sun hats available to help you find something a bit more suited to the outdoor life, whether it's climbing, running, hiking or something else that takes your fancy.
Our top picks
Features to Consider
There are a few features you can look out for that will help you choose the ideal sun hat for your activity levels, budget, and climate.
Sun Protection Rating and Design
We all know that sun exposure can lead to skin cancers, but did you know that the highest number of skin cancers are of the head and the nose in particular?
UVB rays play a major part in the development of cancers. These rays affect the outer layers of skin, and a reaction occurs with as few as fifteen minutes exposure. The skin will continue to react to UVB exposure for up to 72 hours after it stops.
UVA rays penetrate deeper into the skin, and are responsible for wrinkles, premature aging and even suppression of the immune system. And it's not just our skin that is affected by UV rays. Our hair and eyes can also be damaged by too much sun exposure.
It really is important to do all we can to protect ourselves – especially if we plan to spend long periods outdoors. The obvious answer is to put on a hat.
Wearing a baseball cap gives your nose an equal level of protection to wearing an SPF 5 sunblock. Wearing a sun hat designed for exercise in the outdoors can increase this protection to all areas of the face, ears and neck.
Any hat with a brim of three inches or wider is considered 'wide-brimmed' and will offer protection to the skin of your head, face and neck, your hair and your eyes. Brims that are angled down will offer most shade over time compared to flat brimmed hats – as the sun gets lower throughout the day flat brims will let the light underneath.
The best hat for sun protection will have a UPF rating of at least 30+ and probably 50+. The UPF rating is the Ultraviolet Protection Factor of the hat's fabric. UPF 50+ will block 99 percent of UV rays, while UPF 30+ blocks 96 percent of UV radiation.
Don't forget that different parts of your skin may be exposed to the light as you move around, so adding sunblock to any parts of the body that may be affected is a still a good idea. It only takes 15 minutes after UVB rays hit the skin's surface for a reaction (that may end as sunburn) to start, so protect yourself right from the start.
Breathability
The more exercise you plan on getting in the sun, then the more breathability you will need. The main ways manufacturers add breathability to a sun hat is through the fabric they choose, and by adding ventilation panels. Most sun hats are made from very lightweight fabrics to prevent overheating and increase breathability. The lighter fabrics will also be more compressible for packing in a small space.
Ventilation panels are normally found on the sides of the crown and are usually made from a few layers of mesh fabric. The mesh panels are tested as part of the hat when it's UPF rating is given, so these also conform to the same protection level as the rest of the hat.
Comfort
The best hat for sun protection is one you are actually going to wear, so it is important to make sure that your choice fits well and feels comfortable. Some of the more expensive hats come in a wide range of sizes, while those at the cheaper end of the spectrum come in S, M, L and XL. Obviously your hat should not be too tight or you'll end up with a headache – hats won't stretch with wear, so don't be tempted to buy if there is any sign of tightness.
Most hats have some sort of adjustment around the crown, either an elastic headband or an adjustable drawcord. These will keep your hat in place during activity or in breezy weather.
When choosing your hat, try to simulate the activity you'll be doing in it. If you'll be climbing, for example, which involves a lot of looking up, make sure that the brim doesn't touch your back and push the hat off.
Quality and Durability
Some of our recommended hats have hand finished or double stitched seams to ensure strength. When hats are crumpled into a pack, the seams can be under more pressure than in their natural shape, and can give eventually. Quality hats will be built to withstand a bit of rough handling.
Check how well the brim springs back to its original shape after packing, too. Can the hat stand up to being thrown in the washing machine? Does it come with a guarantee?
Style
Movie star glamour isn't really the job of a serious outdoor enthusiast's sun hat, but it would be nice to feel that we don't have to hide behind a bush whenever we see someone coming the other way.
Only you can decide which balance of form and function is right for your needs Depending on how you plan to enjoy the outdoors, you will be able to choose from a wide range of styles, some built for practicality, and others more for style. We'll cover some of each below.
However, there are some more practical style concerns to consider when choosing your new travel companion. Most importantly, lighter colors will reflect most light, making your hat cooler. The downside is that light colors get dirtier more quickly, so unless you are purposefully wanting to go for the battered look, perhaps check the washing instructions.
Some hats have a dark colored underbrim. This is to cut down on glare and might be appreciated by canoeists in particular.
Which Will Be Your Best Hat for Sun Protection?
While it may seem like mundane for everyone, shopping for a sun hat can be surprisingly tricky. Well, that is if you actually care about getting the best hat for protecting your head from the sun. To save you the trouble, we have a number of recommendations for you.
REI Co-op Sahara Cadet Cape Hat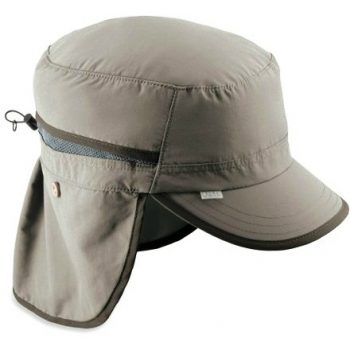 Dimensions: –
Weight: –
Specific features: Deployable ear/neck cape
Best use: Hiking, climbing, general outdoor use
The REI Co-op Sahara Cadet Cape Hat is a legionnaire style cap which has the advantage of looking quite like an everyday cap. Made from lightweight nylon, this UPF 50+ cap is available in two light colors (natural and wombat).
It features a deployable cape which covers the neck and ears when in use, but can be rolled away into the back of the hat when not needed. There are polyester mesh sides to aid ventilation and a polyester wicking headband for comfort.
To ensure a good fit, this hat has an elastic adjustment cord around the base of the crown. A handy pocket in the crown can store an emergency $20 bill.
The peak of the hat is rather small, at 2.375 inches, and may not provide the best protection in high sun, but it does have a foam insert which will float on water. The neck cape is not very long, so may leave a little skin exposed if you are not careful to wear a higher necked shirt.
All in all this is a good all rounder sun hat for active wearers.
PROS:
Lightweight
Light colors
Convenient neck cape
Adjustable
Outdoor Research Sun Runner Cap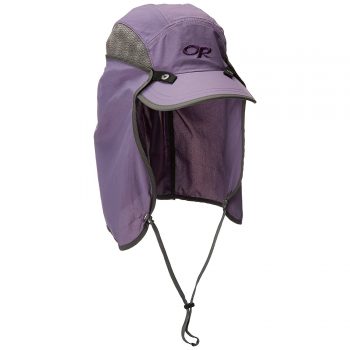 Dimensions: 6 x 10 x 6 inches
Weight: 2.9 ounces
Specific features: Removable cape, external cinch strap for a custom fit
Best use: Running, hiking, active-wear
The Outdoor Research Sun Runner Cap is clearly built for activity. Made from a lightweight 100 percent supplex nylon fabric for heat management, it is rated UPF 30+ and has a TransAction wicking headband to keep sweat out of the wearer's eyes.
The main feature of this hat is the removable cape that is fitted using press studs. The cape can be pulled up high on the crown to cover the mesh side panels or pulled lower for increased ventilation. The cape is of a generous size, so offers plenty of protection, and front cords fasten to provide wrap around protection to the face.
This hat is a good fit with sunglasses, and while the peak may be a little short it is great for visibility, especially if you are running or hiking near trees.
The hat folds up very small and the XL fits even the largest of heads. This is a good choice for runners and hikers, who value protection.
PROS:
Lightweight
Removable cape
Good visibility
Stylish colors
Related: The Outdoor Research Spectrum Sun Sleeves are a great addition to this hat. They provide forearm protection against the harmful sunrays.
Tilley Endurables Airflo Hat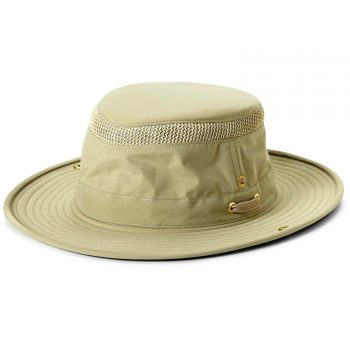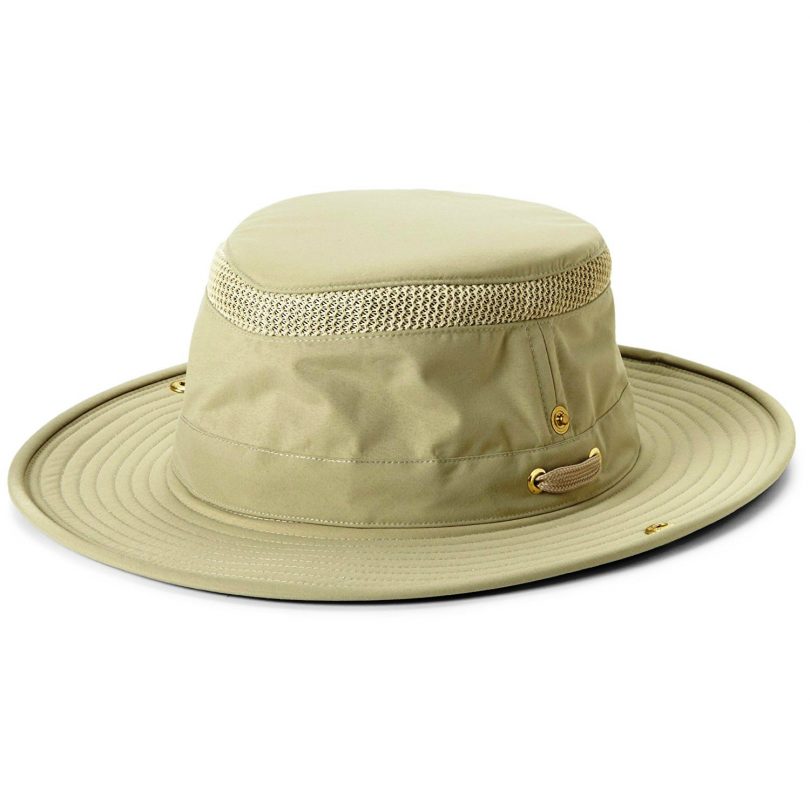 Dimensions: 15 x 11 x 3 inches
Weight: –
Specific features: Snap-up brim, mildew resistant nylon
Best use: Hot climates, hiking, trekking, canoeing
The Tilley Endurables Airflo looks like the sort of hat you would want to wear to explore the rainforests of South America. Available in light reflecting natural and pale khaki colors, the dark under-brim will help reduce glare – a feature that will be particularly welcome if you intend to be on water while wearing this hat.
Tilley hats are well known for their durability. One customer, who works at the Bowmanville (Ontario) Zoo even claims that his hat had been eaten three times by elephants at the zoo. Each time, Michael Hackenberger simply waited for his het to reappear, washed it, and carried on wearing it.
The Endurables part of this hat's name means that it should share the same credentials. The Supplex nylon fabric is water- and mildew-resistant, and the seams are hand sewn and lock-stitched for added durability.
Plenty of ventilation is built into the crown of this hat, using a mesh panel all the way around. There is a practical chin cord, too, which will keep things in place in breezy conditions, although the wide range of hat sizes (from 6.875 to 8+) means that you'll be able to find a great fit.
The wide brim features Aussie-style snap-up sides, and should keep the sun off your face, neck, ears and nose, and the UPF 50+ rating backs this up. With decent looks and the ability to pack flat, this Tilley hat would be good as a trusted companion on a variety of adventures.
PROS:
Durable
Well ventilated
Medium snap-up brim
Coolibar Crushable Ventilated Hat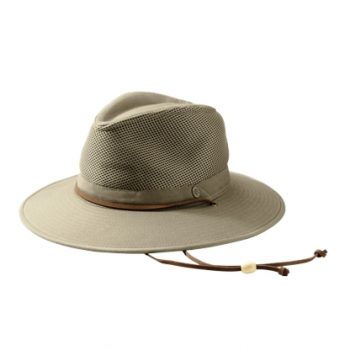 Dimensions: –
Weight: 8.8 ounces
Specific features: Classic look, crushable
Best use: General outdoor wear, traveling, hiking
The Coolibar Crushable Ventilated Hat is arguably the best looking hat in our round-up. Because of this it lacks a little of the practicality of some of the others (it is spot clean only, for example) but is still a great choice for traveling and general outdoor wear.
The three inch wide brim will protect you from the sun throughout the day, and the hat is rated UPF 50+. Made from a cotton/polyester canvas, available in khaki and natural, this hat can cope with being crushed down and packed into a suitcase.
The crown has a mesh layer underneath for ventilation, and an internal elastic headband makes for a good fit. In breezy weather, the chin cord can be adjusted to keep your hat where you want it.
PROS:
Stylish
Lightweight
Crushable
Outdoor Research Sombriolet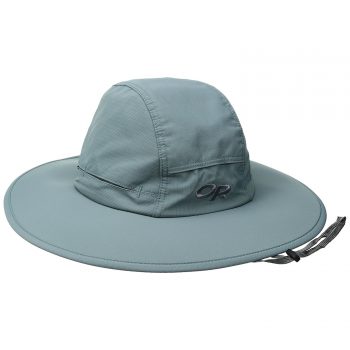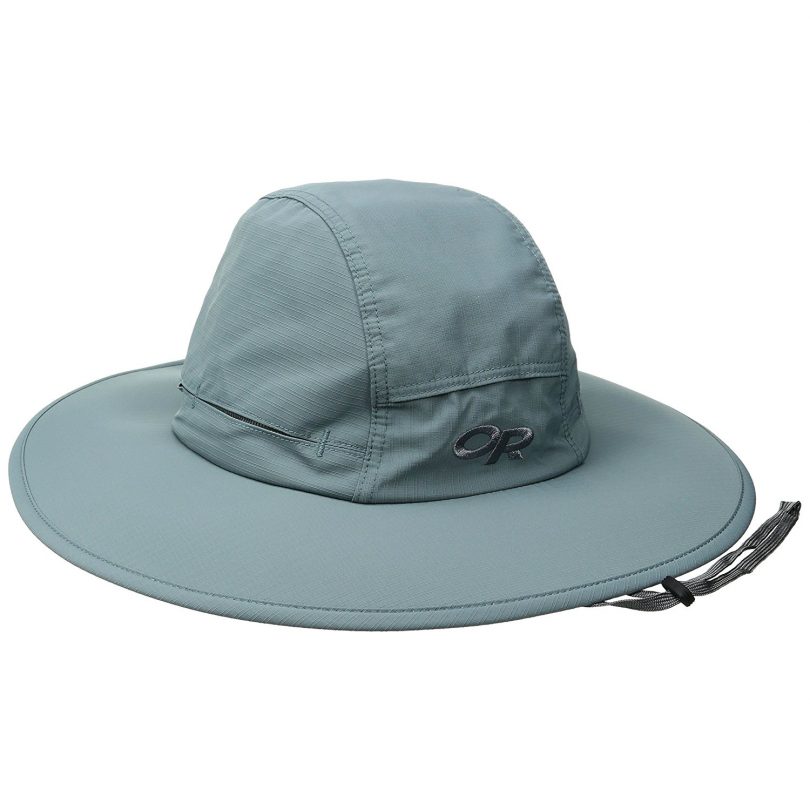 Dimensions: 7 x 18 x 17 inches
Weight: 0.5 ounces
Specific features: Vents, floating brim
Best use: Hiking, canoeing, traveling
The Outdoor Research Sombriolet is a good looking hat for the outdoors. With a wide brim and a UPF 50+ rating, you can be sure that it can protect you from harmful UV rays. Available in a range of neutral colors, from light reflecting naturals to hard-wearing grays and blues, there will be a color to suit everyone's needs.
The fabric is a nylon/polyester blend with a durable ripstop crown, and the hat has a mesh lining which is open to the breeze, but not the light, through the cleverly designed vents. The list of practical features continues with a TransAction wicking headband, adjustable chin strap and an external drawcord which can be adjusted for fit.
The brim is a little on the floppy side and is prone to blowing flat in a breeze – up, which will decrease sun protection, or down, impeding visibility. The wire edging which helps to shape the brim can also become bent, and, while getting pretty close, may never regain the original look of the new hat.
PROS:
Stylish
Wide brim
Durable
Ventilated
CONS
:
Floppy
Can block visibility
Cannot be crushed
Related: Outdoor Research also has the Women's Oasis Sombrero which gives customers the option of buying in a wider range of colors. It features similar practical aspects as the Sombriolet but also has a floating foam brim.
Outdoor Research Solar Roller Hat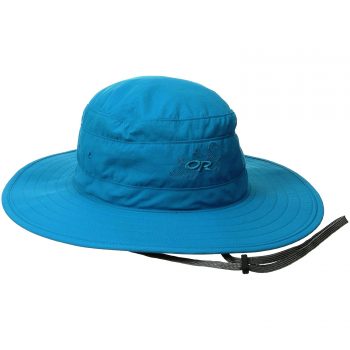 Dimensions: –
Weight: 16 ounces
Specific features: Bright colors, UPF 30+
Best use: General outdoor wear, hiking, canoeing
The Outdoor Research Solar Roller Hat is offered in the brightest color range of our selection. The desert sunrise, alpine lake and candy colors all come with a dark gray underbrim for glare reduction.
The UPF 30+ rated hat continues this practical focus with a TransAction wicking headband and an externally adjustable drawcord for improved fit. The chin cord should keep the hat in place but if the worst happens and it does end up blowing away the floatable foam brim insert means you should be able to retrieve it in most scenarios.
There are no mesh vents on this hat, instead the focus is on a lightweight and breathable fabric. This hat packs well and the colors are great, but be warned that the brighter pink has been known to attract wasps.
PROS:
Stylish
Floating brim
Adjustable
Sunday Afternoons Ultra Adventure Hat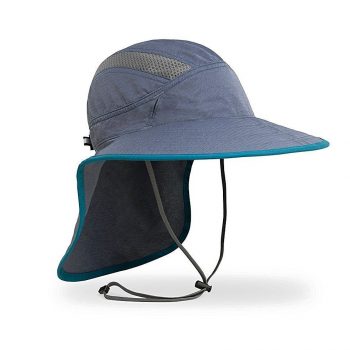 Dimensions: –
Weight: 16 ounces
Specific features: Clamshell brim, neck cape
Best use: All outdoor activities, active-wear
Wearers have only good things to say about the Sunday Afternoons Ultra Adventure Hat. Built for serious sun protection over style, the UPF 50+ rated hat boasts a 3.4 inches clamshell brim which flows seamlessly into a 6 inch non-removable neck cape.
There are ventilation panels in the crown, and a wicking headband ensure you'll be kept as cool as possible. A chin strap keeps the Ultra Adventure in place, and special sleeves either side of the crown form a 'sunglasses lock', holding the arms of your sunglasses securely.
This hat is foldable for packing, by folding the brim in half. If it is folded any other way the brim stiffener can break, resulting in a floppy brim. This is a hard-wearing hat for tough adventures, and you won't be able to get it to look worn and used even if you try.
PROS:
Durable
Crushable
Ventilated
Clamshell brim
Neck cape
Related: The Sunday Afternoon's Sundancer Hat is a similar hat with a few unique features. A pleated waterfall neck veil adds style to functionality. This hat is available for approximately $40-99.
Quick, Before The Sun Comes Out
Anticipating new adventures and choosing new gear is only second to actually using that gear in earnest. With your new hat as your trusty travel companion you'll be ready to take on the world, no matter what the weather throws at you, so have some fun making a perfect choice.
Featured Image Source: https://pixabay.com/photos/man-human-a-adult-portrait-old-3077903/