Hiking can be one of the most awe-inspiring activities as you walk the breathtaking nature trails. It's an outdoor activity that's perfect for almost all seasons, be it summer, spring, or winter. 
But is it ever too cold to go hiking? For some, hiking during the winter and colder months is a thrill. And while that's true for extreme outdoor enthusiasts, there are certain safety measures that are non-negotiable.
Is it Safe to Hike in Cold Weather?
For many, hiking would be the most prioritized on their schedule during the colder months, whereas for the average person, hiking below 40°F is no longer safe.
For you to even consider hiking in extreme weather, you need to be an experienced hiker with enough tested knowledge in wilderness survival. This includes being familiar with different ways to keep yourself warm and being equipped with the skills and tools that can help you in dire circumstances such as frostbite or hypothermia.
Apart from the cold temperature, you also have to be prepared for the possibility of snow, rain, and precipitation. These additional factors make hiking in the cold dangerous, even fatal.
In winter, there is also a greater risk of getting lost. When the mountains are covered in snow, they can become an unforgiving place.
Recommended Reading: We've written a whole article on whether hiking boots work in snow that you might be interested in.
Cold-weather Hiking Tips for Beginners
Hiking in the cold can be fun as long as you are well-prepared for the experience. If you're an experienced hiker, you must already be aware of the many hiking tips and measures that should be followed.
However, here's a brief overview of some of the most important tips to consider when hiking in cold weather.
Dress In Layers
Make sure that you are dressed for the occasion. When you are outdoors in cold temperatures, insulating can be crucial to your survival.
Ideally, three layers of clothing should be enough, especially if you are wearing a heavy middle layer. However, if it is freezing, you should consider adding one more layer of clothing. As long as it is below 20°F, a minimum of three layers should be enough to keep you safe.
When dressing in layers, make sure the outer layers are larger than the inner ones. If not, the outermost layers will end up compressing the inner garment and will reduce its insulating properties.
You might think that one heavy garment can have the same effect as that of three layers of clothes. But, despite being heavier, a single layer is not enough to insulate your body against harsh cold.
Bring Spares
You have to pack smart when going hiking. And always remember that it pays off when you bring a spare set of clothes, including socks and underwear.
This can be especially important if any of your clothes get wet. Wearing wet clothing in freezing conditions is a sure-fire way to have a bad time. Whereas taking the time to change out of wet clothes into dry ones, even if that means briefly getting colder, can be greatly beneficial.
And apart from such personal items, make a list of other things that you may need, such as batteries. You never know what can act up, so having a set of extra batteries is always handy. 
A second flashlight, lighter, and pocket knife are also beneficial when hiking in cold weather.
Having a spare of anything that could be considered lifesaving should be strongly considered.
Recommended Reading: We've written a comprehensive list of gear to bring for winter hiking that you might be interested in.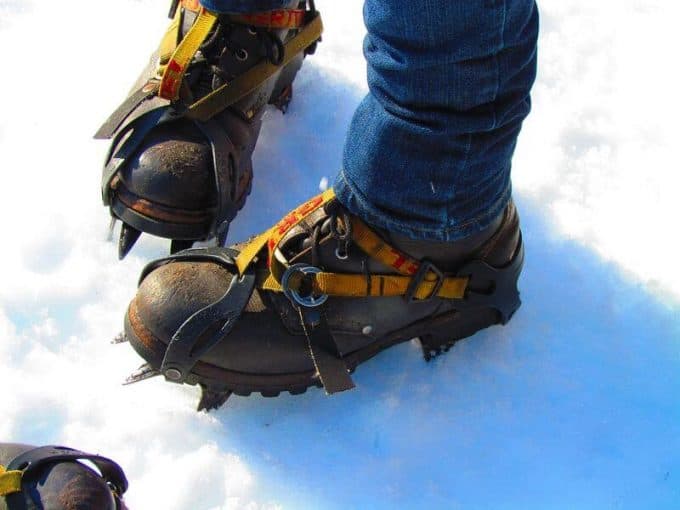 Crampons for Ice
During winter, crampons can be a blessing when on a hike. It is one device that you shouldn't leave home without.
Crampons are a toothed metal attachment fitted onto your hiking boots. The primary purpose of incorporating them is for additional and more secure traction when you are on ice or areas with hard-packed snow.
Recommended Reading: We've written an explanation of the difference between crampons and microspikes that you might be interested in.
Crampons have very interesting anatomy. Every component, the material, and how they are designed to impact the functionality and efficiency of crampons.
This product typically has a rating chart that can help with guiding you about the most appropriate one to buy based on your activity and the weather.
For winter hill hiking, winter climbing, ice climbing, and glacier traverses, it is suggested that you go for C1 crampons, these are crampons that use straps to secure themselves to your boots.
Recommended Reading: We've written a list of our top picks for crampons that you might be interested in.
Cold-Weather Hiking Gear
The correct winter hiking gear can make all the difference in your icy adventures. You might have the right clothes and would have layered enough, but without some of these hiking essentials, your hike may not end up being as pleasant as you had anticipated.
So, if you want to ensure a safer trip, consider investing in the following cold weather hiking gear.
Trekking Poles
Whether you're hiking during the winter or hiking rougher terrain in the warmer months, a pair of trekking poles should be something that you consider for your gear.
Trekking poles can significantly impact your stability in a positive way and add comfort to your hike. Using these poles also allows your joints some relief from the shock and pressure applied at every step.
On a steep hill, your trekking poles can assist you and ensure that you have excellent footing. This not only helps avoid accidents but also keeps the pressure off your knees.
Additionally, it helps you have better balance. Think of trekking poles as another pair of limbs that provide you with steady footing. This can be extra helpful in snowy or icy ground.
Besides, if necessary you can even use your trekking poles to keep wild animals at bay or to shoo away smaller creatures.
Recommended Reading: We've written a whole article on how to use trekking poles that you might be interested in.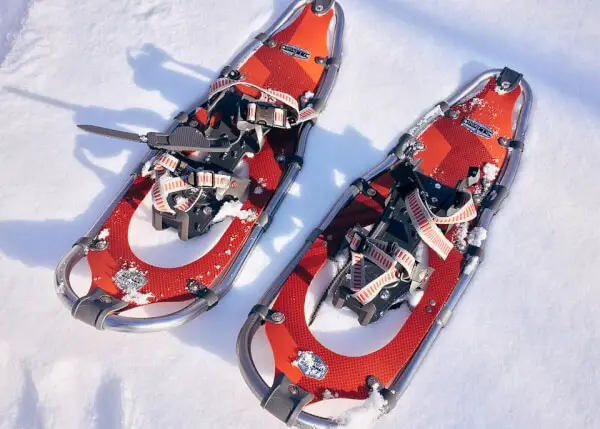 Snowshoes
When you're going for a hike, wearing your favorite sneakers or boots would not be advisable. 
Snowshoes are designed with additional length and width to help you maintain your balance and help you avoid sinking too much into the snow.
Recommended Reading: We've written a beginner's guide on how to snowshoe that you might be interested in.
While adding weight makes it harder for you to walk, the increased surface area provided by the snowshoes prevents you from sinking into the snow. Anyone who has gone for a long walk in deep snow can attest to how exhausting this can get very quickly, as you're constantly having to lift your feet up over the snow and then dropping back down till the snow compacts enough or you hit the ground.
Such winter shoes are also designed by taking into account factors such as floatation, stability, and traction.
Recommended Reading: We've written a list of our top picks for beginner's snowshoes that you might be interested in.
Crampons
These winter cleats, with their sharp metal tooth spikes, can stop you from slipping and falling. Crampons dig into the ice as you go about your hike.
Avid winter hikers typically pair their crampons with an ice ax. This helps them cover the distance they aim for during hiking while remaining secure with their footing and overall stability.
After Thoughts
Part of being adventurous and embracing your wild side is to experience hiking during the winter. However, as this may be a risky activity when you trudge through the snow when the temperature drops down to a frosty chill, it is necessary to follow safety measures.
We hope these tips will guide you on your next hike and keep you safe, warm, and allow you to make the most of your trip.
Featured Image Source: https://unsplash.com/photos/8WhjEmVDTew