There is nothing better than spending a night under the stars surrounded by nature. Camping is a great activity that can bring you closer to the great outdoors, not to mention it's incredibly relaxing. What's not so relaxing is trying to decide what kind of shelter you're going to sleep in.
There are so many different options out there for you to choose from. When choosing the type of shelter for your camping trip, it's important to keep in mind a few things: the location, the weather, the number of people you're camping with and your own personal sleeping preferences.
Remember, different scenarios call for different types of shelter. You also need to take into consideration if you want to carry a light pack or if you don't mind a little extra weight, and the type of terrain you'll be dealing with.
See also: Tent Footprint vs Tarp: Which Groundsheet is Best for Protecting Your Tent?
This guide will give you a look at the pros and cons of the two most traditional and highly debated camping shelters: hammock vs tent. While both serve their purpose of providing you shelter from the elements, they do so in their own unique ways.
You should examine the pros and cons that both tents and hammocks have in each category, and choose the best option to keep you comfortable during your next camping trip.
Price
This is often the first thing that a lot of campers think about when choosing a type of shelter. It's important to keep in mind that a quality camping shelter, no matter what type, is a great thing to invest your money in. Here are some general price estimates for hammocks and tents, including the costs of additional equipment needed for both.
Hammock
Hammocks are generally an affordable camping shelter option. This is because the physical object itself requires less material and moving parts than a tent or other larger shelters. A good quality nylon hammock can cost you anywhere from $50 to $100 online or at an outdoor equipment store. Don't forget to check out our review of the best hammock straps to guide you.
But if you're going to be spending a full night anywhere other than your backyard in a hammock, you're going to need more than just the hammock itself.
Suspension system (around $40) – This is a necessary addition to your hammock, because most basic hammocks don't come with the straps needed to safely secure it to nearby trees or poles. This isn't an addition that you want to skip out on, and cannot be easily replaced with a rope.
Bug Net (around $60) – If you don't like flies buzzing around your face all night while you sleep, it's a good idea to get a bug net that covers your face and body to protect you from getting bitten throughout the night. A bug net can also protect you from other creatures like snakes lurking around your hammock campsite.
Hammock Rain Tarp ($75) – The biggest argument against hammocks is their lack of protection from the weather. But fear not, because with a rain tarp you won't have to worry about waking up to a hammock filled with water. Even if it's not raining, condensation and morning dew from the trees above you makes a rain tarp an essential addition to hammock camping.
Hammock Under Quilt (around $100) – For those chillier nights, or if you're in higher altitudes where the temperature tends to drop when the sun goes down, you're going to be happy you have a hammock under quilt with you. Under quilts are essentially half of a sleeping bag that you put on your backside to avoid drafty chills that can often permeate the nylon lining of a hammock.
Keep in mind that these are just general prices, and you can find cheaper or more expensive ones with a little research. You can also buy a hammock beginners kit that includes a hammock, a bug net, a rain tarp and suspension system for around $300.
Tent
When shopping for a tent, you usually don't have to worry about buying individual parts as tents generally come for sale with the canopy, poles, and staking system all included. This spikes up the initial price for buying a tent, but there's also not a lot extra that you will need once you make the initial purchase.
When buying a tent, you can choose between a single person tent, and tents that hold anywhere from 2 to 10 people. A good quality one to two-person tent is going to cost you anywhere from $150 to $300 dollars depending on the brand and size.
While it's possible to sleep in a tent without any extra additions, here are a few things for added comfort that you might want to consider into the overall price of a tent.
Sleeping pad (around $75-$150) – Sleeping pads come in handy for people who need a little extra cushion between them and the ground. Modern sleeping pads are lightweight and easy to carry.
Air Mattress (around $50) – Air mattresses are slowly becoming a thing of the past, but still prove to be a cheaper and more cushioned option that a sleeping pad. Even though you're paying less, you're going to be lugging around more weight as air mattresses are notoriously bulky and heavy.
Sleeping bag (around $50-$100) – The classic sleeping addition for tent camping, sleeping bags are an easy an affordable way to add some cushion and warmth to ensure a good night's sleep. Newer versions utilize start of the art technology to maintain warmth while losing the bulk.
Size and Weight
Hammock
Hammocks are the smallest and most lightweight shelter option of the camping world. Most hammocks clock in at around only 1 pound. If packing light is something that's important to you, or you need to carry you backpack over long distances, hammocks may be the best options for you. For the lightest hammock suited for camping, see our piece on this topic.
But don't forget that the 1 pound is only the weight of the hammock itself. When you start adding in the necessary additions such as the straps and rain tarp, the weight will increase. If you're interested in adding even more comfort with things such as the bug net, under quilt or a hammock pad, you will have to sacrifice the lightweight nature of the hammock.
Tent
It would logically seem that tents are heavier than hammocks with the sheer size and weight of the poles and canopy. But an average one person tent clocks in at around 4 pounds, which is not much more than a hammock including all the extra additions. For tips on how to choose the best ultralight tent, see our earlier article for more information.
Of course, if you're planning on bringing a sleeping pad, air mattress, or sleeping bag, you can expect that weight to go up and the bulkiness of your pack to increase.
Ease of Set up
Hammock
Hammocks tend to be easier to set up than a tent, if you can find the perfectly spaced trees that is. It takes some practice to get used to tying the straps correctly and getting your whole hammock shelter system working, but once you get it down it's pretty easy to do.
This process includes more work when you're talking about attaching the rain tarp, bug net and other additional add-ons. You will also need access to trees that are 12 to 18 feet apart, which isn't too hard to find when camping in the forest.
The nice thing about setting up your hammock is you don't have to take into account a flat surface or rocks, because you're suspended in the air. Although if you happen to be camping in a desert or terrain without many trees, setting up a hammock can become difficult.
Tent
Thanks to technology and modern designs, setting up a tent isn't as hard as it once was. It's almost as easy as setting up a hammock considering the time it takes to put together the separate parts of a hammock shelter system.
The only difficulty when considering setting up a tent is the limitations that you have with the terrain. You need a flat spot of earth, without many rocks or debris around to successfully put up your tent shelter.
This can be difficult to find in dense forests, or muddy and rocky terrains. Tent camping can be difficult when in hilly or sloping areas, where finding a level place to sleep is rough.
Comfort
Hammock
Advocates for hammocks rave about the great nights' sleep they get when hammock camping. Others complain about the banana shaped position many hammocks force you to sleep in.
If you enjoy being cradled and compressed while sleeping, then a hammock is a great option. Although many stomach sleepers, and those who toss and turn throughout the night will find sleeping in a hammock a struggle.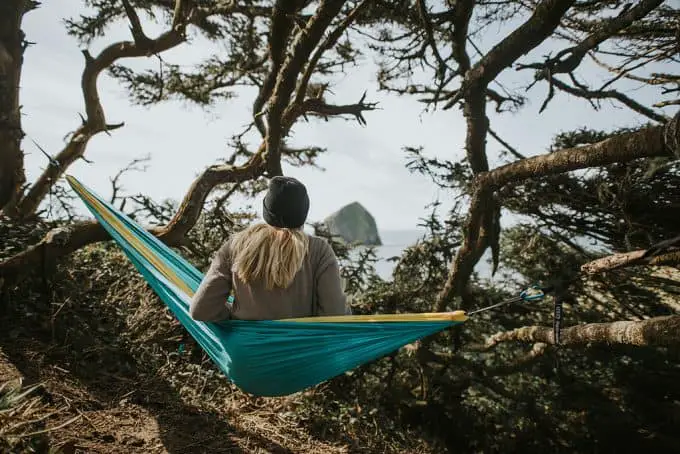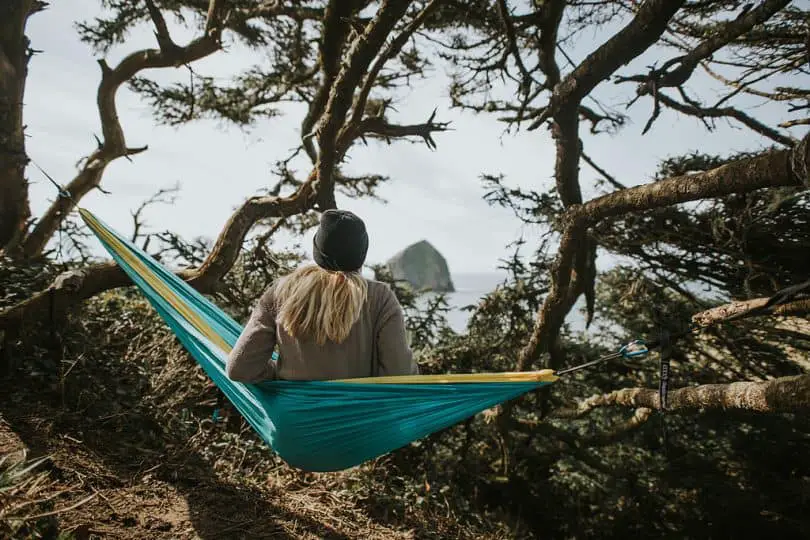 Sleeping in a hammock is often times better for those with back and arthritis issues, because your bones aren't subjected to the pressure of a hard surface all night. You are also suspended in the air without worry of rocks or sticks being pressed into your side as you sleep.
Tent
Many people prefer to sleep in a tent because it is the most similar to traditional sleeping positions, like your bed at home. You are even able to bring an air mattress or sleeping pad to mimic the same sleeping style that you have in your own bed.
Sleeping in a tent tends to be better for stomach and side sleepers, and those who prefer to move around freely while sleeping. Although you do have to watch out for debris that can be lying under the tent, and bring a cushioned pad or mattress to avoid the hard ground.
Another benefit of sleeping in a tent is that it can hold more than one person. Most hammocks are designed to sleep one person, and while there are some that are made for two, sleeping with two adults in one hammock is a recipe for disaster. Tent camping allows for couples and families to sleep together, and even has enough room for your dog.
Weather
Hammock
Hammocks are not known for their weather protection. Although they are made of waterproof nylon and with a quality rain tarp set up in a sturdy position, any good hammock can easily weather a storm. When you get caught in an unexpected downpour while hammock camping, one thing you don't have to worry about is flooding.
Because you are suspended above the ground, you are not susceptible to water soaking you and your belongings while you sleep. Although during chillier nights and the winter season, hammocks do little to keep you warm.
It is possible to get a hammock under quilt, layer your clothing, and use a sleeping bag. Most people don't recommend using a hammock in harsh winter conditions.
Tents
Tents provide a better overall protection from the forces of nature. While they are susceptible to flooding in heavy rains, tents provide better protection from pelting rain, strong winds, and harsh snow.
Many people feel more comforted by the fact that in a tent they are surrounded by four walls, creating a greater barrier between them and nature. There is also enough room in most tents to store your belongings so that they can be protected from bad weather too. During the winter, you can easily stay warm in a tent with insulation and portable heaters.
Leave No Trace
Hammock
It's easy to practice the Leave No Trace philosophy when hammock camping. Because hammocks hang above ground, you don't have to worry about crushing any plants below you or ruining the natural habitat. And as long as you make sure to use wide straps when hanging your hammock, you won't bring any harm to the trees you're sleeping under.
Tents
Setting up a tent and sleeping on the ground can easily crush the plants and terrain below you. It's hard to avoid this while tent camping, especially if you're in a heavily populated campsite area.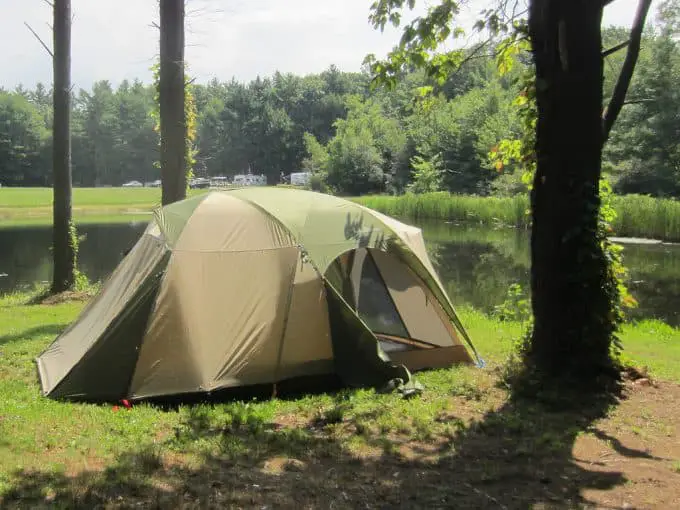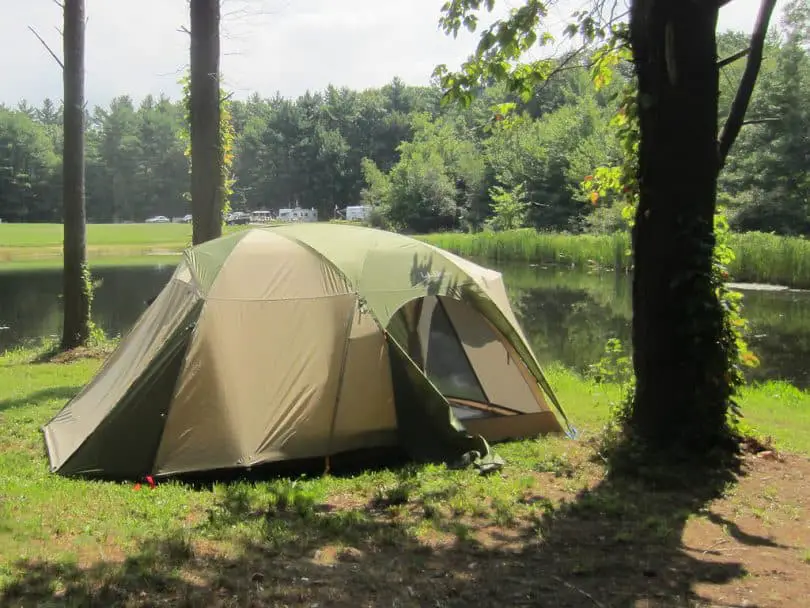 But if you're setting up your tent in the backwoods and plan to be in the same spot for more than one night, it's a good idea to move your tent around the area every couple of nights to avoid completely killing the plants below you.
Solitude vs Social Camping
Hammock
If you're a person who prefers camping alone with just you and nature, then hammock camping is a great option for you. When camping with a hammock, you have the flexibility of staying in spots that aren't crowded campsites. You can go deep into the forest, find a good pair of trees, and set up camp with no people in site for miles.
By avoiding campsites, you will often be able to find a much quieter place with a better view, and won't have to worry about the campsite being full when you've hiked all day to get there.
Tent
A lot of people view camping as a social activity. If you're one of them, then tent camping is a great option for you.
Tent camping makes it easier to go camping with a group of friends or your family, and spend some quality time together.
Most campsites have amenities like grills and electricity hook ups, making throwing your very own camping party easy. Campsites are also very social places, and it's easy to make friends with fellow campers and meet new people.
Still not sure which option is right for you?
When choosing between a tent or hammock, there are many things to consider. Do you prefer peace and quiet over socializing? Are you a back sleeper, or a stomach sleeper? Are you camping in the winter season? What kind of terrain are you camping in?
Whether you choose to camp with a hammock or a tent, there are pros and cons to both options. Use this guide to help you decide which shelter is the best for your next camping trip. For a review of the top hammock tent that you use in comfort, see our article on this important topic.
Featured Image Source: https://unsplash.com/photos/RMicIhNOOIg