As days get longer and the snowpack settles, ice climbing and ski mountaineering become very appealing throughout Colorado. However, to safely access steep objectives, peaks or couloirs; best crampons are a necessity to provide the much needed solid footing on icy crusts.
With them, you can scale ice-smeared rocks, climb frozen waterfalls, ascend snowy slopes or cross glaciers. But to maximally enjoy your adventure, the crampons have to be compatible with your boot, be flexible, better fitting and lightweight.
Yes, you can't go far wrong when purchasing the best crampons for ice climbing from the main manufacturers but, with the overwhelming options out there, it becomes tricky on what model, design, features and styles to settle for. Luckily, this write-up aims at helping you make an informed decision on what crampons to purchase by providing guidelines on factors to consider before buying and the top-rated spikes in the market today.
A comparison table for the best crampons for ice climbing:
What is the 'Best' description?
Spikes are becoming more personalized and specialized by activity. Ultra-lightweight traction products are manufactured for daily walks in wintry conditions. Traditional ones handle glacier and snow travel, mountaineering and technical hiking when used together with ice axes while those designed for mixed ice/rocks routes or frozen waterfalls are increasingly technical.
However, much as specialization is an added value, the overwhelming variety still remains a challenge. Therefore, to avoid falling on hard ice with crampons on, take the following into account for a quick and quality pick.
Frame
The main aspects to consider here are the frame weight, materials, and alignment. Crampons are crafted from either steel, stainless steel or aluminum. Steel crampons are durable making them essential for steep icy and technical terrain. Stainless-steel crampons are resistant to corrosion alongside other merits whereas aluminum crampons are light making them ideal for alpine climbs. However, they are less resistant to abrasion, wear and tear especially on rocky terrain.
On alignment, frames can be vertically or horizontally oriented. The former are becoming outdated though. They were being used together with plastic boots but following the shift from such footwear to leather ones, horizontal frames have become the order of the day. They're flexible, more stable and their bars repels snow efficiently.
When it comes to weight, the rule is ever simple _select crampons that err on the lighter attitude. Based on their materials, aluminum crampons are the lightest. However, less weight comes at the expense of strength and durability so, select carefully.
Construction type
Crampons can be rigid, hinged or semi-rigid with the latter being the vast majority nowadays. A semi-rigid construction provides adequate rigidity for moderate ice climbing yet sufficient flex for winter walks. That is, they do perform excellently both on approaches and on technical climbs.
Some models allow for linking bar adjustments, changing crampons from being semi-rigid to a more responsive mode. That make them more comfortable and resistant to snowballing. Semi-rigid crampons are adjustable as compared to their rigid counterpart which allows them to fit various boot shapes.
Consider the center bar orientation too. There usually are right and left crampons in a semi-rigid construction but you can obtain an asymmetrical bar for a better fit.
Binding systems
Most boots come in one of the 3 bindings namely hybrid, step-in or strap-on. The former feature a toe strap and a heel lever. Much as their toe strap fit securely without a welt, the bindings are best for boots with a heel groove/welt and a stiff sole to hold the lever. They are easy to wear even with gloves as you just draw the toe strap and flip the heel lever.
For step-in bindings, a heel cable attaches the crampon to the boot while a wire bail keeps the toe in place. With them, a well fit crampon results in a secure system. They are easily worn with the gloves on regardless of the weather condition. Step-in bindings work best with boots having at least 3/8 inches groove/welt on toe or heel alongside rigid soles. The front bail is movable to adjust the front points' length based on the terrain.
Strap-on bindings on their side feature 2 nylon webbing straps. They are compatible with virtually any footwear. All you need to do is ensure that their center bar corresponds to the flex of your shoe. They fit in tightly for moderate icy walks but aren't as precise as the other bindings. With this, you should select wisely on the type of bindings to go with.
Points
The number and adjustability of the points matters. There are 10 to 12 points per crampon for stability purposes. Currently, there are some technical models whose points have serrated sides for increased stability. Note, more points are required for technical climb unlike in general mountaineering.
For front points, consider their orientation too. Horizontal front points are suitable for ice, snow or alpine climbing. Vertical points are best for mixed climbs and steep waterfalls. They are greatly adjustable and slip easily into cracks. In some models, there are secondary points for traction and added support. On its side, a monopoint crampon works as best as that with vertical points.
Most importantly, consider the adjustability of the points. Are they modular or non-modular? The latter are lighter and can be sharpened. However, they wear out and are fixed hence no room for adjustments. Modular points on their end are adjustable so, select carefully.
Crampon/boot compatibility
Crampon/boot compatibility is necessary for safety and performance. Therefore, consider the following as you select your crampon:
Boot type – is it rigid, semi-rigid or highly flexible? Are there heel or toe welts, or both? Consider purchasing a new pair of boots if the ones you own are highly flexible and are in need of purchasing crampons for technical climbing.
Activity type – for general walks, less-technical crampons are the rule, however, while ice climbing or mountaineering; consider your boot's heel and toe. If you go with step-in crampons, remember to get stiff-soled footwear with welts at the heel and toe.
Flexibility of your boot – for flexible footwear, go for crampons with flexible center bar. You can put on aluminum crampons with boots for glacier travel or light mountaineering; just ensure the flexibility is similar.
Carrying the footwear when shopping for crampons – this ensures that you purchase crampons that best fit you. Ensure the center bar is compatible with the boots shape, flex and length. Note, you can also make micro-adjustments to have a seamless fit.
Consider a strap-on system when unsure – these crampons work best with a variety of boots thus it can be safer than others when it comes to fitting issues.
Crampon accessories
For an added advantage, go for crampons with accessories such as anti-balling plates, gaiters, spare parts, cases and point covers. Gaiters protect your legs and lower apparel from being nicked by crampon points. The cases and point covers protect you and your park from sharp points. Covers are mainly crafted from rubber and are less expensive and bulky when compared to cases. The latter, however, are crafted from nylon material and provide an easy and quick storage for your crampon.
Most crampons have ABS plastic anti-balling plates. They prevent loss of traction by preventing snow from sticking to the crampon. Spare parts on their end ensure you maximally enjoy your excursions even in remote areas. How? With alternative center bars, heels or toes; you can adjust your crampon to fit the boots of choice.
The international mountaineering and climbing federation (UIAA) are strict when it comes to ensuring the safety of the climbers. In fact, some features like anti-balling systems are a necessity according to them. That's just a federation, doesn't your personal safety matters to you the most? So, follow the guidelines outlined above to make a decision that is safe, quality, durable, stable, and supportive, and of great strength and performance.
Reviewing the top-rated crampons for ice climbing
Black Diamond Snaggletooth Pro Crampons
Price: Approx. $210
Weight: 2.6 pounds
Dimension: 5 x 5 x 15 inches
Specific features: Unique horizontal monopoint front point, stainless steel material, dual-density ABS anti-balling system, micro-adjust heel bail
Best use: Alpine climbing, ice climbing
Are you looking for a set of crampons that can cross glacial terrain then climb steep ice to get to the peak? The Black Diamond Snaggletooth Pro Crampons has got you covered. They can be termed expensive when compared to other spikes in the same line, however, they're the real deal. Their horizontal monopoint penetrate hard snow excellently with the secondary points offering additional support and strength.
The anti-balling system prevents snow from sticking to their bottom preventing loss of traction whereas the micro-adjust bails allow for toe or heel adjustments for a customized fit. In addition, their stainless steel construction is durable and does not rust. That ensures longevity alongside preventing your lower apparel from getting stained.
Therefore, on your next excursion through Colorado, slip on the crampons and save your day greatly.
PROS:
Durable
Walk naturally
Good penetration
Flexible center bar for compatibility with many footwear
CONS
:
Relatively heavy
Costly compared to other spikes in the same line
Related: Crampons in the 'tooth' line are manufactured from similar materials and with similar technology. Therefore, if the features in the snaggletooth fit your needs but are looking for a cheaper spike, go for the Black Diamond Sabretooth Crampon Pro.
Petzl Irvis Crampon
Price: Approx. $150
Weight: 2.15 pounds
Dimension: 4.9 x 5.1 x 12.2 inches
Specific features: Chromalloy steel material, dual front points, Leverlock or flex lock boot compatibility
Best use: Climbing ski touring, mountaineering
This 10-point crampon is light, thin yet compact for mountaineering expeditions. Its dual front points provide a solid grab on steep icy glaciers and couloirs whereas the anti-balling and anti-snow system ensure continued traction hence stability. The Petzl Irvis Crampon includes a Leverlock hybrid compatibility or a flexlock strap-on compatibility making it ideal for use with many boots.
The nylon webbing straps secure the heel and toe in place without squeezing the boots sides while the 2 teeth set at 45° to add stability while traversing or descending. In addition, the flexlock adjust easily accommodating half-sizes for a snug and accurate fit. In short, it's the best crampon while ascending, traversing or descending snowy or icy alpines.
PROS:
Affordable
Light
Provide adequate stability
Highly flexible
CONS
:
Not for large boots or feet
Less durable
Grivel G10 Crampon
Price: Approx. $130
Weight: 2.6 pounds
Dimension: 5 x 6 x 15 inches
Specific features: One size, fully adjustable, highly packable, Zytel dupoint harness, Chromoly steel material, removable antibott shields
Best use: Ice climbing, ski touring, mountaineering, trekking, traversing glaciers
The Grivel G10 Crampon is designed for many outdoor activities. Crafted from Chromoly steel, the crampon is flexible and lightweight making it ideal for any alpine expedition. Its attachment systems are easy to do without necessarily having to follow instructions. You just open the dupoint harness, slide the boot in and secure it with a single pull.
The anti-balling system clears snow for continued traction while its minimal points and dual front points make it ideal for kids too. In addition, it's highly flexible and though less packable, it's the real deal when ice climbing in Keswick, England.
PROS:
Affordable
Highly flexible
Suitable for small feet too
CONS
:
Less durable
Relatively heavy
Less packable
Related: Climbers who carry their downy jacket along do purchase Grivel Crampon Safe to save their jacket from the sharp crampon spikes. It's made of nylon and hence are guaranteed of durability.
Petzl Sarken Leverlock Crampon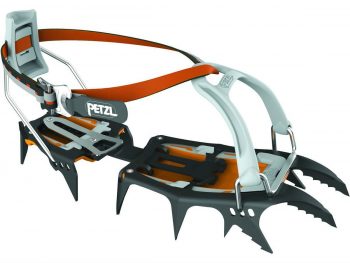 Price: Approx. $200
Weight: 2.6 pounds
Dimension: 5 x 5 x 12 inches
Specific features: T-shaped front point, Leverlock universal bindings, and anti-snow system
Best use: Mountaineering, ice climbing
The Petzl Sarken Leverlock Crampon is structurally reinforced to boost its durability and strength. With its leverlock universal bindings, you can rely on it for any mixed terrain expedition. The micro-adjustable heel bails remain flexible even in extreme conditions ensuring a secure fit throughout the day.
T-shaped front points provide adequate penetration in hard snow/ice for support and stability. The crampon is adjustable without tools whereas the linking bar can be changed from flexible to semi rigid mode depending on the boot for maximum compatibility.  In addition, the anti-snow system prevents the snow from sticking to the bottom of the crampon lowering traction.
In a dilemma on what to carry on your next trip to Ice Factor, Scotland? Just slip on this crampon and enjoy your outdoor.
PROS:
Provide adequate stability
Durable
Natural walking even in mixed terrain
CONS
:
Relatively heavy
More costly compared to other products in the same line
Nonreplaceable front points
Related:  Petzl crampons are designed in a similar manner. So, if you are okay with features present in the Sarken spike but are in need if a lighter and cheaper spike, purchase the Petzl Vasak Leverlock Crampon. It's made of stainless steel to prevent corrosion boosting its durability.
Grivel G14 New Matic Crampon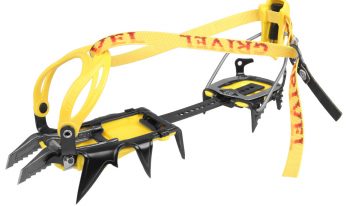 Price: Approx. $220
Weight: 2.37 pound
Dimension: 4 x 5 x 14 inches
Specific features: Chromoly steel material, 11-12 points, 3D stamp, forged front points, semi-rigid design
Best use: Ice climbing, trekking, mountaineering, alpine skiing
The supreme performance and incredible versatility of the Grivel G14 New Matic Crampon make it ideal for burly alpine ascents and steep ice climbing. Its 2 vertical front points penetrate excellently in hard ice while the hot-forging boost their strength and durability in that, they can square up to repeated ice bashings.
The hooded points boost shear resistance in steep ice while the anti-balling plates increase the traction of the crampon. With their hybrid bindings, they're only compatible with boots that have substantial toe & heel welts and rigid soles.
In addition, the crampon contains a stainless steel strap, permanently mounted on its base for safety purposes and to avoid complete loss of the spike in case it's forced off the footwear.
PROS:
Quick and easy to put on
Relatively light
Flexible
Provide adequate stability and support
CONS
:
Relatively expensive
The toe bail rarely fits well
Just compatible with boots having rigid soles
Related: Climbers go for Grivel G22 Crampon as an alternative. The two cost almost equal amounts, have similar features except that the latter incorporate a monorail technology for flexibility purposes.
Black Diamond Contact Crampon
Price: Approx. $130
Weight: 2.6 pounds
Dimension: 3.9 x 2 x 3.9 inches
Specific features: Dual-density ABS anti-balling plates, flexible toe strap, stainless steel construction, new lower-profile fit, one size fit
Best use: Ice climbing, mountaineering, backpacking, hiking
For general mountaineering, mountain treks or icy bootpacks, the Black Diamond Contact Crampon provide you with lightweight and durable dependability. The crampon is made of stainless steel to ward off rusting increasing durability. Horizontal front points offer adequate security and stability in the steep snow while the secondary ones create a stable platform with every foot fall. The points are serrated too for a secure hold.
The anti-balling system keeps off snow beneath your boot while the low profile provides a snug connection to modern mountaineering boots. In addition, the flexible toe straps are compatible with most boots, therefore, when accessing steep objectives e.g. Torreys Tuning Forks; slip on this pair and save your day.
PROS:
More durable than previous versions
Highly affordable
Quick to put on and easy to use
Compatible with a variety of boots
CONS
:
Less solid in the heel
Relatively heavy
Related: Ice climbers often purchase Black Diamond Ice Axe alongside the contact crampon following it's lightweight, adequate height and high strength. It's used in shoveling or cutting ice for easy trekking.
Black Diamond Serac Crampon
Price: Approx. $180
Weight: 2.6 pounds
Dimension: 5 x 5 x 15 inches
Specific features: Redesigned stainless steel construction, versatile horizontal front points, multi-version ABS anti-balling system
Best use: Hiking, ice climbing, backpacking, trekking, ski mountaineering
The Black Diamond Serac Crampon is designed for reliable and stable mountaineering performance. Its lightweight stainless steel construction wards off rusting and comprises of secondary points for stable and sure footing while navigating verglas and horizontal front points for adequate penetration into icy alpines faces.
The crampon comes with ABS anti-balling plates that keep off snow consequently increasing traction and length-tweaking curved bars with easily adjustable heels for comfort and customized fit. The pair can either be a clip, pro, or strap based on the bindings used.
The strap has strap-on bindings making it compatible with most boots, the clip has step-in bindings and the pro hybrid bindings. While the former is best suited for hiking boots the latter are specially crafted for use with technical footwear.
When is your next visit to Rjukan, Norway? Ensure you don't forget to carry this crampon with you for a memorable expedition.
PROS:
High quality
Sturdy
Easy to use
Excellent traction
CONS
:
Slightly heavier
The securing strap is too long
The points feel dull
Related: Climbers purchase the Black Diamond Crampon Bag alongside the Serac crampon for transportation purposes. It's specially crafted with zippered mesh lid for air drying and vinyl-coated nylon to increase durability and to safely enclose the sharp points lest they damage other gears in the backpack.
Camp USA Stalker Crampon
Price: Approx. $100
Weight: 2.6 pounds
Dimension: 5 x 5 x 14 inches
Specific features: Universal bindings, easy size adjustments, comes with a carrying case and point covers, Vibram anti-balling plates,
Best use: Hiking, ice climbing, mountaineering
The Camp USA Stalker Crampon is the go-to crampon for any mountaineering adventure. It's crafted from Chromoly steel, a material proven to stand the test of time. The thermoplastic toe and heel harness with the universal bindings ensure that the crampon is compatible with a vast majority of boots.
Vibram anti-balling plates keep of snowballs beneath your feet increasing traction while the strong nylon strap secure the boot tightly. The stalker is a great and affordable pick for safe traverse in the mountains. In addition, its striking new colors coordinate with those of Neve ice-axe.
PROS:
Affordable
Durable
Easy to use
Sturdy
CONS
:
Less flexible
Relatively heavy
Related:  Climbers and mountaineers usually purchase the Camp Neve Ice Axe alongside the stalker crampon for the purpose of shoveling ice along their trail. It's affordable, lightweight with a comfortable height (65 cm) making it ideal for steep ascents.
There you have it! A review of the top-rated crampons. They are the experts' recommendations thus purpose to check them out for a quick and quality pick.
Summing up
The overwhelming crampon options in the market today can leave you in a dilemma. However, you don't have to feel depressed. You can never go far wrong when purchasing from the main manufacturers or leading brands, therefore, select one of the crampons in the experts' recommendation list reviewed above. If you're not open to recommendations, follow the guidelines explained herein and select your way up to a quality, durable and boot compatible crampon.
Featured Image Source: https://pixabay.com/photos/hiking-shoes-ice-spikes-glacier-1582295/