It does not matter if you are a camper or not, we all have found ourselves in the need of cutting a wire, lighting a fire or even opening a bottle. However, how many of those times that you've got the right tool to do it? Won't it be nice if you could carry a handy tool in your person that can perform a variety of everyday tasks?
Thankfully, there is no shortage of multi tools that can be handily attached to your keys! However, finding the best keychain multi tool can be a hassle, especially if you do not know what to look for. Also, there is a wide array of products in the market so you need to know what you are willing to pay for.
For that reason, we have written a quick guide to help you choose the best keychain multi tool that meets your needs and requirements. Plus, we have a number of recommendations for you to check out. Let's get right to it!
Our Top Picks
Most Important Features to Consider
Knowing what aspects you should look for beforehand is always a good way to start your search for the best possible item. For that reason, we have highlighted the most important characteristics that every keychain multi tool must have.
Number of Functions
For multi tool keychains, the feature to make note of is the amount of functions the tool can offer. A basic feature for every keychain would be having a screwdriver and bottle opener, but according to your needs, you can find scissors, carabiners and so on.
Now, this really depends on your needs. Having a lot of functions is not necessarily a must because you might just end up with a tool with features you don't need. Therefore, determine the functions you need most and start from there.
Durability
Another feature to make note of is the durability of the keychain itself, and the materials that were used to build it will tell you how long lasting it is. Most keychains are made with stainless steel but the designs can vary from one to the next. Tools that features thin steel construction is simply not going to cut it in terms of longevity and durability.
Again, this will all depend on your personal requirements. If you are going to use the multi tool for outdoor use, you will want one that can withstand a good deal of punishment, preferably those that have undergone heat treatment. Ideally, it won't hurt to get a multi tool that will last you a long time but this also means a higher price tag.
Design and Weight
Keychains can come in different sizes, shapes and functions, so they're not created equal in terms of shape. Also, some of them are more comfortable than others to carry, due to their shape, weight and size. Most keychains weigh under a pound, but you must have in mind that the lighter they are, the fewer functions they have.
Of course, this will again depend on which functions you are looking for. If you want to be a walking toolbox, a feature packed item might be more right up your alley. However, keep in mind that it might be heavier and more unwieldy. If you just want the bare minimum functions, there is no shortage of tools that can offer you just that.
TSA Approval
This is not actually necessary, but if you were to take a keychain multi tool to a plane, make sure it is TSA approved. If it has the approval, the item would say so in the case or on its syrface. The TSA is very specific about what you can and cannot fly with.
There's a good chance that the TSA will confiscate your item even if it's deemed authorized by them. If you don't want to lose your multi tool, you might want to stash it into your check in luggage.
Carrying Method
A multi tool is only as good as your willingness and ability to carry it. One of the most important things to consider when choosing a multi tool is to determine how it can best fit in your overall lifestyle. Fortunately, you have many options to choose from.
For example, there are keychain multi tools that you can attach to your keys which allows easy and universal portability. After all, you carry your keys with you all the time, right? There are also belt multi tools that can be worn on your hip. These are usually full size tools that are designed for the most rugged jobs but not the most pocket friendly variants.
Best Products on Today's Market
With the previous information fresh in your mind, it is time for us to present to you our selection of recommended products. We hope that you could find a product that will meet your needs.
Gerber Curve Knife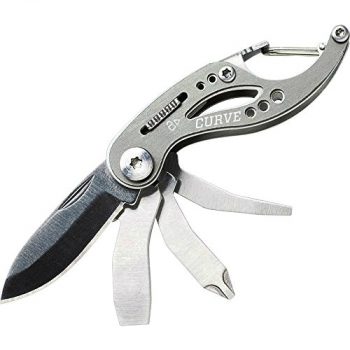 Price: Approx. $9
Weight: 0.8 ounces
Dimensions: 2 x 4 x 1 inches
Specific features: Stainless steel, multi tool blade, screwdriver, file, bottle opener
Best use: Handy work, protection, multipurpose
People have found in the Gerber Curve Knife an amazing keychain multi tool companion for outdoor excursions that is very durable and long lasting. Even better, the Gerber Knife is a lifesaving and problem solving tool because it comes with a screwdriver, a file, a strong bottle opener and, of course, a sharp blade. It is pocket sized and portable, so you will always have it in your person.
The knife perfectly fits in the palm of your hand and, if you tend to misplace things a lot, do not fret since this is indeed keychain compatible, so the best thing you could do is attaching it to your keys. Gerber paid specific attention to the design of the blade, making it stylish and sleek, while also adding the grey steel that gives it a modernist look to the knife.
However, people say that the carabiner clip is not as secure as it should, so it might fall off if you are not careful enough. Additionally, people complain about the shape that the screwdrivers' head have since they do not fit well in many screw heads. Finally, the locking mechanism is requires too much effort to release.
PROS:
Stainless steel
Durable
Sharp blade
CONS
:
Weak carabiner clip
Screwdrivers' head are not always compatible
Locking mechanism difficult to release
Related: The Gerber MP400 Multi Plier is another option to consider since it has a one handed opening design while also being compact, lightweight and durable. It comes with several tools like wire cutter, knife blade, scissors, screwdrivers and bottle opener, and it has a very stylish design.
Victorinox Swiss Army Cadet Knife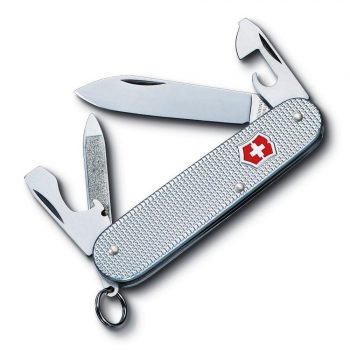 Price: Approx. $33
Weight: 1.6 ounces
Dimensions: 3.3 x 0.75 x 0.25 inches
Specific features: Stainless steel blade, metal alox body, nine tools in one
Best use: Army, hunting, daily task
The most popular and widely known, the Victorinox Swiss Army Cadet Knife protects and provides multi functional use. The knife has been a staple for the army since 1884 but, over the centuries, the design has been perfected to allow the user maximum usability. The multi tool companion has nine features, making it versatile and practical, while being small and having the keychain feature that allows portability.
The design of the knife is what makes it such an asset because other than the practicality, the knife is designed with elegance in mind. This knife includes a blade, a keyring, a bottle opener, two different screwdrivers, a nail file, a wire stripper, a can opener, and a nail cleaner. The blade is made of stainless steel, and the handles of the knife are made of metal alox.
Before you buy this pocket knife, you should consider that some buyers found it quite big in comparison with the ones offered by other brands. Also, people say that after a few months of regular use, the color started coming off. Additionally, some tools strike with each other when closing the knife.
PROS:
Versatile and practical
Durable and sharp blade
Nine features
CONS
:
Big
Color comes off
Tools rub with each other
Related: Another great product is the Victorinox Swiss Army Classic SD Pocket Knife. It is very durable due to its stainless steel construction, it has 7 tools including a blade, a nail file, scissors and screwdrivers, it is very compact and, even better, there are a lot of different skins you can choose from.
Reductivist Ringtool Multi Tool Keychain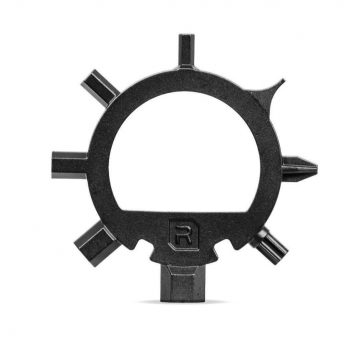 Price: Approx. $30
Weight: 1.12 ounces
Dimensions: 2.2 x 0.2 x 2.2 inches
Specific features: Stainless steel body, 10 tools in 1, indestructible material
Best use: Cyclists, handy work
The Reductivist Ringtool Multi Tool Keychain has an uncommon design for a multi tool keychain offers its users practicality and uniqueness. The keychain has TSA approved features, so flying with it on you is no big deal. The features that have been approved by the TSA are a bottle opener, five different millimeter lengths of screwdrivers, a Flathead driver, a Phillips driver, a Torx head T25 driver, and two different size Spoke wrenches.
It is made in New York, but sold everywhere. Ringtool was originally targeted for cyclist commuters, but a lot of people got wind of the new design for a multi tool keychain, so it was not just cyclists using it anymore. Other than features, the keychain is made of top grade stainless steel that the makes the keychain indestructible. Also, the tool will stay with you for life due to the lifetime warranty provided for the purchase.
Nevertheless, the Ringtool does not have the tiny hole to attach to keychain that most multi tools from this list have, which most people find very troublesome. Also, users believe that its design makes it very bulky and uncomfortable to carry. Finally, a lot of people found difficult to use the bottle opener.
PROS:
Virtually indestructible
Lifetime warranty
Practical
CONS
:
Nonexistent hole for keychain
Bulky and uncomfortable
Bottle opener difficult to use
Related: The same company has made another Reductivist Ringtool that has pretty much everything the previous one has, but this one comes in a different color and with the tiny hole to be attached to a keychain that was absent in the last version.
Everyman Porter Key Knife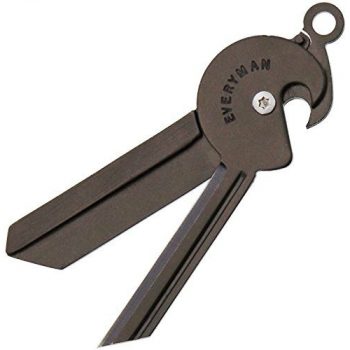 Price: Approx. $22
Weight: 1 ounces
Dimensions: 2.5 x 0.1 x 0.7 inches
Specific features: Groove Grip, dual layer bottle opener, stainless steel body
Best use: Everyday use, self protection, bottle opener
The Everyman Porter Key Knife aims to help in everyday activities without limiting your space. The deep groove grip allows firm hand placement in times of danger, and it is safe around children since it has a click lock to secure the blade. It can also function as a bottle opener, which is made of dual layer, so it maximizes durability.
The body of the this knife is made with 3CR13 Stainless Steel, which is a top grade Scandinavian steel. The Key Knife can be used as a box cutter, a camping companion, or a tool for self protection since it is very sharp and strong. The set itself includes a stainless steel cable keyring.
Buyers have said that you need to use the bottle opener in more than one spot to actually get the bottle cap off. Also, people find very difficult to use the blade due to its small size, and that the keyring unscrews itself easily while on the pockets. Finally, people complain about its price; in fact, they say that it is too pricey for what it truly offers.
PROS:
Firm hand placement
Click lock
Stainless steel
CONS
:
Difficult to use bottle opener
Small blade
Keyring unscrews easily
Related: The Everyman Key Rings are another great addition to your keychain. They are 100% made of stainless steel, which ensure a very strong and durable performance. They are also rust resistant and can be used with the Porter Key Knife and with any other object that can be attached to your keys.
SOG Key Folding Knife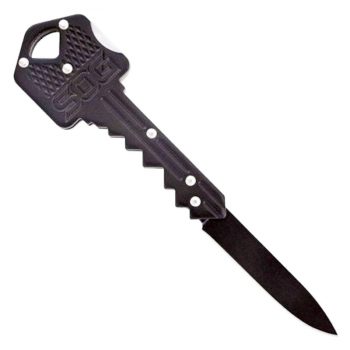 Price: Approx. $9
Weight: 0.7 ounces
Dimensions: 4 x 3 x 0.2 inches
Specific features: Concealed compact blade, stainless steel
Best use: Daily task
The SOG Key Folding Knife appears as a normal key to the naked eye, but it actually has a blade expertly designed to be hidden inside a handle shaped like a key. You will have protection on you at all times, and no one will know. The 5Cr13 stainless steel used makes the 1.5 inch blade a force of nature while also being the SOG's first lockback knife of its kind.
There is a hole at the top of the key for easy keyring attachment so you won't lose this knife anytime soon. More importantly, the wide variety of things the tool can be used for are endless. It can be used from grooming and proper hygiene to cutting rope or opening a box.
However, buyers say that the lock mechanism tends to fail from time to time, so it might open by itself while in your pocket. Also, it does not have too many tools; in fact, it only has a blade, which is a downside compared with other products from the list. Finally, people say that the knife needs to be sharpened before using it.
PROS:
Stainless steel
Hole to be attached to keychain
Long enough blade
CONS
:
Not 100% secure locking mechanism
Only includes the blade
Blade not 100% sharp
Related: The company has another great multi tool to consider; it is the SOG PowerAssist Multi Tool. It has 16 different tools including pliers, blades, screwdrivers, v cutter and more, it has tool locks to keep you protected, and it comes with a limited lifetime warranty.
Infora True Utility Lighter

Price: Approx. $10
Weight: 1 ounces
Dimensions: 0.59 x 0.59 x 1.77 inches
Specific features: Waterproof lighter, neoprene O ring design
Best use: Camping & smoking
Lighters typically are not waterproof but True Utility has proved that it does not always need to be like that. The team behind True Utility has designed and executed a Infora True Utility Lighter that is indeed waterproof thanks to the Neoprene O ring design. The dark chrome lighter is plated with zinc alloy giving the lighter a clean finish.
The lighter fits on any key ring, making it portable and easy to keep track of. The lighter will be a one time purchase because it is refillable by, potentially making it a perpetual multi tool. The lighter is essential for anyone who is an ardent camper or backpacker.
This product has a few troublesome downsides. The first one is that the paint chips off after a few months of regular use, taking off the stylish design it has. The second one is that it does not have any rubber material, which makes it rather slippery. Despite the flaws, this is a great, solid multi tool lighter for your EDC kit.
PROS:
Waterproof
Durable
Refillable
CONS
:
Paint chips off quickly
Slippery
Difficult to refill
Related: If you are willing to buy this product, the same manufacturer has0 some other useful gear for you. The Infora True Utility Sportmans Kit comes with a lighter, a tactical flashlight and a stainless steel multi tool with a knife, a bottle opener, some screwdrivers and pliers.
True Utility Fixr Pocket Tool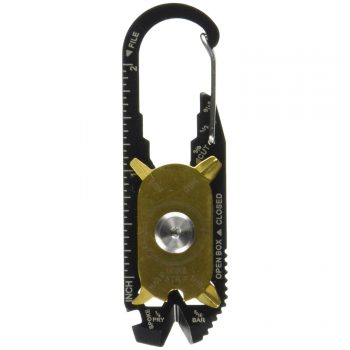 Price: Approx. $6
Weight: 1.6 ounces
Dimensions: 3.2 x 1 x 0.3 inches
Specific features: Multi function use, 20 tools in 1 Pocket
Best use: Handy work
The True Utility brand has engineered another Pocket Tool that functions as a multi tool keychain. The True Utility FIXR Multi Tool has 20 features including a bottle opener, a blade, a pry bar, a nail file, a box opener, two flat drivers, eyeglass screwdriver, two Phillips drivers, a ruler, and six wrenches varying in length. As you can see, every single one will come in pretty handy for just about any situation.
The tool is made with three different materials. The disc is coated with gold titanium, the body is made with black stainless steel material, and the blade itself is made with K5 carbon steel. Also, it has a quick release clip disc feature that keeps the tools you do not need out of sight.
People who have bought and used this item say that they should have made it a bit larger since it is kind of difficult to use due to its small size. Also, the say that you need to try more than once to get to open a bottle using its bottle opener, and that the screwdrivers are too small to work with regular screws.
PROS:
20 tools in one
Clip disc feature
Quick release design
CONS
:
Too small
Difficult to use the bottle opener
Screwdrivers only work with small screws
Related: The True Utility SciXors Multi Tool is another fair option for you since it can be used as a bottle opener and as a screwdriver for different screw sizes. It is made with stainless steel and sharp serrated blades, has a quick release pin key ring attachment, and is small and lightweight.
Leatherman Raptor Shears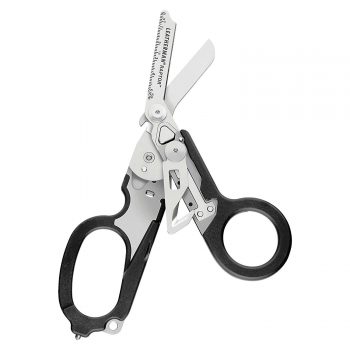 Price: Approx. $75
Weight: 5.8 ounces
Dimensions: 6 x 4 x 9 inches
Specific features: 6 Tools in 1, high carbon steel body, holster included
Best use: Medics, fire professionals
The Leatherman Raptor Shears is not your typical multi functional portable tool. It is shaped like scissors and comes in a holster. This is not a tool you can just stick onto your keychain since its purpose is for professional use, such as medics or fire professionals. The high form of carbon used to make the Raptor does make it indestructible.
There are six tools included, all equally important in a time of crisis that are essential for saving someone's life. It has 420HC stainless steel folding medical shears, a ring and strap cutter, a ruler, an oxygen tank wrench, and a carbide glass breaker. Also, Leatherman is so confident about the durability of this item that it offers 25 years of warranty.
However, users have claimed that the ring cutter is made of weak materials since it tends to break after a moderate use. Additionally, people find it quite bulky and heavy to carry as a daily basis, and also it does not come with the instructions and more you will need it more than once.
PROS:
Sturdy blades
Professional use
25 years of warranty
CONS
:
Weak ring cutter
Difficult to use
Related: Another great multi tool from the same company is the Leatherman Skeletool RX Multi Tool. It includes pliers, wire cutters, a knife blade, a carabiner that works as a bottle opener and a bit driver it is made of aluminum, the tools can be easily folded, and it can be used with one hand.
Kershaw K Tool Folding Knife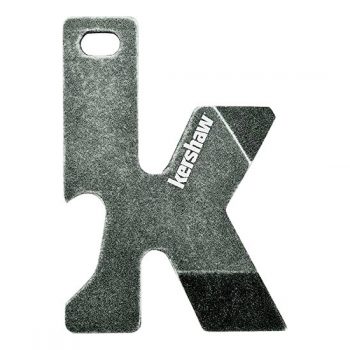 Price: Approx. $3
Weight: 0.7 ounces
Dimensions: 0.05 x 6 x 4 inches
Specific features: K shaped multi function tool, stainless steel body
Best use: Bottle opener, screwdriver, handy work
A simple design can go a long way, and the Kershaw K Tool Folding Knife has proven this to be true. This item comes in the shape of a K, and is easily attached to your key ring. This tool can open your favorite beverage, and can function as a screwdriver as well. The pry tool comes in handy if you were doing any emergency handy work.
Also, this knife looks like an everyday keychain, so no one would suspect what you would actually utilize it for. The item weighs less than an ounce, making it extremely lightweight and easy to carry around. It is made with 3Cr13 stainless steel that gives it high durability and longevity.
Users say that this product is so small that the bottle opener feature is difficult to use since it needs more leverage. Also, it's also not the most comfortable tool to keep in one's pocket.
Overall, this is one of the best knife multi tool that you can buy in the market.
PROS:
Lightweight
Strong and durable
Stylish look
CONS
:
Bottle opener difficult to use
Not comfy enough
Lack of knife
Related: The Kershaw Select Fire Multi Tool is another recommended item from the same company since its blade is made of stainless steel, it comes with different bit drivers, has a one hand design and can be taken everywhere due to its size and weight.
Summing It Up
You have now arrived at the end of the in depth reviews. There are specific features for every keychain, but as a buyer, you need to know which one benefits you the most. Some people look for a multi tool keychain with maximum functions, while some others prefer maximum functionality over simplicity, and some prefer design over durability.
Featured Image Source: https://www.pxfuel.com/en/free-photo-qpvvf