Have you ever been to the beach and ended up getting your cell phone in the water? Or have your camera been damaged because your luggage got wet? It's not only a hassle to replace these items, it's also expensive. But you won't have to worry any longer with the best dry bag on your side to keep your belongings protected.
The main difference between a dry bag and any other kind of backpack is that these bags are intended to keep water out. This keeps your items safe from rain as well as splashing water if you're out kayaking or canoeing. We couldn't agree more that dry bags are the perfect way to keep your gear safe, but how do you go about finding the right one? Well, we are here to help!
Instead of shopping around on your own with no way of knowing what you should be looking for, we're going to take you on a journey to find a dry bag that suits your needs the most. First, we'll show you the important features you should keep in the back of your mind when you're shopping, and then we'll show you the best products that customers are raving about.
But enough of the chitchat; let's get started!
Our Top Picks
Things to Consider Before Buying
A dry bag may seem just like a regular bag, and that there should be no difficulties finding what you're looking for, but there's more to a dry bag than just being able to hold your contents. Material, how much volume it can hold, what it's made of, if it's submersible… these are all important features that you should definitely keep in mind.
To make it easier for you, we're going to lay out these features for you and why they're so important to your purchasing experience.
Waterproof Rating
One of the first thing you should investigate when deciding the right dry bag for you is the waterproofing method used on the fabric as well as the level of water resistance they have. While some bags may repel water significantly, most of them are not completely waterproof.
Instead, they're only water-resistant, which means they can take a few small splashes, but your belongings are still at risk of getting wet. To find the best waterproofed fabric, look at products that have DWR (durable water repellent) coating, or is made from Gore-Tex.
Material Used
The most commonly used material for dry bags is the nylon, due to its resistance to water. Nylon is also usually coated with a waterproofing technique to increase its water resistance. What makes this fabric great is that it comes in a variety of types, so you can choose flexible or stiff fabrics that work best for your needs.
Another commonly used material is vinyl, which is often used on smaller bags made to store important documents or electronic devices, such as phones and mp3 players. This is because vinyl is a much stiffer material, and doesn't work well in making larger dry bags that you can store easily.
Closure Type
As you might have guessed, keeping the items inside safe and dry is vital, so the closure system on the bags plays a big role in determining its worth. There are typically two kinds of closures when it comes to dry bags: Hypalon roll top and zipper seal.
Hypalon roll top: this is a closure that is used on a majority of dry bags, because it is the most effective method at keeping out water. It works by the top being rolled and a buckle fastened into place, keeping the bag both air- and water-tight. With this method, a handle is also created for easy carry, or it can be used to string multiple bags together to keep your hands free.
Zipper seal: other types of dry bags have a press-to-seal zipper-style closure; think of your freezer bags at home. They also work great at keeping water out, but lubrication is required to keep the seal working properly.
Carrying Straps
Many dry bags will most likely come with carrying straps. Dry bags may come with backpack straps, which of course you can wear on your back. This type will most likely come with the straps and bag. On the other hand, there's the duffel model that you can wear over your shoulder.
Straps can be very useful if you're having multiple bags from one place to another. Again, this is all to your personal preference.
Size
Size does matter when it comes to your bags, and bigger is not always better. You need to think of its use when investing money on it. Buying a bag that is too big for the things you will carry might cause you to over pack and end up with useless items that will only slow your pace.
On the other hand, if you buy one too small, you will probably end up using more than one and carrying more weight or making your journey more uncomfortable. The best way to avoid this is investing in several bags with different sizes. That way, you can choose according to the trip you will take.
The best measurement to look at when determining the size of the dry bag you'll need is to look at the volume. This is measured in liters (L), which is a rough estimate of how much liquid the bag can carry.
Daypacks, bags that designed for a single day-trip, are usually between 20 and 50 liters; weekend and multi-day bags range from 40 to 70 liters; expedition backpacks are anything more than 70 liters. By knowing the size of your dry bag, you can determine which one is capable of keeping your most important gear dry.
Best Products on Today's Market
Now that that has all been said and done, we're going to show you the best products in the market, and why customers like them so much. These dry bags come highly rated, which you can discover for yourself in their reviews, and determine for yourself, which one is best for you.
Bago Dry Bags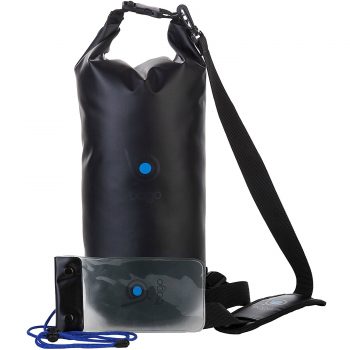 Price: Approx. $10
Weight: 14.4 ounces
Volume: 10 liters
Material: Vinyl
Specific features: Adjustable and detachable shoulder strap, see-through windows on one side, watertight roll-up closure, DrySeal waterproof, dust and snow resistance, comes with cellphone dry bag
Best use: Kayaking, rafting, snowboarding, snow and water activities, hiking
The Bago Dry Bags are a great option for keeping your gear safe and dry. They are very resistance, as they are made with a heavy duty vinyl. This makes the bags perfect for any condition, whether you're hiking, yachting, or kayaking down the raging rivers.
They come with a watertight roll up closure that prevents any water from getting inside, keeping your gear dry. On top of that, you can also choose to fill the bag with air so that it floats on water. This feature is incredibly valuable to those who will spending parts of their camping trip out on bodies of water and don't want to lose their gear.
The bags have a very useful see-through window to save you time on finding what you're looking for. No more digging around in the wrong bag; you can see exactly what's inside before you even open the bag.
It also comes with an adjustable and detachable shoulder strap to help you with the carrying, and even comes with a cellphone dry bag for added protection of your smaller electronic devices.
PROS:
Durable
Good volume
Affordable
Easy to carry
Floats
CONS
:
Cannot handle being submerged in deep water
Related: Are your winter socks just not cutting it? Then you might want to consider the Phantom Aquatics Neoprene Fin Socks. They're made from neoprene, which is guaranteed to keep your feet warm and don't have the extra bulk of thick woolen socks. They're stretchy enough to hug your feet without adding discomfort, and are durable enough to withstand even the most grueling hikes.
Sea to Summit Dry Sack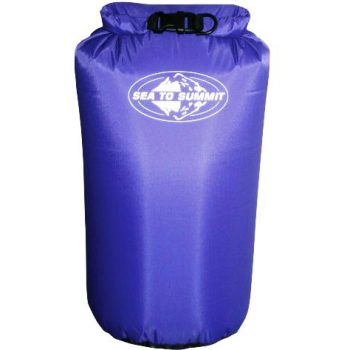 Price: $10 – $27
Weight: 3.2 ounces
Volume: 1 – 35 liters
Material: 70-denier nylon
Specific features: Polyurethane-coated nylon construction, white inner laminate, D-ring attachment, taped esams, Hypalon roll-top closure, available in seven colors
Best use: Backpacking, hiking, water sports
The Sea to Summit Dry Bag can be used for backpacking, as well as kayaking or other water sports. It's a great, durable and lightweight bag than can also just be used for general traveling purposes.
It is flexible yet very durable, so you can use it without having to worry too much about its safety, and as it is waterproof, you can even use it as floating device once it is full of air and fully sealed.
The bag comes with a hypalon waterproof roll top that facilitates keeping your items dry inside, you just have to make sure to secure it rightly. It is easy to use and to access and close after using.
Please consider that, although waterproof, it is not meant to be submerged into water for periods of time.
In addition, even if its nylon is high resistant, harder conditions like rock climbing or exposure to elements might require you to use a case to help stay protected.
PROS:
Lightweight
Keeps water out well
Affordable
CONS
:
Fabric tears easily
Not completely waterproof
Related: Camping usually comes with a lot of wear and tear, but you don't want it to happen while you're trying to enjoy your vacation. Instead of struggling to keep your tent in one piece, the MCNETT Sil-Net Silicone Seam Sealer can keep everything together. It also works on tarps, backpacks, and any of your gear that's made from silicone or silnylon fabrics.
Freegrace Dry Sack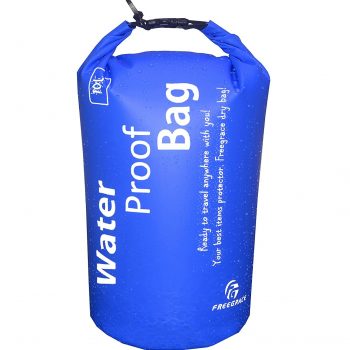 Price: Approx. $19
Weight: 5.28 ounces
Volume: 5 liters
Material: 250D two-sided paint coat net clamping cloth
Specific features: Roll-top seal closure, available in plenty of sizes and colors
Best use: Kayaking, rafting, boating and other water activities
This Freegrace Dry Sack can really take on some water, just as long as it's not submerged. Its waterproof system is great, due to its material and the roll top closure it has. This means that you can use it for water-related activities like fishing, kayaking, and many more without a worry.
Its roll top closure helps to keep the water out, and is easy to close and get open so you won't waste time. This bag also comes in a number of other sizes and colors, so you can keep your gear organized and color-coded so that you know where everything is. That leaves you with plenty of options to keep all of your gear dry.
However, as many other dry bags, its use it is not intended to be a submersible, so although it can even float with no problem when filled with water, you should not immerse completely into water, and especially not the roll top.
PROS:
Lightweight
Durable
Keep water out
CONS
:
Cannot handle being submerged
Related: Want a way to carry all of your gear and still have somewhere comfortable to sit? The GearTOP Fishing Stool and Beach Bag has you covered. It's a combination backpack and camping chair that makes it easy for you to have everything you need and still having somewhere to rest your feet.
Exped 4-Pack Dry Bags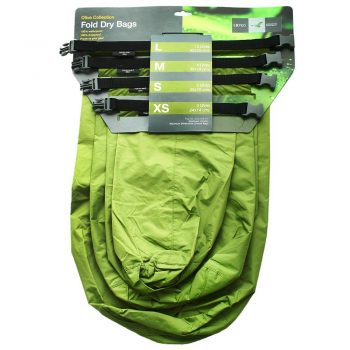 Price: Approx. $60
Weight: 3 ounces
Volume: 3 liters, 5 liters, 8 liters, and 13 liters
Material: 15D ripstop nylon
Specific features: Hot-air taped seams, DWR-treated webbing, grab handle, silicone coating on the outside, PU coating on the inside
Best use: Water sports, mountaineering, traveling
The Exped 4-Pack Dry Bags is a great accessible option to keep your items dry as well as protected during your trips and different activities. The bags are ultralight, which makes them a great option for activities where you need to carry your bag with you for long periods of time. No more aching shoulders or back even after a long day of hiking.
They have a fold roll closure and a 15D Nylon and silicon coating on the outside. These means that they are great at keeping your objects dry because they are very water-resistant. You can use them to store your electronic devices and important things, and as they come in a 4-pack with different sizes, you get more options to use.
The fold pack also prevents the water from leaking in, but you have to keep in mind that the bags are not for diving or underwater activities, so you should not take them with you during such activities.
PROS:
Durable
Lightweight
Affordable
Variety of choice
Related: Carrying your knife around is essential in the great outdoors, but it's a risky move if you don't have the means to secure it properly. The Black Titanium Pocket Clip is a perfect fit for the Griptilian Knife, and keeps it on hand on your pants pocket. The military-grade titanium alloy also won't rust, so this clip will last you for a very long time.
Unigear Dry Bag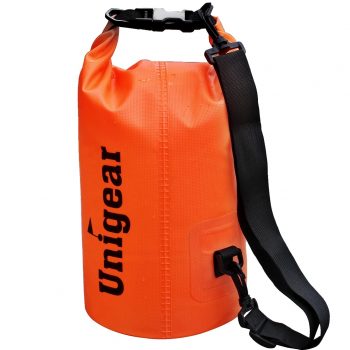 Price: $10 – $32
Weight: 3.1 ounces
Volume: 2 – 40 liters
Material: PU-coated nylon
Specific features: Removable shoulder straps, roll down top, see-through phone bag, water-proof, dirt-proof, snow-proof, welded-seam construction
Best use: Water activities such as kayaking, canyoning, and hiking, traveling
The Unigear Dry Bag might be one of the best waterproof bags out there. It is designed to keep the water out, even with quick submersions. Its roll down top in combination with the nylon material help with keeping all of your belongings dry.
It is also snow-proof, so it can be used in low temperatures as well. That makes this bag perfect for the skiers and snowboarders who want to get out during the winter months but still want to protect their gear.
The bags are also very durable and lightweight, which can be helpful when carrying your stuff for long distances. It also comes with  removable shoulder straps that you can use to carry your dry bag easily, making it perfect for general travel as well.
This dry bag is available in a variety of sizes for you to choose from, providing you with plenty of options when it comes to the size you might need. You can find them in sizes ranging from 2L to a 40L, and all come with a see-through phone bag to keep your cellphone protected.
PROS:
Durable
Lightweight
Easy to maintain
CONS
:
Not as durable as other brands at the same price
Related: Plan on going canoeing or kayaking during your trip? Don't want to have to bother with paddles of different sizes? The Attwood Telescoping Paddle makes it easy for both adults and kids to use, and the telescoping feature makes it easy to carry as well. That gives you more space to work with in your trunk for the rest of your gear.
SealLine Baja Dry Bag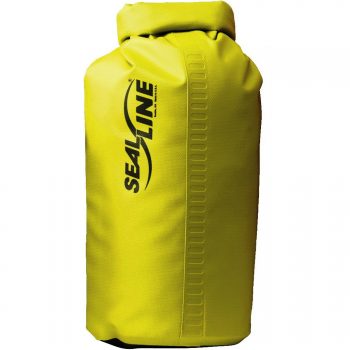 Price: $18 – $58
Weight: 7 – 28 ounces
Volume: 5 – 55 liters
Material: 1000D 19-ounce vinyl-coated polyester
Specific features: Welded seams, DrySeal closure design
Best use: Hiking, rock climbing, motorcycle touring, water sports
The SealLine Baja Dry Bag is a great bag for traveling and doing sports that demand a highly-resistant backpack. The bag is made out of a highly resistance 19-ounce vinyl on a majority of the body, and 30-ounce vinyl on the bottom for extra protection. This makes these bags great for mountaineering and kayaking, as well as other rugged excursions.
The Dry Seal roll top closure helps your items stay dry, but if you are planning to use for long periods of time in water or rain, its waterproofing system might fail. It would be a good idea to minimize your time in wet conditions, or consider double-bagging your belongings to ensure extra protection.
Lastly, its D-ring is one of the extra features you might find useful, as it keeps your gear with you if you're on a canoe or kayak. Overall, this is a great dry bag for outdoor activities.
PROS:
Very large sizes to choose from
Vinyl is thick to protect your gear from abrasions
CONS
:
Has no shoulder straps or grab straps
Related: Want to have illumination at your fingertips without having to lug around a heavy flashlight? The Inova BB-R Microlight is probably the smallest flashlight you'll find that can fit inside your pants pocket. It provides 31 lumens on high mode, and provides illumination of up to 131 feet. It also comes with a red LED to help your night vision adjust more quickly.
Odyssey Dry Bag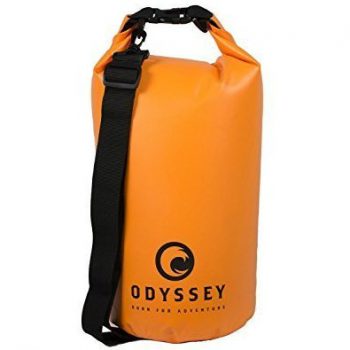 Price: $13 – $44
Weight: 8 – 10 ounces
Volume: 10-20 liters
Material: 500D PVC tarpaulin
Specific features: Waterproof, stain resistant, UV protected, anti-bacterial and temperature-resistant, high tear strength, shoulder strap, comes with cellphone dry bag
Best use: Hiking, rock climbing, snow and water sports
The Odyssey Dry Bag is highly waterproof due to its material and also the thermo-welded sealing. That means it keeps out everything that should be out, and seals in everything else to stay dry. In fact, this bag is so durable that when you're not using it to carry your gear, you can use the bag to lug water to your campsite. That's a testament for how well it works against moisture and bodies of water.
Other than that, its material is highly-resistant to sand, sun, salt, and temperature. This allows you to use it for hard outdoor activities such as rock climbing, biking and water and snow sports. There's no sport or environmental condition this bag can't handle.
Every bag also comes with a free shoulder strap for easy carry, as well as a smart phone dry bag that you can use for your cellphone, wallet or keys. You can even chose to have this bag personalized to let everyone know that it's yours.
PROS:
Extremely durable
Can withstand being submerged
CONS
:
Could have a larger bag for more gear/larger items
Related: If you're a light sleeper who's disturbed by the smallest sliver of sunlight peeking in through your tent, then you may want to consider bringing the Slepo Super Soft Eye Mask with you. This eye mask is made from the lightest and softest material, and blocks out all light. It even comes with its own carrying case so that it's protected from grime and dust, and is fully adjustable so it can be worn by anyone.
Wrap Up
This is where our review ends. Choosing the right dry bag can help you save so much money in the long run, so why not add one to your gear? Having ruined clothes and equipment will only make your camping trip miserable, and no one wants to replace their kit all over again.
For your needs, there are many options out there, and we hope that we've opened your eyes to the possibilities of finding a dry bag that's perfect for you. It's best that you take some time to review the products that you do come across to ensure you've got it right the first time.
Featured Image Source: "tent dry bag" by Rick McCharles is licensed under CC BY 2.0