Do you often get annoyed when your gloves don't provide the right amount of warmth? Or worse, is your pair not waterproof? The best waterproof gloves will protect your hands against any rogue water or moisture. Plus, they can also be worn during winter, while gardening, or even while performing sports.
However, choosing waterproof gloves is easier said than done, considering the number of options out there. In truth, you don't need a lot of knowledge about gloves when purchasing a pair, unlike with many other protective gear. However, you should remember a few key elements before buying. Lucky for you, we are here to help!
In this article, we enumerate some of the best features that you should consider when shopping for waterproof gloves. On top of that, we go in-depth at some of the best pairs that we can find in the market. Let's get to it!
Our Top Picks
Things to Consider Before Buying
Before rushing to the first pair you might think is suitable, there are some things you might want to keep in mind if you really want to buy good quality gloves.
Fingers or No Fingers
There are two types of gloves: with or without fingers. Sometimes, this is the main criteria used by some people when choosing a pair. The gloves with fingers might be more practical or look more stylish, but it doesn't really mean they're warmer.
In fact, many say that fingerless gloves keep your hands warmer in winter. Their disadvantage is that they make you clumsier when worn.
Materials
There are many materials that can be used to make gloves, including waterproof or water resistant ones. It is not uncommon to see products that have more than one or two types of fabrics in them. You should know that real leather is not perfectly waterproof, unless it is specially treated.
There are some models that have a special type of material on their palms to improve the grip. Others have patches of material that is compatible with a touchscreen device, and there are many buyers in search of this feature.
Intended Use
This is a feature not many people pay attention to, but should. There are many reports from folks who bought skiing gloves for gardening, fishing, or any other unrelated purpose. While there are multi-purpose gloves out there, for most part this is not the case.
Getting a pair of gloves designed for scuba diving to use while you work on your car's engine will be hinder instead of a help. The gloves will also break faster when used for the wrong activity.
Size
Not everyone has the same type of hands, and therefore gloves are designed in sizes to improve their fit. The mistake many people make while buying clothing or accessories is not measuring their bodies first and assuming that various manufacturers will use the same sizing chart.
To find the right glove size for your hands, you usually have to measure your palms' width. Some manufacturers will also point out the whole length of the glove as well as that of the middle finger of the glove. It is generally advised to buy a size up when you can't find the dimensions of a product.
Cuffs
The cuff of a glove is very important and it needs to be large enough to allow the hand to slip in and out with ease. Another important role of the cuff is to keep the glove in place, and for this purpose, one should be able to try the pair on before buying. Many models have either an elastic or Velcro closure for this.
Those with an increased sensitivity to cold weather will search for gloves with longer cuffs. These could feel uncomfortable for certain purposes. Gloves with shorter cuffs usually look more stylish.
These features matter the most when getting a new pair of gloves. Hopefully, now you will be able to choose a product that suits your needs the most. Let's see some of the best items you can find on the market.
Best Products on Today's Market
At this point you should be better informed on how to choose a good quality pair of gloves, no matter what will you use it for. Let's have a look at a selection of goods, while taking into consideration both their pros and cons.
Glacier Glove Waterproof Gloves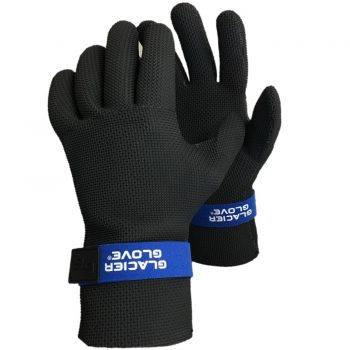 Price: $15 – $30
Weight: 16 ounces
Specific features: 100% neoprene, wrist strap
Best use: Water sports
Get ready for winter sports with the Glacier Glove Waterproof Gloves. These gloves are made of neoprene, and the blind stitching is designed to protect against water. The wrist strap ensures the gloves do not slide or move, which adds a layer of comfort and flexibility.
Your hands will remain warm and dry regardless of the weather conditions. This pair of gloves provides thermal isolation, which will keep your body temperature leveled out. This Glacier pair is ideal to use in water sports as it provides ease of movement.
This item was built to perform well against any type of weather conditions, and it minimizes the risk of getting cut or hurt under water. The gloves are durable due to the high quality neoprene material. They will eventually wear down which will lead to ripping.
This item is a good choice even for professional water sports practitioners, as it adjusts to any activity. These gloves are unisex and comes in several sizes. If you are wondering about item weight, you should know the gloves are lightweight and sleek.
Their major downside is that they can't be worn in winter – at least not by themselves. Use a pair of lining gloves underneath, and the situation changes.
PROS:
Lightweight
Very rubbery
Good fit
Related: If you want some gloves for running and you can afford giving up of the waterproof aspect, the Trooer Touchscreen Winter Gloves could do the trick. This unisex pair of gloves looks stylish and can be worn while using your smartphone as well.
Sealskinz Waterproof Glove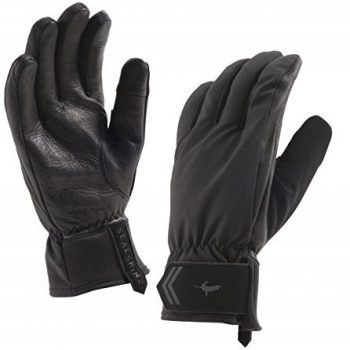 Price: $30 – $76
Weight: 5.1 ounces
Specific features: Goatskin leather palms, warm, with fingers, stylish, compatible with a touchscreen
Best use: Hiking
The right gloves might take a while to find, but take a look at the Sealskinz Waterproof Glove. This pair of gloves is a good choice for the cold season thanks to the protection it provides. The product features a goatskin leather palm for improved durability, while the glove is fully waterproof.
You don't have to worry about wind or cold weather conditions, but the breathable material keeps your hands comfortable and dry. These gloves provide an anti-slip for enhanced dexterity and ease of use. If you want to use your phone, you can do so easily thanks to the index finger featuring a compatible patch on the tip.
This item performs well against unfavorable weather conditions. However, longer exposure to rain might cause soaking. One thing to consider is the weight of these gloves, which might feel heavier than other similar products. These gloves have a stylish design, fully suitable to be worn on hiking trips or around the city.
One should be careful though, as there have been reports about the thumb finger not being waterproof at all. Some reported the pai to be a better fit for those with wide hands.
PROS:
Compatible with touchscreen devices
Lightweight
Good for wide hands
Related: If you're someone who prefers Merino wool, then you could check out the Sealskinz Ultra Grip Gloves. This is a knitted pair with a chevron print on the palms and fingers to improve the grip. The Merino wool is used on the inner part of the product to improve the temperature and moisture control.
Wonder Grip Waterproof Gloves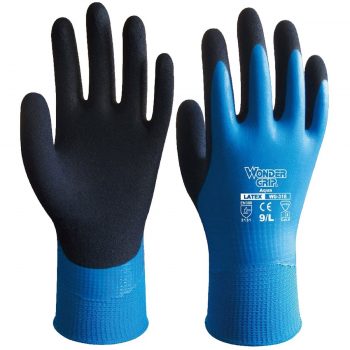 Price: Approx. $9
Weight: 2.9 ounces
Specific features: Flexible, lined, good grip, protect against cuts
Best use: Gardening, working
If you need a pair of gloves for gardening, consider the Wonder Grip Waterproof Gloves. This sleek pair does not add any bulk to your hands, and provides great flexibility while working. This item is a good choice for any type of gardening or construction work thanks to the rubber latex coating.
One of their best features is that they allow you to feel the items you're working with, unlike other models. Those who used these gloves also praised how easy they are to clean: just rinsing them with water will do!
At 2.9 ounces, the gloves are light enough to be worn all day. The Wonder Grip gloves are waterproof which adds a layer of comfort to your outdoor work. As this item comes in various different sizes, a good idea is to take your hands' measurements before purchasing as .
The gloves comes in a black and blue color combination and are certified to perform well against cuts and tears. If you are wondering about maintenance, you should know the gloves can be easily rinsed under water. The nylon lining keeps your hands clean and protected at all times.
If you need a pair of gloves to swim with, you need to find another pair. These gloves also don't have an adjustable wrist. When water gets inside, it will feel as if you're soaked, but that's not the case.
PROS:
Lightweight
Blade cuts resistant
Easy to clean
Related: The NoCry Cut Resistant Gloves have a different texture than the selected pair and therefore an alternative if you dislike the rubber outer layer. The NoCry gloves are knitted, have silicone pieces glued to the palms for a better grip and are a good choice if you fear extremely sharp objects might pierce through other similar products.
Soulfeel Slinx Dive Gloves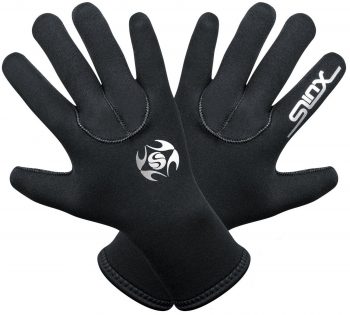 Price: Approx. $16
Weight: 3.52 ounces
Specific features: Good grip, snug fitting, nimble feeling, insulating, unisex
Best use: Diving, watersports
Do you need a reliable pair of diving gloves? In the case, check out these Soulfeel Slinx Dive Gloves. Although the gloves are not made of waterproof material, the system is designed to trap the water and thus keep your hands dry.
These gloves will keep you comfortable underwater, and will not allow for any body temperature loss. Made from a super stretch thermal material, the gloves are comfortable to wear but also offer flexibility.
These can be worn when practicing your favorite water sports such as scuba diving, swimming or rafting. The gloves are made of a high quality neoprene fabric that protects against tears, cuts or jellyfish stings.
This item is available on every size and is designed to be unisex. This item provides maximum coverage thanks to its 150% elongation, which allows comfort for the most active users. The gloves don't add any extra bulk and are light enough to be worn during any water sport.
PROS:
Withstand high temperatures
They elongate
Comfortable
Related: Going to the beach can be a pain without proper footwear. With the Blue Dive Water Shoes you can perform any water and beach related sport while also protecting your feet. The reach above the ankle and have a velcro strap that helps them stay in place.
Geree Biking Gloves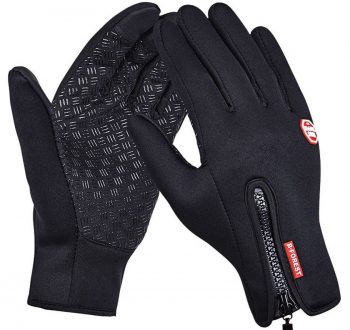 Price: Approx. $10
Weight: 3 ounces
Specific features: Touch screen compatible fingertips, zipper on the back, windproof, flexible, water repellent
Best use: Multi-purpose, sports
If you need gloves for your winter sports, take a look at the Geree Biking Gloves. These gloves are designed with windproof and water repellent material. You will be able to use your touchscreen device at any time thanks to the special sensitive fingertips.
The gloves provide a zipper that adjusts to any size, making this item comfortable to wear by anyone. The gloves will prevent your hands from getting cold when practicing your favorite winter sports as well. You don't have to worry about weight, as this product is extremely lightweight and flexible.
You can use these gloves when cycling in any weather conditions for added warmth and a better grip. The gloves feature silicone palms that ensure you can hold the handlebars easily. The lining is quick to dry and does not retain moisture.
One has to pay attention not to stay in heavy rain or dive with these gloves on as they they only repel water. Prolonged exposure to the water will cause them to absorb it.
The absorbent fabric is designed to keep odor away and be easy to maintain. This pair of gloves is meant for active use, but their design is stylish enough to be worn during everyday trips as well.
PROS:
Lightweight
Zipper to adjust the size
Cover the wrists
Related: Not everyone likes long gloves. The Lumintrail Riding Gloves end where the palms end and they secure with a velcro strap which also helps with adjusting their size. They have strategically placed pads to reduce impact and towel pieces to help you to keep sweat away.
Carhartt Waterproof Gloves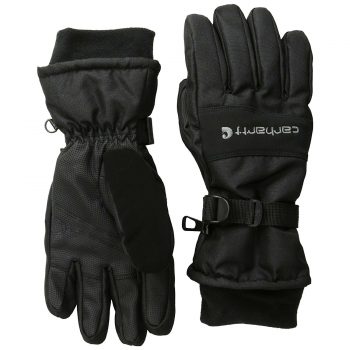 Price: $22 – $24
Weight: 7.2 ounces
Specific features: Long cuffs, thick, soft, adjustable wrist, with D-rings
Best use: Hiking, skiing
Some people like longer gloves that go well past their wrists. The Carhartt Waterproof Gloves is designed for these folks as not only the cuffs are longer but they also have added fleece cuffs for an improved protection against the cold.
This pair of gloves is rather thick but do allow the wearer to hold onto various objects such as hammers, wheels, or poles. Despite the gloves' flexibility, one will not be able to maneuver small items such as nails nor to use their touchscreen devices while wearing them.
Some people need good gloves to use while working in diverse conditions and these ones are not suitable for heavy use as they'll fall apart rather fast. If they don't get ruined, they will retain any sweat that forms, though the inner fabric should be the wicking type.
Another aspect buyers should be aware of, is the size of the gloves. One should measure their hands before a purchase as this item runs on the small side.
On the plus side, you won't have to worry about losing one of them. Both have a D-ring to keep them together. What's more, is that if you don't wear them you can attach them to any other item equipped with a D-ring to always know where they are.
PROS:
Flexible
Easy to carry
Fleece cuffs
CONS
:
Not compatible with touchscreen devices
Related: The West Chester 96650 Yeti Gloves are a good alternative for those who want to use their gloves for a variety of outdoor tasks while not worrying about water. Unlike many other models, these one have a name tag, to help you identify yours fast when your coworkers also use the same brand.
Ironclad Tactical Gloves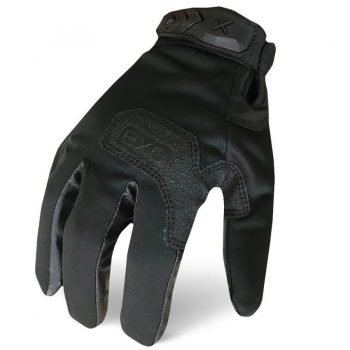 Price: Approx. $27
Weight: 3 ounces
Specific features: Faux leather palms, breathable, insulating, hook and loop closure, Duraclad material
Best use: Military and law enforcement use
The Ironclad Tactical Gloves are not your regular pair of gloves. They're designed for those working in the tactical field, such as military or law enforcement personnel. As such, they have faux leather palms for improved durability while the back is made of fleece – a material allowing better flexibility.
The saddle between the thumb and the rest of the fingers is reinforced with Duraclad material, known for its insulating properties. These gloves are designed to protect you from the elements, while also allowing your skin to breathe.
Keeping in mind that the back of this product is made of fleece, one should not expose it to intense rain as fleece is generally only water repellent and will eventually get wet. The advantage of the fleece fabric is that it keeps warm even when wet and it also dries rather quickly.
These gloves are not very long as to improve your dexterity. To ensure these stay on, the manufacturer created a thermoplastic rubber hook with a loop as a closure system.
PROS:
Lightweight
Durable
Flexible
CONS
:
Higher priced
Not really waterproof
Related: Those who need a pair of gloves for heavy duty use, have the Ironclad Exot Work Gloves. This pair has extra patches of leather applied in places where the wear occurs faster
Vbiger Ski Gloves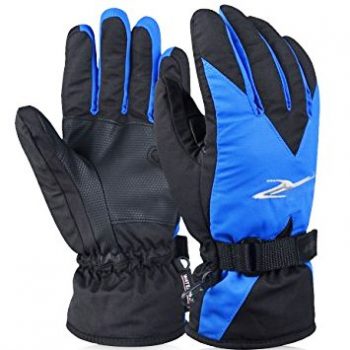 Price: $14 – $15
Weight: 7 ounces
Specific features: Adjustable wrist, anti-skid palms, individual fingers, comfortable, warm
Best use: Skiing, cycling
The Vbiger Ski Gloves look like the gloves you've been searching for for a really cold winter. They're thick and have an adjustable wrist, to ensure they stay on. They're also longer so they cover your wrists better than other pairs.
You'll have to pay attention to sizing though, because this product runs small. This is because it is made in China. Even several customers have pointed this out, therefore you'll have to order a size or two up.
Seeing this item you might think that it doesn't require cleaning, but you'd be wrong. It is recommended to wash them by hand or to place them in a protective bag if you plan on washing them in the laundry machine.
These gloves look like a sturdy pair and they have a special anti-skid material on the palms. You can't use the smartphone with these on, as they don't have a compatible material on the fingers.
This pair is lined with polar fleece – a fabric known to keep you warm in coldest weather. The outer fabric is waterproof, but at the same time it allows your hands to breathe.
PROS:
Affordable
Breathable
Lined with fleece
CONS
:
They run small
Not compatible with smartphones
Related: Not everyone likes gloves with fingers. The Vbiger Waterproof Mittens are a good alternative since they offer the same quality and protection, while keeping most of your fingers in a single compartment.
Wrap Up
This is where our reviews end. We hope that you have learned how to spot a good quality pair of gloves as well as found a good product with the help of our reviews. Remember, that anyone living in an area where it gets really cold in the winter will be needing some warm and comfortable gloves. Why not help them choose a pair that is also waterproof, like the ones we presented?
Featured Image Source: https://unsplash.com/photos/-M-2FdLC9uQ