Truth is most people don't actually have much concern when it comes to trail running gaiters. Some take it casually to be some piece of cloth attached to the opening of a shoe or boot. Well, true as that may sound, it is important to know that with the best trail running gaiters, there is more to that.
As you go about running and trekking sand, dirt and small rocks are bound to get in your shoe. And that is what running gaiters are for. They prevent elements from getting into your shoe. Running gaiters provide you with top most comfort and protection while having your favorite outdoor activity.
To make your work easier as you go shopping for running gaiters, we have gathered the information below and you will certainly make informed purchase decision.
Our Top Picks
Features to Look In Running Gaiters
Abrasion Resistance
Practically all running gaits have some degree of abrasion resistance which offers great durability in preventing the gaiter from tearing in the event it gets torn by an obstacle. A running gait with the lowest abrasion resistance is one that appears to be sock- like and whose fabric is softer.
Material types
A good number of the gaiters available today in the market are made of synthetic fabrics. The finish applied outside them is often Durable Water Repellent (DWR) or at times a waterproof and breathable membrane that has been laminated on to the outside.
Attachment
This is all about the compatibility of the gaiter with the shoes. As mentioned earlier, most gaiters have a strap which properly fits around the outsole of the trail shoe. However, some gaiters are strapless. Gaiters that are strapless connect to the shoes in various ways such as with hooks or with fastening loops.
With these kinds of gaiters one needs a gaiter compatible shoe. Not all running gaiters will properly fit just any trail shoe. It is therefore important that you confirm whether the gait you are purchasing is compatible with your shoes.
Fastenings
Velcro is normally used to fasten cheaper models of gaiters whereas those with higher specifications have zipped closures that are covered by a storm flap. Those regarded to be the best walking gaiters are fastened with waterproof zips that are normally anatomically shaped. This does not only help to ensure that they open and close better, but also offers a better fit and comfort when worn.
So as to secure the gaiters at the front of the shoe, a good number of gaiters will have a lace hook. They are in a position to be elasticized at the point where they fit against the boot. They could as well be elasticized at the ankle for the purposes of giving it a closer fit.
A press stud fastening and an elasticized pull cord are normally found at the top and are used for tightening the gaiters. Some of the best gaiters that are now in the market are starting to use a click- lock buckle fastening with an adjustable strap that prevents over tightening which is a common scenario when it comes to elasticized styles.
Height
It is only normal that you have a higher gaiter because a higher gaiter means a protected ankle and leg. There are high gaiters and low ones. A higher gaiter is used when running on a treacherous location or when running off trail. Other gaits will offer a minimal profile.
High cut gaiters come to the top of the calf. They are best for wading and walking thick grassy places or in bushes. They provide the best coverage against the elements although they are a bit pricy. Although they are great for wading in water or trekking through thick mud, it should be noted that they provide less ventilation.
Low cut gaiters fit at the ankle and are good for offering resistance against dirt and pebbles and they also slip on quite easily to provide coverage to your all new walking boots. They generally provide just the right protection from dirt.
Putting on your gaiters
Before embarking on your walk, it is vital that you adjust your gaiters properly so that you do not waste much time once on the trails.
Once you have your shoes on, open the gaiter and make sure that the stirrup strap is fastened. The adjusting mechanism should be on the outside of your foot.
Raise your heel and put the stirrup strap under your foot in front of the heel section of the sole. The catch of the metal lace should be towards the front of the shoe but you do not need to put it on just yet as it may cause a lot of tension when engaging the zip.
Fasten the zip at about 2-3 inches and then engage the Velcro so as to stop the zip from undoing itself then stretch the lace catch forward as far as you can get it.
Continue zipping up the gaiter and then engage the Velcro that has remained.
Then adjust the strap so that it is tight enough and then secure the excess or trim as required.
The top cord should then be adjusted so that the fit is close but watch out that it is not so tight to restrict circulation.
Carry out the same process for the other leg as well.
Maintaining your gaiters
Maintaining gaiters is pretty easy. They only need a few checks and tweaks before using them.
Be sure that the stirrup straps are in great condition and if not you can replace them.
Confirm that the straps and the Velcro are in great working order.
In case the running gaiters have press stud fasteners, confirm that the fasteners are not filled with mud and in case they are then remove the mud.
Once you are done with the gaiters, pack them away clean.
With the help of a nail brush or a coarse sponge and warm water, remove any dirt from the inside and outside of the gaiter and give it time to dry.
Spray them with a technical reproof once they are dry to keep them in good conditions and they will certainly serve you longer.
Top running gaiters to go for
Mountain Hardwear Seta Running Gaiter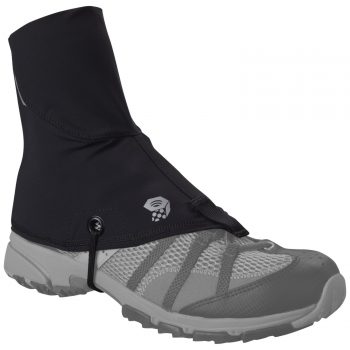 Weight: 3 ounces
Dimensions: 7 x 5 x 1 inches
Specific features: 91% nylon, 9% elastane, grommet holes
Best use: Hiking, backpacking, biking
The Mountain Hardwear Seta Running Gaiter is for those who know what they want. If comfort and top notch protection is what you are looking for in a running gaiter then you just found what you have been looking for. Weighing only 3 ounces, it is super light and thus very comfortable while running.
A good gaiter is one that covers the ankle or the lower part of the leg quite well. This sophisticated gaiter is 6.5 inches tall and so you can be certain of total coverage around the ankle from all manner of elements.
The material of the gait has been made of seta stretch material which comprises of 91% nylon and 9% elastane. Thanks to this material the gaiter is quite breathable and thus very comfortable on any weather condition. They also come fitted with grommet holes.
The grommet holes are for under arch boot attachment. They come in large and medium sizes so you can be sure to find your perfect fit.
CONS
:
Are good for debris protection rather than waterproof
Related: To fully enjoy the wild, customers also buy the Mountain Hardwear Micro Half Dome when buying these gaiters. It is 100% Polyester and is extremely warm and light.
Salomon Low Trail Gaiters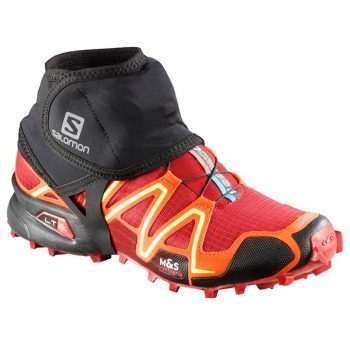 Weight: 1.7 ounces
Product Dimensions: 9 x 7 x 1 inches
Specific features: 100% 0ther fibers, connecting sole strap, external side closures
Best use:  Hiking, backpacking, biking
Conquer the wild with these amazing pair of the latest gaiters. The Salomon Low Trail Gaiters work great at keeping out grass, dirt, rocks pebbles and debris while running on trail runs. They are unique and have high performance levels.
The gaiter will give you value for your money as the material is durable even after several uses on rough and harsh terrains. It is also stretchy to give you room for expansion and to properly hold to your shoe and also for your ankle not to block your steps or get caught by trail debris.
You will also be glad to know that the material is highly breathable so you can forget about your feet overheating. It has a unique non-abrasive connection system that keeps the gaiter properly in place. These trail gaiters have an easy on and off closure with hooks and loops for that perfect fit.
The under strap is durable and keeps the gaiter in its places but it could snag under foot. The US Men's small size is 4.5 – 7.5 while the Women's is 6-9, Medium for US Men is 7.5 – 9.5 while women is 9 -11 and the large size for US Men is 9.5 – 12 and women 11 – 13.5.
PROS:
Good on trails
Great at keeping out larger debris
Breathable
CONS
:
Sand and tiny pebbles manage to find their way in under water
The rubber band that goes around the bottom of the shoe does not seem to fit perfectly
The top edge may at times rub the skin
Related: Customers who buy the Salomon gaiters also frequently buy the Mud Gear Compression Socks. The construction is on point and ensures that you will have a comfortable fit.
Decathlon Kalenji Trail Running Gaiter
Weight: 2.5 ounces
Dimensions: 7 x 5.5 x 1 inches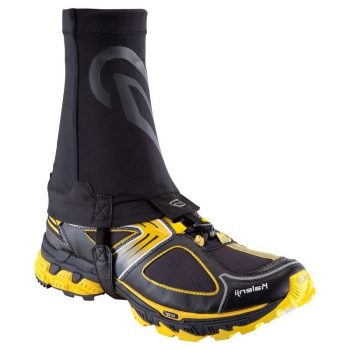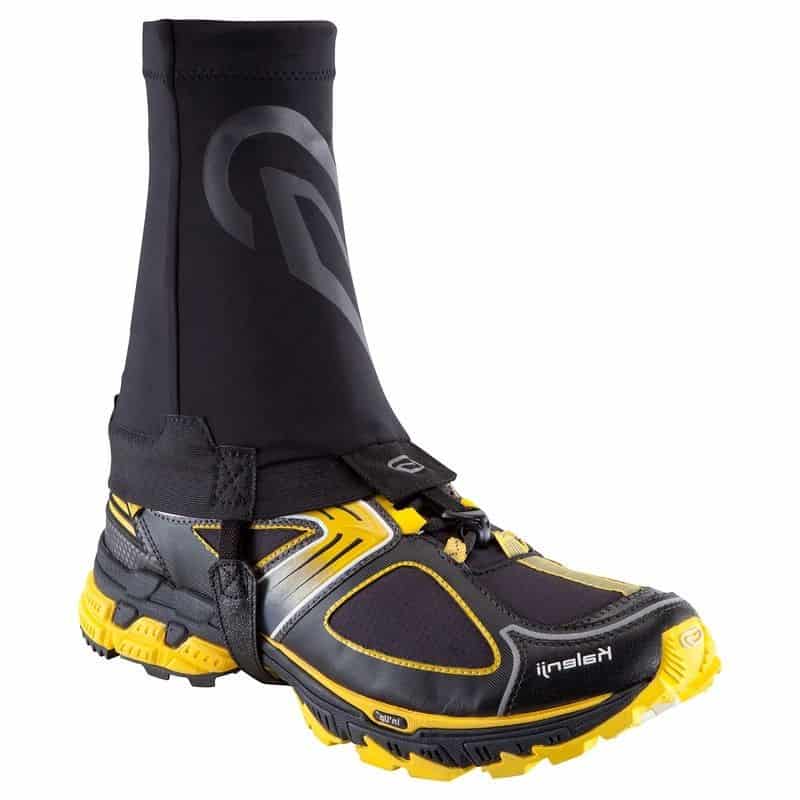 Specific features: Removable under foot strap hook
Best use:  Sports, outdoors, fitness
Running on the trail never got interesting. With the Decathlon Kalenji Trail Running Gaiters, you will always look forward to going out for running or hiking. You can now gladly say bye to sand, pebbles and stones that have always found their way to your foot bed making your running sessions uncomfortable.
The gait is tall enough to provide just enough protection to your and also has a removable strap that is easily adjustable. The material used is long lasting and breathable to keep your foot from overheating while on the trail.
The material is also light weight so that you do not feel like you have a huge load on your feet while running. It is for both adult men and women.
The gait stretches to properly fit your leg and is also gives you an easy time to use. An experience with these pair of gaiters is certainly life changing and you will never go for any other kind of gaiters.
PROS:
Comfortable
Durable
Breathable
CONS
:
You will need to go over it with a needle and thread first
Related: Customers who buy the Decathlon Kalenji Gaiters also buy Thirty 48 Running Socks. This moisture wicking socks boast multiple cushions and has a built in airflow within the fabric. It's definitely a good combo to the gaiter featured above.
Inov-8 Debris Gaiter
Weight: 1.1 ounces
Dimensions: 9 x 5 x 1 inches
Specific features: 98% polyamide, 2% elastane, under heel rubber fastening loops
Best use: Sports, outdoor, mountaineering, climbing
Do you find pebbles, stones and such elements terribly annoying while you are out running or on the trail? If your answer is yes, then you are at the right place. The all new all great Inov- 8 Debris Gaiter is the solution you just need. Unwanted debris can not only cause pain but also slow you down or cause even worse. Forget about all those annoying elements.
These gaiters away debris and keeps comfortable and fully protected throughout. The gaiters come featured with under- heel rubber fastening loops and a front lace hoop. These help to keep the gaiter more securely in its place than as compared to other conventional lacing.
The material is 98% polyamide and 2% elastane. The fabric has moisture wicking ability in that it draws moisture away from your skin making you stay dry and comfortable and still remain warm. It also has durable repellent treatment for extra protection against harsh conditions.
PROS:
Breathable
Comfortable
Weather resistant
CONS
:
Stirrup straps break easily
Not durable
Altra Trail Gaiters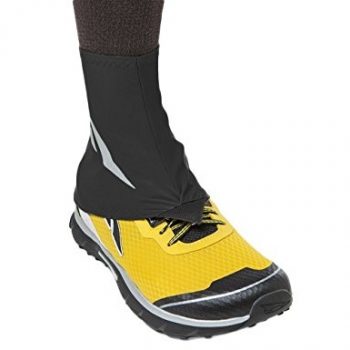 Weight: 0.8 ounces
Dimensions: 9.2 x 4.5 x 1 inches
Specific features: 82% nylon, 18% spandex, strapless gaiter trap attachment, stretchable fabric
Best use: Sports, outdoors, fitness, clothing, running, clothing
Try the world's best running gaiters as described by those who have tried them and tested them. We are talking about the Altra Trail Gaiters. Your choice to buy they is going to be a wise option and you will wonder why you waited till this moment.
The fabric is 82% nylon and 18% spandex making the gaiters breathable leaving you dry and comfortable. With this fabric in check, debris, dirt and any other elements will have no time finding space in your foot bed. The fabric is stretchy so that it properly fits your leg. The material is lightweight and thus you do not have to worry about being weighed down.
This gaiter has a strapless attachment system that is compatible with a good number of shoes and boots. The gaiter has very high abrasion resistance and thus you can be sure that it will give you great service for a longer period of time.
PROS:
Durable
Breathable
Comfortable
CONS
:
There is no front gaiter holder
They do not fit shoes that do not use the Velcro attachment at the heel
Related: To compliment the outdoor look, customers who buy the Altra gaiter also buy the Multifunctional Microfiber Sports Headwear. This headband is made from form-fitting microfiber that wicks moisture, sweat and odors. It doesn't hurt that it has a fun, fashionable design as well.
Wrap up!
As much as people do not regard running gaiters with much esteem, it is quite vital to note that they prevent your feet from pain and so much more. They prevent dirt, debris, small stones and other elements from penetrating in your shoe. With them on, your feet will be comfortable and protected, and ready to take the toughest trails.
Featured Image Source: https://unsplash.com/photos/WgrAruO92zk