When people go hiking, they focus a lot on what they are going to eat on the trail, what they will use to sleep, what they will use to make a fire pitch, and so on. Also, depending on the season, they think a lot about packing clothes for warm or cold temperatures. The truth is that not everybody think about gaiters for their trips.
Gaiters, however, are really important because they protect your legs from mud, water, grass, and different types of debris. For this reason, we have decided to create a list with our selection of the best hiking gaiters you could find nowadays.
Our Top Picks
Things to Consider Before Buying
As you might know, there are a lot different gaiters on the market. They all look similar and they offer pretty much the same, right? Well, that is not completely true since they all have different features, come in different sizes and are made with different materials.
So, in order to get a product that really fulfills your needs, you have to know exactly what aspects you are looking for. For that reason, we have written a few characteristics that we believe will help you clear your mind when buying gaiters.
Resistance to crampons' sharpness
People that have gone climbing or walking on slippery surfaces have realized that, sometimes, hiking boots do not give them enough traction to avoid any possible accident. That is why they started buying crampons.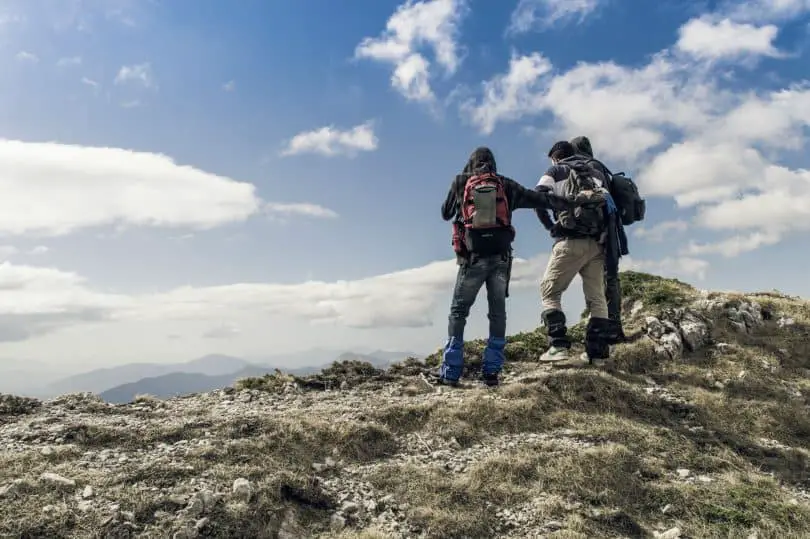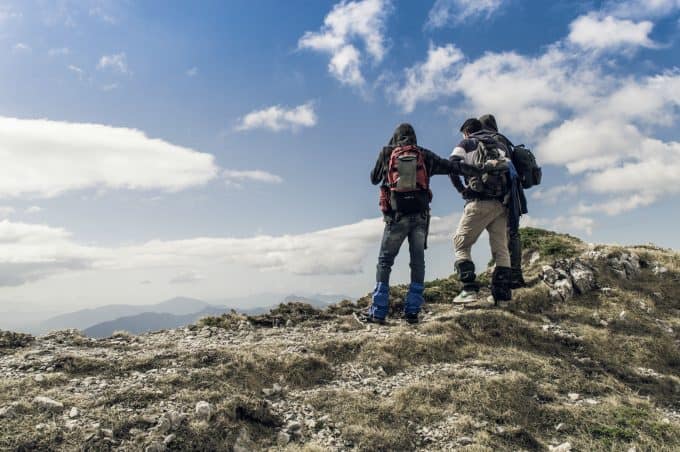 Crampons are basically spikes that you attach to your boots to have a better grip while walking. However, more than once, those spikes have cut people's pants and skin. For that reason, one important aspect to keep in mind when buying gaiters should be their resistance to crampons' sharpness or any other piercing object.
Material
As we previously said, gaiters should be resistant; however, that is only the first aspect to have in mind. A good pair of gaiters must keep your legs dry, so they should be made of a waterproof material. Also, since you would probably use them in hot temperatures, as well, they should be very breathable to avoid having sweaty pants.
For that reason, we believe that nylon is the best fabric to make gaiters. It is lightweight, strong and can be modified by adding other components. Also, it has a good elasticity; it keeps liquids on its surface, which means that water will not go through the fabric; and it is really easy to clean.
Waterproof pants and boots
Alright, let's say that you have found gaiters that are made of a strong and durable nylon and that are waterproof and breathable. You are ready to go backpacking, snowshoeing or whatever outdoor activity you were planning to do, right? Well, that is not quite right.
Even though your gaiters will keep your calves dry, you have to make sure your feet will not get soaked. Also, you have to take care of your thighs and upper body, too. That is why we believe that your entire backpacking outfit – and gear – should be made of a waterproof material.
Best Gaiters on Today's Market
Now that you know how important the previous aspects are, it is time for us to show you what, according to us, are the best gaiters on the market.
Outdoor Research Verglass Gaiters
Dimensions: 22 x 11 x 2 inches
Specific features: Loop Front Closure, waterproof, breathable and lightweight
Best use: Hiking, alpine climbing, snowshoeing
The Outdoor Research Verglass Gaiters were design to be light and easy to package while walking. They will keep your boots, pants and socks dry since they are made of a strong and sturdy waterproof material. Also, they will protect you from rough terrain and spiky crampons while hiking; and they are windproof.
Some users have said that these gaiters are really easy to wear on; that they keep pretty much everything out – mud, rain, snow, dirt, etc. – that they stay up on the top and down on the bottom; and that theirs front hooks can be attached to small D rings on most snow boots.
However, some other buyers have also said that the sizing is a huge problem. Outdoor Research's website has a chart that you can use to guide yourself when selecting them, but it is not accurate since the gaiters tend to be too small.
The most obvious way to solve this problem would be buying bigger gaiters, right? Well, users said that, when they bought bigger sizes, they found out that the upper parts were too loose for skinny people. Additionally, these gaiters are not as elastic as they should; and they are not too comfy.
PROS:
Very light and compact
Made of a durable waterproof, windproof and breathable material
Easy to put on
Can be attached to most snow boots
CONS
:
Sizing chart is not completely accurate
Bigger sizes have too loose upper sections
Not expandable enough
Not comfortable enough for long walks
Related: For backpackers who like to go on trips no matter the season, we recommend the Outdoor Research Men's Helium Jacket. It is 100% waterproof; it is really breathable; it can be compacted to the size of a protein bar; and it is really lightweight.
Outdoor Research Crocodile Gaiters
Dimensions: 13 x 11 x 3 inches
Specific features: Durable, waterproof and breathable, abrasion resistant
Best use: Hiking, snowshoeing, long backpacking trips
When we talk about durability over and over the years, we have to mention the Outdoor Research Crocodile Gaiters. They have been in the market for quite a long time fulfilling the users' needs since they have always been made of a really strong, waterproof and breathable nylon that can withstand abrasion in most scenarios.
We believe that these gaiters are pretty useful for long backpacking expeditions since they guarantee that your pants will not tear up – not even after rough terrain or wearing crampons – and that your feet will stay nice and dry. Also, these gaiters have a buckle on the top to fasten them to thin calves; and Outdoor Research are so convinced that these are really long-lasting gaiters, that they offer an infinite warranty.
Nevertheless, a few buyers have shared their experiences and, among other opinions, they say that they are not as thick as they appear to be according to the description. Additionally, since these gaiters and the previous ones are made by the same company, their sizing might be a problem and the website's chart would not be helpful at all.
Also, people said that they are not too easy to put on; that they are too long in leg size; and that the clasps come undone while walking since buckles are quite weak.
PROS:
Very durable and long lasting
Made of a waterproof and breathable nylon
Buckle to help fastening to thin calves
Lifetime warranty
CONS
:
Not as thick as they are supposed to be
Sizing chart on the company's website is not accurate
Difficult to put on
Clasps come unfasten every now and then
Related: As you know, sunburns are really common while backpacking. So, in order to cover your head, face and neck from the sun, you should buy the Outdoor Research Transit Sun Hat. It was design with venting mesh panels that let the air cool your head while protecting you from UV rays.
Mountain Hardwear Nut Shell Gaiters
Dimensions: 9.6 x 9.4 x 1.7 inches
Specific features: Velcro front closure, waterproof
Best use: For hiking, backpacking and mountaineer boots
When people ask us about good gaiters for a low price, we recommend, without a doubt, the Mountain Hardwear Nut Shell Gaiters. These gaiters are pretty useful for people that go hiking, backpacking or snowshoeing as a hobby because they protect your pants, calves and feet from rocks, snow, vegetation and any other mild effort that you could put them into.
As a great feature, they have a single-pull system that makes them really easy to put on and take off. Also, they have a huge advantage compared to most gaiters from this list: they are true to size. You can use the sizing chart on Mountain Hardware website to guide yourself. Another good aspect of these gaiters is that they have a Velcro front closure to adjust them according to different leg width.
However, one of theirs best aspects is also a downside. Their Velcro closure might damage the shoe attachment. Additionally, users have said that they produce a really annoying noise with every step you take.
Another major flaw is that it is very difficult to adjust the strings to your boots. Also, users say that metal loops on the bottom are too weak; that they do not keep out water or debris as they should; and that they should have a snap closure at the top to give more breathability.
PROS:
Cheapest gaiters from our list
Single pull system
True to size
Adaptable due to its Velcro front closure
CONS
:
Produce an annoying sound when walking
Not as waterproof as it should
Not as breathable as they should
Velcro closure tend to damage the shoe attachment
Related: For those who do not own a backpack yet, or want to buy a new one, our recommendation is the Mountain Hardwear Scrambler 30L Backpack. It is quite comfortable since it distributes the weight evenly by taking your back's shape; it weighs only 1 lb; and it has padded shoulder straps to give you a great fit and comfort.
Black Diamond FrontPoint GTX Gaiters
Dimensions: 15 x 10 x 1.7 inches
Specific features: Velcro front closure, waterproof, ballistic nylon
Best use: Mountaineering, snowshoeing, hiking
The reason why the Black Diamond FrontPoint GTX Gaiters are in this list is that they were built to last. These are not as cheap as the previous ones, but well worth the money since their upper part is made of GORE-TEX fabric, which is breathable and light; while their lower part is made of ballistic nylon, which guarantees durability and high abrasion resistance.
Another great aspect is that they have a stainless steel bucket to fasten the strap that is quite secure when correctly adjusted. Also, users have said that in snowy days, these gaiters keep your legs warm and dry since they are waterproof; that they have a very wide Velcro front closure that can be adapted to match every leg; and that they are really easy to put on.
A few buyers have identified some flaws, however. The most important one would be that their Velcro does not last as much as the gaiters themselves. Actually, they say that the Velcro starts losing its grip after two years of light to moderate use. Also, they said that the sizing might be a problem for people with muscular legs since they tend to have a very slim fit.
People have also said that they are not too comfy; that they will not fit all mountaineering boots; that the steel hooks have edges so sharp that they tear up most boot laces; and that are not breathable enough.
PROS:
Durable and abrasion resistant
Buckets are made of stainless steel
Keep your legs warm in cold days
Very easy to put on
CONS
:
Velcro is too weak
Not true to size since they have a very slim fit
Steel hooks tear up shoelaces
Not comfortable or breathable enough
Related: We truly believe that all climbers should get the Black Diamond Bod Harness. It is lightweight and has a fleece-padded waist belt that guarantees comfort; it offers unrestricted freedom of movement; and it is compact, packable and cheaper than most harnesses in the market.
Rab Latok Alpine Gaiters
Dimensions: 19 x 9 x 2 inches
Specific features: Waterproof, Velcro front closure, flexible strip on rear area
Best use: Climbing, hiking, mountaineering
If you are a serious climber, we believe that the Rab Latok Alpine Gaiters are just what you should buy. They are made of a waterproof and breathable fabric; they have a zipless hook and loop front closure; and their under boot straps are made of a very abrasion resistant rubberized material.
The most important feature of these gaiters is that they are so strong that can withstand pretty good any damage from crampons, which is why we recommend them for climbing with lower volume mountain boots. Also, they have an instep strap that can be adjusted to any leg width to keep them in place.
However, they have a troublesome weakness: their attachments to the boots are made of plastic. In fact, people have stated that they had to change them because they broke after three to five days of moderate use.
Additionally, users have said that these gaiters do not cover completely your calves, which makes you think twice about going through deep ponds; that their plastic clips are not easy to locate onto the boot laces; and that their sizing chart is not accurate enough, since the gaiters tend to be too small.
PROS:
Breathable and waterproof
Can hold up any crampons' damage
Adaptable instep strap
Boot straps are made of a resistant material
CONS
:
Boot's attachments are made of a weak plastic
Do not entirely cover your calves
Not easy to put on
Smaller than what it says on the description
Related: The Rab MeCo 120 Tee is what we recommend for light backpacking or camping trips since it is made of a lightweight wool; it has a slim fit; and it has Flatlock low bulky seams.
Hillsound Armadillo LT Gaiters
Dimensions: 12.6 x 9 x 2.1 inches
Specific Features: Waterproof, breathable, water repellent zipper
Best use: Hiking, backpacking, snowshoeing
The Hillsound Armadillo LT Gaiters are really high quality since they are made of a waterproof and breathable material on the top; and a 1000D high density nylon on the bottom to grant protection against mud, rain and other debris, while being very comfortable. In fact, users say that they barely notice them on.
Another good feature of these gaiters is that they have a water-repellent zipper, so you can be sure that it will not rust anytime soon. Buyers have said that it is true to size; that the tops fit your legs tightly enough; that it is quite easy to put on since you just have to zip them up; and that the buckle closure resists a beaten.
Nevertheless, people have also said that they fit fine in the calf area, but that the problem is at the bottom, since they are quite wide. Some of them even say that snow and water get in.
Some other downsides are that they do not have an elasticized top or a drawstring to adjust them to your leg width; that the strap is made of plastic, which will not resist for long; and that they are not as breathable as the description says.
PROS:
Water repellent zipper
True to size
Very easy to put on
Buckle closure is really resistant
CONS
:
Tend to be too loose in the bottom area
Do not have an elasticized top
Strap is made of a weak plastic material
Could be more breathable
Related: For climbers and people who like snowshoeing, we recommend the Hillsound Trail Crampon Ultra. It has 18 stainless steel spikes to give you the traction you need; it has a harness that stretches over pretty much every boot; and it includes a carry bag.
Wrap up
We hope that this information would help you understand how important it is to buy strong, breathable and waterproof gaiters – and outfit – to avoid getting soaked legs and feet that might be dangerous in the long run. Also, we wish that you could find the gaiters that fulfill your needs in the list we made.
Have you used gaiters from our list? How did they work for you? Do we leave your favorite gaiters out of our selection? Share what you think on the comments!