More and more people are choosing to go outside these days. 'Getting back to nature,' 'minimalism,' and 'being green' are common words/mindsets you might hear when immersing yourself in the outdoors and outdoor gear worlds. You will agree this even applies to outdoor frying pans. As outdoor enthusiasts, we all know the importance of purchasing the best backpacking frying pan, willing to spend a bit more if it means we'll get a high-quality pan.
Maybe this sounds a little far-fetched, but think about it: what if you invested in a frying pan that was not only compatible with your stove at home, but you could also carry it with you on the trail (or at least complemented your at-home set)? This idea encapsulates all the aforementioned buzzwords without reaching too far.
Your backpacking frying pan should be an all-purpose tool that's not just compatible with all kinds of usage or burners but is also convenient and durable so they won't drag you down while you're out there in the wilderness.
In this article, we would first introduce you to the important factors that must be taken into consideration in the process of choosing a high-quality backpacking frying pan. After that, we will move on to the top 6 products currently available on the market. By the end of it, you should be set to go on another journey with a trustworthy frying pan stored in your backpack. Let's get to it!
Our Top Picks
| Product Name | Diameter | Material | Non-Stick | Price |
| --- | --- | --- | --- | --- |
| MSR Alpine Fry Pan | 10 in | Stainless steel pan with aluminum bottom disc | Yes | Check price on Amazon |
| Wealers Backpacking Pot | 5 in | Aluminum alloy pot with silicone handle | No | Check price on Amazon |
| Coleman 9.6-Inch Frying Pan | 9.5 in | Steel pan with vinyl-coated handle | Yes | Check price on Amazon |
| Forfar Outdoor Frying Pan | 9 in | High-quality aluminum | Yes, with dual coating | Check price on Amazon |
| Cook N Home 12-Inch Frying Pan | 12 in | High-quality aluminum with a rubber-covered handle | Yes | Check price on Amazon |
| JetBoil FluxRing Fry Pan | 8 in | High-quality aluminum with a vinyl-coated handle and a plastic base | Yes, with dual coating | Check price on Amazon |
Things to Consider Before Buying
There are plenty of options out there for those looking to keep pack weight down but product quality intact. As there are so many different kinds of backpacking pans on the market, researching the one that will best fit your needs beforehand is of course recommended. This guide should help you figure out what type of frying pan that is.
Versatility
Through-hikers and backpackers will be looking for a pan that is light in weight, easily cleaned, easily packed and doesn't ruin a hard-earned dinner after a long day walking on the trail. If you are a family of car campers, you have the freedom of bringing in more items and more weight, and thus might opt for something a little more multifunctional. This is where camping cooking sets come into play.
Most often, these are cooking sets that nestle inside one another – imagine Russian nesting dolls, except with pots and pans. Other times, you have the option to buy one frying pan now, and maybe the pot it nestles inside later.
Some come with more accouterments than others, but again, it's all about what you will be using it for. General wisdom is that having a frying pan at the very least is necessary. Then deeper pots for boiling water, cutlery, camping cups, and mugs.
Especially if you are buying higher-end products with long lifespans, and camping is definitely in your long-term plans, it might be worth it to consider starting your camping collection (or adding on) with a frying pan that's part of a set.
Some makers have refurbished old models to be multifunctional so hikers don't have to worry anymore about carrying multiple gadgets with them. The options are endless.
Usage
The very first consideration when buying a camping frying pan is to determine what its primary use will be. Will you be using the frying pan for just camping? Or maybe you will want to also be able to use it in your own kitchen? You also want to consider whether or not it has non-stick properties, how much it weighs, and any other benefits it might have included in the cost.
Once you have determined these particular needs, it should be easier for you to find a frying pan with the appropriate features.
Weight
When camping, always think about the weight of the item and the capacity of the person who will be tasked with carrying it (ahem, parents going hiking with families). The intuitive goal is always to cut down on weight as much as possible.
While this makes sense with some camping items (backpacks, sleeping bags), there are some ultra-lightweight frying pans that compromise on the quality of material, so make sure to do research before committing. A ton of high-quality, lightweight options exist, but they will almost always come with a higher price tag.
Food Grade Materials
The higher price tag might be worth it, though, when it comes to non-stick and chemical-free frying pans (my father, an outdoor enthusiast, always said that he'd rather pay more for high-quality products because it would still be cheaper than getting cancer; it has always stuck with me, no pun intended).
It is highly recommended to investigate the makeup of the non-stick coating, should you opt for a non-stick frying pan. Otherwise, benefits of non-stick pans are well-known, and of course preferable when backpacking. Easy to clean means fewer accessories needed to clean, thus less weight and more pack space.
Heating System
Issues with heat distribution and hot spots on frying pans can be real issues. Especially for through-hikers who will have (ideally) meticulously planned out which meals they plan to eat when on the trail, burning a meal can mean not having adequate calories to get through the intended mileage that day (or the next).
There are some pans that are designed to only work with heating systems from the same company, others that only work with a certain kind of heat (open flame, gas, electric, or induction), and still others that require special setups and equipment in addition to the pan as to not ruin any parts. This is definitely one feature about which to read the fine print.
Handle
The majority of camping frying pans will come with handles that fold away or against the pan in some form. The most common are curved handles that hug the curve of the pan and fold out together when you need to use them.
Some are coated with vinyl, rubber or plastic to avoid heat conduction (thus avoiding the need for hot pads), and some aren't. The thing with these kinds of handles is that they can be a little unstable if you're not used to them, as they don't lock in place. Models that have flat-folding handles along the bottom and swing up do tend to snap into place, and so these might be better for newcomers.
Then there are those with removable handles, so you don't have to worry about them heating up at all. Finally, there are pans with fixed handles a la the traditional saute pan, which yes are a little bit more awkward to figure out how to pack, but they tend to outlast collapsible handles, and almost always don't conduct heat.
Size
Like weight, this can be a make-or-break deciding factors for a lot of backpackers. However, with frying pans specifically, it's important to think about size in the sense of when you're actually using the product.
How much are you planning to cook at a time? Is it easy to unpack/repack? Can I pack multiple things inside of it/on top of it? Additionally, think about how your pan will work with the heating system you plan to use.
Best Products on Today's Market
In this guide, we present you with several options with unique characteristics that will help make your decision easier! Here come the 6 best backpacking frying pans available on today's market.
MSR Alpine Fry Pan

Price: Approx. $27
Weight: 14.4 oz.
Dimensions: 1 x 10 x 13 in
Specific features: Stainless steel, aluminum heat-spreading bottom disc, compact/removable handle, fits inside MSR Alpine pot of the same series
Best use: Outdoor camping, portable cookware, backpacking, hiking, travel, picnics
Weighing in at just under 1 pound, the MSR Alpine Fry Pan can take a beating. Its stainless steel make-up ensures its durability for even the roughest hiker. While not the lightest frying pan on the market, nor the most compact, it makes up for all these things with its usefulness and longevity (and 1 pound is a worthy pound to spare, in this case).
The aluminum disc welded to the bottom of the pan makes sure that heat gets evenly distributed. Removable handles also allow you to let it sit in an open campfire for a long period of time, and to lock them into place to retrieve it when you're ready. You can alternatively fold them against the side of the pot when not cooking to collapse it.
If you're buying a cook set, consider the MSR Alpine set, as these pots and pans nestle perfectly inside one another, saving space in your pack. Unfortunately, this fry pan does not come with its own lid. It's not hard to find one that fits this size and purchase it separately, but the fact is, it's a design error that should never have been made by the manufacturer.
PROS:
Great packability because it's a part of a nesting pot package
The fire's heat is evenly distributed
The handles are removable
Durable thanks to the strong stainless steel material
CONS:
No lid
Quite heavy
Expensive
Related: As mentioned previously, this fry pan is a part of a nesting pot package. You'll have to purchase the MSR Alpine Stowaway Pot separately, though. All things considered, it's a worthy purchase because storing your cooking gear away is made much, much easier with the help of this stowaway pot and you can save space in your backpack.
Wealers Backpacking Pot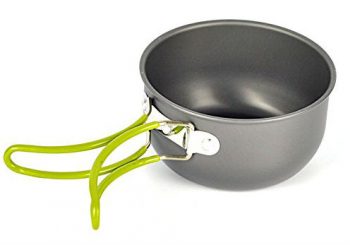 Price: Approx. $8
Weight: 3.2 oz.
Dimensions: 4.5 x 2.5 in, handles 4 in long
Specific features: Compact handle design, lightweight, and multipurpose aluminum alloy pot, silicone handle covering, 16 oz. capacity
Best use: Outdoor camping, portable cookware, backpacking, hiking, travel, picnics
The Wealers Backpacking Pot can easily boil four cups of water, no problem. The aluminum alloy material makes it quick to heat up. It also means it's quite light, and if you integrate it well into your pack, you should barely notice the weight.
The retractable, silicone-coated handles resist heat and make for burn-free cooking. Folding the handles flush against the side of the pot make it easy to store when not in use. Additionally, you can fold the handles against the side of the pot if you are using it as a bowl or cup.
In a pinch, it can also be used like a saute pan. It is a great value for the price you pay, and it will last you a long time.
As for the downsides, there aren't many, but there are definitely a few that you'll want to take note of. Aluminum alloy is usually easy to clean up after use, but that's not the case with this pot.
The pan isn't non-stick so you may need to deal with quite the mess after cooking food—although this pot does great when used to boil water. Also, it doesn't come with a lid. If you are wanting to conserve cooking fuel, it is advisable to make sure you purchase the lid separately so things take less time to cook.
PROS:
Can be used for an array of purposes
Foldable handles lend great packability
Quick to heat up
Durable
CONS:
Doesn't come with a lid
The pan isn't non-stick so it's quite difficult to clean
Related: If you've got a stove or a portable burner in your go-to camping gear package already, then all you have to do is pack it together with this pot and you're good to go. But if you don't, we recommend that you purchase this Etekcity Backpacking Camping Stove so you'll be able to cook and boil water readily in the wilderness.
Coleman 9.6-Inch Frying Pan

Price: Approx. $9
Weight: 17.6 oz.
Dimensions: 10 x 9.5 x 3.1 in
Specific features: Non-stick surface coating, vinyl-coated handle, compact handle design, steel pan
Best use: For outdoor camping, portable cookware, backpacking, hiking, travel, picnics
If you brought eggs or vegetables (or really anything else you can cook in a skillet) along, cook up a convenient mouth-watering meal with Coleman 9.5-Inch Frying Pan. It is coated with a non-stick layer, which makes cooking and cleaning up afterward easier than ever in the outdoors. It also comes with a vinyl-coated grip handle that retains a cool temperature while your food cooks over your campfire.
The handle folds over the pan for storage, making it very compact and easy to fit in your pack. The lighter weight of this pan helps with transport as well. However, there have been reports of the pan losing its non-stick properties after one season of use, so be mindful of that.
It is also important to remember not to use high heat when cooking with this pan, as that will reduce its lifespan. Additionally, to protect the non-stick surface, do not use any metal implements against the pan. It is advisable to only use plastic or silicone spatulas, for example.
PROS:
Non-stick, which means cleaning the pan will be easy
Compact and easy to store away because the handle folds
Lightweight
CONS:
Caring for it is not easy—requires careful maintenance
Not very durable
Not compatible with high heat
Related: If you've got a non-stick pan at home, you should know how fragile the surface can be and how you need to treat it with care. You shouldn't use cooking tools that are made of rough materials such as steel on them because they will scratch the surface and the pan will lose its non-stick properties. Instead, pick a cooking set like Coleman Nylon Serving Set, which is specially designed to be compatible with non-stick pans.
Forfar Outdoor Frying Pan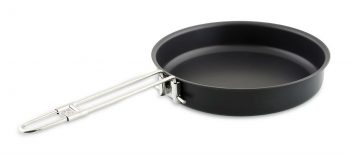 Price: Approx. $17
Weight: 10.75 oz.
Dimensions: 9.2 x 2.7 in
Specific features: Lightweight, made of high-quality aluminum, advanced hard aluminum oxidation treatment, easy to clean, foldable handle, coated with non-stick surface
Best use: For outdoor camping, portable cookware, backpacking, hiking, travel, picnics
A super lightweight yet durable frying pan is here! The ForFar Outdoor Frying Pan is made of high-quality aluminum that keeps it light enough for backpacking and covered with a dual coating of non-stick material, this frying pan should be a new essential among your backpacking items.
The handle is as long as the diameter of the pan and folds flat underneath the pan when not in use. It is not a coated handle, however, so be sure to have hot pads on hand when removing the pan from heat. Due to the dual coating on the pan, it can be used over high heat in addition to low and medium heat.
It cooks quickly, and evenly, and is easy to clean. A silicon or plastic implement should still be used when cooking and/or cleaning, as to not damage the coating, regardless of what other reviews say. This frying pan is extremely easy to clean and store, and even comes with a carrying bag to protect it in your pack.
PROS:
Non-stick dual coating makes this one very easy to clean
Great packability thanks to the foldable handle
Durable
Lightweight
Spreads the heat evenly
CONS:
Needs to be treated with care especially around the nonstick coating
Related: Although this pan is non-stick and should be great for most outdoor cooking that you plan to do, with the addition of this Blaze Bushcraft Grill, your outdoor cooking set will be all the more complete. You can cook and grill to your heart's content.
Cook N Home 12-Inch Frying Pan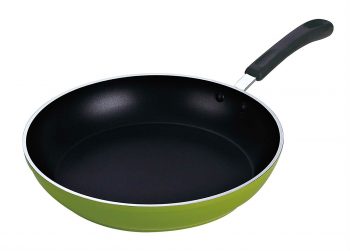 Price: Approx. $16
Weight: 41.6 oz.
Dimensions: 12 x 2.2 inches
Specific features: Green outside, nonstick cadmium- and lead-free coating inside, heat control, base designed for induction stove/range, comfortable handle grip that stays cool during cooking
Best use: For car camping, portable cookware, travel
The Cook N Home 12-Inch Frying Pan is a bit bigger than a traditional backpacking or camping one. It weighs in at 2.6 pounds and has a 12-inch diameter, and the handle does not collapse. It is made of high-quality aluminum, and it is coated on the inside with cadmium-free and lead-free non-stick material.
The handle has a soft rubber grip covering a sturdy metal handle, so it doesn't heat up as the pan does. This particular pan is manufactured to work with induction stovetops and portable induction ranges. As such, it has a magnetic bottom welded on. However, it can also be used on electric stoves and gas stovetops, but it shouldn't be used with too high of heat.
It cooks quickly, and evenly, as compared to other larger frying pans, and is easy to clean because of the non-stick surface. A silicon or plastic spatula should be used when cooking and avoid cleaning interior with something like steel wool.
PROS:
Non-stick material makes for easy cleaning
The handle is heat-free
Spreads the heat evenly
Built sturdy
CONS:
Not very compatible with high head
Should be treated with care especially around the non-stick coating
Related: This frying pan is perfect for camping trips. If your camping spot also supplies you with electricity, you can use this Secura 8100MC 1800W Portable Induction Cooktop as a stove for the pan. Your meals will be cooked beautifully thanks to the combination of this quick-heating electric stove and Cook N Home's non-stick pan.
JetBoil FluxRing Fry Pan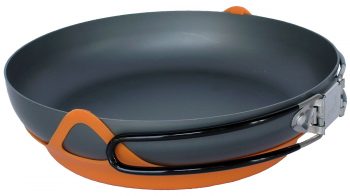 Price: Approx. $50
Weight: 10 oz.
Dimensions: 8.1 x 2.2 in
Specific features: FluxRing technology, even heating, plastic base cover included (functions as prep surface and plate), collapsible handle
Best use: Outdoor camping, portable cookware, backpacking, hiking, travel, picnics
JetBoil is back with a new and improved portable frying pan. JetBoil FluxRing Fry Pan is made of high-quality aluminum that keeps it light enough for backpacking, and it is covered with a dual coating of non-stick material.
This frying pan also comes with a plastic base cover that can double as a preparation surface and a plate or bowl to eat from. It even has built-in handles on either side to make it easy to carry.
The handles of the pan fold flush against the sides of the pan and have a vinyl coating to keep them cool while your food cooks. This frying pan is intended to be used with the entire Jetboil Personal Cooking System, and so it also needs Jetboil Pot Support and Stabilizer Kit to function properly. This is because of the new FluxRing technology along the bottom that enables food to cook quickly and evenly.
The base cover allows you to remove the pan from heat and immediately set the hot pan down wherever, without damaging the pan, the cover, or the surface upon which the pan is being set.
PROS:
Dual non-stick coating makes for easy and quick cleaning
Foldable handle for great packability
Comes with a multipurpose plastic base
Spreads the heat evenly
Durable
Related: This pot is designed to work with Jetboil's very own personal cooking system. You can only start using this pan when every part of the set is present, and unfortunately, you'll have to purchase this Jetboil Stainless Steel Pot Support separately since it doesn't come with the package even though it's a pivotal part of the entirety.
Wrap Up
Pots, pans, and handles oh my! So many options to choose from, but luckily that means you would be hard-pressed to not find something that fits what you've been searching for. As you can see, non-stick pans are fairly common but vary in other factors, like the type of handle they have. After all is said and done, you should give careful consideration to your own needs and which backpacking frying pan would be able to fulfill them best.
Featured Image Source: https://www.flickr.com/photos/99658898@N00/5776141831