An ice axe is not just a trendy gear addition, but a necessary piece of equipment which keeps the climber safer and allows them to easily conquer top hills. Choosing the best ice axe for you can come as quite a challenge if you know nothing about ice axes.
For this reason, ice axes are made from hard and durable materials that could hold a large amount of weight. They have complex design and every part of them has its own purpose. In order to choose the best ice axe, make sure you go through the whole article and learn the basics.
Our top picks
Things To Consider Before Buying Ice Axes
Since selecting ice axes is not a cakewalk, we have written for you a few aspects to have in mind when looking for them in the market. Read on to know exactly what the most important features are.
Angle And Curvature
Since with online buying information is everything, you need to concentrate on two curvature angles when buying an ice axe. If you are climbing a less steep terrain, an angle from 65 degrees to 70 degrees is recommended. If, on the other side, you are a professional extreme climber, a 55 degree to 60 degree curvature angle is more suitable for your axe.
If you had the possibility to try differently curved shaft ice axes you would notice that a curved one is harder to use in a vertical position. However, the more curved a shaft is, it means it is more suitable for steeper terrains. It gives you better clearance when swinging it into the ice and it gives you more leverage.
However, in mildly steep terrains, it is more convenient to use less curved ice axes since it provides you safer self arrest and it is easier to handle.
Materials
The shaft is actually the handle of the ice axe. Depending on the material it is made of, it can be more or less durable. The material alternatives are aluminum, steel, carbon or titanium. Needless to say, steel is the one you choose for extreme terrain climbing, and surprisingly, titanium would be the least quality one.
This doesn't mean that it is a feature to be avoided, but have in mind that it is likely to bend under pressure. Aluminum however is lighter than steel but it can endure less abuse than any other material. It is recommended for light climbing.
Spikes
A spike is an unnecessary addition unless you are climbing glacier routes or firmer surfaces. If you are climbing on soft snow, you are good to go without a spike. Its main use is that it helps the axe penetrate deeply into the ice, and can be used as an anchor. If you are climbing a soft snow trail, this could be a trendy addition, but otherwise a redundant one.
Top Products On The Market
Selecting a good ice axe would take you hours and hours of research and conversations with sales people. So, we have chosen the following products because we believe those are the best ice axes on today's market that will make you more knowledgeable about ice axes and assist you in making a selection you will like.
Petzl Summit 2 Ice Axe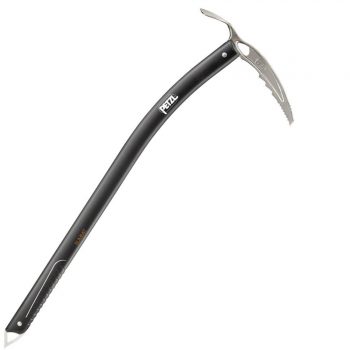 Size: 24 inches
Weight: 0.9 pounds
Specific features: Toothed steel pick with thin, 3 mm tip
Best use: Classic mountaineering, piolet canne, piolet rampe and piolet traction mode
This Petzl Summit 2 Ice Axe was created for classic mountaineering. It offers good anchoring performances with both, the head and the spike. It is categorized as a great all around mountain axe, with excellent self arrest performance and it has a fantastic design and solid steep climbing ability.
This type of ice axe is good for your trip to your favorite terrain. It has a toothed steel pick with thin, 3 mm tip which ensures good anchoring qualities in hard snow. It is also good for soft snow because it is thicker towards the middle to favor anchoring. For providing a better grip, the handle is cut into the shaft.
However, users have said that this axe is quite heavy. Also, the paint on the axe is not the best quality since it tends to peel after a while, and the handle is a little too thick for people with small hands.
PROS:
Strong materials
Great self arrest performance
Great grip and anchoring
CONS
:
Heavyweight
Poor quality paint
Thick handle
Related: The Petzl – TIKKA Headlamp is a great addition for your expeditions since it is compact and sturdy, has an adjustable elastic headband, it is easy to operate, comes with three batteries, it offers a bright light and a night vision mode.
Camp Usa Corsa Nanotech Ice Axe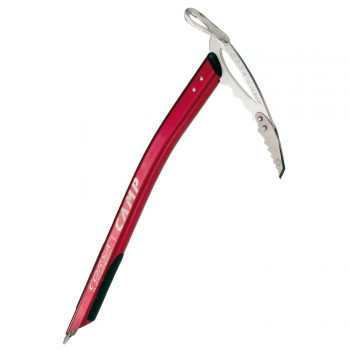 Size: 20 inches
Weight: 0.55 pounds
Special features: Lightweight, Sandvik Nanoflex steel pick and spike
Best use: Mountaineering, alpine climbing, high altitude climbing, ski mountaineering
This Camp USA Corsa Nanotech Ice Axe is the second lightest ice axe on the market, so you do not have to worry about soreness while hiking or climbing. It is great for snow travel and as a self arrest axe and it also can be used as an anchor for glacier rescue and traversing cornices, so if you are a regular hiker, this axe is exactly what you need.
It has a Sandvik Nanoflex steel pick and spike, so the steel components drastically increase the durability and strength of these critical points, ensuring that it will not bend in the most serious situations. Also, it has a nylon spike plug on all lengths which keep ice out of the shaft and can be attached to sliding leashes to ease carrying.
Nevertheless, buyers say that the grip on the lower part of the axe is not as good as it should, so it might be difficult to manage it properly. Also, they say that since it is too light, they had to use both hands and hit the ice 2 – 3 times to actually get a solid anchor. Finally, its design is not the most stylish one you would see.
PROS:
Lightweight
Durable and sturdy
Nylon spike plug
CONS
:
Poor grip
Don't provide good anchoring
Old fashioned style
Related: The Camp USA Spike Protector is a must have addition for axes. It provides great protection for those situations in which you will not use the spikes, it is made of a resistant material, it fits most Camp USA ice axes, and you can carry it with no problem due to its size and weight.
Grivel Air Tech Evolution Ice Axe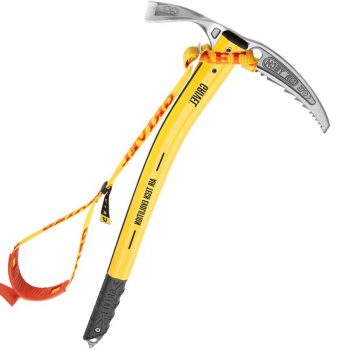 Size: 21 inches
Weight: 1 pound
Specific features: Hot forged steel head, angled shaft, straight lower shaft, Chromoly steel
Best use: General mountaineering
This GRIVEL Air Tech Evolution Ice Axe has a hot forged steel head that features a gentle curve for meter clearance and solid anchoring. The angled shaft of this excellent axe creates good geometry for alpine ascents. Also, it is made of chromoly steel, which enhances durability and sturdiness.
The straight lower shaft can go deep inside hard snow on summit slogs. It is combined with a long leash for easy handling. In the technical details are included color and the sport type which is claimed to be good for climbing. The bent head is a great angle for the occasional ice bilge you encounter.
Many users claim that the axe is quite heavy and the leash is not exactly the strongest.
PROS:
Solid anchoring
Durable and sturdy
Comes with leash
CONS
:
Too heavy
Big handle
Weak leash
Related: Since an axe might not always be enough, we recommend the Grivel G10 Crampon. It is really lightweight and compact, so it can be transported everywhere anytime, it can be adjustable to any boot size by hand, and they perform well in most situations because it is made of chromoly steel.
Omega Pacific Mountain Axe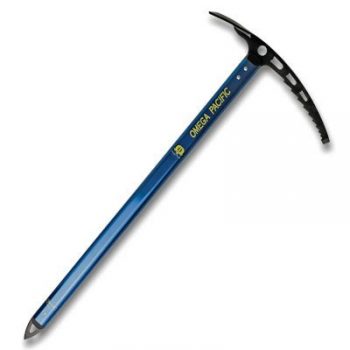 Size: 24 inches
Weight: 1.37 pounds
Specific features: Aluminum, 4130 CMo head
Best use: Good for hiking in light conditions, climbing glaciers
This Omega Pacific Mountain Axe is a good product especially because it can be used for various purposes. It can be used for hiking where the conditions are a combination of snow and ice or on frozen ground and, since it is a clearance style axe, you can use it while spelunking in the desert or in every hunting or tramping trip.
You can also use this ice axe for testing ice when walking on frozen stream beds where there are weak ice bridges due to the running water below.
You can also use it when climbing glaciers and steep snow fields. It is not on the top list of products but considering the price, you would get a great deal. It is functional and very solid in hand. The head of this ice axe is made of 4130 CMo and the handle material is aluminum. We recommend this basic ice axe because of the good price and its simplicity.
You must consider that this axe doesn't come with protective travel covers and a sliding leash. Additionally, the aluminum handle might be too weak for heavy duty since it tends to bend after regular use, and it is one of the heaviest ice axes from our list.
PROS:
Versatile usage
Solid anchoring
Sturdy head
CONS
:
Weak handle
Way too heavy
Sliding leash and covers not included
Grivel G1 Axe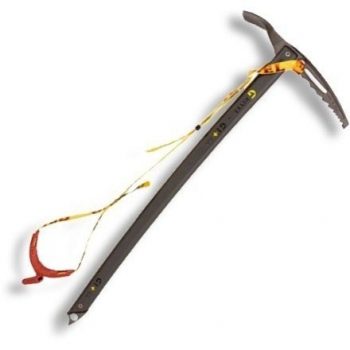 Size: 26 inches
Weight: 0.97 pounds
Specific features: Chrome steel handle, hot forged head
Best use: Climbing and hiking activities where maximum strength is needed
The Grivel G1 Axe's primary advantage is that its head is very sturdy since it made of hot forged steel and is a one piece head. It has a classical neutral pick with ergonomic design. Its grip is covered with natural rubber and the grip covers the ergal 7075 shaft of G1 plus.
It is made of chrome steel over stainless and that is a special feature which stands out from all other products.
It is a good mountaineer axe and it has a great quality for the given price. Also, people say that it provides one of the most comfortable grips on the market. Some users have said that this axe is so strong that they accidentally hit a solid rock with it and it only got a scratch on the tip.
One major downfall that this product has is that it does not come with the leash even though in the Amazon description says it does. Also, it does not come with a cover and people think that it is too heavy, so it is recommended only for short climbing activities.
PROS:
Sturdy head
Ergonomic design
Durable handle
CONS
:
Leash and cover not included
Poor customer service
Too heavy
Related: The Grivel Alpine Pack is a great option when it comes to backpacks for winter activities. It comes with ski carry option; ice axe attachment points and crampon carry system. Also, it is comfort and can withstand a lot of weight.
Petzl Glacier Ice Axe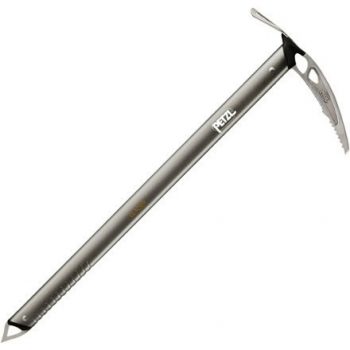 Size: 24 inches
Weight: 0.76 pounds
Specific features: Toothed steel pick, stainless steel spike
Best use: Ice climbing, ski mountaineering, mixed climbing
This Petzl Glacier Ice Axe is a good choice if you are an extreme climber keen on ice climbing, ski mountaineering, mixed climbing or some other snow and ice activity you could think of. It can also be used for safe and stable anchoring provided by the toothed steel pick, thinner at the tip.
This ice axe is a lightweight tool with meticulous design and is good for glacier routes. If you intend to use it for hard snow, have no worries, it is suitable for good penetration into the snow because of the stainless steel spike that allows it. Another characteristic is that the handle is cut into the shaft to make a better grip.
It has very good anchoring features especially displayed on hard snow and ice and all that thanks to the profile of the pick.
People who have bought this product say that, since the shaft in the lower part does not have any rubber material, the grip is not as good as it should. Also, they say that the straight design of the handle is not always the best option, and that it does not come with leash nor cover.
PROS:
Lightweight
Great anchoring
Strong pick and spike
CONS
:
Poor grip
Too straight design
Leash and cover not included
Related: The Petzl CORDEX Lightweight Gloves are a great addition for every hiking activity since they are made of strong leather with ergonomic cut; they have stretch nylon fabric on them to ensure comfort and breathability; and the cuffs are made of neoprene with Velcro closure.
Black Diamond Raven Ice Axe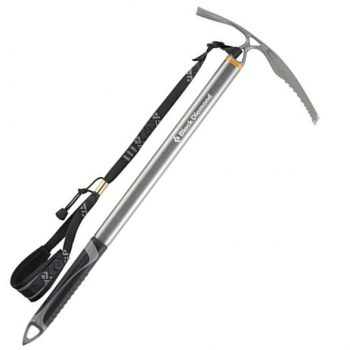 Size: 24 inches
Weight: 1.12 pounds
Specific features: Aircraft grade aluminum shaft, one piece stainless steel head
Best use: Mountaineering, alpine climbs
This Black Diamond Raven Ice Axe is a durable tool which has an aircraft grade aluminum shaft. It offers secure self arresting because of the pick's curve and teeth engineering. There are a few sizes of this ice axe and you can choose the appropriate one according to your height.
This axe has a one piece stainless steel head and a large hole for a carabiner. When ordered or purchased from the market it comes with a slider leash. The material which covers the handle is aluminum and it is made with dual density. Also, it has a rubber grip to improve the hold.
Users have found that the handle paint seems is not the best quality since it started peeling after only a couple of uses. Also, people think this is a heavy axe and that the handle is too thick.
PROS:
Strong self arresting
Sturdy head
Rubber grip
CONS
:
Not the best quality paint
Too heavy
Thick handle
Related: We also recommend the Black Diamond Apex GTX Gaiters for hikers and climbers since they are sturdy, and waterproof, which is a must when snowshoeing. Also, they have a slim fit, keep the warm and are breathable.
SMC UIAA Capra Axe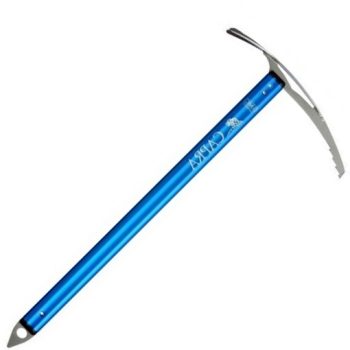 Size: 24 inches
Weight: 1 pound
Specific features: Chromyl steel head and spike, aluminum sheave
Best use: Walking stick in hiking trips, steep terrains
This Smc Uiaa Capra Axe is a great product from Seattle Manufacturing Corporation. It comes in three sizes and depending on your measurements and purpose of use, you could decide the size most convenient for you. The handle is perfectly designed to be easier to correspond in hand for sure placement in self arrest.
The sheave of the axe is made from aluminum. The designers worked two years to create such a useful ice axe with such a simple design and they had also made a field testing around the globe. Special points for discussion are its head and handle. Both are completely new designs from this corporation.
The head matches naturally on the climber's hand and it does not cause discomfort on the long distance routes.
However, some users have been complaining about its innovative design. They say that it takes time to actually learn to use it properly and even more if you are used to classic ice axes. Also, they say that the lower part of the handle should be covered with a rubber material to enhance the grip, and that it could be lighter.
PROS:
Sturdy materials
Innovative design
Great self arrest performance
CONS
:
Not so easy to use
Poor grip
Heavyweight
Related: Another must have tool for winter activities is the SMC Perforated Snow Stake. It can be used on sand as well, it is made with a sturdy and corrosion resistant material, it has holes for enhanced holding; and it is easy to carry since it does not weigh too much.
Conclusion
Now that you have read the whole article, you know the most important types of ice axes there are and have access to our Amazon list of best products. However, no matter whether you choose the right alternative, make sure you try it out and practice using the ice axe before using it on the field. This way, you will be safe and understand your gear abilities before putting it to the test.
Featured Image Source: https://unsplash.com/photos/zXjnnbk5EUU