Slacklining is the art and sport of balancing along a suspended length of flat webbing. However, many of you will agree that to make the most out of your slacklining, the best quality slackline is pretty much a necessity, right? However, finding a slackline that will cater to your personal needs is easier said than done.
It's a good thing that you've come across this post. Today, we will give you some great tips on how to shop for the best slackline as well as a few recommended products that are worth checking out.
Our top picks
Product
Accessories
Line Length/Width
Price
Slackline Industries Baseline
Ratchet system, reinforced webbing loops, tree protectors
50 ft long
2 in wide

Check price on Amazon
Slackline Industries Trick Line
Ratchet system, reinforced webbing loops
50 ft long
2 in wide

Check price on Amazon
Macaco Slackline Set
Ratchet system, reinforced webbing loops, cotton carrying bag, "how to slackline" booklet
52 ft long
2 in wide

Check price on Amazon
WOSS Gear 2 In
Ratchet system, drawstring storage bag
25 ft long
2 in wide

Check price on Amazon
Slackers Slackline Classic Set
Extra training line to hold on to, instruction manual, storage bag
50 ft long
2 in wide

Check price on Amazon
Slackline Industries Playline
Ratchet system, overhead help line position
40 ft long
2 in wide

Check price on Amazon
Things to consider before buying
Something that's important to ponder before making your purchase is who will be using this line. Every slackline is different, regardless of their perceived similarities, and depending on your ability and interests, you may be interested in a line that is more advanced for intensive core strength training, or less advanced for you next child's birthday party.
Width, length, and technical set-up are the biggest variables to consider when choosing a slack line. Many experienced slack liners choose to participate bare footed on thinner lines, using technical knots and systems to secure tightness in the line.
Beginner slack liners may be interested in a wider line that is easier to use while wearing shoes, keeps tightness using a ratchet rather than series of knots, and overhead safety line for ensuring your security on the line.
Size
While it may seem a little simple, the length and width of your slack line are important things to consider before making you next purchase. The length of your slack line will allow you to choose from creating long, tight lines between widely spaced trees or rocks, or shorter lines for dense patches of forest.
Width is important to consider as well. A wider slack line is generally easy for getting started. Under 2 inches can be challenging for folks new to slack lining and 2 inches + allows slack liners to continue without removing their footwear, what4ever it may be.
Weight
Again, depending on how you plan to use your slack line, the weight of the slack line may be very important to consider. If you plan on hauling your slackline into the back country on your next camping trip or backpacking trip, it may be important to find a line that is compactable and lightweight. If you plan on solely using your slack line for weekend afternoons in your local park, this may not be as important.
Weight, when it comes to slacklines, also comes in two meanings. Specifically, you may want to consider the maximum capacity of your slackline. Some lines are meant for one slack liner at a time, while others may allow for a "battle of the slackliners" or multiple walkers at a time. Be sure to think about how you want to use your slackline before making your next purchase.
Design
As we mentioned earlier, slacklining originated with nothing more than a few bits of hanging chain between wooden posts. Since then, the design component of slacklining has evolved. Tubular nylon webbing was switched our for chain and originally rappel rings, carabiners, and complex knots were used to develop friction systems for tightening your line.
Today, most recreational slacklines use ratchet systems to tighten the line between two grounded points such as large rocks or trees. When purchasing your next slack line, it's important to take into account the system you'll be using for set-up and tear down of your experience.
We recommend finding a ratchet system with a rubber handle. This will save your hands the trouble of the extra pressure it may take to loosen your slack line when closing out your experience with friends and family in the outdoors.
Tree protectors are sometimes required depending on the location that you may be choosing to set up your slack line. These simply keeps the slack line from damaging the tree by creating a soft barrier between the bark and the tightening webbing. Some parks and protected areas may require tree protectors for slacklining so be sure to check any regulations.
Best Products on Today's Market
Not in the mood to shop for slacklines on your own? Read on for the best modern slacklines on the market.
Slackline Industries Baseline Slackline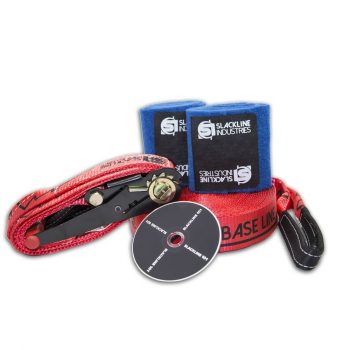 Weight: 7 lbs
Dimensions: 50 ft long, 2 inches wide
Accessories: Tree protector, easy carrying case, heavy duty ratchet system, durable static nylon webbing
Best use: Multi sport, slacklining
The Slackline Industries Baseline Slackline, good for slackliners 5 and up, is great for the beginner slack liner or the intermediate user. Like many other lines in this list, it comes with an easy to use ratchet system that can be set up or tore down within 10 minutes.
You can rest assured that this slackline is safe as it meets the US and European safety standards. It's reported to hold up to 4 tons of weight but is recommended for weights up to 300 lbs.
The nylon webbing used in this slackline is considered "static" or more simply doesn't stretch when pressure is applied. This makes it easy to tighten and walk on for beginners regardless of the amount of pressure applied.
PROS:
Easy set up
Static webbing
2 inch width for beginner users
Included bark protector
CONS
:
Ratchets have a tendency to stick when under heavy pressure
Durability is lackluster when used without the tree protector
No safety line included
Related: Often bought with this slack line is the single ratchet HopOn Training Line. This can help with beginners who are new to slacklining. Specifically, beginners can add the training line within arms reach to stabilize their walking as they move about the slackline.
Slackline Industries Trick Line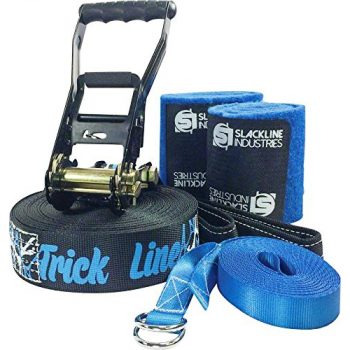 Weight: 7 lbs
Dimensions: 50 ft long, 2 inches wide
Accessories: Tree protector, easy carrying case, heavy duty ratchet system, dynamic nylon webbing meant for bouncing and tricks
Best use: Multi sport
Unlike the other slacklines on this list, the Slackline Industries Trick Line is designed specifically for intermediate to advanced users interested in moving beyond basic walking back and forth. The dynamic nature of the webbing allows for flext and movement on the line despite applied pressure.
This allows the slackliner to bounce, jump and move in ways other slacklines may not permit. The back-up line is included in the kit for extra safety. It can be secured above head level for slackliners to hold on to while walking or doing tricks. This allows the slackliner to maintain their balance while attempting more aggressive tricks.
PROS:
Back up safety line
Dynamic webbing
Easy set up and tear down
Tree protectors for ensuring minimal damage to trees and rocks
CONS
:
No demo CD
Ratchets occasionally can get stuck or jammed under heavy loads of pressure
Related: Not unlike the Slackline industries Baseline Slackline, one related product includes the Ninja Line which include 7 different grip types for students to choose from while trying their strength and balance skills.
Macaco Slackline Set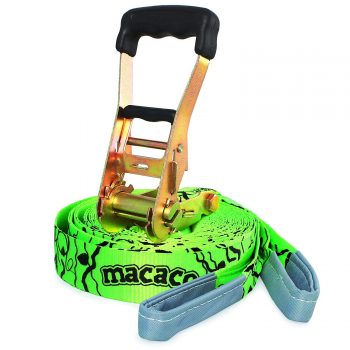 Weight: 5.5 lbs
Dimensions: 52 ft long, 2 inches wide
Accessories: Cotton travel sack, "how to slackline" booklet, heavy duty ratchet system, static nylon webbing
Best use: Multi sport
The Macaco Slackline Set is one of the least expensive lines on the list, at 52 feet long, this is in addition one of the slightly longer slacklines we've reviewed. The slightly extra length can be used when setting up between sparse trees and allows for more flexibility in your set up.
What sets this line apart from the others are some of the accessories that come along with the kit. Specifically, the how to slackline booklet gives you information on how to improve your craft as a slackliner introducing new tricks and techniques.
In addition, the cotton travel sack allows for mobility, whether your dragging your line up a mountain with friends or heading to your local park, the travel sack with definitely come in handy. However, this slackline, unlike the other on the list, does not come with a tree protector.
Amazon recommends that you buy their matching tree protector to protect both the trees you use and your slackline. With these included, the set still comes to a reasonable price.
PROS:
"How to slackline" booklet included
Cotton travel sack and light kit included
Easy set up and tear down under 10 minutes
CONS
:
Ratchets have a tendency to stick after long periods of use
Stitching in the loops is reportedly flimsy and not very resilient
Related: Straying away from the packaged tree protection and slack line system that both the Slackline Industries Baseline and Trickline provide, the Macaco slackline doesn't include tree protection. Thus, one related item buyers tend to consider includes the BYA Tree Wrap Tree Wear. This offers tree protection and line protection for your slackline or hammock during your next adventure outdoors.
WOSS Gear 2 In Slackline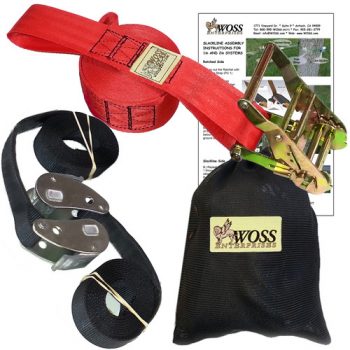 Weight: 5.47 lbs
Dimensions: 25 ft long, 2 in wide
Accessories: Drawstring bag, ratchet and loop, "how to slackline" manual, "Slack" specific webbing
Best use: Multi sport
The WOSS Gear 2in Slackline differs slightly from the others reviewed above in that the system it requires for set-up and tear down and in length. This 25 foot line could be good for use in your local park or in locations with relatively dense trees.
The two heavy duty 6.5 ft buckle tree straps replace the tree protectors provided in earlier reviewed products. In addition to ensuring this slackline does not leave or retain damage from use with trees, the heavy-duty buckles ensure the slackline will lie flat during use.
This may sound simple, but one of the common challenges that new slackliners face is ensuring that the line lie flat. It's easy to be a little clumsy during your set-up and wind up with twists and turns in your slackline. Some reviewers have mentioned that the ratchets don't seem terribly resilient when under stress and have stopped working after a few uses.
PROS:
Tree straps are reliable
No additional tools or hardware necessary for set up or tear down
CONS
:
Tree straps are not terribly resilient
Tree straps can be limited
Tree straps have a tendency to slip without bark or tree protectors
Slackers Slackline Classic Set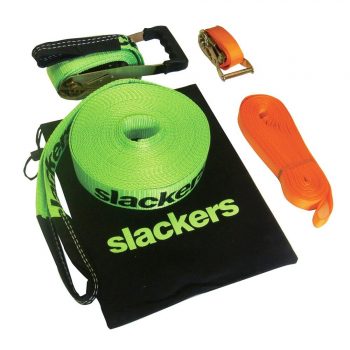 Weight: 8.8 lbs
Dimensions: 50 ft long, 2 in wide
Accessories: Storage bag, instruction manual, extra training line
Best use: Multi sport, outdoor recreation
The Slackers Slackline Classic Set sets apart from the other in that it not only is designed for beginners but comes with a teaching line. Slacklining, like many other balance sports, is not as easy as it looks. That being said, it always helps to have a little extra support when getting started.
While this line is designed for beginners, you won't need to go out and make another purchase as you progress. The teaching line can be secured within arms reach above the slackline and when your skills have progressed past it's need, you can simply remove it.
Why is this important? It may sound simple, but slacklining requires focus, technical ability, and some basic balance skills. Many people start slacklining with a friend by placing their hand on a shoulder or holding onto a friend's hand. While this is helpful, the moment they step away, the beginner slackliner is left off balance and simply falls.
With a teaching line, you're able to hold on or let go as needed providing the perfect scaffolding for getting started in a new and challenging skills.
Like the other slacklines on this list, this product does come with a convenient carrying case and weighs less than 9 lbs. including the teaching line.
PROS:
The teaching line is good for beginners
Convenient carrying case and ratchet system
CONS
:
Weight is pretty heavy
Questionable reliability
Related: As we've said before, tree protectors are incredibly important to ensure that your slackline is safe from wear and tear and tree sap. Considering this line is a beginner line and may be great for kids, take a look at the B4Adventure Ninja Line Climbing Rope. This can be great strength and balance cross training for your beginner slackliner.
Slackline Industries Playline Slackline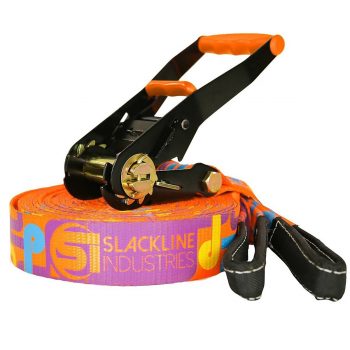 Weight: 7.2 lbs
Dimensions: 40 ft long, 2 in wide
Accessories: Plastic grip, help line, ratchet
Best use: Multi sport, cycling
The Slackline Industries Playline Slackline may seem similar to the others listed above, the soft plastic handles on the ratchets are one of it's most redeaming qualities. Aside from the fact that at 40 feet, this slackline can be used in sparsley treed areas such as your local park or backyard, the plastic handles on the ratchet system make this slackline much more attractive.
Why is this such a big deal? You may not realize it as a novice slackliner, but in order to sustain your body weight, the slackline needs to be tightened to enough pressure at least equivalent to your body weight. This particular slackline can hold over 300 lbs or pressure which in turn ends up making your ratchet incredibly stressed, tight, and sometimes difficult to assemble or unassembled.
You'll be glad this slackline's ratchet system comes fitted with soft plastic handles simply because it will save your fingers from enduring a similar amount of stress during set-up and tear down of the product. If you're looking for a line you can use and reliably set-up and tear down, this might be the right product for you.
PROS:
40 foot length allows you to set up your slackline across a large distance
A helpline comes included in this product for beginners
CONS
:
Tree protectors not included
The helpline may not withstand the force needed to help you during your first few tries
Related: Be sure to take a look at the tree protectors previously mentioned like the Hopon Slacklines Tree Wear to keep your line from enduring wear and tear through common usage.
In Conclusion
Imagine your next relaxing afternoon in the park, surrounded by friends and family. After hours of lounging, you may be wondering how you can engage your diverse group of friends of all ages in an activity that will keep you laughing and having fun regardless of athletic ability.
Slacklining can be fun and an easy way to build strength and balance through minimal amounts of exercise. The slacklines listed in this review will each have their own pros and cons but I can assure you will keep your group happy and excited for hours of fun. Practice makes perfect, so get outside and start slacklining!
Featured Image Source: https://www.pexels.com/photo/people-summer-rope-sport-5263002/