There's nothing quite like strapping on a pair of skis and sliding down a snowy slope. But everyone interested in the sport don't know where to start when it comes to finding the right pair of skis. Won't it be nice if there are skis that can provide the best control and stability while you're learning the ropes? Fortunately, there is no shortage of the best skis for beginners found in the market.
Beginner skis are generally affordable and provides an accessible platform for beginners to learn the fundamentals of skiing. These modals usually come with integrated systems with bindings. However, how exactly do you buy these beginner skis considering the number of options out there? Don't fret because we are here to help.
So instead of having to fumble through the process on you're on, we're going to help you find the best skis for your needs. We'll take you through the key features you should be looking for, as well as a list of the top rated products on the market that you can use as a starting point for your search. Without further ado, let's take a look at some skis!
Our Top Picks
Things to Consider Before Buying
Before you can jump right into your search for skis, it's important that you take a look at the features you should be keeping in mind. Going to the store and picking up the first ones you find is a recipe for disaster. Not only will you find skis that aren't suitable for your height, weight, and skill level, but you'll also embarrass yourself on the slopes, using skis that don't fit right.
Instead, you could take the guesswork out of your shopping experience by digesting the information we're providing to you and keeping them in mind while you're perusing various products online or in-store. So here are the important features you should be keeping mind.
Weight
Weight is very important. A lightweight ski can be easier to control and manage, which is very important for beginners. Skis that are too heavy can put a strain on the ankles instead of helping you develop the muscles you need to put the skis to your advantage. A good weight to go for is any ski less than 2 kg.
With these, you'll be able to maintain control, and reduce your chances of falling down on the slopes. Ask any ski expert and they'll most likely tell you to consider the weight first when buying skis.
Dimensions
All ski models come in different lengths, so it's important that you find the right length according to your size and how you want to ski. Skis that are longer are more stable, as they distribute your weight more evenly, while shorter skis make it easier for you to turn, which can be important if you need to get out of the way. For beginners, size your skis on the shorter side and closer to your chin.
It may be a good idea to find skis that have a length somewhere in the middle so that you're capable of doing both. With that said, it would be best if you could try on the skis in person.
Boot Size
Other than the length of the skis, you also want to consider the size of the boots. This isn't likely to be the same as your shoe size, so it's important that you try them on to get the right fit. After all, you're not going to use skis very often if they pinch your toes.
The best way to try on the ski boot is to wear thin socks – a strange thing to hear given you'll be out in the snow – but the internal foam and plastic shell actually provide a lot of insulation on their own. Thin socks also provide you with a lot more control over your skis, as you can feel every dip and bump of the ground beneath you.
Beginners should look at an official Mondopoint chart to convert their shoe size to their ski boot size; don't worry about the boot feeling small initially. Over time, the foam will start to compress so that you'll have more room to work with the more you ski.
Flex
The flex is a term for how difficult it is to flex the boot forward. This ranged from soft (50) to stiff (130), and these numbers are stated on the side of the ski boot itself. However, keep in mind that these numbers are vague, as the flex differs from manufacturer to manufacturer, so it's important that you try the boots out for themselves to see what you're comfortable with.
For beginners, the softer the flex the better, as it makes it easy for you to lean into your skis and make necessary turns. For men's skis, a good beginner flex range to look at is 65 to 80; for women, 50 to 60. Other than ski level, you should also look at the terrain you'll be snowing in (mountain skiers require softer flex), height and weight of the skier (a shorter, lighter person will need a softer flex to make maneuvers), and personal preference.
Waist Width
This is the width of the skis at the very middle; this area is going to be a little narrower than the width of the rest of the ski. This definitely makes a difference, as the narrower waist widths are better for carving and making sharp turns, while wider widths are better for flotation (stay on top of the snow) and for dealing with rough snow.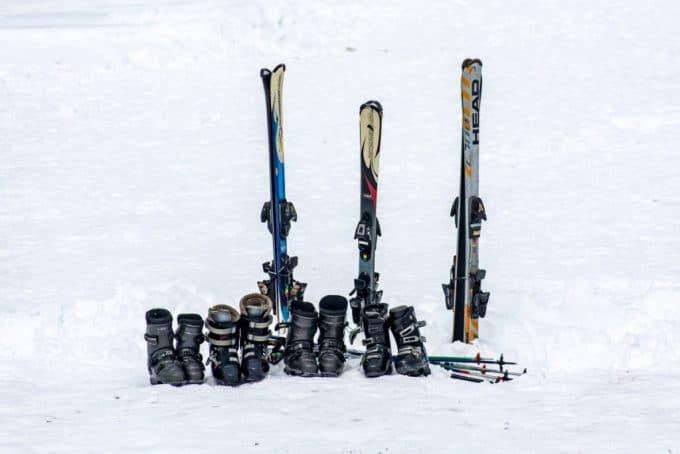 For beginners, the best width depends on the kind of terrain you'll be skiing on. For well-groomed conditions and trails, skis up to 95 mm are great; for more uneven terrain, you'll want to look at skis with a waist width greater than 111 mm.
Profile
When it comes to the kind of rocker on your ski, you may have no idea what the term is referring to. There are three main terms that are used to determine the shape of your ski, and what it's capable of handling.
Camber: the slight upward curve in the middle of the ski, so that the contact points with the snow are at the ends. This is best for expert and racing skiers, as it gives them a lot of power to go fast and be in charge of difficult terrain.
Rocker: also known as reverse-camber; all of the skier's weight is placed in the middle, while the ends curve upwards. These are great for dealing with powder snow and for beginners to use, as they have better control as they learn how to ski.
Flat: no curves to the ski, except for the very slight upturn of the ends. Flat skis provide a better edge grip than rocker, allowing you to make faster and sharper turns, and have better maneuverability than camber, as there's more surface area under the ski to work with.
Best Products on Today's Market
With all of those features in mind, you'd think you're ready to head to the store and pick up the perfect pair. However, instead of doing that, why not take a look at some of the best products on the market? That way, you know the quality of the product you should be looking for, as well as the range that they offer to beginners when it comes to tackling those slopes. Let's get to it.
Head Natural Instinct Skis
Price: Approx. $270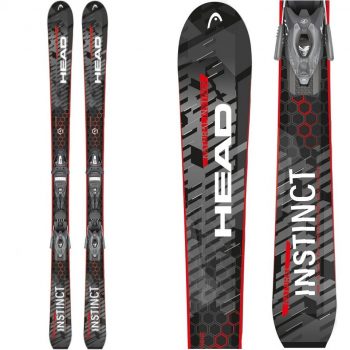 Flex: Medium
Profile: Rocker/Camber Hybrid
Specific features: Head PR 12 Bindings, Graphene body, structured UHM C Base, Power Rail mounting system, ERA 3.0 construction
Best use: Skiing at beginner to intermediate levels
The Head Natural Instinct Skis are designed for beginner to intermediate levels, allowing you to grow with your skis instead of having to buy an entirely new pair. That's important for those who become very comfortable with their skis and don't want to start the wearing-in process all over again. And because these skis are made with Graphene technology, they're designed to last a very long time as well as you develop your skiing skills.
But don't worry about their durability weighing you down; Graphene is extremely light, so you won't feel burdened while using them.
Its narrow width makes it perfect for groomed trails and slopes, and the medium flex trains your muscles to learn to maneuver as is necessary. It may feel difficult at first when you're just starting out, but you'll learn to adjust with time. Overall, these are great skis at an affordable price.
PROS:
Durable
Lightweight
Great value
CONS
:
Does not do well on making large turns
Related: If you're looking for skis with a bit more flair and flexibility, then the Rossignol Scratch Skis could be exactly what you're looking for. These skis are available in a bright orange color so there's no reason to mistake your skis for someone else's. The rocker/camber hybrid profile also provides greater flexibility for dealing with different kinds of terrains as well as experience levels, making it a perfect gift for any skier type.
Elan Explore 4 Skis
Price: Approx. $700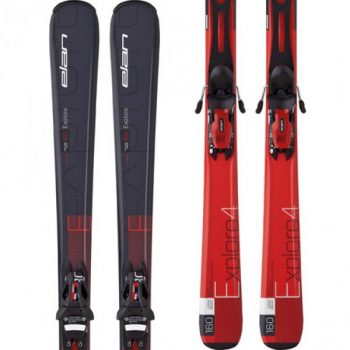 Flex: Very soft
Profile: Camber/Tip Rocker
Specific features: Full Power Cap construction, fiberglass and Comprex woodcore body, EL 10.0 Bindings, Early Rise Rocker tip
Best use: For beginners for on-trail skiing
The Elan Explore 4 Skis are the perfect ski for beginners, as well as those who are becoming intermediates. It is easy to balance, control and handle this ski. The ski is very stable, which is great for those who are still learning how to ski.-4
The rocker in the tip helps to facilitate this by allowing for easy turns and manipulation of the skis so you're going exactly where you want to, instead of your skis taking you for a joy ride.
With the combination of the Full Power Cap Construction and the fiberglass and Comprex woodcore body, the ski is ideal for those who are learning how to ski while making as few mistakes as possible. After all, falling on your butt over and over again can become discouraging, especially if you don't know what you're doing wrong.
But this ski provides you with plenty of control to minimize those mistakes and gain a natural feel for how you should be working your skis.
PROS:
Lightweight
Perfect for different kinds of terrain
Related: If you're interested in taking your kid out with you on the slopes, then you might want to consider the Atomic Punx Jr. II Kids' Skis. They're made with a Densolite core so that they're light enough – and durable enough – for your kids to use. They're available with a cool and interesting print, so your kid's not bored with just the one color, but can be found in a wide range of other colors as well.
Atomic Nomad Smoke Skis
Price: Approx. $330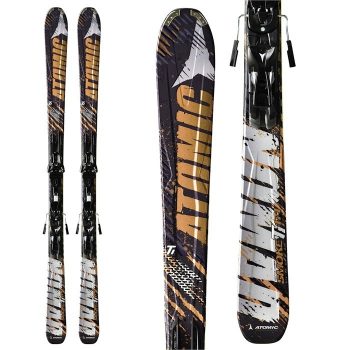 Flex: Medium
Profile: Camber/Tip Rocker
Specific features: XTO 12 Bindings, titanium-powdered, ARC technology, wood with metal laminate core
Best use: On-trail and groomed conditions
These Atomic Nomad Smoke Skis work best for people with beginner to intermediate skills who are looking to improve their skill set. It's much easier to grow into a pair of skis and still have them work for you when you've improved on your skills than to buy an entirely new pair.
The cap construction on the tip, the Stepdown Sidewall 2.0, and the rockered tip all work together to make it easier for you to make those sharp turns without sinking into the snow, no matter how thick or powdery it is.
The best thing about these skis is that they are easy to control and manage, so beginner skiers can still use these skis with ease and comfort. The lightweight skis offer excellent performance and are definitely highly recommended to those who are taking up the sport for the first time. Price is pretty affordable as well.
PROS:
Rugged
Durable
Affordable
CONS
:
A bit heavy for beginner skis
Related: Now that you've got the perfect skis, how are you going to carry them around? The High Sierra Ski and Boot Bag Combo makes it easy for you to pack away your gear and carry them easily to and from the ski resort, all without covering your trunk and back seats with snow. The water-resistant fabric won't soak up any moisture so that your skis can dry out properly, and the nylon zippers are made to last, no matter what kind of punishment you put them through.
Rossignol Temptation 77 Skis
Price: $330 – $550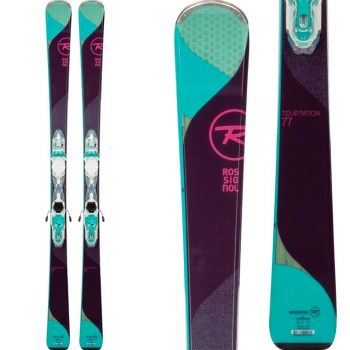 Flex: Medium to very stiff
Profile: Rocker/Camber Hybrid
Specific features: Xpress 11 Bindings, carbon alloy matrix, wood with carbon core, Ait-tip technology
Best use: On-trail tracks and groomed conditions
The Rossignol Temptation 77 Skis facilitates easy turns, with the camber underfoot providing you with the control you need and the tail rocker keeping you afloat in the snow while you turn.The light weight of this ski also helps you to get around without putting any strain on your ankles and knees.
The skis are perfect for beginner level and for making small turns. However, they are not ideal for making large radius turns. That being said, as a beginner, you can still use these skis with ease and comfort without feeling like you've outclassed yourself with the wrong skis.
The stiffness of the flex also makes these boots perfect for intermediate skiers who are looking to break into the advanced category. The all-mountain purpose of these skis allows you to take them just about anywhere so you can ski to your heart's content.
PROS:
Light
Durable
Good carving
CONS
:
Not great for easy-going skiers
Related: Downhill skiing may be more your thing, so you may want to consider the 4FRNT Kye95 Alpine Skis to get you down the mountain. These well-designed and stylish skis were meant for carrying you down the slope safely with its rocker tip providing you the control that you'll need. And because the tail height is one of the lowest, you can make short turns as needed so you can carve through that powder without any worries.
K2 Press Skis
Price: $215- $240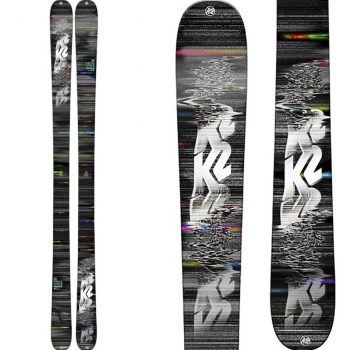 Flex: Very soft
Profile: Rocker/Camber Hybrid
Specific features: Jib rocker, Aspen wood core
Best use: All mountains and all types of terrains
The K2 Press Skis are ideal to be used in the park with well-groomed trails. While it is stable enough to be used on mountain terrain and for maneuvering, it also maintains its playfulness and can be taken over small jumps and bumps. The material of the skis is very durable, so there is little chance of you breaking it in a fall. Even if you land poorly, the tail or tip will not split.
For teens and young adults who want to ski in the park and are looking to purchase their first pair of skis, this product is ideal. It lets you have perfect control and allows easy turning. Landing after a bump is smooth and will not hurt you. Even on the mountain, grip, turning and control are perfect.
The drawback of this ski pair is that long turns are a little difficult to make. Also, it is not good for large adults who might find the size of the ski to be a bit small for them.
PROS:
Great transition ski to intermediate
Good carving ability
Good grip
CONS
:
Lacks any bindings
A little heavy
Related: Stepping up your game into the area of snowboarding is somewhat of a natural progression in snow sports, and it helps if you have the right gear on your side. Consider the Bataleon Disaster Men's Snowboard to help you get down the slopes in style as you carve your way through the powder and pull stunts like nobody's business. With a wide range of lengths to choose from, you'll find one that's perfect for your height and weight, and also has a soft flex, which is perfect for beginners.
Atomic Affinity Air Skis
Price: Approx. $390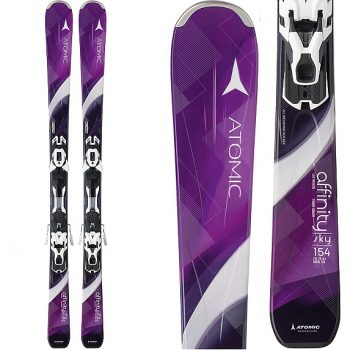 Flex: Medium
Profile: Camber/Tip Rocker
Specific features: Lithium 10 Bindings, light wood core, V-shape, titanium stabilizer
Best use: On-trail and groomed conditions
The Atomic Affinity Air Skis are great for adventurous, sporty women who love to ski. These are great for all-mountain terrains and will let you maneuver every turn easily.
The edge grip and stability of these skis is truly exceptional. The rockered tip makes turn initiation easier and provides a smoother ride. And forget about any stress added to your quadriceps or back: the slightly-raised heel will take the pressure off so you'll feel less pain after a long, hard day of going up and down the slopes.
The skis are good for making short to medium turns. You will find that transferring between turns is easy because of the rebound and the camper underfoot. The titanium stabilizer under the core increases the torsional strength to help with making sharp and easy turns. The light weight of this ski is great not only for beginners but also for people with intermediate skill, allowing starting skiers to "graduate" to a higher level with the same skis.
Related: Interested in taking your partner out on the slopes? Not sure what skis to get? The Nordica Nrgy 80 Men's Skis can take care of that problem for you. These skis are naturally short, so don't be afraid to upgrade to a longer length, especially if the person you're getting them for is a beginner as well. It boasts a Rocker/Camber hybrid profile that makes it perfect for all types of mountain terrain, and will definitely last a long time with its carbon laminate body.
Rossignol Trixie Skis
Price: Approx. $380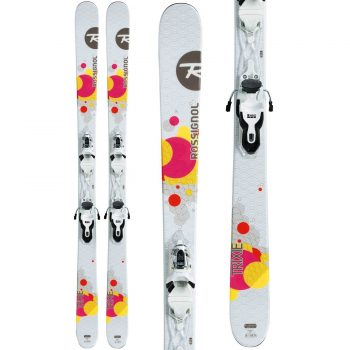 Flex: Soft to medium
Profile: Camber
Specific features: Poplar wood body, RossiTop Cap construction, Xpress 10 Bindings
Best use: On-trail and hard-packed conditions
The Rossignol Trixie Skis have a 100% camber/rocker, which allows for great edge grip. These skis are made specifically for women, with the tapered body as well as the stylish graphics displayed along the body of the skis.
The full camber design means that there is no rocker in this ski. However, these skis works well in all kinds of conditions, so you won't have to worry about getting different skis for different purposes.
The Xelium sapphire 100 bindings are included with the skis, and in combination with the skis' light weight, you'll have great control, excellent agility, and durability than can withstand even the harshest environments.
The structure itself is also very forgiving, so even if you make the smallest mistakes, your tush is not going to pay the price if you fall. What better way to boost your confidence than finding a pair of skis that will keep you standing?
PROS:
Lightweight
Smooth ride
Has good grip
Related: Finding the perfect set of skis that you can take down the slopes as well as through parks can be a difficult task, but we've made it easier by presenting to you with the Volkl Pyra Women's Skis to look over. These skis are not only stylish, but they are highly functional, capable of taking you across many kinds of terrain without any problems.
Wrap Up
And that ends our review section for the best skis for beginners. Now that you know all about skis, the features to look for and the top products in the market, you should be well on your way to finding your own pair. The above-mentioned skis are truly the best for beginners, and you should check them out whenever you plan on buying a pair. All of them have great stability and control, so you can improve your skills without injuring yourself, and still look good doing it.
What type of skis do you like best? Which ones have you tried and what do you look for in choosing your next ones? Be sure you leave your experiences with us in the comments section below.