Because ski boots don't fit like normal shoes, finding the best womens ski boots for you will require a little bit of research and some trial and error. But the right boot won't just feel good on your feet – it will increase your ability and up your game.
To save you some time, we've compiled some of the best hints and tips, and a few of the best ski boots out there to get you started in your search. We'll have you enjoying the slopes and skiing better than ever in no time.
What You Need To Know To Choose Ski Boots
What Type Of Skier Are You?
The boots you buy will either help you or hinder you in your journey towards becoming a better skier. Many beginners buy boots that are too loose and this will cause discomfort and a loss of control that will result in slower progress.
It really is worth taking into account where you are at in your skiing journey and buying an appropriate boot. The following table shows the features each type of skier should look for.
Skier Type
Skiing Terrain
Size Guide
Flex Guide
Beginner
Bunny Slopes,
Groomers
Mondo-point indicated size or ½ size up
50-70
Intermediate
Faster Groomers, All-mountain,
Park + Pipe, Off-piste
Mondo-point indicated size or ½ down
85-100
Advanced
All-mountain, Off-piste, Park + pipe,
Races, Cliffs, Steeps
Mondo-point indicated size or ½ to 1 size down
105-130
Now you know roughly what size and flexibility of boot (more about size and flexibility below) you'll be looking for, this guide to some ski-boot terminology will help you understand the rest of the features you'll find as you shop.
Ski Boot Jargon
Mondo Point Sizing
Shoe sizing is often inconsistent from manufacturer to manufacturer, and shouldn't be used to decide which size of ski boot to try. The Mondo Point sizing system allows you to discover exactly which ski boot size should be your starting point when you try boots on.
To use the Mondo Point system you should place your heel against a flat surface (walls are convenient), and measure the distance from your heel, straight out to the end of your longest toe, in centimeters. Using a Mondo Point conversion guide you can then see which size of boot you should try on first.
Stiffness/Flex
Ski boots have different levels of stiffness, and these are indicated by their 'flex number'. Lower numbers equal lower stiffness. Beginners will benefit from a more flexible boot (flex numbers 50 – 70 for women) which are more forgiving of wobbles and are more comfortable to wear.
Advanced skiers will appreciate a stiffer boot (flex numbers 105 – 130 for women) allowing them to make more precise movements. Women generally need a more flexible boot than men because their size and body weight gives them less leverage against the boot.
Last Width
The last width tells you how much distance there is across the widest point of the boot.
Velcro/Mechanical Straps
The straps on a ski boot keep the boot closed and help maintain contact between the shin and the tongue of the boot for extra control. Your boot should be snug enough that the boot straps are not needed to hold your foot in place.
A wider boot strap around the boot cuff will increase the stiffness and make the boot more sensitive to the skiers movements. For this reason, wide straps are better for more advanced skiers.
Custom Fit Liner
The ski boot liner fits inside the plastic shell and helps to hold your foot in place. A custom fit liner can be heated up to conform to the shape of your foot, making for a more comfortable fit, and better control.
Custom Fit Shell
Some boots have a shell that can be heated up and molded to fit the individual skier. This will result in a more comfortable fit.
Custom Footbeds
Some boots have heat-moldable footbeds too. These sit in the bottom of the shell and can be shaped for comfort, as well as to correct some posture problems and improve skiing stance.
Size
Ski boots do not fit like street boots. They are intended to be a tight fit. Once you have checked your Mondo Point sizing, you can start to try on a few boots. You will quickly realize that size is just a guide.
There are so many unique foot shapes that you will need to try a few different boots to find the fit you need. See our next sections for what to look for when trying on your boots, and to find out how the boots should feel when worn.
Trying Ski Boots On
Give yourself plenty of time to try on new ski boots. Narrowing down a close fit will take time, and you should then wear the boot for as long as possible to check the fit over time. Wear a pair of thin skiing socks to try on ski boots. When skiing, the boot liners will keep your feet warm and are very snug, so there is no room for thick socks.
If you are wearing jeans, make sure that they can be pulled up out of the way. You don't want them tucked inside the cuffs of the boots – you won't be able to get a proper fit. Boots are tried on without the liner at first until you have narrowed the search down. Once you have found a shell that seems to fit, with no major pressure points, the liner can be inserted, and the boots can be tried again.
When you first put the boot on, fasten the cuff strap first. This will bring your foot back into the correct place in the boot. After flexing your ankle a few times your heel should come to rest firmly in the heel cup of the boot. Then you can fasten the other straps.
How Should They Feel?
When you first put them on, ski boots feel tight. This is okay – don't rush to find a bigger size. The boot liner is designed to fill in any spare space and stop your foot moving inside the shell.With the straps fastened snugly, but not too tightly, you should just be able to feel the end of the boot with your toes. Keep the boots on for a while – at least 15 minutes. This will give the foam that makes up the liner time to heat up and mold to the shape of your foot better.
Now it's time to try some ski moves. There should be hardly any movement around your heel and ankle. Movement of the shin against the cuff at this stage is likely to end up as discomfort later. Over the first two or three days of wear, ski boots will give a little, so don't be tempted to go up a size.
If you are trying on boots at home you have the luxury of spending extra time testing them out. Try standing up for a couple of hours in them, to make sure no sore patches develop.
The main thing to be aware of now is that the pressure is spread evenly around the whole foot and ankle. If there are any localized pressure points, these may well be a sign of a bad fit. If you have had trouble with shoes rubbing in particular places in the past and you feel pressure developing in those areas now, heed the warning. In this case, try the same size boot in another make.
Custom footbeds will improve your posture while wearing ski boots, so will decrease the chances of pressure points. They will increase the comfort and the performance of your boots, so if you can afford them, they are highly recommended.
Ski Boot Fitting Problems
Cold/Numb Feet
The tight fit of ski boots sometimes results in cold feet or even numbness. Custom footbeds can improve the position of the feet inside the boots, easing pressure points and re-distributing pressure evenly. This should allow blood to flow more freely, and take care of any squeezed nerves. If cold feet are still a problem, you can get heated footbeds.
Bruised Shins
If there is any movement of the shins against the top of the boots, soreness can occur. Beginners often buy boots that are too big, disliking the snug feel of well fitting boots. This results in movement of the foot inside the shell and allows the shin to bang against the tongue.
Sometimes pronation can be a problem. Pronation is when the foot rolls inwards, causing a slight twisting movement of the shin, and rubbing against the tongue of the boot. Custom footbeds can help correct pronation and stop this problem.
Localized Pressure
Pressure points are most likely to develop around the ankle bones, instep, widest part of the foot and heels. This can be as a result of pronation, and if so can be helped with custom footbeds. Sometimes custom shell stretches will be needed to fix pressure points.
Muscle Tightness/Pain
Pain in the calf can be felt as the result of the constant flexing while wearing ski boots. Heel lifts can be inserted into boots to help with this, or stretching and strengthening exercises may help.
Take a Look at Some of the Best Womens Ski Boots
Salomon X Max 110 Ski Boot – Women's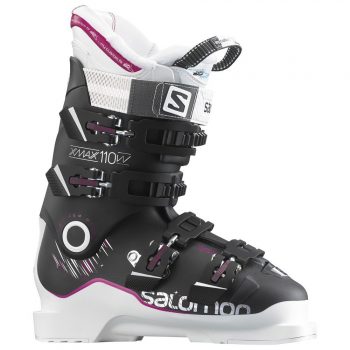 Weight: 9.1 pounds
Dimensions: 21 x 16 x 6 inches
Special features: Heat-moldable shell and liner, last width 98 -104 mm
Best use: Downhill performance, racing
These boots are made with the more advanced skier in mind. Their flex rating of 110 will improve your skiing, and the custom fit is an added bonus. Both the liner and shell are fully customizable (the shell is made from Salomon's 360 Custom Shell Material) allowing the boot to be shaped for optimum comfort and performance. Dial in panels around the instep, shin, ankle and upper foot help shape the shell to your unique needs. This custom fit will give more power and better performance to your skiing.
The Salomon X Max 110 is designed to fit women's calves with a shorter cuff, and features a cuff adjustment screw, to adapt the shape to your calf size. The focus on a custom fit hasn't eclipsed the need for performance though.
This boot uses Salomon's Oversized Pivot to keep lateral stiffness in the boot, which is essential when trying to roll wide powder skis edge to edge. The wide strap can be tightened for aggressive skiing and the multi-adjustable buckles allow for control with absolutely no foot movement in the boot.
Salomon X Pro 90 W Ski Boots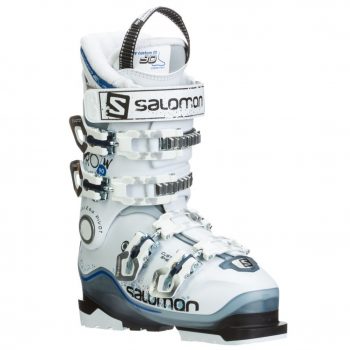 Weight: 14 pounds
Dimensions: –
Special features: Fully customizable, last width 100 – 106
Best use: Groomers, all conditions
With a flex index of 90, the Salomon X Pro 90 will suit intermediate skiers wishing to continue their advancement. This boot is a great all-rounder and is fun to wear in all conditions, but really stands out on groomed runs.
The X Pro is fully customizable, both shell and liner, which will mean a comfortable fit and the best possible control. The liners are warm and cozy and have articulation around the ankles to reduce pressure points.
4 aluminum straps cinch the boot tight for good control and a wide velcro strap can be adjusted for the level of control. Salomon's calf adjustment screw system is present on the X Pro, allowing a fit to be found for any shape of calf, easily and quickly.
Atomic Waymaker Carbon 100 Womens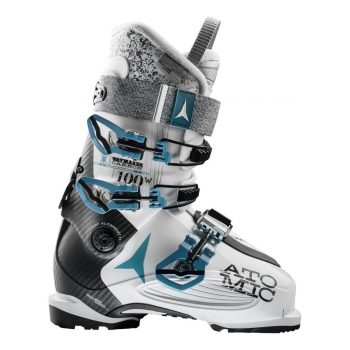 Weight: –
Dimensions: –
Special features: Free/lock switch, carbon spine, last width 99
Best use: Powder, downhill
For the intermediate to advanced skier, the Atomic Waymaker Carbon 100 is a great choice. This boot has a large volume and is well-suited to skiers with a high instep, wider leg, or medium to wide feet.
A Live Fit Panel made from expandable soft rubber on the lateral side of the boot stretches to fit as you put your foot inside. The spine of the Waymaker 100 is where the carbon comes in. This carbon spine delivers a powerful rebound on fresh powder.
Atomic utilize a Free/Lock system to increase cuff mobility to 35 degrees for walking to lifts, skinning or hiking, operated using a switch on the rear of the cuff. The Silver Liner of this boot uses 3M insulation to ensure your feet stay warm and comfortable. A 35 mm strap helps keep you in control and 3 multi-adjustable straps will hold you securely in place.
Full Tilt Soul Sister Ski Boots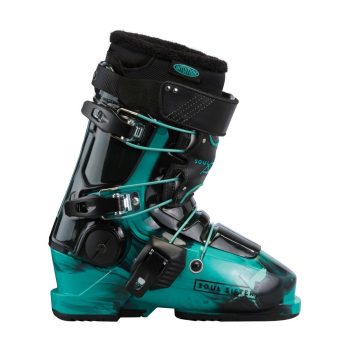 Weight: 9 pounds
Dimensions: –
Special features: 3 piece shell, forward tilt
Best use: Park + Pipe, downhill
The Full Tilt Soul Sister is built on a woman's shape specific last, giving a fit in the foot and cuff that will allow you to be comfortable and power through your skiing.
No matter what type of skiing you prefer, this boot will not let you down. Wide multi-adjustable straps cinch your foot in tight, and the wide cuff strap and forward tilt give yu control when you need it.
The boot is built in 3 pieces, giving a flexible fit. The modernized toe box accompanies replaceable rubber toe and heel pieces. Full Tilt have designed the calf to fit a woman's calf for increased performance and comfort. Finally, the boot's #6 Flex tongue brings a versatile flex for downhill or park and pipe skiing.
Dalbello Kyra 95 I.D. Women's Ski Boots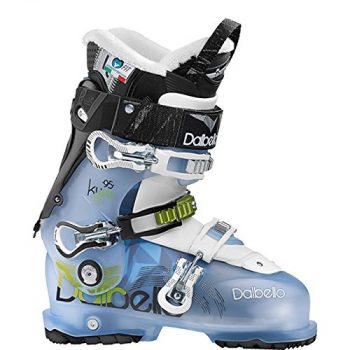 Weight: –
Dimensions: –
Special features: Last width 102 mm
Best use: All-rounder
With a flex rating of 95 the Dalbello Kyra 95 Women's Ski Boot is a great choice for intermediate to advanced skiiers. With performance and comfort in mind, this boot features a moldable liner and the famous Cabrio 3 piece design. Built around a 102 mm last the boot is designed to fit fenale feet with a wider forefoot and narrower heel width.
A ski/walk switch located on the spine allows you to comfortably walk to the lifts or even up a ridgeline. Dalbello also feature an adjustable heel inclinator, allowing you to change the heel height, improving rearfoot and ankle comfort.
The Dalbello Kyra 95 offers revolutionary comfort in its Contour 4 fitting system. The inner sidewalls and innerboot lasts have been mapped to a typical skier's foot shape. This gives extra space at 4 critical points – the heel, ankle, metatarsal and navicular.
Lange XT 110 L.V. W Womens Ski Boots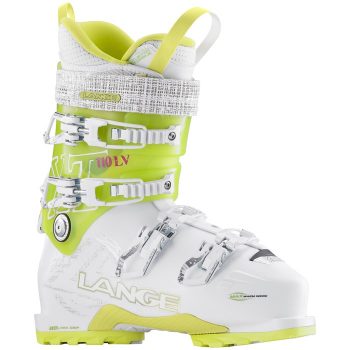 Weight: –
Dimensions: –
Special features: Narrow fit, control liner with optional Laces, 97 mm last width
Best use: All-rounder
The LV in the name stands for Low Volume – Lange Womens Ski Boots have designed this flex rated 110 boot for the expert skier with a narrower foot and calf. The last width is a very compact 97 mm, while the 110 flex rating allows for aggressive skiers to put down power and control in equal measure.
With the flip of an on-spine switch you can increase cuff mobility for hiking, and ultra grip soles will ensure you get maximum traction on any surface. If you occasionally head for the back-country, this boot will take you there – hiking for fresh snow is no problem. These boots can translate energy from your feet to the skis in powder, crud, or even on hardpack.
This is a very comfortable boot. Details such as the Thinsulate Control Fit liner with optional laces, and seam free toe box, add to the comfort level. If you are an experienced skier with a narrow foot, then these boots are a solid option.
Rossignol Alltrack Pro 110 Ski Boot – Women's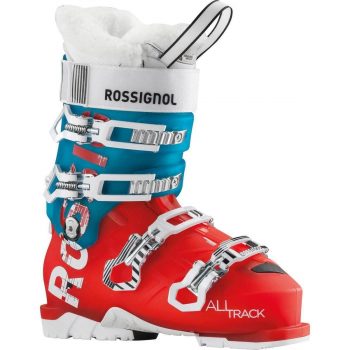 Weight: 9.1 pounds
Dimensions: 22 x 15 x 6 inches
Special features: 'Walk To Ride' compatible, sensor grid technology
Best use: Free-riding
Rossignol have fused power, precision and hiking performance in their Women's Alltrack Pro. With a flex rating of 110, this boot is suitable for the advanced skier, and delivers award-winning free-ride versatility.
The Posi-block cuff technology offers the ski/hike versatility of a releasable cuff free-ride boot, but with the power and control offered by a traditional fixed cuff.
For even better hike/ski performance these boots are compatible with 'Walk To Ride' rocker soles, which can be bought separately. The included soles and arches offer excellent grip and durability.
For comfort and warmth, the Alltrack Pro includes woman specific OptiSensor 3D Thinsulate Platinum liners, for a supportive wrap-around feel. The 100 mm Last width should fit most women. With four diagonal buckles and a wide velcro strap these boots will fit securely and allow you to concentrate on skiing your best.
Have you found your ski boots yet?
These boots offer all the comfort and control you need to take your skiing to the next level. Remember our tips for finding your best fit and how to try them on to make sure that you choose the ideal pair. Good luck with the search.
Featured Image Source: https://unsplash.com/photos/pmfJcN7RGiw