So, you've decided to go on a family outing to the great outdoors! In an age where technology can tie us down to the daily grind, opting outside as a family is a great way to reconnect with each other and with ourselves. However, you will agree with us that choosing the best family tent is no easy job! Now, the question is: what are the best family tents for me and my family?
Whether you are completely new to camping or you are looking to replace a no longer functional tent, we have prepared a short buyers guide for you. Plus, we have reviewed some of the best outdoor family tents which you can check out.
Our Top Picks
Features to Consider Before Buying
Since your plan will be spending time with your family, the last thing you want is to get a low quality tent that does not keep them protected against what the outdoors have to offer. For that reason, there are many features you should consider when purchasing the best tent for family camping.
Size
We know that we have said lots of times that the number one rule for campers and backpackers is packing as compact and lightweight as possible. However, this is not the case.
There are a lot of different tent sizes according to how many family members you are planning to take with you. Anyhow, most tents made for six or more people have room for everyone to stand fully upright, at least in the center of the tent if not throughout the whole inside.
Water Resistant vs. Waterproof
All waterproof tents are water resistant, but not all water resistant tents are waterproof. The good news is that water resistant tents are more affordable, and you can buy waterproof coating and make a little DIY project out of it.
While it's not necessary to have a waterproof tent since almost every tent comes with a rain fly, it is important to know how well coated and covered the floors, zippers, and seams of the tent are (these are the most leak prone areas).
Set up Time
Most people like to set their tent up as soon as they arrive to the camping area because it is a process that might take a long time. Thankfully, tent manufacturers have improved their products to make them easier to install and take apart.
Nowadays, there are two options to consider. The instant, pre assembled tents and the ones that you need to read the instruction manual. One isn't necessarily better than the other in terms of quality and durability; it simply comes down to personal preference.
In tent Storage
Depending on what you are planning to take with you to your camping expedition, you should consider the amount of space you would need. Are the little mesh pockets around the perimeter of the tent enough to hold all the little odds and ends for your family?
If you think you might need a little more room (if you're hiking away from your car, for example), there are some tents that come with built in cubbies or closets the extend off the tent so they don't take up any extra room.
Stakes
Think of them as the columns of your house. The sturdier and stronger stakes you get, the more stable and durable tent you would have, which is an important aspect to consider when strong winds are presented.
These vary widely in quality, and the ones that come with tents tend to be of a lower grade. They're relatively inexpensive to purchase separately, considering that good quality, sturdy stakes can last a near lifetime.
Best Products on Today's Market
Since we have refreshed your knowledge about the most important characteristics every tent should have, we believe you are ready to get one. Therefore, in the next section you will find eight of the best family tents in the market.
Ozark Trail Family Tent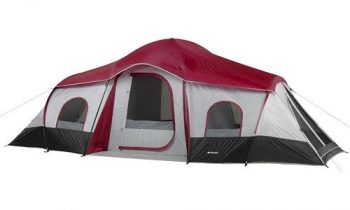 Price: Approx. $230
Weight: 30 lbs
Dimensions: 20 x 10 x 6.5 ft
Specific features: 3 doors (1 main door in the center, 1 on either end), 6 windows, 2 removable dividers for sectioning off the ends tent, duffel carry sack included
Best use: Car camping for medium sized groups or families
If you are looking for an easily assembled, roomy tent that comfortable fits a family of 10, or a group of up to 8 adults and your belongings, the Ozark Trail Family Tent is for you. It is designed for three seasons, is water resistant, and durable, though waterproofing the outside or using a protective rain fly is recommended.
Additionally, it comes with stakes that provide a stable balance. It easily fits up to three queen sized air mattresses, one per "room", or maybe set up a dining table in the middle to store all your things. Additional hooks and pouches are available throughout the tent for personal item storage and rigging up lighting.
The removable dividers give you a choice to section off a part of the tent for privacy, and open it up for shared family time. The six windows spaced around the tent offer great views of your surroundings. Also, you can enter through the central door, or through one at either end.
PROS:
Very roomy
Water resistant
Included dividers
CONS
:
Not the strongest poles
Not strong in windy conditions
Related: The Ozark Trail 3 Room Cabin Tent is a great choice from the same manufacturer. It has essentially the same dimensions, as well as the ability to section it off into three separate rooms if you want. It incorporates one more window and a front porch area that is great for relaxing in a chair in any kind of weather, as well as acting as a mud room for shoes/gear to keep the interior of the tent clean.
Core 6 Person Instant Tent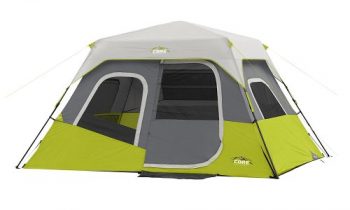 Price: Approx. $150
Weight: 22.8 lbs
Dimensions: 11 x 9 x 6 ft
Specific features: Instant set up, 1 door, 3 windows, mesh screen on the first layer and zip away outer opaque cover, electrical cord port, poles, stakes
Best use: Car camping, for a family of 6 people with no gear inside, or 3 – 4 people plus gear.
The CORE 6 Person Instant Tent can be set up with little effort. Remove it from the carrying case, lay flat, and extend the attached poles. Nail into the ground with included stakes, and done! Rain fly comes included, and setup is required after the tent is up.
This tent comes with a water resistant exterior, and 3 zip away windows with mesh screens that allow the air to get in, but keep bugs out, which is a very important feature for summer campers. There is one central D shaped door that requires both hands for zipping/unzipping, hooks and pouches around the tent to hang gear off the floor, and a flap to let in an electrical cord.
All zippers and seams have water resistant covers. You can sleep up to 6 people with minimal gear on the inside, or 3 – 4 people comfortable with everything inside. Due to its weight, this tent is best for camping trips with short hiking distances. A carrying case is included with the tent.
PROS:
Water resistant
Easy to set up
Very breathable
CONS
:
Troublesome front door zipper
Does not keep the warmth
Weak poles
Related: There is a larger version of the instant tent, the CORE 12 Person Instant Tent. You could set it up in about 5 minutes and it can fit 3 queen mattresses and up 12 people. It can be divided into three different rooms and the walls have storage pockets to keep items in there, and it comes with a rainfly, gear loft and carry bag.
Coleman Tenaya Lake Tent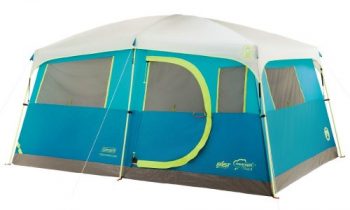 Price: Approx. $211
Weight: 35.4 lbs
Dimensions: 13 x 9 x 6.7 ft
Specific features: Instant set up with poles attached, stakes and rain fly included; 5 windows plus mesh ceiling skylight, 1 central door, and built in closet, water resistant material
Best use: Car camping, for up to 8 people
This roomy Coleman Tenaya Lake Tent has everything you could ever need. Its cabin style frame comes together in under 10 minutes. Off the back of the tent is a closet with built in shelving and a pole for hanging items.
Everything for set up is included, with color coded poles, ground stakes and a rain fly to protect from the elements. The central door has an outer zip covering made of the same water resistant material as the rest of the tent, and zips away to reveal a mesh screen. Also, it comes with 5 windows that are made with the same materials and design that the central door has.
The ventilation system of windows and ceiling mesh skylight allows for air movement through all sides of the tent. This tent is perfect for those who have gear they want to store inside without taking up room in the main area of the tent. Recommended for groups doing minimal walking, due to the weight of the tent; great for families doing car camping.
PROS:
Easy to set up
Breathable and water resistant materials
Very roomy
CONS
:
No rust protection
Very heavy
Related: The Coleman Echo Lake Instant Tent is almost exactly the same, but switches out the built in closet for two smaller cubbies for storage, and has large front and side windows. Also, it has instant set up with everything included, with a slightly more sloped roof design.
Wenzel Klondike Tent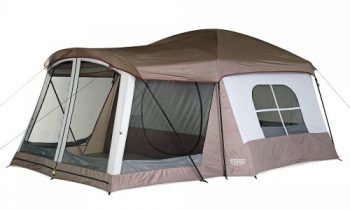 Price: Approx. $231
Weight: 28 lbs
Dimensions: 16 x 11 x 6.5 ft
Specific features: Mesh ceiling in main room for ventilation, screen porch, fiberglass poles, water resistant floors and exterior, duffel bag included, storage pockets
Best use: Car camping with a small family
The Wenzel Klondike Tent is unique in its design, with two almost equally sized rooms separated by a zippered door for privacy. When you use it the first time, the set up is estimated to take about 25 minutes; once you have installed it a few times, it can be done in less than 15 minutes. Luckily, the instructions are included.
The screen porch is multi functional, being able to be used as an extra sleeping room (up to three people) at night, or a sun porch for reading and relaxing during the day.
The completely mesh ceiling in the main room allows comfortable air flow without the bother of insects.
There are zip up water resistant walls for the screen porch in rainy conditions, as well as water resistant zipper covers, reinforced seams, and polyurethane floors. Also, it has a very comfortable standing room in the main compartment, as the height reaches 6'5". A very handy rain fly, a duffel bag carrying case, and strong ground stakes are all included in the set.
PROS:
Room separators
Multi functional porch
Water resistant
CONS
:
Do not zip all the way up
Not very wind resistant
Not so easy to set up
Related: The Wenzel Blue Ridge Tent is a roomy tent that can be sectionable into 3 rooms, with two large ones to sleep onto at the ends, and a smaller entryway in the middle. It also has an entirely mesh ceiling, with mesh windows at either end. The tent surface is made of polyester, giving it a fairly well water resistance, and the stakes are made of fiber glass, providing a strong base.
Big Agnes Flying Diamond Tent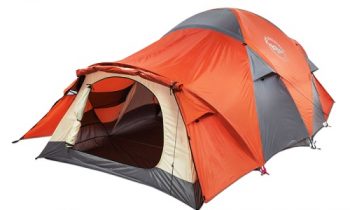 Price: Approx. $700
Weight: 18 lbs
Dimensions: 16.8 x 7 x 5.5 ft
Specific features: 2 doors, 5 windows, mesh ceiling in main romo for ventilation, rain fly included, lightweight aluminum tent poles and reflective guylines
Best use: Family basecamping, car camping with a small family
The four season Big Agnes Flying Diamond Tent is great for the family that wants to save significantly on carried weight. Including the lightweight aluminum poles, reflective guidelines and eco friendly style, you will be able to carry this tent to that perfect camping spot without putting too much effort on it.
The tent itself is waterproof with a polyurethane coating on the floor and outside of the tent, but a rain fly is included to cover the mesh ceiling. Mesh windows and doors at either end can be zipped up to keep out the elements, but opened up and used a screen to let a breeze through.
This tent can fit up to 6 people; 3 – 4 people with all their gear comfortably. Also, since the poles are very resistant, this tent can hold breezes very well and will only be shaken if strong gusts of wind hit it, which makes it a great choice for hikers and people who like to camp in the heights.
PROS:
Very lightweight
Waterproof
Breathable
CONS
:
Difficult to set up
Troublesome zippers
Thin material
Coleman Instant Tent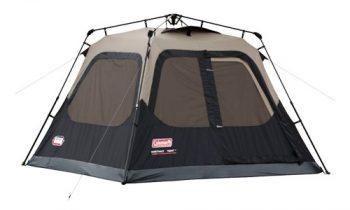 Price: Approx. $125
Weight: 18 lbs
Dimensions: 8 x 7 x 5 ft
Specific features: Instant set up, 1 door, 4 windows, 3 season tent, WeatherTec system for floors and windows, water resistant exterior, vented rainfly included
Best use: Car camping with a small family
The Coleman Instant Tent features one large, main entrance door and panoramic style windows for great views as well as ventilation. Outer opaque window covers roll down and tuck away for easy storage. The instant set up means the tent goes up in less than a minute, and the take apart process is not troublesome either, since it can be foldable by one person in no time.
This is a three season tent, with water resistant outer face, zipper covers and seam seals. Since most tents tend to have leaking problems by the lower sector, this one add WeatherTec system on the floors to keep water and the elements out, and to provide a sturdier base for tent poles.
Two to three people with gear can fit comfortable in here, but if four people lay side by side, they can sleep in with no problem. It comes with pockets around the base of the tent make organization all the easier. Carrying case, rain fly and stakes included, and poles are already assembled.
PROS:
Easy to set up and take apart
Weather resistant
Great ventilation
CONS
:
Not so easy to take apart
Weak zipper
Related: The Coleman Montana 8 Person Tent is another great choice that Coleman has to offer. It is made of strong polyester that provides water resistance and its angled windows keep the rain out even when they are open. It can comfortably fit up to 8 people and due to the snag free, continuous pole sleeves it is very easy to set up.
Browning Camping Big Horn Tent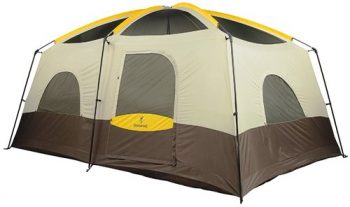 Price: Approx. $270
Weight: 35 lbs
Dimensions: 15 x 10 x 7.2 ft
Specific features: 9 person tent. 2 doors, 6 windows, completely mesh ceiling, oxford floor for extra durability, straight cabin style walls for height
Best use: Car camping for small medium sized groups
The Browning Camping Big Horn Tent is a spacious, sturdy, and weather proof option for up to nine people, or around four to six with gear. You have the option to leave it as one open space, or divide it with a hanging opaque curtain into two smaller rooms for more privacy.
There are doors located on both ends of the tent, six large windows all around, and a completely mesh ceiling for added ventilation. The tent performs well in three out of four seasons, and because of the reinforced Oxford floor, holds up quite well in extreme weather conditions. The domed top helps with this as well, but no standing room is compromised as the walls are straight and cabin style.
It has a water resistant exterior and comes with a rain fly. Assembly required, but is made easy with included instructions and minimal parts – only three poles running across the top of the tent. Also, stakes are included, and storage pouches are located all around the perimeter of the tent.
PROS:
Roomy and well ventilated
Water resistant
Separators included
Related: The Browning Camping Ridge Creek Tent is another recommended tent offered by the same company. It has a free standing design with fiberglass poles and steel uprights that enhances support in windy days. Also, it is very roomy due to its tall center and side walls, and it provides great ventilation thanks to its four large windows.
Core 9 Person Instant Tent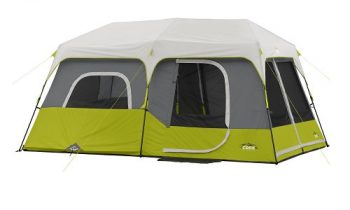 Price: Approx. $220
Weight: 35.2 lbs
Dimensions: 14 x 9 x 6.5 ft
Specific features: Mesh ceiling, zip away panels on all windows and doors, rain fly included, water resistant exterior, instant set up
Best use: Car camping for families
The CORE 9 Person Instant Tent is a cabin style, easy up easy down option for small to medium sized families or groups. Almost no assembly required – just remove the tent from its included carrying case, lay flat, and rig up the poles. Stakes and a rain fly are also included.
The tent can stay as one open space during the day, or be divided into two smaller rooms for more privacy with a hanging opaque curtain at night. There are doors located on both ends of the tent, six large windows all around, and a completely mesh ceiling for added ventilation.
The tent is a three season one, and has a water resistant coating on the outside. Storage pouches are located all around the perimeter of the tent; with an extra portal for bringing in electrical cables (the portal is completely sealable when not in use). The straight cabin walls allow for a lot of standing room for adults and children alike.
PROS:
Great ventilation
Very easy to install
CONS
:
Troublesome zippers
Thin floor
Related: The CORE 6 Person Dome Tent provides a very stable base that can withstand strong winds, a waterproof cover and rainfly to always stay dry, and a durable and resistant material. Also, it will not take more than 10 minutes to install, it offers a very good breathability and it can comfortably fit up to 6 people.
Wrap Up
A tent for your family is great to have whether you plan on using it for long stretches every chance you get, or just occasionally on that annual family camping trip. To find the right tent for you and your family, determine your needs first. Think about what your priorities will be to keep everyone happy, healthy, and safe throughout your trip.
Featured Image Source: https://pixabay.com/photos/tent-camping-vango-tent-vango-taiga-2543627/