If you're an avid hiker, you've put hours of thought into just about every aspect of your kit. It's important that all your gear is high quality, especially since it's the only thing you have to rely on when you're in the backcountry for days(sometimes weeks) at a time. You need to trust that everything you bring with you can do its job well, and help to keep you safe.
This logic applies to your pack, your tent or hammock, supplies, and even clothes and shoes. Have you ever had a pair of hiking boots that you absolutely loved except for the darned laces? It happens. You come across hiking boots that fit like a dream, no hot spot, and minimal break-in time. Now they're your best buddy, your constant companion on every hike.
Until the hiking boot laces break, leaving you at a loss. It seems silly to toss your beloved boots in the bin just because the laces couldn't hack it. A much better solution is to upgrade to some tougher boot laces that will give your favorite pair of boots new life and stay with you just as long as your boots do, or even longer if you're lucky.
Our top picks
Things To Consider Before Buying
Before you purchase a new pair of aces for your hiking footwear, there are a few features you should take into account. Don't just run to the nearest store or click the first search result you see; if you buy the wrong sort of laces you'll just end up unhappy with them in the end.
Shape
Shoelaces typically come in three shapes: round, oval, and flat. Oval laces aren't very common, but it's pretty easy to find both round and flat laces. The shape of the lace has somewhat of an effect on its longevity and use. Flat laces are more common when the shoelace is not intended to be used to the hooks you see at the top of hiking and work boots.
This is why they're typically seen on casual sneakers or running shoes. These hooks enable you to "fast lace" your boots and adjust the tensioning effectively. They also provide enhanced ankle support which can be a huge factor in avoiding sprain when you are hiking through uneven terrain. However, in order to fit properly into the hooks and through the eyelets, you need rounds laces.
The only real downside to round laces is that, depending on the material with which they're made, they can be difficult to keep knotted. Some round laces made of smooth synthetic materials will need to be double knotted or tied in a box knot to stay put.
Diameter
Especially when buying boot laces to fit a pair of shoes you already own, you need to pay close attention to the diameter of the laces you're purchasing. Larger laces are sometimes easier to work with, but they can also come unknotted quickly if they're too stiff as it's difficult to secure the knot on this top of the lace.
Most laces for hiking boots are between 0.12 and 0.2 inches in diameter(width), with some larger heavy-duty models available. Larger laces provide enhanced comfort in certain boot types, but if your boots come with very small laces you'll need to take some measurements to ensure the wider laces will fit.
Particularly if the laces have a bulky aglet, they may not easily fit through the eyelets/grommets and hooks on your boots. Measuring the diameter of these holes or finding the specs online can help determine if a given pair of shoelaces is right for your boots.
Length
Surprisingly, a few different factors go into what length of shoelace you ought to buy. The easiest solution to these issues is if you have a pair of laces at home that are the correct length for the shoes you're trying to purchase laces for. If so, simply measure these and only buy pairs that come a close to that length as possible.
If you have laces that are not quite right, you can still measure them and then look for laces that go below or above that measure as needed to provide the proper fit. There are all sorts of guides available on the internet that try to suggest lace length based upon the number of eyelets and shoe size, save yourself some time, and don't bother with these.
Typically a shorter lace is good for low profile hiking shoes, or for folks who tie only up to the end of the eyelets. If you have mid or high profile hiking boots or like to use the extra length to stabilize the ankle area, there's absolutely nothing wrong with extra-long laces.
Aglet Quality
The aglet is that little bit of metal or plastic that is affixed to the end of your shoelace. Its entire job is to secure the end of the lace so that the fabric doesn't fray or unravel. On occasion, shoelaces with not have an aglet because synthetic materials can be melted together into a solid end, this is called heat sealing.
However, if you do purchase laces with an aglet you'll want to choose one that isn't going to break off if your lace gets stuck on a stick while you're hiking. In terms of durability metal, aglets will last longer, but they are also sometimes harder to work with when lacing your shoes because they are thicker and can't be compressed down in order to squeeze through a tight eyelet.
Plastic aglets, if attached securely, usually make it easier to lace your shoes and work around smaller eyelets/grommets. The trouble is that after repeated use they can sometimes fail, break off, and then you've got frayed laces that are impossible the thread through an eyelet of any size.
Materials
In addition to the aglet's construction, you want to be aware of the materials used to make the actual shoelaces, as this can have a significant difference in how well they perform in the field. The main distinction here is between natural or synthetic fibers.
Natural fibers are, as a general rule, a terrible choice for hiking footwear. They absorb a lot of moisture, which can make them very difficult to untie after a long day of hiking. It also means that in the wintertime they are susceptible to freezing.
Synthetic fibers absorb almost no moisture, so there' not worry about the knots "swelling" or freezing. Their much smoother texture makes them more difficult to tie but they typically also last longer because they don't rip as easily and can be strengthened with special synthetic fibers
Best Products on Today's Market
Greatlaces Kevlar Boot Laces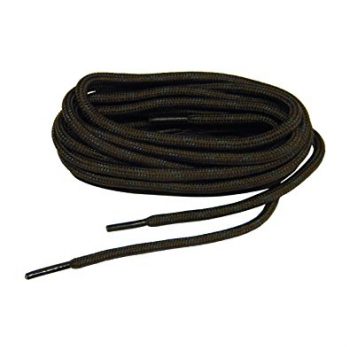 Diameter: 0.2 inches
Length: 40 – 102 inches
Specific features: Larger diameter, plastic aglets, polyester lace with Kevlar strands, not waxed, round
Best use: Hiking footwear with standard eyelets and hooks
The Greatlaces Kevlar Boot Laces are reinforced with Kevlar, making them the perfect ultra tough companion for the hardcore hiker. They aren't overly expensive either, which is wonderful given that companies tend to charge more for specially reinforced products.
The laces are on the larger end of the spectrum in terms of diameter, at 0.2 inches. The aglets are plastic, so that will help if you're trying to lace these into a boot that has smaller eyelets or grommets. It won't work miracles, though, so again remember to measure your boots beforehand.
Greatlaces makes several different types of Kevlar reinforced laces; two other models are featured in this guide but rest assured they are all three different products that shine in their own way. This 0.2 inches model is actually the narrowest diameter of Kevlar bolstered laces the company offers, which makes them more easily applicable to a wide range of hiking footwear.
You can find these in a fairly impressive array of lengths, too. Regardless of your boot height or preferred lacing style, these boot laces have an option for you.
PROS:
Variety of lengths
Kevlar reinforced means added durability
Plastic aglet can be easier to lace than metal
CONS
:
Large diameter won't fit in all boots
Plastic aglet may not last as long as metal
Greatlaces 550 Paracord Boot Laces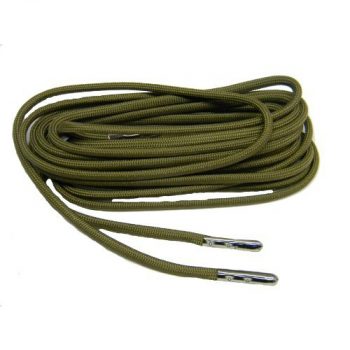 Diameter:  0.2 inches

Length: 40 – 96 inches
Specific features: Constructed with 550 paracord (7 inner strands and woven outer sleeve), steel aglets, various color options, not waxed, round
Best use: Metal aglets don't bend like plastic ones; these are best for boots that have roomier eyelets, grommets or hooks
These Greatlaces 550 Paracord Boot Laces are the same diameter as the last pair, but feel much more compact in your hand. Rather than a loose synthetic weave that reminds you of tennis shoe laces, these paracord laces mean all business.
It's not just about looks, either: 550 class III commercial paracord gives you peace of mind that these can definitely stand up to a beating without breaking a sweat. Want to lead the way in hiking fashion? These are also available in a range of colors so you don't have to sacrifice style for longevity.
The aglets are metal and will last a bit longer than most plastic aglet models, but may make it more difficult to thread the laces though narrow hooks or eyelets since the laces are already a larger diameter. Given the popularity of paracord as a survival item, these also have the ability to lend themselves to other uses in an emergency, what hiker doesn't love dependable multipurpose gear?
PROS:
550 lb Class III paracord construction
Metal aglets are more durable
Color options
CONS
:
Not available in a wide range of lengths
Metal aglets may not fit through tight eyelets
OrthoStep Athletic Shoelaces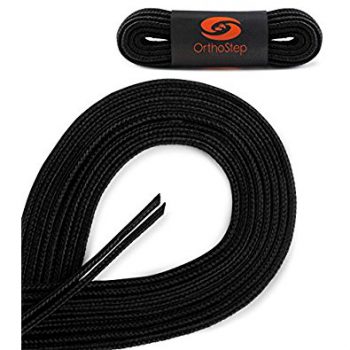 Diameter: 0.12 inches
Length: 32 – 120 inche
Specific features: Round, narrow laces, heated fused tips (no aglets), various color options, 100% nylon laces, not waxed
Best use: Boots with tight fitting grommets or hooks, these laces are small and stiff enough to lace easily on these types of hiking boots
Do your boots seem to have obnoxiously tight grommets, and hooks that prevent all but the smallest of laces from passing through? The OrthoStep Athletic Nylon Shoelaces are the smallest on our list at just 0.12 inches, and have no aglet that would increase diameter at the tips.
Surprisingly, the laces still retain enough grip that tying isn't an issue despite the synthetic fiber construction–in fact, that's one of the things users love most about these particular laces. Rather than using an aglet on the ends of the laces to prevent fraying, this model is heat sealed; that is, the raw ends of the laces were heated to melting so that they would bind together and be unable to fray in the future.
Given the wide range of sizes available you shouldn't need to trim them upon arrival, but if you do end up wanting to tweak the size just a tad you can heat seal the new ends yourself with a lighter or other heating element and they won't look any different than when they were fresh out of the box.
PROS:
Small diameter will fit wider range of boots
Variety of length available
No aglet
CONS
:
Laces are stiff
Heat sealed ends can feel rough to the touch
Rhino Laces Unbreakable Shoelaces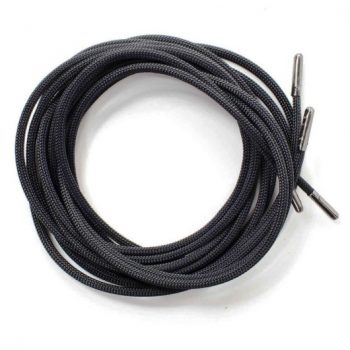 Diameter: 0.14 inches
Dimensions: 44 – 86 inches
Specific features:  Lifetime guarantee as unbreakable, metal aglets, round, narrow laces, para aramid fiber core, blended fabric sheathing
Best use: High use footwear and harsh conditions
You may think that there is little room for innovation when it comes to shoelaces, they keep your shoes tied, they occasionally need to be replaced, that's about all there is to it. Rhino Laces is here to prove you wrong, with their unique technologically forward thinking boot laces.
In fact, the Rhino Laces Unbreakable Shoelaces have a lifetime guarantee as unbreakable, if you manage to break them the company will replace them for you. That includes cutting, melting, and just about any sort of damage you can think of.
The outer layer is blended synthetic fiber, and the para aramid fiber core is what really makes these (patent pending) laces shine. They've got heavy duty metal aglets as well so you needn't worry about the ends becoming accidentally damaged.
The only downside to these is that the laces are very stiff. So stiff, in fact, that the packaging come with instruction on how to tie a box knot because they won't hold the sort of know you'd traditionally use when tying your shoes.
PROS:
Unbreakable
Variety of colors available
Metal aglets
CONS
:
Very stiff laces
Non traditional diameter (0.14 inches)
Greatlaces proTOUGH Standard Boot Laces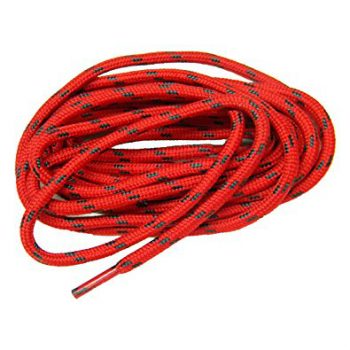 Diameter: 0.24 inches
Length: 40 – 102 inches
Specific features: Large round laces, plastic aglets, various color options available, polyester with kevlar strands, not waxed
Best use: Hiking footwear with larger eyelets, hooks, and grommets
These kevlar reinforced laces from the Greatlaces proTOUGH series are reminiscent of the very first pair on this list, but are just a little bit different. The proTOUGH serious takes the kevlar reinforcement a little bit further, which results in a slightly thicker lace. The Greatlaces ProTough Standard Boot Laces are 0.24 inches in diameter, some of the largest laces for hiking footwear that you'll find.
The multi colored polyester construction looks and feels more like a traditional shoelace, with a loose weave that stay tied easily. As long as they fit into the hooks on your boots, this this type of shoelace works well for speedlacing, which also means that you can adjust the tightness of your tie on the fly without having to completely unlace the boot while you're out on the trail.
A wide range of standard lengths are available, enabling you to find what you need without having to trim to fit upon arrival. The aglets on the are plastic but they're fairly sturdy and should they fail before the laces do, this pair can be heat sealed without a problem.
PROS:
Traditional look
Extra kevlar reinforcement
Ideal for speedlacing
CONS
:
Large diameter(0.24 inches)
Plastic aglet
Greatlaces proTOUGH Special Boot Laces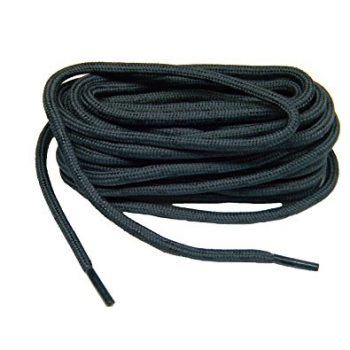 Diameter: 0.24 inches
Length: 36 – 108 inches
Specific features: Large round laces, plast aglets, polyester with kevlar strands, some color options available, wider range of lengths available
Best use: Hiking boots with larger eyelets, grommets, and hooks
The Greatlaces proTOUGH Special Boot Laces is very similar to the previous product, as they are both part of the proTOUGH line of products from Greatlaces. Both are large 0.24 inches laces with extra kevlar reinforcement for the ultimate in tough laces meant to take a beating.
The difference is that this model is available in special length that you cannot always find. The previous products size range of 40 to 102 inches is the standard range of lace length, while this model is available in lengths ranging from 36 to 108 inches.
This makes the laces better suited to folks on either end of the size spectrum, particularly anyone who wear narrow or wide foot wear. If you've got a narrow foot and low profile hiking shoes, then 40 inches laces may still be quite too big for you these laces have got you covered.
Similarly, folks with wider feets and high profile footwear can choose the 108 inches length to ensure they have enough lace for their preferred tie style.
PROS:
Durable
Water resistant
Soft and warm
Compact
Lightweight
CONS
:
Large diameter(0.24 inches)
Plastic aglet
Wrap Up
There you have it, your guide to some of the best boot laces out there, along with a shopping list to help get you started on your own search. If this is your first time replacing boot laces I hope you now feel better equipped to make a great decision and find some laces that will work well for you.
Featured Image Source: https://pixabay.com/photos/boots-footwear-workwear-socks-3450702/