If you like hiking or camping at night, then it goes without saying that illumination is one of the most important aspects that you need to address. However, many illumination tools can be too heavy or unwieldy. Don't you wish you can have reliable lighting without having to use your hands? Well, in this case the best headlamp might just be your next purchase.
Whether you need to get back to that chapter of your favorite book or you need to take a short walk at night to take care of your restless leg syndrome, you're going to need a headlamp on your side to ensure you find where you left off or don't get lost in the dark.
However, shopping for a headlamp can be a rather daunting task. There are many brands and products out there so choosing the best one that fits your needs will not be easy. That's why we're here to help!
In this article, we will be providing a brief guide on how to shop for outdoor headlamps that will best fit your needs. On top of that, we have taken a look at some of the best models in the market to help kickstart your search. Let's get to it!
Our Top Picks
Things to Consider Before Buying
Headlamps have multiple uses, and people have different reasons for purchasing one. One person might simply want to be able to walk their dog at night without holding a torch, another might use it camping and rock-climbing, and there are runners who use them to better light their path when they run at dawn or dusk.
It is beneficial because it is a constant beam of strong light and it is just so much safer and more convenient than holding a hand-held torch. There are a few key features that you should always look for when purchasing a good headlamp, and some features might be more important to one person than another. The main features are discussed below.
Strap Style
There are two main styles of straps – the single strap, which goes horizontally around the forehead, and the double strap which is the same as the single but with an additional strap that goes from the front to the back of the head. Most of the time, the single strap one will suffice; oftentimes they are easier to adjust and can be more comfortable if you have a lot of hair.
However the double strap style is more secure as it stops the headlamp from falling from your face. Some sports helmets actually have special holders for the double strapped headlamps, so they might be preferred. Mostly it depends on your head and what type you feel most comfortable with.
Beam Distance
One way that a lot of different headlamps will differ is in the type of beam, and the distance that it reaches. The better headlamps will illuminate as far as 200 feet or more which can be beneficial for runners and those who want it to act as a kind of floodlight. And others have a smaller beam that does not go as far – more like a pointed spotlight.
And the really good ones will be adjustable – change a setting and the light will change from a floodlight to a spotlight. If you are unsure what type of light you will want, it may be a good idea to get an adjustable one so you can have options.
Lumens
Just like when you buy any type of lamp, the power of the light (brightness) will be measured by lumens. It is just simply a measure of how bright it is, so the more lumens, the brighter the lamp. Smaller headlamps will have a lower maximum lumens, under 200, whereas the strongest light on the market has over 3,000 lumens.
Many headlamps that have an adjustable beam will have an ability to change the lumens (brightness) as well. Sometimes you will not need such a focused, bright light, and it also saves battery life.
Waterproof / Water-resistance
All headlamps will be at least water resistant (unless they are strictly for use indoors). Water resistant ones are fine for most people who do not plan on going swimming with them. Rain and perspiration will not affect the light if they are water or moisture resistant.
There are a few completely waterproof ones, and they will be able to stay underwater up to a certain depth (such as 3 feet) for a limited amount of lime (usually under 2 hours). This is perfect for people who want to take the headlamp into rivers and bodies of water, or those who just want extra reassurance that their lamp will not break if dropped into a deep puddle.
Check the individual specifications for how waterproof they are, and how long they can handle being submerged.
Battery Life
This is not the most important consideration since most people would simply bring extra batteries with them. However, battery run-time can be a major factor when things start to go south. You don't want your lamp to go out on you while you're forced on an all-night hike or tending to an injured party member.
Most headlamp manufacturers in the market have done a very good job when it comes to battery consumption. There are models that provide good brightness while still barely tapping into the battery supply. However, many models will allow you to switch to "low power mode" just in case you need to conserve battery life and don't have access to spare ones.
Best Products on Today's Market
These features are essential to finding the right headlamp that will eliminate your concerns and light up your night. However, even with these specifics in mind, you still may not know where to start. Instead of stumbling around in the dark, let us providing with a basis to start from with these top rated products in the marketplace to consider.
Black Diamond Spot Headlamp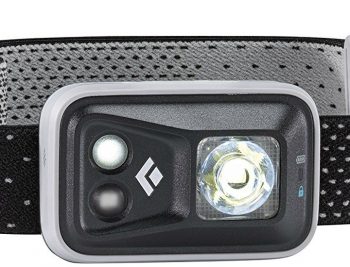 Price: Approx. $40
Weight: 3.2 ounces
Dimensions: 4 x 1.5 x 4.5 inches
Specific features: Proximity and distance modes, dimming, strobe, red night vision, lock mode, 3-level power meter displays battery life, waterproof, one Triple-Power LED
Best use: Camping, canoeing, hiking
The Black Diamond Spot Headlamp is a well-designed and lightweight head lamp that has more settings and functions that you would ever need. It is powerful enough to emit 130 lumens on normal mode, and there is a single power red LED that emits a brighter 200 lumens when on its max setting.
One of the features that makes the Black Diamond Spot Headlamp so special is the simple one touch transition between full and dimmed power – so if you quickly want to switch to full brightness, or dim it back down, then simply tap the side of the light and it responds instantly.
Powered with AAA batteries, it is also waterproof, and can survive being immersed in 3.3 feet of water for half an hour. Perfect for outdoors work. It is available in different strap patterns, ranging from plain black to bright blue.
PROS:
Good spotlight capability
Can use rechargeable batteries
Great battery life
CONS
:
Beam length could be longer
Not heavy, but definitely not the lightest
Related: While you're out camping, you're going to need a steady supply of fresh drinking water without having to lug around a hundred and one water bottles with you. Instead, you can pack away these handy Aquamira Technologies Water Purifier Tablets to keep you going. They fit easily into the small pocket of your backpack, and all you have to do is drop a tablet into a refilled bottle of water to ensure that your hydration needs are met while keeping you safe from waterborne viruses and bacteria.
BYB E-0460 LED Headlamp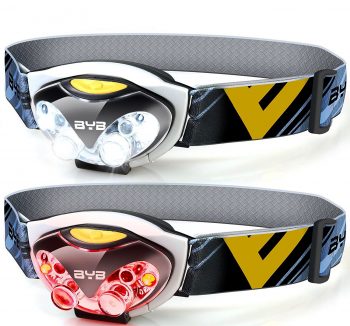 Price: Approx. $11
Weight: 5.6 ounces
Dimensions: 6.3 x 1.8 x 3 inches
Specific features: Six LEDs, two red strobes, adjustable head strap, anti-slip headband, angle adjustment for lamp
Best use: Camping, hiking
Why have one quality headlamp when you can get two? That's exactly what you get when you purchase the BYB E-0460 LED Headlamp. You can either give one of them to a friend or relative, or keep the second one as a spare for yourself.
These headlamps are specially designed to be suitable for action, so they can be used for running, camping and water sports. The special non-slip head strap is super comfortable, and ensures that the light stays in place when it is on without adding any pressure to the sides of your head.
It has 6 LEDs for a super bright beam, and there is even a strobe red LED which constantly flashes SOS. It is one of the sleekest designs on the market, and resembles a sports car headlight, and the light itself is able to be adjusted to face upwards or downwards to direct the beam of light without moving your head.
PROS:
Affordable
Bright
Lightweight
CONS
:
Can break easily
Not very bright
Related: If you're looking for an adorable and kid-friendly lamp to hang around your tent, then the Tnyker Camping Lantern could be exactly what you're looking for. With just the push of a button, you can control how much light you get, saving you on battery life so that it can last a long time. It's also rechargeable through USB, waterproof, and can be clipped onto the outside of your backpack for easy carry.
Mifine Waterproof LED Headlight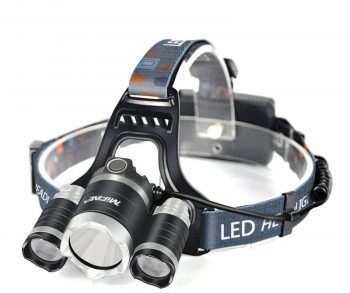 Price: Approx. $25
Weight: 14.4 ounces
Dimensions: 3.4 x 2.2 x 1.5 inches
Specific features: Battery indicator, angle adjustment on lamp, 3 LEDs, low, middle, high and strobe modes, adjustable head strap, waterproof, USB rechargeable
Best use: Camping, canoeing, hiking
For a really professional headlamp that would not look out of place in the military, then Mifine Waterproof LED Headlight is your go to. It is extra tough and is perfect for anyone adventurous – the extra strap over the head provides extra support and means that it is less likely to slip off.
As well as the lamp on the front to provide a strong beam of light, there is also a display on the back of the head which acts as a 'warning' light – this is perfect for night walkers and night riders, so people can see you from behind.
Like most good headlamps, it is powered by AA batteries, however when purchased it comes with rechargeable batteries so they last up to 6 times longer than ordinary batteries – and these batteries do not even need to be taken out of the headlamp in order to be charged (USB charging cord included).
It is possibly the brightest on the market – besides the ordinary LED lights on the front, it has two extra bright spotlights on either side, when at maximum power, can omit up to 3,500 lumens.
PROS:
Portable
Affordable
Easy to use
Long battery life
CONS
:
No centre strap for stability
Small power button
Related: Standing on the shore of a lake while you're freeing can easily put unwanted strain on your back and legs, so why not take the TaoMan Folding Tripod Stool on your next trip to ease the aches and pains? It folds up quite small so that it's easy to pack away in the back of your car, and it's light enough to carry just about anywhere. It even comes with a carrying strap to make it that much easier for you to fish in style and comfort.
GRDE Zoomable LED Headlamp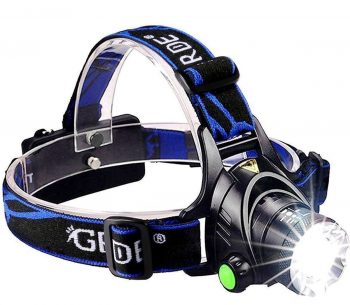 Price: Approx. $22
Weight: 4.8 ounces
Dimensions: 6 x 4.75 x 3 inches
Specific features: USB rechargeable, low, high and strobe light modes, zoomable lamp to see various distances
Best use: Camping, hiking
If you are looking for a headlamp which is powerful and has the functionalities of a good torch, then you will love the GRDE Zoomable LED Headlamp.
The LED lamp resembles a camera lens as it is zoomable, so the beam of light can be adjusted to be thinner and stronger. This allows your beam to be extended to a further distance, or you can choose to have a wider beam for seeing your immediate surroundings. Perfect for use in different lighting conditions. And the zoom is easily adjusted without even needing to take if off; simply reach up and turn it until the desired beam of light is reached.
The straps are made to a very high quality so are super comfortable so you will not even notice the extra weight. There is an extra strap that goes over the head, and there is a light up safety display at the back of the headlamp. Rechargeable batteries mean that you should never run out of power, and it even comes with a car charger, so you do not even need a power plug to charge it.
PROS:
Amount of light you need is fully adjustable
Very durable
Affordable
CONS
:
Honestly not as bright as stated
Prone to wire connection issues
Related: It certainly won't hurt to add another survival tool to your arsenal. The Klein Tools Utility Knife offers everything you need to not only protect yourself from wildlife, but also be able to cut and trim branches for your use, whether you need to make a splint or need kindling for a fire. It also comes with a replacement blade in the event that your knife becomes dull or accidentally breaks.
Fenix HP25 Headlamp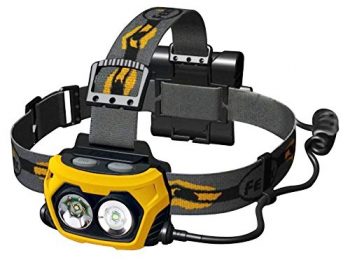 Price: Approximately $80
Weight: 8.0 ounces
Dimensions: 2 x 3 x 2 inches
Specific features: Impact-resistant, waterproof up to 1 meter for 30 minutes, 4 floodlight modes, 3 spotlight modes, 1 SOS mode, adjustable straps, center head strap
Best use: Camping, canoeing, hiking
For a head lamp so bright and strong that it will allow you to see into the next neighborhood, you cannot go past the Fenix HP25 Headlamp. This is definitely a headlight for those who are seeking maximum illumination during their excursions out into the woods or while hiking, providing a large number of lighting modes and combinations thereof to get as much light as needed.
It may be higher in price than many of the competition, but considering the quality, and the fact that it has a lifetime guarantee, it will end up paying for itself in the long run. You can also change the angle of the light beam as the lamp can rotate up to 60 degrees down, making it easier to see what is immediately in front of you.
This headlamp is also extremely versatile, and can be used while you're biking at night, going for a late evening jog, or getting around in your home when there's a power outage.
PROS:
Very bright
Comfortable
Adjustable lighting angle
CONS
:
Short battery life on high mode
Very heavy
Related: Want an easier way to pack away a source of light without having to worry about space? The Olight Rechargeable Bundle comes with a 500-lumen compact flashlight, with a rechargeable battery, lanyard, and a Lumentac charger for all your needs. Never have to worry about stumbling in the dark ever again. When you're not using your flashlight, you can simply hang it around your neck to keep it out of the way but still within range when you need to.
Aennon Headlamp Flashlight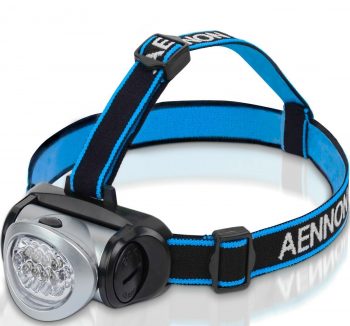 Price: Approx. $10
Weight: 5.2 ounces
Dimensions: 2.1 x 4.1 x 3.1 inches
Specific features: Power save mode, bright mode, ultra-bright mode, steady red light mode, easy-to-use button control, adjustable head strap, 8 LEDs, lamp tilts up to 90 degrees, shock-resistant
Best use: Camping, various uses around home
For a headlamp with the most comfortable fit, the Aennon Headlamp Flashlight was made to be worn for long periods of time while still remaining comfortable while avoiding the dreaded 'brain squeeze' headaches.
It is one of the most user friendly on the market with a single touch button on the top (that can be easily accessed without needing to take it off your head). There are four modes – simply press the power button to change between the modes.
Each mode is a different level of brightness, and there is even a strobe setting. Battery operated, and it actually comes with 3 x AAAs so you can use it straight away. And while it is not completely waterproof like others on the market, it is still water-resistant meaning that it can be worn in the rain, and you won't need to worry about forehead sweat ruining it.
PROS:
Extremely cheap
Multi-purpose for when you're not camping
Comfortable
Related: After a long day of camping or a road trip, you just want some way to relax when you get home. The Bel Air Naturals Oil Diffuser will help you melt your worries away with a plethora of natural scents that were designed to calm your nerves and help you to relax. It's available in several colours, and buying the sampler set will provide you with such wonderful scents as lavender, peppermint, swet orange, tea tree, eucalyptus, and lemongrass.
Petzl Tikka XP Headlamp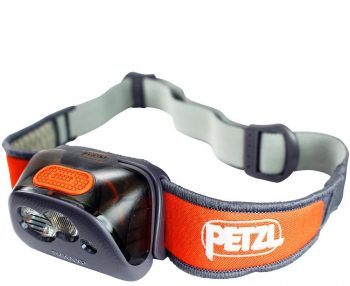 Price: Approx. $40
Weight: 3 ounces
Dimensions: 3.03 x 5.2 x 4.41 inches
Specific features: Available in 3 colors, four brightness levels, strobe mode, red light mode, weather-resistant, rechargeable, 3 LEDs
Best use: Camping, canoeing, hiking
The Petzl Tikka XP Headlamp was made with comfort and lightweight in mind, as its minimal design gets the job done without making it a burden to carry around. It was made for the outdoors, and will move with you so that there's no bobbing or slipping. Your light stays exactly where you need it to be, complete with a very snug fit.
The power button is quite easy to find, making it easy for you to turn your headlamp on and off. There are also four different brightness levels so you can get just as much illumination as you need without wasting the battery life. The red mode also makes it easier for your eyes to adjust so you don't suffer from blindness when you turn off your headlamp.
This is a great headlamp with a great price that you can use from camping to trail running.
PROS:
Bright
Comfortable
Convenient
Packs away easily
CONS
:
Feels a bit cheap
Very short battery life
Related: Save your vision during the day with the Julbo Montebianco Mountain Sunglasses. Available in a wide range of colours, these shades were designed to minimize the amount of UV rays that enter the eyes and cause irreparable damage. Your vision is especially important when you're hiking and need to see where your next step is. These are also quite stylish, so you don't only have to wear them while you're up in the mountains; you can wear them just about anywhere!
Coast HL7 LED Headlamp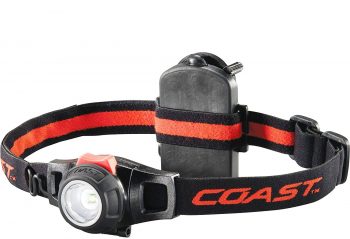 Price: Approximately $24
Weight: 4.5 ounces
Dimensions: 2.4 x 3.2 x 2.1 inches
Specific features: Adjustable head strap, one LED, adjustable lamp, impact- and weather-resistant, variable light control
Best use: Camping, canoeing, hiking
For a headlamp with a high quality, focusable light beam, you need to check out the Coast HL7 LED Headlamp. It is special because it has the one lamp which can be adjusted simply by turning the dial on the outside.
It can go from a wide beam to a focused, powerful beam with one touch. So depending on where you are and what type of illumination you require, it will work for you. It even comes with a special padded pouch so it can be transported safely without damaging or scratching the lamp.
The lumens that it emits depends on how focused the light is: the more focused, the more lumens and the brighter the beam and vice versa. That gives you a lot of versatility in how much light you need, so you're not stumbling around in light too dim, or squinting in light that's too bright.
PROS:
Very bright
Great beam control
Value for cost
Related: Just because you're stuck out in the woods doesn't mean that you can't have fun. Why not relax with your favorites tunes with the DLAND Wireless Bluetooth Speaker? It clips easily onto any backpack, is water-resistant, shock-proof, and durable enough withstand a lot of punishment. The price makes it very affordable as well, so there's no reason not to consider taking it with you on your trip. And when not camping, you can use it in your shower so you can sing along to your favorites songs.
Wrap Up
And that concludes our review of some of the top-rated headlamps that you can use for your next camping trip.
Now that you're aware of what's out there, there's no reason not to take advice into account the next time you're out shopping for your camping gear. We've provided you with the essential features you'll need to keep an eye out for, as well as recommended a few products for you to either try out or use as a stepping stone for finding a headlamp that's more suitable for your needs.
Featured Image Source: https://unsplash.com/photos/9uISZprJdXU