Tired of having frozen fingers while are out on your favorite ski slopes? Sick of your gloves always getting wet every time you fall? We've all been through that, and there's no easy way to get around it except for getting the best ski mittens money can buy. Forget about going for the most expensive gloves on the market, we promise to make it easy for you to find the most comfortable and affordable ski mittens out there.
Ski mittens are important because of the real dangers of frostbite. This happens when the temperatures are so low that blood stops flowing in certain parts of your body. This usually starts with the extremities, like fingers and toes, and loss of blood means that the cells themselves start to die. However, by helping you find the perfect ski mittens, we can guarantee that you'll never have to worry about this problem.
First, we'll show you the key features of ski mittens that are vital for your comfort, and then we'll provide you with a list of products rated at the top of the market. That way, you can see the kinds of mittens you should be looking for, as they possess the important details we'll be listing for you. Now with that set aside, it's time to get started.
Our Top Picks
| Product | Weight | Material | Insulation | Price |
| --- | --- | --- | --- | --- |
| Black Diamond Mercury | 11.2 ounces | 92% Nylon/8% Spandex, 100% Goat Skin Palm | 100% Polyester | Check price on Amazon |
| The North Face Montana Gore-Tex | 8.8 ounces | DryVent 100% nylon herringbone tweed, synthetic leather palm | Heatseeker insulation and Sherpa fleece lining | Check price on Amazon |
| Hestra Heli Ski and RIde | 9 ounces | Triton/Polyamide fabric, Army Goat leather palm | Polyester | Check price on Amazon |
| Outdoor Research Mount Baker Modular | 10.1 ounces | Gore-Tex shell (74% nylon, 26% polyester), AlpenGrip palm | PrimaLoft Gold Insulation | Check price on Amazon |
| Swany Women's X-Cell II | 8 ounces | Smooth grain LeatherShield & Nubuck leather | Tri-plex insulation system, Volcotek HeatShield | Check price on Amazon |
| Hestra Heli Ski 3-Finger | 12 ounces | Triton three-layer polyamide fabric, Army goat-leather palm | Polyester/Fiberfill | Check price on Amazon |
| POC Wo | 24 ounces | Goatskin leather shell, soft knitted fabric palm | Thinsulate insulation | Check price on Amazon |
Things to Consider Before Buying
Although their purpose is straightforward, ski mittens come with a wide variety of features that will help them do their job to their fullest potential. To purchase ski mittens that guarantee top-notch performance, it's important that you keep the following features in mind.
Shell Material
The shell is the outermost layer of the mittens. Most mittens available on today's market are made of a synthetic material such as nylon, because it's waterproof and easy to clean. High quality brands may even include a waterproof coating to their shell, especially for those fabrics that are not so waterproof.
Leather is also a very popular option, not only for its look, but also for its flexibility and grip. However, you should exercise caution if you're thinking about going for leather, as it is quite absorbent when wet, and will wear out over time.
Insulation
This is the part of the mitten that is responsible for keeping your hands warm. It traps the residual heat from your skin to keep that pesky frostbite away.
Although there are many types of insulation, they all perform the same function. It all depends on how much you're willing to pay and how well they do the job of keeping your hands warm. Here are the various kinds of insulation in the market:
Down is a popular insulation choice for a variety of winter garments. It is made from bird plumage, which is the found underneath the exterior layers of their feathers. It is naturally effective at blocking cold temperatures due to its ability to trap air.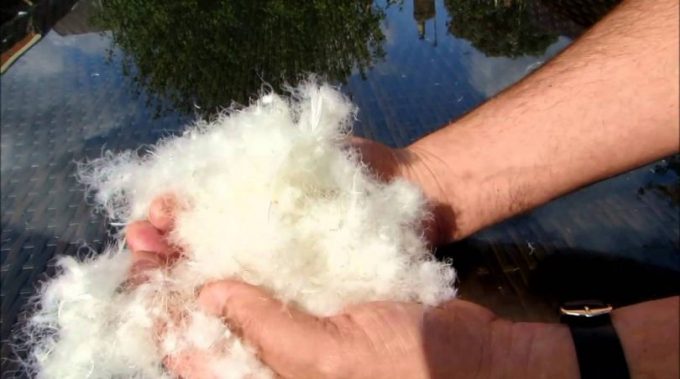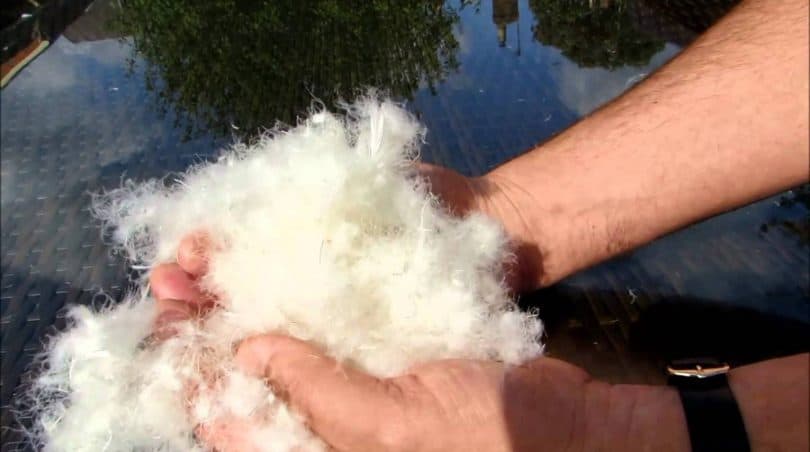 Primaloft is a brand that specializes in synthetic insulation material. Its popular uses include outerwear, sleeping bags, and gloves. It is designed to be lightweight, breathable, and water resistant. It is also noted for its superior softness resulting in maximum comfort.
3M Thinsulate 3M Thinsulate is another proprietary insulation type that is extremely thin, very light, and blocks out cold effectively. It is designed to keep you as warm as possible without added bulk.
Liners
Many ski mitten options offer a liner feature. This feature is typically removable and allows for extra warmth or additional dexterity. These options are also generally regarded as being the warmest. Sometimes referred to as 3-in-1 mittens, these can be very versatile options if you want to wear the mittens in a variety of conditions.
Having removable liners also means that they can be thrown in the wash to clean. This is especially important if you've had a hard day of skiing, as your liners will absorb all the moisture from your palms. This, coupled with the lack of light inside your mitten, can be a perfect breeding ground for smelly bacteria.
Cuff Length
Cuff length is a feature of personal preference. Shorter styles usually only extend to the wrist, making it easy for you to move them when you need to. However, the drawback is that they're more prone for snow getting inside, especially if you take a spill.
Mittens with longer cuffs extend up towards your sleeve, to keep snow out and allow you to tuck your jacket sleeves in. However, this can have some impact on how you can move your wrists, limiting some of your movement.
Whether you go with long or short cuffs, be sure to look for mittens that have cinching straps or Velcro straps. Pulling these closed will provide you with a secure fit so that you won't lose them during your ski adventure.
Fit
Having an appropriate fit to your ski mittens is the easiest way to get the most out of your purchase. There are a few easy things to keep in mind to ensure you have the best fit. When trying on a pair of mittens you're interested in, keep these tips with you:
Mittens should not be excessively large: While you want to be able to move your hand while wearing the mitten, you do not want it to be falling off or exposing your wrists. When your mittens are too large you are unable to have control over items you are trying to hold or operate.
Mittens should not be too tight: When moving your hand, the mittens should never feel like they are squeezing or constricting you in any way. Again, check to ensure the material is not exposing your wrists.
Make sure the mitten is long enough: A good fitting mitten usually has ¼ inch of excess material at the ends of the fingertips. This allows enough excess space for the hands to move comfortably without cold being trapped inside or movement being compromised.
Best Products on Today's Market
It's time to get to the best part of our guide: finding thing the best ski mitten available on the market for you. Keeping in mind what you have learned about shells, insulation, liners, and cuffs, let's explore the options that are most likely to keep you warm this winter.
Black Diamond Mercury Mitts
Price: $110 – $190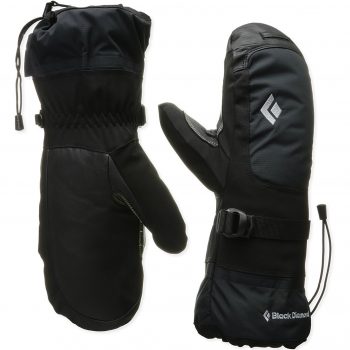 Weight: 11.2 ounces
Material: 92% Nylon, 8% Spandex, 100% Goat Skin Palm
Specific features: 100% waterproof dry insert, abrasion-resistant, Pretext Shield with 4-way stretch, removable liner, water-resistant (not on the leather palm), wrist and gauntlet cinch straps
Best use: Year-round use, moisture protection, snow shoveling, hiking, skiing
The Black Diamond Mercury Mittens are known for standing up to extreme cold temperatures, and are considered the warmest mittens you'll ever find. They are a great choice for simple tasks such as snow shoveling, or keeping up with outdoor sports such as biking or skiing. They have an impressive range of motion that allows your hands to maintain movement while staying warm.
Individuals that suffer from poor circulation, tissue damage in the fingertips, or just have consistently cold hands, have found unmatched warmth and comfort in this mitten. The large gauntlets also provide additional coverage throughout the wrists.
The large openings of the glove also make it easy for you to tuck in your jacket sleeves to maximize on your warmth. This also keeps out the snow and cold, whether you're shoveling or skiing down the slopes.
PROS:
Extremely warm
Durable
Nice extra features
CONS
:
Thickness makes it difficult to hold onto things
Liner wears out quickly
Related: Winter is a bad time for everyone when it comes to staying moisturized. The harsh winter winds tends to dry out your skin terribly, but with the Original Ski Balm, you can stop your face and lips from getting chapped. You'll never have to suffer from windburn again, and has a rating of SPF 40 to prevent the sun from damaging your skin further.
The North Face Montana Gore-Tex Mitts
Price: Approx. $50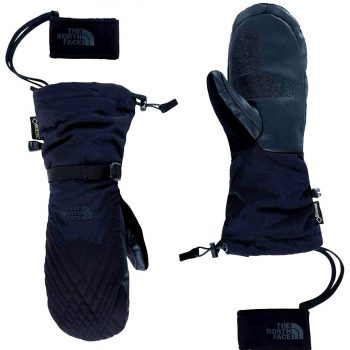 Weight: 8.8 ounces
Material:  DryVent 100% nylon herringbone tweed, synthetic leather palm
Specific features: Waterproof, removable Wrist Oven, Radiametric Atriculation, Ladderlock wrist cinches, 5-Dimensional fit, Gore-Tex insert
Best use: Cold weather, winter sports, snow removal, snowboarding
The North Face Montana Gore-Tex Mitts are designed to keep your hands warm, even in the most grueling winters. It's Heatseeker insulation and Sherpa fleece lining feel great against the skin, and trap as much heat as possible to prevent your fingers from getting chilly. However, they're not as warm as other gloves, but they make it easy for you to slip in a hand warmer to boost your heat.
The Ladderlock wrist cinches will keep your gloves closed and tight to prevent any snow from getting in, and the added clips at the wrists will keep your gloves together. No more missing glove from the pair forcing you to go out and buy another set of mittens.
Lastly, the shell and palm are made from water-resistant material to keep your hands dry throughout the day. The added Gore-Tex insert, the leader in water-resistant materials, keeps you dry for even longer.
PROS:
Good grip
Durable
Fits nicely
CONS
:
Not as warm as other gloves
Related: Being stylish during the winter season can be a bit difficult, especially if you want to get away from the boring drab colors. The North Face Rocket Beanie is a lovely, warm hat that will keep your head and ears warm, and is wrapped in lovely stripes of various shades of green. It's suitable for anyone to wear, no matter their age or sex.
Hestra Heli Ski and Ride Mittens
Price: $73 – $130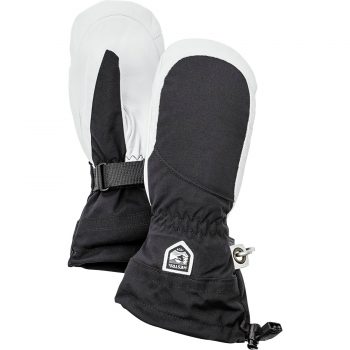 Weight: 9 ounces
Material: Triton/Polyamide fabric, Army Goat leather palm
Specific features: Removable interior lining, snow lock strap, handcuffs, narrow cut, carabiner, straps with Velcro closures, waterproof
Best use: Skiing, snow, cold temperatures
The Hestra Heli Ski and Ride Mittens give you the best features of both leather and synthetic materials. The palm is crafted with proofed-army goat leather, which is a great benefit for individuals who need the mittens for highly dexterous activities like gripping ski poles.
The Hestra Trion 3-layer fabric ensures full protection without sacrificing breathability and covers the entire upper portion of the mitten. It is easy to customize your degree of warmth with the Heli Ski mitten, as the interior lining is removable. The snow lock strap and handcuffs help secure the mittens more closely to the wrists, keeping them on and preventing any snow from getting in.
The unique Wolf Paw design limits the number of seams that encounter surfaces that could potentially wear or tear them. This guarantees that your mittens will last even longer, no matter how long you wear them for. Because these mittens are designed for women, it is important to carefully try on the mittens with the above guidelines, paying special attention to fit around the wrist.
Related: Want that stylish look when you're going down the slopes? The Bolle Mojo Snow Goggles have a wonderful matte black finish on the frames, and wonderful red lens that protects your vision. The double lens feature creates a thermal barrier that keeps your face warm, and are anti-fog so you won't have to worry about your vision being impaired.
Outdoor Research Mount Baker Modular Mitts
Price: $125 – $145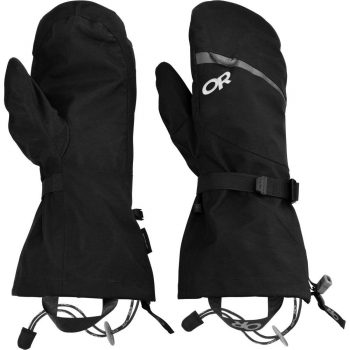 Weight: 10.1 ounces
Material: Gore-Tex shell (74% nylon, 26% polyester), AlpenGrip palm
Specific features: Waterproof, 3-layer 70D Taslan ripstop material, pre-cure boxed construction, machine washable, Ladder-Lock wrist cinches, fully-taped seams, carabiner loop, glove clip
Best use: Climbing, snowboarding, trekking, skiing, snow blowing
The Outdoor Research Mount Baker Modular Mittens are the perfect gloves for you if you're looking for great protection against the snow. They have very long cuffs which extend up the arm. You can even tuck your sleeves inside to ensure maximum protection. Although they are full coverage, they still provide enough dexterity to easily maneuver poles when skiing or trekking.
The removable inner liner is a five-finger glove which can be helpful if you are multitasking between activities that require a lot of careful hand movement. That means you can maintain your grip on your ski poles or on your snow shovel, no matter how icy it gets.
These ski mittens provide all over warmth and protection by utilizing industry top of line materials such as the Gore-Tex shell, and PrimaLoft Gold insulation. You won't experience chilly fingers ever again.
PROS:
Breathable
Lightweight
Warm
Related: Keeping your feet and legs protected from the wet slush on your driveway is important, especially if the snow piles up real high. Instead of trudging through it and getting your pants wet, consider the Outdoor Research Crocodile Gaiters. They fit over your pants and boots, and have straps to secure everything in place. They're guaranteed to keep the cold and moisture away, leaving you dry and warm every winter.
Swany Women's X-Cell II Gloves
Price: $98 – $140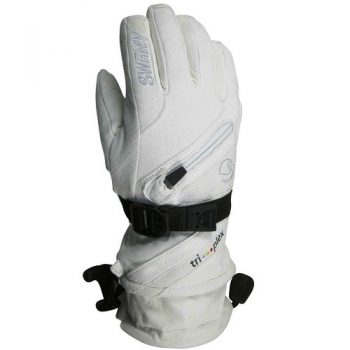 Weight: 8 ounces
Material: Smooth grain LeatherShield & Nubuck leather
Specific features: Dryfinger II waterproof/breathable insert, Dyna-Therm lining, Uni-pull cuff, Utility heat pocket, AquaGuard lock-down zipper
Best use: Cold weather, skiing, working outdoors, backcountry
The most advantageous feature of these Swany X-Cell II Gloves is the full use of leather. Leather is known for standing up to cold weather and repeat use without fail. When combined with the insulating power of Primaloft and Thermogear, the technology results in a breathable and exceptionally insulated glove.
However, one drawback from the use of leather is that it's not completely waterproof. Extended use in wet conditions can result in the leather wearing out and losing its durability over time. Care should be exercised when wearing these gloves outside in snow for long periods of time.
A favorite feature of this glove is the zipper pockets which allow you to use a hand warmer while in use. They also include a leash which makes taking the gloves on and off a breeze. Because the construction is more of a glove than a mitten there is a high degree of dexterity, and the leather surface is ideal for gripping.
PROS:
Warm
Durable
Windproof
Good grip
Related: When it comes to leather winter gloves, it's important that you also protect them from the elements. The Hestra Leather Balm contains bee's wax, vegetable oils, paraffin, glycerine, lanolin, mulsifa, and carnauba wax, which are all designed to keep your leather gloves supple and weatherproof. Forget about replacing your leather gloves every year; this balm will let you wear your favorite leather gloves year in and year out.
Hestra Heli Ski 3-Finger Gloves
Price: $83 – $149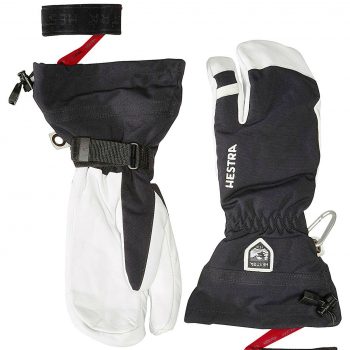 Weight: 1 pound
Material: Triton three-layer polyamide fabric, Army goat-leather palm
Specific features: Removable lining, Snow lock strap with Velcro closure, Hestra handcuffs, Hestra carabiner
Best use: Cold weather, comfortable wear, skiing, cross country skiing, snowboarding
Made with the same durable construction and high quality that Hestra is known for, these Hestra Heli Ski 3-Finger Gloves provide maximum protection during wet, cold conditions. The most versatile feature is the removable liner, which can be replaced, by other liners if you prefer. They are ideal for layering and can be used with heater packs as well.
The three fingers make it easier for you to maintain your grip on whatever you're holding onto. No more fumbling with full mittens that limit your dexterity and have you dropping your gear. The leather palm also helps to reinforce this grip, but don't get it too soaked, as it's not waterproof.
The thick wrist straps help to keep your gloves from flying off, and also help to keep snow out of your gloves. If you want added protection, you can tuck your sleeve in, and then cinch the wrist straps closed.
PROS:
Durable
Keeps fingers warm
Better dexterity
CONS
:
Wrist straps prone to breaking/getting lost
Thumb is not articulated
Related: In order to keep your snowboard or skis floating above the snow, you need to keep it waxed. The ZUMWax Rub On Wax has you covered, as it's affordable and you get a lot of uses out of one tiny container of wax. It works in all kinds of temperatures, and reduces the friction between your board and the snow, minimizing the wear and tear that can occur.
POC Wo Mittens
Price: $95 – $157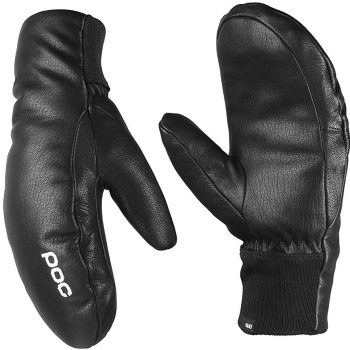 Weight: 2 pound
Material: Goatskin leather shell, soft knitted fabric palm
Specific features: Knitted cuff
Best use: Cold weather
The POC Wo Mittens ensure full protection of your hand with the  plush insulation and protective leather. The palm includes reinforcements for long lasting durability and the soft lining combines comfort and circulation. You won't suffer from pinched and cold fingers ever again.
The knitted fabric of the palm provides you with a lot of grip without making your fingers cramp up. The leather used in the rest of the glove's shell keeps out any moisture, though it's not labeled as waterproof or water-resistant. Care should be exercised when using these gloves in wet conditions for extended periods of time.
The material is also quite breathable, so you won't have to worry about your palms getting sweaty and stinky after a day of being on the slopes. That also means no moisture gathering on the inside of your glove, which can promote the growth of smelly bacteria.
CONS
:
Expensive for not having a lot of features
Related: If you're looking for a trail glove that will give you maximum grip and the protection you need, then look no further than the Giro Xena Gloves. These gloves have a great, lightweight feel, silicone fingerprint and crash pad, and a microfiber shell that will keep your hands warm and dry. The Velcro closures at the wrist will also help to keep out the snow, and can be looped together to prevent your gloves from getting lost.
Wrap Up
This is where our reviews end. You may have thought that hand protection was all the same when it came to cold weather, but we hope that with the help of this guide, you now have a better understanding of what's out there. We've helped you to cut out the middleman at the outdoor sporting goods store so that you can save time and energy the next time you're out shopping.
Did you find our guide to ski mittens useful? How easy was it to find an option that suits you? Please let us know in the comments so that we can further improve on our articles in the future.