The wilderness is amazing indeed. It is beautiful and inspires a feeling of utmost respect within each of us. However, it can also be dangerous and unforgiving. You never know what dangers lie ahead on your trip, and this is why you need the right medical supplies.
Do you want to be stuck outdoors without a means to treat yourself in case of emergencies? Thus, the best first aid kit is a must in any fishing trips, hiking, rock climbing, and many other outdoor activities you take part in.
The right first aid kit helps in managing and treating minor pains and aches, preventing them from becoming major issues.
First aid kits may not be enough to treat major wounds completely but if you should suffer such extensive injuries during your trip, a med-kit will at least prevent infection from setting in until you can get real medical help from the professionals. So, how should you choose the best first aid kit? Don't worry, we're here to help!
This article will explain all you need to know. First, we'll help you understand just what factors you need to take into consideration when searching for the first aid kit that's just right for you. After that, we have eight first aid kits that we would like to recommend to you.
Our Top Picks
Things to Consider Before Buying
Unfortunately, there is no one-size-fits-all first aid kit. In the end, you'll need to consider your individual situation. Here are the things you'll want to pay attention to:
Type of Activity
The best first aid kit for you depends on what type of outdoor activity you prefer. If you are looking to do water-based activities, you'll naturally want fully waterproof first aid kits. For fast trail-running, a lightweight first aid kit is a good option. For outdoor activities like camping and hiking, a more comprehensive kit would be more appropriate.
Also, consider the different kinds of risks involved in every trip. Generally, all first aid kits should be equipped with basic medical supplies for treating minor injuries such as scratches and bruises. However, if you often travel in low humidity areas, you should, in turn, be prepared for specialized issues such as dehydration.
On the contrary, if you love high altitude areas, be prepared for altitude sickness and hypothermia: find a first aid kit that has an emergency blanket.
Unfortunate accidents often go hand in hand with the outdoor adventures we revel in. Analyzing the kind of danger you may encounter means you stock up your kit with the necessary countermeasures.
Number of People
It doesn't really matter if you opt to carry a large or small first aid kit. Size does not determine the usefulness of a first aid kit. But you should try to find out whether the supplies contained in the first aid kit is only sufficient for treating the injuries of a solo traveler or if the kit can accommodate groups.
How many people can make use of the kit? The number of people that will go with you on your trip matters a lot when you are trying to choose the right first-aid kit. You will probably use up supplies like pain meds and bandages. In that case, the more the better when you're traveling in a group.
Trip Distance
Another consideration when you are choosing a first-aid kit is how long your trip will last. It is important to make sure the amount of supplies and tools contained in the first aid kit is enough to last you the whole trip.
For example, if your trip will last for five days, your first aid kit should have enough gauzes and ointments to last you for those five full days, not just for three days, or worse, just two days. You always need to assume the worst—and in this case, it's getting hurt on the very first day.
Even if you don't plan to continue the trip after you've gotten hurt, it may take some time to get back to civilization on your own or for emergency help to arrive. Better to be over prepared than underprepared.
Special Needs
In the case, you require some special medication or a prescription be sure to put it in your kit's checklist. First aid kits come in either a soft shell case or a hard shell case.
No matter which one it comes with, there's always some space inside for some extra medical supplies. This space is reserved for the aforementioned special prescriptions, so make use of it.
Content Variety
Whenever you go on a trip, you have to be familiar with your first aid kit and its supplies, how to use each of its contents, when to use them, and know what to use on different injuries.
The basic contents of a first aid kit include bandages, sterile dressings, plasters and protective items. The table below will provide you with some tips on how to use these basic supplies.
First aid kit item
How to use
Sterile wound dressing
The wound dressings are usually for larger wounds
Apply pressure to stop the bleeding
Plasters
Appropriate for grazes and small cuts
Sterile pad
Sterilizes the wound and stops the bleeding
Roller bandages
Puts pressure on the wound
Triangular bandages
Used the same way as a roller bandage
When sterile, triangular bandage is excellent for dressing large wounds
Pins or clips
Holds bandages in place
Great for fastening a loose bandage
As you can see, the basic contents found in a first aid kit are usually geared towards dressing minor wounds. Some first aid kits contain much more than these basic supplies.
First aid kits can differ greatly in the number of items contained. For example, one of the kits in this list only has 61 items while the other has 205 items. The kit with the greater number of items contained doesn't always have the best content variety, though.
For example, even though the kit with the 205 items seems superior at first glance, if that number is made up of 50 plasters, 50 roller bandages, 50 pins, and 55 sterile pads, the content variety can't be considered good at all.
Therefore, pay attention to the items and supplies contained in each first aid kit and make sure you consider any special needs you might have, as explained in the previous section.
Best Products on Today's Market
Now that you are armed with the knowledge of how to choose the best first aid kit for you, it's time for us to lay out the recommendations. Here are the top 8 first aid kits currently available on today's market:
AAA Commuter First Aid Kit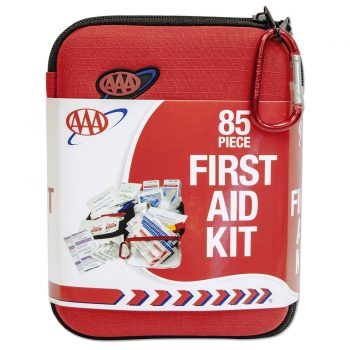 Price: Approx. $14
Weight: 0.7 pounds
Dimensions: 6 x 2.8 x 8 inches
Kit includes: Tweezers, scissors, one pair of vinyl gloves, three sting relief pads, 14 alcohol prep pads, six antiseptic towels, one triangular bandage one whistle, two knee or elbow bandages sterile gauze pads gauze rolls, adhesive tape, carabiner
Best use: Camping, hiking, home first-aid kit
The AAA Commuter First Aid Kit features 85 pieces of high-quality medical supplies to help protect you and your family/trip buddies once you are out there. As you can see from the supplies listed above, this kit contains everything you need to handle the situation at hand in the unfortunate event of injuries.
This kit is convenient in terms of size, making it ideal for car storage. Furthermore, it is lightweight and compact and has clear pockets for easy identification of the supplies. This kit also comes with a carabiner so you can clip it to your belt or backpack for easy carrying.
On top of that, the carrying case that this first aid kit comes in is made of a durable hard shell material that won't crack under pressure, so you can be sure that this first aid kit can take a beating if necessary. The case is quite spacious so you can even fit some other smaller items inside.
With this kit at hand, you won't have to fear minor cuts and scrapes anymore. However, if the wound is quite big, there's only just enough supplies in this kit to dress it once.
PROS:
Portable thanks to the carabiner
Durable thanks to the hard shell case
Compact and lightweight
Easy to organize thanks to the clear pockets
CONS
:
Not enough supplies to dress larger wounds
Related: This kit is fine as it is if you're only looking for something to patch yourself up with in case of a minor mishap on a hiking adventure, but if you're looking for a complete rescue package to put in your car in case of road accidents, be sure to purchase this AAA Emergency Road Assistance Kit too. It has flashlights and booster cables in it to help you handle machine damage.
Always Prepared First Aid Kit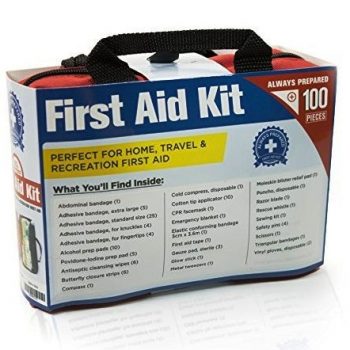 Price: Approx. $20
Weight: 1 pound
Dimensions: 7.5 x 2 x 5.1 inches
Kit includes: Moleskin blister relief, abdominal bandage, disposable cold compress, compass, butterfly closure strips, adhesive bandages, gauze pad, tweezers, cotton tip applicator, whistle, povidone-Iodine prep pads, elastic conforming bandage, vinyl gloves, antiseptic cleansing wipes, first aid tape, razor blade, alcohol prep pads, emergency blanket, glow stick, sewing kit, triangular bandages, safety pins, scissors, CPR facemask
Best use: Home use, camping, hiking
The Always Prepared First Aid Kit is a unique and high-quality kit ideal for outdoor trips, travel, and home. It is produced with the quality-assured FDA standards. Its convenient size and light weight make it suitable to carry anywhere you go. The durable and flexible soft bag also makes it easy to carry during activities like bike riding.
This kit prepares you for accidents, emergencies, and even disasters like earthquakes. There's a total of 100 helpful emergency pieces in this kit. If you take a look at the list of items and supplies above, you'll realize that this kit does not only contain medical supplies, but also useful tools to help you in times of emergency such as a whistle and a compass.
The carrying case that this first aid kit comes with is quite roomy, so you can fit a few small items in it if you want to. You can also customize the content as you see fit. For example, if you don't think you'll need the sewing kit, you can replace it with some other medical supplies.
The only mentionable downside is that not all of the ointments are made in the USA, and this may cause apprehension in some. It shouldn't be a deal-breaker, though. The ointments will still work as intended and will be invaluable during emergency situations.
PROS:
Flexible soft shell carrying case
Comes with other emergency supplies such as a glow stick
The carry case is roomy and can fit some more
FDA-approved
Lightweight and compact
CONS
:
Not all the ointments are made in the USA
Related: This kit is a must for long-term trips because you never know what can happen while you're out there in the wilderness. You may also want to stay updated with the goings-on even while you're off the grid. In that case, you should purchase this RunningSnail Hand Crank Weather Radio.
Medsoft First Aid Kit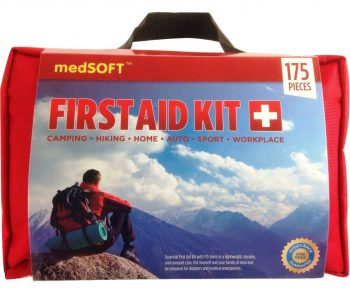 Price: Approx. $19
Weight: 1.8 pounds
Dimensions: 10 x 4 x 7 inches
Kit includes: Wipes, adhesive spot bandage, burn dressing, first aid instructions, disinfectant, wipes, elastic bandage, sterile gauze, pad contents, bag alcohol, prep elastic crepe, bandage wound dressing, notebook and pencil, adhesive bandages, medical tape, CPR facemask, cold compress, cold compress gloves, cooling pad, compass, emergency blanket, whistle, tweezers, metal scissors, safety pins
Best use: Camping, hiking, outdoors, home use
This Medsoft First Aid Kit has a first aid ready pack and a mini pack, which makes it a two-in-one product. It is comprehensive, but it is also lightweight and compact. The Medsoft first aid mini kit carries with it 14 more items, and it is small enough to fit in the pocket or a small bag.
The first aid ready pack carries a wide range of survival, emergency, and medical supplies, and comes in at a total of 175 pieces. It carries numerous items that are not normally found in other first aid kits like a compass, a cold compress pack, and an emergency survival blanket among other items. Despite containing so many pieces, everything in it is organized well so you wouldn't have a hard time finding the things you need.
The kit is produced in a facility that meets the FDA standards, ensuring that each item is high-quality. The kit is suitable for camping, hiking, biking, sports and home use. This first aid kit comes with a soft shell carry case. There's still room for you to put a few more tinny things inside if you want to, but it's pretty cramped already.
PROS:
A two-in-one pack
Comes with other emergency supplies such as a compass
Well-organized
FDA-approved
CONS
:
Not much room in the carry case for much of anything else
Related: Not just your health, you'll also have to pay attention to your hygiene even if you are currently on a wild adventure. You can put all your toiletries in this Attmu Bath Organizer for easy carrying. All you have to do every time you need to brush your teeth or wash your face is take this organizer out of your backpack and put it back in once you're done.
Medique First Aid Kit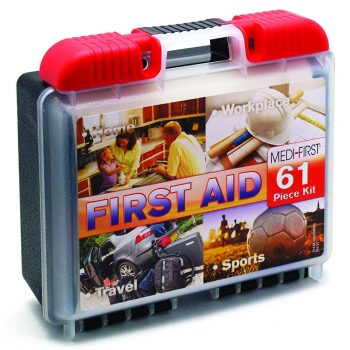 Price: Approx. $10
Weight: 0.22 pounds
Dimensions: 7.4 x 6.7 x 2.5 inches
Kit includes: Burn cream, ointments, bandages, medical tape, finger splints, alcohol prep pads, butterfly closures, gauze roll, vinyl gloves, antibiotic ointment, gauze pads, first aid manual, antiseptic prep pads, cotton tips, scissors, sting relief, instant cold pack
Best use: Home use, workshops, office, outdoor trips, sports events
This Medique First Aid Kit contains 61 items in a compact polypropylene (plastic) case with a locking bracket and a carrying handle (OSHA requirements). The hard shell case makes this kit resistant to impact, so you can carry it with you even on the roughest hiking trips without worry. Despite the hard shell, it's quite lightweight and won't weigh you down.
The interior of the model 40061 has a tray that keeps the items and medical supplies organized for convenience. This feature makes it convenient and perfect for survival and disaster preparedness, and of course, outdoor use.
With only 61 pieces contained, this first aid kit can't be considered one that has the most extensive collection of medical supplies of all the first aid kits available on the current market. It doesn't have any emergency accessories in it—such as a glow stick or a compass—the way many other first aid kits do, but in terms of essential medical supplies, it boasts quite the extensive variety.
PROS:
Durable hardshell case
OSHA-approved
Well-organized thanks to the integrated tray
CONS
:
Doesn't contain any survival tools
Related: This first aid kit has got your body covered, but what about your eyes? Eye irritation can have dangerous repercussions while you're out there in the wilderness if not treated promptly. So make sure to bring this Pac-Kit PhysiciansCare Eyewash with you.
Coleman Expedition First Aid Kit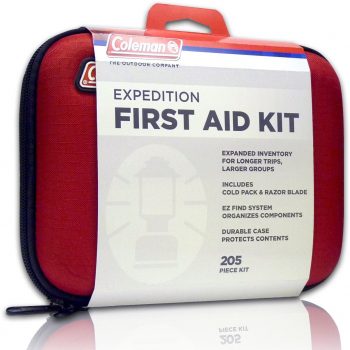 Price: Approx. $21
Weight: 0.94 pounds
Dimensions: 2.8 x 7.5 x 5.8 inches
Kit includes: String relief wipes, bandages, adhesive tape, tweezers, antiseptic towels, spot bandages, butterfly closure, safety pins, antibiotic ointments, knuckle bandages, gauze pad, razor blade, fingertip bandages, nitrile exam gloves, cold pack, finger splints
Best use: Hiking, camping, outdoor trips, backpacking
An ultimate first aid kit caters to numerous people in an emergency. With this 205-piece first aid kit, almost all of the possible emergencies and injuries are well accounted for.
The Coleman Expedition First Aid Kit has a semi-hard casing that protects the items and medical supplies inside. Its compact size allows easy packing in any hiking backpack, sports bag or in vehicles.
It features the EZ find system that helps organize the many items inside and create room for additional items. The EZ find system also helps you find a particular item fast when needed.
With its 205 commonly needed pieces, it is perfect for families, adventures, hiking, camping trips or any large group activities.
Although you'd expect a first aid kit with so many pieces contained inside would have a large variety of emergency supplies, that isn't necessarily true in this case.
As aforementioned, this kit is geared towards assisting a group of people instead of solo travelers, so it prioritizes quantity instead of variety. Meaning you'll find quite a lot of the same things inside, but you won't find any extras such as survival tools.
PROS:
Durable thanks to the semi-hard casing
Great for groups or for dressing larger wounds
Compact and lightweight
CONS
:
Not much to say regarding item variety
Related: If you plan to travel in a group, you'll need a bigger water purifier to save time, and so everyone can quench their thirst at once. This LifeStraw Family 1.0 Water Purifier is a must for any group outing.
Lifeline Hard Shell First Aid Kit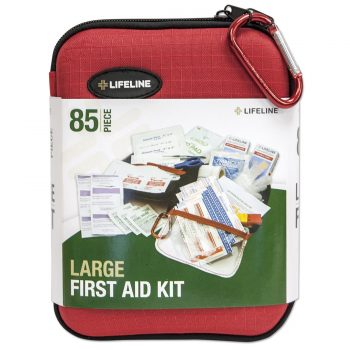 Price: Approx. $13
Weight: 0.63 pounds
Dimensions: 6 x 7.8 x 2.5 inches
Kit includes: Antiseptic, towelette, regular sized bandages, wound closure strips, emergency whistle, alcohol prep pads, knuckle bandage, sterile gauze pads, first aid guide, knee/elbow bandages, adhesive tape roll, vinyl gloves, small bandages, sting relief pad, triangle bandage, combine dressing, tweezers, conforming gauze roll, hard shell foam, carry case, carabiner, scissors
Best use: Hiking, camping, outdoor trips, backpacking
LifeLine is a compact first aid kit with a hard shell case ideal for any emergencies. The hard shell case allows Lifeline Hard Shell First Aid Kit to be put in the car's glove box. It can also be useful for keeping additional fragile items since there's quite a lot of free space to put extra items in inside.
Other than for emergency use in case of car accidents, this first aid kit is also the perfect choice for any outdoor enthusiasts. It comes with a carabiner so you can easily attach it to your backpack for easy carrying. It's impressively lightweight considering the fact that it has a hardshell case, so it won't be much of a burden.
This first aid kit contains 85 pieces of medical supplies. Not the most extensive, perhaps, but it is suitable for four people, thus ideal for family emergencies.
Don't expect to find an extensive supply of survival tools in a first aid kit with only 85 pieces contained inside. However, this one does have an emergency whistle at least.
PROS:
Durable hardshell case
Comes with a carabiner for easy carrying
The case is spacious and organized
Enough medical supplies for four people
CONS
:
No survival tools to be found inside, except for an emergency whistle
Related: Since this first aid kit does not come with any survival tools except for an emergency whistle, you wouldn't want to be caught unprepared in a dangerous situation. This FengChi LED Camping Lantern will make it easy for you to be aware of your surroundings.
Adventure Medical First Aid Kit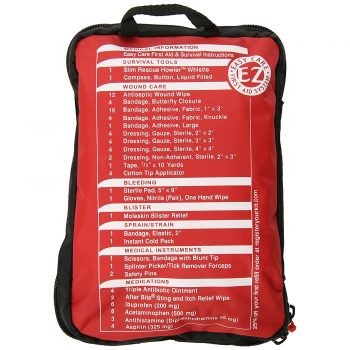 Price: Approx. $19
Weight: 1.2 lb
Dimensions: 6 x 7.8 x 2.5 inches
Kit includes: Antiseptic wipes, adhesive bandages with butterfly closure, moleskin, pre-cut & shaped sterile gloves, antibiotic wound ointments, fracture/sprain bandages, after bite insect relief, acetaminophen, aspirin, antihistamine pills, insect repellent, wipes, non-adherent, sterile gauze, dressing, reusable water bottle, hand wipe, cotton tip applicator, a pair of nitrile gloves, cold pack trauma pad
Best use: Road trips, boating, camping, hiking
The Adventure Medical First Aid Kit is a convenient and unique kit that offers treatment to potential outdoor injuries, bug bites, sudden illnesses and marine misadventures. The supplies are well organized by pockets and specified injury-wise.
It is lightweight, compact and portable, which allows for easy storage in a backpack and the car's glove box. There are several versions of the adventure first aid series medical, but this one comes with a reusable watertight water bottle, which should help in countering dehydration.
It is not specified how many items exactly are in this kit, but there's enough for a family of 3. It can also be used for caring for children. Moreover, the included insect repellants can deal with any bug and mosquito bites. The kit comes in a water-tight bag (has a nylon outer coating) with a comprehensive marine medicine and a guide.
Considering how waterproof this first aid kit is, you should look no further if you are looking for a kit to take with you on your next boating trip. But don't forget to add some survival tools such as a fire starter or a rope into your arsenal because this kit doesn't come with any.
PROS:
Waterproof
Well-organized and compact
Good for family use
CONS
:
Doesn't come with any survival tools
Related: To keep your family safe, you need something to call help with in case an unwanted accident happens and you are in dire need of emergency assistance. That's why it is recommended that you always carry this First Alert Red LED Beacon Flare with you.
Delta Provision First Aid Kit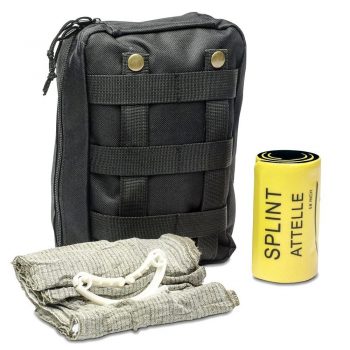 Price: Approx. $60
Weight: 1.6 pounds
Dimensions: 9.5 x 6.5 x 4.3 inches
Kit includes: Antiseptic, wipes, Israeli battle dressing, compression bandage, large gauze, CPR mask, cold pack, roll up splint, alcohol pads, a pair of gloves, PBT bandage roll, small gauze pads, metal medical scissors, alcohol free cleansing wipes, large adhesive wound dressing, emergency blanket, tongue depressor, metal tweezers, eye pad fingertip bandages, sting relief pads, personal medicine bag, elastic tourniquet, iodine pads, whistle, medical tape, compass, cotton swabs, razor blade, MOLLE/PALS compatible pouch
Best use: Hiking, camping, backpacking, military use
This is the priciest first aid kit on our list but for a good reason. Since this first aid kit only contains 130 pieces of medical supplies, you might think it is rather overpriced. However simply put, Delta Provision First Aid Kit is an excellent first aid kit for military use and any medical/trauma and survival circumstances while you're outdoors.
The kit is sturdy, well organized, and has a spacious pouch for any additional items you may have. It is an exceptionally tactical kit with Israeli bandage for an emergency wound dressing that reduces excess blood loss.
Delta Provision Company produced this well-stocked first aid kit to handle any form of injuries, such as bruises, scrapes, and even trauma situations like broken bones and severe bleeding. It also comes with some useful survival tools such as a compass and an emergency blanket—all wrapped up in one very organized package. Definitely one complete kit that is perfect for outdoor use.
PROS:
Military grade
Very organized
Comes with useful survival tools
Can be used to treat severe wounds
Related: If worse comes to worst and you end up in a severe, life-threatening situation due to a trauma injury, before you treat the wound using the medical supplies in this kit, make sure to stop the bleeding first using this Recon Medical Tourniquet.
Wrap Up
You've arrived at the end of the review. A first aid kit is a safety precaution. Packing up your first aid kit is in the groundwork of planning your next destination.
Always have it in mind, forgetting it is not an option. It's a wild world out there, so it's important that you are well-prepared. This is why you wouldn't want to just pick any first aid kit off of the shelf at random.
There are way too many first aid kits in the market, so choosing one may not be as easy as most people think. Hopefully, this guide has been successful in helping you find the kit that will accompany you and keep you in good health on your adventures.
Featured Image Source: https://unsplash.com/photos/MaKsx8JNbiI