Heading out for a weekend or even a week of fun in the wilderness is a great way to spend time with the family. But preparing for camping with the whole family is a lot harder than preparing camping gear just for yourself, isn't it? But no worries, we've got your back! In this article you will find all the info you need on choosing the best family camping tent.
The tent is probably the most important part of all the gear you'll be carrying with you. You probably think you need to know a thing or two about camping before heading out, and this is true, however nobody was born knowledgeable. Reading a lot on the topic can help you avoid basic mistakes and even choose a decent tent. Below you'll find not only the most important tent features but also a selection of the most popular products that you can buy.
That's why we've looked at the best tents we can find and worked on figuring out how you can choose your favorite and make sure your family enjoys their trip and wants to go again soon.
Our Top Picks
Features to Consider Before Buying
Before you go looking for a tent for your family you want to make sure that you're looking at the right features. After all, there are plenty of tents out there and plenty of different things that they can do.
You want to make sure what you're getting is going to be the best for you and your family as you're heading out for your camping trip. It may take a lot of time and effort to find the right one, but if you end up out in the woods somewhere with the wrong one… it's definitely going to be a lot worse.
Size
The first thing you need to know is what size you're looking for. This is going to depend on the type of camping you're doing as well as how many people you're taking with you. If you have a family of five you want a tent that's going to hold everyone, but you also want to make sure you have something that will work in your environment.
That means if you're camping in a wooded area that's not designed as a campground you'll probably need something a little smaller rather than a large tent with extra rooms and canopies. Make sure whatever size you're looking at is going to fit where you would and who you would take.
Shape
Another aspect to consider is the shape of the tent. There are actually many different styles out there now and you'll want to take a look at all of them to find out which one is going to work best for you and your family. The traditional tent is considered an A-frame, but there are a number of additional styles out there now for you to choose from.
Look at what's going to be the most comfortable for you and your family and consider the way you're going to use the tent. This is going to affect what type of tent you want because of the way that shape influences your capabilities.
Materials
You need a tent that is made with high quality materials and is going to last a long time. It also needs to hold up against moisture, rain, wind and a whole lot more, depending on when and where you're going camping.
The material needs to be sturdy and resistant to each of these things as well as tears. Make sure that you pick something sturdy so you know you're not going to wake up with holes in the tent or rain coming through in the middle of the night. That definitely makes for a disappointing trip for you and the entire family.
Seam Enforcement
The seams on any tent should be reinforced more than just sewn together. That might mean they are stitched more closely or double stitched. It could also mean that they are reinforced with some type of tape or waterproofing to keep them more secure.
There are many different ways that you can reinforce these but it's important that something is done because this is how water is most likely to seep through the tent and get to you or any of your belongings. You want to make sure that you're going to stay dry, after all, because getting wet during a camping trip will ruin it for sure.
Ease of Set-up
Knowing what it's going to take to set up your tent is going to be extremely important as well. You want to know that it's going up quickly and you want to make sure that it's going to be easy enough to do as well.
That's going to depend on a number of different factors but it's also going to be reliant on the type of tent and the number of people that you have to help you with the process. Check for instructions before you purchase a tent so you know what it really takes to get things set up and ready.
About now, you should be better informed on how others choose their camping tents and it's time you saw some of the tents that fit this bill.
Best Products on Today's Market
Next, you can have a look at some of the best tents you can get in the market. We take a closer look at their best features and uses.
Coleman Sundome Tent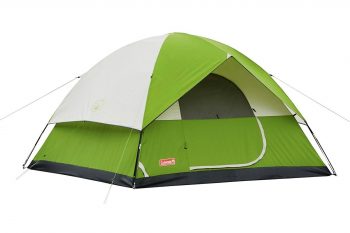 Price: $110 – $140
Weight: 16.31 pounds
Floor area: 100 square feet
Specific features: 2 doors, 2 poles, 6 person, 72 inches center height, electric access point
Best use: Large family camping
Description: This Coleman Sundome Tent is designed to hold up to 6 people comfortably and has a dome style that makes for more floor space though not quite as much head room on the outsides.
It is made with polyester, which makes it water resistant and uses 0.33 inches fiberglass poles to also make it more lightweight and easy to set up. The center height is approximately 72 inch to make it easier to stand up and there are 2 windows along with roof vents to give you even more comfort while you're camping in the warmer weather.
The clip and continuous pole sleeve style of the tent itself is able to make set-up a whole lot easier and there are instructions sewn directly to the bag that the tent is carried in, making it much easier to keep them in mind while working.
It even has a flashlight loop to ensure you can always see what you're doing while in the tent and has an access port for electricity so you can power any of your favorite devices. Not only that but it is entirely a freestanding design and has welded seams throughout to keep out rain and moisture.
PROS:
Lightweight
Easy to set up
Great as a summer tent
CONS
:
Weak floor, especially at the door
Too thin for spring and autumn camping
Related: The Wenzel Evergreen Tent is a good alternative especially if you want to divide the inner space. This tent is roomy, waterproof and has good ventilation.
Coleman Instant Cabin Tent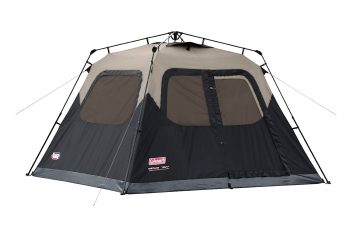 Price: Approx. $175
Weight: 24.9 pounds
Floor area: 90 square feet
Specific features: Space for 2 queen airbeds, 74 inches center height, pre assembled poles, WeatherTec welded floors and inverted seams, illumiline guy lines
Best use: Larger families/groups
Description: The Coleman Instant Cabin Tent is designed to hold the entire family comfortably and in one room. This makes the entire tent easier to set up because it's a square shape.
Even better, it's a cabin style, which means that it's taller from the center all the way out to the edges, making it much easier for you and your family to have fun even when you're stuck inside. You will have full height throughout and you're also going to have 1 door to get easily in and out as well as windows on all sides to provide additional ventilation.
This is considered an instant install tent because you can set it up in 60 seconds or less without any problems. You can also fit two queen size air mattresses inside so that everyone has a comfortable place to sleep through the night that's up off the ground.
You will need a little extra space to store it because even folded up it's over 4′ long, but that's how it's so easy to put back up when you're ready to go. Even with as large as the tent is it can be set up with just one person because all it takes is unfolding and popping the legs out to be ready to go.
PROS:
Easy installation
Well ventilated
CONS
:
Rainfly sold separately
Needs waterproofing
Related: Since you'll definitely want to buy a rain fly, make sure you get the Coleman Rainfly designed for this tent so you can have better rainflow.
Coleman Red Canyon Tent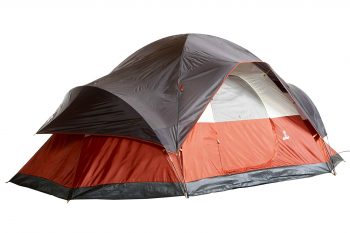 Price: Approx. $130
Weight: 22.4 pounds
Floor area: 170 square feet
Specific features: 8 person capacity, WeatherTec System, shock corded poles, Cool Air port & Veriflo
Best use: Large group/family, weekend camping trips
Description: This Coleman Red Canyon Tent is designed to hold an entire family comfortably, as it's designed for 8 people. You'll be able to create up to 3 separate rooms in your tent as well because of the dividers included.
Set-up is extremely easy even with these separate rooms and there's even an included rain fly to help you stay dry, even if you want to have the door or windows open when it's wet outside. After all, you're going to want some air flow while you're stuck in your tent and you're going to need to still be kept dry while it's raining.
This tent also uses shock-corded poles that make the set up process go faster, even if you only have one person to do it. With the WeatherTec to keep it dry you also have 72 inches in the center of the tent, which allows you to stand easily, though the outside sections feature lower 'ceiling' height.
With plenty of space on the inside, you have enough room for everyone to hang out, even over and above the 8 that are able to sleep there. What's really nice is that this tent also looks stylish while you're using it and all of the room dividers are easy to use or remove as needed.
PROS:
Comes with room dividers
Up to 3 rooms
CONS
:
The mesh openings cannot be covered
The zippers need to be carefully operated
Related: The CORE Equipment Extended Dome Tent offers more space as it is designed for 9 people. Get this one if your group is bigger or if you want to fit 3 queen sized air mattresses.
Big Agnes Wyoming Trail Tent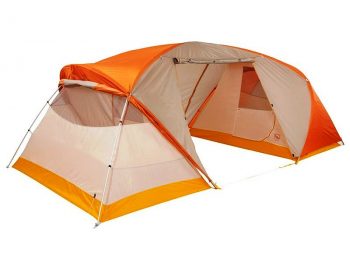 Price: Approx $490
Weight: 17.05 pounds
Floor area: 85 square feet
Specific features: Multiple configurations, vestibule section for gear, lightweight pole system, easy set up
Best use: Multiple needs, car camping tent
Description: The Big Agnes Wyoming Trail Tent is definitely a unique one. It offers you a range of different configuration options so you can have a large tent with a covered canopy in front or you can choose to have two separate sections with a canopy in the center.
No matter how you do it you're going to have plenty of space for everyone on your trip and you're going to feel comfortable. It's not tall enough that you will be able to easily stand, but you will have no problem sitting and having some fun if you're stuck inside.
The vestibule will provide extra shelter for your belongings as well and you'll be able to keep it nice and dry as well. If you prefer an open space you can use the vestibule as a method of shade for sitting outdoors.
What's better is you can set up the Pressfit connectors and hubs easily and the lightweight system is going to help with the process. It's also easy to use the plastic clips, reflective guylines and webbing and aluminum stakes. Even the fly is easy to set-up so you can get ready for anything that might come your way.
PROS:
Lightweight
Seams are taped with waterproof, solvent-free polyurethane
CONS
:
Single door
Footprint sold separately
Related: Should you not have enough space in this tent, consider getting an extra one for a single person, like the Ozark Trail Tent. It comes with a vestibule for the bags. This one person tent can be used to store the bags as well.
Eureka Copper Canyon 6 Tent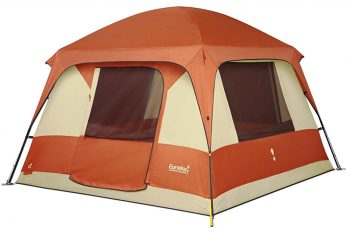 Price: Approx. $260
Weight: 25 pounds
Floor area: 100 square feet
Specific features: Cabin style, windows on all sides, mesh roof
Best use: Large groups/families
Description: If you're looking for a tent that will provide you with a great look and style then the Eureka Copper Canyon 6 Tent is a great option. This tent can accommodate 6 people and allows you enough space to move around freely.
With a 84 inches center height you'll also be able to stand without a problem and do anything you want while you're relaxing during the day or the night. What's even better is all the air flow you're going to get with the large windows and the mesh roof. Even still, the rain fly and the material of the tent itself is going to keep out moisture and cold.
The frame of this cabin tent is designed with steel and fiberglass to make it sturdy and durable, but lightweight at the same time. This way, you'll be able to carry it with you easily enough and you're going to have no problem setting it up when it's time.
Because it uses clips, pole sleeves and ring and pin, you can set it up with very little help. The entire thing is fire retardant and of course waterproof and windproof to keep you warm and dry no matter what's going on around you. As far as extra features, you'll have outer pockets and a gear loft.
PROS:
Bathtub floor
Easy to setup and pack up
No bad chemical smell
CONS
:
No room divider
Fabric and seams tend to leak
Related: If you want a tent that can be divided into 2 separate rooms, check out the Eureka Copper Canyon 8 Tent. This model is bigger and has closable windows.
Kelty Frontier Tent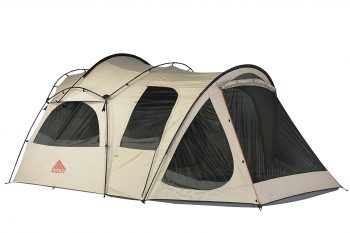 Price: Approx. $1,400
Weight: 43 pounds
Floor area: 100 square feet
Specific features: 6 person tent, large cabin and vestibule, freestanding design, expansive vestibule
Best use: Car camping
Description: The Kelty Frontier Tent is going to give you everything you're looking for in a spacious tent. It has a vestibule as well as the spacious tent itself so that you have plenty of room for the entire family.
Available in white, this tent has several windows and screens throughout so you'll always have plenty of airflow and be comfortable even when you're stuck inside for long periods of time. Each of the floor seams is taped to ensure more protection against the rain and moisture and there's door panels to store anything and everything you need for your trip.
Ready to hold up to 6 people, this tent has 3 doors and is ready for 3 seasons of camping. Made with poly cotton, it's heavier than other tents, which makes it better for those planning on car camping or those who don't have to transport the tent far by foot.
The vestibule area is not included as part of the 100 sq. ft. which means there's plenty of excess room for everyone to relax and enjoy themselves without hanging out in the sleeping space. It is quite expensive, but you're definitely getting a lot of benefits for the overall cost.
PROS:
Over 84 inches of peak height
Noiseless zipper pulls
Large floor area
CONS
:
Difficult to set up
No inner organizers
MSR Backcountry Barn Tent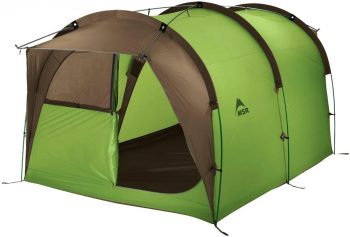 Price: Approx. $850
Weight: 14 pounds
Floor area: 80 square feet
Specific features: Unique barn style, holds 4 – 5 persons, full height throughout
Best use: Moderate size groups
Description: The MSR Backcountry Barn Tent is designed for you to get a little bit of everything and have plenty of space while you're doing it. Designed to use with a floor for camping or without for a little shelter in the rain, you're going to have no problem at all setting this tent up with just a small group or even by yourself.
After all, it uses a single wall construction and ripstop nylon to keep you protected from different types of weather including rain and wind that can definitely affect your camping trip.
The bathtub style floor allows you to use this tent however you want and the extra features make it even easier to do so. With eight pockets and three lantern hooks you'll be able to see what you're doing and store all of your belongings with no trouble at all.
You'll also be able to use the front and rear awnings for more space to sit out and enjoy the outdoors while you're camping. Though this is a smaller tent, it's also lightweight, which makes it great for shorter trips where speed and efficiency are important.
PROS:
Versatile
3 lantern hooks
8 internal mesh pockets
CONS
:
Removable floor
No rain fly
Related: If you want to have an extra floor on hand, get one that is custom made for this tent, like the MSR Backcountry Barn Footprint. Your tent's floor will last longer if you switch between 2 floors, plus you can be sure it will fit perfectly.
Marmot Limestone Tent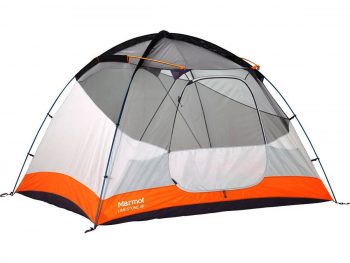 Price: Approx. $345
Weight: 17.64 pounds
Floor area: 60 square feet
Specific features: Traditional style, 4 person capacity, rainfly included, 2 doors
Best use: Moderate to large groups/families
Description: The Marmot Limestone Tent may look like just another traditional tent, but it's definitely more than that as well. The shape and style is a traditional dome, but you're going to get good features that will make camping in this tent a whole lot more enjoyable.
There are two doors, to make it easier for all 4 people camping in the tent to get in and out without tripping over each other. There is also an included rain fly to protect you from getting wet through the various mesh openings for airflow. But that's definitely not all.
The floor is made with heavyweight Oxford 150 denier to keep you dry on all sides and there is even a mat for the front to keep dirt out and a hanging organizer to make sure all of your belongings are safely stored.
The tent is tallest in the center with enough room to stand, though there's not as much space on the outside corners. Still, there is enough room for you and your family to sit inside the tent and enjoy yourselves if the weather is not good enough for you to be outside.
PROS:
Small mat for vestibule area
Interior pockets
CONS
:
Footprint sold separately
Not big enough for large families
Related: The Vont Ultra Bright LED Lantern is useful not only when hiking and camping, but in times of emergencies as well. It's made of military grade materials and features ultra bright LED lights.
Wrapping Up
This is where our list of tents ends. By now you should not only know which brands are the most trusted ones, but also why people choose these models. Plus, you are already aware of the best features to look at when buying a family camping tent.