A tailgater is a portable outdoor cooking device with a grill. The grill is often tailored to make outdoor cooking much easier and is a staple with football matches. Barely any professional football game goes down in a major U.S. town without the fans tailgating to their favorite teams with their best tailgate grill.
The device is also used a lot on other outdoor parties, barbeques and family hikes to make tasty sausages, hotdogs, samosas, patties and meat steaks. Football matches and tailgating are two events that have always gone together, and together they have stolen Americans' hearts.
Fall is almost here are thousands of football fans will be thronging around the stadium to heartily cheer their favorite teams. I can bet there will be that wafting aroma of roasted meat emanating from all sides of the stadium; tailgating at its best. The thrill of tailgating has been a sensation across many states in the U.S.
It's not only confined to the football stadium or confined to some specific sports. Tailgaters never miss an opportunity to do what they love doing when the conditions are favorable. It's done across the beaches, baseball yards, the dog shows, public parks, name it.
Questions to ask when choosing a grill
If you are a die hard tailgater, then these reviews are for you. Personally, I believe that grilling is at the very heart of any outdoor tailgating party so a good tailgate must have a portable and easy to use grill. In this article, I share with you the top ten ideal tailgate grills for an outdoor party.
We need to keep at the back of our minds that you cannot just pick any BBQ grill to a tailgate party. You will need something that's efficient, reliable and portable, something that will grill your barbeque to perfection.
Before buying a tailgater, there are a number of components you need to check out on every viable grill before settling on the very best. Here are a few aspects that should be on your checklist.
Does it use charcoal or gas?
Does it have a kamados or a smoker?
How many ounces does it weigh?
Dial diameter
Does it have a thermometer or a temperature indicator attached to the grill's hood?
Is it affordable?
If it has a thermometer, is it a digital thermometer which has a probe?
Is it portable?
Our top picks
Choosing a tailgate Grill
There are many tailgates out there in the market all designed to meet the unique needs of the customers. There's never a bad tailgate grate grill, it all depends on your needs what you'll be cooking. However, there are many general considerations that would help you get a good pick for your outdoor grills. Here are a few factors to keep in mind.
Gas vs. Charcoal
The decision on whether to go for a charcoal tailgate or a gas tailgate depends solely on your preference. Each of the two types has their pros and shortcoming. The charcoals tailgate is often referred to as old fashioned because it's more of an improved version of the conventional charcoal stove.
The gas tailgate of the other hand is modern and more efficient but has its set of cons too. There's absolutely nothing wrong with choosing either of the two but this guide will give you clears facts about them to help you make an informed choice.
Charcoal tailgate grills
 Ooh yes, the good old fashioned standby grill, or so they call it. If your family has a long history of hiking or grilling, you've probably had a glimpse of an older version of today's charcoal tailgate. You probably have some memories of your dad or grandpa pouring the charcoal out of a bag onto the standby grill and lighting it with a liquid lighter fuel.
The scene is classic and would still be just as thrilling today. The best part of using the charcoal grill is that meat will always be juicy and flavored. The grill is also easier to carry around as compared to the gas tailgate considering the weight of a conventional gas cylinder. Charcoals are generally smaller, lighter and more portable.
You'd think that because the grill uses wood chips then it obviously produces more smoke. Well, that may not be obvious. I most occasions, the gas grills produces more smoke. In fact so much smoke that you'll require a smoker box.
The major shortcomings of the charcoal tailgate revolve around its speed and efficiency. Normally, the charcoal would take up to twenty minutes to light up and to get enough heat to grill some food. The lighting time is relatively long compared to the gas tailgate which lights up almost immediately.
Once the mound of charcoal is lite, you cannot switch it off, and if you manage to put out the fire, lighting it up again can be a tall order. This is not the case with gas tailgates, they are so convenient; you can simply switch it on and off at will.
The other pitfall with the charcoal grill is that charcoal can be very messy. Using charcoal you must be very careful lest you get your clothes dirty. It also makes the environment dirty because the charcoal ash and receptacles must be disposed properly when most stadia, parks and parking lots don't have proper disposal receptacles for the ash.
Many users of this type of tailgate grills will therefore have to wait for the ash to cool down then carry it away in a trash bag. Yet another con is that controlling the temperatures of a charcoal tailgate is very difficult. You have to be creative to control the heat. This can be done by changing the position of the tailgate to face or face away from the direction of the wind or arrange the charcoal in some creative way so that meat cooks on indirect heat.
Gas Tailgate Grills
The gas grill is a darling to many tailgaters mainly because of its grilling speed and ease of control. It's pretty easy to use and lights up instantly. Unlike the charcoal grill which takes up to twenty minutes to warm up to a cooking temperature, the gas grill will be warm enough in just five minutes.
This is especially a choice for the last minute tailgaters and impromptu parties because the meat will be really in a matter of minutes. If the heat is too much you can reduce the temperature; it can be just as hot as you need it to be, and once you're done cooking you'll turn off the gas instantly so no fuel goes into waste. If the meet gets cold, you can light up the grill and warm it in a jiffy.
Besides, the gas tailgate leaves no fuel residue behind so the only trash bag you'll need is for the bones which most outdoor facilities have the receptacles to deal with. For an environmentally friendly option, the gas tailgate grill does not encourage cutting of tress and the gas does not pollute the environment in any way unlike the charcoal grill which emits carbon monoxide and ashes.
The other disadvantage is that gas is relatively more expensive compared to charcoal. If you run out of gas while tailgating it can be so frustrating to get another tank of propane in time, especially if this had not been anticipated.
Size of the tailgate
The size matters a great deal. So how big should a good grilling system be? Well, it depends on extend of use and how many people you intend to serve. If you are making a meal for yourself then you don't need the largest tailgate. A small portable tailgate grill will be sufficient.
However, if you intend to host a family gathering, or other fans of your favorite team, you'll need a much bigger tailgate. A big grill will cook more food faster. A small grill may cook fast but you can't cook a lot of food in one go. However, the size also affects the portability of the tailgate grill. A small one is easy to carry around while a big one has a limited mobility.
Cooking surface
The surface on which the food cooks is also worth considering. Here are a few questions you need to ask yourself when examining the cooking surface: Does it have a grill plate? What is the grill plate made of? Does the cooking platform have a temperature control mechanism or a temperature indicator? Is it easy to clean? How much food can it hold?
Go for a grill with a user friendly removable cooking platform. The cooking plate should also be heavier that the food you intend to prepare on it. If it's a charcoal tailgate, opt for materials like stainless steel or cast iron because they distribute the heat more effectively that light materials guaranteeing you the best grilling results.
Design and construction
We all know how rough parties can be. You can imagine the worst case scenario or a ruthless use of a tailgate grill. How long do think the grill can withstand rough use? The worst that can happen is if it breaks down while you're grilling and the only option you're left with is to cook the food.
When buying a tailgate, go for a very stable design, one that cannot topple over easily. The design should allow for the removal of the firebox to make transportation and cleaning a lot easier.
Don't go for a Brand, Go for quality
There are probably hundreds of manufacturers of tailgate grills across the country. There's really nothing like a perfect tailgate brand. I have tried out a number of them and I love different favorites depending on the occasions. It solely depends on how well a certain brand meets your specific needs so don't be tied down to a given brand.
However, I wouldn't advise you to go for the cheapest tailgate. Instead, go for quality. In many occasions, cheap brands are low quality brands and they frequently break down. Every time they break down you'll have to repair or replace the device and this can be very expensive in the long run.
Style
By style I simply mean the grill mechanism. How does it work? Is it a portable grill with a table top? For a table top grill you won't need to carry a table for a party. The top of the grill will be a good platform for laying the meals so need worrying about the table.
Another factor worth considering on style is how the grill folds. Foldable grills are more portable than rigid grills so they are easy to transport. Also, opt for a grill with a removable firebox instead of a fixed firebox, this is because they are easier to clean and the fire box is replaceable.
Is it affordable?
You surely can't buy something you can't afford. Go for something that fits into your budgets. If you can't buy it at the moment, you can lease. Many people yearn to own the best grill but the best grill cannot fit into everyone's budget.
The good news is that most tailgate grills are affordable. Just take your time to browse through the options on the internet and you can be sure to find one that will serve your needs, at a great price.
Top rated tailgate grills
Shopping for portable grills doesn't have to be confusing to you anymore. Count yourself lucky if you are reading this; I have done an extensive research and compiled for you a list of some of the best grills that you can ever find. Not only are these products tried, tested and proven to be a great option for tailgating parties but also superb for general outdoor cooking. They will rock your world!
Weber 10020 Smokey Joe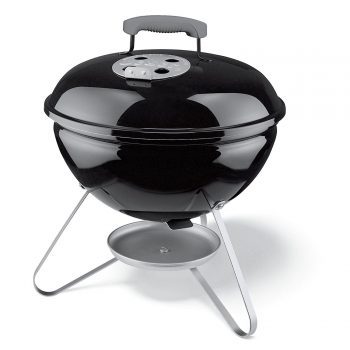 Weight: 9.5 pounds
Dimensions: 15.6 x 15.6 x 9 inches
Specific features: Glass reinforced nylon, grate measures 14.5 inches diameter, porcelain enameled coating
Best use: Outdoor cookouts, tailgating, car camping
As far as portability goes, the Weber 10020 Smokey Joe is a definite winner. Weighing just 9 pounds, this grill is simply perfect for tailgating and not to mention, it's a great space saver. The 14.5 inches diameter grate is spacious enough for you to cook three steaks at a time.
The porcelain enameled bowl and lid are resistant to rust and distributes heat evenly. It even comes with an owner's guide so you can cook excellent steaks, burgers and hotdogs that's worthy of your tailgating needs.
Another good thing about this grill is that it is such a breeze to set up. It might be a fairly small grill but it's good enough when cooking for 3 people. The construction itself is quite solid and the legs give it a much needed stability.
Overall, this grill is an excellent grill that you can't go wrong if portability is your main criteria.
PROS:
Easy to put together
No issues with ashes clogging at the bottom vents
Uses little charcoal
Holds heat
CONS
:
The body of the grill does not have a handle
There is no way to clear ash from the bottom of the bowl
Related: You can agree that lighting a charcoal grill the manual way can be difficult if you are not a pro. But with the Weber 7447 Compact Rapidfire Chimney Starter you can forget about all the hustle. It lights the coal within a period of 15 minutes only. All you have to do is place the coals on Weber Lighter Cubes or crumbled newspaper and light your fire.
Fox Outfitters Quick Grill Medium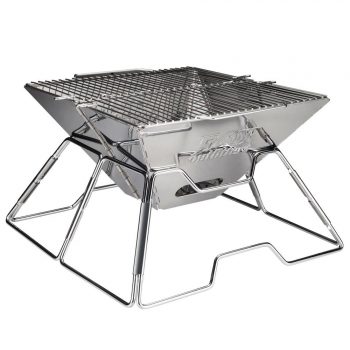 Weight: 4.75 pounds
Dimensions: 8.5 x 13 x 13 inches
Specific features: Folding grill design, lightweight, Grill size: 12 x 12 inches, premium food grade stainless steel
Best use: Outdoor cookouts, tailgating, car camping, hiking, backpacking, trailers, parks, grilling in small spaces
If you are looking for a grill that's easy to use with a compact lightweight design, the Fox Outfitters Quick Grill Medium is an easy recommendation. First off, it's a folding grill set which means that you can easily store and transport this grill. For any hardcore tailgater, this ease in setup is an absolute must.
It's made from premium food grade stainless steel which means good heat and durability. The grill has enough space with its 12 x 12 inches grilling area so you can cook multiple burgers, fish, steak, hot dogs and more at the same time. Considering its frame, this one is surprisingly quite solid and stable. It's obviously not for big parties but for quick tailgating events with a few people, this one's hard to beat.
This folding set grill is the very definition of no hassle grilling on the go.
PROS:
Easy to use folding grill set
Very stable
Durable
The base doubles up as a charcoal chimney
CONS
:
Not good for a larger group of people
The surface of the grill is not anchored to the body of the grill and can slide around
Related: When purchasing this grill it is recommended that you purchase the Weber FireStarters Lighter Cubes as well as the Weber 7416 Rapidfire Chimney. The process of starting a fire is a very tiresome and boring one. But with the cubes and the chimney starter with you, you will have it easy.
Coleman Road Trip LXE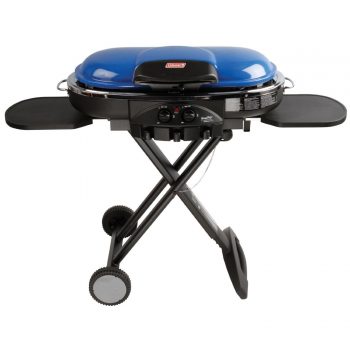 Weight: 55 pounds
Dimensions: 19 x 35 x 32 inches
Specific features: Perfectflow Pressure Control System, compact size and design, easy to clean, 20,000 BTU power
Best use: Outdoor cookouts, tailgating, car camping, hiking, backpacking, RV camping
Coleman is a household name when it comes to outdoor equipment and gear. Thus, you can trust that the Road Trip LXE is a high quality product in terms of design, durability and functionality. This is actually the updated version of the ever popular Road Trip LX.
With 20,000 BTUs of power on 285 square inches grill surface, this badboy is perfect for a sizable tailgating parties, barbecues, cookouts and more. The grill is so easy to transport and setup. Packing is also a breeze with its lift and lock system.
Worried about cleanup later on? Well with this grill you don't have to worry about that since it's quite easy to clean. The grill certainly doesn't skimp on other good features like removable grease management tray, matchless lighting, built in tool holders and more. If you want to wow your tailgate buddies, pack this grill on your next party.
PROS:
Foldable
Portable
Easy to use
Quick to start
Large cooking surface
Matchless lighting
CONS
:
The grill cannot be hook up to a RV Quick Disconnect system
No gas regulator and hub cap
Handle melts
Related: Customers who buy this road trip grill also frequently buy the Coleman 5 Ft. High Pressure Propane Hose and Adapter. The two will give you an easy time while starting your fire and are compatible to each other.
Weber 50060001 Q1000
Weight: 27 pounds
Dimensions: 23.5 x 27 x 20.5 inches
Specific features: 8500 BTU per hour, 189 square inch grill area, Porcelain enameled cast iron, push button ignition
Best use: Outdoor cookouts, tailgating, car camping, hiking, backpacking, RV camping
The Weber 50060001 Q1000 is a top rated tailgating grill and it's easy to see why. The burner produces about 8,500 BTU of power which should be enough for most outdoor cooking needs. The 189 square inch total cooking area should have enough room to cook multiple burgers, steaks or chicken breasts at the same time.
This grill heats up rather quickly and will cook your food with impressive evenness. Portability is another selling point of this grill as you can easily transport it in your car or RV. Obviously, this is good for tailgating your favorite football teams.
Since it is fully assembled out of box, you don't have to clumsily assemble this badboy. The push button ignition and the infinite control burner valve settings are definitely nice additions that add versatility to the grill.
PROS:
Foldable
Portable
Easy to use
CONS
:
The grill does not heat up enough
Grills are of poor design and quality
Pricy
Party King Grills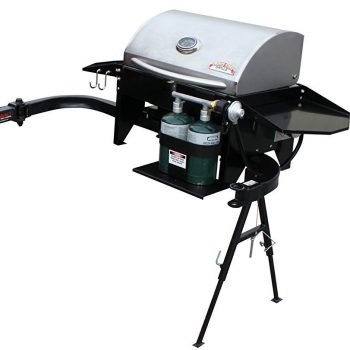 Weight: 82 pounds
Dimensions: 16 x 26 x 17 inches
Specific features: Stainless grill body and hood, adjustable control valve, grilling Surface: 11.25 x 18.5 inches
Best use: Outdoor cookouts, tailgating, car camping
This grill package is certainly not the lightest and most portable product in this list but if you're cooking food for many people, this one should be your go to. This is basically a grill package and it even comes with a cradle and an LT swing arm.
One of the most impressive features of the Party King Grills is the adjustable BTU temperature control valve which means better versatility to your outdoor cooking. If you are cooking for many people, you need all the versatility that you can get.
Cooking temperature range from 150 – 700 degrees F which should be good enough for cooking many different types of food. If you have all the attachments, you can even use this grill as a tabletop. This is far from the most affordable grill that we have here but it's definitely a great, complete grilling package for the most hardcore tailgate parties.
PROS:
Durable
Adjustable temperature control valve
Large grilling surface
Related: Outdoor grilling activities need you to have the right tools kept in the right places. If you are going to buy the Party King Grill, then you will also need to buy the Teikis 19- Piece Grilling Accessories. The items therein are dishwasher safe and long-lasting due to the stainless steel construction. Accompanying this during your outdoor grilling activities will be an outstanding idea.
Cameron's Tailgater Grill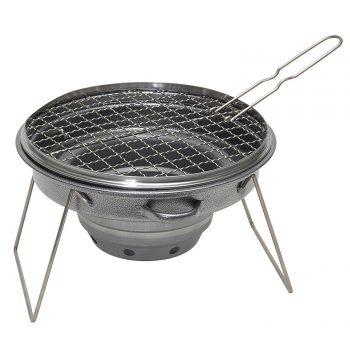 Weight: 3.9 pounds
Dimensions: 13 x 15.75 x 25 inches
Specific features: 12.5 inch Stainless Steel Non Stick grilling surface, heat resistant carbon steel firebox, carry bag included, fast and easy assembly, holds up to 8 pounds of food
Best use: Outdoor cookouts, tailgating, car camping, hiking, backpacking
Weighing only about 3.9 pounds, the Cameron's Tailgater Grill is one of the lightest grills in our list. However, don't take its lightweight profile as underpowered because it's a very capable tailgating outdoor grill. It features a 12.5 inch grilling surface which is enough to cook up to 8 pounds of food.
The cooking area is also non stick which means that you won't have to worry about cleanup later. You can easily assemble this grill in under a minute which is a huge plus especially for hikers and backpackers. Of course, you can't talk about this grill without mentioning its price point.
It's not the most powerful or largest grill here but it certainly offers a lot in terms of portability. It should be a great cooking system for backpackers and hikers, or just the most mobile tailgaters.
PROS:
Heat resistant carbon steel firebox
Foldable
Durable
CONS
:
Shallow ash tray
No cover to control flames
No room for warming
Ready for your tailgate parties?
You know how it is! It's no tailgating party without the billowing smoke coming from grills and the delicious aroma of food being cooked. This is where your handy tailgating grill comes in handy. With this article, we hope that you were able to find a grill that's right for your tailgating needs.
Featured Image Source: https://pixabay.com/photos/grill-party-grill-sommerfest-3524649/