We know that there are so many types of beach canopy available on the market, vying for the opportunity to make it into your homes and your families, that it's difficult to make a practical and smart decision on the best beach canopy.
The entire idea behind the beach canopy is to facilitate a temporary shelter, intended to create a space for friends and family to enjoy, such as for use on the beach or at the park or at sport line events.We think it's necessary to take a look at the form and function of this amazing and revolutionary product, and why it has become so popular.
The canopy is supposed to serve the following purposes;
Provide shelter for family on their outdoor events
Provide a shield from the elements such as sun, rain, wind and yes, the dreaded pesky bugs.
It is also a plus that the canopy has these key traits;
Affordable
Portable
Easy to setup and teardown
Durable
Versatile and in some cases but not all
Stylish
Whether you intend on using the canopy for recreation or family function, having the best beach shelter to compliment the event would make all the difference. We suggest that you consider a few with outfitted walls with mesh screens and durable materials as two of their main selling points if not two of their best features, potentially on all sides where possible and if desired.
They can be identified by their domed or curved shape, and they protect you from the elements such as rain, wind, sunshine, and potentially unwanted winged party crashers.
Based on the canopy's actual function, you can consider some of the best beach tents on the market which have four walls, three walls or no walls at all.
These canopies can create temporary outdoor and sometimes indoor rooms that can serve as a place to eat, serve food, mellow out on the beach with that special someone or the kids, or to simply safeguard items or edibles.
Now without further ado, let's take a look at the canopies which topped the charts for most if not all of the key traits listed above.
Picking Out Your Favorite Canopy
Coleman Mountain View 12 x 12 Screen Dome Shelter
Weight: 27 pounds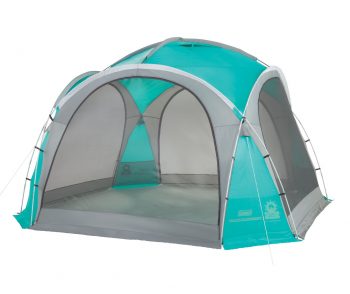 Dimensions: 9.8" x 10.1" x 25.6"
Color: Blue/Teal and Grey
Features:
2 removable shade walls provide custom extra sun protection
3 attached screen walls can be zipped up for bug-free lounging or unzipped to allow clear access
UVGuard material provides 50+ UPF protection from the sun's dangerous rays
Over 40% lighter than a comparable Coleman Instant Sun Shelter
Dome shape is super stable and offers protection from low-angle sun
Illumine reflective guy lines for greater visibility at night
Vented roof releases trapped heat for more comfort
Taped seams help keep water out if it rains
Rugged, Polyguard 2X double-thick fabric stands up to the rigors of the outdoors
Ground stakes and pre-attached guy lines included
Carry bag included
Easy setup in about 10 minutes
100 sq. ft. of shade
12 x 12 ft.
7 ft. 6 in. center height
1-year limited warranty
Best Use/Activities: Camping, picnics, beach outings. Ideal for keeping the sun and bugs. A wonderful addition to the family.
Get protection from the sun, wind and bugs from dawn to dusk with the Coleman Mountain View 12 x 12 Screen Dome Shelter. In just 10 minutes, you can start enjoying the 100 sq. ft. of shade this shelter provides.
It's unique, super-stable dome shape protects from the low-angle sun in the early morning and late evening. Two removable shade walls add even more protection and allow you to change which sides block the sun and wind.
Once your shade configuration setup, you can also zip up any of the four screen walls to keep out the bugs. No matter how you set up your shelter, the UV Guard material offers 50+ UPF protection from the sun's dangerous rays, and a Vented roof releases heat so you stay comfortable.
When it's time to call it a day, this shelter packs up easily, and it's over 40% lighter than a comparable Coleman instant sun shelter, making it easy to carry off to your next fun time in the sun. Carry bag, Guy lines, and ground stakes included.
A few customers gave this tent a low rating due to the fact that some of the poles got broken while the tent was being set up and that the warranty policy requested photos being taken of the breaks in order to fulfill a replacement.
However, these ratings were not in connection with the performance of the tent in any way, which, by the account of the other customers, was exceptional. To avoid these possible breaks, here is a quick tip for you; it's advisable to start off by sliding the two roof poles (these would be the shorter ones), in and securing them.
Then, thread all four of the longer poles through the four white pole sleeves, before inserting the poles' ends into the divots at the tent's base.
Keep in mind that this tent was not really meant to be slept in, although some of you may be tempted to use it for this purpose. For that, you'll need a family size tent.
One really great feature of this tent is that its four mesh walls can be completely removed to allow a group of people to move in and out of the tent with ease, say for example, if you had a picnic table set in its center and was serving buffet style.
However, if you have a smaller group where persons would be sitting around the picnic table and you wanted to keep out the bugs and sun, then zip on all mesh walls for that ultimate protection. For versatility, spaciousness, style, and functionality, this tent is a definite great buy.
If you'd like to see this item in action, a video review is available for your watching pleasure.
Clam Corporation 9879 Quick Set Escape Shelter
Weight: 34 pounds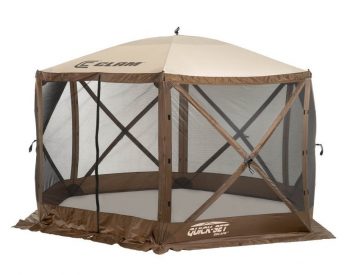 Dimensions: 72" x 8" x 8". Set up size: 140 x 140. Center Height: 90
Color: Brown/Beige
Features:
Sets up in 45 seconds
Screen is No-See-Um mesh
Water resistant roof with taped seams
Triple layer corner pole pockets
Fits standard sized picnic tables inside
Brown/Beige 210 Denier Poly-oxford fabric/li>
Ready to use out of the box, no assembly required
Includes six deluxe tent stakes and tie down ropes
Includes oversized carry bag for easy re-packing with double shoulder straps
Sor-90-245 fire retardant compliant in both Canada and USA
Best Use/Activities: Camping, Picnics, Beach outings. Ideal for keeping the sun and bugs. A wonderful addition to the family.
The Clam Corporation Quick Set Escape Shelter is the original six-sided outdoor canopy (formerly known as the 1660 Six Pack Screen Shelter) that started the Quick Set series. It revolutionized the way outdoor enthusiast's battled bugs.
Mother Nature and the perfect sun shade while camping, in the backyard etc. Ready to use out of the box, no assembly and it takes a mere 45 seconds to set up. Complete with No-See-Um mesh and an extra wide skirt will keep all the bugs out!
This instant tent is great for activities such as camping, picnics, family gatherings, long days at the kid's soccer games and even fits a full sized picnic table. This is so easy to use that you will want to enjoy the outdoors even more.
It also includes a rain flap that directs moisture over the top of an attached wind panel accessory. For additional protection from sun, wind and rain purchase the wind panel accessories.
Over 89% of customers felt that this product was worth every penny and would highly recommend it to others. In case you need to see for yourself, Clam provides an instructional video on this item and video reviews are available as well.
Compaclite Shade and Shelter & 2 Chair Set Portable Cabana
Weight: 19 Pounds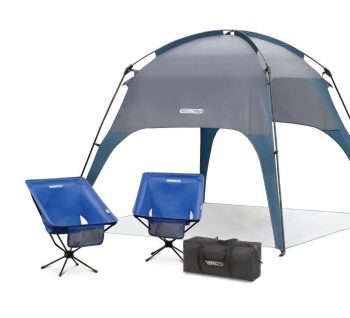 Dimensions: 96" x 96" x 78" when open and 11.7" x 6.7" x 6" when in carrying case
Color: Blue
Features:
Specially designed with an Easy Set Up System for both the Shelter and the Chairs
Lightweight, compact shelter provides protection from the weather for all outdoor activities with UV 50+ protection
Provides a spacious 64 sq. ft. of interior shelter/living space
Durable and lightweight fiberglass and steel frame and water resistant PE floor
Each chair measures 4" x 4" x 13"
Best Use/Activities: Camping, tailgating, and spectator sports.
Relax outdoors and keep out of the sun and light rain with the Compaclite Shade and Shelter & 2 Chair Set Portable Cabana. Ergonomically designed for comfort, stability and durability. The chairs have open panels on each side for style and air circulation and convenient storage pocket/cup holder. Quick and easy to setup and store.
This shelter is stylish, comfortable and durable yet lightweight for convenient transport to help you enjoy the outdoors and all life's adventures. Taking about 5 minutes to set up and take down, this cabana is affordably priced.
The G4Free 2-3 Person Portable Beach Tent
Weight: 2.2 pounds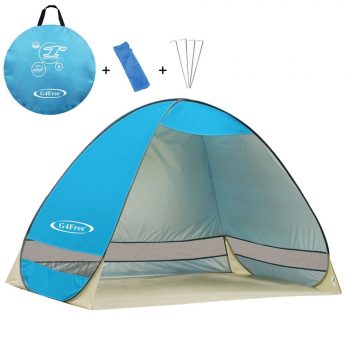 Dimensions: 78.8" x 47.3" x 51"
Color: Blue, Green, Mango, Silver
Features:
Material: 170T Silver coated fabric Anti-UV
Net yarn: polyester nylon mesh type B (dense)
Outside waterproof index: <1000mm
Bottom waterproof index: <1000mm
Building type: Quick automatic opening
All material non-toxic, odorless, according to international standards
Safe to use for children
Function: sun, shade and UV protection
Package includes: 1 Beach tent + 1 package bag
Best Use/Activities: Beach, fishing, hiking, camping, etc.
The G4Free 2-3 Person Portable Beach Tent is very simple to pop it up when ready to use. Then when you're done, fold it back down to store. The convenient handled carry bag is easy for compact storage and transport.
Many customers who purchased this item complained of basically the same issues; 1) collapsing and folding away was very difficult as the instructions were not clear and very confusing and 2) it doesn't work well in windy situations (although this customer admitted to not using stakes, but just using the sand pockets filled with wet sand.
Though the instructions may not be too clear, there are instructional videos and test videos available to watch, which can help with that matter.
The majority of customers who purchased this product, however, that they loved it and it was perfect for children at the beach. Putting the confusing closing instructions aside, this tent is quite functional and can come in handy when you have a sleeping child or infant or person who needs a spot to rest away from the scorching sun. You won't be missing out on anything if you purchase this.
iCorer Automatic Pop Up  Beach Tent
Weight: 2.2 pounds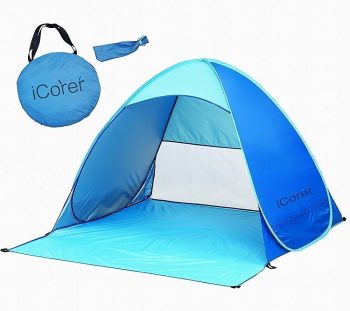 Dimensions: 65" x 59" x 43.5"
Color: Blue, Light Blue
Features:
UV protection: Special silver coated fabric around the full coverage to ensure full coverage area of anti-UV effects
Innovative design: pop up design – no assembly required, patented structure pops up and down in seconds.
Used widely: sun protection for all day shade at the park, beach, sporting event or just relaxing in the back yard, comes with its own carry case
The strong structure: double type B dense interwoven mesh, enhance ventilation, more upscale appearance, wind comprehensive design
Very portable and easy to carry
Best Use/Activities: Beach, family recreation.
The flame resistant nylon fabric in iCorer Automatic Pop Up Beach Tent has a UV rating of 50+ UPF to protect you and your family from the sun's harmful rays.
This automatic pop up tent comes with six metal ground stakes, sand bag pockets on both side panels, and a full-size carrying bag with shoulder strap. It's super lightweight at only 2.2 pounds and easily carried to anywhere you want.
Many customers reviewed this product and unfortunately they had very similar issues; they were not able to close it back up after use. The process was described as requiring PhD, an engineer and some other professional to get it closed.
Those who had the difficulty also experienced bending of the wires which rendered the item unusable after that. Though we do understand the frustration of these customers, so there are very simple and easy instructional videos which demonstrate how to set up and take down to follow. The customers who were satisfied with their purchase 70% of the customer review population.
Lightspeed Outdoors Quick Beach Canopy
Weight: 7 pounds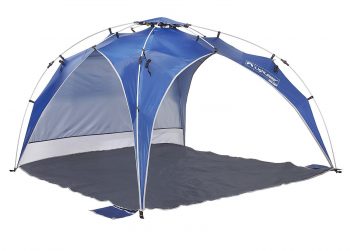 Dimensions: 50" x 5" x 5". Peak Height: 56"
Color: Blue
Features:
Lightspeed Outdoors bottom-pull hub system (with umbrella-style set up) allows for ultra-quick setup and teardown.
UPF 50+
Sand pockets and guy lines on outside for added stability
Lightweight and easy to carry
Fits standard height chairs, with enough room for 4 adults
Floor material: PE
3 door openings
4 sand pockets
Fiberglass poles
Breathable polyester with water resistant coating
1 year limited warranty
Best Use/Activities: Recreation or Sideline Sports such as; football, soccer, baseball, etc.
At just 5" tall, the Lightspeed Outdoors Quick Beach Canopy is the perfect companion for sunny days, where a 3-walled shelter is too small. The Quick Canopy uses a bottom-pull drawstring hub system that makes setup and takedown more manageable in high wind conditions. Strategically placed guy lines can be anchored out when the wind really picks up.
It offers 270 degree views and three openings for maximum ventilation. Though it's most popularly used for sideline sports and recreation, it is also perfect for the beach, trips to the park, and just about anywhere that you need protection from the sun, wind and rain.
Constructed of breathable polyester, with a water-resistant coating, and UPF 50+ protection for all day, outdoor fun. What's even more interesting, is that this canopy stays strong in breezy conditions thanks to its wind-shedding design, plus four sand pockets, stakes and guy lines for increased stability.
When reviewing this canopy, a number of customers were unhappy with their purchase as they claimed that it lasted only one day, others claimed it to last for about 5 uses and others complained about it's disappointing performance when encountering wind.
The quality of the fabric was questioned as well as the sturdiness of the poles when either snapped or splintered. This customer feedback accounted for 16%. However, the other 84% gave this canopy raving reviews and were very satisfied with their purchase. It worked great for them and its performance earned it 4 and 5 stars.
Also Lightspeed provides an instructional video on how to set up this shelter and it clearly demonstrates that it's being done with ease.
Lightspeed Outdoors Bahia Quick Pop Up Shelter
Weight: 4.20 pounds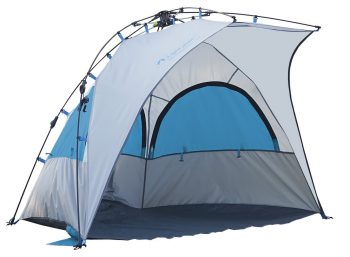 Dimensions: 6.5" x 4.8" x 3.7". Peak Height: 3.7 ft.
Color: Blue, Green, Pink
Features:
Lightspeed Outdoors' top-pull hub system allows for ultra-quick setup and teardown
UPF 50+
Sand pockets on outside for added stability
Maximum ventilation with 3 large zippered windows
Fits 2-3 persons
Floor material: PE
1 door opening
2 pockets
3 windows
Fiberglass poles
Breathable polyester with water resistant coating
1 year limited warranty
Best Use/Activities: Recreation and sideline sports.
Using Lightspeed Outdoors Bahia Quick Pop Up Shelter's top-pull hub system, the New Bahia is the perfect weather shelter for those who want to enjoy the outdoors and get protection from the sun and wind. An extended front awning provides significantly more shade than conventional shelters or beach umbrellas. The Bahia has sand pockets, that when filled, gives added stability in any setting.
This outdoor shelter features redesigned 3-zippered windows, allowing for maximum amount of ventilation. Our instant shelter's new design makes it ultra-portable and lightweight, so it's easy to take to the beach, park, or just about anywhere.
Customers who reviewed this canopy had a lot to say, some of which was not good news and the rest of it was happy news. 7% of customers claimed that while opening, the fiberglass poles snapped or splintered, which was a deal breaker for them.
However, 93% of customers who purchased this canopy seemed to be quite happy with its look, easy of setup and teardown, and also its uses for so many occasions and locations. The majority of customers actually highly recommended this canopy to potential customers. Just to show you how simple and easy it is to setup and take down this shelter, this instructional video was created.
Parting Words
So there you have it folks. The top rated, most sought after, most liked, best reviewed canopies on the market of 2017 all in one place. We've done the hard work for you, so the only thing left to do is to decide which one or which ones should become members of your family.
We have no doubt that they'll become part of your everyday routine which involves a family or couple get together. What type of canopy do you like best and which one do you have for yourself? Do you have more than one that you use for different purposes?