A portable grill is pretty much a necessity if you are looking get some cooking done while you're outdoors. However many of you will agree that it's not just about having a portable grills and you can call it a day. You need to have the best portable grills that will sufficiently meet your outdoor cooking needs.
If you have tried shopping for a portable outdoor grill, then you'll likely know that it's not as simple as heading to your favorite shop or website. You are frequently bombarded with options that it can quickly become overwhelming.
Lucky for you, this article will teach you how to shop for the suitable outdoor gear. Plus, we will be recommending a couple of products that are considered to be top rated.
Our top picks
Things to consider when buying a portable grill
For some people may be the cheapest model, for others it might be quality, maybe even the weight or the grilling space. Everyone has specific requirements in mind to help answer that question.
Construction and stability
You will want an outdoor grill that can take all sorts of punishment. Thus, the grill needs to have quality materials such as steel or cast iron.
This is important because the grill will be dragged and banged during your trips. Stability is also important because you don't want a grill that can be easily tipped, especially when there's food in the cooktop.
Budget
Like most things in life, you get what you paid for and this same logic applies for portable grills. You're going to pay more for a quality product, though; in return you receive the peace of mind of a long lasting product, a reputable name, easy customer service for replace parts, etc.
Not to say you can't get a great buy on the market, but be prepared for a shorter lifespan, more issues replacing parts and possibly no warranties.
Portability
Of course, you can't shop for an outdoor grill without taking portability into consideration. Again, this all depends on your own usage. If you want a small grill that can only cook for a person or two, a smaller model with the basic features should be more than enough.
However if you are looking to cook for an outdoor party or tailgating with many people, a bigger model with a more powerful BTU would be more suitable. Each types will have their own features that enable the users to easily take them into outdoor trips.
Best Products on Today's Market
With a market full of options in front of you, you're probably asking yourself where I should start. Fair question. In order to help, I've come up with a few options of the best small grills to assist you in your new purchase.
Cuisinart CGG-180T Grill
Weight: 17 pounds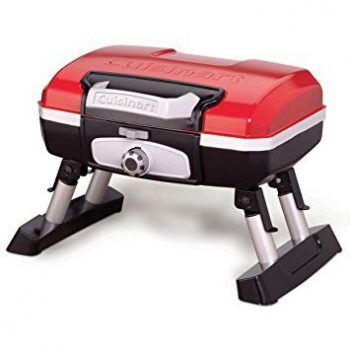 Grilling area: 145 square inches
Specific features: Telescoping stand, 5,500 BTU stainless steel burner, even heating porcelain grate, pronounced briefcase style carrying case, dual feature freestanding or tabletop options, large cooking surface area
Best use: Any outdoor activities such as camping, tailgate parties, hiking, day at the beach, backyard
The Cuisinart CGG-180T Grill delivers large performance in a small package. This pint sized portable unit is easily dismantled when not in use, allowing you more space for other things and still offering you the effective 5,500 BTU burner when needed. With a trusted name like Cuisinart, you can rest assure that you're getting a quality product without the headaches of faulting parts.
You will get 5,500 BTU steel burners with this grill. To make the cooking fun and hassle free, it also comes porcelain grates. Users can carry it around using the briefcase style carrying case, which is made to keep the grill safe and secure. The surface area of this grill is considerably large to make sure you can cook for the whole family in one go.
With optional accessories available like the VersaStand, 4 foot adaptor hose and gas grill cover only makes this the best portable grill for the small outdoor patio owner or weekend warrior camping in the great outdoors.
PROS:
Affordable
Large size grill
Easy to use and clean
CONS
:
Not the most durable grill out there
Coleman Road Trip Grill
Weight: 44 pounds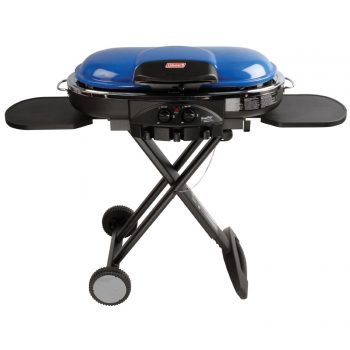 Grilling area: 285 square inches
Spcific features: Includes PerfectFlow pressure control system, drip through grills, removable grease tray, 20,000 BTU Cooking Power, InstaStart technology for matchless lighting, built in tool holder, sliding side table, two cast iron porcelain coated grill plates
Best use: Any outdoor activities such as camping, tailgate parties, day at the beach, backyard
Welcome to the Big Boys Club of portable gas grills. The Coleman Road Trip Grill delivers everything the home backyard BBQ can, just in a smaller package, making it one of the best priced versatile units available today.
Specifically designed cast iron porcelain coated grill plates giving the grill master over spacious 285 square inches of cooking space, making it easy to handle those larger parties and outdoor events.
Boosting a whopping 20,000 BTU of cooking power with removable grease tray, there's nothing this unit can't handle in any situation. Available accessories to consider include extra grill plate, extra griddle, extra stove and a wheeled carry case topped with a 3 year limited warranty makes this grill a tough bargain to pass up.
Those who have used this product consider this to be one of the best in the market at the given price. It also comes with sliding side table to make the set up process easier.
PROS:
Extra grill plate
3 years limited battery
Easy
Quick setup
Related: If it's about a little cooking on the move, then we would recommend you the Coleman Powerpack Stove. It comes with pressure control system with steady heat, which is likely to work fine even in the coldest weather.

Coleman NXT Lite Grill
Weight: 31.3 pounds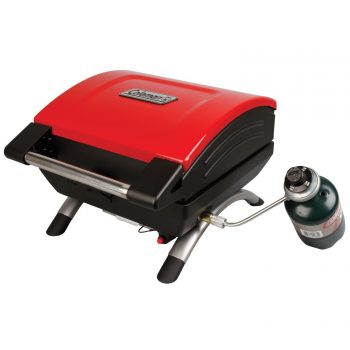 Grilling area: 168 square inches
Specific features: InstaStart push button ignition, removable grease tray, even temp burners, PerfectFlow system, porcelain coated steel grills, secure latch system
Best use: Any outdoor activities such as camping, tailgate parties, hiking, day at the beach, own backyard
The Coleman NXT Lite Grill offers any outdoor enthusiast the perfect combination of grilling prowess and practicality with its 8,500 BTU of cooking power and tidy compact size. The NXT offers over 168 square inches of cooking space with its easy InstaStart push button ignition system allowing you the reliability and convenience like no other unit in its class.
This grill comes with the patented Even Temp burner system allowing consistent heat for the perfect combination of performance and cooking throughout.
Also, the patented PerfectFlow System allows a steady stream of fuel in all conditions at all elevations to deliver dependable flow of fuel every time. The greasing tray it comes with is removable that makes it easier for the users to wash it properly.
With available accessories, the NXT is the perfect unit for any hiking or camping situation where size DOES matter. You can grill steaks as well as vegetables on this grill and plan for that beautiful evening. And, because it has the perfect latch system, you don't have to worry about losing the grip.
PROS:
Comes with removable grease tray
Secure latch system
Perfect grip
CONS
:
Not enough for group cooking
Related: The Coleman NXT Grill Grate is one of the products that comes handy with this product. Durable porcelain coated iron construction makes this grill grate perfect choice when you want ease of grilling. The surface inside is heavy duty but easy to clean. You can take over high heat cooking also with this grill grate. Unlike the others in the market, this doesn't even cost you much.
Char-Broil TRU Infrared Grill
Weight: 24 pounds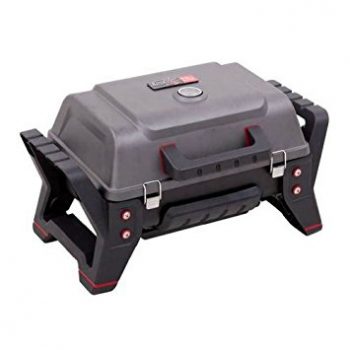 Grilling area: 200 square inches
Specific features: Cast aluminum firebox, durable frame and carrying handles, 5 year warranty (firebox), and 1 year warranty (all other parts)
Best use: Any outdoor activities such as camping, tailgate parties, hiking, day at the beach, backyard
Char-Broil is a trusted name in the industry, offering the compact and easy to travel Char-Broil TRU Infrared Grill the perfect option for tailgaters and outdoor enthusiast looking for performance without the excess. The well constructed cast aluminum firebox is not only simple to operate, but comes with standard warranties, basic features and optional accessories.
This tidy yet hearty unit is reliable for all users of all skills in most conditions with its No Flare Up TRU infrared cooking system, including built in temperature gauge, allowing the grill master the ability to create virtually any meal over 9500 BTU cooking power on 200 square inches of cooking space.
To make the grill secure, dual stainless steel latches are added. It comes with a high impact frame with legs and carry handles that makes it easier for you to take it with you.
This travel grill will is considered when you want to ignite your taste bud on the go. Most of the buyers found it good for the time, when the space is limited and they still wanted to cook. You can grill burgers, vegetables, chicken, and more.
PROS:
Portable
High impact frame
Related: Want an easy way to carry your grilling things around? The Char-Broil Carry Case is a great option. It's packed with features like Comfort grip carrying handle, exterior storage pockets and it's made from tear resistant materials.
Cuisinart CGG-200 Grill
Weight: 40.6 pounds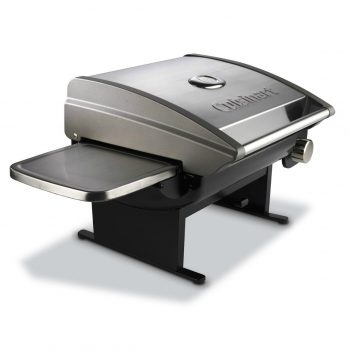 Grilling area: 240 square inches
Specific features: Modular grill surface system, twist start igniter, porcelain enameled coated cast iron grate, retractable side shelves, temp gauge, removable drip tray, stainless steel burner
Best use: Any outdoor activities such as camping, tailgate parties, hiking, day at the beach, backyard
Cuisinart's versatile yet beefed up Cuisinart CGG-200 Grill offers you the luxury of a full sized grill at minimum bulk and cost with the ability to conquer all cooking requirements. This unit is the ideal product for intimate outdoor gatherings on the beach, tailgate parties or weekend camping excursions offering a handy Veggie Panel, Pizza Panel and Flame Tamer accessories.
No meat or vegetable is safe over the easy Twist start ignition system and porcelain enamel coated cast iron grate while the precision temperature gauge allows the user exact control of the stainless steel burner.
With various models and accessories available, this grill offers consumers the perfect blend of versatility, practicality and efficiency to your exact specifications.
This modular grill surface system is made to generate more heat than many other grills. The grill tends to heat up fast and will recover comparatively faster when you close it after opening to rotate the food.
We consider it good for all sorts of cooking, including vegetables, pizza, seafood, and meat. You can also bring it for home use for some great patio cooking.
PROS:
Professional grill
Heating is better than higher priced grills
Versatile
Efficient
Related: The Coleman Roadtrip Swaptop Grill Grate is one of the products that you can buy with this grill. It's made from quality and durable materials, and the surface is non stick.
Weber Q2200 Grill
Weight: 43.2 pounds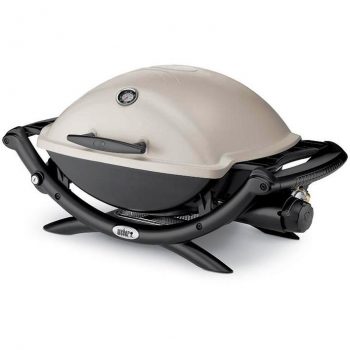 Grilling area: 280 square inches
Specific features: Stainless steel burner, electronic ignition system, 280 square inches porcelain enameled cast iron cooking grates, cast aluminum lid and body, built in precision thermostat, push start ignition, removable catch pan, folding side tables
Best use: Any outdoor activities such as camping, tailgate parties, hiking, day at the beach, backyard
In America, grilling has become synonymous with the Weber name because of their reputation with quality and longevity. The Weber Q2200 Grill is no different, as Weber has produced another gem of a grill.
This sleek portable propane grill delivers 12,000 BTU over 280 square inches of cooking surface on porcelain enameled cast iron grates. Split grates, removable grease trap allow for simple cleaning while the sturdy ergonomic handles assure easy mobility.
This grill now includes larger retractable side tables for functionality with added space giving you the comfort and freedom to master all challenges. Included with standard warranties and optional accessories such as the extended warranty, adaptor hose and grill cover this grill continues the grilling tradition for all outdoor activities.
PROS:
Comes fully assembled
Uses disposable cylinder
Large cooking area
CONS
:
Not good for indirect grilling
Weber Q1000 Grill
Weight: 28.5 pounds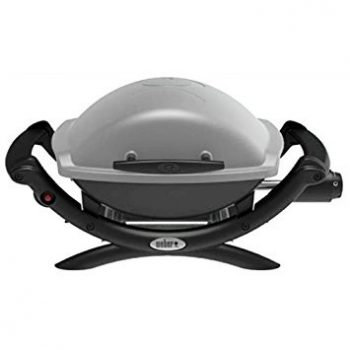 Grilling area: 189 square inches
Specific features: Stainless steel burner, electronic ignition system, 189 square inches porcelain enameled cast iron cooking grates, cast aluminum lid and body, removable catch pan, push start ignition
Best use: Any outdoor activities such as camping, tailgate parties, hiking, day at the beach, backyard
The Weber Q1000 Grill is the petite version of the beefed up Weber Q2200 grill offering durability and reliability which Weber has become so popular delivery their customers. This grill offers outdoor enthusiast the capabilities to grill in style as this chic portable grill dishes out over 8,500 BTU on 189 square inches of cooking surface over porcelain enameled cast iron grates.
This grill is made in the USA and comes with a standard limited warranty and is the ideal pint sized portable grill for picnics, hiking and small events where size and weight may be a factor. It comes with disposable 14.1 or 16.4oz. LP cylinder which you can get rid of when the fuel is over.
This is a perk for the campers and hikers as they don't need to carry extra weight with them.
You will receive it fully assembled and will hardly have any issues with setting it up. For such a low price, this grill surely gives its users many features that most of the high priced grills don't offer.
PROS:
Comes fully assembled
Disposable LP cylinder
Easy to use
Great portability
Related: You can also buy the Weber 6557 Q Portable Cart transport your grill from one place to another. Front loading design helps you to slide the grill back and lock it in place. It also comes with built in wire transport handles which is durable and sturdy. The 2 tool hooks are added to the cart to make it easy for you carry the store accessories.
Time To Get Out And Grill
Whether you're the master of grill or just a novice BBQ connoisseur, it's apparently clear that Americans love to take their grilling talents to the outdoors. Now easier then ever, hikers, explorers, family campers and outdoor enthusiast can pack a portable grill and set forth into the great unknown with ease.
Having that perfect portable gas grill is the essential component in creating that perfect meal under the blanket of Mother Nature. With various makes and models at your disposal this article was designed to assist you in deciding the perfect unit for the perfect situation.
So what do you think of our selection of the best outdoor grills? Or perhaps, you have a model that you think should belong to our list? Feel free to leave a comment below!